Sunshine Village (Alberta) opened today, with 4 out of 12 chairs open; Strawberry, Standish, Wolverine, Wawa and Jack rabbit. They had been slated to open a week ago but pushed the date back to wait for more snow.
We had a nice dump of about 20cms 4 days ago, and I cant imagine what the hill would of been like without it, it still rocky in lots of places.
This is what Banff's main avenue looked like yesterday, the snow hasn't been cleared from the road because they are still doing something that they seem to have been doing for the last six months. Something about lampposts and benches, hardcore.
Sunshine was pretty quiet for an opening day. I kinda expected a few more crowds, but I guess most people know its only 1/2 open and are waiting for the weekend/fresh snow. The parking lot was maybe 1/4 full:
Which was good because it meant I could ride the gondola alone and not have to share my pizza:
The Angel Express is closed, which meant I had to push myself over to the Mount Standish side of the base area, I cant wait for the Angel to open. Pushing a sitski uphill is a pain in the butt, and s-l-o-w.
The snow coverage maybe wasnt terrible over the majority of the hill, still lots of rocks and plants poking through in places but most of the runs had good coverage.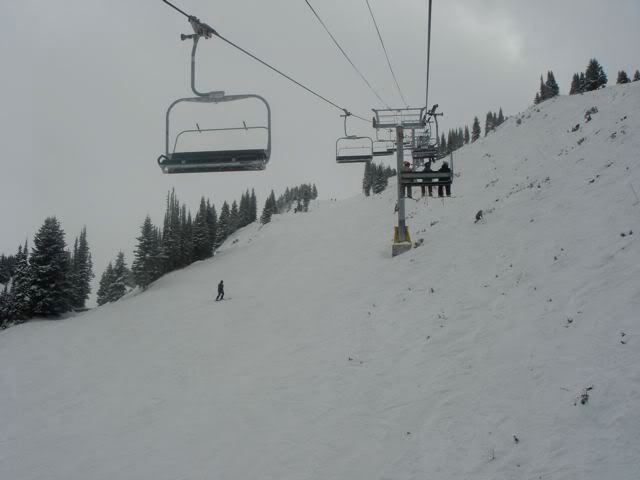 There was still some freshies for those hunting it, but by the afternoon everything was well flattened out.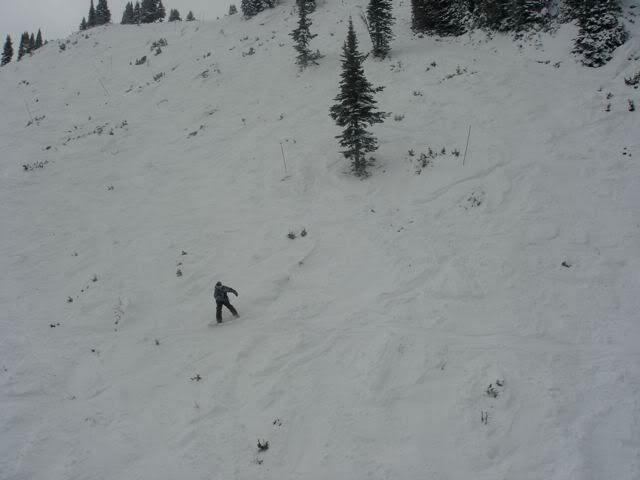 Mount Lookout was completely closed, and from the looks of it wont be open unless it starts puking soon. I did notice them running the lift and patrol skiing down to inspect a couple time, I think they want to have it open for the weekend to take some pressure off the other lifts, but it will just be south divide and the cat track back to the village.
This is Lookout viewed from midway up Standish: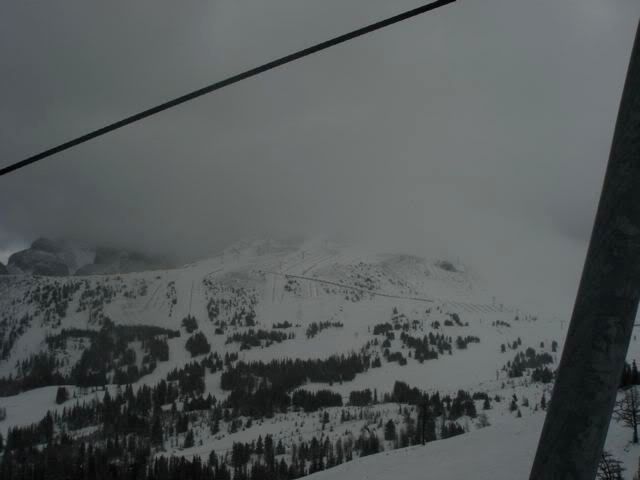 GoatsEye has even less coverage and really needs a couple dumps before they will even think about opening it I would think. This is GoatsEye from Standish again: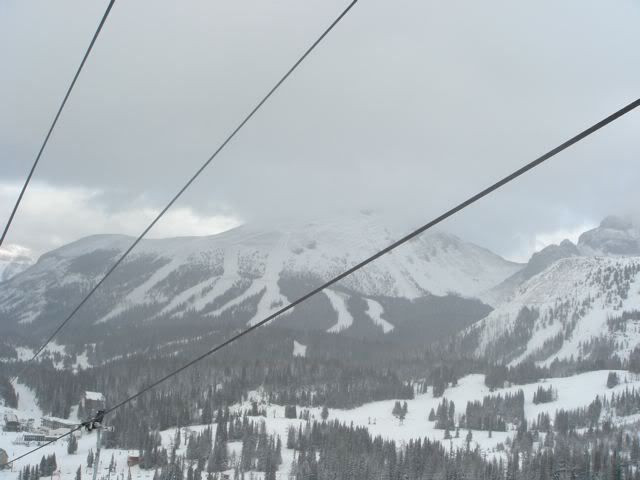 The Ski Out looked pretty good, but it's closed at the moment, they are letting people ski as far down as the GoatsEye gondola terminal but no further.
I dint get any pics of me skiing as I was by myself and seemed to be spending most of my time pushing up hill rather than skiing anyway.
I guess the pictures that sum up the day best are from my ski: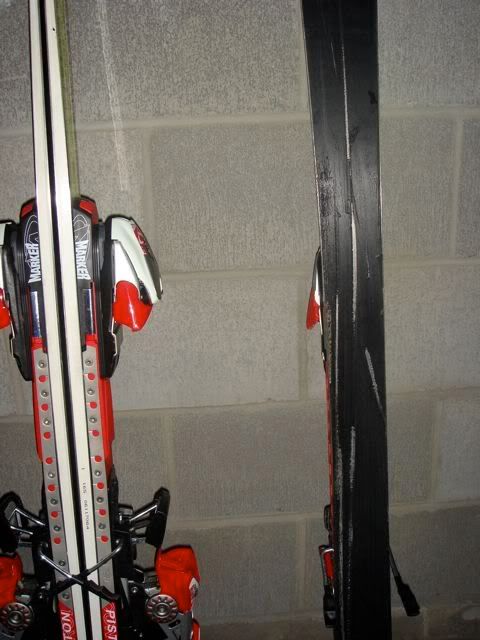 Ouch.
Thats an 'old' Racetiger from last season, probably not the best choice of ski for opening day, but I was trying to dial in my new shock absorber and wanted to be skiing on something familiar. I think I'll use a twin tip tomorrow and save the race stock for better snow.
Sunshine - The place ski's go to die.