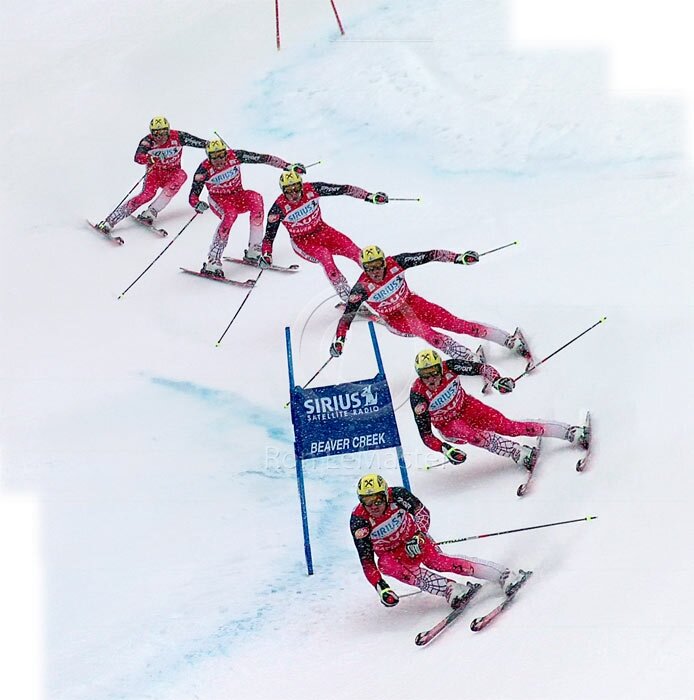 I find Frames 4/5/6 interesting.
In frame 4, the inside ski is carrying quite a bit of weight. This is expected on an inclined turn entry.
However, by frame 5, the weight has been nearly completely removed,as evidenced by the amount of bend in the outside ski vs the inside ski. Also, notice that the distance that HM travels accross the hill between 4/5 and 5/6 is different -- there is a tremendous lateral deceleration between frames 4 and 5,and consequently, a huge increase in outside ski loading, as we'd expect to see when trying to turn at these speeds.
Note that while the camera keeps taking shots at a regular interval, he has all but stopped moving accross the hill between frames 5 and 6. This is an excellent example of getting a lot of direction change done in the upper half of the turn.
Also, if you look at the actual distance travelled between frames 4/5 and 5/6 shows that he is accellerating downhill and gaining speed along his chosen line between frames 5/6.
Frame 6 shows the re-appearance of some of the weight on the inside ski. But only on the tail.This is consistent with the outside edge giving way, as it appears that HM has lost some grip trying to stand on the outside ski. Regardless, IMO, the airborne tip does not indicate the presence of a massive amount of weight. Frame 6 may also be the onset of a weight transfer, but if the turn is anything like the previous turn, frames 1 and 2 show very little weight on the inside ski.
OK folks, have at it!