A great source of gear for those building up the quiver on a budget: The Dump!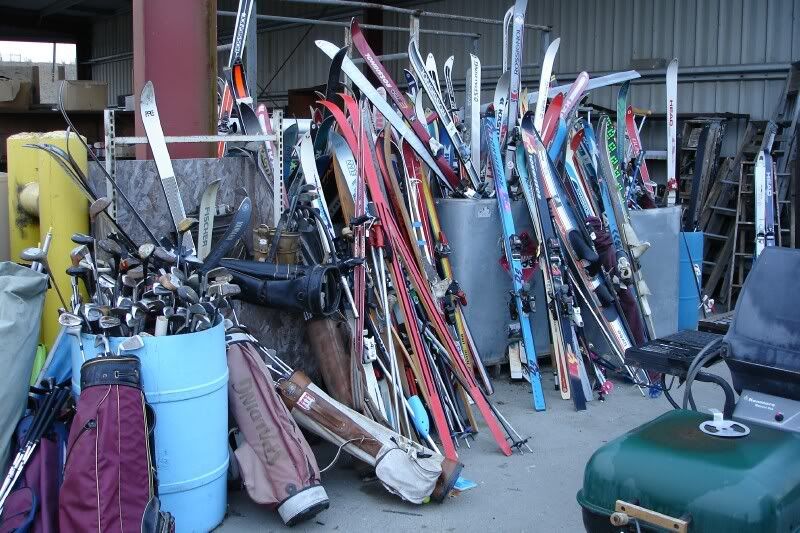 All skis (includes bindings, of course) on sale for a mere $5/pair! A little TLC and state of the art equipment from yesteryear is once again ready to hit the slopes. Or, start your own ski museum!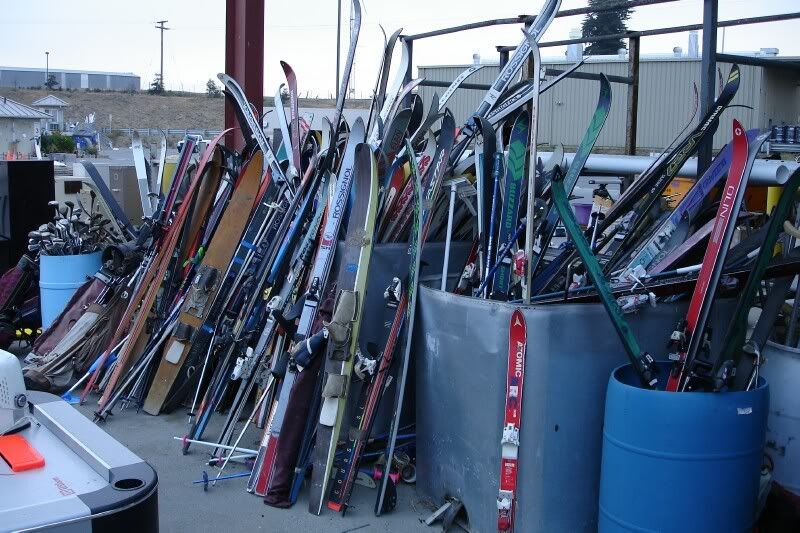 No pressure sales here. And notice the festive display presentation! Most sport shops stack their gear neatly in racks, quickly revealing what's in stock. Here, anything could be behind those waterskis or golf clubs! And just what great prize could be in the bottom of the barrel? It might only take a couple hours of work to find out.
On my first trip to the Central Landfill Sport Shop, I could not resist adding to my Hexcel collection and snagging this pair of Head Competition Slaloms: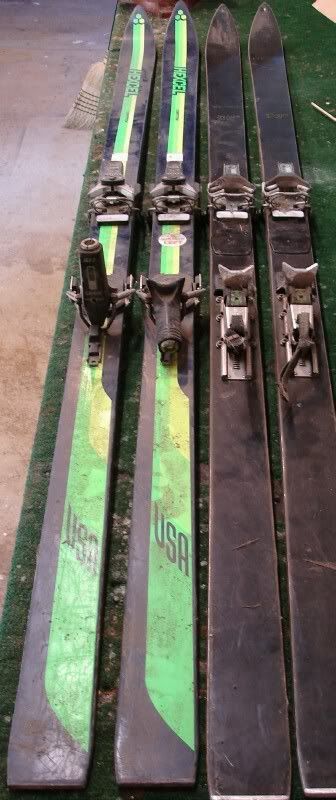 Cellophane wrapped? Not here. The layers of dirt, rust and spiderwebs simply adds to the excitement of wondering just what condition they're really in.
But some soap and water, a quick tune & wax, and a binding remount with some slightly newer (and lighter) stuff and these skis will live to slide again!


Time to make another trip to the dump. Good, I can check out their Sport Shop for any new added product.
It's time to splurge. In the festive assortment, (read: pile) I find another pair of Hexcel's, Sundance II's this time, a pair of RD Helidog's and an antique: Hagan Sprint all wooden skis with screw on metal edges. Too bad the Hagan's don't have the original bindings.

The Hexcel's will be remounted with Salomon S700 bindings, the Helidog's will be remounted to fit my BSL, and the Hagan's will be kept warm and dry for now.


Yet another trip to the Dump/Sport Shop/Ski Museum reveals a never mounted pair of Nordic Track skis (for $5? sure!) and another antique: Attenhofer A15 Jet skis made in Switzerland with Dovre bindings. We'll just keep those warm and dry too for now, although I do have a pair of NNN-BC bindings that could go on the Track skis.


Now, If I could get the dump to pay me to haul away the entire inventory. I need building materials for a long picket fence.......