I had a spectacular day skiing in Saas Fee, Switzerland, today. It was my birthday, it was the tenth anniversary (month # 120) of my ski-all-year streak, and the day couldn't possibly have been any nicer.
For any of you who don't know, Saas Fee is a very high mountain valley in southern Switzerland. It's the next valley east of Zermatt and there are 13 peaks surrounding the village that are higher than 4,000 meters (approx 13,200 feet). There are massive glaciers hanging above the town and there are lifts and hiking trails going off in every direction.
The town itself is small enough to be easy to walk from end to end. The people are super-friendly and there are great restaurants.
The summer skiing takes place on three T-bars at the high end of the valley (Vallais). You ride two very large (capacity something like 20-25 people) gondolas way up above the valley and then ride an UNDERGROUND train to the the 3,500-meter elevation level. From there, you ski over to the slopes and the T-bars. The summer skiing isn't anything that's going to scare the socks off Tyronne Shoelaces, but it was great snow and incredible scenery. I mean, how can you beat making ski turns in September in this kind of setting: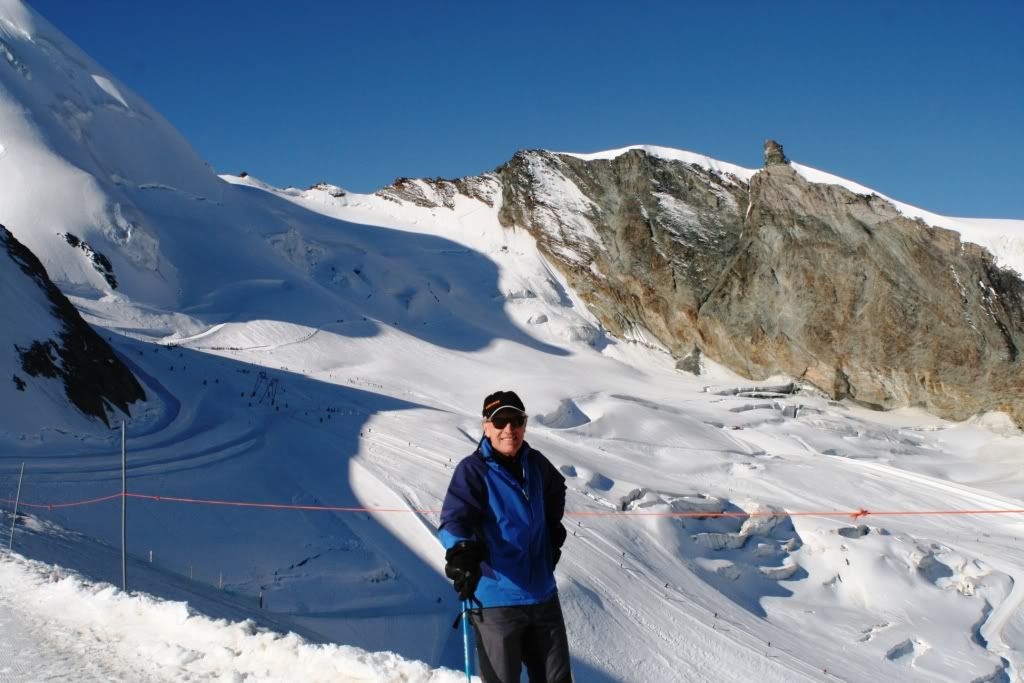 Here's the view from where you load the T-bar:
Saas Fee is a very popular place for summer race training. Just that I know of, the following ski teams had people here training today; Switzerland, France, Italy, Norway, Spain, Czechoslovakia, Slovenia, and Germany. Here's the scene at the bottom of the main T-bars:
And here are a few random shots of racers. I have no idea who any of these people are because there were literally hundreds of them running gates.
The snow on the race courses was super-hard and the turns became rutted very quickly. I've done a tiny bit of low-level racing and I know that I probably couldn't have stayed in these courses for about six gates. I don't know who this guy was, but he was REAL dam# fast...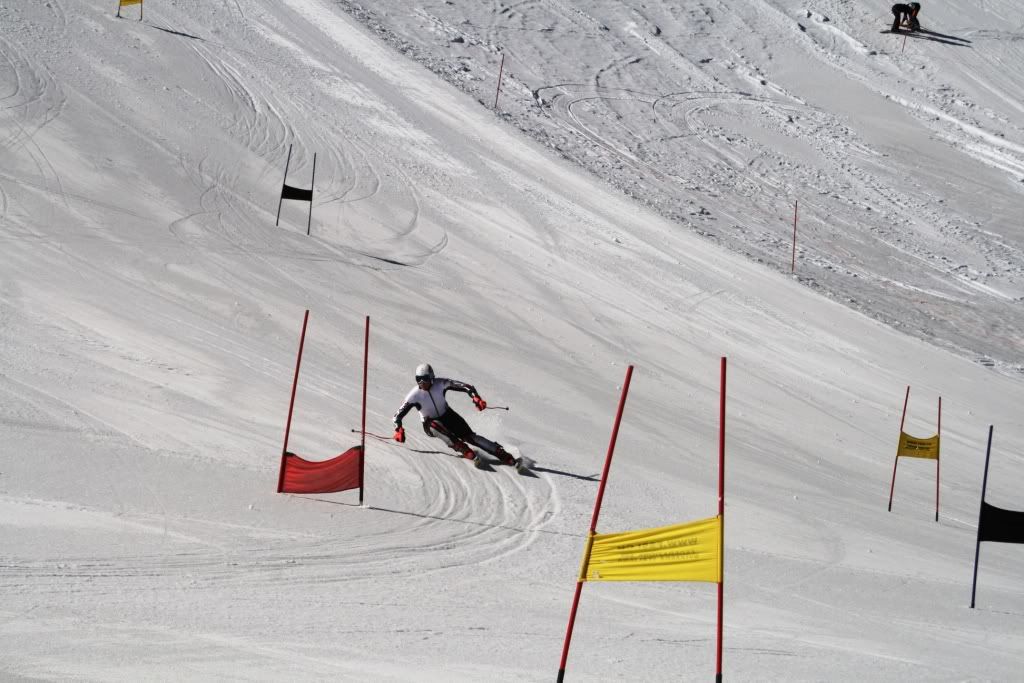 Another thing that impressed me about this place was the whole attitude. I mean, there were probably hundreds of REALLY good skiers, all going about Mach 12, and I never even saw the slightest near-collision.
You also have to really love a place that has a crevasse running right across a main run. This hole was deeper than my ski pole, smaller parts of it extended about fifty feet across the run, you can see where the corduroy groomers go right OVER it, and nobody seems to care. It's a glacier, right???
And speaking of glaciers, here's a photo of an ice fall that we watched yesterday. Ruth and I were doing a Via Ferrata across the valley from the ski runs and she just happened to see this huge fall. The face that ice is dropping off is probably around five hundred vertical feet. We were far enough away that the sound didn't reach us for about twenty seconds, but it was a major roar when we heard it.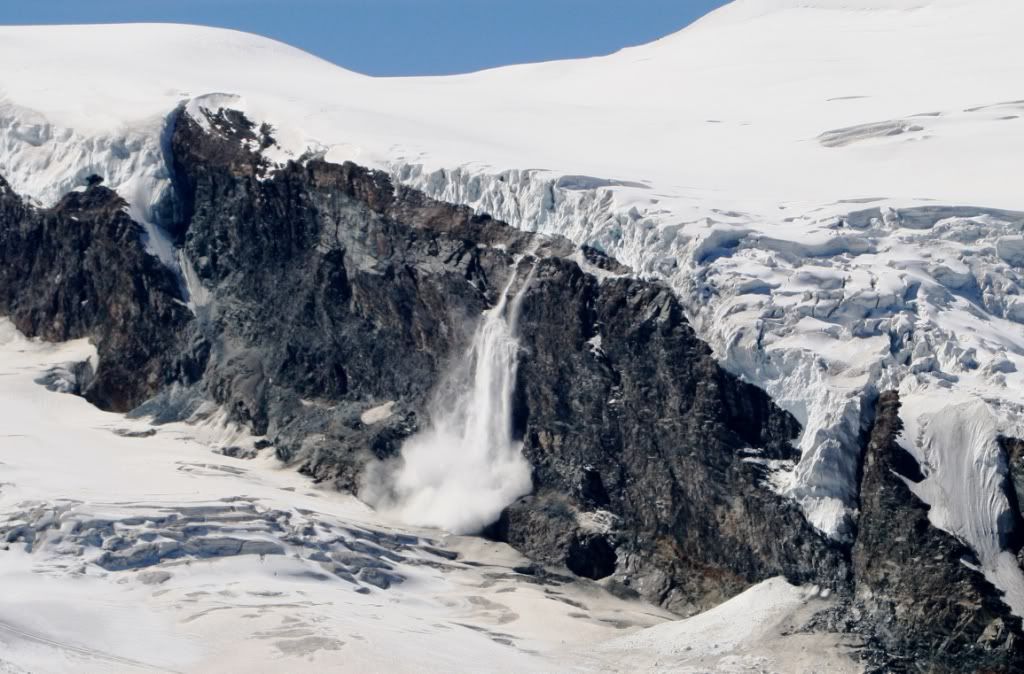 Saas Fee is a very cool place.