Another repost of an older TR of mine. Thought it might be enjoyed here as well.
*****************************
Dates:
: Saturday, April 8th – Saturday, April 15th 2006
Locations
: Turnagain Pass, AK
Alyeska Resort, Girdwood AK
Chugach Powder Guides, Girdwood AK
Players/Skiers
: Tyrone Shoelaces, Squirrel99, Kellie, Owens Never Sleeps….+ many, many others
Well, finally made it to Alaska. Unfortunately, this is a good thing and a bad thing. It's a good thing because it's always been a dream to get up there and ski, and a bad thing because well, you can't go just once….and what they say is true…it's like crack. Or heroin. Or whatever would be synonymous with gathering up all your credit cards into a pile, melting them down, and then injecting the hot liquid credit into your arm….but it's oooh so worth a few little burned in track marks on your forearm. I mean, really, skiers only wear long sleeve T's and hoodies, so who'll notice anyway?
Ideally, you'd be able to spend a winter (or more) here…but of course being a couple of ski crazed cubicle monkeys we could only spare slightly more than a week. So of course we'd try to pack in as much Alaskan ski adventure as we could: Line up a little BC touring off of Turnagain Pass, check out the local resort Alyeska, and of course no trip to AK would be complete without some heli-skiing, in this case served up by the fine folks at Chugach Powder Guides and our own Owens Never Sleeps.
So the trip materialized as follows:
Friday, April 7th: Arrival
Saturday, April 8th: Turnagain Pass
Sunday, April 9th: Alyeska Resort
Monday, April 10th – Friday, April 15th: Fly with Chugach Powder Guides
Saturday, April 16th: Turnagain Pass
Sunday, April 17th: Arrive home and crash (or in Squirrel's case, land at 6 AM and head immediately head back up to Alpental to shred some more pow!!)
Anyway…enough of these "words"…on with the pics!!
Saturday, April 8th
: Turnagain Pass
It was a pretty graybird day so not many pics were taken. But luckily for us, Kellie had moved up to AK a few months ago and offered to be our guide on the Pass. Un-luckily for her…she had to wait for our slow-asses as we skinned up behind her. But in any event, we were able to snag a few pics of our 5,000 – 6,000 vert day in flat light and creamy windbuffed pow.
The day dawned promising
But quickly grew gray as we drove along Turnagain arm from Girdwood
[IMG]
http://i81.photobucket.com/albums/j2...a/SL1Drive.jpg
[/IMG]
Hittin the trail with one of our destination peaks above:
There were lots of photos looking down on me from above…because my slow ass was always last on the skin track!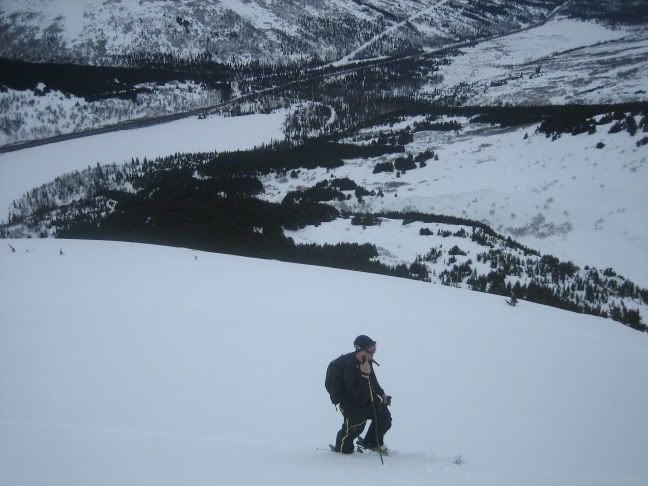 Kellie pointing out many of her project lines to us. We ended up topping out on the peak in front of her and then skiing down to the right in the basin below. We then skinned up the right-most peak in the photo and skied back into the valley. The snow was so good we had to do it again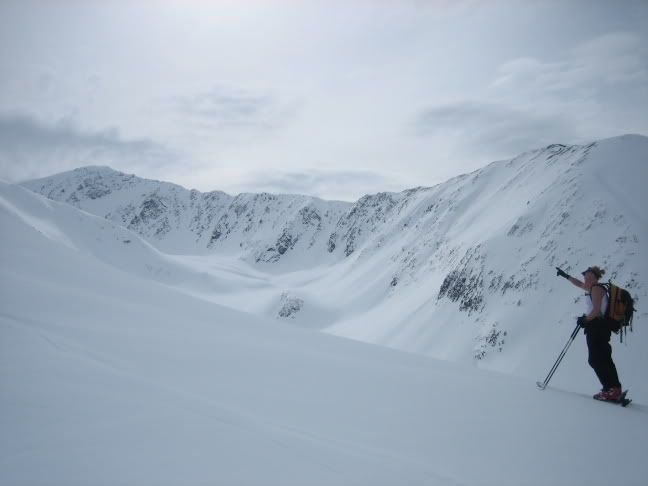 Shoe descended into the milk. Luckily flat light isn't so bad when there's nothing but smooth silk laid out below you: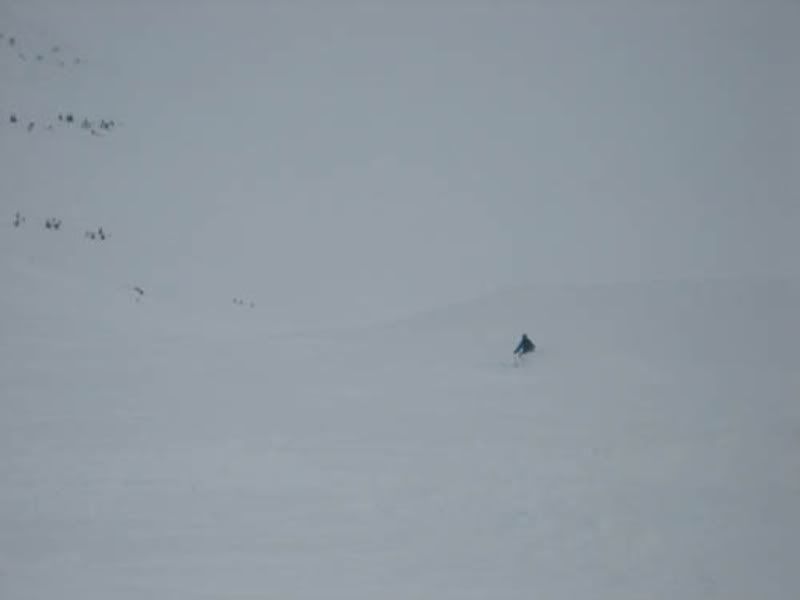 Kellie making some smoooove turns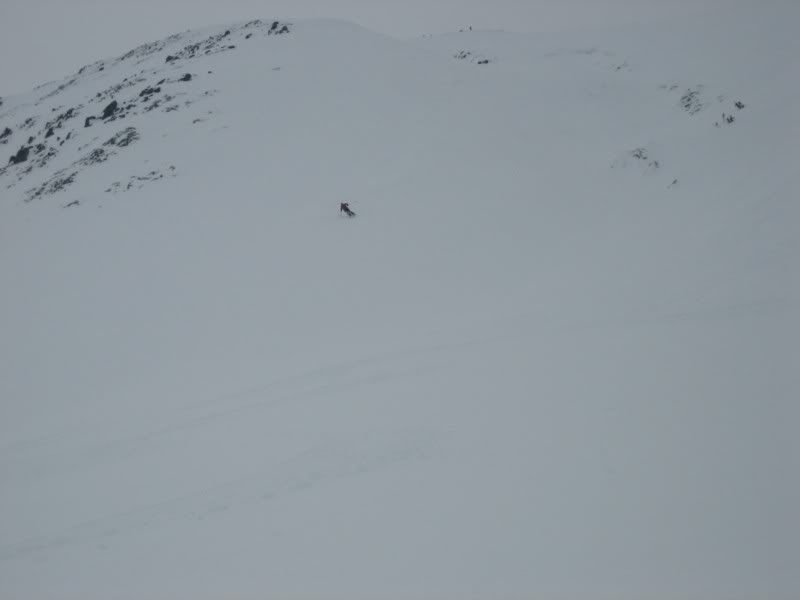 Once back to Girdwood we made a pit stop at the house that Kellie bought THAT VERY MORNING. Yup, some people stop and grab a cup of coffee on the way to the mountain, but Kellie grabs a house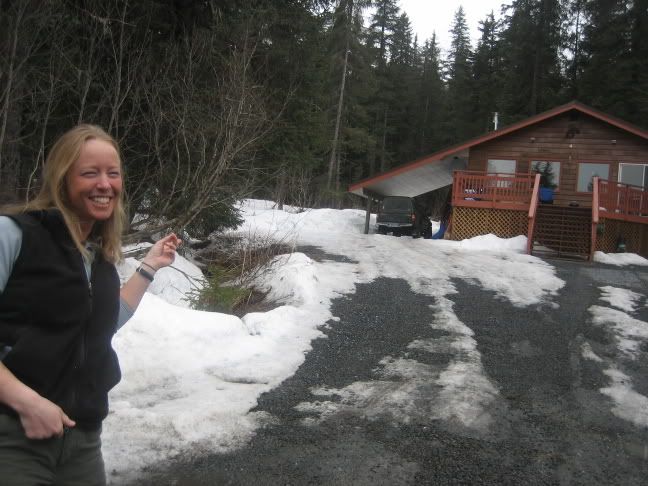 So we celebrated with a hot steaming pile of nachos at Chair 5 in Girdwood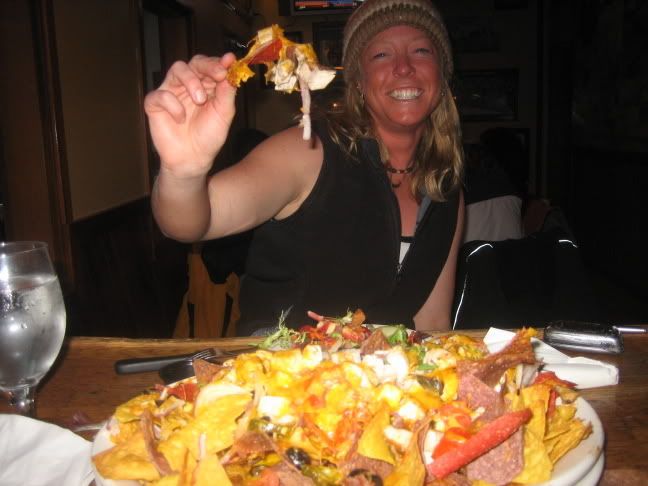 Sunday, April 9th – Alyeska Resort
Again, another gray bird type day….rain/snow/wind mix at the base with a snow/wind/sleet/morewind at the top. Oh and totally flat light too again too…so we were left feeling our way through the murk and couldn't get many pics, but it was a super fun day.
Tram commin in: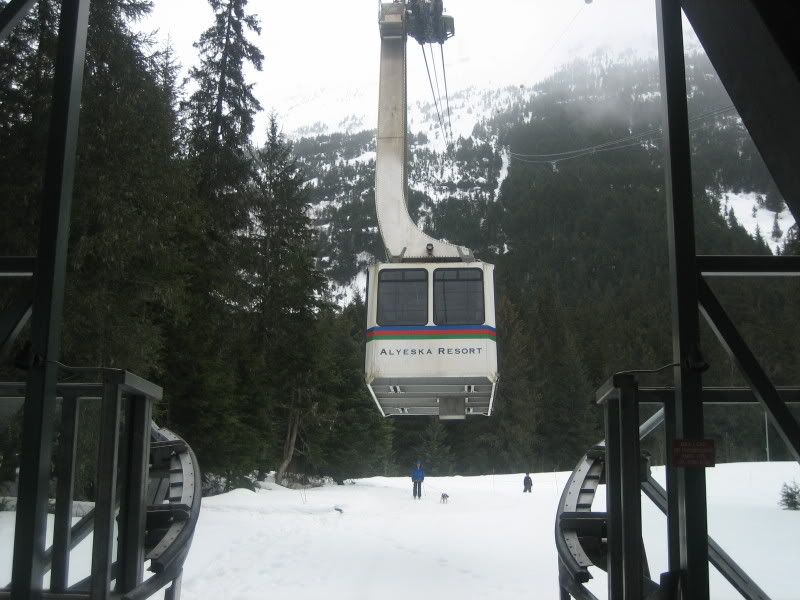 After a few groomer laps to get the lay of the land, we headed up to the peak via Chair 6 and began the GRUELING 30 second bootpack/skate through the upper gate to Christmas Tree chute….Despite the light and weird weather the snow in here was pretty damn amazing, soft and buttery, and it's a great steep run. We lapped it 5 or 6 times:
Shoelaces at the top nearing the rollover: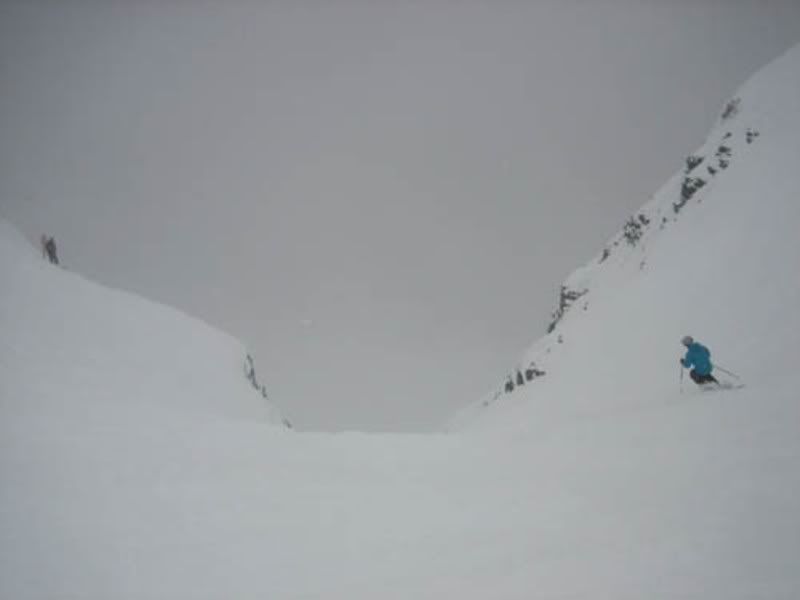 Kellie further down the chute. It's pretty damn long…we just couldn't stop lapping it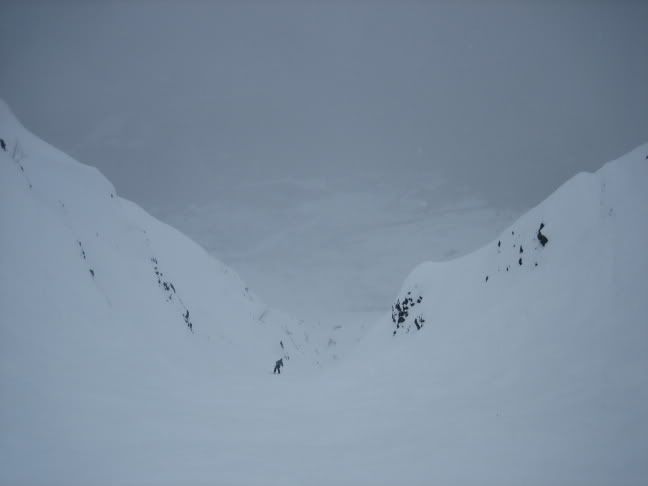 Kellie sniffing out some more good snow in some of the other North Face lines at Alyeska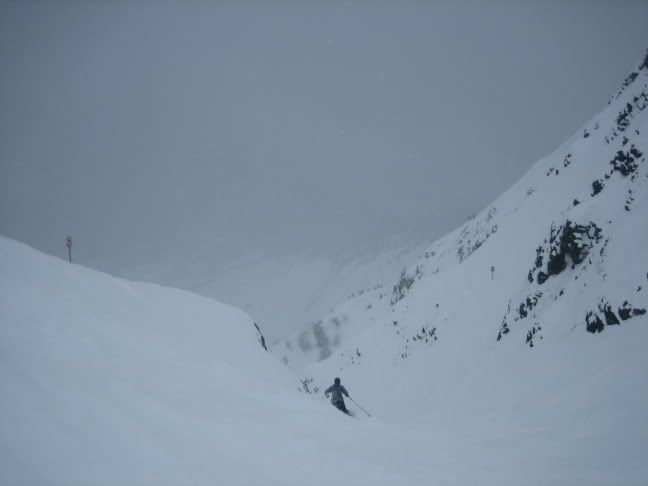 This photo was taken from the window of our hotel room a few days later when it finally got bluebird. That's the face that we kept lapping…at the top you can see the tram station and all the lines spilling away from it. Christmas Tree chute is the biggest looking notch/chute to lookers left from the tram station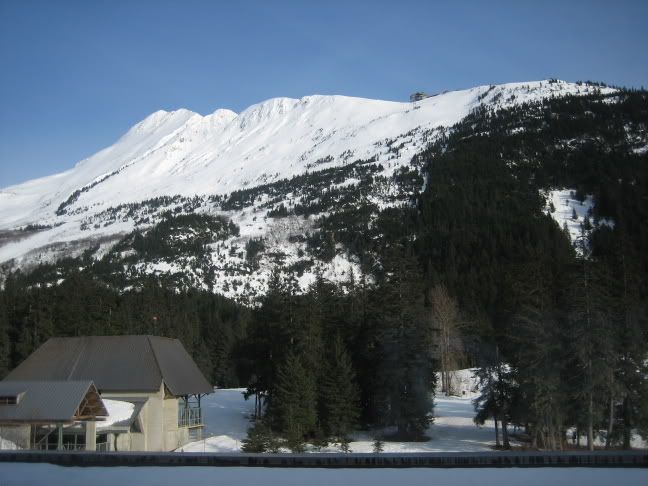 Kellie, Shoelaces, & Squirrel hamming it up on the tram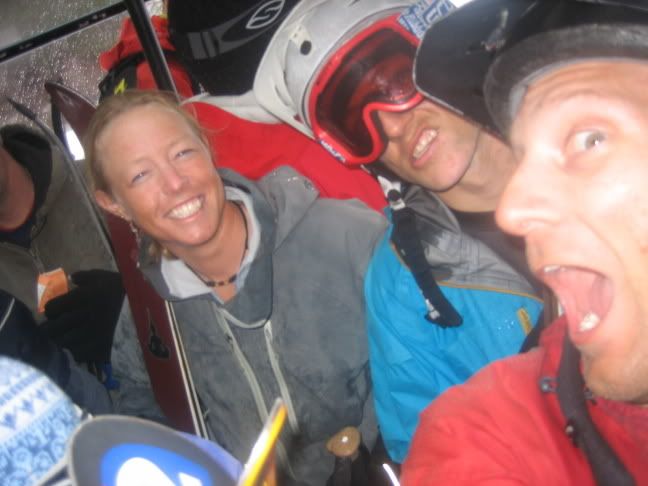 And a spent Shoelaces dries out, dozes and dreams of bluebird sunrises and A-Star helis
But quickly perks up over a bowl of espresso soup at Jack Sprat's in Girdwood..hmmmm…espressssso sooouuuuup…