We took a hike up to see the progress of the new Zuma Quad that will be servicing the Montezuma Bowl expansion at A-Basin this season. After getting an OK that mountain was open with work off for the day we took a low impact line up beginning at lower Ramrod then pushed up towards Lenawee Mountain Lift base for a rest with next target the top of lift with a final left turn towards the goal of our first look at the new Zuma lift. We had no idea what we would find.
Lenawee Lift summit from top of Falcon Trail as we pass over tree line:
Passing the East Wall gate access…Hellish looking without snow:
The blade whip of the flight for life heli could be felt as the crew screamed overhead hugging upper East Wall then shooting over the ridge line between North Pole hiking gate and Lenawee quickly out of sight:
Reaching Lenawee off ramp looking back down on the shrink wrapped seats:
Our first look
at the Leitner Poma quad structure from the Lenawee off-ramp with North Pole gate access in background. New grade cut noticeable:
Betsy perches near receiving structure of the new Zuma Lift which is anchored [12,472'] servicing approximately 400 acres worth of Montezuma Bowl: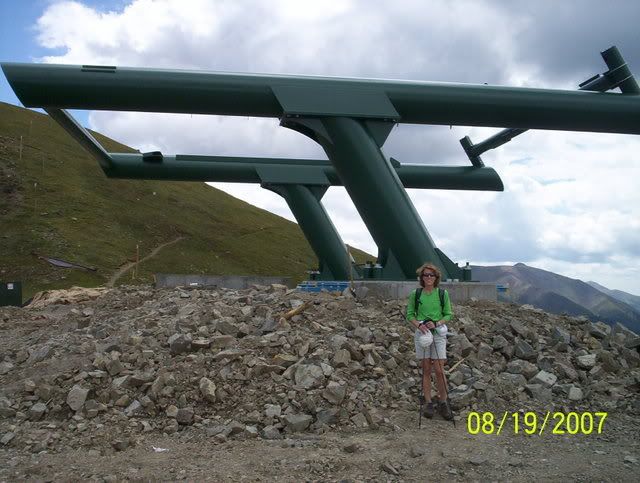 Lefty … Righty…whatever. Obviously more work needed with the business end of that hammer:
I'm pointing down a South West centerline of Montezuma Bowl that Zuma lift will pull from: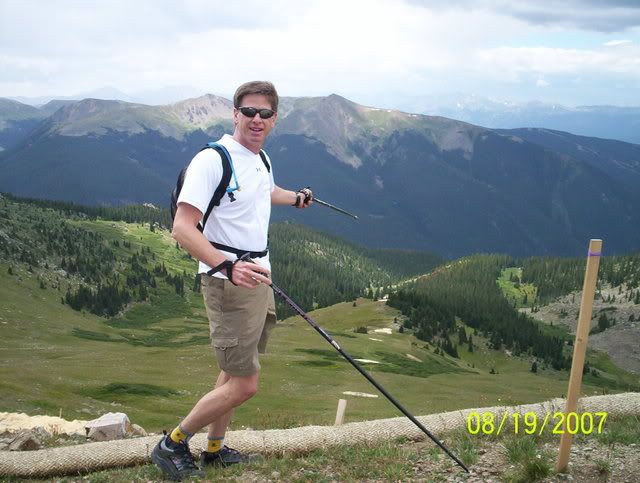 Cement footings are waiting the additional work [and much of it I recon] that will soon hoist the Barking Bears:
Panning right to ridge line with views of Keystone and Breck:
With
Lake
Dillon
in the background, Betsy is looking through the binoculars back over towards
Loveland
pass:
From Zuma looking back over to Lenawee Lift with new grade cut obvious: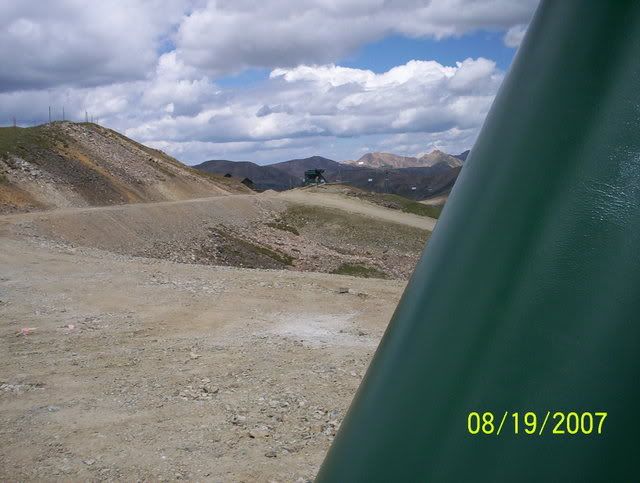 Top of Lenawee off ramp spying a bit downward to Norway Lift and Snow Plume Refuge:
At
Norway
off ramp imagining a ski line:
Snow Plume Refuge [12,456'] as Betsy checks some additional elevation notes:
Betsy holds at the runoff end of North Chute peering back up at Pali summit:
Working down towards mid mountain Exhibition Lift off load and last seasons new Black Mountain Lodge to find a bench and have some lunch. Notice new cement patio work:
After a lunch we began our next hike up to Pali lift summit but we're soon forced to turn back as we noticed the lift's upper wind sock suddenly fill horizontally Eastward with a line of black clouds quickly following. With temperature dropping out and knowing what would come next, camera was shoved deep in pack as we double timed it down to base where the tune shop gang prepping the season's gear let us in to dry off. Fortunately, no lightning encountered as I thought how I rather prefer snowfall…soon to come.