My wife and I spent a couple of days up in Yellowstone Park early this week.
The elk, bison, deer, and antelope herds start calving this time of year and that brings out the big predators, wolves and bears.
So, speaking of calves, this mama bison and minutes-old calf walked right next to our car in the Madison Valley: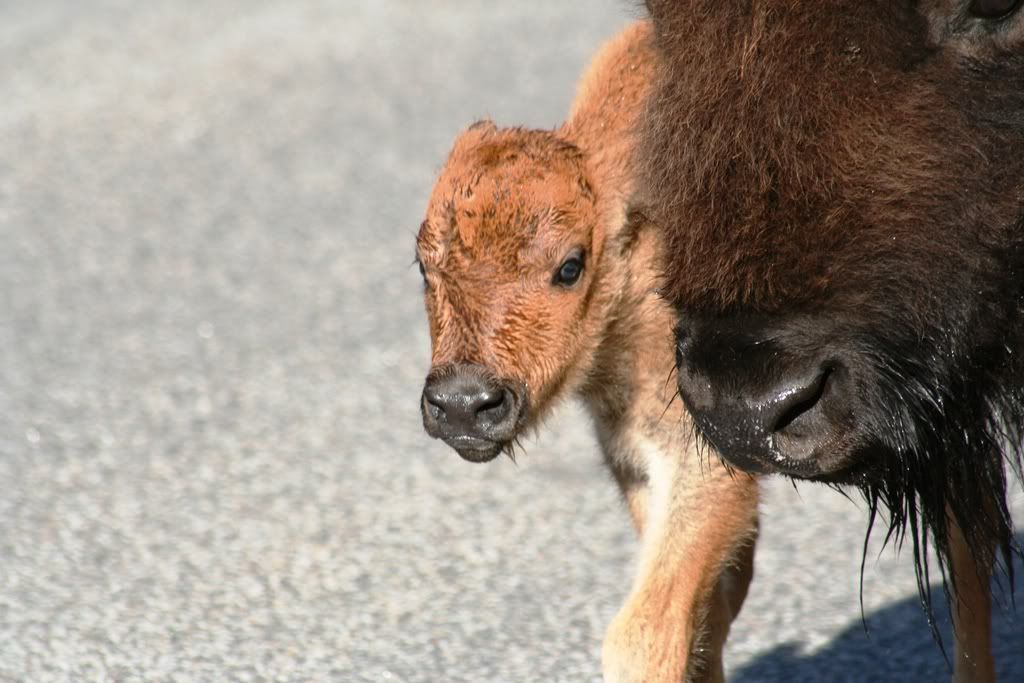 And here's what mom and baby looked like from a few feet away: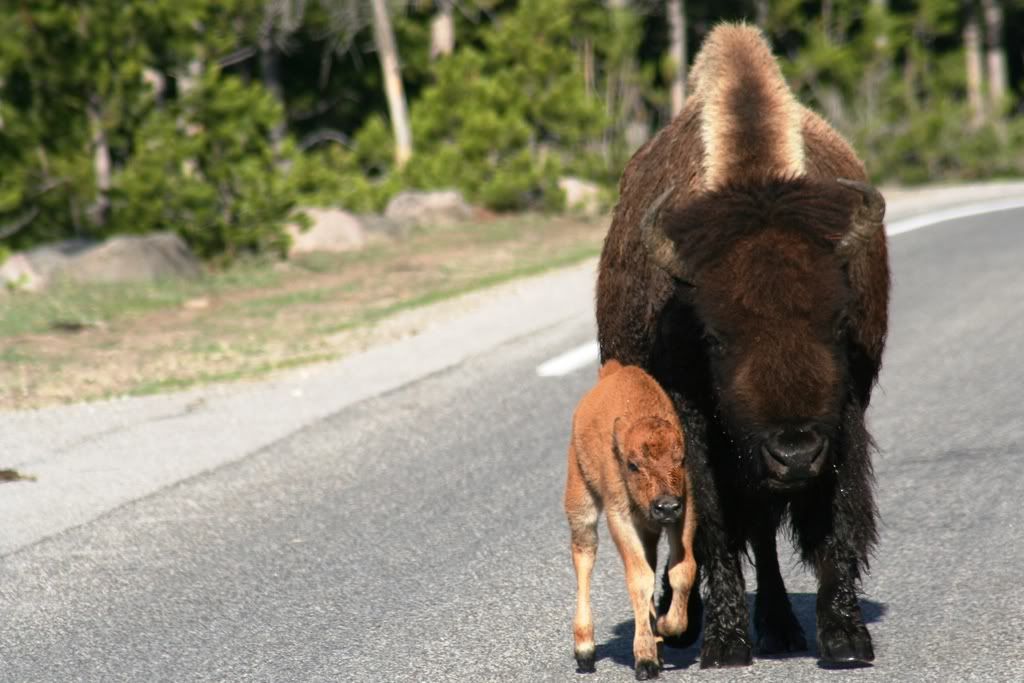 And here's what a mama and baby look like from a wolf's-eye view in the Lamar Valley: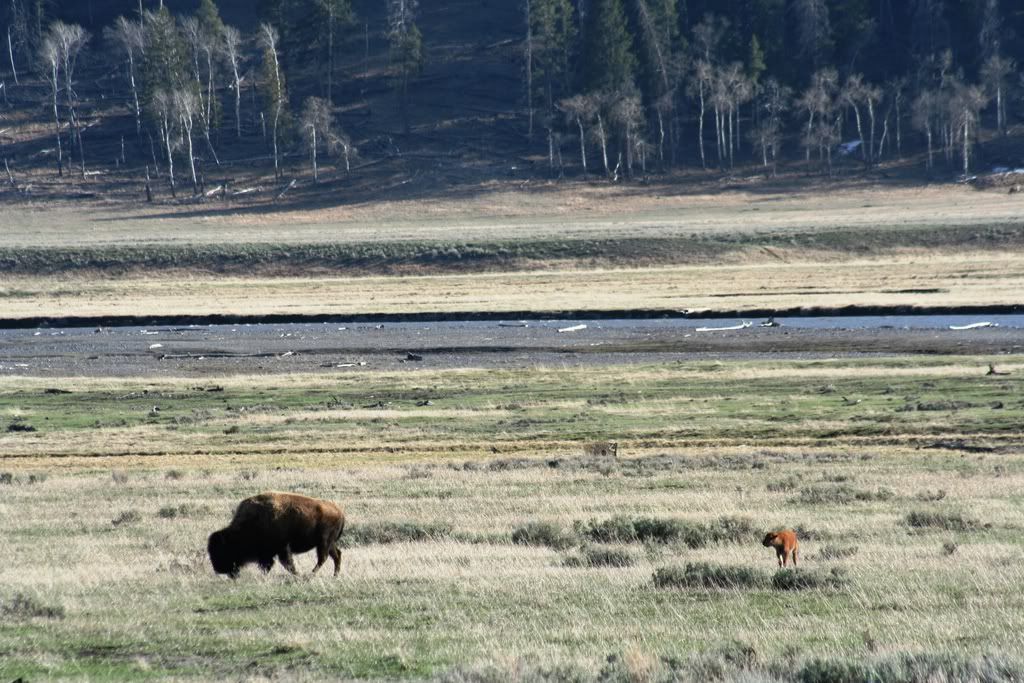 Shortly after I took that photo, a pack of wolves started walking out of the forest in the background of this photo. In all, nine wolves appeared and started walking along that bench across the river from where these bison are standing.
While we watched, they spread out near three big bull elk and we thought that a chase might ensue. The elk nervously watched them, they watched the elk, and nothing happened for a few minutes. Here's what it looked like through the maximum telephoto my camera is capable of. It's not much of a photo but you can kind of tell how close the wolves were to the elk. Double-clicking on the image will probably help make it easier to view: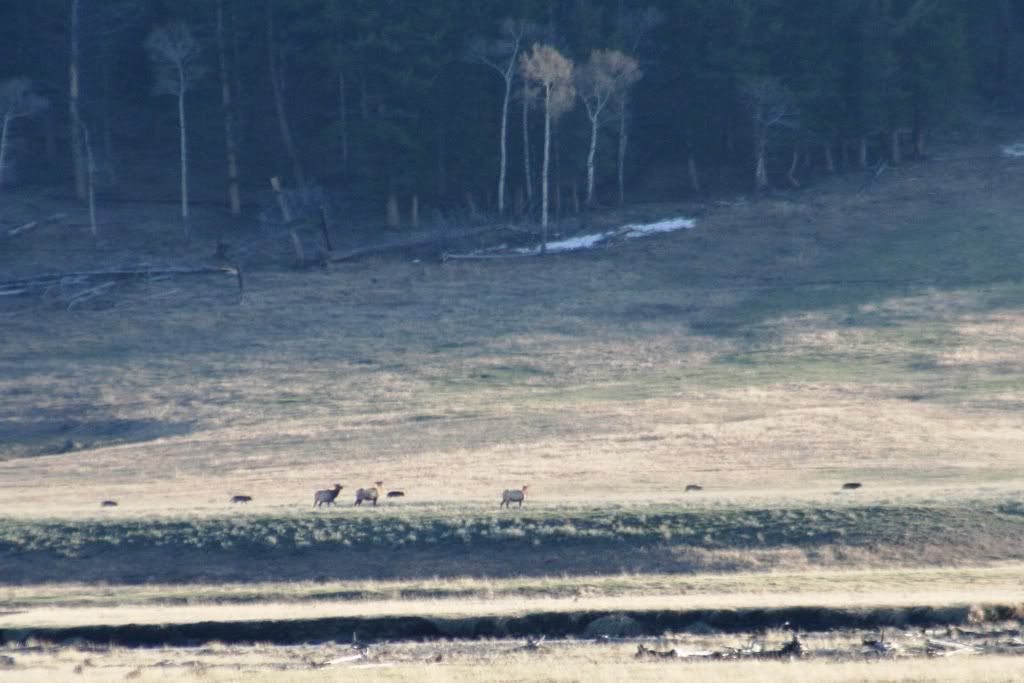 After a brief standoff, the wolves continued on. A few minutes later, one of them started digging furiously in the ground. The others watched for a couple of minutes and then laid down. We could see plumes of dust and dirt where this wolf was digging and before long the wolf had dug him(her?)self completely out of view, but we could still see dirt flying out of the hole. Then all the wolves jumped up, congregating around the hole, and the digger bounded out carrying some kind of critter that we couldn't identify. Life and death in the Lamar Valley.
My wife had never seen a grizzly bear before, but we were lucky there too. We saw a lone grizzly male and a sow with two cubs, all of which were great for viewing with a spotting scope and binoculars but a little too far away for much in the way of photos.
Our time was cut short by a family thing, so we were only able to spend the one evening there. We had such a great experience, however, and the Park is so beautiful this time of year that we'll definitely go back.