Arrived Saturday evening 4/14 - took a quick walk around the village where it was raining relatively hard. Starting to get worried how it would effect the snow on the mountain.
Sunday, 4/15 - Blackcomb - Cloudy and spitting rain at the base, but the top of the Excelerator chair was just above the cloud line leading to bright sunny skies. Leftover good snow from Friday's event was not difficult to find. Did a run by myself in the Jersey Cream bowl and then skied with the wife for the rest of the day on various groomers. Down low was pretty hard early, so we tried to stay high as much as possible. Woops, forgot the sunblock so I had a nice burn started. The light got a bit flat late in the day especially where we were over in the 7th Heaven area. Good first day though!
Jersey Cream Bowl
Monday, 4/16 - Whistler - Day 1 in Ski Esprit. The top 10 or so of us couldn't decide whether we wanted to be in the highest level or next highest level group so we did a few groomers together and naturally split up. Again pretty hard down low, but much cloudier today. And then the wind kicked in pretty strong. Turned out to be the only day with any noticeable wind. But I think this lead to the closure of several of the higher chairs (Harmony, Peak) But the snow also followed rather heavily which consistently filled in tracks for freshies everywhere. So we spent most of the days exploring some nice tree runs all over the mid mountain from skiers right of the Emerald chair across the mountain to skiers left of Franz's. The ski out to the village is slushy, but still skiable. Even better second day!
(sorry, no pics)
Tuesday, 4/17 - Blackcomb - Another day in Ski Esprit. More powder overnight and throughout the day and we were finding fresh and lightly tracked everywhere. We started in the area between the Jersey Crean and Glacier chairs. Then we went up higher and did the Blow Hole on Blackcomb Glacier and traversed over to Sapphire Bowl where I took my worst spill of the week - on probably the flattest section of the bowl!?! Later in the day we did more bumps and trees lower on the mountain. This is mid-April? Again, the ski out is skiable but quite slushy.
Sapphire Bowl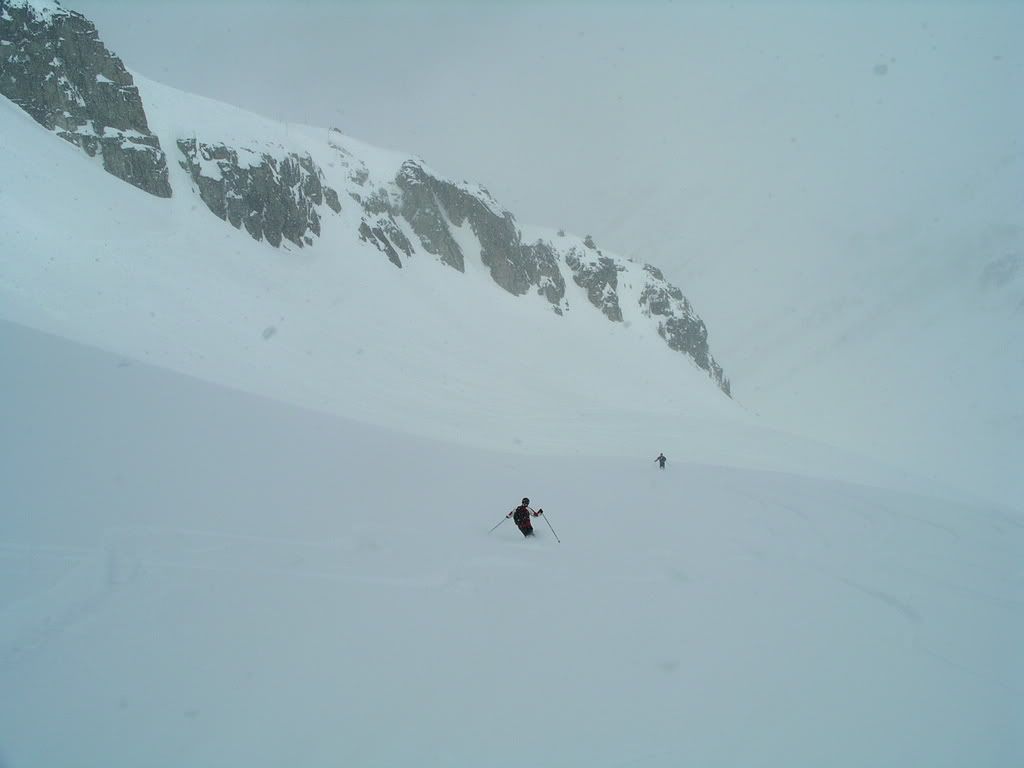 Looking up Blackcomb Glacier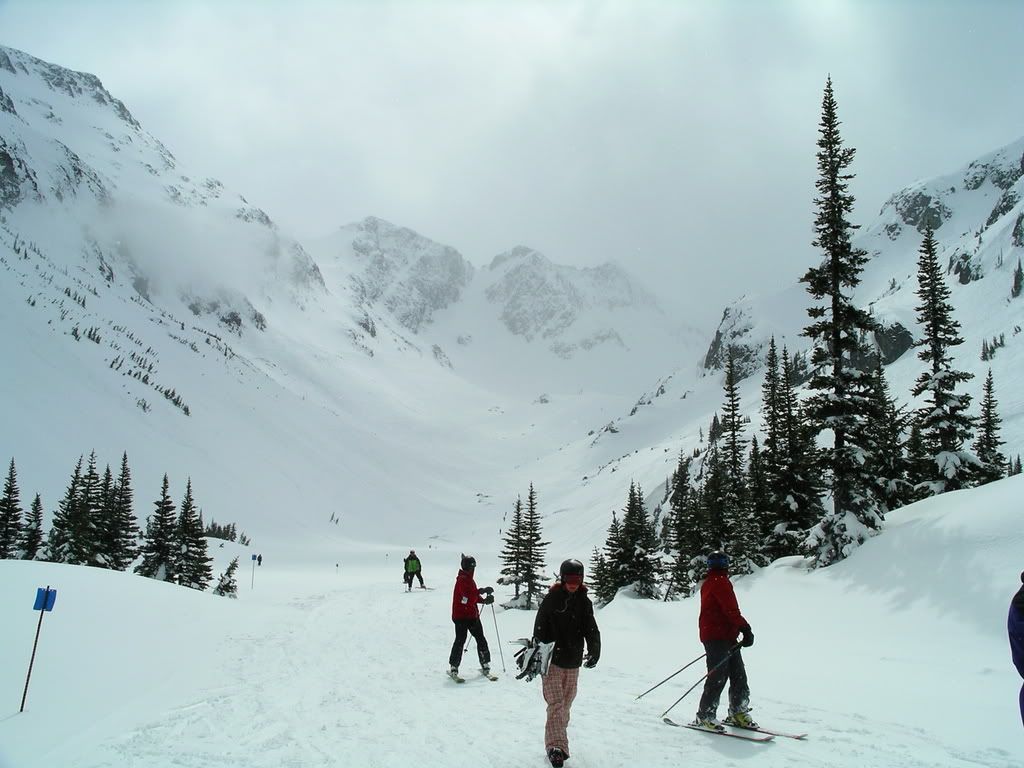 Wednesday, 4/18 - Whistler - More soft snow to be found! Started out by myself with a few high speed warmups on the freshly groomed Dave Murray Downhill where the Olympic downhill will be run in a few years. Looks like they were setting up for a race and/or training - maybe I wasn't supposed to be there? Then met up with the Ski Esprit group, did some warmups and various tree/bump runs and headed up the Peak chair to Whistler Bowl where the visibility at the top was quite limited. Lower down was much nicer into the Doom & Gloom area. Back up the Peak we went in the other direction over to the Sun Bowl and headed towards the new Symphony Express chair. At first we traversed towards Flute peak into the Rhapsody bowl which was really nice. Then back up Symphony we went down the face right under the chair. There's some nice easy trees down at the bottom of the Symphony chair. Eventually we went up Harmony and did some of Little Whistler and the Glacier Bowl.
Whistler Peak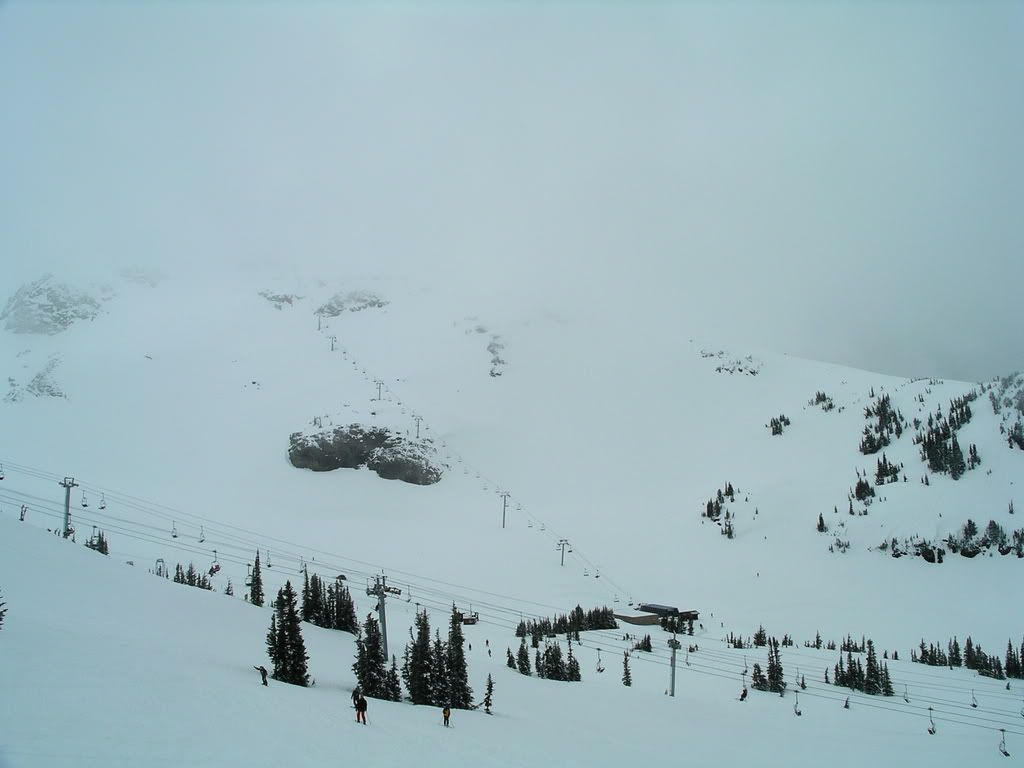 7th Heaven from Symphony area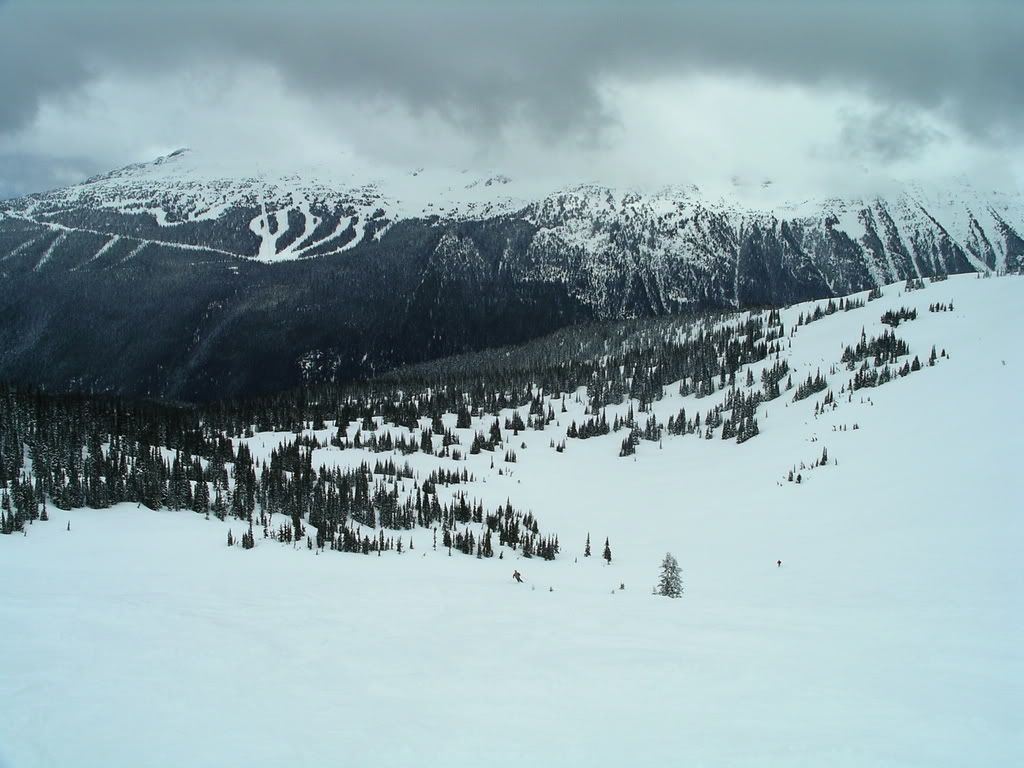 View from Little Whistler
Thursday, 4/19 - Blackcomb - Started out with 3 high speed runs by myself off of Jersey Cream and the Glacier chair before meeting my group. After a high speed cruise down Ridge Runner - wow there's some interesting turns before the bottom and then a sharp left when you meet the Glacier Road, especially at high speed. Then we went back up the Glacier and hiked up Spanky's ladder and skied down to Ruby bowl. Still very nice snow in there. Then headed over to 7th Heaven where we almost lost (permanently!) a member of our group as we traversed over to Lakeside Bowl. He kind of took a bounce over a moderately sized rock...backwards...minus skis. The lucky bounce over prevented any permanent damage. After lunch I left my group and skied with my wife again for the first time since Sunday. We do a few groomers before calling it quits. I decide the ski out isn't worth it and download on the gondola.
Hortsman Glacier from top of Spanky's Ladder
Ruby Bowl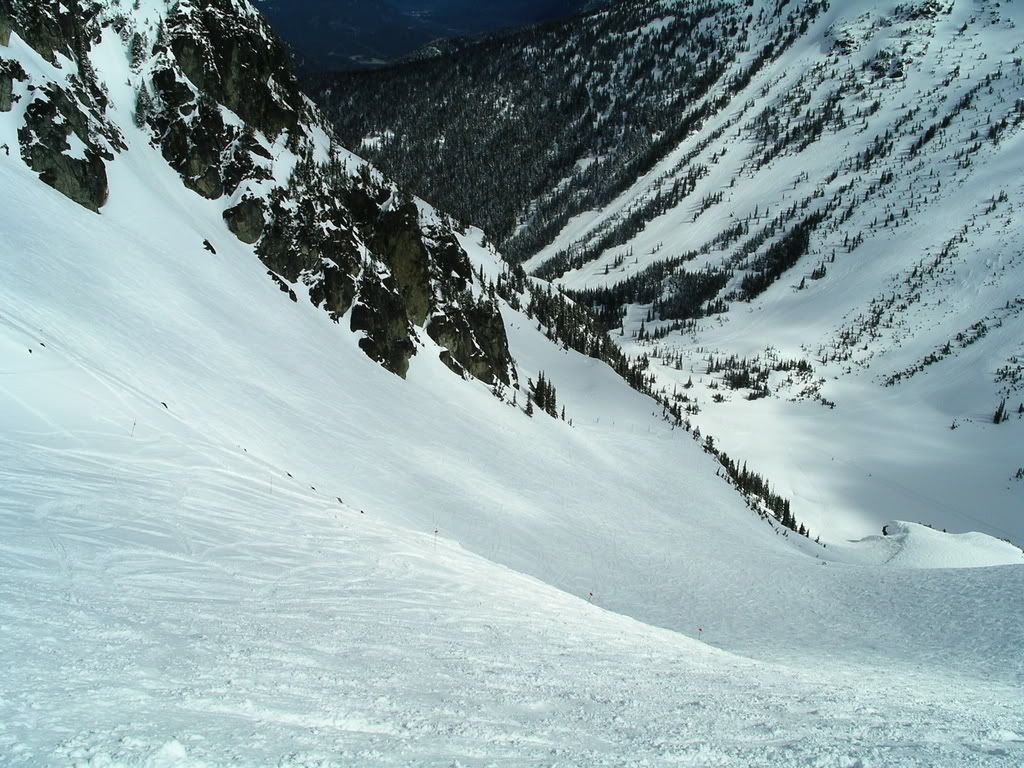 Finally a skiing shot of me, on Ridge Runner
Friday, 4/20 - Whistler - The legs (actually the whole body) was pretty hurting by this point. Did a couple of slow-moderate speed warm ups before meeting up with what was left of my group. This would be the sunniest day since Sunday. Although, some flurries did pop in once or twice. We skied some of upper peak to Creek to Bagel Bowl and then several runs in the Symphony area. After lunch, skied with the wife again showing here some of the easier parts of the Symphony area. Nice way to end 6 great days of skiing.
Whistler Peak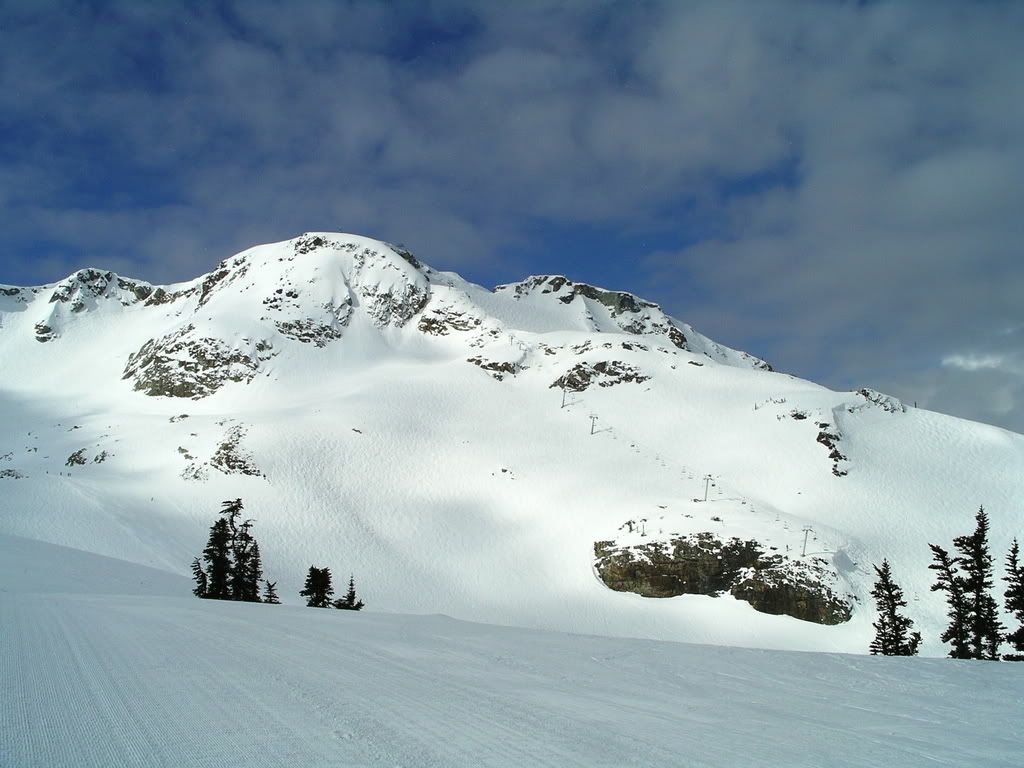 Behind Symphony area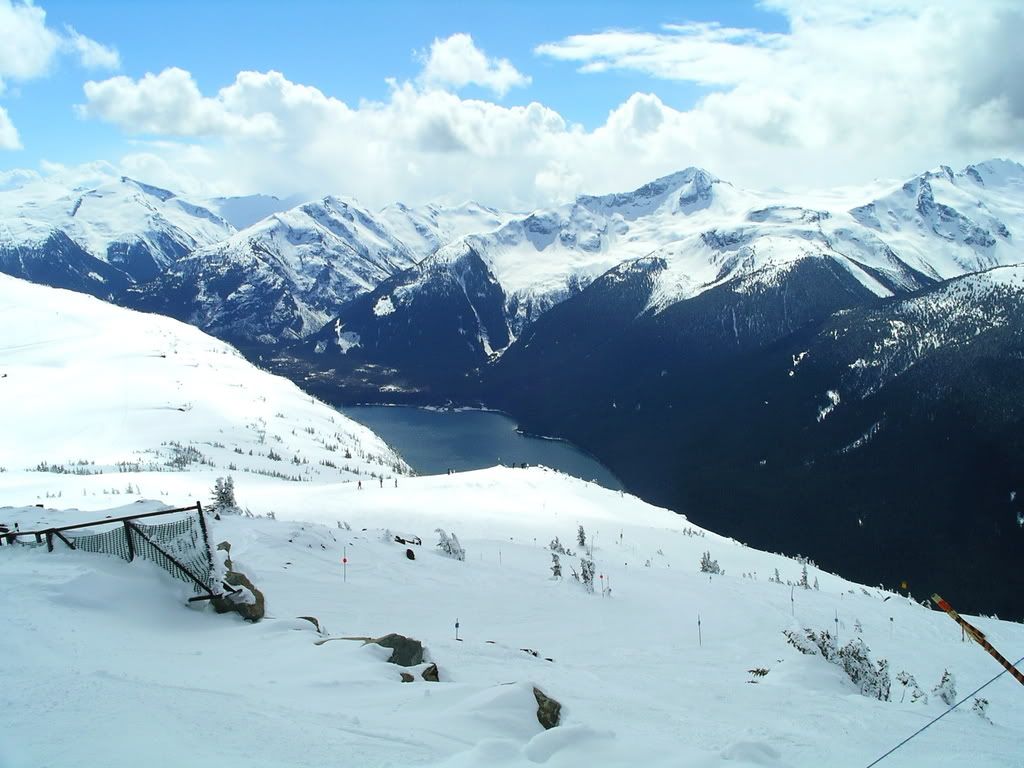 Black Tusk (finally we saw it!)
While I was excited about the trip, I had somewhat low expectations after following (village) weather leading up to our departure. I don't know that I've ever had better snow/weather on a weeklong trip. All the locals I talked to said it was just amazing for that time of year. Everything was filled in and it was soft everywhere. You had to get very low before it became annoyingly slushy. It was definitely better than when we were at Whistler in February, 2000. Definitely ignore the weather in the village...it WILL be different up on the mountain. I also worried about the long trip with 2 kids (4 1/2 and 19 months). They were as good as could be expected. My daughter stuck with ski school all 6 days and was skiing some of the blue runs on Whistler. She loved the kids Tree Fort and seemed to enjoy her teacher and group of kids she was with. So much so, she's picked up an Australian/British accent. We stayed at the Westin after finding a good deal earlier in the season. Definitely a place I couldn't afford during peak season, but it was very nice and the convenience for dropping off the younger one in daycare (it's right in the hotel) and the older one in ski school at the base of the gondola (right outside the hotel) couldn't be beat. My wife took 3 days of Supergroup lessons where she had the same instructor each day and the same 1 other classmate with her most of those 3 days. She seemed to like it a lot and her confidence improved tremendously. I think she'll be more willing to take some additional lessons after this good experience. I really enjoyed the Ski Esprit. I had planned to only do it for 3 days, but I did the last 2 half days since it was such a great way to see the mountain and pick up some useful tips at the same time. I either would not have found many of the places we went to or I would not felt comfortable going there by myself. We had a fun group for skiing and a few drinks at the bar to end the day. The Discover Whistler Days discount (40% off) for lessons/child care for all of us also made it affordable. And to top it all off, even with the festival going on, there seemed to be no one on the mountain all week. I think a 5 chair "wait" at Harmony on Friday was as bad as it got.
Oh...and since Trek asked elsewhere, the Recons I won from ESA Stowe were tremendous! It would not have been as fun a week without them.