This post may only interest those of you who remember the fabled VR-17's of the Killy era…..
In a time when archaic amateurism rules kept skiers from advertising their ski brands, Killy was on Dynamic VR-17's. and the yellow bottoms and two black stripes were unmistakable. They actually had rules limiting the size of letters on the skis, but they couldn't hide those flying black and yellow stripes. The skis were winning everything, and soon were number one on the World Cup, used by the dominant French, as well as Billy Kidd and Tyler Palmer.
I was a teenaged racer, and of course, we had to have them. Shops hustled to find them, people brought them in from France, and soon Lange partnered with them and put matching yellow liners in their black boots.
One friend got a pair of Billy Kidd's DH skis, 223's with clear bottoms. It was like seeing the Holy Grail in person.
The French program went into a decline, and so did Dynamic. They went out with a bang though. When Rossi Mitermeyer won two golds and a silver in the 1976 Olympics she was on Dynamics, the only skier still using them. I bought my last pair in the early 80's when 205's became unsaleable. I found some VR-27's at Gart brothers clearance store, dusty and scratched but unmounted for $29.95. I used them until I purged most of my old skis, chucking them into the dump with a number of old straight skis.
In 2003 my main quiver was a pair of snow rangers and a race stock Atomic SL and GS skis. I thought a nice ski would be a bit of a detuned racing ski, a little fatter and softer, some thing that described me as well as the ski I was looking for. I found a weird ski on Ebay, "the Dynamic Mystic, made by Atomic with the cut of an R10 or R11, and the flex of the R10" Apparently they felt the brand name might still sell and Atomic had the manufacturing ability. I bought them for $160. After flexing them I thought they would be a wimpy recreational ski, but once I skied on them, they were about all I used. They turned easier than the GS skis, with nearly the same grip and better stability. They didn't suck in powder. They worked for all the two footed carving I was practicing on the slalom skis.
The next year I spent a month in Europe, and they were the only ski I brought. I skied powder in Val Thrones, ice in Pra Loup, skied the Sella Ronda through six towns in day. I skied five WC DH courses and hit 100kph on the little speed trap they have on the Lauberhorn. I got credentials to the WC finals and got to try them on injected ice.
I only saw two pairs of Mystics in Europe, one a fat old German beginner, and a pair of 100 cm used by a six year old.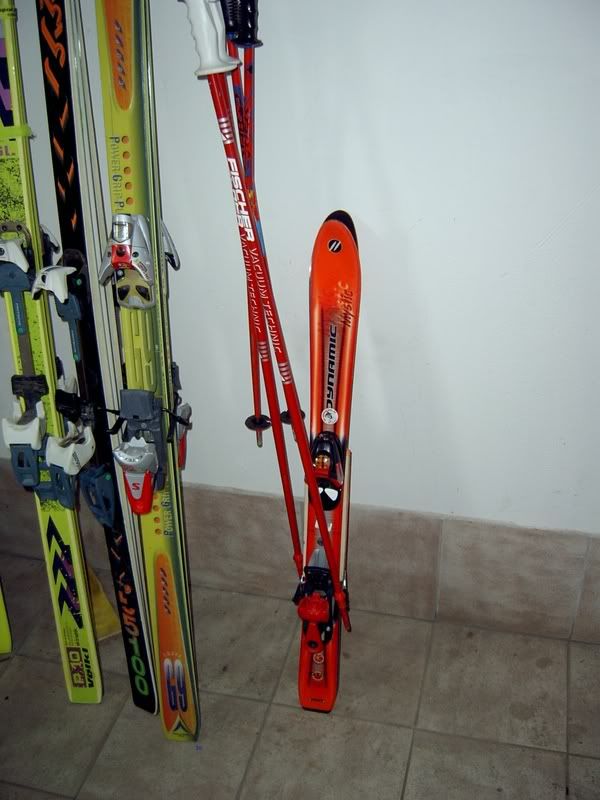 That trip sort of broke them down, so I mounted AT bindings on them and used them for spring and summer skiing on the Cascades. The next year I did a lot of ski patrol days, and found my AT boots were the best boot for that, so the skis ended up doing all my patrol days and getting thoroughly thrashed. I bought some Atomic R11 to replace them but didn't like them nearly as much
Recently I found another ski on Ebay, a 2003 VR-17, with the same specs as the Mystics, and a cool retro yellow and black graphic. I bought them, new with bindings for $135. They are the exact same ski, from the exact mould.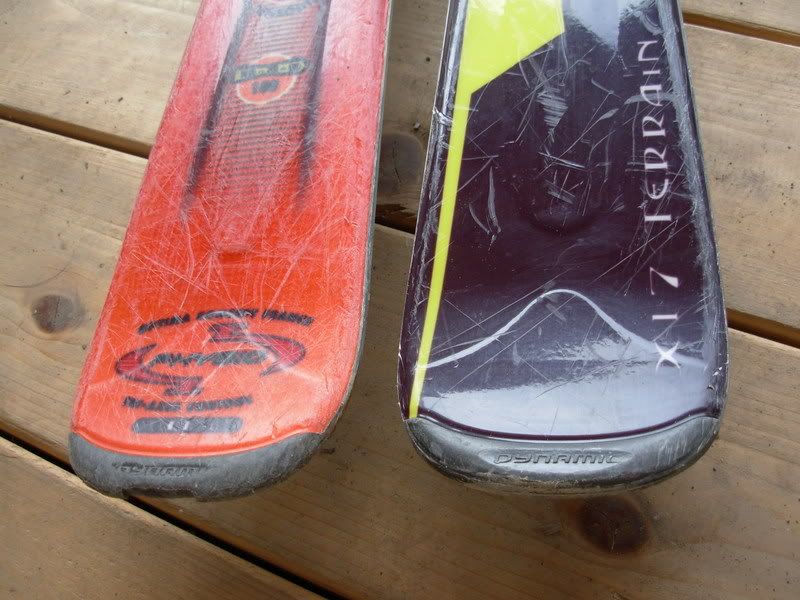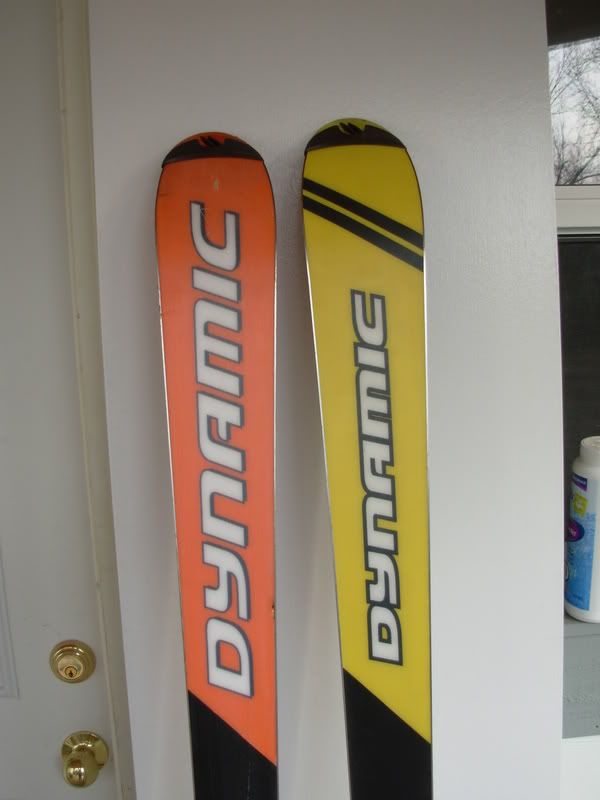 So how do they ski? My quiver has changed since 2002, and maybe they wouldn't really fit. I first skied them and the old Mystics. No doubt, same ski, and no doubt the old ones are ready to become furniture.
I didn't have a ski with a 70mm waist and a 19m radius. My skinny skis all have tight radii and my long radius skis are fat. These skis are great on icy groomer for sweeping turns. They are just a bit softer than a GS ski, so they don't kick back on ice chunks and bumps and they can carve two footed. Sure,there are fat skis which can carve, but these are just effortless, with the edge right under the foot. I spent a day bombing the long blue groomers at Big Mountain and loved them.
Plus, I'm back on Killy's colors, just like in 1968.