PART 9
Solden
We awoke and got everything ready to ski. Jumped in the cars and did a bit of a parade in all 20 cars through town to the parking lot.
We got up the hill and this place was big and spread out and had wide well set up groomers. I felt better than I had in days and was ready to rip the **** up.
Robin was on the same plane as I and we ripped it fast and hard, the kid was surprised I am sure I was keeping up. Hot tubs and spa's do wonders for a body ! !.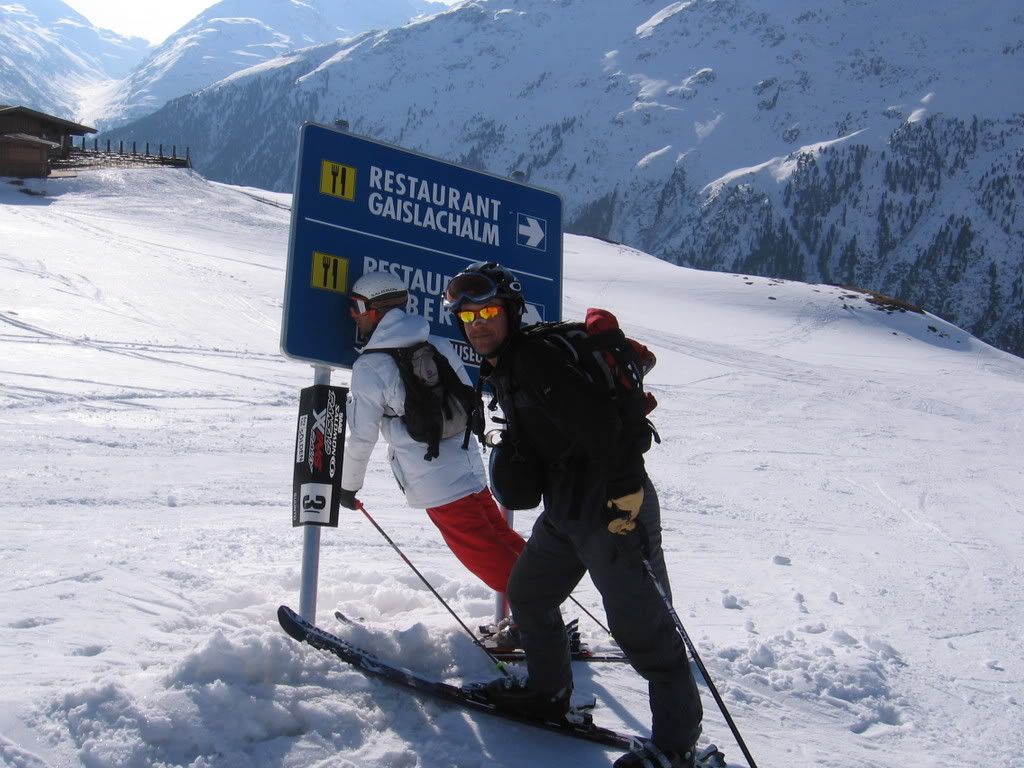 Jay's ankle however was at the end of it's life and we split up to let him go relax, shop and take it easy. Robin and I had some checkpoints and Shredding to do.
Gratuitous Wendy Fisher shot with Jamie Parks reflection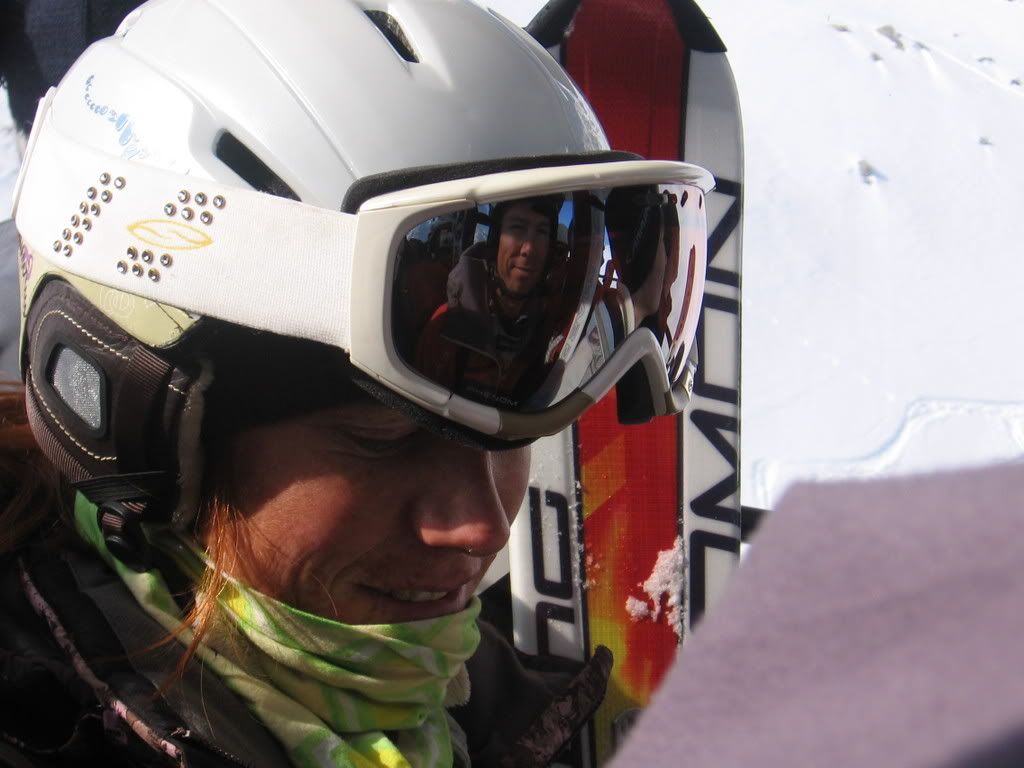 Robin and I proceed to eat up checkpoints like a virgin at a swingers party.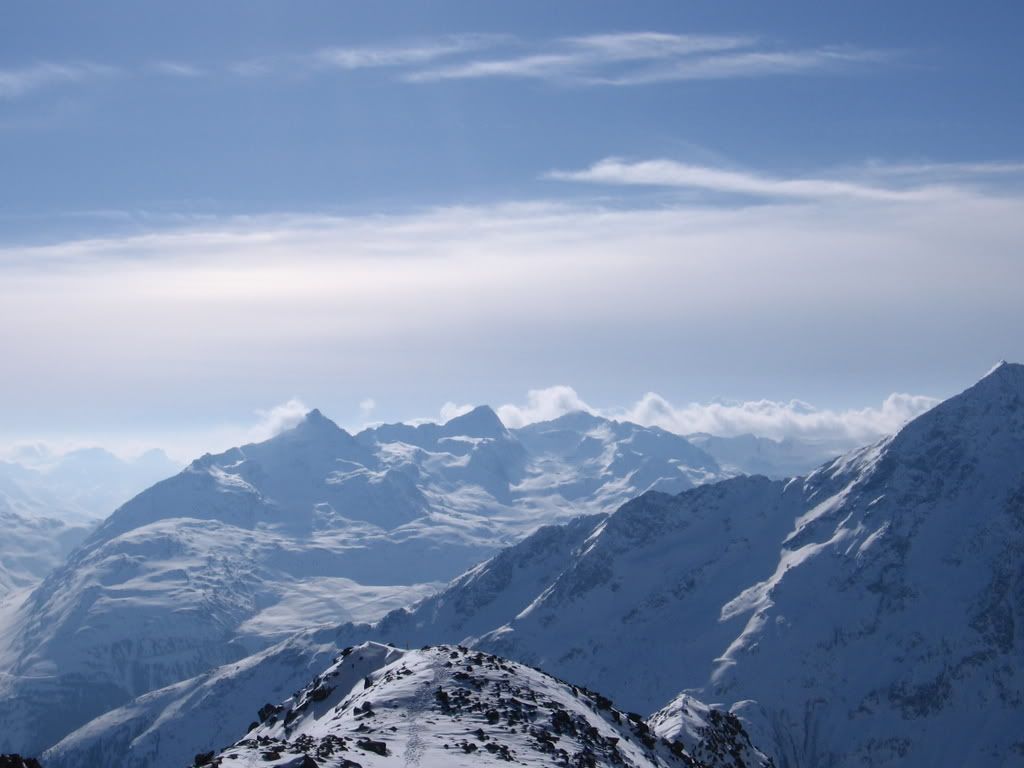 Robin tricked out
couple of mountain pansies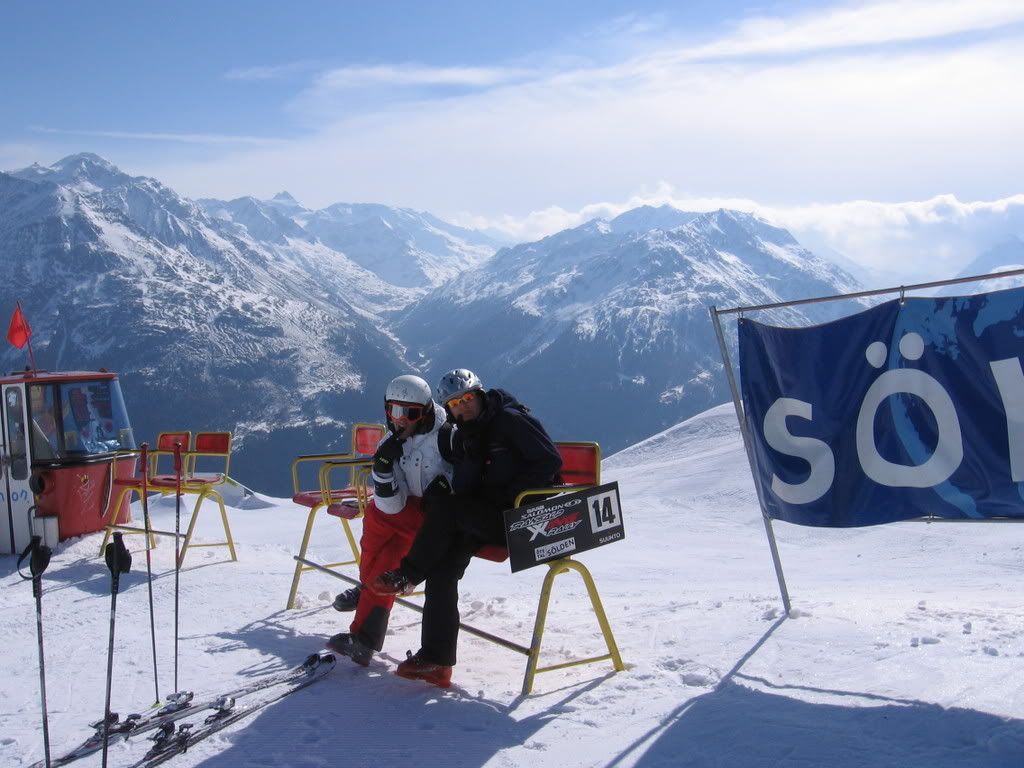 Damn digital camera's and their delayed snapping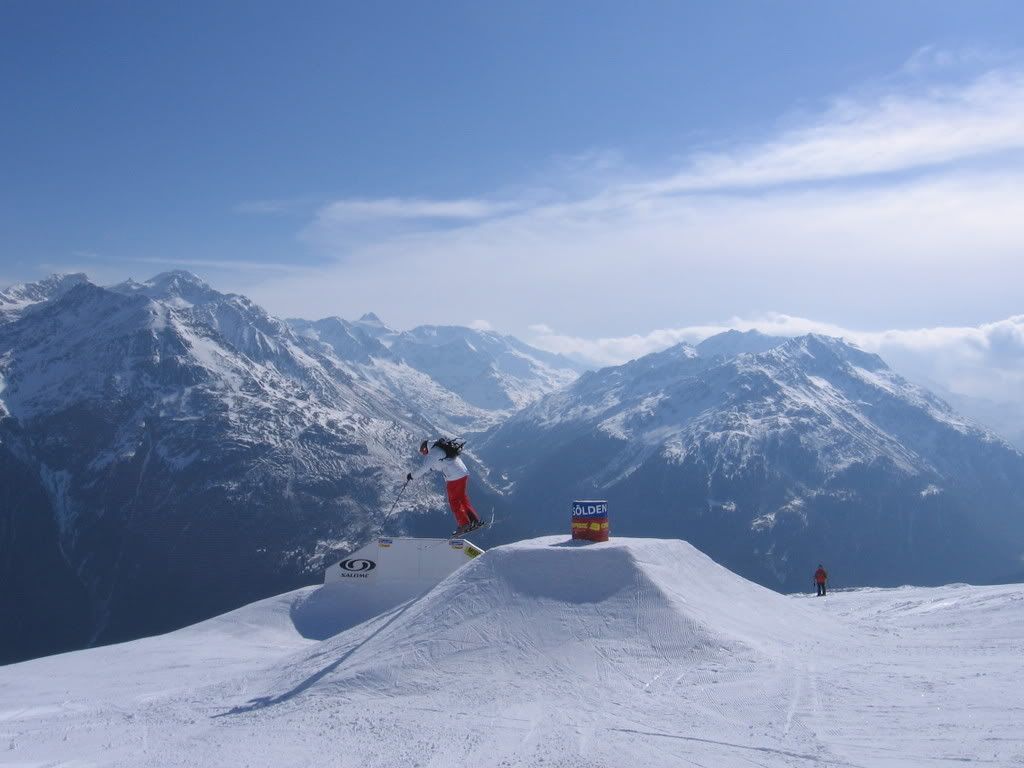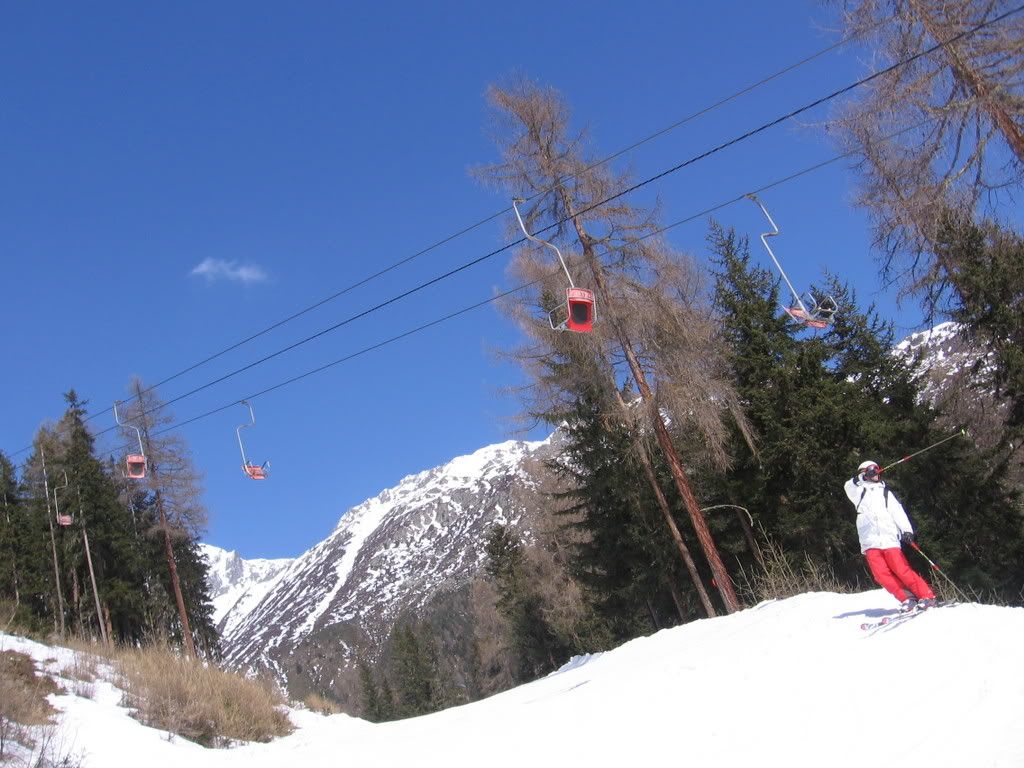 Mountain squirell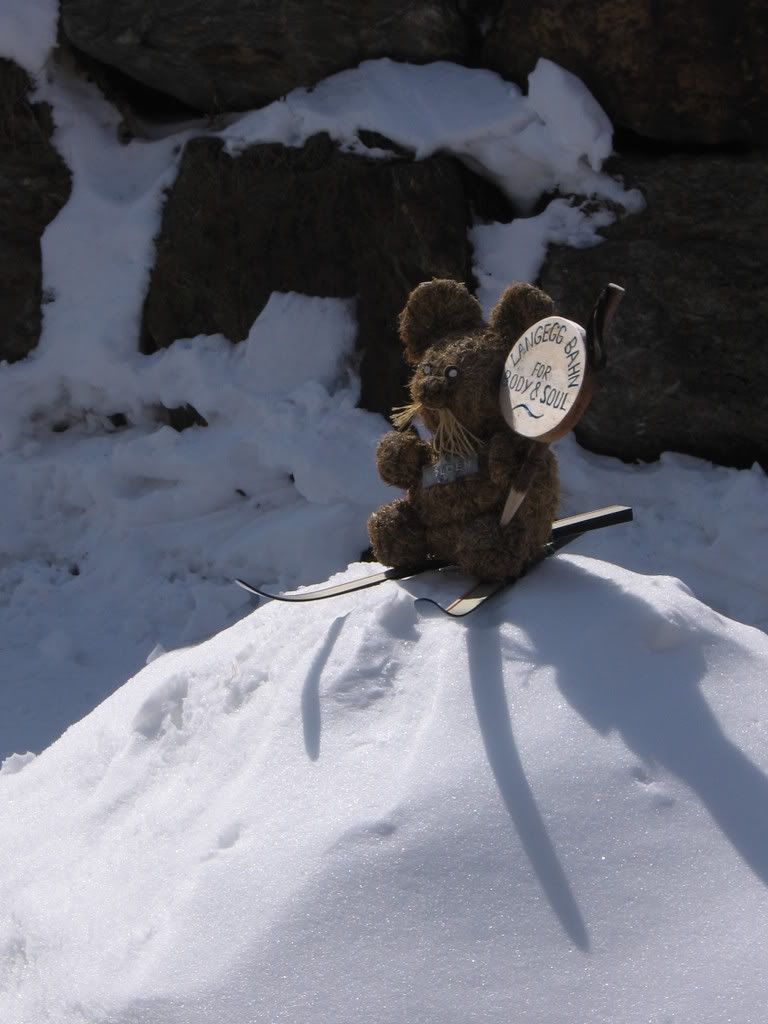 Life is still good
still good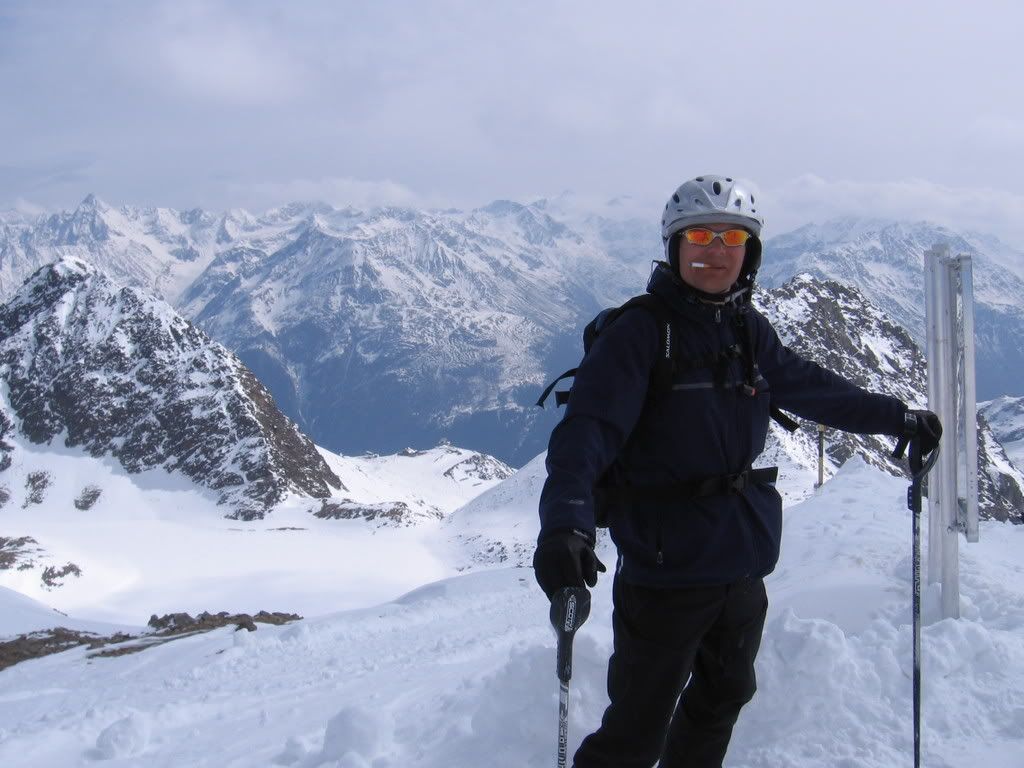 Rippin it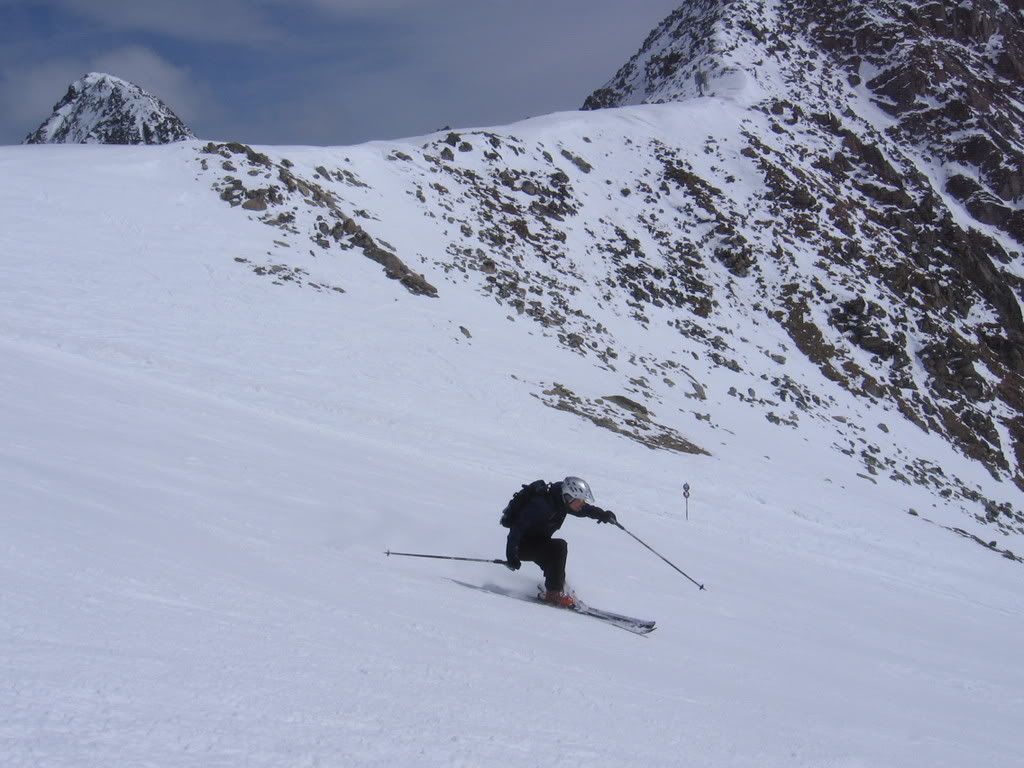 Hiking up to some checkpoint. Damn them and their hikes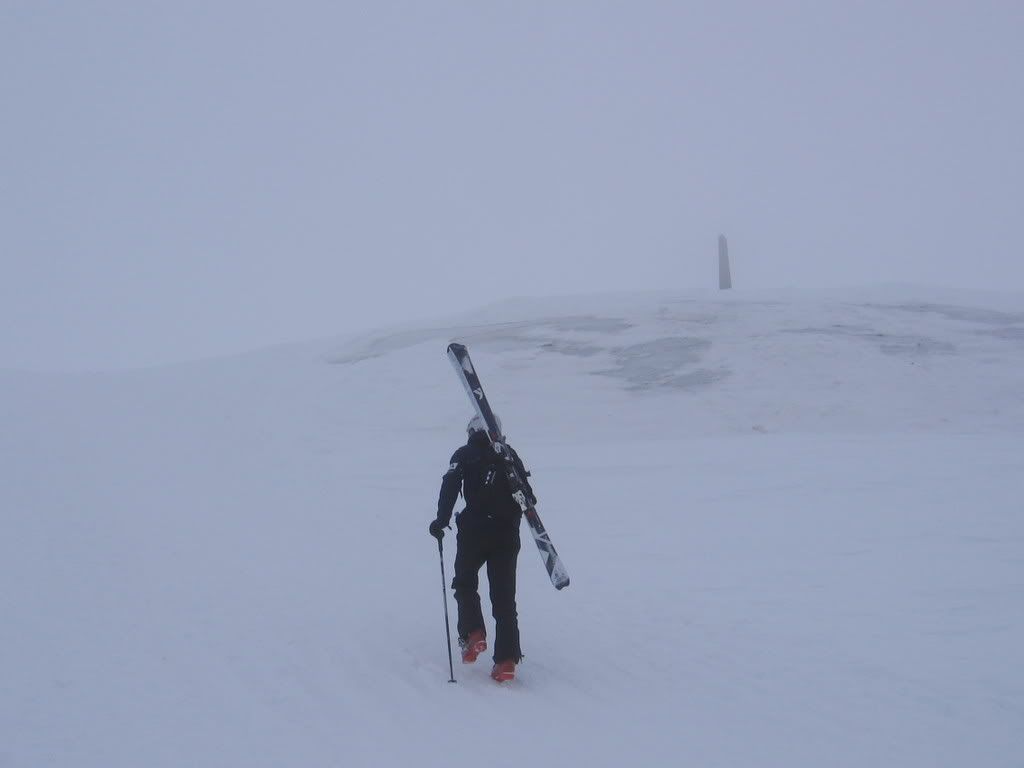 Carlos and Kevin of Whistler, winners of Fernie Rally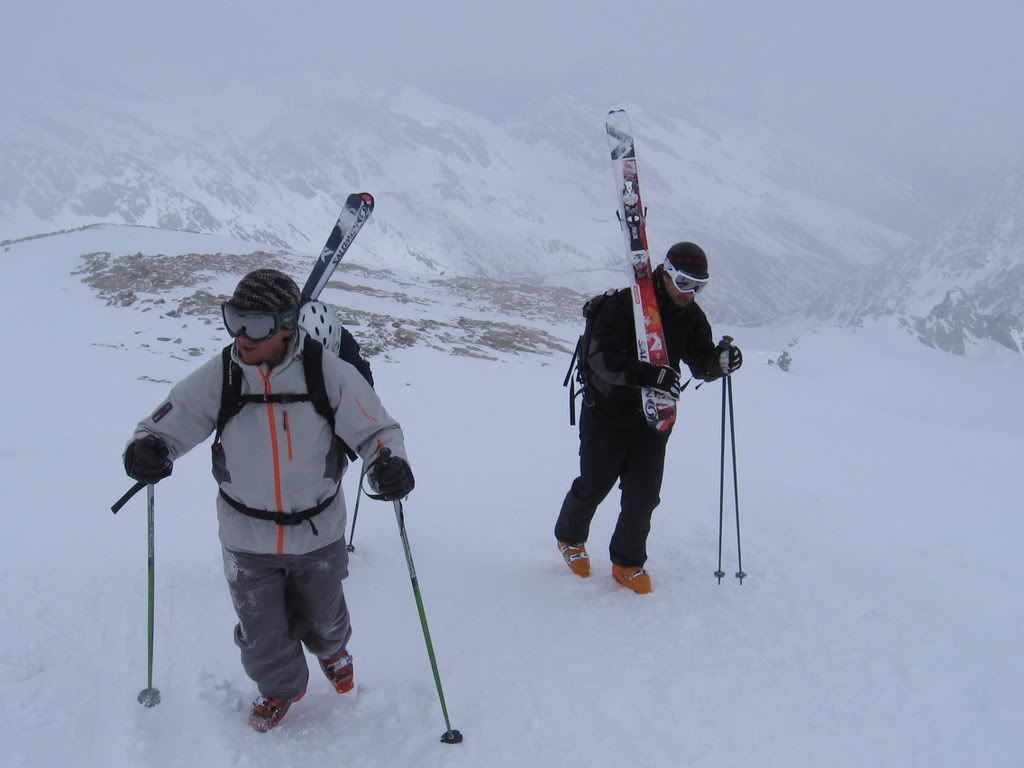 Grabbin some high alltitude ass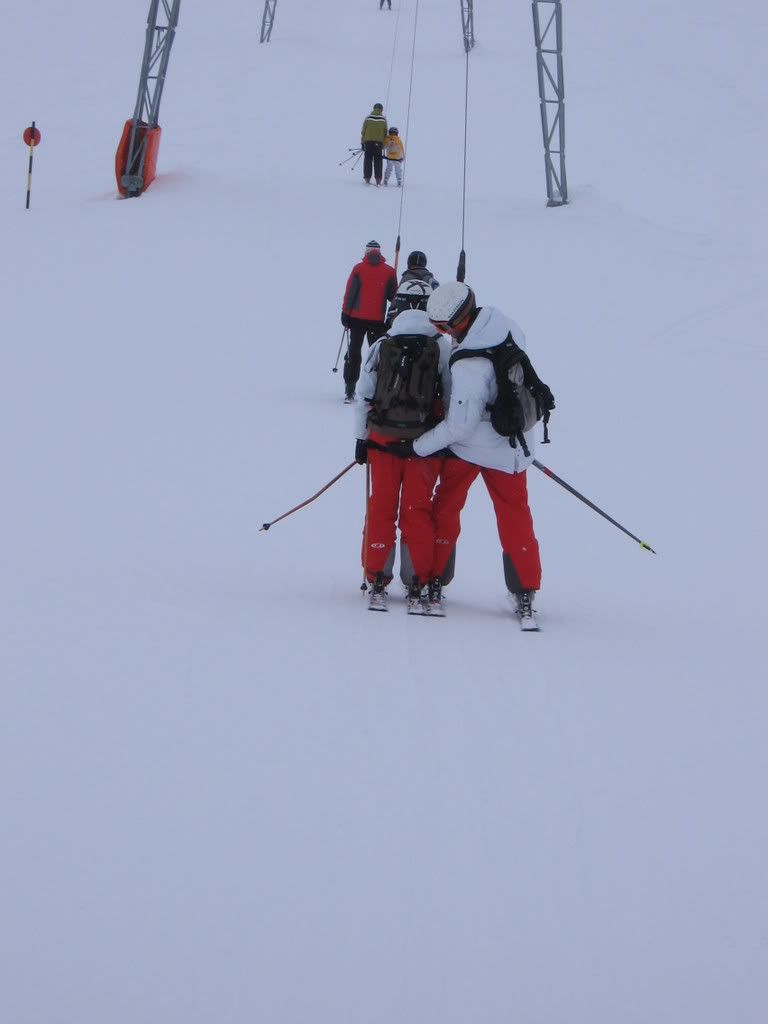 Gettin some high alltitude Glacier air, I hate that shutter on my camera
We cleared a whole area in no time flat and met jay telling him we were on a role and to meet us at the GS course in the PM.
Robin and I proceeded to gain more checkpoints and lots of vertical. I let Robin gain two more runs for vert while I gained a quick eat and rest before the GS race.
The GS race was a long one and I was really looking forward to laying the smack down. We tuned the ski up at the start with files and stones and I was ready to rip.
Artsy shots for points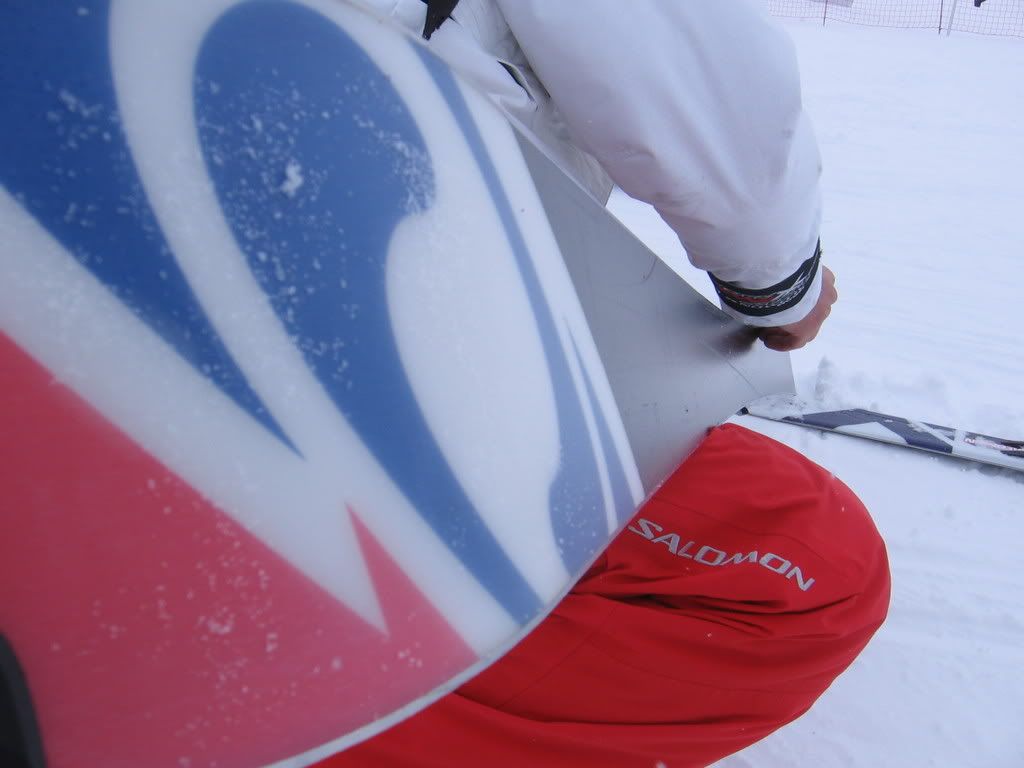 I made the first few turns really well and early gate entries. Sadly I didn't crank my bindings and got to close to a gate and my left ski came flying off. Thankfully I didn't blow past a gate and was able to avoid a DNF, but my time sucked monkey balls.
Robin and Jay layed down okay times. We grabbed the last check point in the ice igloo.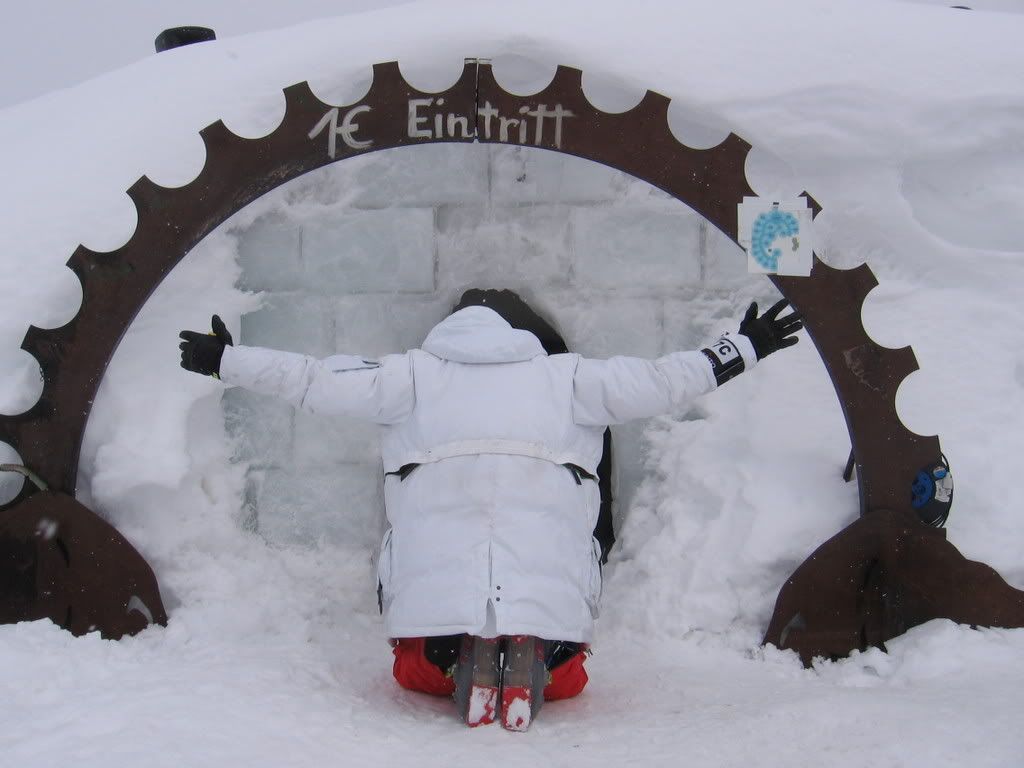 CHeezy point photo
I think we got fagged up here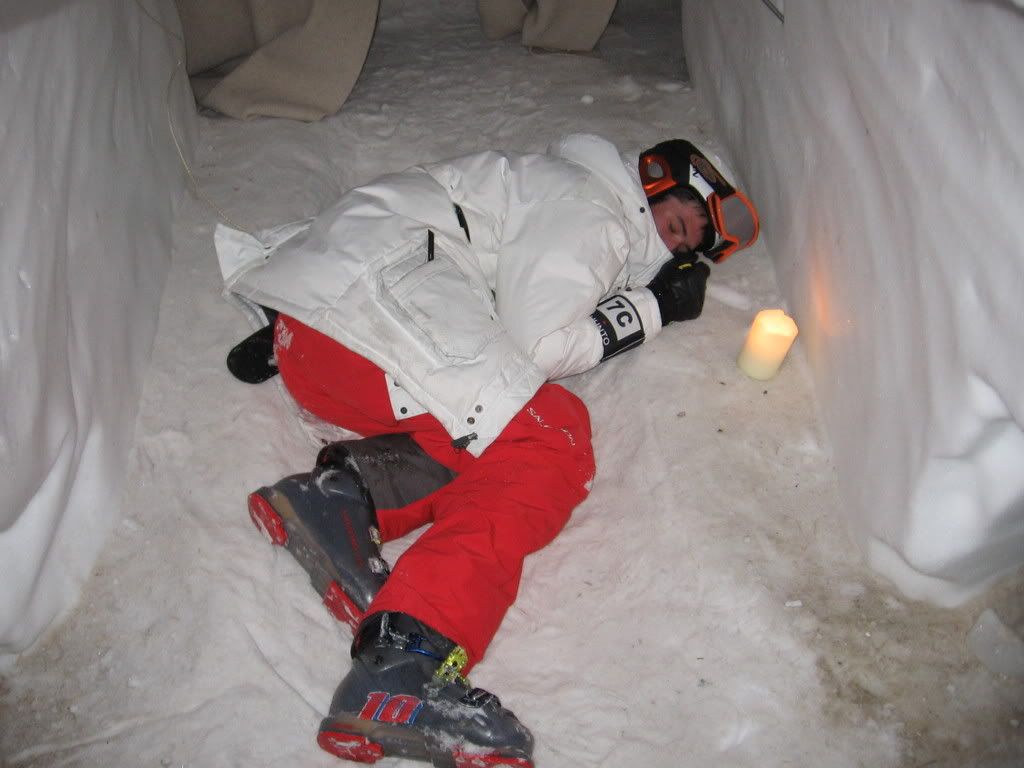 Our XWING rally was over. We sat outside of it and shared a beer with our fellow Canadians the Fernie rally winners, Chriss, Carlos, and Kevin. Along with Smiley Nesbitt, Less of SKIER and Scott Lundsen of NA Salomon.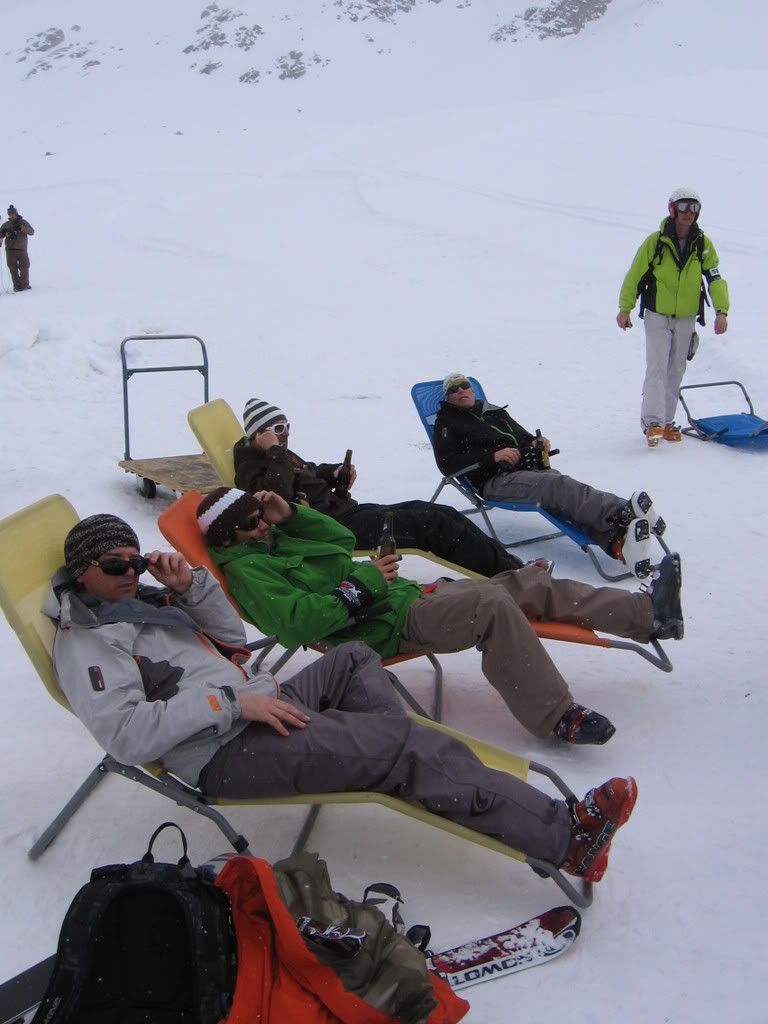 Life was good, a great week, so many memories and ending it with great people sucking up life and Heinekens.
We all gathered in the Salomon Station building for snacks and drinks. They annoced we were just short of 1 million meters total for the whole event and we needed to do 200 more meters to break 1 Million. We geared up and enjoyed the last ski down together as a group.
Mad props to this man for setting this rally up and opening the Salomon pocket book to pay for it. Head Salomon guy (damn I wish I could remember his name, he deserves the respect)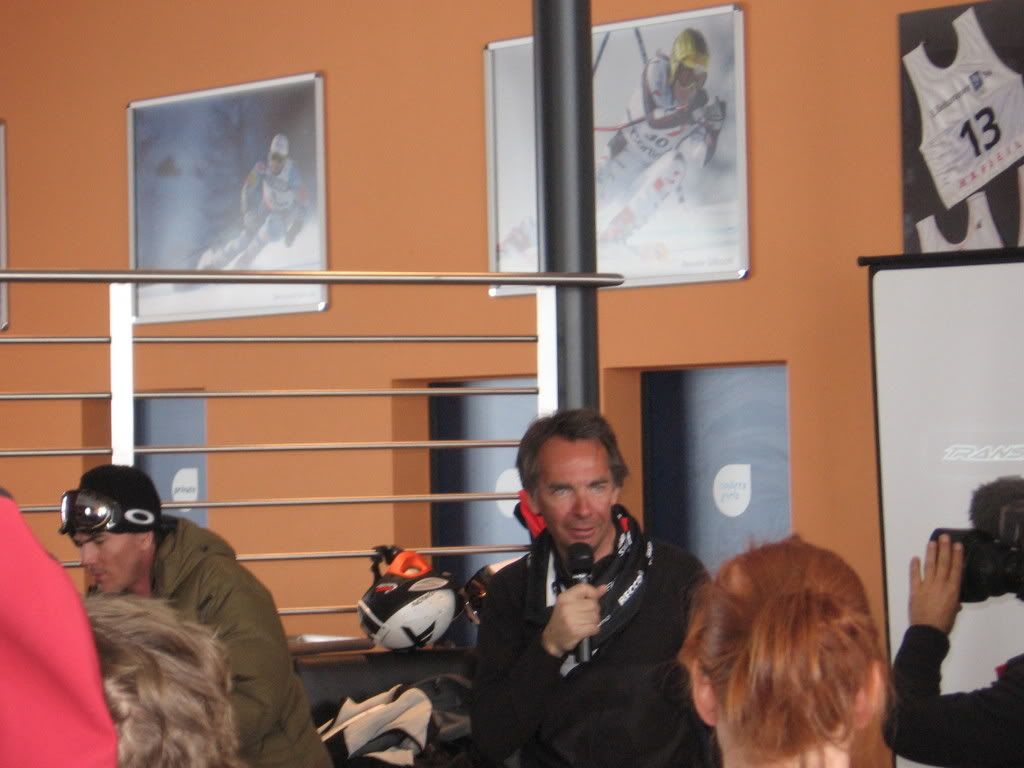 Robin being half cut on beer proceeded to be a Ham and skied down with his boots completely unbuckled with a full glass of beer. He wiped out did a huge tumble and didn't even spill his drink. This dude was then knighted as a honorary Canadian !
The Crazy French girls on the bus
The bus dropped us at the base gondy right by the bar, the majority of the crew went and had drinks on the outside patio.
I was spent, I needed a hot tub and rum and coke. I took off my boots to bare feet and walked the 10 blocks to the hotel. I should mention here that Euro's seem to think nothing of walking miles in their boots etc..
Crazy Mofo's I prefer the Canadian Style. Put boots and skis on and only go downhill and leave it all on all day. No taking them off, walking up hill, climbing stairs, walking miles. It's a different flavour for sure.
On our walk back the trip came to fruitition as we walked down quaint backstreet with a barn and cows, winding our way to the hotel, boots slung over the backpack, barefoot, pants rolled up skis on the shoulder. Euro life is nice, I could easily slip into the laid back lifestyle when I retire.
Again I mixed the Rum and Coke and hit the spa. Damn life was good, it was really over, I didn't have to ski tomorrow. I was sad and glad and really loving the hot tub, suntan bed, showers, steam rooms etc. After a few rounds of this (getting fresh rum and cokes from the room) it was time for dinner and the announcing of the winners.
We were the Three Plumbingo's, we are plumbers and this crest was on the wall of the hotel next to ours.
Dinner was a long walk away in the rain and we enjoyed our stroll through town. They did a slide show of the pro photographer shots. Some pure money shots of me during Zermatt crash day as well as some scattered others.
I relished in the moment sitting beside Jamie Parks, Wendy Fisher, Smiley Nesbitt, Anek Gavaggio, Kaj Zacrisson, Robin Lenell, Ophelie David. I had to pinch myself that this week really took place, that I was still alive.
The 3 ripping French girls took 4th place. These ladies are a class act and truly crazy and amazing skiers. The French ski instructor team Les Demous took second and for some reason proceeded to strip down to their underwear and dance.
The Italians took 1st place from their hard effort and perhaps hooking up with some Sweet US ladies.
We called it a night as we had a long bus ride back to Geneva. Yes we packed those damn bags again only this time we had no car for extra stuff. IT was tricky getting it all in two bags.