I advise we leave the remaining trip reports as single days. Lots of pics. Lets be fair to the dial up people
PART 7
St. Moritz.
I awoke sore as a mother but thankfull to be alive. We packed the god damn bags again and put them in the car. Got some coffee and got ready to drive to the bus pick up.
This day was sadly a bit of a blurr and I intended to take it easy and let the body heal up a bit. Also I was zapped on Advils.
We got the top and Robin being the show man hiked over to the heli landing pad and dropped in amongst a crowd of onlookers and in the lense of our camera's. we then went to the first check point.
Here we were supposed to parasail but due to no wind and a blue bird powder day we had to rapell down 70 meter cliff instead. Robin and I said hell yeah but our buddy Jay said "NO Fin WAY" no worries it's not for everyone.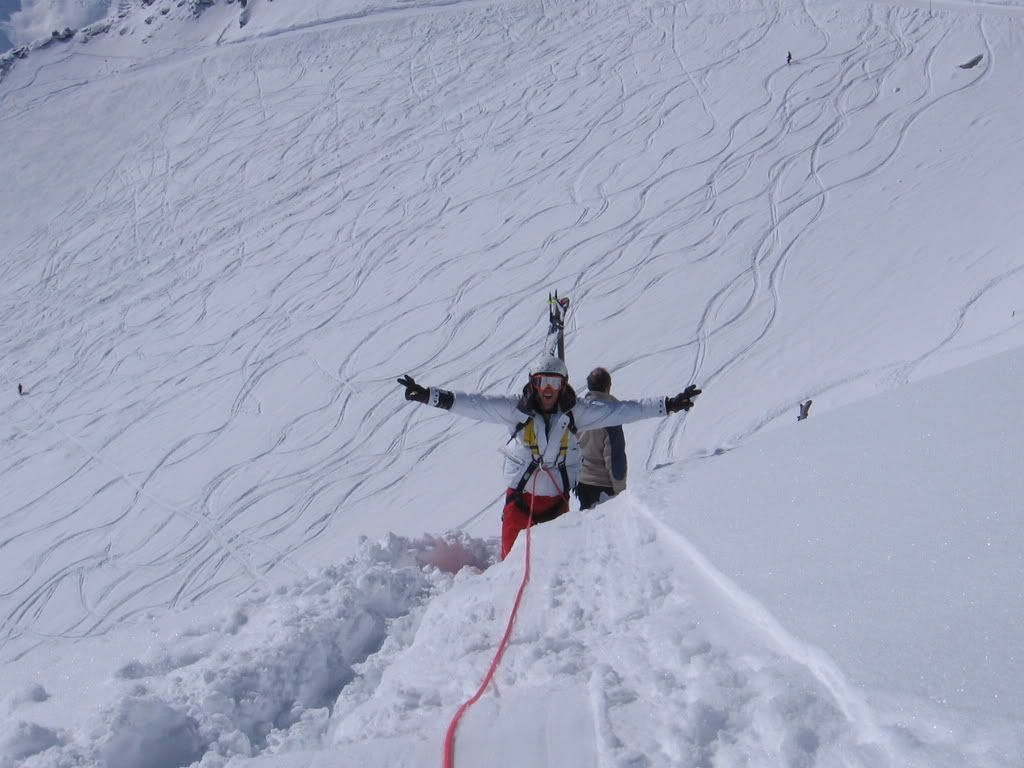 View before going down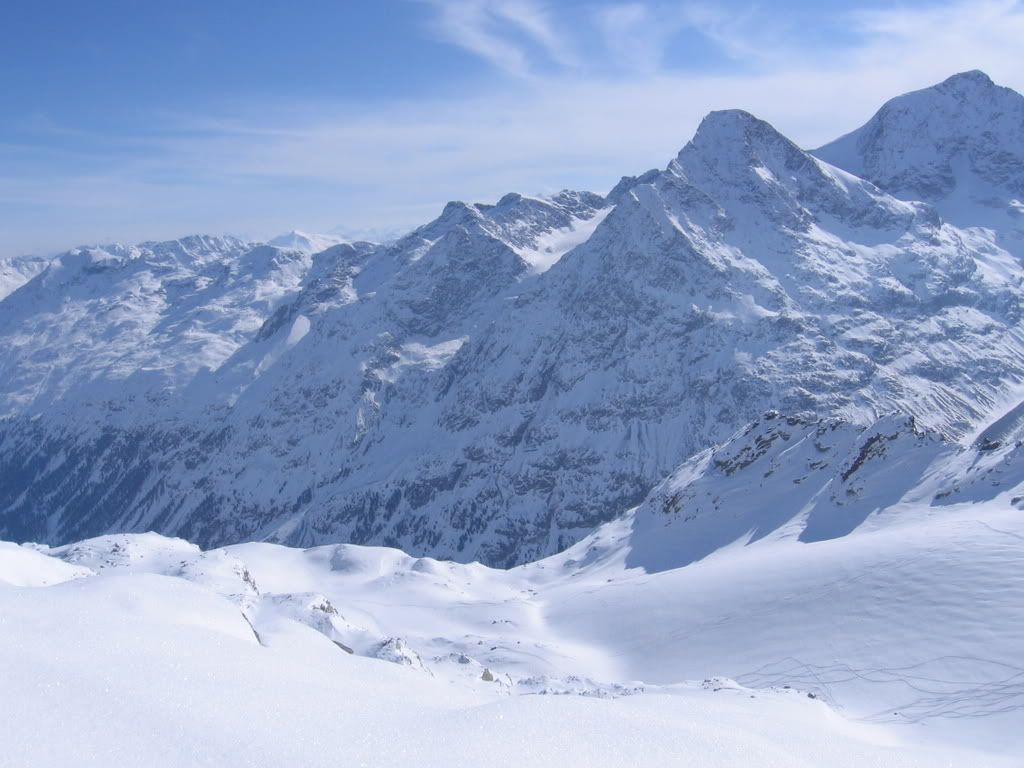 We were lowered down (they didn't trust us) it was hard with skis on the pack, tired legs and rocky outcrops. They dropped us in about 1.5 minutes, yeah good points.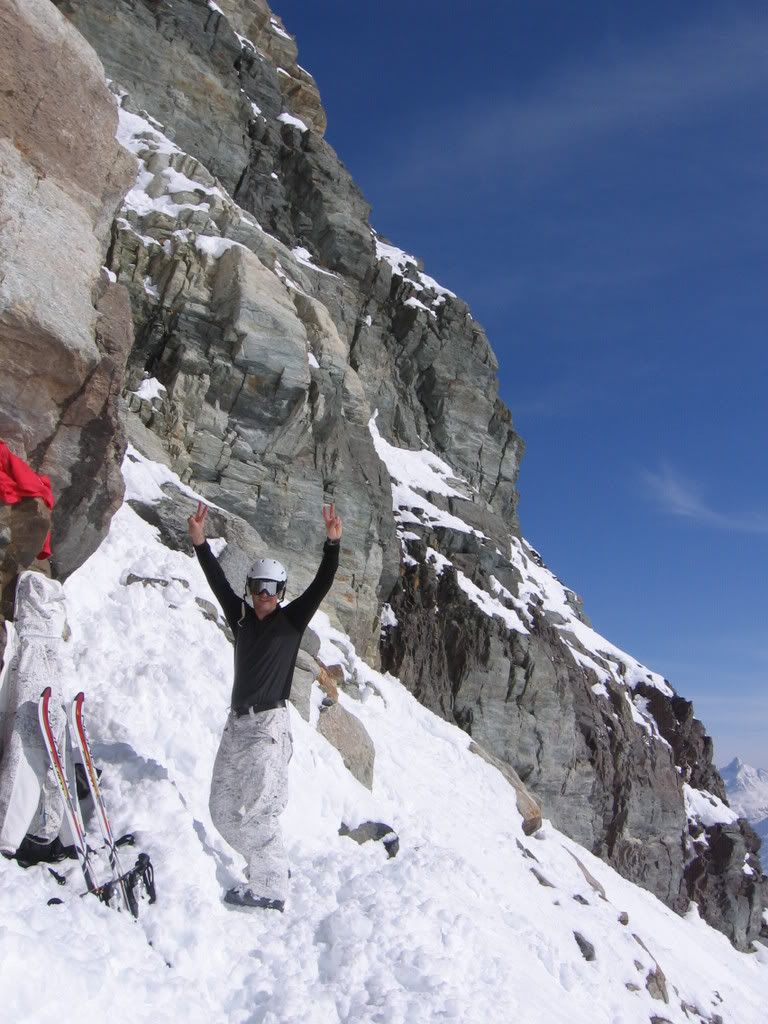 yup we came down this
We then traversed over for another check point and another powder run. Damn life was good and I had new glasses on to see life.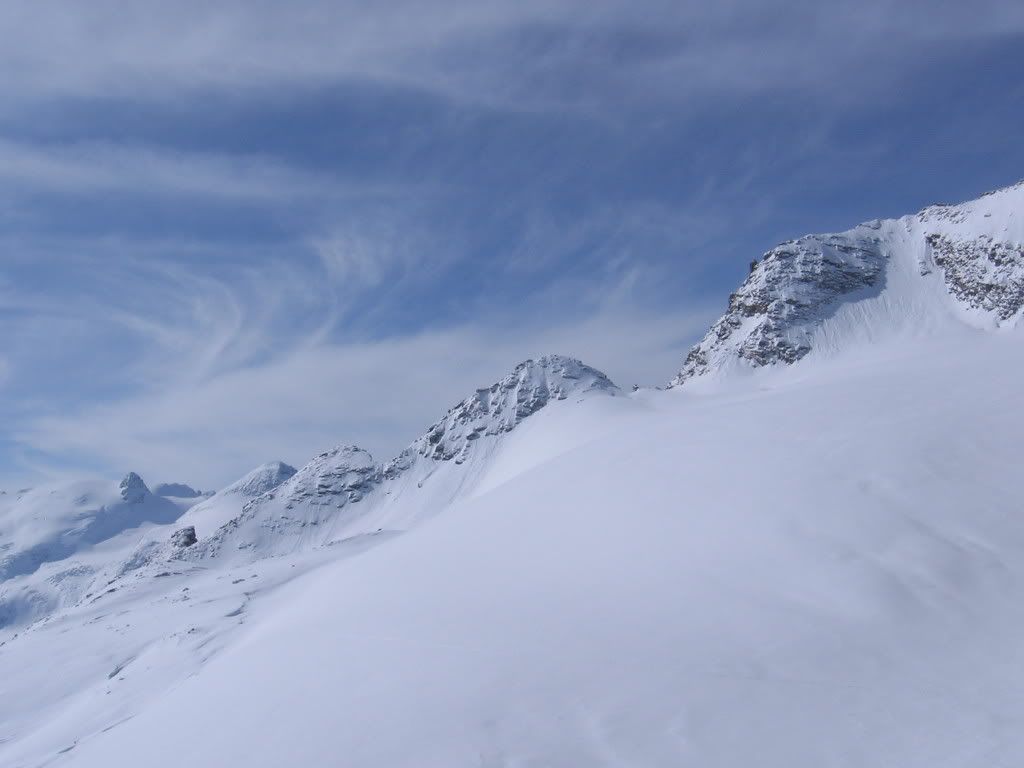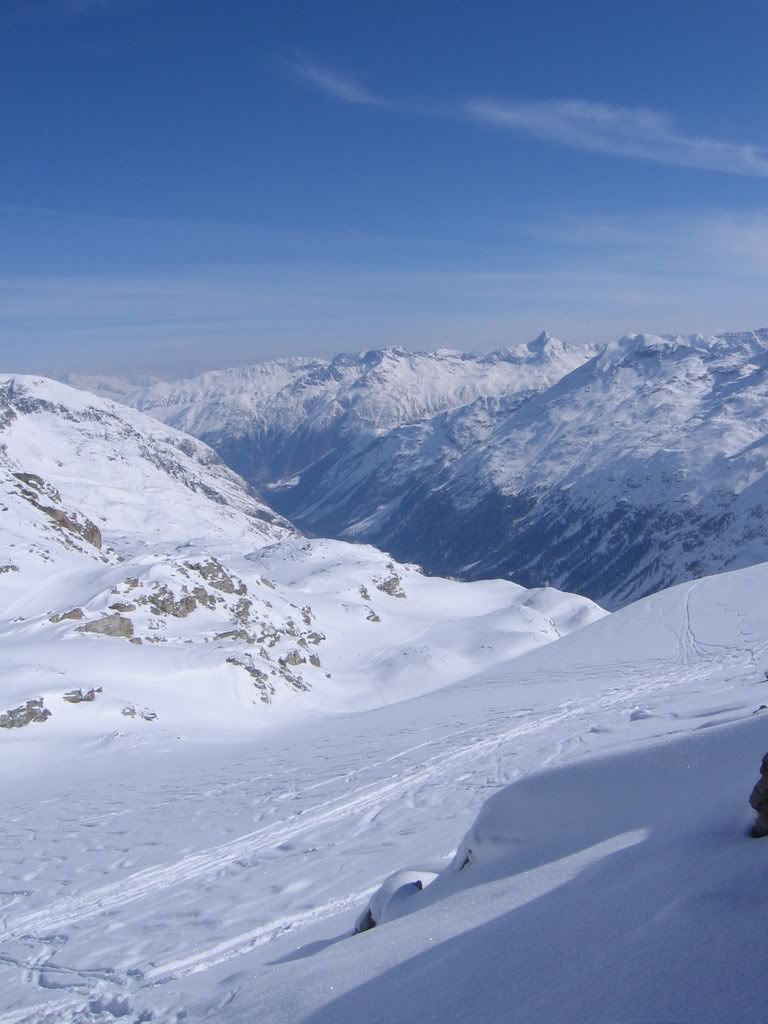 Tracks I layed down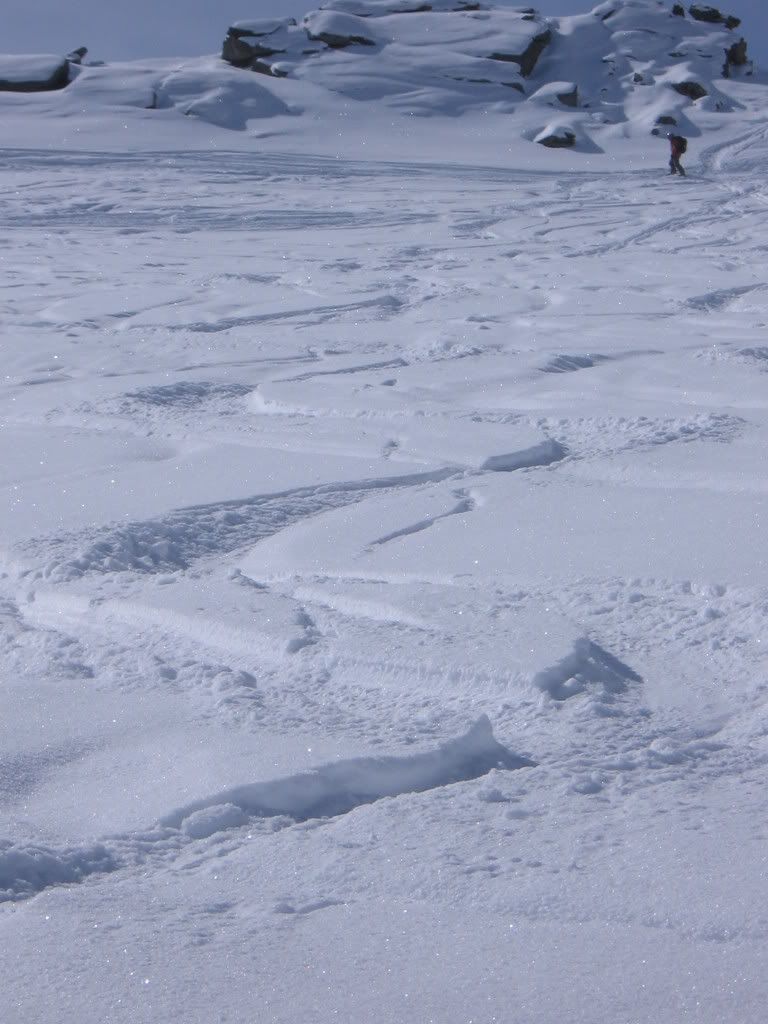 We decided based on strategy to let the kid go get some vert today while we took it easy and got check points. It was 11 AM. By 3 pm the kid (Robin Lenell) racked up well over 10,000 Meters. Yes folks meters. He wasn't even sweating it. Kid could have easily done 15,000 meters from 9 to 4:30 PM. He's an animal and way to fast for human kind. He easily won the day for meters and he wasn't even tired.
We cat tracked along and came to the next check point at a mountain high restaurant. Smiley Nesbitt, Scott Lundsen and Corey from ride guide were there ordering food. We figured this is a nice place, piss on the race we are having some tea and cokes.
The owners of the place had a Canabis plant in the window and we quickly spotted this and proceeded to take some hamming pics with Smiley. Smiley is such a nice down to earth guy and treated us like homies. He knew it was 4:20.
What on earth is this little plant doing way up here in the alps?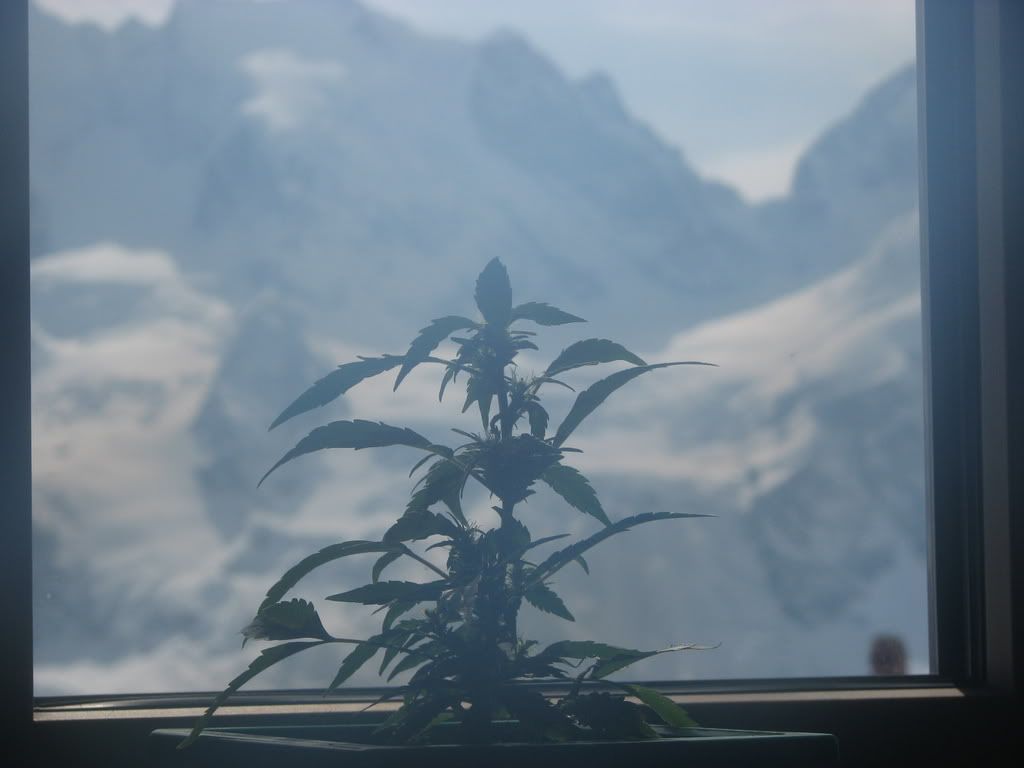 Smiley and I know what time it is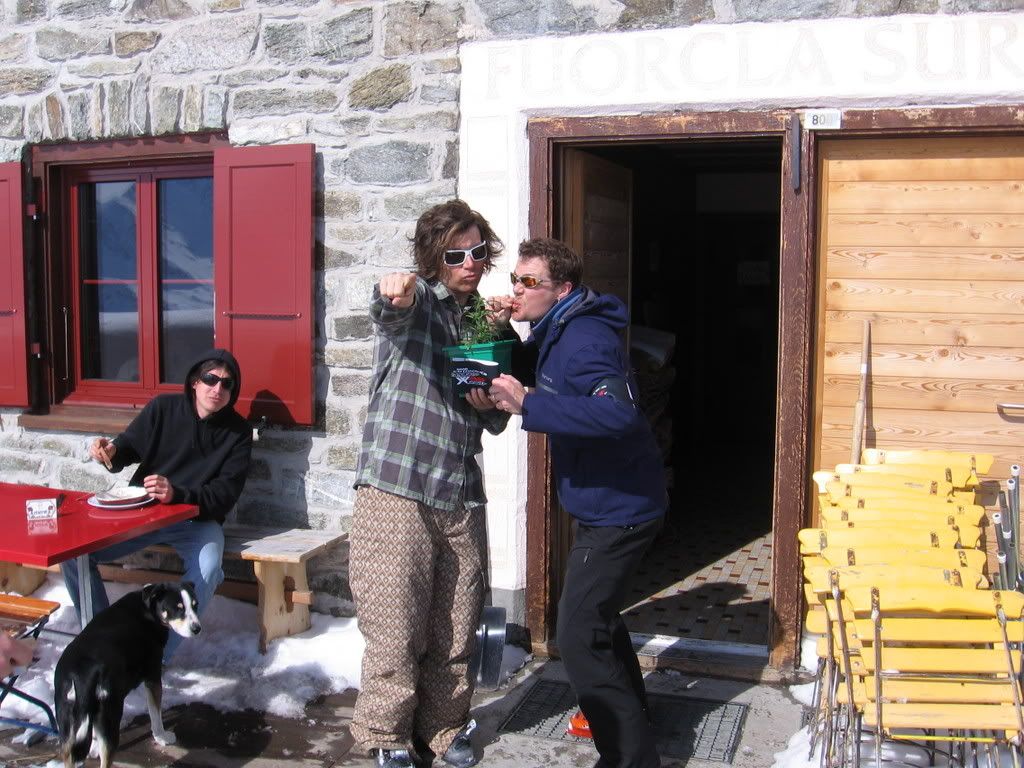 Ch ch chillin
A view to have when chillin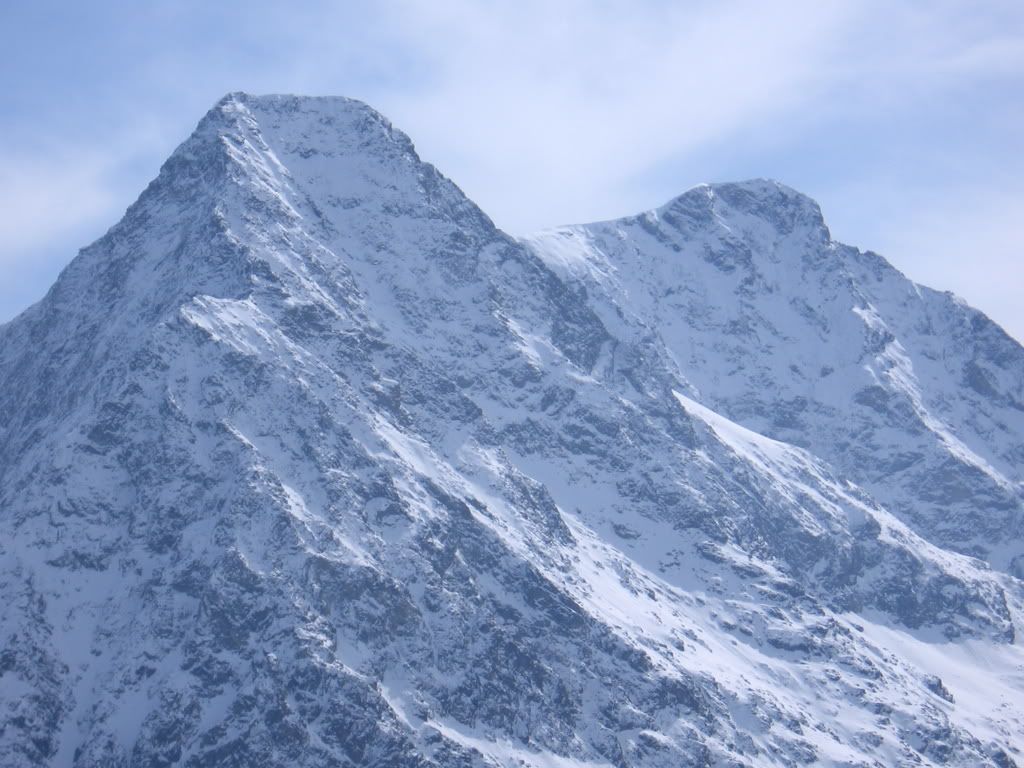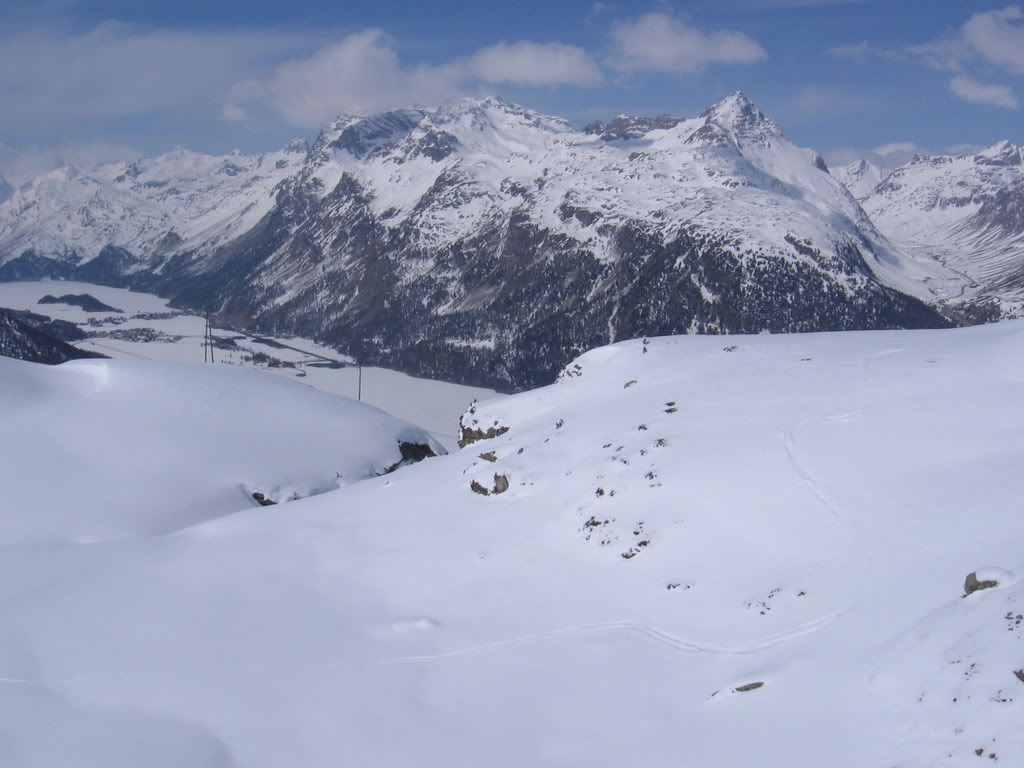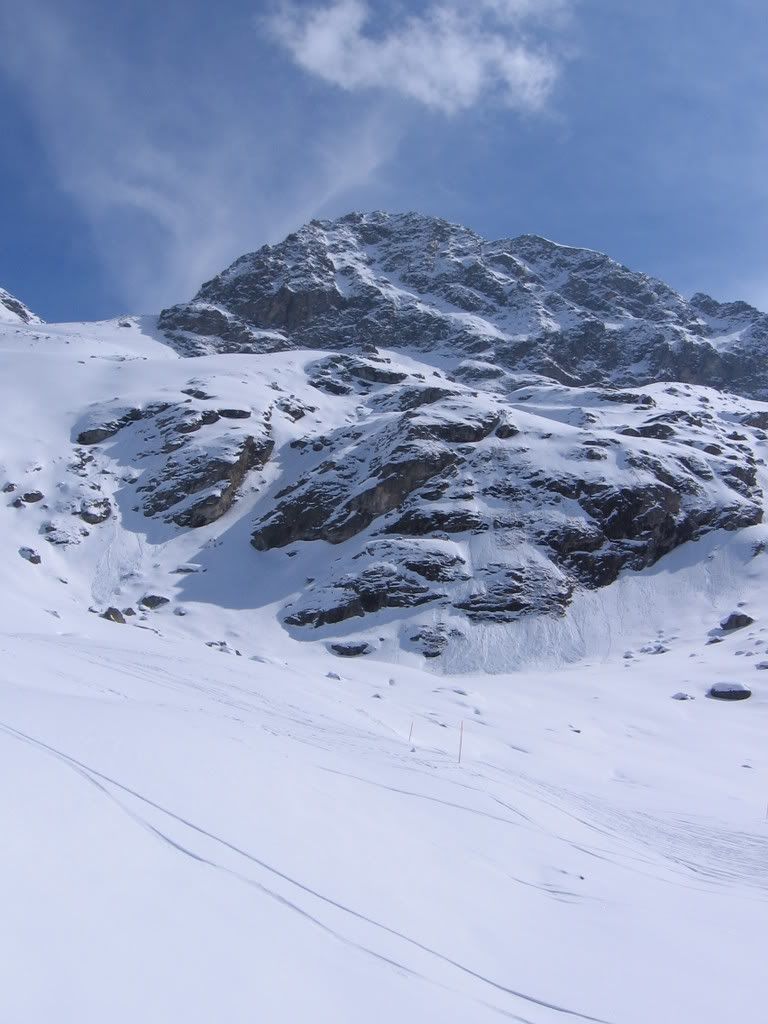 Smiley layin some line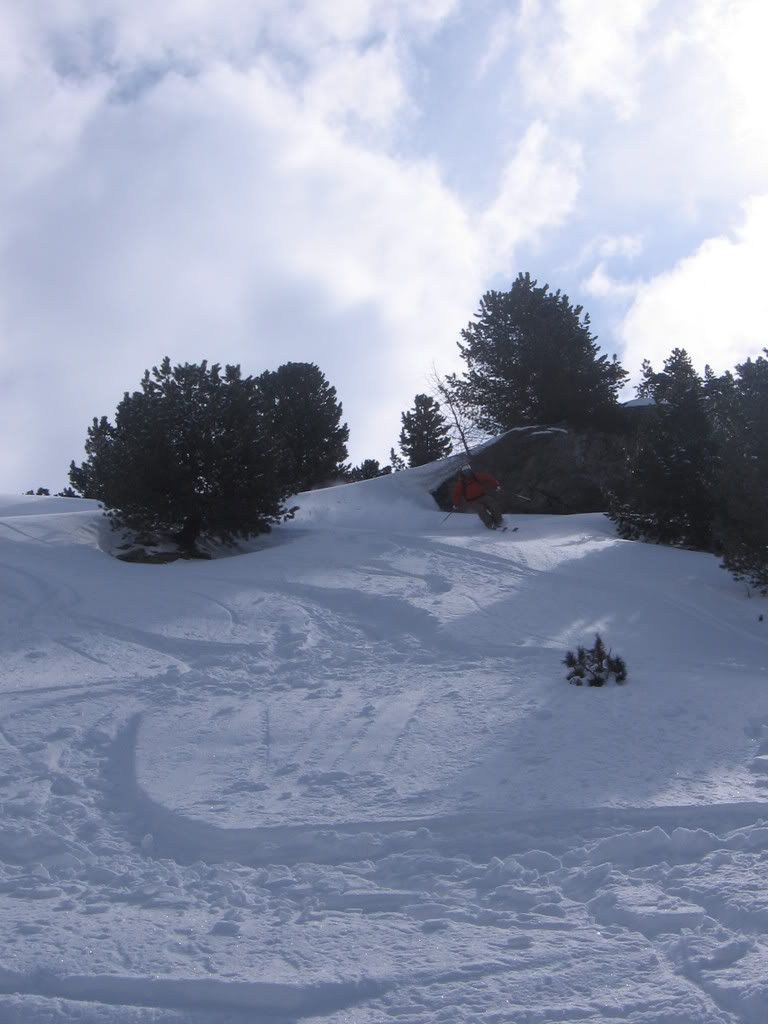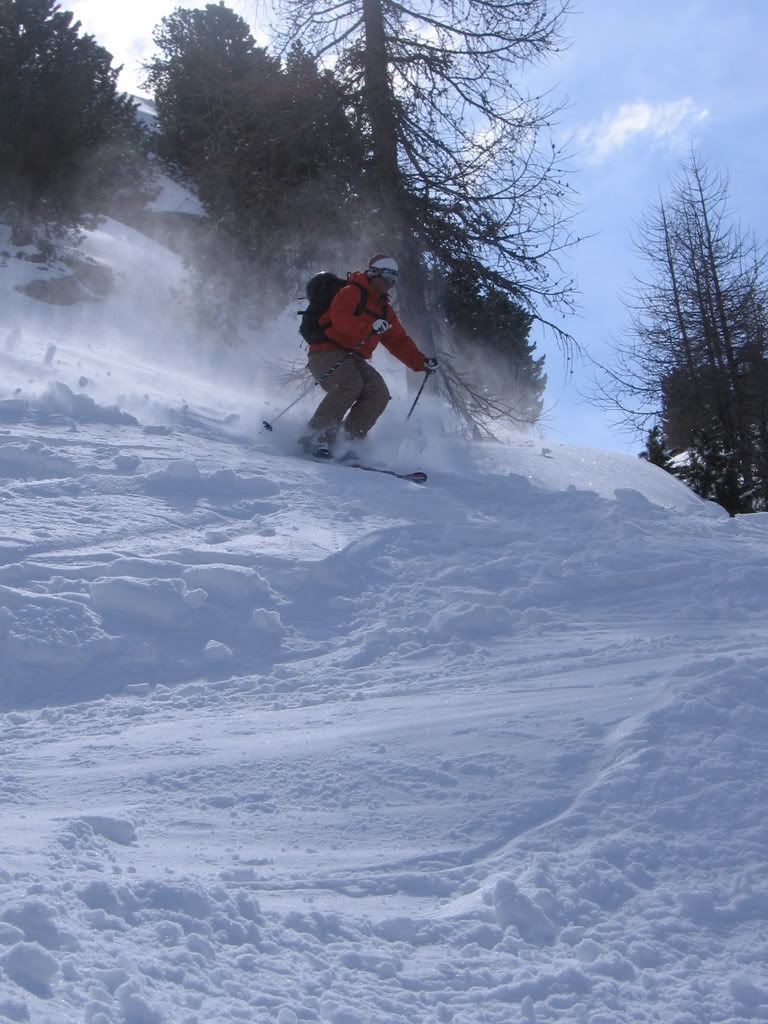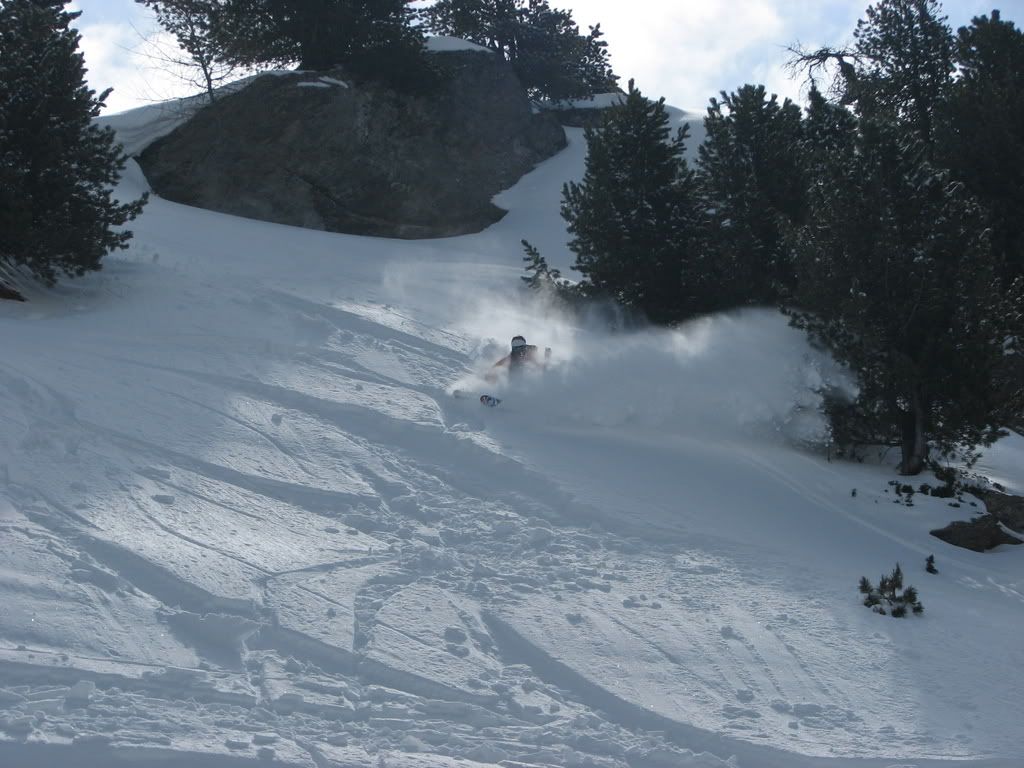 Robin Lenell layin some rail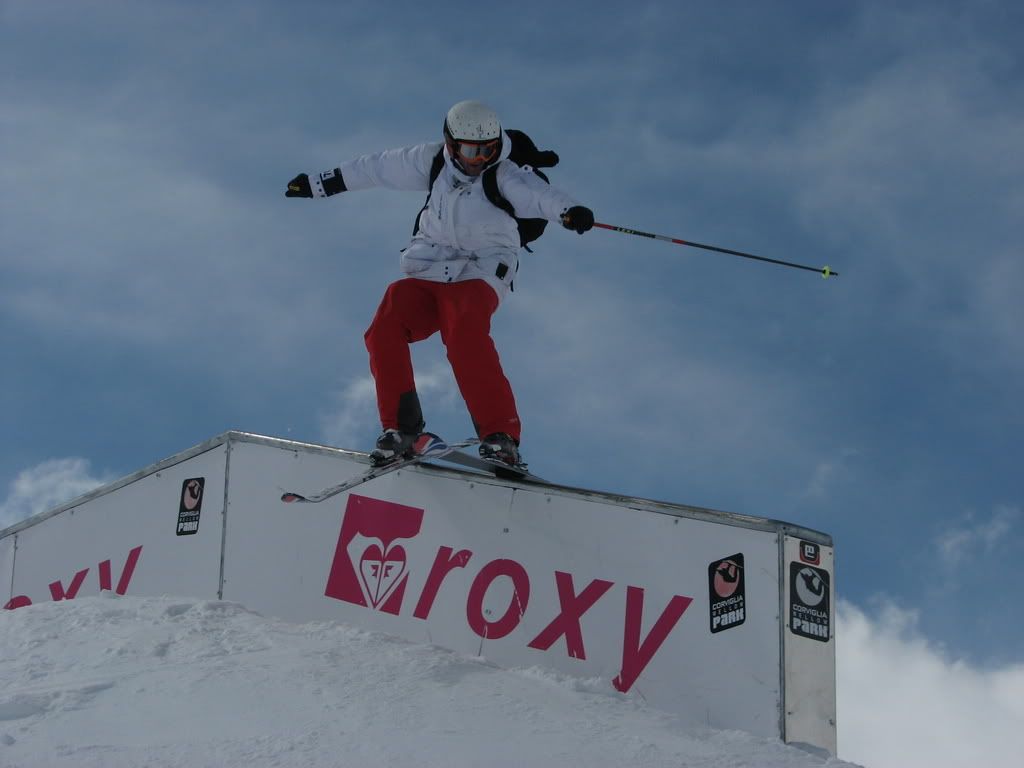 Robin Lenell layin the smack down
We then lazily skied to the next few checkpoints. At this time it was killing us not to just go free ride and enjoy the acres of untouched powder amongst hundred of piste skiing Euro's DUMBASSES !. Sadly we had to get to the syncro event across the valley at another resort.
Our playground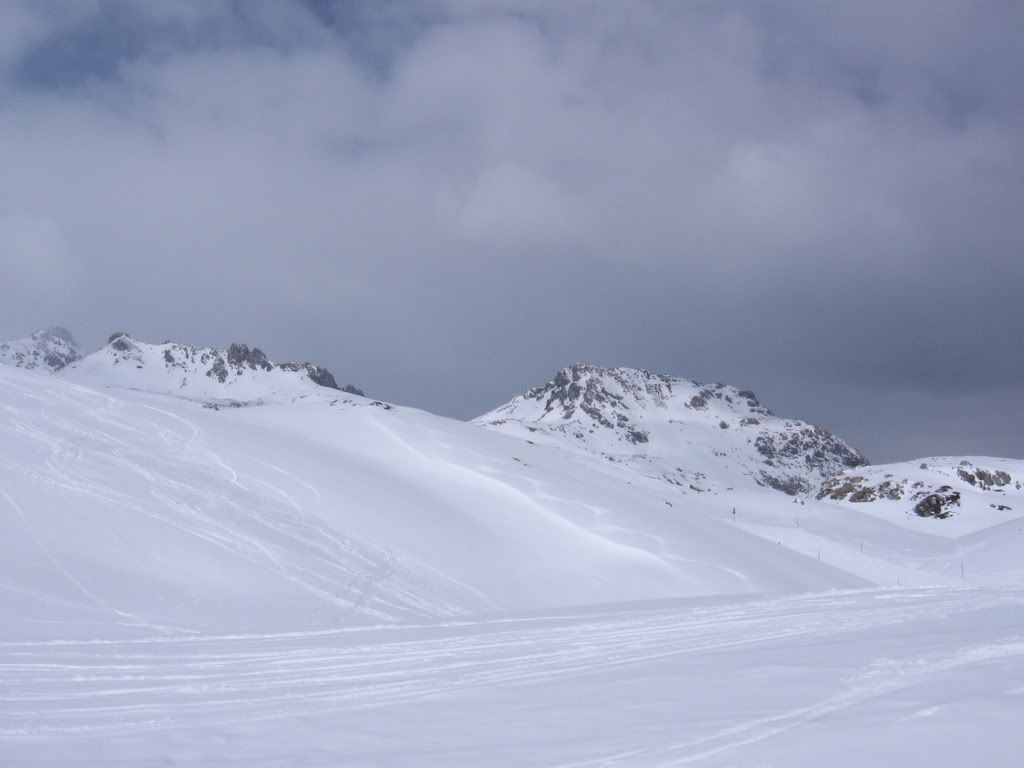 A quick gondy and a chair and we were at the syncro event. This resort was completely different than the other. IT was more open and groomed with families and such motoring around. We did the syncro event and I missed the timing at the start and never got it back. Pissed off and becoming increasingly more annoyed at running around and not skiing I told my team mate to go do whatever I was staying on this T bar and going to have some fun free skiing in light warm pow.
I watched the rest of the team do syncro and realized we really sucked bad. I had fun jumping off a small cliff and making fresh lines in warm slushy pow beside the piste (crazy Euro's)
We then raced for a few more checkpoints and called it a day. Another great resort and a great relaxing day in the sun and pow.
We drove onto to St. Anton in Austria.
On the drive to St. Anton. Hey man tryin to piss here
Pee upon a tree
Yup we got points for these advertising pics
Arrived relaxed and loaded with some wicked pics for points.
A few days earlier we realized we weren't winning the vertical aspect (buddy Jay blew his ankle 4 weeks earlier and was skiing injured, and we are not in shape to rip hard for 7 days, a slow and steady pace was our strategy)
we also knew due to lack of vert we were not winnig the checkpoints race either. So we knew we had to concentrate on driving points and picture points.
So we milked the hell out of pictures. Buddy Jay is killer on the cam and they (judges) awarded us respectfully for the efforts.
We were holding middle of the pack for most of the race.
We ate a good dinner and hit a crazy bar called Hillie Billys pub.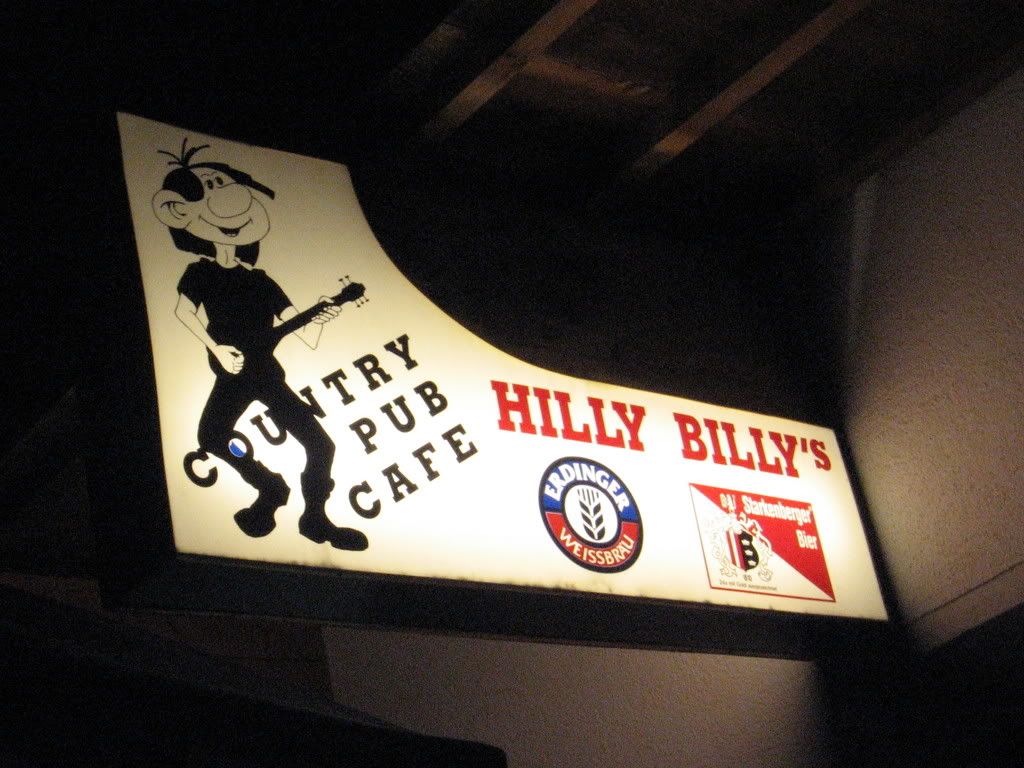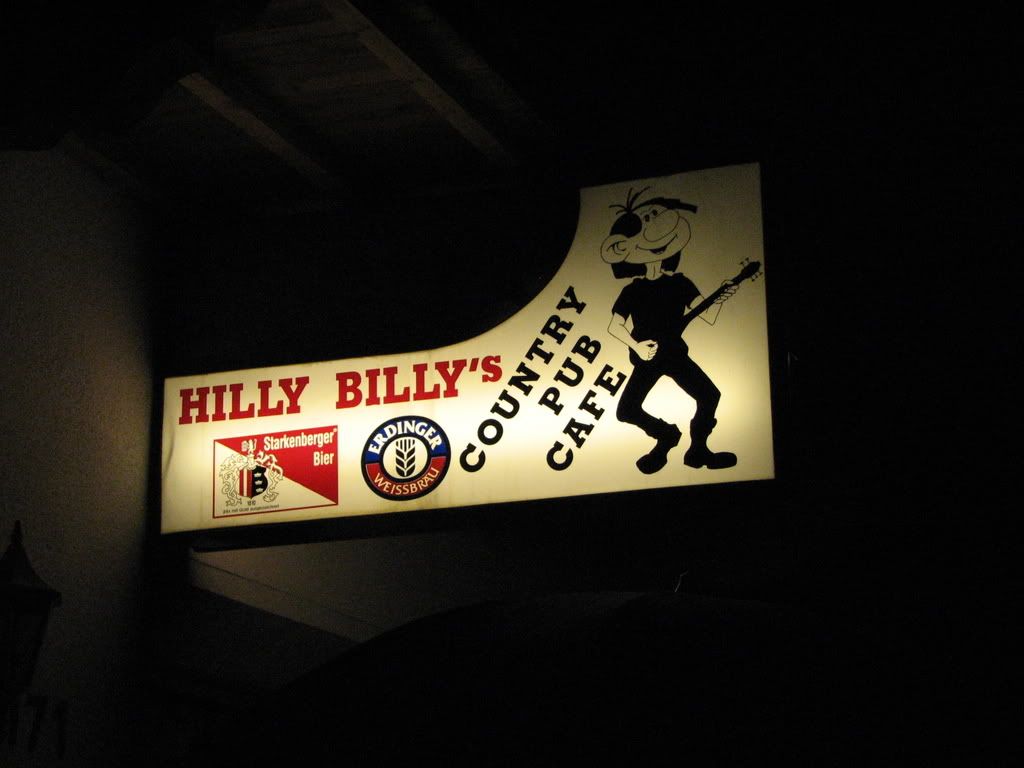 They had a large log and a wacky off shapped hammer and nails.
The game is as such.
Everyone tacks in their nail to the same hit.
Each person get a hit.
The person with their nail still up after all others are down buys a round.
Carlos of Whistler and Fernie Rally winner, gettin his smack on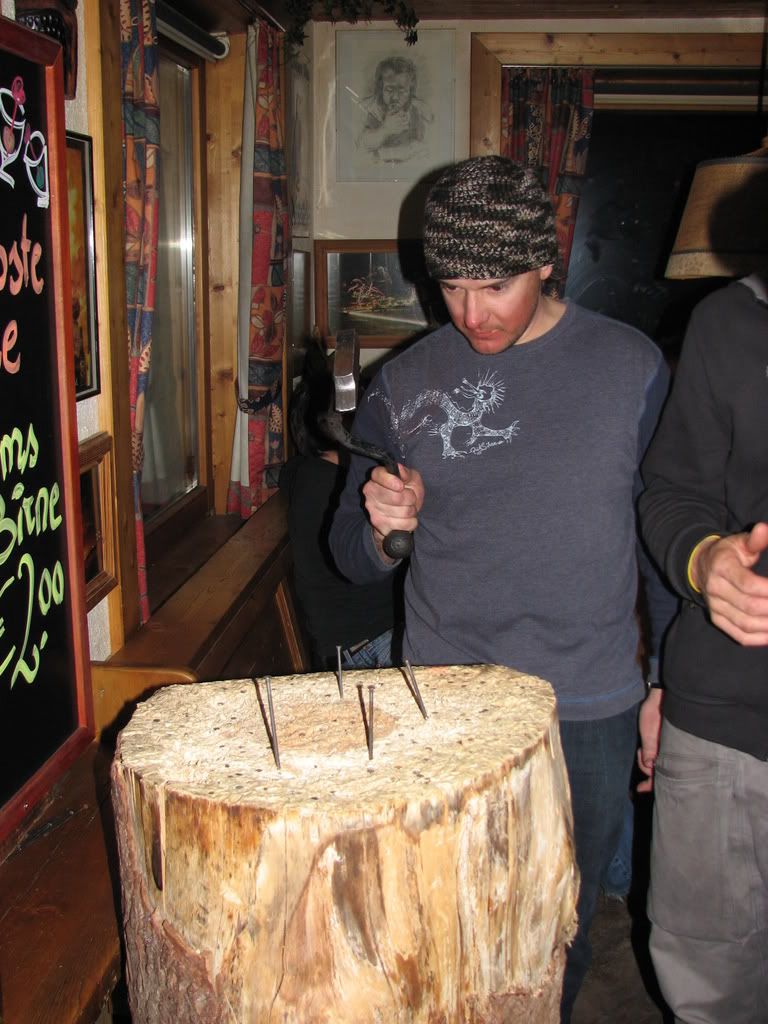 Pure genious but drunks with wacked out hammer and nails, HMMMMM. Lawsuit waiting to happen?
We stumbled back to our room, packed those ******* bags again and went to sleep