PART 2 See PART 1 HERE
Chamonix
We arrived late due to traffic and a long drive. We were rushed into our rooms and to dinner. Dinner was okay but nothing spectacular. We then had a few drinks and were interviewed by Salomon as a team for their website. This was a long interview and we then went to our rooms to prepare for tommorows adventure of Climbing up Chamonix.
We stayed up late talking and organizing gear. Damn us for bringing so much crap. Every day we had to pack up and move the stuff to the car. Today we didn't as we were staying in Chamonix for two days.
We awoke early and prepared our bags and gear for a unknown day of weather and what we were getting into. Camera's and vid cams were loaded. I used my Black Diamond Revelation 35 bag as I wanted to use it in Chamonix even if it was slightly too big, but it had more lash points and a A frame ski carry system. In the end it was a great choice, lots of room and no full bag, very comfortable and the lashing was wicked for attaching helmet, snow shoes, and skis comfortably.
We were supposed to go to???????????????????? But due to weather the tram would not run, we took a town bus to ????????????? where we took a tram and then a chair to the start of our climb.
I am no longer a virgin, I boot packed and snow shoed up to the top. Upon arriving the top of the first climb I learned the euphoria often described. It was a great feeling and I can't wait to continue my learning and experience of climbing for turns. Safe to say I had a huge woody and couldn't wait to ski. My team mate got freaked the **** out on the climb up and was not comfortable with the exposure. I can understand this as this type of thing is not for everyone.
At the top Wendy Fisher, Jamie Parks and Smiley Nesbitt were all enjoying the views and waiting for their respective crews to gather. It killed me watching them ski off while I waited for my team mate. Damn ! in the back country in Chamonix and I could have skied off with them. Ah well team is a team and I must wait. Each team had a guide and our guide was taking good care of my buddy. Our team mate Robin being young, dumb and full of cum actually climbed down to take my buddies bag and hike it up for him. Again this Robin Lenell is a stand up guy of huge proportions.
We all gatherd grabbed the checkpoint picture and I snapped a few for myself.
Then full of Euphoria I skied my ass off like a superstar making huge sweeping turns and traversing high for fresh tracks. Lots of chunky frozen death chunks from avy debris woke me up quick that I can't just blast through this stuff.
After a 1.5 km traverse around a peak we arrived at the start of our second climb. Sam our guide offered up Hot tea and we put on our snow shoes for this climb. Again I was loving using my Black Diamond Revelation 35 pack for it's intended use. I will say the Salomon Valdez 15 being used by my buddy worked very well also but it didn't have the volume perhaps wanted for a days outing and required reefing the buckles and straps to the max but it did work. I personally prefer an A frame carry of the ski's to the diagonal the Valdez bag uses.
The climb was pretty straight forward but got steep and off camber at the top causing one of my snow shoes to slip off and caused me to actually fall down, head over ass and after a heart stopping moment my ski bottom dug into the snow and stopped me or it would have been a very hairy long long long tumble down hill. **** the snow shoes, I took them off and boot packed the rest.
Again at the top my juices were flowing and I felt like 1 million bucks. I ate a Croissant with Bacon and Cheese that I made at breakfast, had a drink and a banana and snapped some pics, gave the vid cam to my buddy Robin for him to shoot me (this guy rocks, such a good guy)
We traversed over a bit to get some fresh lines on a steeper aspect. Sam ripped it down first (using Dynastar Legend 8800's) I wished I had brought mine, but the Tornado's from two previous days of pow has proved their competency and just needed speed to work well in powder. Fine by me I planned to rip this hard like a superstar. And I did, Robin caught most of it on film but being unfamiliar with zooming and filming he lost me part way down.
I was in heaven. Back country Chamonix in powder on a Blue bird day. Life I don't think gets much better and I soaked up every minute thankfull to be alive and experiencing this.
We worked our way down and out the valley bottom. Part way we stopped for a breather and a drink, I then say what I thought was a nice waterfall and snapped a few pics, robin was video taping it. I found out later that night that it was actually a avalanche coming down. SWEET got pics of a avalanche.
The ski out was I guess typical, weeving through tree's, the snow pack diminished quickly at the bottom and required taking off the ski's a few times.
Thouroughly bagged and way behind time we missed the free lunch at the restaurant. We took a shuttle bus back to the hotel and I chilled in the courtyard, in bare feet soaking up sun eating chocolate, and the rest of my packed lunch ( I learnt early to always have food in the pack as you can't always get to the eating places or back to the car for Grub)
This was great sitting in Chamonix and had some time finally to myself. I sat back watching Chamonix life go by, warm sun on my sore feet, people walking all over in ski suits, boots and carrying skis and poles. This is a life I am going to look into more, I may move there someday.
We then went to the room, grabbed a shower and went out to go shopping. Great town, lots of shops, great ambiance and a must visit place.
We then had to prepare a slideshow of ten pics from the day for points. The avy picture got lots of ooo's and awees.
We then packed the friking ******* bags again and went to sleep.
The crew walking to the tram that never ran
Ski upon a tree
Wendy Fisher getting ready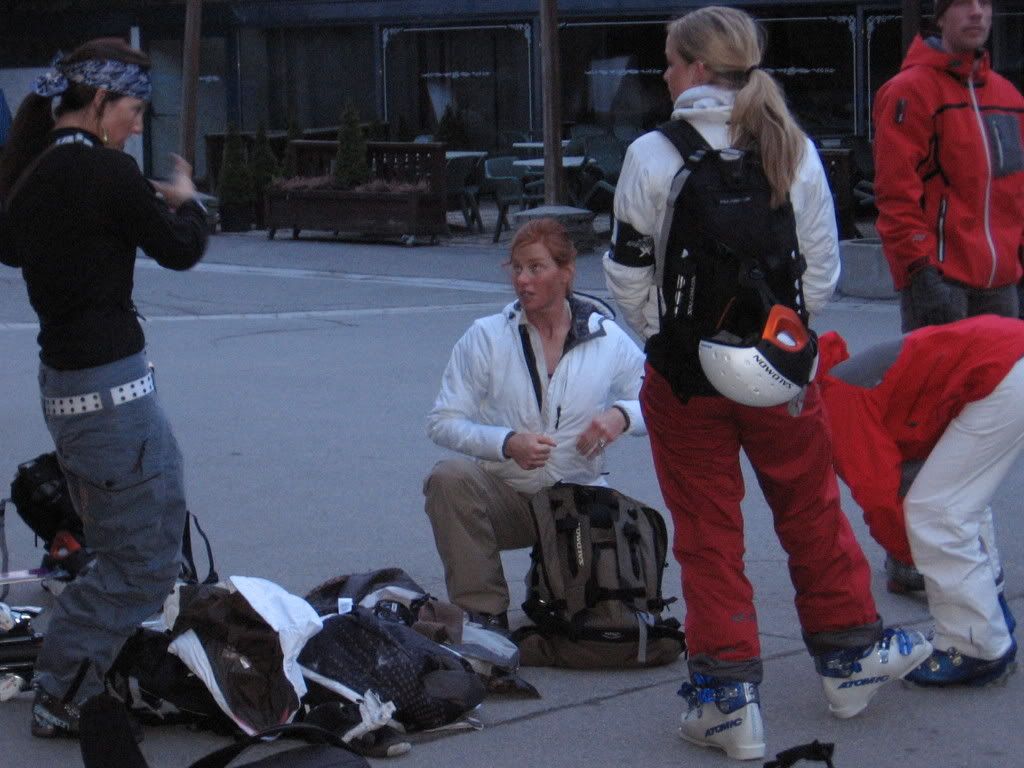 Waiting waiting at La Flagere for the tram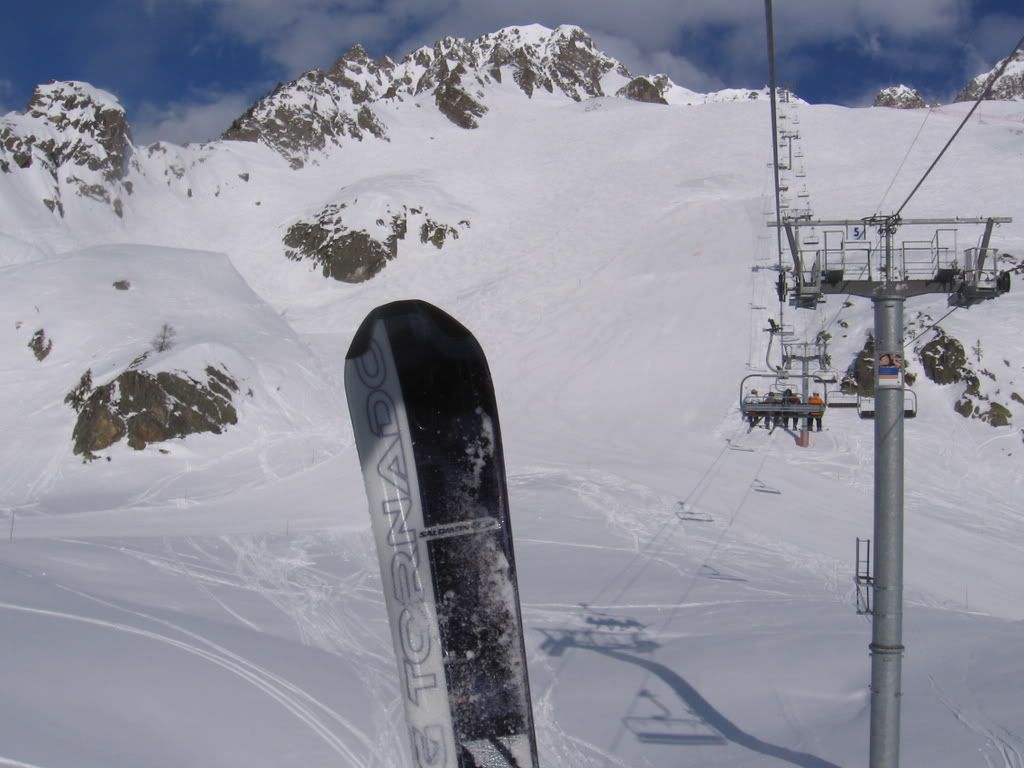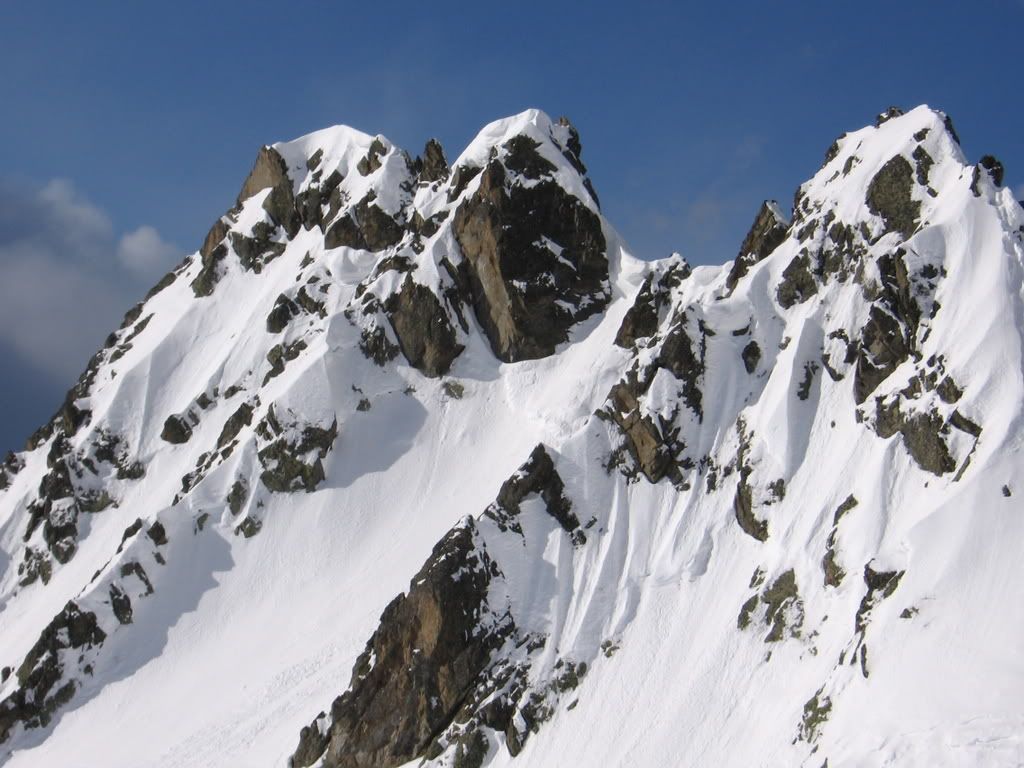 Our team ready to start climbing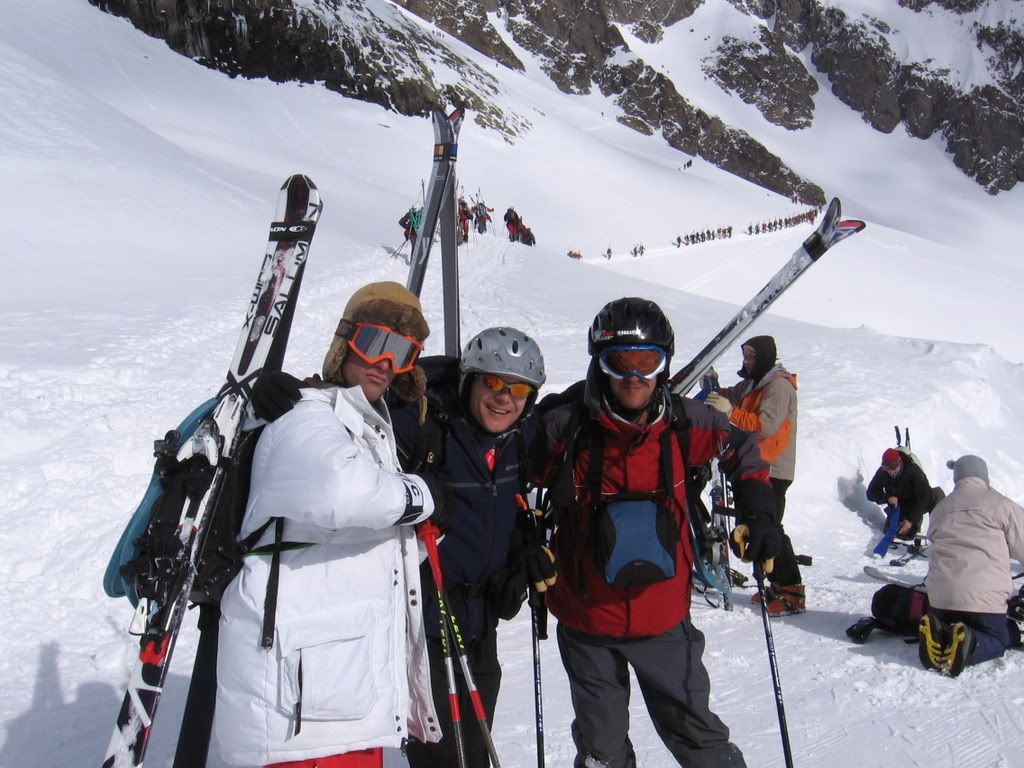 There was 60 racers plus the support staff were into it to get some. Lots of people.
Up up up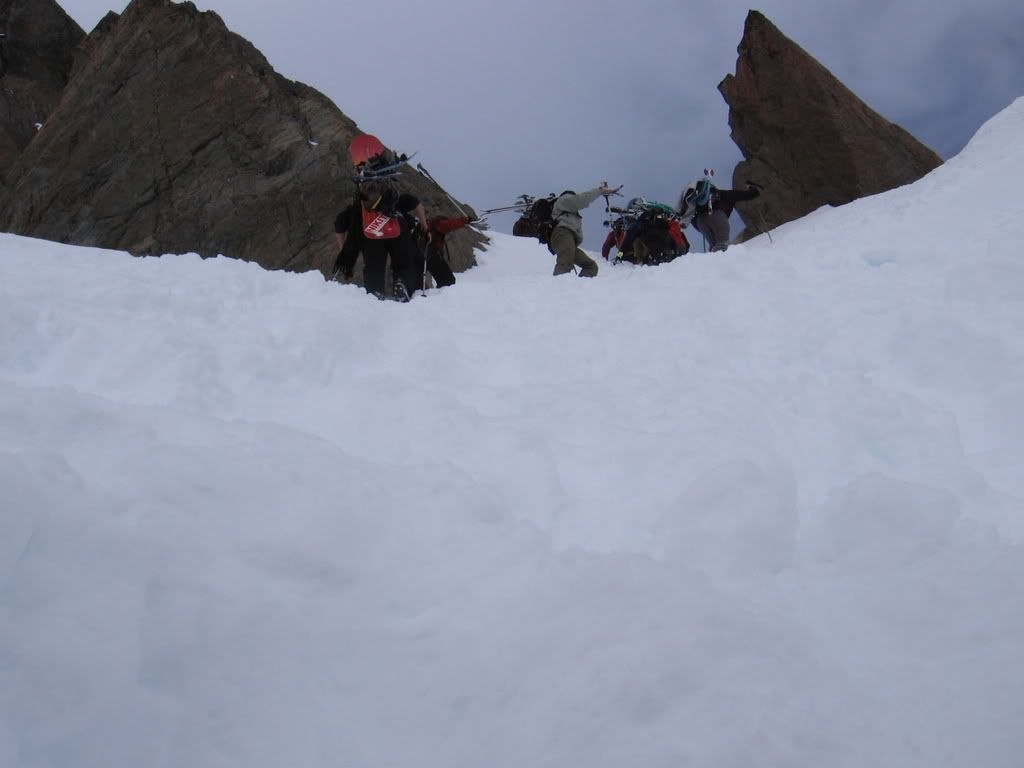 Kevin of the flaming Snow Blades out of Whistler, winners of the Fernie Rally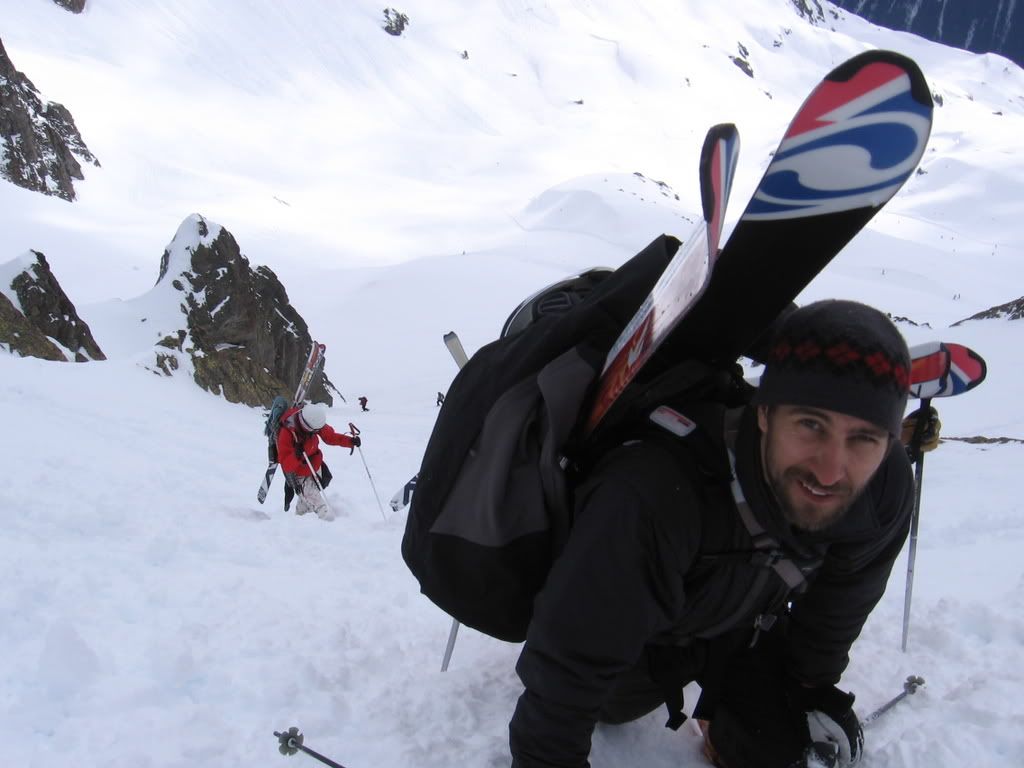 As I am reaching the top
Looking back down the climb less all the people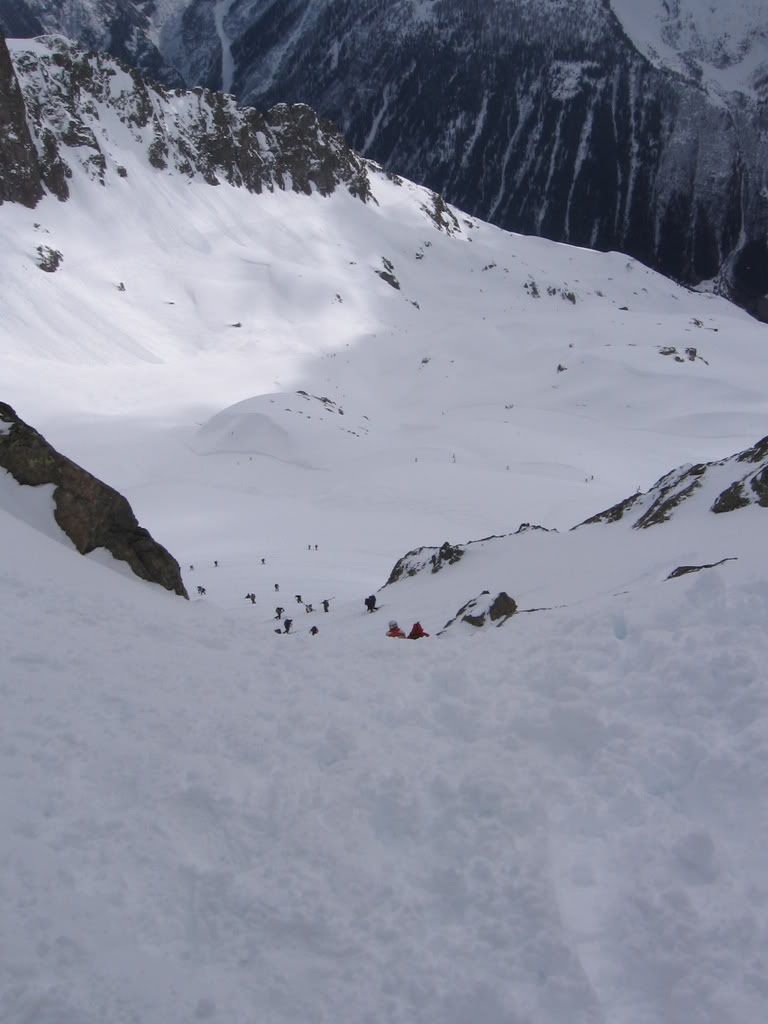 Yeah baby I am high
see next post for rest of photos