We had a great week in Utah. I skied my buddy into the ground....he skied 4 days and I skied 5. We stayed in Kimball Junction which I thought was a great location. The condo was basically at the bottom of the Utah Olympic Park and was roomy with 2 bathrooms and a deck to enjoy the warm Utah sun. Kimball Jct. was also convenient to Park City. I enjoyed going out to dinner in PC and found it to be a cool town with neat shops and great food. Nice people also, from all over the world I might add. We didn't have a bad meal the whole trip!! The beer was good, too!!
Day 1) Snowbasin Thursday 3.1.07
The drive PC was 1 hour in snow. Parking was a breeze as was the walk to the lodge. Earl's Lodge at the base is one of the most beautiful buildings I have ever been in.....in my life!! Gorgeous round beams with huge fire places and bronze wild life sculptures in every corner.
Took the Needles Gondola up and dropped into the first powder bowl I saw. It snowed all day, hard, white out at times and the powder was plentiful. On our 2nd run we met a local named Scott. He is a pilot with U.S. Air and we skied with him the rest of the day, thankfully. He knew the mountain well and got us into some deep, steep trees in the John Paul area. This is where we skied most of the day due to a heavy snow coming down. The trees offered perspective to the near white out conditions. Fresh powder everywhere with no crowds. We skied the 2 downhill courses and other runs that I couldn't name. Awesome terrain there and it seemed like we would ski one drop after another. Natural halfpipes were a blast!! Big, powdery bank turns at a high rate of speed are hilarious!! We did not experience the spectacular veiws that the mountain offers due to the snow storm, but an introduction to Utah Powder!! Wow!! I will go back to Snowbasin.
The lodges at Snowbasin deserve a spot here!!
Here is our guide Scott in the storm. (Sorry I didn't contact you, Zion)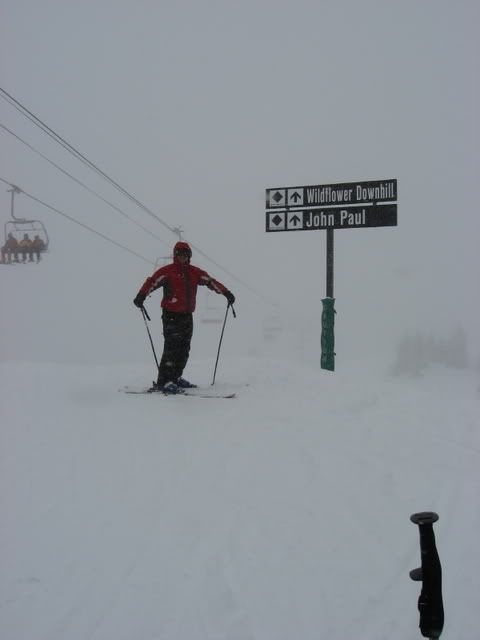 Day 2) Deer Valley Friday 3.2.07
We did not have internet access. Therefore, it was difficult getting an accurate weather report. We stumbled into a gallery in Park City where we saw a young man sitting behind a computer. He was kind enough to allow me to surf.....straight to Snowbird's site and the great forecast they provide. 85mph winds were forecast at 11,000ft. for our next ski day!! I immediately made the decision to ski Deer Valley on this blustery day. We wanted to ski Alta, but not in those conditions!! We made the right choice. When we arrived at Deer Valley surprisingly there was no "oh, let me get your ski's for you" service. In fact, the lockers sucked and we got none of the award winning service that Deer Valley is known for. We didn't even see the ski bunny eye candy that some have said would be evident. What we did get was blowing Utah snow for the first 2 hours of our ski day!! Pow-dah!! Then, by 11:00am the sun was shining bright and the veiws came into the picture. We skied Empire Canyon in the morning pow and then hit up the rest of the mountain in the afternoon. We skied with a GPS unit and tracked 31 miles of skiing. Great snow, great lifts and some very nice vistas!! Just no award winning service. Oh, we did get some Turkey Chili...That was award winning!!!! Yum!
Look at that Utah snow!! Nice!!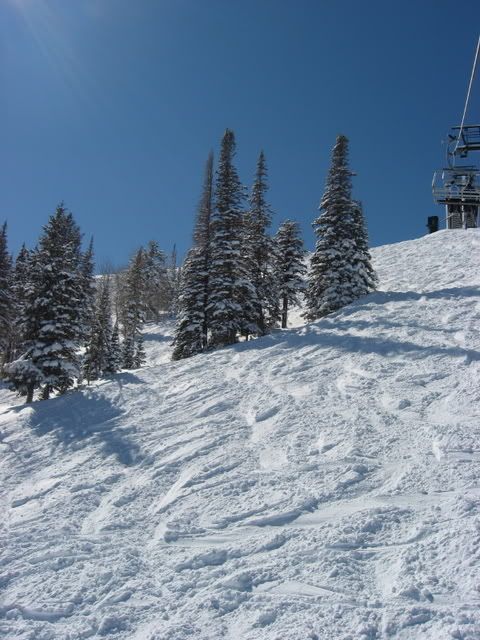 Here is me making some turns down the hill. Fun!!
Day 3) Alta Saturday 3.3.07
Alta. Where to begin?? It was a bluebird day, with fresh snow from the previous 48+ hours. Big Crowd!! We went up the Wildcat lift and skied the groomer right off the chair. I was amazed how nice the groomers are at Alta. Steep groomers. Then we skied the off-piste in Wildcat and no matter where you skied....it was soft!! Then we took the Collins lift up and as we were exiting the ropes dropped for The Ballroom. Scooted right in to the line of skiers traversing out to get fresh tracks. I took a steeper line that was tracked and my buddy traversed to a nice fresh line. Very nice. Timing is everything!! I cannot believe how fast Alta gets tracked out!! Unreal. Took Collins chair again and traversed over to Yellow Trail. Wow. Now my hearts pounding!! Ski a portion of Yellow Trail and then hop over onto East Greeley. OMG!!!!
: Now I am staring at something we just don't have back here in the East. Wide open steep powder fields filled with chopped tracks. What a sight!! I had a blast skiing down through that soft snow. I skied it with a straighter line and got a nice bounce going. Speed is key. I now felt like I had been introduced to "skiing in the west"!! Oh what a feeling!! Then we basically got lost and found our way onto the Supreme chair. This is a beautiful area of the mountain. We stuck to the groomers mostly and just flirted with the off-piste in this area. I developed a headache and we went into Alf's lodge for a rubber cheeseburger. The food was NOT good. The crowd was huge. The skiing was great. Though I didn't feel intimidated by the mountain it is a huge area and it was somewhat overwhelming. Not easy to navigate, imo. I'd like to ski with a guide. Someday.
My buddy navigating THE East Greeley.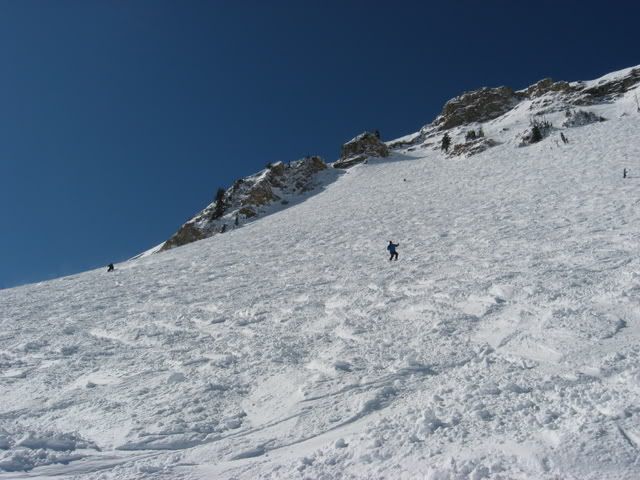 My buddy under the closed Collins lift. (momentarily)
Day 4) Solitude Sunday 3.4.07
I am not suppose to say this too loud, but Solitude was my favorite resort.
Access is a breeze and the vibe is so peaceful. I thought Alta was preppy and the Dead music didn't really fit in. If Solitude played Dead music...it would put it over the top!! When we hit the trails on this morning the groomed runs were perfection. I didn't see groomers like this anywhere. Never have and probably never will. Perfect, I say. I have never skied Sun Valley, but for some reason I kept thinking this must be Sun Valley. Gorgeous sunshine, warm temps and lots of fast runs. I posted 54mph on the GPS. I loved Honeycomb Canyon but the snow was heavy on the left sloped runs on the way out. Just a short hike with ski's on. Nice scenery out there. Gorgeous. The pizza was great, the big Bud in the can was great and I just loved this place. I didn't want to leave!! Don't tell anyone I told you so.
And I thought that deep blue sky was done in photoshop. Not. Just gorgeous!!
I have better photos, but I like this sign!!
Day 5) Snowbird Monday 3.5.07
I said Solitude was my favorite. I lied. Snowbird is the biggest, baddest, bestest mountain I have ever skied alone!! My buddy didn't make it this day. Sucks being him. The conditions were not the best...they had gone through a melt/freeze process. But the sun helped soften things up. I skied Regulator Johnson and let gravity be my guide. That was fast!! The tram doesn't offer great visibility unless you are right next to the window. After several runs off the Little Cloud chair including road to provo I took a few runs of the Gad2 chair. The lower half of the mountain was skiing good. The upper half was icey. The veiws and the mountain made up for that. I liked it here. A lot. IMO, kicks butt to Alta. Then I took the tunnel through to Mineral Basin. OMG!!!
I love Mineral Basin!! These were the last runs of my trip and I made them count!! What a setting for someone who enjoys the mountains and skiing. Conditions were better back there as the sun had gone to work on the crusties. This was heaven on earth, Though I think the Mineral Xpress chair might be the scariest chair that I have rode. Airlifts you right into the exit house!! This was THE most beautiful skiing I have ever experienced!!
Some call this Powder Paradise......I call it just plain Paradise!!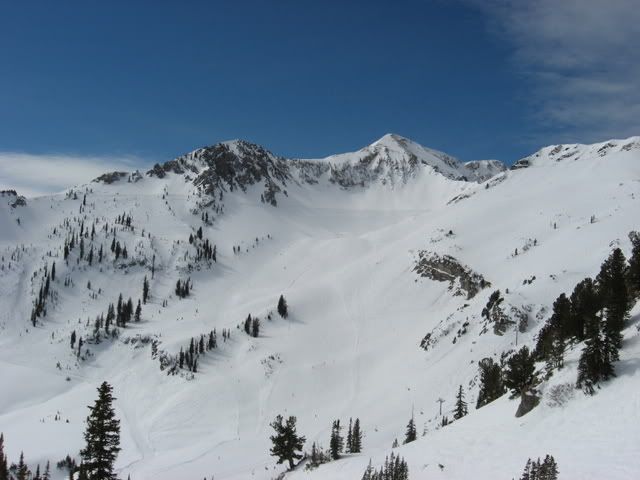 This is me with a big smile to show how much I enjoyed the trip. All the people were very friendly and helpful. I'm glad I chose Utah for my first "out west ski trip"!!