I was burping my son but today he passed a major milestone at our local hill (Snowbasin). He skied
Lonetree
for the first time just one week past his 8th birthday. Lonetree is a right of passage at Snowbasin. It's a short hike but its wicked steep and this year its pretty narrow at the top. It faces True North and always hold some of the best fluff on the mountain. It looms over the Needles Lodge and always makes for a goosebumper for the tourists when you show it to them. I have a couple of shots from last year (when there was alot more coverage than this year). Jack slowly linked his 1st 8 or so turns through the narrows at the top and then schralpped the powder for the rest of the way down
Look on the upper left of the peak to see the Lone Tree. You can see a faint spine that runs right down the middle of the Chute. The spine is an issue this year and you must ski down either side of it making the chutes much more narrow for the first few turns.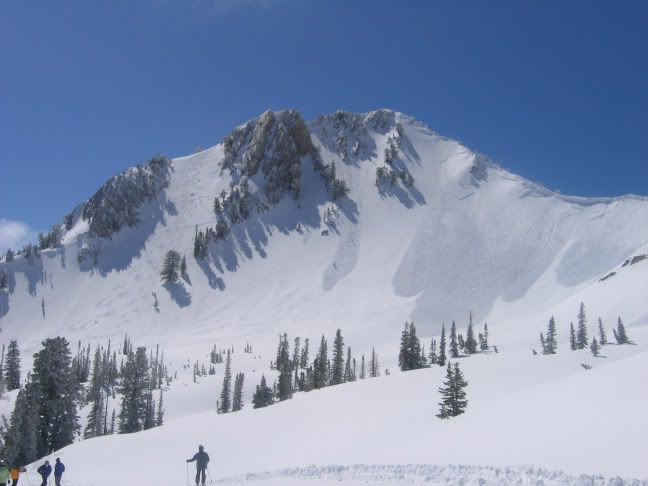 This photo is from March of last year and needless to say we had more snow. Somebody poached Lonetree this day before the patrol had time to finish Avy work. Sorry no pics from today but thanks for letting me crow! I am
very proud
of him. Now we just have to work on
Moonshine Bowl.