OK - quick trip over the weekend to Utah. Tried unsuccessfully to get away for the literally epic over the head blower of last week only to run into reality problems (work issue).
Anyway, amazingly found a free ticket over the weekend and was able to score a dorm room at Peruvian.
Saturday
Arrived 325 at the lodge. Superior is bathed in white. Evidence of recent slide near the lodge on the access road. Tried unsuccessfully to hit the freebie skiing after 3 over at Sunnyside, as I arrived at the lift to a long line at 425 (didn't realize it was open til 5). Also - mental note, take shuttle next time to ticket window. Big winded traverse at 8000 feet first day in ... ugh
Peruvian is a real funky cool place. Rustic, good bar, hot tubs and a pool outside. Located somewhat conveniently at the bottom of Wildcat trails on the other end of the parking lot near the Collins/Wildcat lifts.
Food is surprisingly fantastic. From the looks of the place and the low price I was expecting franks and beans or mac and cheese. Sumptuous buffet dinner. Ski mag article said something about you need up to 2000 more calories for a day of skiing at altitude. Well, I was just getting a head start.
Heard of outrageous stories of interlodge on Friday, over the head blower last week (darned meetings) and road closures due to avvies etc. Mental note to leave that out of the trip report for the wife.
Sunday
Met up with a couple of skiers from back east and decided to do a small tour of Alta. We started out on Collins at 916 when they opened and noted some control work up on Baldy still being done. Hmm ... there's a small slide. Then ... two charges and ... WHOA - THERE'S A HUGE SLIDE. Turns out getting away from them a little - in the main chute and next to it. Covers part of Baldy Shoulder and Ballroom as well as the groomer below a little too close for comfort to some skiers on the groomer. Wow - the snow cloud rises to cover the Collins lift. OK - no runs on Ballroom today they close the whole run.
Headed over to Albion for some groomer skiing, Cecret Saddle for a run, then off to Supreme. Decided to forgoe Catherines for now to try Castle Apron. A bit of a traverse and hike then the best run of the day in some of the softest Utah snow I got all trip
Skied down with Jack from Philly area
Sorry - didn't have cam ready for action shots - that was sweet snow in there. Skiing down, had to keep my speed up then came across what looked to be a small bump ...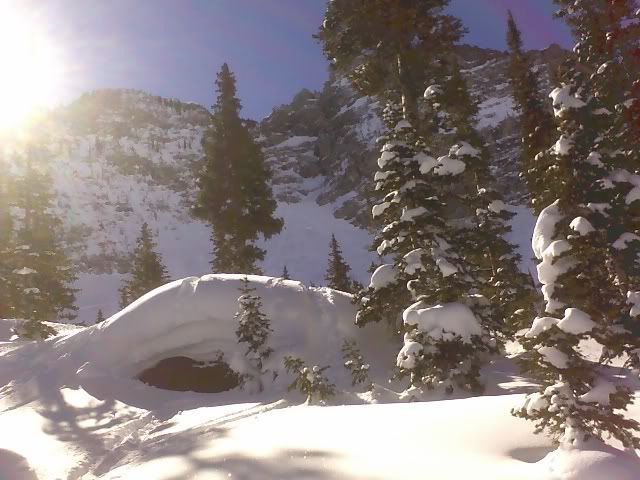 Yup that rock was around 10 feet or so ... sweet pow in there - had to keep my speed up as it was flattening out but I turned around cos Jack had fallen back a little and I wanted to grab a shot of the snow.
At lunch, skied Wildcat from the top to the lodge rather than do that 100 yard hike/traverse from the bottom of Collins.
a view from the top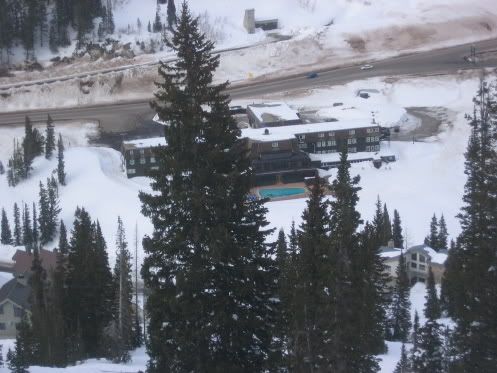 Afternoon, skied with Bushwacker from PA down at Snowbird. The combo pass I never thought I'd buy actually worked well. So you know - the boy can ski. We hit some good woods and steeps on Gad after a groomer warm-up. Met up with a little girl whos a legit level 8 at 9 years old. Amazing. Black forest was fun except when I tried to turn too quick - ouch had a little fall there. OK slow down I'm not 23 anymore
Finally hit the Cirque for some death defying turns or two. BW heads down, near perfect form to do a little video of me coming down (maybe in a later post).
Goes slowly, start to link a few turns then - whoop, caught/released my ski on some heavier stuff and I slide down around 30 feet. OK, climb back up the steep slope and grab my ski. Only took around 5 mins I think. Finished the run much better though.
Had a few more runs on a groomer or two then a run on Gad 2 again in the woods in some sweet snow. Finished at Tram club. Nice place. Then over to Peruvian for a rousing apres ski. BW charms some locals and I do my best impression of a slightly aging hipster and we share some good times before I head for another awesome meal.