Caution, this is a long ramble, read at your own risk!
This sort of accompanies/ replaces the video report I posted a few days ago. From stateside, this was our first ever European ski trip. Expectations were high/numerous and each was pretty much lived up to and exceeded. We Made the trek over to Geneva via London and arrived at roughly 10pm. Our train to the 3Vallees was early next AM so we spent a few hours in a boarding lodge next to the city train station.
The train to Moutiers (base of the 3Vallees resorts) is done in 2 steps. Geneva-Chamberry and Chamberry-Moutiers. The first had modern carriages while the second was french 70's done in vinyl seats. Most opt to take the 115euro/pp round trip bus from GVA Moutiers but since we were tight on the budget, 79euro round trip for BOTH of us was a steal, roughly a quarter of the cost. If you don't have much baggage, I would highly recommend these commuter trains as even with our double ski bag, stowing luggage in second class was hardly an issue.
Coming into Moutiers in the morning is an experience. The trains pass through Albertville (of the '92 games fame) after which you are in the valley leading upto the station. The early morning valley fog suddenly disappeared and the true majesty of the peaks piercing the sky was pretty breathtaking.
We arrived on a Friday morning and the rest of the day was spent exploring Moutiers which, for a smaller French town has its fair share of Giant Supermarkets all courtesy of Les Trois Vallees visitors/ habitants coming down to shop. Since friday is also Chalet supermarket day, there was an abundance of British college aged chalet reps doing their weekly grocery run...again, quite wierd/surprising for a smaller town like this. The night was spent holed up in a stale cigarette smelling B&b (Hotel Terminus) across the station which was fine for 1 night.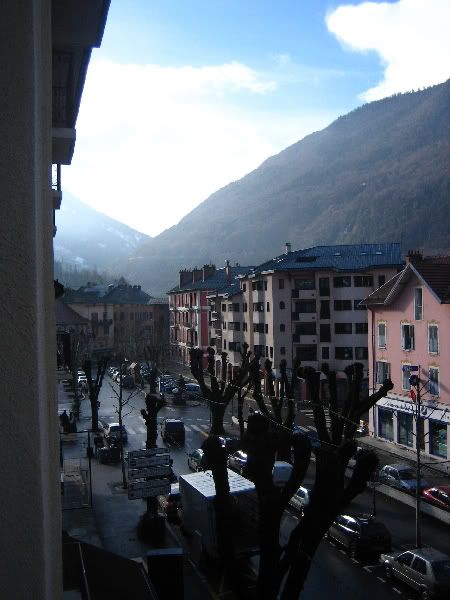 moutiers Rue Central
A 6am departure from the station by coach was next in line. The drive up was pretty nice as we climbed and climbed more on the all familiar French mountain switchbacks. Since the European ski weeks run sat-sat, a fair amount of visitors going home from the new years week passed by. The coach makes a stop over in St. Martin de Belleville, a quaint Savvoyard town at 1400meters connected to the 3vallees by a 2 stage Gondola ride. 10Km up the road was our stop, Les Menuires. After getting the ski gear organized, the luggage was checked in across the road (a great thing for sat AM arrivals since hotels/ apartments let you check in after 5pm). Ski passes were next, basically a small card a little flimsier than a credit card that is placed in your left breast pocket and is read automatically by the turnstile sensor allowing you to join the cattle rush for the next chair/cabin.
If you've never skied in Europe before, I would suggest spending the first day getting acquainted with the lift systems. Unlike the US where multiple trails feed off a single lift , each lift in the 3V serves 1-4 trails making it quite prudent to figure out your journey in advance (more on that later).
early morning arrival right before sunrise
Skiing Day 1
The snow was about 3 days old (30cm fresh at the base and 50-60 up top) so we had packed pow on the pisted runs. The Roc de 3 Marches Gondola was our first ride up to give the terrain a test. It was then down to the mid-mountain Mont de La chambre chair to its peak. A seemingly small distance on the trailmap was infact an hour journey so our first lesson was scale is everything! There was quite a bit of softies to be had alongside the trails but venturing further offpiste would have been silly due to the lack of considerable base in some patches; so thanks to old man winter, or the lack of him for the past few weeks, we stayed on trail; exciting nevertheless.
We spent the rest of the day getting to Val Thorens and up Cime-de Caron (via a 2 stage gondola/tram the first being a 4 seater and the second a 60ish passenger). Blue skies, a fantastic view of Mont Blanc (40 odd miles away) and the Belleville valley awaited and lunch at the mountaintop restaurant was also quite worthy and reasonably priced. The red run Col de L'audzin was pretty much the only open way down (without a base grind) and quite a ride (30mins or so) with the pitch in the upper 1/3 mile approaching what Outer limits at Killington has to offer. The black run Cristaux that comes off had closed signs and big big boulders but there were still 3-4 guys on twin tips hucking them. The gondola/tram mid station had a nice cruiser that lead us back down into Val Thorens. The trip back to Les Menuires the reverse of our inbound route via le chambre and some excellent afternoon sun led us back into Les Menuires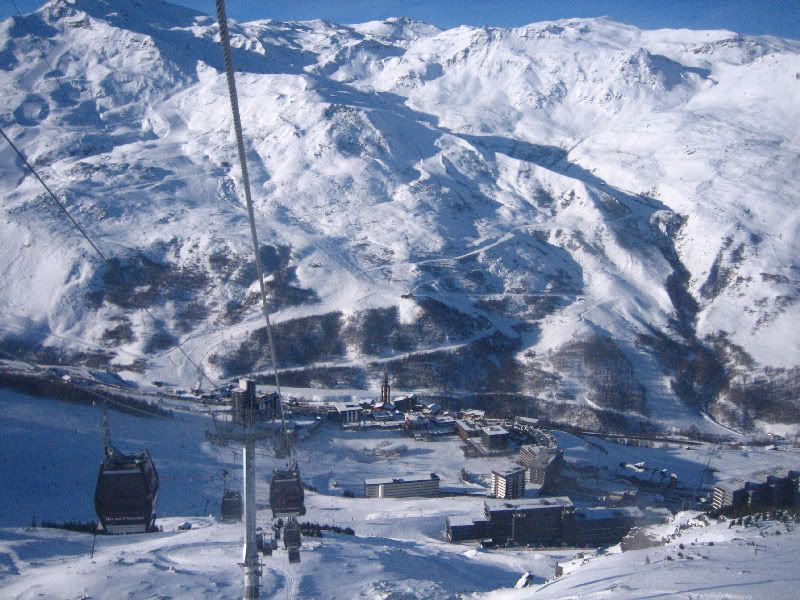 les Menuires on our 1st ride up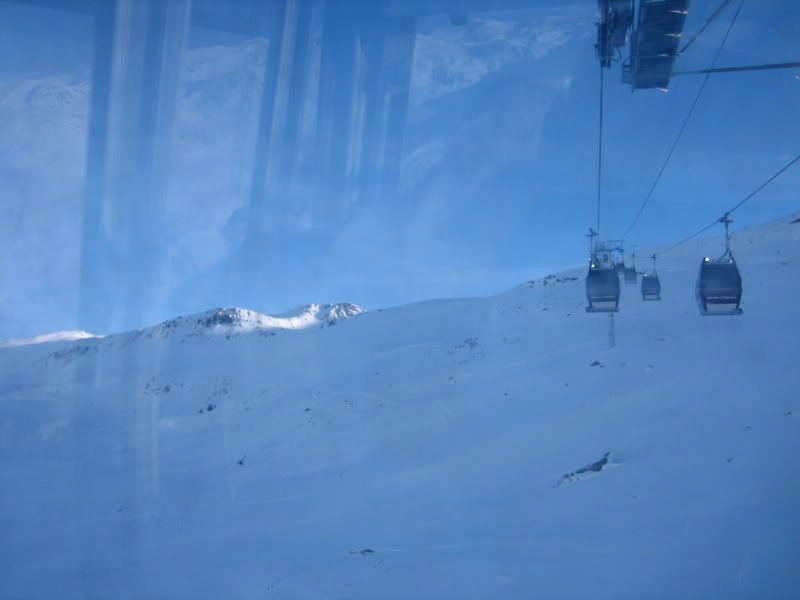 tracks visible on freshies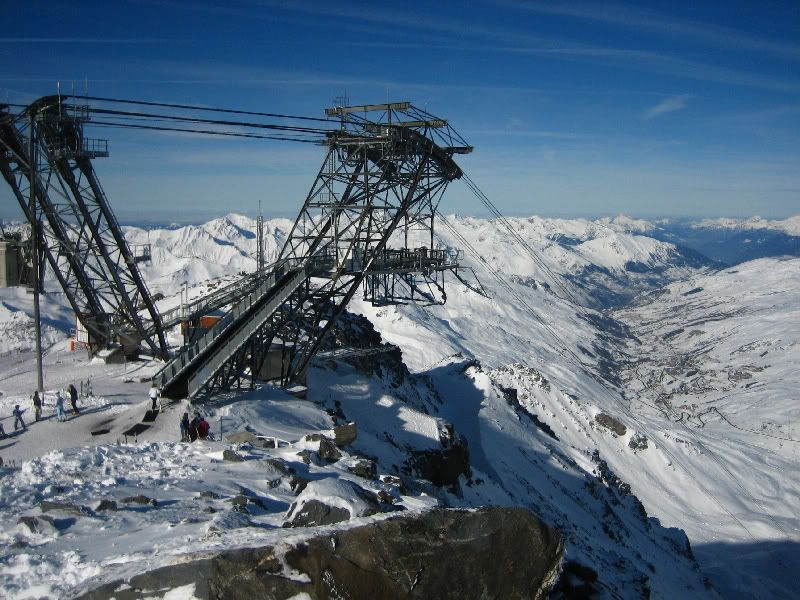 From cime de caron, the belleville valley, Les Meunires down down below
Skiing Day 2
We woke up with high hopes as the sun was out yet again. Forecast was calling for a little moderation in the temps 1-2C midday at resort level. We planned our way to the Saulire on the ridge above Meribel/Courchevel. Taking 2 chairlifts up to Roc de 3 Marches we went right over a red cruiser 3Marchees which looked like a fantastic run from above. Making it up and over into Meribel-Mottaret took about 1.5 hours skiing+lifts and some stops to enjoy the scenery. The ride up the Saluire is in a 2 stage gondola and breaking through the clouds a little before mid-station was a high-point of the trip. Snow was squeaky up top and cruddy down below. We took the black/red routes down from clear skies to whiteout to overcast in the valley. It was getting late so we took another 2 stage gondola up to the Roc de 3 marches and made 2 runs on the 3 Marchees trail. There were nice off-piste opportunities without serious consequence so we meandered a bit off and then back on trail before heading back down to Les Menuires.
Meribel side looking from the Saluire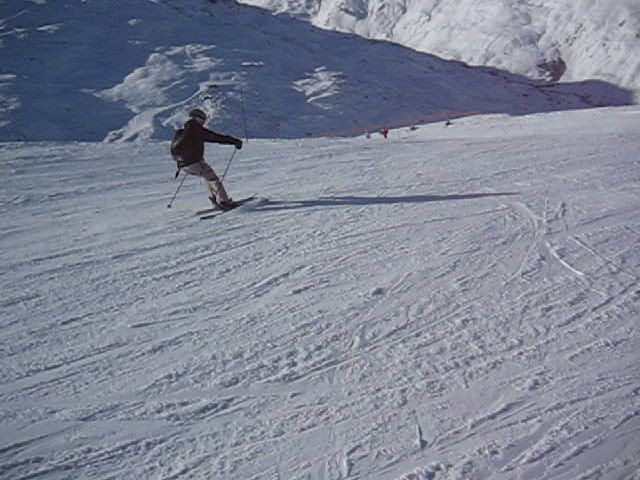 headin back down to Les Men on a cruiser
Skiing Day 3
We awoke with snow showers at resort level. Our original plan was to take it to La Masse but we decided to divert to Courchevel 1850 and La Tania because both offer some tree contrast. We got back up the Saulire via the route we took from meribel and because of our experience the day before made it up in about 2 hours, half an hour faster. It was then down to Courchevel 1850 via the red run under the Saluire aerial tram. Aside from a little traffic, the skiing was steep and sustained in hard vis conditions. Snow was heavy above 2300meters and whiteout at the peaks. The wind was howling a decent bit but not enough to close lifts. Avy risk was 4/5 but no blasting could be heard in the morning. In good light the run down to C-1850 would have been marvelous but the lack of contrast made for pretty dicey skiing since the rocks were no longer there to give perspective. We continued down to Courchevel 1850 but didn;t hang out much. The Russian invasion was in full force and was pretty evident with the sounds of Eastern European tongues all around us (incidentally, the brothel bust by French police which had the Russian Billionaire all over international news happened while we were in C-1850 but we only found out a week later on bbc.com). We continued down to La Tania where the snow slowly turned to sleet and then a cold drizzle as we descended to 1400 meters. The tree lined raceway into La Tania had spring snow with a few stones but all in all a great place to open it up on the constant rolling run. Lunch was had in La Tania and then a gondola up and ski down to Meribel. Again, the snow was slushing up due to the drizzle lower down but nice and soft higher up. We made it up to Roc de 3 Marchees and were heading down to Les Menuires when the sh*t hit the fan. Visibility dropped to ten feet or so with ZERO contrast. It was literally skiing blind. Every bump/ roller we hit was done blind for the next 2.5 miles, a surreal vertigo inducing experience. We called it a day early as we got down because visibility made everything a little more dicey.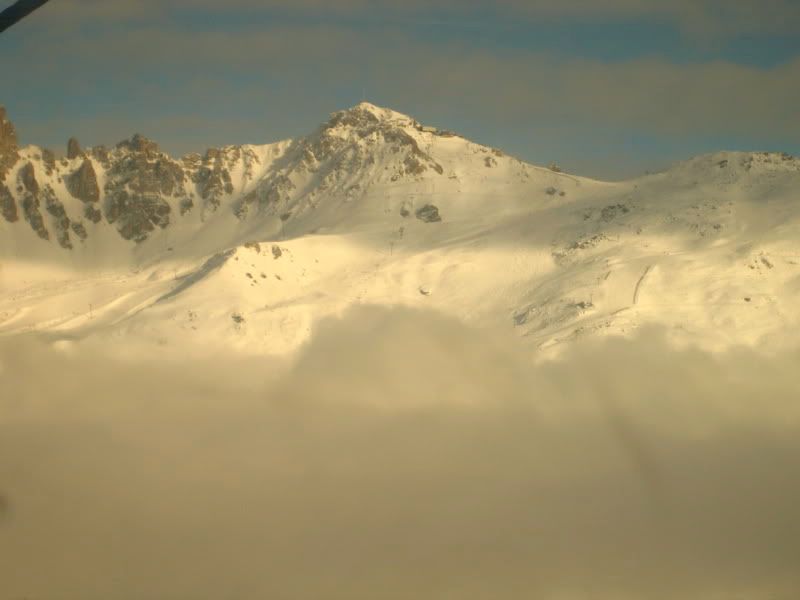 Saulire from the other side of the valley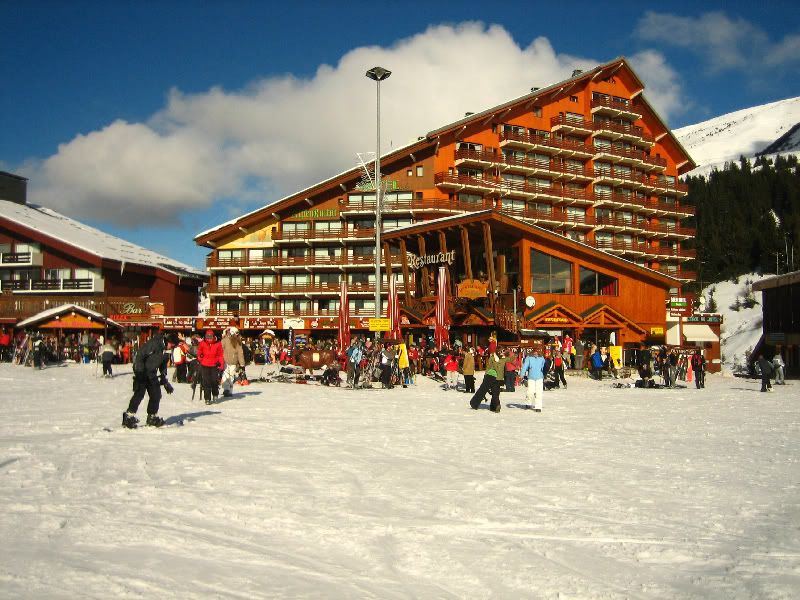 Meribel
Skiing Day 4
We spent half the day on La Masse, which along with Saluire was the best skiing of the week. The second gondola up to point de la masse passed abundant untouched freshies. This area is mostly hidden from view as it is behind the first half of the Masse area and this keeps the crowds low and the north facing snow fresh. A bit icy in spots (real glaze ice not hardpack) which is quite fun when there's a 500ft dropoff to the side as you are trying to keep yourself upright! We progressed over to Val Thorens and played off the plan de l'eau chair on the outskirts of VT. The runs were shorter but had better snow midday onwards. We took the 'famed' David Duiollet run back into Menuires; a red run with some pretty steep sections which were perfectly complemented by little piles of almost moguled up snow softened by the late afternoon sun.
Up on la masse
into VT
Skiing Day 5
An Epic day! Temps rose in the valleys but we had made it a point to go back to the Saulire for the day. Meribel base area was packed with the Brit crowd. The offpiste alongside the saluire trails, especially as you round the initial turn from the summit and head back down the valley toward Meribel is utter bliss. While most stuck to the pisted run, the perfect combination of soft, untracked snow, sustained pitch and beautiful views were had for about 1500vertical feet until we got into the warm air. The ride into meribel was slush with stones popping up here and there. On the way back into Les Menuires, we sat around for 15 mins to watch a paraglider try to take off. The poor bugger kept getting his lines tangled because of the calm-gust-calm-gust wind pattern where he was. We gave up watching and headed down.
Skiing day 6
Val thorens on our last day. The warm temps meant thaw freeze conditions making for boilerplate on some runs. Since the sun was out, we did what the Europeans do best; Vin Chaud on the open air decks watching the world go by. We literally made 3 runs that day; 1 on the way to Val Thorens, 1 up the main gondola and 1 back into Les Menuires. Incidentally, this, our last day was also when we discovered the only British Run bar in the predominantly French Les Menuires. A good/bad thing since we did manage to see the real French bar scene, (complete with angry drunk Frenchmen) and would have missed out on this had we found this Brit place a few days earlier.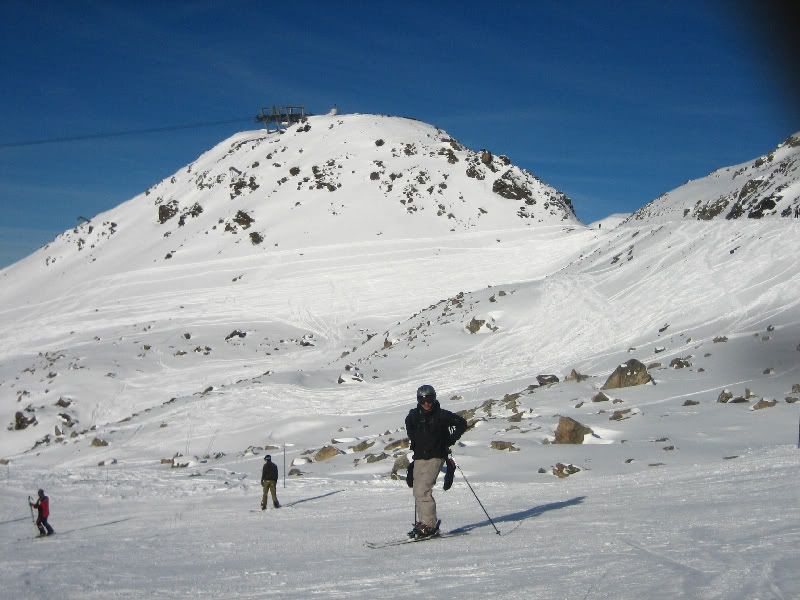 last day out
Our journey back was literally a reverse of how we arrived; coach-2 trains and into Geneva airport. We arrived Friday evening and spent a night in the airport next to a bakery stand. The international airport literally shuts down, (doors locked and lights dimmed) at around midnight so we had a semi-peaceful rest until our 6am departure the next morning. The only thing that seemed to wake us up was the smell of fresh bread baking at 4 in the morning; not a bad thing when you're in Europe.
some random observations
-As told numerous times, organized lift lines are non existent, a cattle rush normally ensues
-Most skiers were on rental equipment (made obvious by the rental sticker on the skis) and a large portion had race skis (not stock just the consumer racers like the rossi oversize and the solly equipe GS) but most were having a hard time handling them; no real pairing of skis to ability
-The French can be Very friendly if spoken to in French. When you can understand them no more only then bust out the parlez vous Englais? They'll appreciate the effort you put in and it can be fun
-3Euro got us a 4 day entry to a wine tasting festival, the cheapest way to get sloshed in resort, on good wine!
-French cars look funny
-We had to be on the constant lookout for dog sh*t while walking and while skiing some lower connector trails
-The piste bashers (groomers) are a hoot to watch late at night; their light moving slowly up the huge mountains.