Just returned from a wonderful trip with the family in Colorado. Got sick of the rain here and to save my sanity, made the first of hopefully 3 trips.
day one found us at Keystone where there was a fresh blanket of pow, just enough to plush the cord but the moguls and trees were heavenly. I found some stashes in the trees in the Outback that was deep and untouched.
Day two, went to Breck for a half day, started out for A-Basin and a meeting with some bears but a traffic jam from a bus accident delayed my arrival. My Son called me from the top of A-Basin only to tell me to bag it cause the wind was to brutal. 40mph plus at times. So, we went to Breck and played among the trees and accessed the lifts that were running. Many were closed due to high winds.
Day three, went to Copper on a Bluebird day and met up with a passel of people, ssh, Lisa Marie, faisasy, jgiddyup, Seinior Mike, Jeff Bergeron, and some others plus my pack of 6. What a day. Did some runs with the group then hit the steeps and bowls for some fun with the young guns.
Day four, went to A-Basin for another spectacular day of skiing. Hign speed top to bottom runs all day on hardpack powder and the bumps on Pali and the West wall were soft and big.
Gailon, Daryl and Lars at the top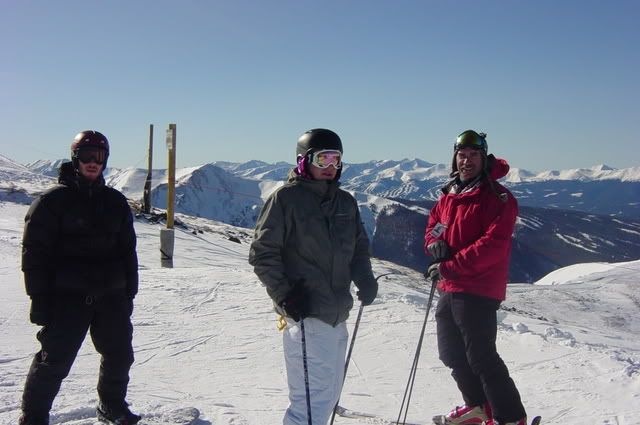 Day five, back to Breck for a super day. Did it all there as everything was open. Hit the Imperial chair early for a hike up to the top of 8 and some hikes to the Lake chutes.
Saw an awesome control slide over towards the weather station on peak 9,
The boys spent most of the day in the park. My Son Daryl on the box.
The group at the end of the day, I'm 4th from the left with my Sons Daryl and Eric 5th and 6th.
Six and seven we went back to the Basin to get my steep fetish over before I had to go back to Western NY. Lapped the Pali chair and a few backcountry tracks down the Beaver. Started to snow as the beginning of the new storm was about to hit.
And we checked out the pass at Loveland for some good lines before our trip back to Denver. Decided not to ski it as it was very wind-slabbed and hard and we were all still healthy after 7 days in a row.
All in all, it was a good time. I'm looking forwards to a February trip and I'll report that also. Hope you like the pictures.