OK, so this is a hard choice to make, but I am going to offer up my beautiful 180 Chubbs for sale. These are the original dimensions 110/89/100 with zebra bases. I have other Chubbs of a better size for me, and need to buy my pass still (and one for my son
). I am not desparate to sell, so don't try to lowball me, I'd rather save them for when my son grows into them than sell them for less than they're worth.
They are in great condition and have been skied less than 40 days in their life. The edges are in great shape with only a couple rock scrapes that I've mostly fixed with a diamond stone. There is one ding (pictured below) that has been ptexed. There are a few light scratches, but they're nothing that needs repair. The previous owner was a shop tech for the mountain shop in Portland OR, and he babied them. I skied them about 8 times.
They have been drilled twice, once for Marker M41s (plugged) and once (current) for Salomons (five hole equipes). The holes were drilled at -1cm for a 335mm bootsole, but will take as small as a 323.
I'm asking $110 plus shipping. I have some S977 Composites (4-12 DIN) I could throw in for an extra $15 (brakes are home bent for width).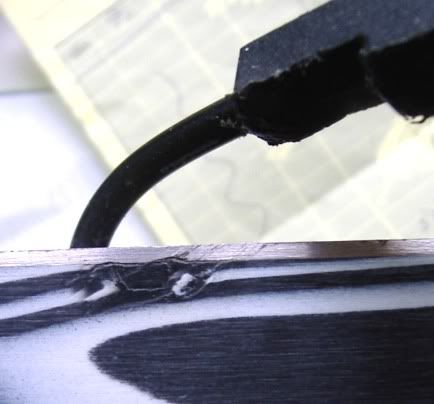 I'm working on some better pics, but my camera needs batteries.