Another try at communication accross the light years
Quote:
Originally Posted by
Highway Star

My inside ski is forward intentionally, so I can keep it out of the way and get a high angle on my outside leg. Biomechanicly, where do you suggest I put that leg?.....because I don't see it fitting next to my outside leg and the snow....there isn't room!!! Look at how close my outside knee is to my inside boot! No, I'm not going to stop skiing a high edge angle on my outside ski, that's how I want to ski! I want MORE!

OK, let me try this: I think this idea you have that you want a high edge angle on you outside ski (and the idea you've expressed in a couple of places that yits OK to want this because that's what GS skiers look like) represents a serious misunderstanding of what's going on in a turn. Lets compare Lemaster & you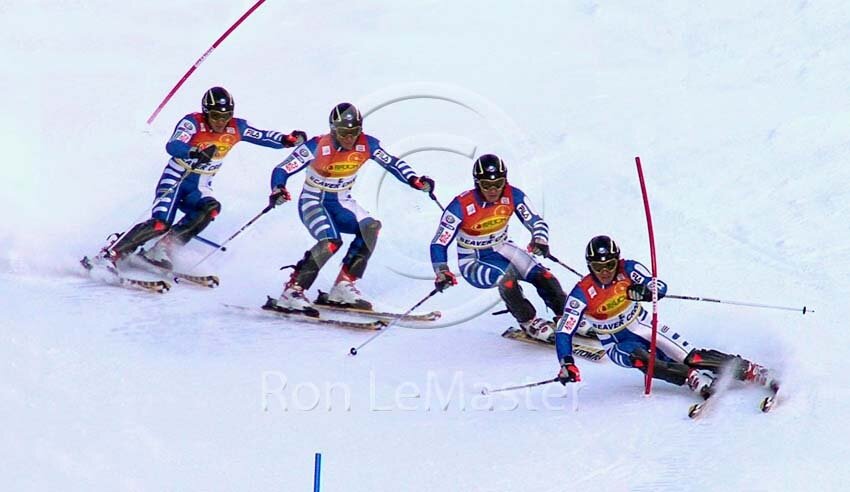 here's what I see: Lemaster is on a really high angle at this precise moment of the turn because he's going really fast and turning really hard. He has to lean over that much, other wise the momentum of his upper body would take it over the skis. In terms of weight distribution he's got some on each ski, but the important thing as that both skis are working to prevent him from moving in the direction his momentum would otherwise take him, to the outside of the turn.
On the other hand, here's you:
What it looks like to me is that you've straightened your outside leg in order to get a higher edge angle than you really need for this turn. You inside leg is to some extent HOLDING YOU UP, not keeping you from moving to the outside of the turn. Thowing your leg way out like that has also put you IN THE BACKSEAT--its not so obvious in terms of your position, but it means that you can't get your CM moving down the hill and initiate the new turn by simply releasing the old outside foot. hence the up move others have talked about. Compare Heluva skier's friend--he has to be going much faster in order not to be falling over.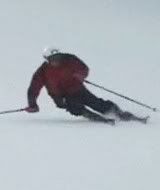 this repeats a lot up what other people have said (esp heluvaskier and onyxjl), but I'm not sure anyone has quite addressed your misconception about edge angle so explicitly: its not something you try for: its something that will happen, to the degree needed, when you try to hang on to a line against a lot of momentum.
As for fixing this stuff: since a lot of this seems to be about balance, try this: on a wide. easy blue, traverse accros the hill on you uphill edge, holding your other ski off the ground. You'll need to bend your knee and stay forward with your hands not to fall. Staying on that ski, lean a little forward and towards the fall line til it switches edges and starts to turn. As much as possible carve this turn rather than letting it skid. When you have completed the arc you can put the new uphill foot down and do the drill in the other direction.
As for what what you can do after that, I probably can't say over here, but if you go over to the tgr thread about you I'm sure they'll have a lot of creative ideas.