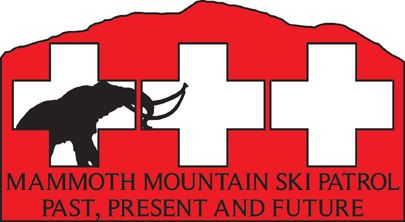 As many of you know, on 04/06/2006 Three Mammoth Mountain Ski Patrollers lost their lives while doing "routine" safety control work after a major snowstorm.
Info on Incident
After the tragedy there were MM forum threads discussing the development of Helmet/Ski/Snowboard stickers to memorialize the tragedy and to raise some money for MM Ski Patrol. I have spoken with Bobby Hoyt about using the proceeds to help build a monument on the mountain to honor the fallen patrollers.
This concept was approved by the Director of Ski Patrol and the board of the Eastern Sierra Avalanche Center. [Walter Rosenthal was the President of the ESAC] Everyone supported the concept of the stickers and liked the designs. The Mammoth Mountain patrollers chose the design that has been produced.
Mammoth Forum
The stickers are designed to be worn on helmets, skis, snowboards, automobiles or SUVs, or any place you would like to display them. Their size is about 3 1/2" by 2". They are laminated and will stand up under exposure to rain or snow.
HOW HOW DO YOU GET YOUR STICKER(S) TO SUPPORT MM SKI PATROL?
You can obtain them online at:
Buy stickers online
OR
You can pick up stickers at Footloose or Mammoth Mountaineering in Mammoth.
OR
Send a SELF ADDRESSED STAMPED ENVELOPE with your donation to me and my young son will mail your sticker right out. [He asked how he could help]
Please make donation checks out to Mammoth Mountain Ski Patrol [suggested donation $5.00, but if you send more or less you will still get a sticker!!]
MM Ski Patrol Memorial Sticker
C/O Pat Woods
PO Box 1062
Bishop, CA 93514
ALL DONATIONS WILL GO DIRECTLY TO SKI PATROL
Thanks for your support
Mammothcruzer