A waterproof ski glove test was published on Slate, and the winner is...
http://www.slate.com/id/2136051/?nav=tap3
Worst to first;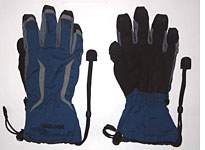 Marmot Borealis

, $40

Waterproof/Breathable Fabric: Marmot MemBrain
The Borealis gloves have an excellent pedigree—reputations for quality don't get much better than Marmot's—but these gloves bring shame to the family name. This is the only pair that failed both dunk tests, turning in pathetic survival times of 50 seconds in the first round and 33 seconds in the final. They provide decent warmth and comfort, that is, until the water seeps in and drowns the fun. Suitable for winter yardwork or dog walking, but not skiing.
Waterproofness: 1.5
Warmth/Breathability: 4
Performance: 4
Style: 2.5
Value: 6
Total: 18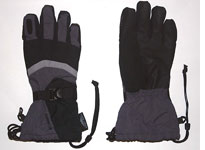 Columbia Freedom

, $40

Waterproof/Breathable Fabric: Columbia Omni-Tech
The Columbia entry failed the second immersion test (35 seconds), but did OK until then. The Freedom gloves have respectable warmth and a good fit, which is maintained by buckled straps across the backs. The synthetic palm made a secure grip on the poles, and overall they handled the mountain fairly well. But in the batting cage they overheated fast, and some of the stitching had come loose by day's end. In the looks department, it's tough to make black and gray unappealing, but somehow Columbia found a way. Still, for $40 (or a low $16 I found on Amazon.com), they're not bad.
Waterproofness: 5.5
Warmth/Breathability: 4
Performance: 4
Style: 1
Value: 7.3
Total: 21.8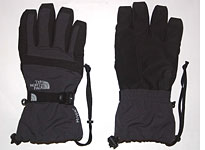 The North Face Montana

, $50

Waterproof/Breathable Fabric: the North Face HyVent
These North Face gloves outperformed the Columbias with one major exception: the rubbery "Toughtek" material covering the palms and insides of the fingers felt, and gripped, like latex cleaning gloves. Worse, the palms aren't sewn down across the middle, which causes uncomfortable folding in the grip with every pole plant. Not too shabby for the price, but a few dollars more will buy something that's watertight.
Waterproofness: 9.5
Warmth/Breathability: 5
Performance: 5
Style: 3.5
Value: 9.2
Total: 32.2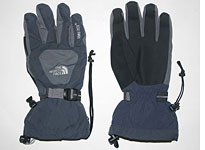 The North Face Surge

, $90

Waterproof/Breathable Fabric: Gore-Tex
Like all the gloves that follow, these came through both sink tests without allowing a drop inside. The Surges feature the same wretched rubbery palms as the North Face Montanas, but otherwise they boast a completely different blueprint. Each glove has a removable spandex liner that can be worn alone, or removed to make the thinly insulated Gore-Tex shell suitable for warm conditions (aka spring gloves). Together, they make a warm, comfortable glove that breathes well. Worth the steep price? No way. (If you choose to go with the North Face, consider moving up a size. I wear larges for this brand but mediums in all others.)
Waterproofness: 15
Warmth/Breathability: 7
Performance: 6
Style: 3.5
Value: 7
Total: 38.5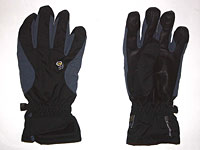 Mountain Hardwear Flipside

, $59

Waterproof/Breathable Fabric: Mountain Hardwear Conduit
This pair has a straightforward design that gets the job done. The supple goatskin palm and fingers allowed me to deftly zip and unzip my jacket and easily pop a token into the batting-cage slot. (They made for the best batting gloves, too. Heads up,
Alaska Goldpanners
!) They aren't as heavily insulated as others, so may not protect as well in extreme cold. The Velcro cuff also worries me a bit: The strap-and-buckle design seen on other gloves assures a better fit and seems more durable for the long-term. While the gloves aren't much to look at, this was the only competitor to break the 10-point barrier for value. The Flipsides are the least-expensive safe bet.
Waterproofness: 15
Warmth/Breathability: 6
Performance: 7.5
Style: 2.5
Value: 10.5
Total: 41.5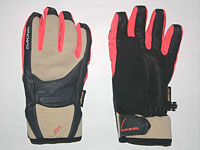 Bronze Medalist:

DAKINE Cobra GT

, $69.95

Waterproof/Breathable Fabric: Gore-Tex
DAKINE is a relative newcomer to the ski gear industry (they started out making surfboard leashes), but their gloves have quickly earned a solid rep. This pair combines top-tier fabrics with rugged construction. Again, I question the Velcro cuffs, but they fit great and the supple leather palms give a firm grip. One drawback: The bred-to-shred appearance is way too extreme for my extremities. Slip these neon suckers on and you've instantly got something to prove, whether it be that you can outski Bode Miller or that you're a cosmonaut pimp from the future.
Waterproofness: 15
Warmth/Breathability: 7.5
Performance: 8
Style: 2
Value: 9.3
Total: 41.8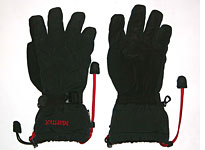 Silver Medalist:

Marmot Randonnee

, $100

Waterproof/Breathable Fabric: Gore-Tex XCR ("eXtended Comfort Range"—eXtra breathable, eXtra money)
This pair does the Marmot name proud. Built with the best materials, this sturdy design provides day-in, day-out comfort. These gloves have the softest, grippiest leather palms in the pack. Pole plants are painless. If your hands are still too cold wearing this toasty pair of gloves, you probably don't want to be skiing. Aside from a negligible poofy feeling on the inside, the only real flaw I noticed was the sky-high cost. Price apologists would counter that this pair will weather at least three seasons of steady use, and therefore are worth every penny.
Waterproofness: 15
Warmth/Breathability: 9
Performance: 9
Style: 3
Value: 7.2
Total: 43.2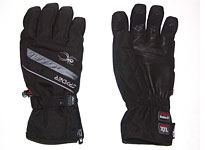 Gold Medalist:

Spyder Whistler

, $85

Waterproof/Breathable Fabric: Spyder XT.L
Although the Spyder gloves posted impressive scores in all events, their performance on the slopes transcends the numbers. The fit is snug but they aren't unwieldy in any way—no constriction, no bunching up of material. The Whistlers feel tailor-made. Without wetness, cold, overheating, or other discomfort in my hands, I was so content skiing that I nearly forgot I was wearing the gloves at all. Now, that's the mark of a true champion.
Waterproofness: 15
Warmth/Breathability: 8
Performance: 9.5
Style: 4
Value: 8.6
Total: 45.1
Cheers,
Michael