Probably this belongs in the *Trip Reports* forum, but it's not much of a trip report, as it's more about the excellent conditions at one Colorado resort the past couple of days.
So I skied Vail on Sunday and Monday, Sunday with my husband (and yes, as you will see from one of the pictures he is "OMG! Gasp!" a snowboarder from way back) and Monday by myself.
Sunday started out with about three inches of fresh on top of lots of newish snow that had been sitting in the warm sun all day Saturday. So any heavily skied southeast facing slopes had some small *surprises* under the fresh blanket. Nothing too nasty, but given how velvety smooth it all looked, the ice chunks and firm snow were a bit of a disappointment. However, it was snowing and blowing all day, and that meant better and better white stuff as the day wore on. Stayed darn cold, too, so the snow was light and fluffy and drifting into great piles in some spots.
Husband floating the beginnings of some really soft stuff in the run-out below Iron Mask, Blue Sky Basin, mid-day Sunday: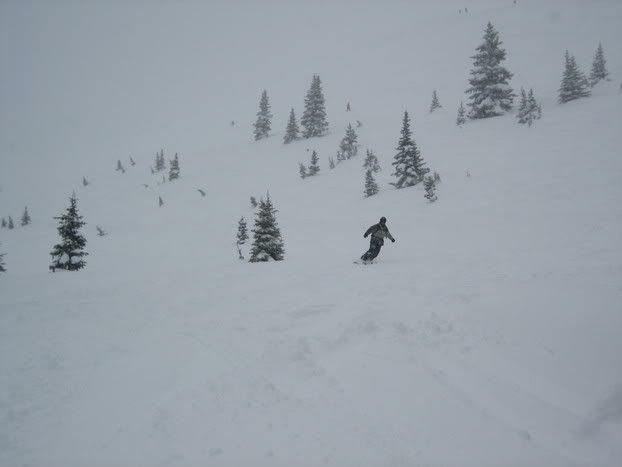 Me, somewhere in the white-out (and yes, visibility was that poor. . . we weren't having focus issues, but rather cloud and snow *issues*--the good kind), border of Inner and Outer Mongolia, mid-afternoon Sunday: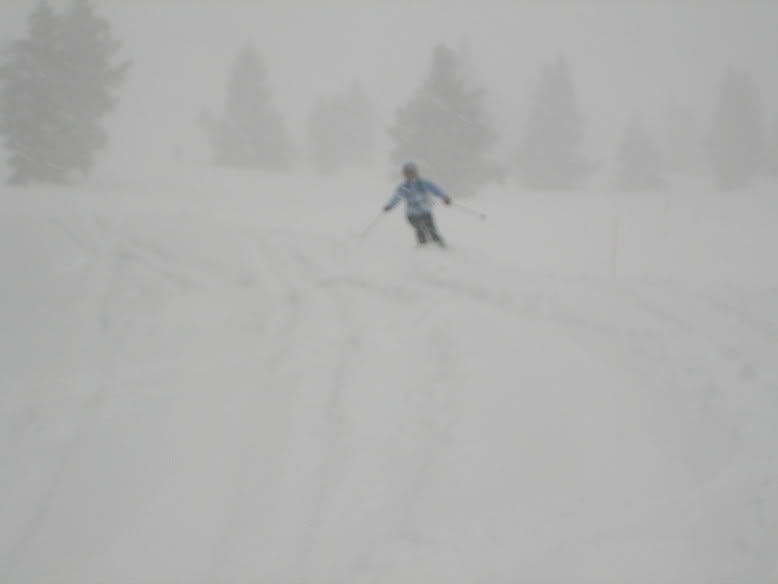 Me, starting to bury the photographer, which is the main punishment snowboarders get in our house. All that kneeling and sitting. . . They're such easy targets, especially when the snow is deep:
Monday? Well, it dawned bright and clear, with an official snow report of six inches, but I tell you those six inches looked like a lot more if you knew where to look for drifts. I mean, in what land does six inches reach above the knees? (OK, in Oompa Loompa land, but I am not
that
short.) In any case, what a day! Cold, cold, cold in the morning. Caught first chair and the snow was very fresh, crystalline and light. Dropped right over the back into the trees next to Headwall, where it was boot deep. Slid down Genghis Kahn, where it was knee-deep in places, and still light as air. Did a Bolshoi Ballroom, and just flew and floated through the snow, barely a turn necessary, as I was the first to lay down tracks (that I could see anyway). Did several laps on Red Square and Rasputin's Revenge, where I found drifts up to mid-thigh just below the roll-over at the top, and never once had to cross anyone else's tracks. I mean, they were out there (all of a handful of them), but they left me my nice little stash mostly to myself for a few runs. Ah, what a lovely morning!
See those tracks between the two center lift towers? One of those is mine, and it was the only one on that line when I took it Monday morning. By the time I got on the chair and fished the camera out, however, a few somebodies had gotten the same idea. . .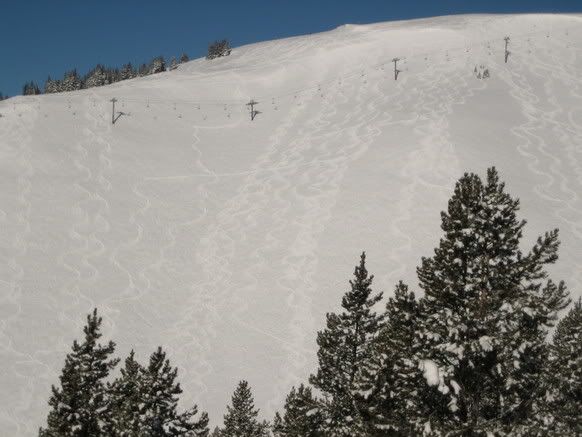 Me, trying to grin like a happy, happy maniac because I was the first person into Siberia Bowl, but too cold. Face froze that way (and other people had chased me in by then, too). Basically this is the sad, sorry thing that happens when you are skiing alone and want to take pictures that include you: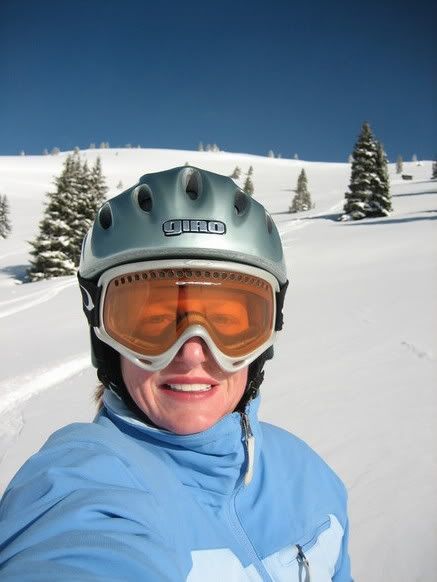 Isn't Colorado great?! Conditions are spectacular right now, and it looks like a few more days of sun before any more snow, so we may be having a happy little spell of spring in February. Get it while you can! (And then hopefully we're back to getting pounded with snow!)
Mollmeister