Interesting threads going on at Telemarktips & TGR
http://www.telemarktalk.com/phpBB/viewtopic.php?t=15002&postdays=0&postorder=asc&sta rt=0
http://tetongravity.com/forums/showthread.php?t=41314
regarding the use of an ever more scarce resource; untrackted powder. A group of [somewhat self-righteous] BC skiers have made an effort to track out WPG's terrain before they get there: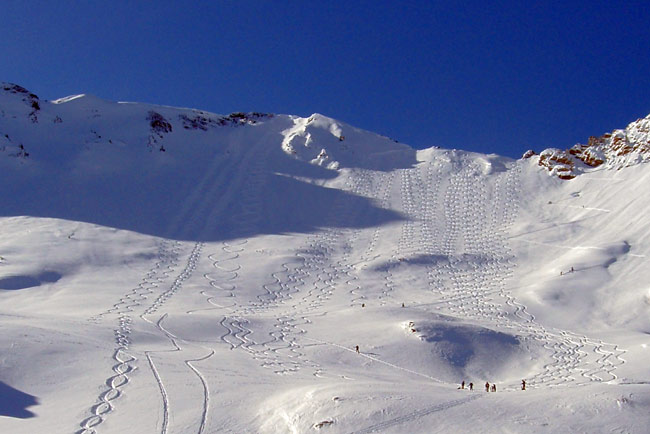 I'm sure WPG is not amused and has been accused by BC skiers as "not good nieghbors".
I personally think it's pretty funny what they did, but also waaaaay overboard. I'm sure a lot of us Bears have an opinion on this too, but hopefully we don't start the flame wars seen on these other forums.
My personal opinion about motorized access (summer and winter) is that I don't care for it. I don't like the tranquility of the wilderness spoiled by noises and fumes. I also am pragmatic and understand that we all need to share the resources that we have and understand that some folks do really enjoy motorized back country travel and would probably not be able to access these areas otherwise. A better understanding of each parties' point of view would go a long way in mitigating this controversy. If anyone else does want to throw their $0.02 in on this subject, lets at least keep it to a civil level.
Powdr
Powdr