OK, I Recently crashed my bike.
I did a big no no, I was riding my bike towing my girls behind me in the trailer and had my 112lb Black Lab running next to my with my hand on the leash.
Well, he decide to stop to leave his mark without any warning (he will bark or winne first) and the leash caught on the handle and I went..... WWHHHHEEEEEEEE! CRASH!
I have a few scraps but OK, the girls was safe and sound in the trailer, the dog was shamed to no end (his head was down and tail between legs) but my bike is damaged. The front brake is broken. It looks like some silver ring thing is missing and I thought of using a pencil eraser cap till I can get the part replaced. Any suggestions????? It's a Giant bike with standard parts.
here are the pics...
Damage front:
How it should look back brake:
The one who broke it!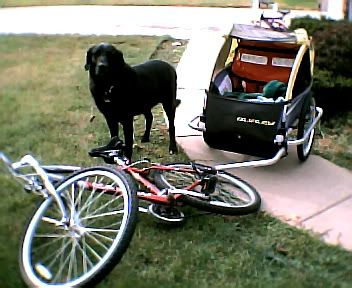 Any help will be GREATLY appreciated!!!!