2015-2016 Shaggy's Brockway 174cm
133-95-118 r=18m @ 174cm
2015-2016 Shaggy's Ahmeek 180cm
139-105-124 r=20-22m @ 184cm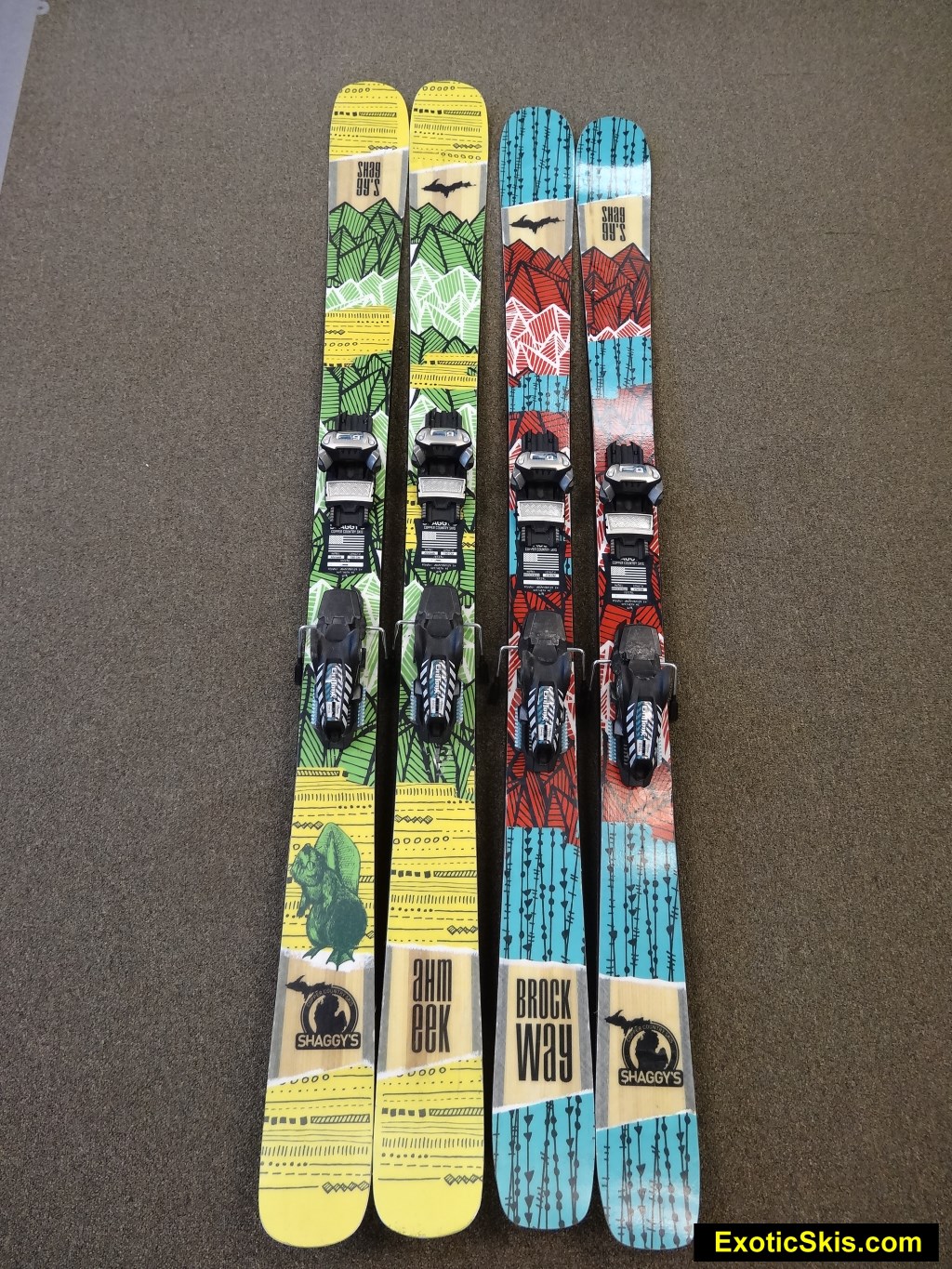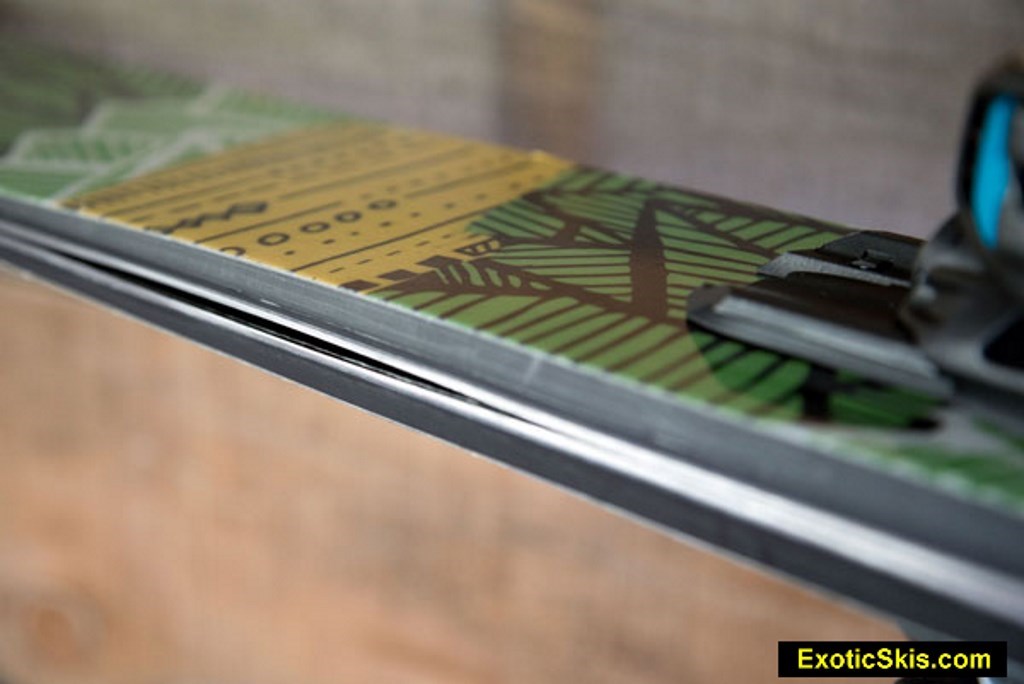 Shaggy's Camber Pocket
(Ski pressed flat underfoot)
Manufacturer Info:
Shaggy's Copper Country Skis
1170 M75 South
Boyne City, MI 49712
231.459.4323
http://www.skishaggys.com
TGR story about the shop HERE:
 
Suggested Retail Price (MSRP):

$749 usd

Usage Class:

All-Mountain, cambered

Rating (with comments):
(1="get me off these things"->10="I have to own a pair")

9 All-mountain, all conditions, wide array of skiers except novices and early intermediates.
8-9 for boilerplate conditions for their size (not like racecarvers, but unusually good for 95 and 105mm waist skis)
9 for mixed, cut-up and skied-out conditions
7-8 in powder (directional and cambered personality)

Background:

We first tested Shaggy's Copper Country (SCC) skis back in 2011 when Jeff, John and Jonathan Thompson were just getting started making skis and selling them to the public out of their northern Michigan workshop.  Today, they still use locally-sourced hardwoods for their cores, carefully design and manufacture the skis themselves and handcraft each and every pair.  They redesigned their lineup for this season by crowd-testing design concepts and constructions with over 70 skiers until they got the results they were looking for in a modern, freshly-enhanced ski concept.  Family-owned and locally-produced are their mantras, and their passion for performance shows in the personality of their skis.  People might not think of upper Michigan as a place where great ski designs come from, but in this case...they produce great skis people should pay attention to.

Manufacturer's Description:

Ahmeek:

"When changing the design of one of our most popular skis, we were worried. We had to make this ski do everything the past model had done, but better. It needed to carve harder, destroy crud, float higher, and ski easier.

Well, after four rounds of prototyping, 70+ test skiers, way too many long nights, and a few extra shims in the mold, we've done it! We are proud to release the all-new 2015-2016 Ahmeek 105!

This new Ahmeek now features a 105 mm waist width for maximum all-mountain versatility. The dual sidecut radii utilize a 10% larger radius at front 20% of the sidecut, which creates an amazingly stable ride in any condition. We have added pockets of camber within the traditional camber to triple the amount of contact points on hard snow.

The tip rocker profile is perfectly mated with the sidecut length to provide exceptional and hook-free turn initiation. The rocker profile also lets you smear into or out of a turn whenever you want and float in the soft stuff. This is the ski you want for skiing everywhere; pow. groomers. slush. crud.

While we love dedicated powder skis, we have created one ski that can be your entire quiver!."
Brockway:

"The all new Brockway 95 is the narrower brother of the all new Ahmeek 105. This ski is made to charge through any condition. The real hero-feature of this ski is its ability to dig trenches in anything from ice to groomers and crud. The subtle camber pockets within the overall camber triple the turn initiation contact points for maximum edge grip. Utilizing a stiff tail and mid-body, the Brockway can blow through any crud and power out of turns with the agility of slalom ski.
The early rise rocker tip profile helps the ski float through soft snow and ease into any turn shape. Once the edge is initiated the fully cambered mid-body engages your edge and maximizes stability.
This is the ski for you if you are looking for an all mountain model with a slight bias towards hard snow and looking to take on variable crud as well as occasional powder."

Technical Ski Data:
Northern Michigan ash hardwood core

Unidirectional carbon fiber under the core
Triaxial fiberglass
Rubber dampening strips between edges, fiberglass and sidewalls
9.5 mm IR ABS Sidewalls
1.4 mm Die Cut 4001 Durasurf bases
Backprinted clear nylon

topsheet

Early rise rocker tip and tail, cambered midbody
Extra "camber pockets" fore and aft of centerpoint
Bindings and Boots & Waxed Used:

Marker Griffon demo bindings
Salomon S-Max 120 boots.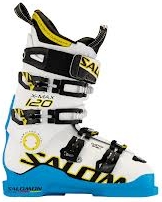 Green Ice Ultimate and N8 waxes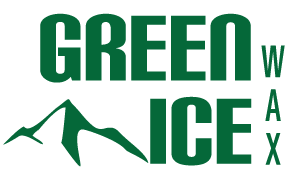 Pre-Skiing Impression:

Both pairs of skis have handsome, peek-a-boo topsheets showing off the ash laminate cores, and have playful, colorful graphics.  Everyone loved the graphics, testers and civilians alike.  Construction was very solid, nicely finished and components well assembled in a way that says "serious skis".  Slightly heavy feel, stout flex with nicely progressive patterns from slightly soft shovel to firmer midbody to tail.  Damp feeling and torsionally strong.  Both the Ahmeek and Brockway gave an impression of authority when examined carefully...plus they look cool (very important).

Test Conditions:

Eastern corduroy, packed powder and hardpack groomers, shin-deep powder, chalky chunder, spring corn & boilerplate. Pretty much everything - Full Spring-to-Spring testing period.
 
Summary:

Several ExoticSkis.com testers who tried Shaggy's Ahmeek and Brockway skis wanted a pair in their own particular sizes.  That just about says it all.  To put it honestly, we flat-out loved these skis because they had a huge range of snow conditions they really mastered, and they did it with authority.  They tend to be more on the slightly stiffer, more charging end of the spectrum but they deliver tons of grins and excitement when driven athletically through pretty much any condition you can find in a typical day throughout the season. 
Both models feel like they have the same DNA...the Ahmeek being a wider (105mm underfoot), more flotational platform with a little more smearability than the quicker, more front-side, tracking-oriented Brockway (95mm underfoot).  Like many speed-capable skis, the Ahmeek and Brockway both have a slightly heavy feel at slow speeds, but as soon as you pick up the pace a bit and give them some pressure, they lock-in, grip and accelerate with confidence-inspring stabilty and energetic prowess...which everyone seemed to find addicting. 
Weaker intermediates or novices will probably find these skis too demanding, but athletic, advanced intermediates looking to up their game will get hooked on the way these skis grip and go.  We hesitate to say the "camber pockets" cause all the grip we experienced in these skis, but they definitely create areas of bite you can find and utilize with just a little touch-and-feel experimentation.  Some people might find these skis deliver a slightly hooky or darty feel in crud if mounted too far forward..but their default mount point feels just slightly biased toward all-mountain jib-style for modern, athletic action rather than higher-speed crusing.  We liked them best mounted about 1cm back of the line. The grippy nature of these skis comes not only from the "camber pockets", but the entire chassis of each ski which has a nicely blended mix of tip initiation and forebody integrity pulling itself along its shaping to put you square into the center of the ski with a securely powerful tail flex and shape holding you to the snow. 
Ex racer-types and high-edge-angle-types will like the way these skis carve and trench densely packed snow and spring conditions.  To get the most out of them, you need to be willing to put in a bit of effort, but the result is a ski behavior that can be secure, super-fun and thrilling if you want. 
The thing that impresses people the most seems to be how well these designs work in conditons ranging from hardpack to powder to spring corn.  They don't seem to have a weakness anywhere in the spectrum...and that's wicked fun.  Behold the skis from Michigan!  Nice work guys.

Hardpack and Boilerplate:

Both models have an ability to really bite into harder surfaces with authority, with best results coming from focusing on the area just in front of the toepiece and just behind the heelpiece ("camber pocket" zones).  If you pressure these areas deliberately, you get a biting action that lets you change direction quickly on-demand.  If you prefer to use a more whole-ski, GS-like carving edge set, you get a nicely arced slice into the surface with a little less authority, but perfectly sound grip along the entire ski length.  On the hardest boilerplate, you can get the skis to chatter slightly if your technique is off a bit, but it's rare and if you are in the slightest bit of snow where you can get sidewall-depth slices into the surface, the shaping of the skis delivers a quiet, energetic ride with great security.  Vibration dampening is moderate..not too much, not too little...just about right for getting a really fun ride and feel underfoot raging all over the hill.

Mixed Conditions:

Mixed snow conditions are where the Ahmeek and Brockway really shine..in their own categories. 
 
Brockway:
The 95mm Brockway is a quick and stable crud-cutter, purely directional and holds a line really, really well no matter what you need to slice through...and the key word here is "slice".  There is no real deflection with under-surface junk, and tracking behavior is rock-solid, yet directional changes are as quick as you want.  They simply go where you point them and don't fuss underfoot, delivering a spunky, fun response as you go.  If you are mounted too far forward, some people reported a slightly hooky or darty behavior in the forebody, which disappeared as soon as we moved the bindings back 1cm from the line. The Brockways feel fully cambered in 3D cut-up, tracked out snow, which means no drifty, smeary ride, but deliberate, on-target tracking with great response and security.
 
Ahmeek:
The Ahmeeks step away from their narrower Brockway siblings by delivering a slightly more rockered tip feel and smearability in the forebody, while keeping the rock-solid midbody and tail feel in tracked-out, mixed material surfaces.  This lets you be a bit more lazy or relaxed due to the slightly looser feel up front, additional flotation and tortional forgiveness at the tip, yet they are super stable, confidence-inspiring and fun blasting through inconsistent surfaces.  You get this behavior with a very slight loss in directional integrity if there are chunks or piles under the surface, since the larger tips can be deflected slightly at higher speeds, but you quickly learn to ignore this message underfoot and simply pressure your way through it and stay on-track.  The behavior is not really "deflection", but an announcement something up front is trying to change your direction, and if you stay pressured into your direction, the Ahmeeks stay on-track and keep going where you want.  If you get in the back seat or get lazy, you might end up following the tips instead of your intended line...much the same with any ski.  The great thing about the Ahmeek is its super-wide range of mixed materials it can arc through without effort, making it a great all-mountain western design in the 105mm category...and a go-to ski for eastern spring corn harvesting where it's firm in the morning with hardpack underneath, and corny in the afternoon with piles and tracked-out sections.  Nice work.
 
Bumps:

 
Brockways:
The Brockways can be a bit stout-feeling in the bumps, and with their strong tails, can deliver a big boost out of a depression if you are willing to tolerate a bit of abrupt response in the forebody.  The hardwood cores respond quickly, and directional changes are pretty darn quick and accurate, but they are really happiest arcing through the snow rather than pounding bumps.  Bumpy terrain is not a problem, but don't expect a siky, fluid experience...prepare for a more vigorous, athletic ride where a commanding pilot gets better results than a lazy rider.  The Brockways like to be driven like a a ski with a more charging nature than a sit-back-and-enjoy-the-scenery design.
 
Ahmeeks:
The Ahmeeks felt more at home and tolerant in the bumpy terrain than the narrower, more-serious Brockways.  The slightly more rockered, softer tip and tail sections delivered a more compliant, fun ride in the bumps without requiring a ton of effort from the pilot.  They were easy to get in and out of the frontside and backsides of bumps (as easy as a 105mm waist ski can be expected to be), only being hesitant if the bumps were tight and steep-walled.  Response in the bumps was a bit slower than the Brockways, but totally fun and less demanding.  Put some soft snow in the troughs of the bumps, and the Ahmeeks seemed to deliver more fun and compliance than if the bumps were pure hardpack (naturally), but even more than we were expecting. 
 
Powder:

Due to an essentially crappy season in New England in 2015-2016, we did not get Shaggy's skis into deep powder...only managing a couple days in snow up to our shins...so our powder evaluation is a bit weak...
 
Brockways:
As you might expect, the Brockways behaved like a 95mm, fully cambered ski in powder, delivering a directional, deliberate-trajectory feeling.  The cool thing about them in powder was their ability to be really darn friendly in powder, being easy to handle despite their relatively moderate stiffness and lack of significant tip rocker.  Unlike many all-mountain 95mm category skis, the Brockways were actually fun in powder, especially at higher speeds where you could get the ski to plane and drift a bit. Shaggy's shaping of the forebody of the Brockways lets it naturally rise a bit in powder and let you relax and enjoy the snow rather than curse the sinking-feeling you can get with some all-mountain designs.  Overall, we were impressed by how friendly the Brockways were when the snow got more than boot-deep, which adds points to the overall score of this model from Shaggy's...and was something we did not expect.
 
Ahmeeks:
The Ahmeek model really liked surfing through what little powder we could find this season.  Despite their cambered nature, the shaping and rocker profile Shaggy's put into this design really lets you have a ton of fun in powder, both light and heavy.  The Ahmeeks have bias toward being more turny and directional in powder than a full-on rockered, smeary, powder-specific design, but they are completely friendly and fun with good depth-control and flotation along the entire ski.....and will dig trenches in the groomers on the way to the lift after poaching the powder goods in the higher terrain.  Like its sibling Brockway, the Ahmeeks like more speed in powder to get their fun-factor up.  The faster you go in powder, the more fun and lighter-feeling they get.  Some people might find them a bit too turny in powder, but their agility in the tighter terrain in 3D snow is what make them appealing.  If you frequent more open terrain in your neighborhood, buy the Ahmeeks in a longer size...you won't be disappointed.

Analogies: ("This ski is like...")

Reliable, fun friends you can go anywhere with, always up for a rowdy time or chilling-out and just cruising...the ones you call, no matter what the weather when you want to go out.
 
Quick Comments:
Playful
Grippy
Strong
Surprising
Stable & Reliable
Solidly Sporty
 
Comments From Other Testers:

 
Jamie Stewart:
"Conditions were early season Vermont man-made.  Some serious boilerplate, edgeable consolidated groomer snow, sugar piles, some random cookies strewn about Okemo and Killington, and later some dense shallow powder and chalky chunder (along with super grippy hardpack) at Stowe.

I'm 6'1 170, and skied the 180.  I might have preferred the 186, but this was enough ski for the limited range of terrain I had them out on.

This is the first ski I've been on with a non-'normal' camber profile.  The benefits of a rockered tip and tail have long since been proven, but on a fun/floaty/playful ski, there's no doubt that hardback edgability is compromised as a result of the necessary shortening of the effective edge of the ski. It seems to me that the idea of 'multiple cambers' is that adding extra camber sections to the now shortened mid-section of the ski, can make that shorter camber section more powerful.  It seems to work.

The flex is pretty consistent, softer in the tip than under and behind the foot.  Some skis try to beef up the core underfoot in an attempt to make the shorter cambered section of the ski more powerful, but you end up with super soft tips/tails, that don't flex in unison with the rest of the ski, rather they fold.  The relatively uniform flex of the ski provided lots of energy linking turns and allowed you to use the whole length of the ski.  

My reservation about the multiple camber zones, initially, was that it would make the ski twitchy, or a have a small sweet spot, and reduce the playfulness of the ski.  I did not find that to be the case with the Ahmeek.  You can still get the ski to release when you want it to, and ski it with a more free-ride style, but it'll hold a edge when you want it to carve.  I got to ski the Ahmeek in about 6" of dense powder of trail at Stowe recently, and I was pleased to find that the pivot-ablilty of the ski was still good for a ski with this much bite.  In full on powder day conditions a flat or fully rockered ski would definitely be my choice for skiing the tight woods trails in this area, but the Ahmeek did not disappoint.  

The mounting point leans more towards center than a way-back traditional mount, but this was relatively easy to adapt to.  Less tip driving and more lay it over laterally and hang-on.  With the more centered stance on the ski, the camber pocket behind the boot means you can power out of turns more so than some other skis in this class.

Short radius turns took a bit of work, but this IS a 105mm waisted ski.  I found that with a more dynamic motion, not quite jumping from one turn to the next, but really un-weighing the ski in the transition, that the Ahmeek could come around in short quick turns and was really a lot of fun.  It felt energetic  in this way.  This would likely be a very fun ski in powder bumps, or spring conditions.  

Longer radius turns were great, Ahmeek is very stable at speed, and all you've really got to do is tip it over and let it rip, bearing in mind that more centered stance.  To get the most grip out of the exit of the turn you can't be too far forward.  Even the total boilerplate at higher elevations were skiable, just barely beyond the traction threshold, if you were willing to go for the ride.  Something definitely not true of some similar skis.  

Even with a length slightly shorter than I might prefer, I found the Ahmeek quite stable at speed through a long chunder zone below the headwall on upper National at Stowe.  I'd bet that crud performance is similarly confidence inspiring, owing that stability to the consistent flex of the ski.

A for gripes, I would like to see this ski with full-edges around the tip, just for durabilities sake.  Otherwise, build-quality looks excellent, and the bases/edges held up very well for the scarily low-tide conditions in Vermont right now.

Overall the Ahmeek is a super versatile ski, one that for me, would be an ideal east coast daily driver.  It carves hardpack, can handle variable 3-D snow, and doesn't sacrifice too much playfulness.  The Ahmeek is a reliable go-to."

Thanks again for letting me spend some time on those, I had a lot of fun, and got a lot of inquiries/compliments.  Michigan-made was a surprise to most!"

 
Things I Would Change About This Ski:
 
Probably nothing...more sizes perhaps.

Short Answer When Someone Asks "What Do You Think About This Ski?":

These are great examples of a really, really good all-mountain designs with innovative features coming from small, craft ski builders in the United States. Huge range of great handling traits in tons of different situations and conditions.

Advice To People Considering This Ski:

They ski pretty true-to-length, so size them accordingly.  We liked them tuned pretty flat and sharp tip-to-tail for Eastern conditions.  Don't hesitate to consider skis from Michigan..they are every bit as good, if not better than many "big-10" brands out there, and the guys at Shaggy's are super helpful and enthusiastic about their products.
 
Other Reviews:
 SkiDiva (Ahmeek 2016)
 
Pics: (click for larger versions)