2014-2015 Carpani F4 (FIS) Activa Race
104-67-88 r=>23 @ 180cm (USSA FIS Compliant Men's GS)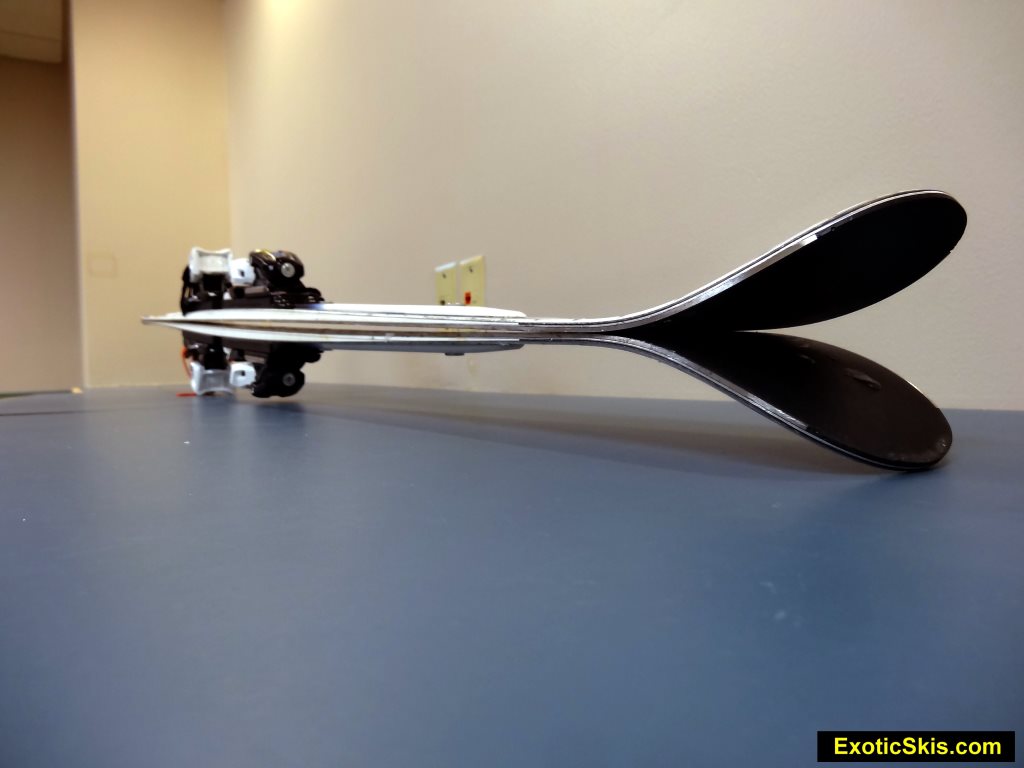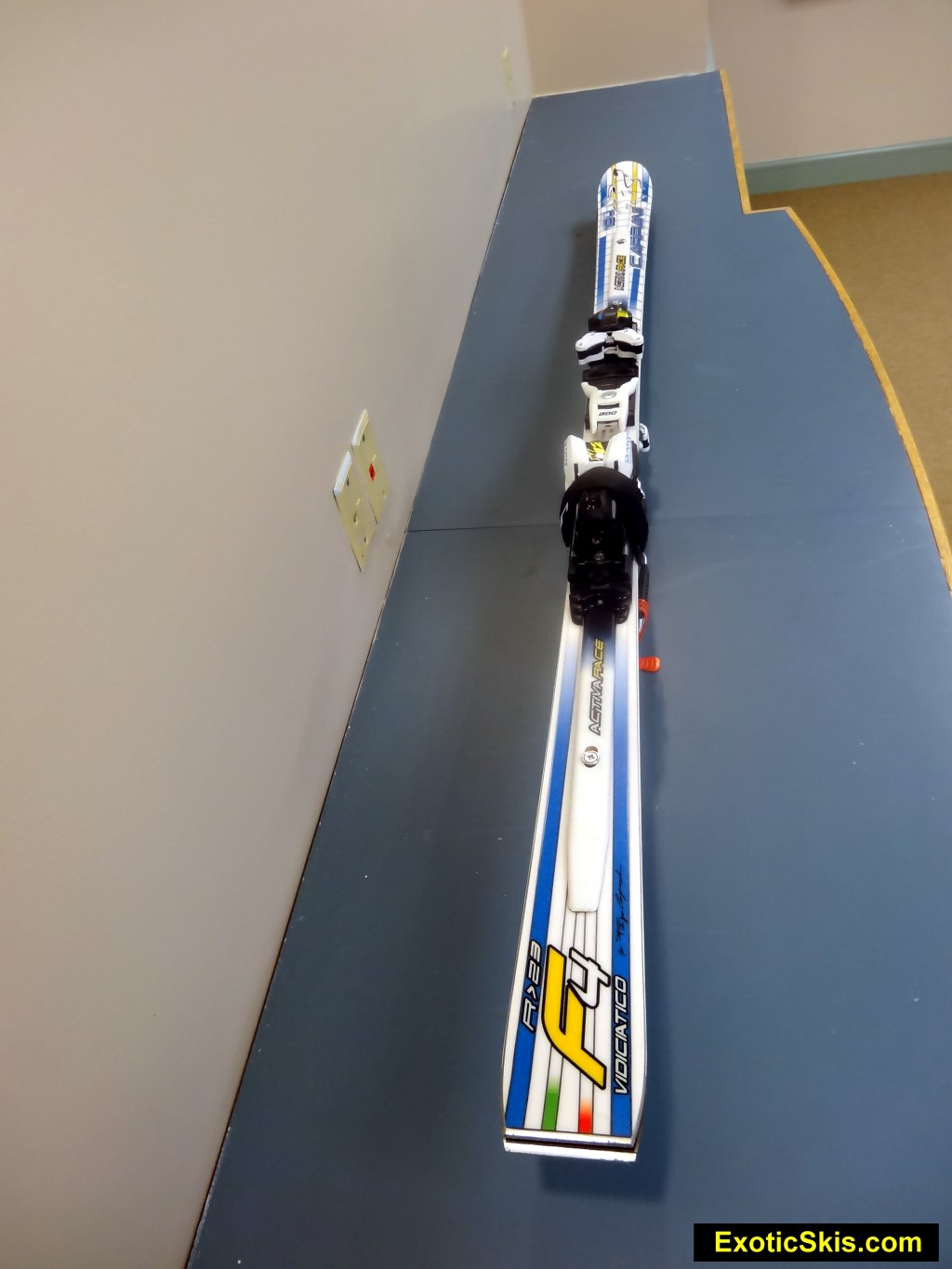 Manufacturer Info:
Filippo Carpani
Carpani Sci
via della Casella, 5
40042 – Vidiciatico, Bologna
Italy
Tel & Fax +39 0534 53376
http://www.carpanisci.com
USA Distributor:
Edward Stammel
Catskill Technical Services
http://www.ewstammel.net/websites/ctswebsite/
+1 (607) 652-7514
Suggested Retail Price (MSRP):

599 € list

Usage Class:

USSA FIS-compliant Men's Giant Slalom (r>23m @180cm)

Rating (with comments):
(1="get me off these things"->10="I have to own a pair")

9 GS turns for agressive, heavier skiers at higher speeds
7+ GS for midweight skiers and slower speeds

Background:

The father of Blade skis and Guicarflex race plates is Filippo Carpani who started a new ski product line in 2008 called CARPANI.  Legendary among race and race carve enthusiasts in Italy, Filippo's skis are painstakingly made by hand with raceroom technology and highest quality materials.

Besides race-ready SL, GS and specialty skis, Filippo has been making stunningly beautiful custom skis for clients who want racing technology wrapped in highly polished, exotic woods and metal accents.  Filippo is one of the EU's legendary ski makers with a fanatical following.

Manufacturer's Description:

"Model designed and developed for competition and bounds. The particular design of a sandwich construction combined with the system Activa Race gives this ski a high stability and propulsion output curve. The system Activa Race on this model is designed to dampen vibrations on hard and rough typical of competitive giant. So for those who do not want to compromise and wants a racing car model F4 it is the ideale.Novità QUICK TIP tip"

- Italian translation to English via Google Translate - 2015
Note: This F4 model is no longer offered, but is replaced by the Carpani F4 Activa Race Master of the same dimensions in 2015-2016, with new carbon fiber and flax fiber components.

Technical Ski Data:
Ash-Okume wood sandwich

Titanal reinforcements

Biaxial Fiberglass

Ptex 5000 R

Activa-Race support arms fore and aft
Bindings and Boots Used:

Salomon X12 Lab Bindings & Race Plate
Salomon S-Max 120 boots.

Pre-Skiing Impression:

Suberb fit and finish, heavy-feeling with X 12 bindings and race plate. Textured poly topsheet with vibrant graphics. Stout hand flex, damp feeling, torsionally strong, moderate rebound. "Pure Racing Instrument - eat your Wheaties" immediately comes to mind.

Test Conditions:

Eastern corduroy, packed powder and hardpack groomers & boilerplate.
Summary:

The Italian Carpani F4 is a true thoroughbred competition GS ski handmade to order by Filippo Carpani, a master ski builder with a cult-like following throughout Europe.  This version is the USSA-FIS Men's GS spec (r>23m @ 180cm), rather than the full FIS-spec 35 meter radius.  This ski is all-business, requiring a technically proficient pilot with strength and technique to really get it to shine.
This ski has a remarkably easy turn entry effort for such a serious ski, then displays a progressively stronger, more powerful, more demanding and dedicated grip along its chosen trajectory until it reaches its loaded release point to accelerate into the next turn with energy and power commanding respect and accuracy from the skier, while never feeling "heavy" or "hesitant".  These test skis came "loaded" with a full-rise race plate and the structural enhancement tension arms in the forebody and tail Carpani calls "Activa-Race" to dampen vibrations and provide longitudinal strength without significant additional weight.  The result is a intensely quiet and dampened ride across hard surfaces with a directional integrity and pressure-handling ability rarely found in skis you can buy off the shelf. The base material is very hard and very fast...noteably more so than standard PTEX 4000 bases.
While entering your desired line is relatively simple and easy with the F4s, the secondary and final phases of the GS turns require the pilot to deliver a strong command of both edge angle and pressure along the entire ski to get it flexed in the correct proportions to complete the turn properly.  These are skis with an ability to handle very intense pressure and edge angles and deliver a professional-level arc integrity and acceleration.  If you get lazy, they will straighten out your turn and leave you late for the next gate.  If you get back on them late in the turn, you will find them accelerating out in front of you with authority. If you can maintain your pressure and trajectory in a centered, technically accurate manner, they can handle remarkably intense scenarios across racing surfaces with impressive quiet and composure.  We could not over-drive this ski or cause it to lose its integrity. 
Responsiveness was remarkably accurate and very quick edge to edge, yet superbly damp, silent and vibration-free even on boilerplate surfaces...feeling "planted" at all times, but lacked a really exciting ride into the next turn.  There is essentially no upper speed limit to this ski and it does not change its behavior with additional velocity...it stays predictable and solid underfoot.  If you have the stamina, strength and focus to maintain a commanding control of this ski in race conditions, it can deliver a stunningly solid, secure and responsive ride with quick, yet controlled edge changes...exactly what its designer intended.  It can be drifted sideways on-demand to scrub speed without any unexpected hooking, grabbing or unwanted behaviors, and with a firm hand on the helm, be re-set into a GS arc to the next turn apex.
In its fully-loaded state with the Activa-Race arms and full-height race plate, this is not a ski for recreational racers, but a tool for technical athletes who want to achieve professional-level performance. We're convinced if we removed either the raceplate or the Activa-Race arms (or both), the Carpani F4 might just be a killer GS carver for civilian experts who want something intensely serious you cannot find in ordinary ski shops.  Filippo will customize the flex of this model to your specifications for an additional fee, and provides various models with different shaping and construction to meet various demands of his clients.  For 599 €, it's a great bargain if you want a small-run, hand-made race ski with Italian heritage.

Hardpack and Boilerplate:

The Carpani F4 has been reviewed by some Europeans who sometimes mention the ski has an easy entry into the turn, but can feel somewhat dead or unresponsive at the middle or end of the turn.  If you ride the ski passively through the GS turn sequence, you might get that impression, but it is really asking for more forceful drive and powering command into the apex and out of the turn. If you feed it what it wants, it responds with a tenacious grip and powerful acceleration into the next change...similar to how some people describe driving an exotic sports car  ["...drive it passively, and it can feel heavy and dead in the turn....DRIVE it through the turn and it holds the chosen line and powers out of the apex with authority and intensity....get ready for the next turn right away...it can take plenty more..."].
We found the F4 to provide a big reward if the ski was set on-edge and pressured to hold its flexed trajectory...increasing speed, building energy and stored response until it was allowed to unload and accelerate into the next edging weight change with the next arc geometry already selected.  Let up on your command or pressure mid-turn, and you have a ski wanting to straighten out and take you in your old direction instead of coming around to a fast exit into a new turn with authority.  If you ski it in race-mode, you have a superbly stable, quiet and powerful tool.  If you ski it with any less vigor and command, you feel like you are driving something too stiff for your technique and/or weight class. 
Displined turn entry, apex approach and exit transfer technique are required to get this thoroughbred to do its magic, and when done properly, the F4 is one of the most rewarding GS skis we've ridden, bar-none.  The vibration control is superb, essentially cancelling-out any buzz, vibration and disquieting feedback underfoot.  All you feel is solid, clamped-in tracking and business-like handling with a professional personality.  Riding this ski can remind you what a real race ski for upper-echelon skiers is really all about. 

Mixed Conditions:

We did not ski this model in mixed conditions, but did spend a few runs on packed powder and corduroy surfaces and found its narrow waist and damp stiffness a bit limiting if the ski could sink "into" the surface rather than edge on top of the surface.  It really shines on hardpack and belongs on top of a racing-quality surface.  It can be superbly effective at cutting through somewhat choppy conditions or tracked-up packed powder conditions, but is really not suitable for anything deeper than an inch or two.  If you want an all-mountain race carver, look elsewhere.  This is a GS racing machine.

Analogies: ("This ski is like...")

A professional race car set up for professional drivers, not some club racer set up for civilian enthusiast weekend-warriors.
Quick Comments:
Feels clamped into the surface.
Wants speed to engage, but takes little pressure to begin the trajectory.
Requires a wide-open slope early in the morning without skier traffic to really let it rip and ride the full radius in both directions.
Penalizes the pilot who gets lazy or lets-off mid-turn by going straight.
Rewards the pilot who holds and increases pressure throughout the turn with rock-solid tracking power and acceleration.
Can be broken off-line and drifted sideways without being hooky, grabby or scary.
More power = more acceleration = faster next turn = needs more power = blurring vision = (fill in the blank)
Feels attached to the snow, not heavy while skiing.
Needs a well-trained pro to really use everything in this ski.
Comments From Other Testers:
Jeremy Osgood:

"The Carpani F4 was good but not great. I ski a Rossi master ski in a 23 radius, the same as the F4 and also have a blizzard magnum ski from 07 in a 23 radius, and would rate the Carpani behind the Rossi and a bit ahead of the Blizzard. All these skis are hard to initiate until you are going 40mph or more, the Carpani took a bit more speed and edge angle to engage. good pop out of the turn once you unweight and head to the other ski, but not as snappy as the Rossi's. The faster I went on the Carpani's, the better they performed even with a bit smaller length ski. I raced a tight GS course and found the 180 Carpanis allowed me to ski a very clean line, but my times were a bit slower than my longer length 185 Rossignol master ski. Overall, any 23 meter and above ski is pretty one dimensional, but the Carpanis would be a blast for someone looking for a high speed session on a mid week day where there were few people on the hill . "
Things I Would Change About This Ski:
 
Nothing, other than removing the raceplate and Activa-Race system arms to see if it can be become less demanding for expert GS groomer carving instead of pure racing.

Short Answer When Someone Asks "What Do You Think About This Ski?":

Strictly business GS race ski with world-class performance and a fairly high requirement for a strong pilot to get the most out of this.  This is not a recreational race ski for the masses, but a thoroughbred for technical athletes.  Really works best at above-average speeds.

Advice To People Considering This Ski:

Be prepared to alter the thickness and type of raceplate and flex specification to meet your particular technique.  This ski can be built with soft-to-stiff flexes.
Pics: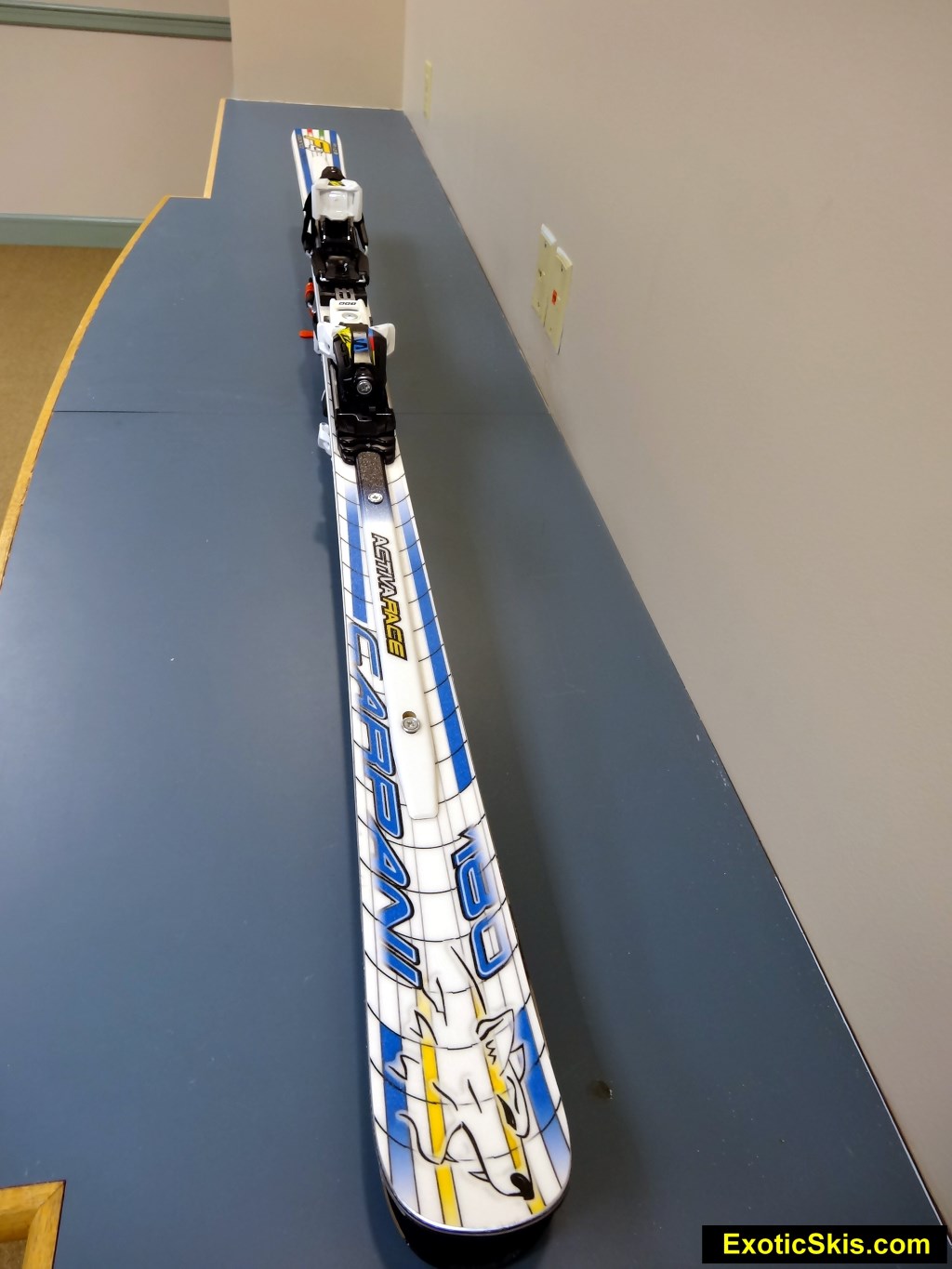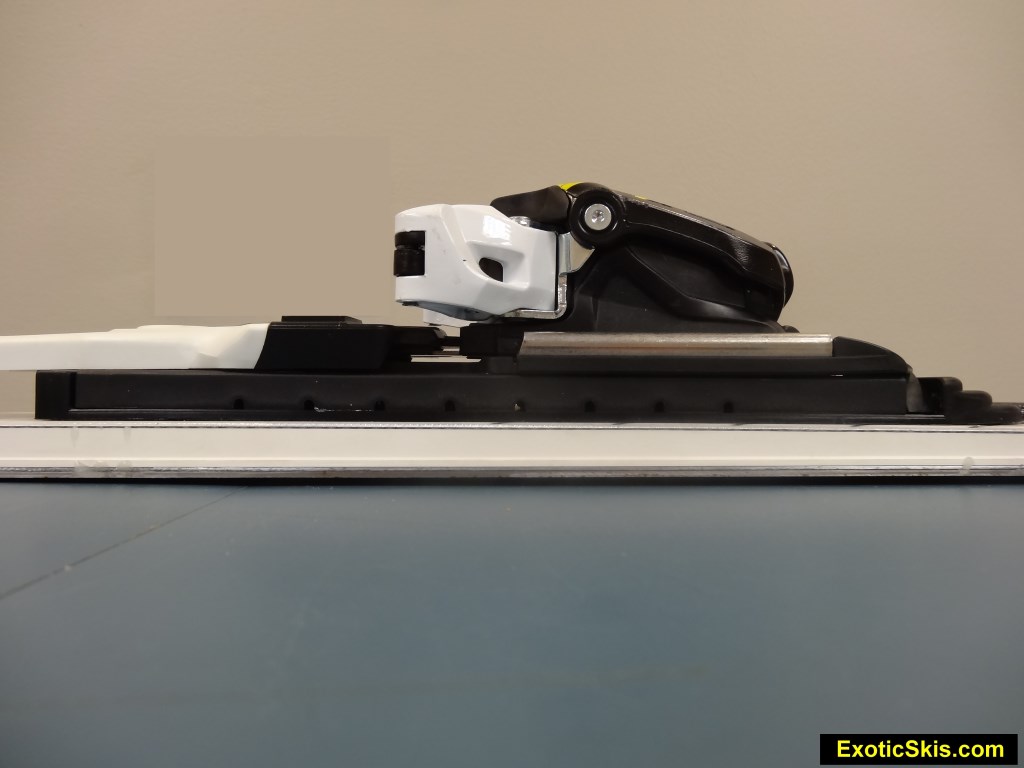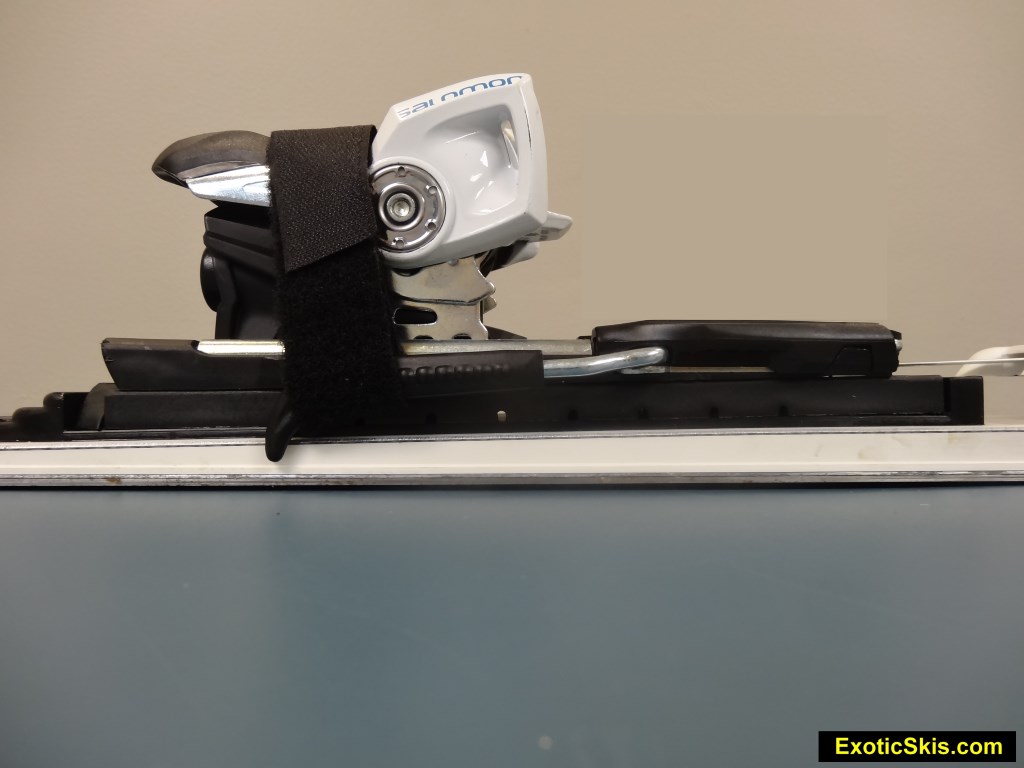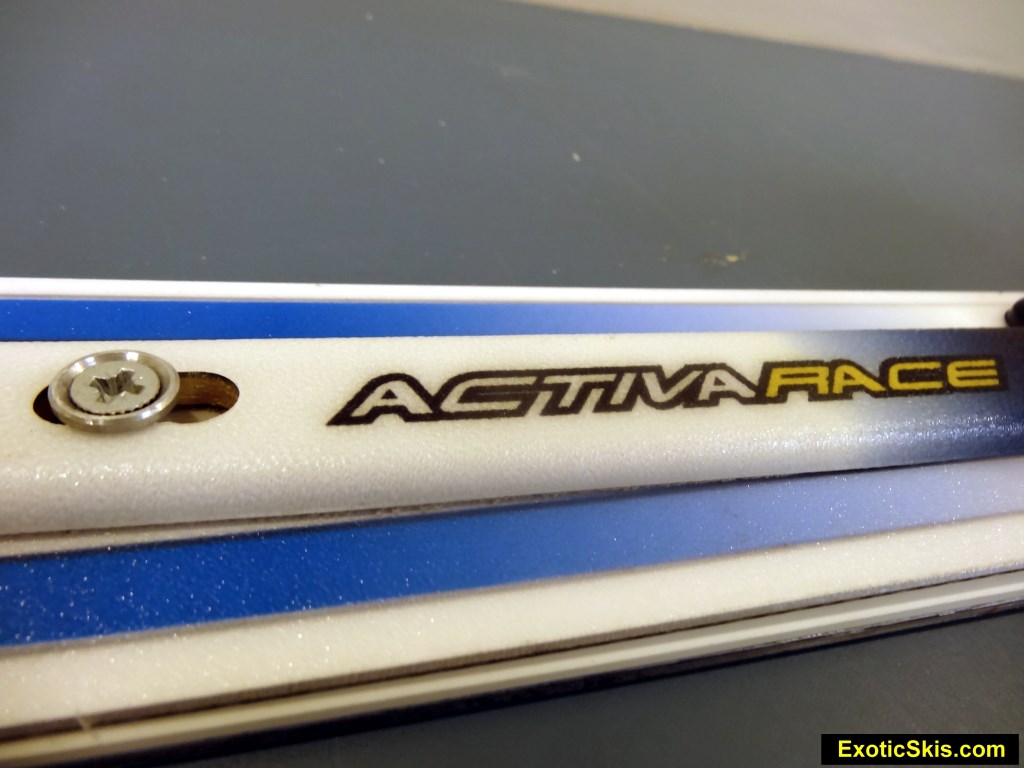 Activa-Race flex bar (forebody)