Normally, accessory reviews are a little bit off the beaten path for me...but these are pretty cool....still have to see how they hold up for a second season...
RockerSkiRack  2015-2016
 "Why have I been hanging my favorite skis like garden rakes all these years...?" - Eric Edelstein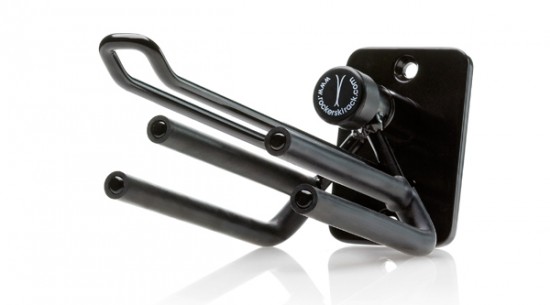 (photo from RockerSkiRack website)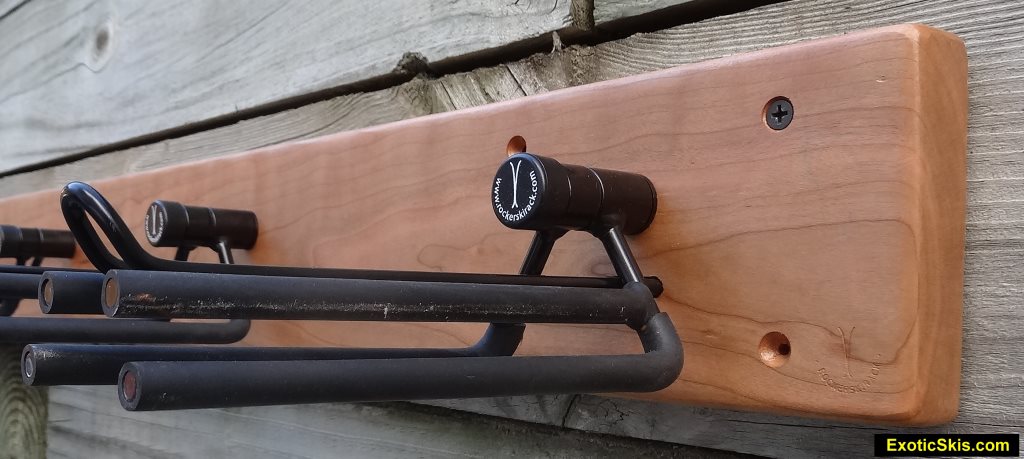 Background:
While we normally don't review accessories such as ski racks, when Marjorie reached out to us and asked if we would give our opinion about the RockerSkiRack since it would be a "natural" to go with handmade, craft-produced skis (and we looked at the website with nicely produced videos) we were struck at how impressively simple and effective the design appeared to be and decided to try the racks with a variety of skis we tested last season ranging from fat, rockered powder skis to traditionally cambered carving skis. 
The best way to describe the design is to check out the videos from RockerSkiRack below...(words don't do it justice)....then we will describe our impressions from real-world usage with a variety of skis.
Full Disclosure:
RockerSkiRacks provided us a 4-unit wall-mount and some single-hanger units in standard and XL sizes for evaluation at the end of last season, but we only got a few weeks of real testing completed.  We want to see how they hold up under hard use for a full season and will report back on how well they held up under our testing workload.
Product Description:
Cantilevered ski and snowboard vertical storage clamp.
Company:
Shop Address:
3161 East Main Street
Ashland, OR 97520

Snail Mail:
Rocker Ski Rack LLC
1467 Siskiyou Blvd
#82
Ashland, OR 97520
Phone:
541.231.2048

Email:
peter@rockerskirack.com

Facebook:
http://facebook.com/rockerskirack

Twitter:
http://twitter.com/rockerskirack
Pricing:
Single Unit (Std. 4 inch): $29 usd
Single Unit (XL 6 inch ): $39 usd
3-Pack mounted on hardwood : $149 usd
4-Pack mounted on hardwood: $199 usd
4-Pack mounted on sculped hardwood: $249 usd
Worldwide, international shipping available.
Summary:
Sometimes, American ingenuity appears in the strangest places...in this case it originates in Ashland, Oregon where Peter Grossmann and Marjorie Gosling have created a clever and very nicely built ski and snowboard hanging device which is...well....kind of exotic in its own way...and perfect for people who like to take care of their exotic skis off-snow and off-season.  If you want the coolest, cleanest, purpose-built hanger for a pair of skis and are willing to pay $30 per pair, the RockerSkiRack has no equal we know of. 
Can you spend less and make something yourself to hang your skis? Sure.  Will it protect your rockered tips from loosing their "rocker" after long periods of hanging in the rack...we don't know...but it seems to make sense once you see them in action.  While the single units are nice, the rack of 3 or 4 hangers on a nicely finished wooden mounting board seems to be the way to go for anyone who has a small quiver of 3 or 4 favorite skis they keep in action all season.  The RockerSkiRack is a special device for a special purpose for people who either want something nice to hang their favorite boards on, or merely want a cool gadget that appeals to gear heads.....we're guilty of the latter....
Features:
https://www.youtube.com/watch?v=7l_MHnzwoUM
How to user RockerSkiRack:
https://www.youtube.com/watch?v=Ot5u4sba1Rk
Out-Of-The-Box Impression:
The workmanship and finish of the RockerSkiRack device is superb and very impressive, right down to the printed logo in the center of the pivot.  This is a mechanism built and finished in a highly professional and well-equipped facility by experts who know metalworking, assembly and finishing technology.  This is not some home-made, Rube Goldberg contraption by any stretch of the imagination. The RockerSkiRack is probably the nicest, most elegantly designed mechanisms to hold skis or snowboards since the invention of the wooden  peg. The smooth, almost clockwork-like action of the hinge allowing the two-pronged arms to pivot around a common axis point immediately gave us the impression of high-quality and nice engineering.  The powder-coated steel is clean, finished beautifully and almost seems too nice for a ski and snowboard rack.
The premounted 4 pack we tested was nicely mounted into a well-finshed hardwood backing board with elegantly routed insert spaces for the metal rack backing plate.  It was nice without being fancy and would be at home nearly anywhere.  Of course, you could make your own backing board and buy the separate units if you wished and create your own layout, but the 3-pack and 4-packs premounted on RockerSkiRack's hardwood boards makes it simple to instantly create a ski rack anywhere you can get a set of screws into the wall.
The second thought that goes through your mind is "OK...where am I going to mount these things?"  They are definitely nice looking, even elegant, and you immediately start thinking about a showcase spot or a ridiculously convenient location to screw the racks into the wall for your daily pickup and dropoff of your skis.
I Could Buy Tons Of Pegs To Hang Plenty of Skis for $30....But Then Again...Why Am I Treating My Skis Like Yard Rakes?
Once you stop marveling at the quality and workmanship of the RockerSkiRack, you shake yourself out of the fog and ask yourself..."Yeah, it's beautiful, but doesn't a set of wooden pegs or some shelving work just as well...after all, it's only for holding skis......and RockerSkiRacks are $30 a pair....I could buy enough wooden pegs for a whole bunch of skis for that much money and still have plenty of cash left over for beer.  Then you look over at the $700, $800, $1,100 skis leaning in a pile or hanging on pinch-pegs against the wall and ask yourself why you're treating some really expensive skis like they were yard rakes.  You love those skis and you're treating them like spare 2-by-4s.
Some people really don't care, and that's fine...We have yet to see a pair of skis "go bad" from being stored on pinch-pegs for a few seasons before they're retired from being skied-on too many days....but then again, I never measured if rockered skis suffered from "improper" storage between ski days and seasons.  The theory behind the RockerSkiRack makes sense when you see the skis hanging there with no compression of the tips and not clamped-together underfoot with the brakes.  Maybe it makes a difference during the life of a ski...maybe not...but the fact is the RockerSkiRack works as designed and make you feel good about your care and feeding of your favorite boards.  If you're the kind of person who backs-off their binding springs each Spring until it's time to put the skis back into action in the Fall, RockerSkiRacks are probably right up your alley.
Using the RockerSkiRacks:
The first few times you use the RockerSkiRacks, you have to get the hang of inserting the tips into the rubberized fingers and letting the skis drop down under their own weight to the resting position..but then it seems automatic and natural.  You also need to forget about intertwining the brakes to clamp the skis together like you've done for years and years...there's no need. Just let them hang apart.
Taking the skis out of the RockerSkiRack is a bit easier than inserting them, but you need to slip them out in parallel with the fingered arms since the rubberized fingers provide lots of traction and you might get the skis stuck once or twice if you're lazy and twist them a bit inside the fingers.  The best technique is "easy-in....easy-out"....then it becomes second nature.
Pleasant Side-Effect Of Using RockerSkiRacks:
Placing the skis gently into their racks and removing them from their racks leads you to remember how much you like the skis and want to take care of them rather than toss them in a heap against the wall or jam them into pinch-pegs. It's a small moment of pause each time....respectful and admiring...and that's the key.....
Unpleasant Side-Effect Of Using RockerSkiRacks:
The space required to store 4 sets of skis with RockerSkiRacks is somewhat larger than cramming them into pinch-pegs or peg-racks since you need to accomodate the hinged swing-outs of the arms...which can be an issue in some storage spots.  When the skis are inserted, they definitely take up more horizontal space (see photos) than the old-fashioned techniques.
Who Is Likely To Use and Love RockerSkiRacks?
Geeks who wipe down their skis before they even get to the car after skiiing.
Geeks who back-off their binding springs before storing skis for the summer
Geeks who tune their skis with micrometers
Neatniks who want order and elegance in their storage solutions
Skiers who find themselves staring at their skis several times a day. At home. In the summer.
Skiers who keep some skis at the office....just because it makes them feel good to stare at them several times a day.
Enthusiasts who paid for custom skis built to their specs..and can't bear to treat them like "ordinary" skis.
Show-off status-seekers looking for a way to show off their "hot new gear" somewhere unusual for friends and guests to see (kitchen, living room, front-door..etc.)
Gear-heads who cannot resist elegantly cool devices
Skiers who respect their gear and want to give it the best life possible.
 Bottom Line:
 If you know a skier who has all the goodies and gadgets to support their skiing habit, but still puts their skis in a pile against the wall or on a home-made peg rack, this is the gift you've been looking for.  If you want the coolest thing to hang skis or snowboards on short of a custom-made rack by a cabinet maker, this is your fixture.  If you are concerned about storing rockered skis in a tip-compressing peg rack, this will eleviate your anxiety.  If you want to support a small, family-run business creating very nicely made products for skiers and snowboarders, RockerSkiRack is your fix.
We like the RockeSkiRack for what it is...a simple, beautifully-made device to hold skis and boards without compressing the tip and forebody.  Do we really NEED it?  Probably not.  Do we really WANT it?  Yup.
Pics:
(click images for larger versions)

Graphic from RockerSkiRack website
(note...no bindings!)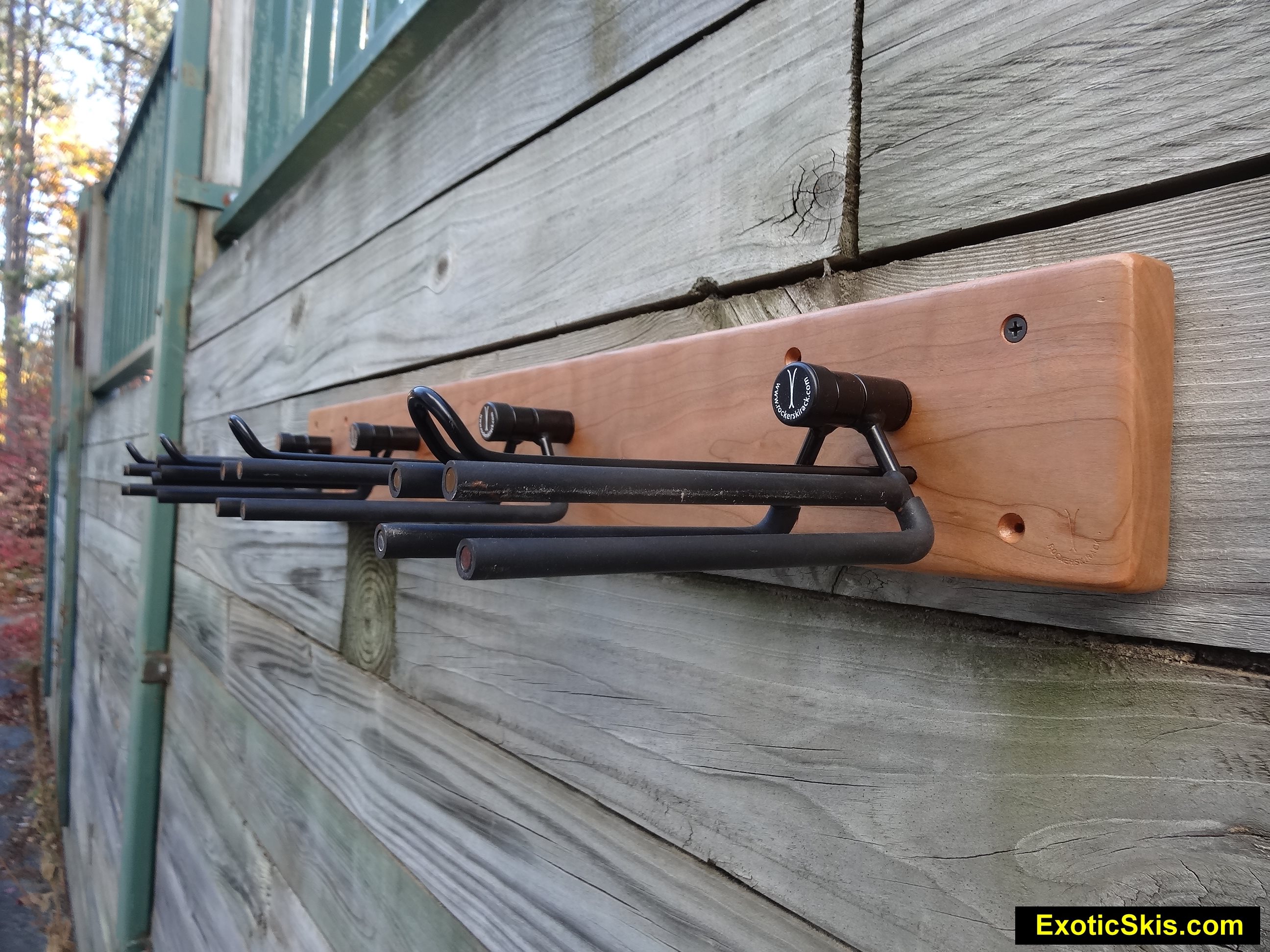 4-Pack mounted unit with XL hangers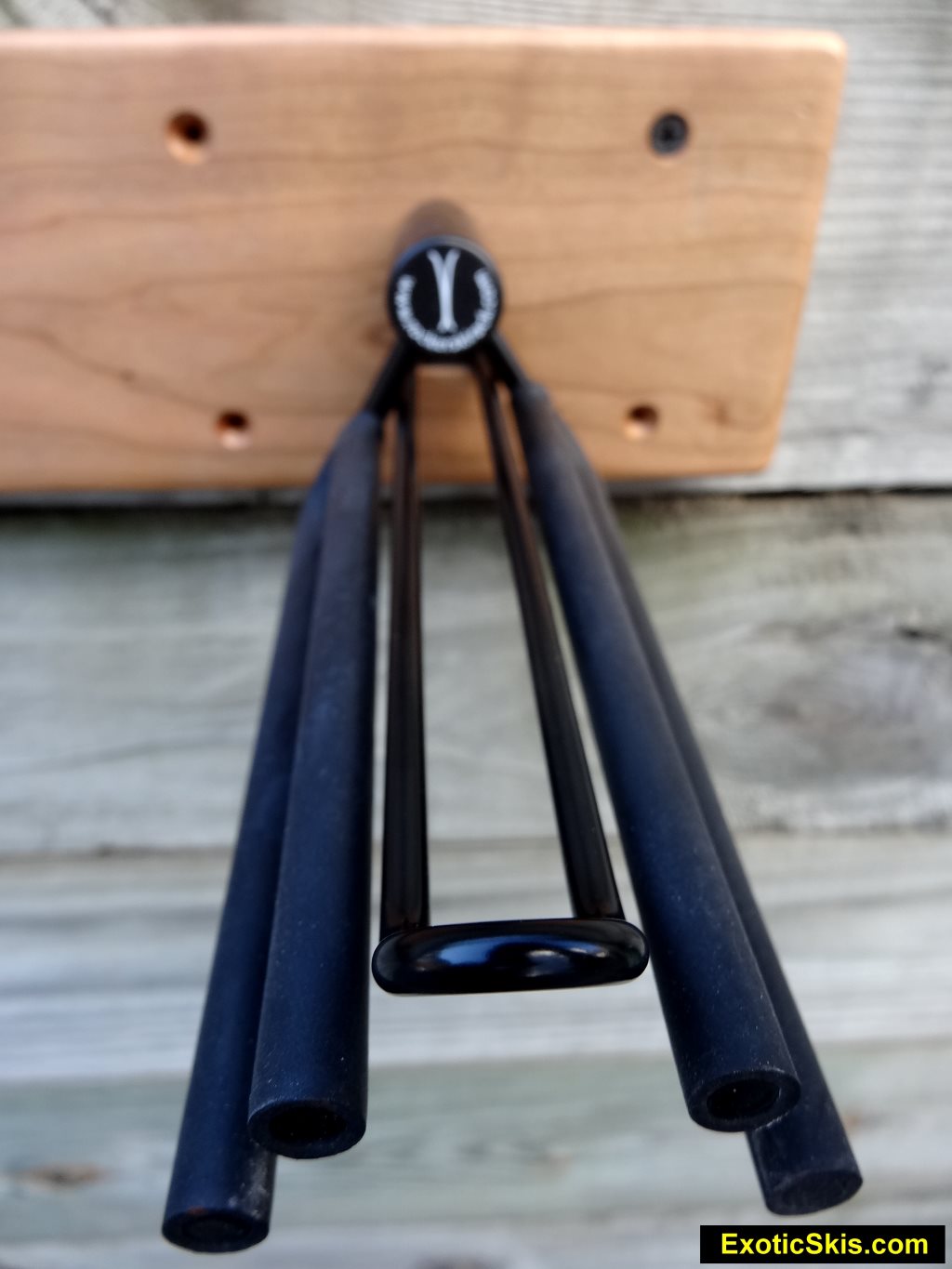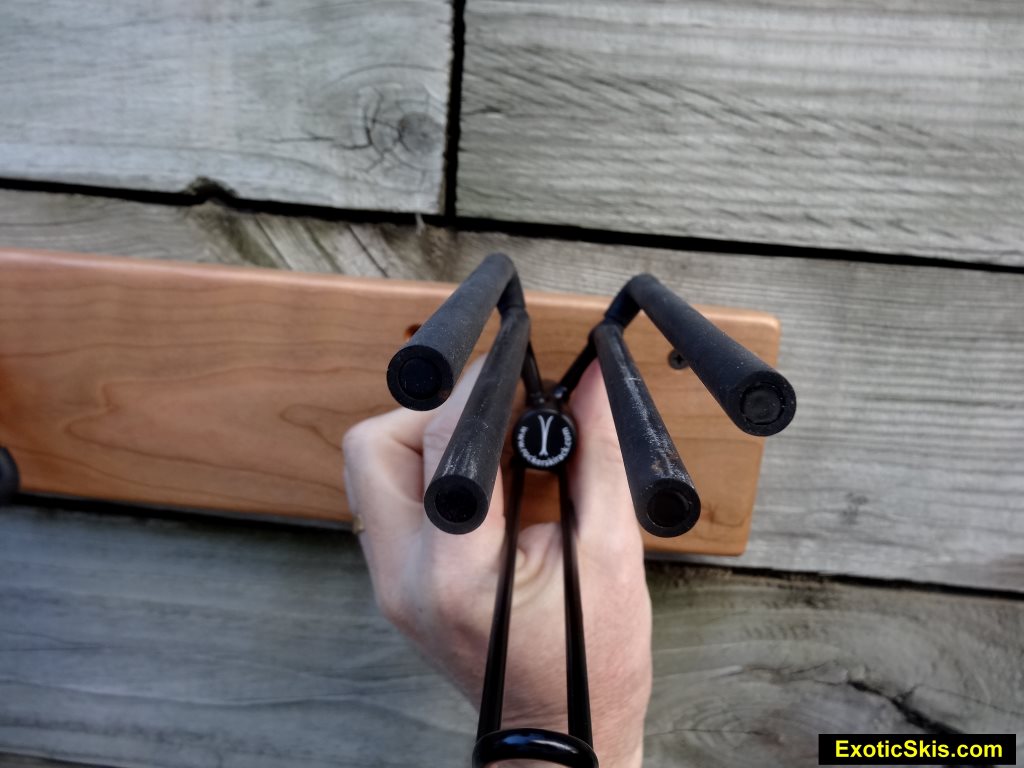 Folding the arms up to their highest pivot position
SL-cambered ski (R) and rockered powder ski (L)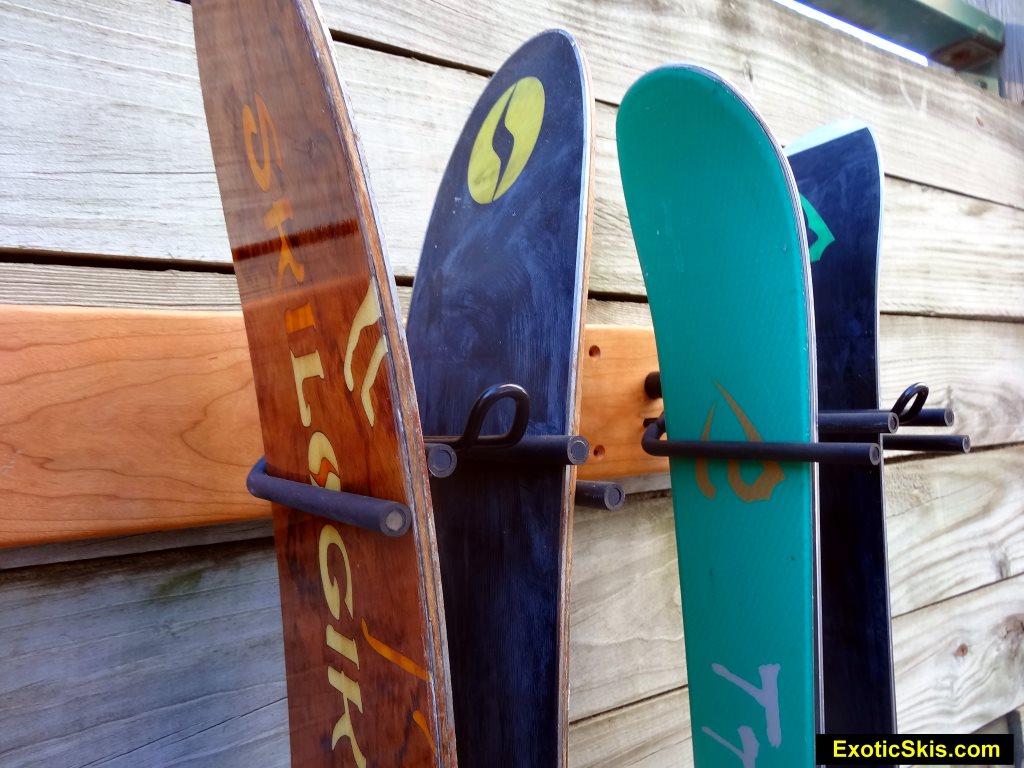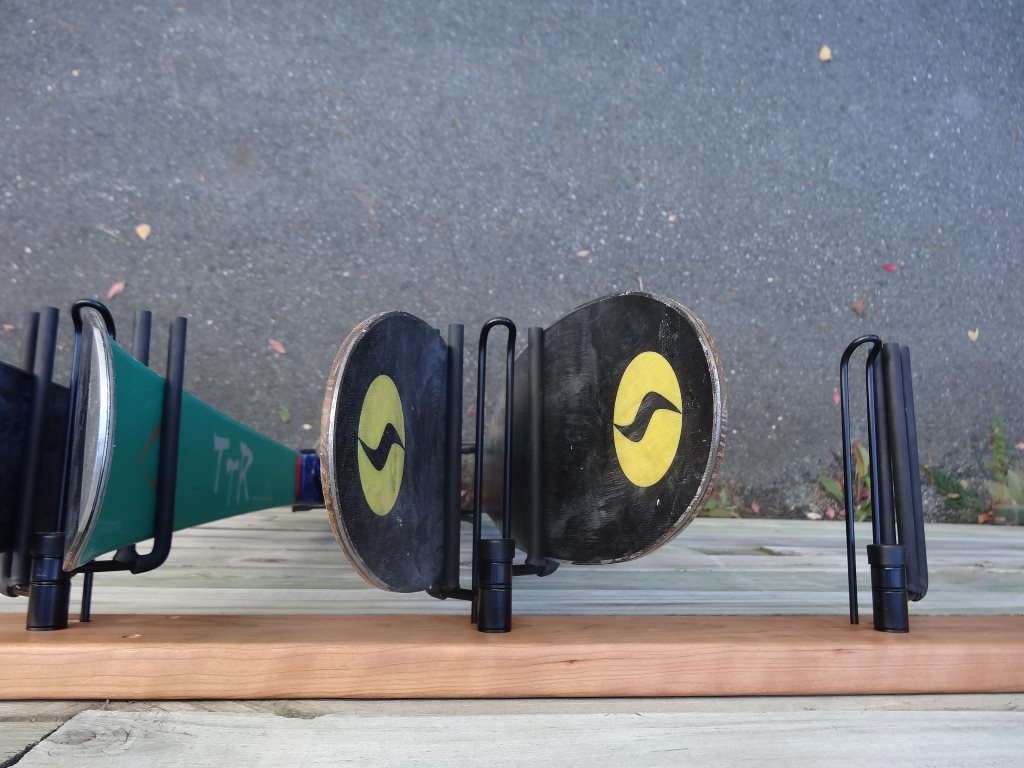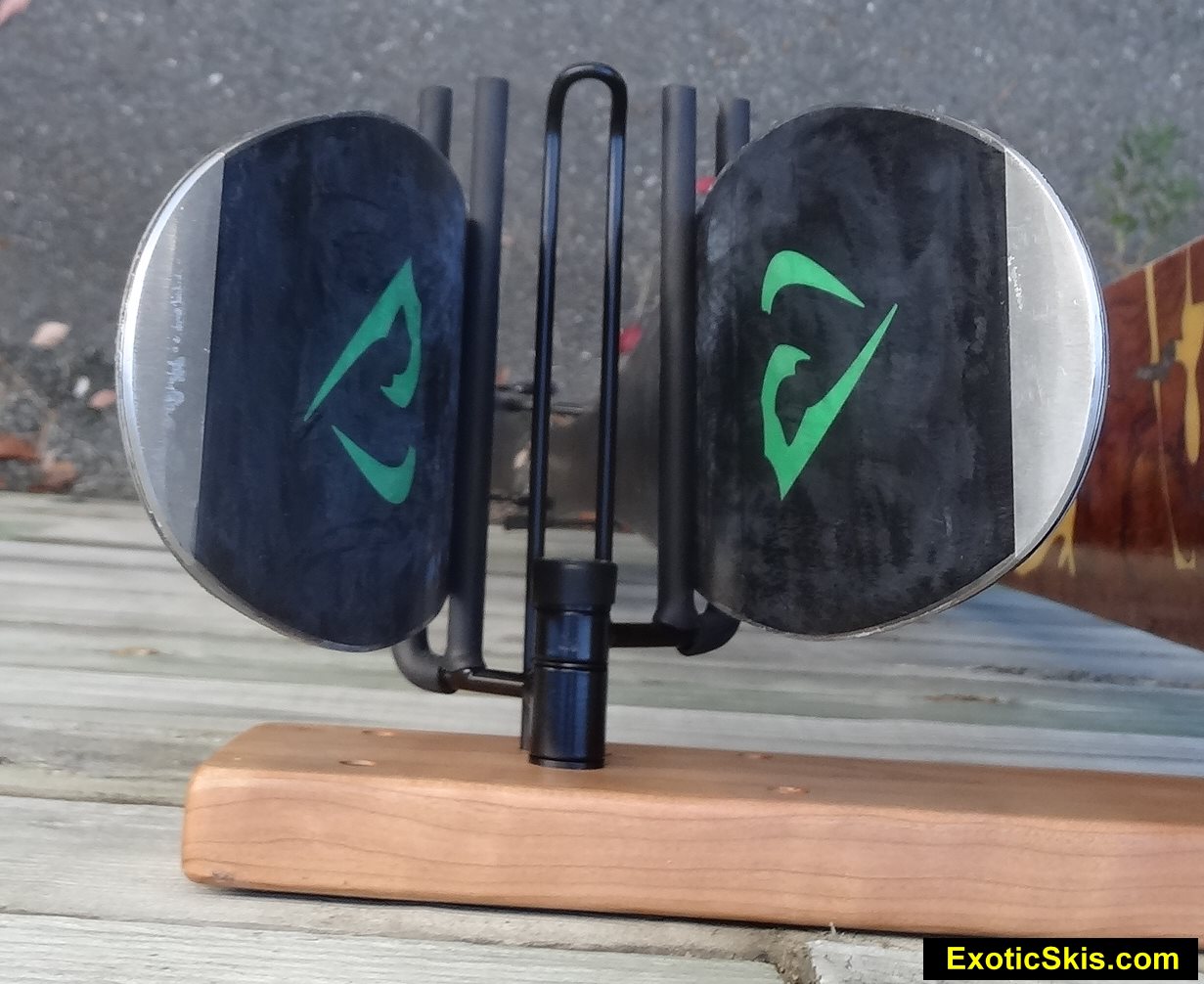 View from top (note offset arm standoff from backing board)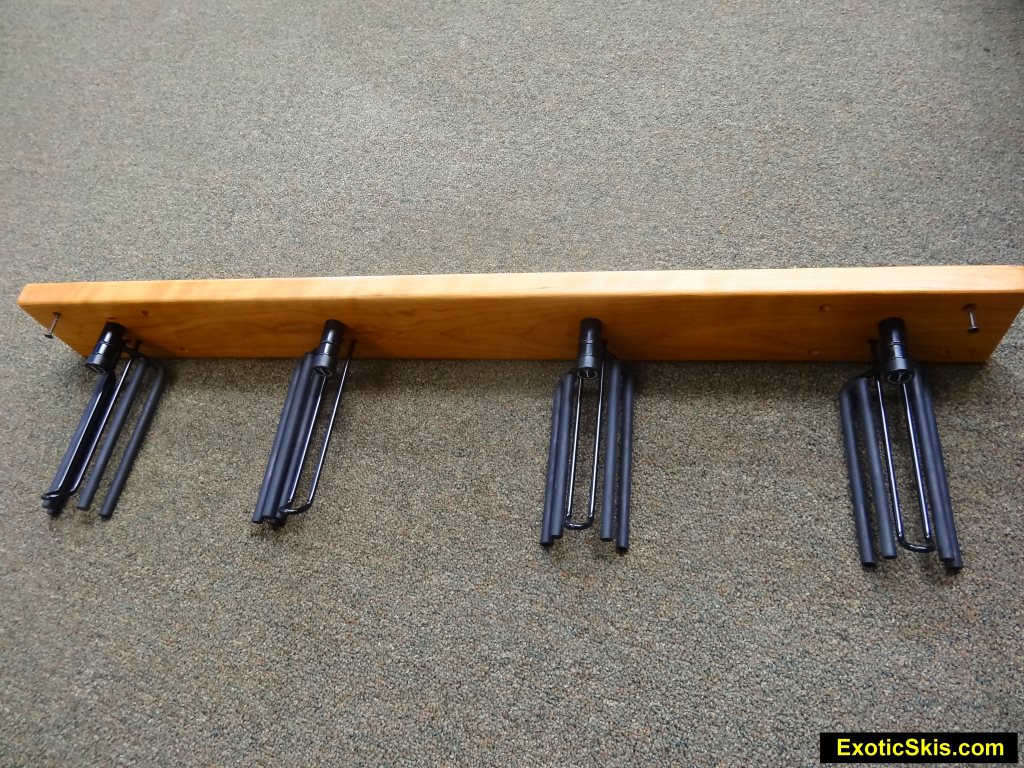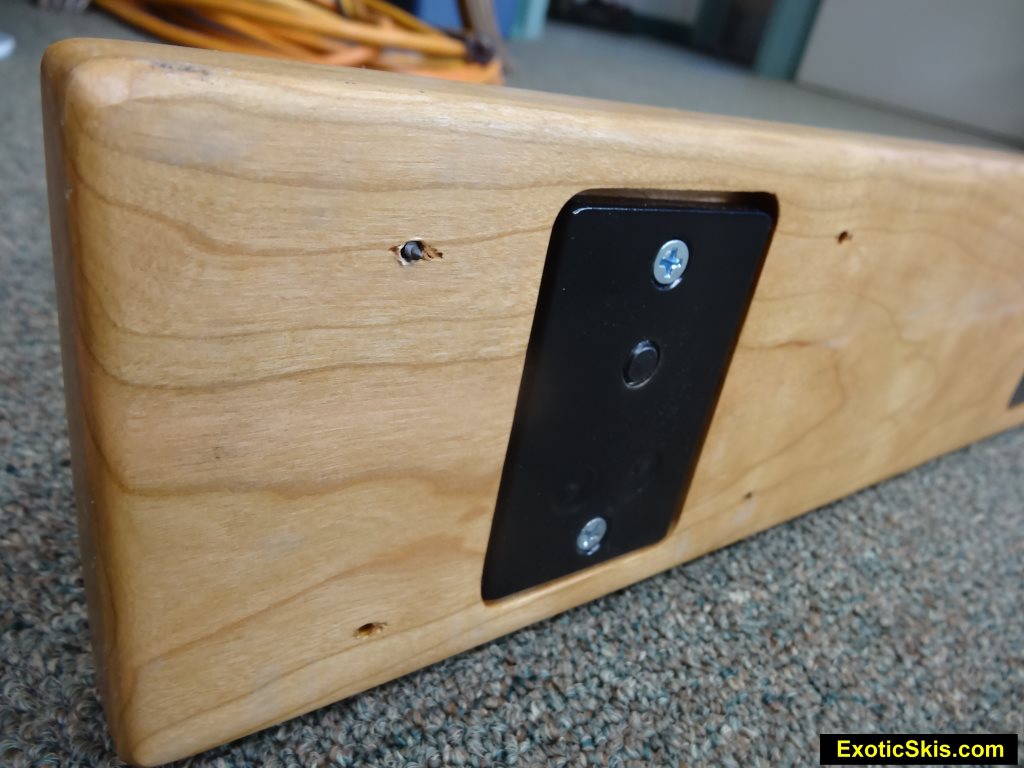 Back side of 4-pack board
(note routed inset for flush mount on walls)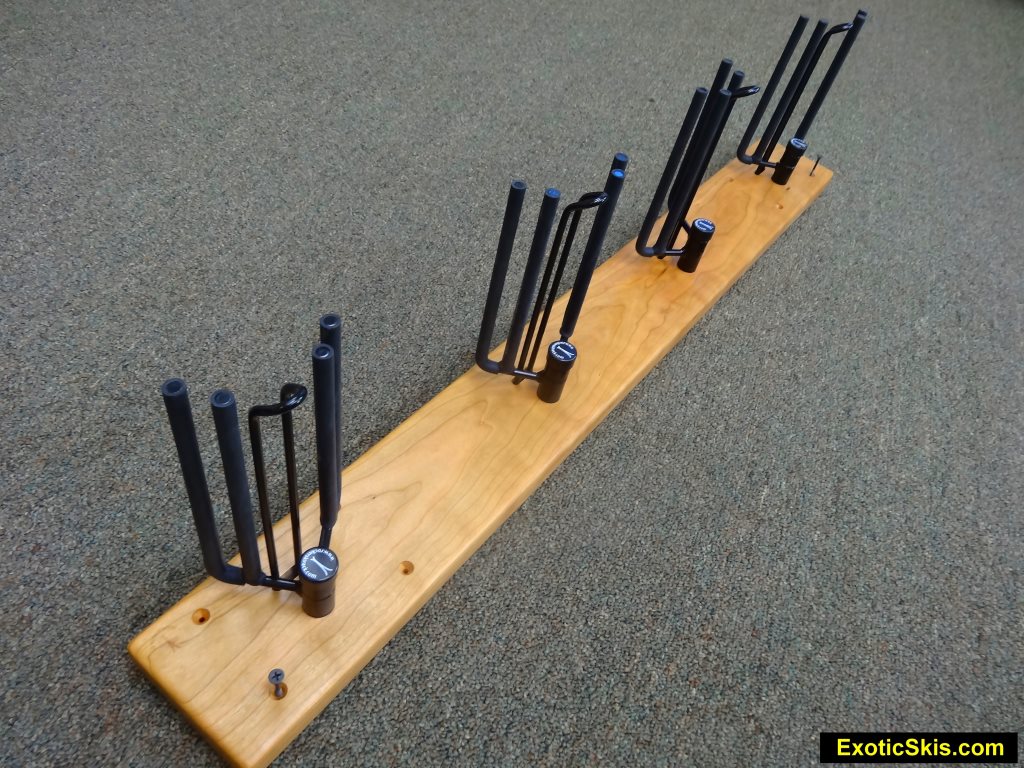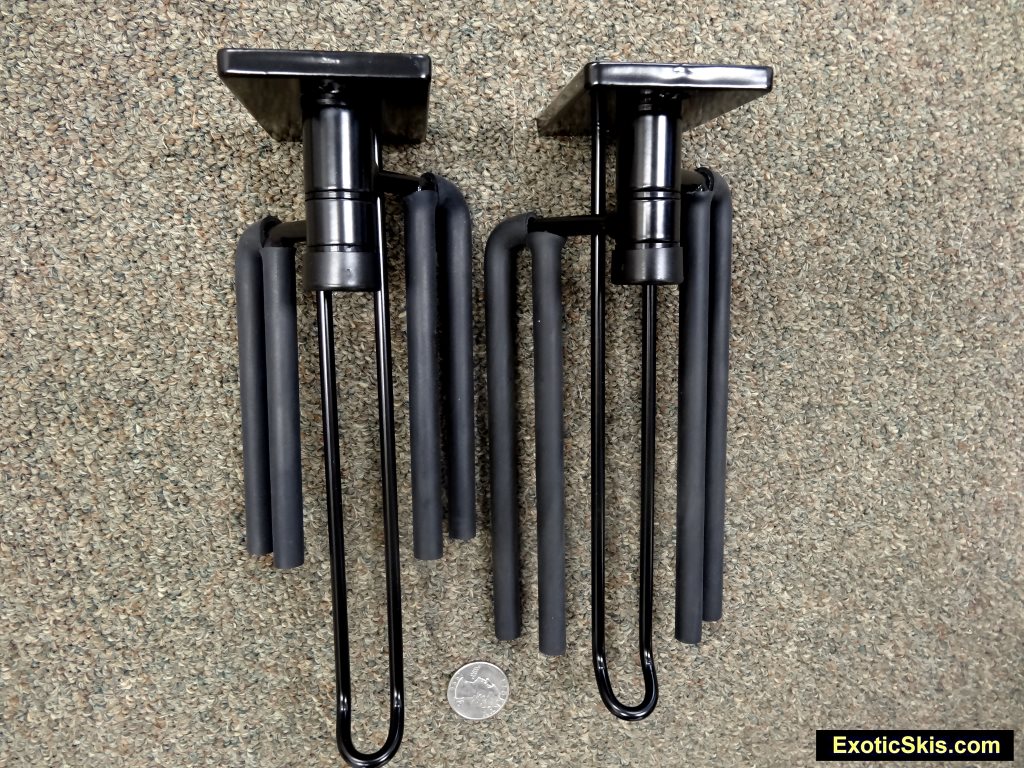 Standard and "XL" individual hanger units
(4 inch Std and 6 inch XL)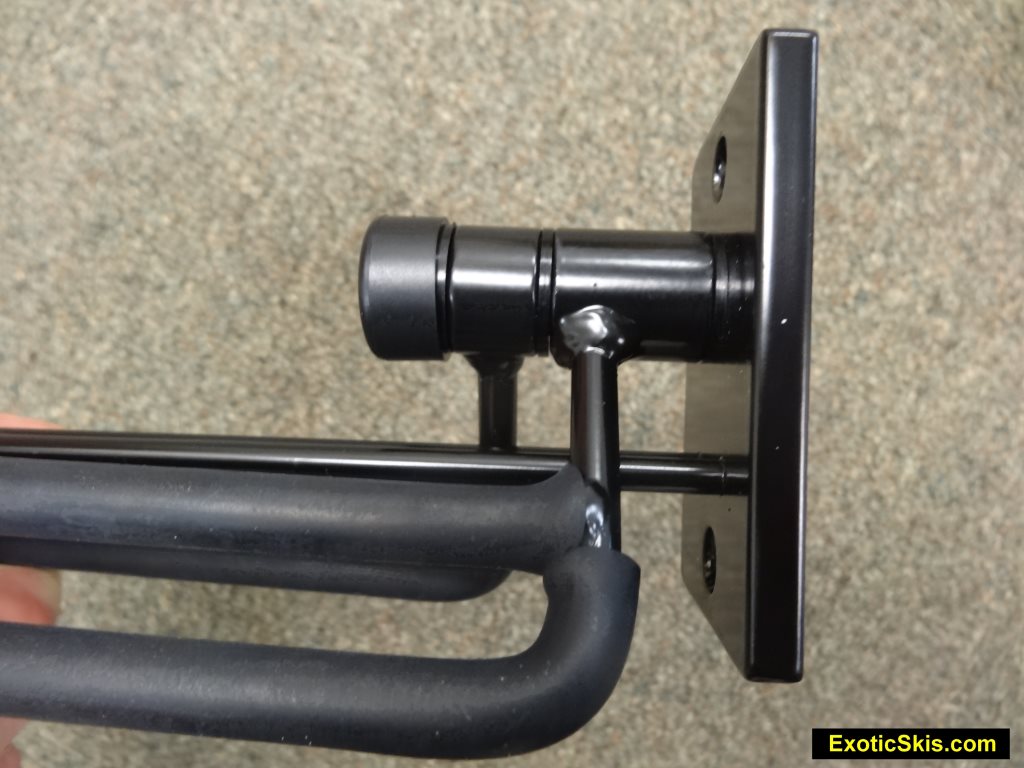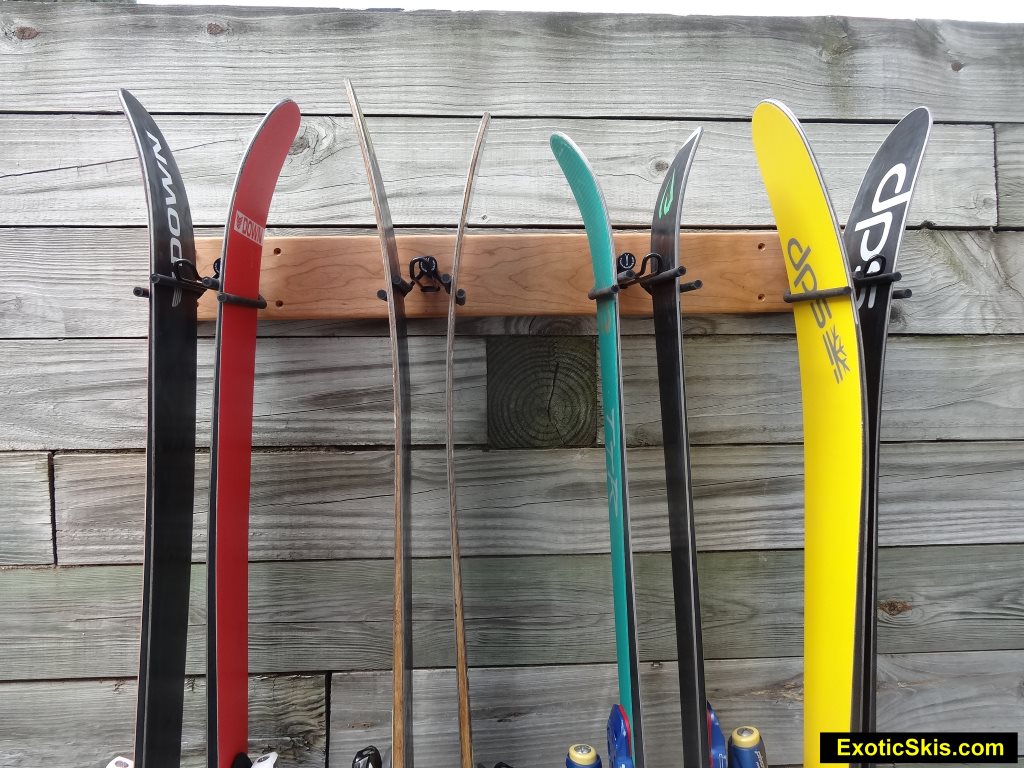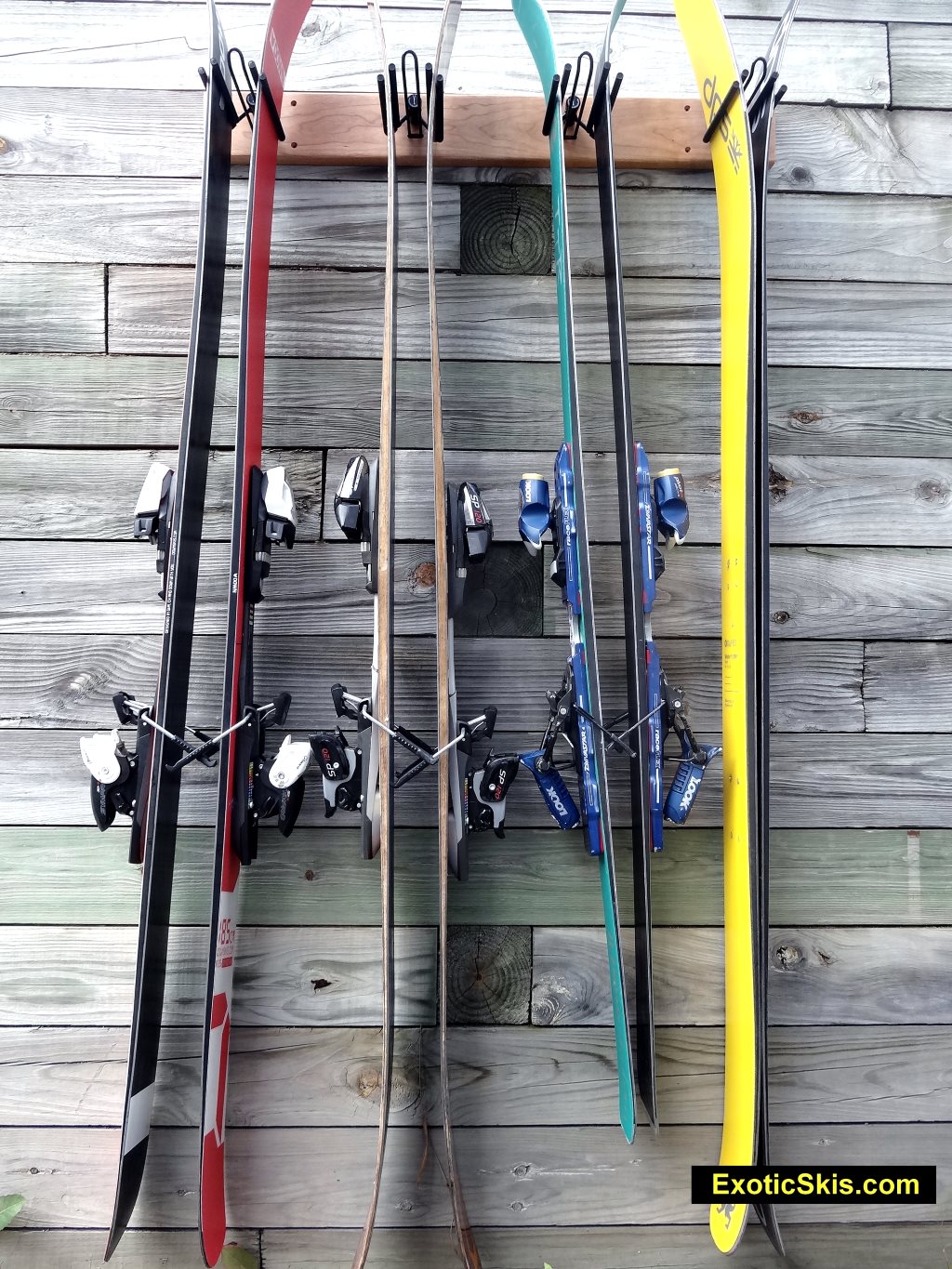 Note the brakes keeping the skis separated in the rack and the difference between skis with bindings and unmounted skis...
(we did not lock the brakes together...seemed to put too much strain on the ski shape when the tips were in the RockerSkiRacks..almost like it would induce rocker..so we let them hang "naturally"...)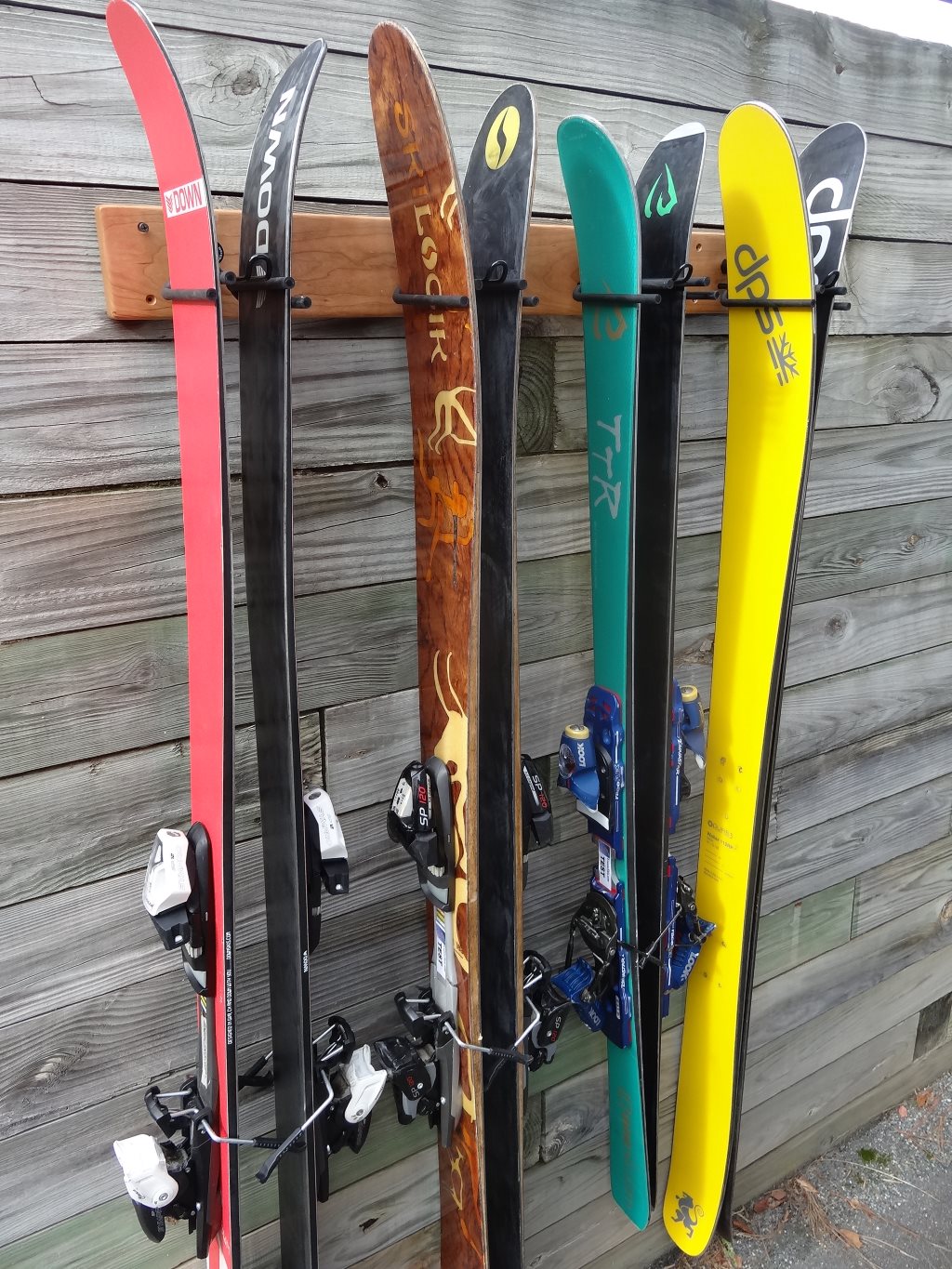 Picture from RockerSkiRack website
Edited by ExoticSkis - 11/14/15 at 3:42pm