Product: Whitedot Director Carbonlite
 
Length Tested: 171cm & 151cm
Dimensions/Turn Radius:  
133-107-123 r=20m @ 171cm
130-104-120 r=14m @ 151cm
Camber: flat with rockered tip and tail
Binding: Tyrolia PRD12 PowerRail Bindings
Mount point: "Freeride" (Suggested)
 
Environment & Conditions:
Location of Test: Vermont and New Hampshire
Number of Runs: Dozens over several weeks
Snow Conditions: 12 inches fresh powder, packed powder, groomers, hardpack, yellow eastern boilerplate and blue-concrete refrozen ice.
Demo or Own: Demo

 
Tester Info:
Username: ExoticSkis
Age: 55
Height/Weight: 5'11" / 190lbs
Ski Days/Season: Lots, but never enough
Years Skiing: 53
Aggressiveness: Aggressive(Driver) / Technical
Current Quiver: Edelwiser Speed, IDOne TTR and TTM, Anton UFOria XA and Carbon EX, Palmer P02, Romp 100, Praxis Concept, SkiLogik Frontside Burner, Occam Razor, Rockstar, Rave, Howitzer, DPS Wailer 112RP, WhiteDot Redeemer, Preacher, Ranger..etc. SandwichTech Root78
Home Area: Vermont
Preferred Terrain (groomers, off-piste, trees)
2014-2015 Whitedot Director 171cm & 151cm
133-107-123 r = 20m @ 171cm
130-104-120 r = 14m @ 151cm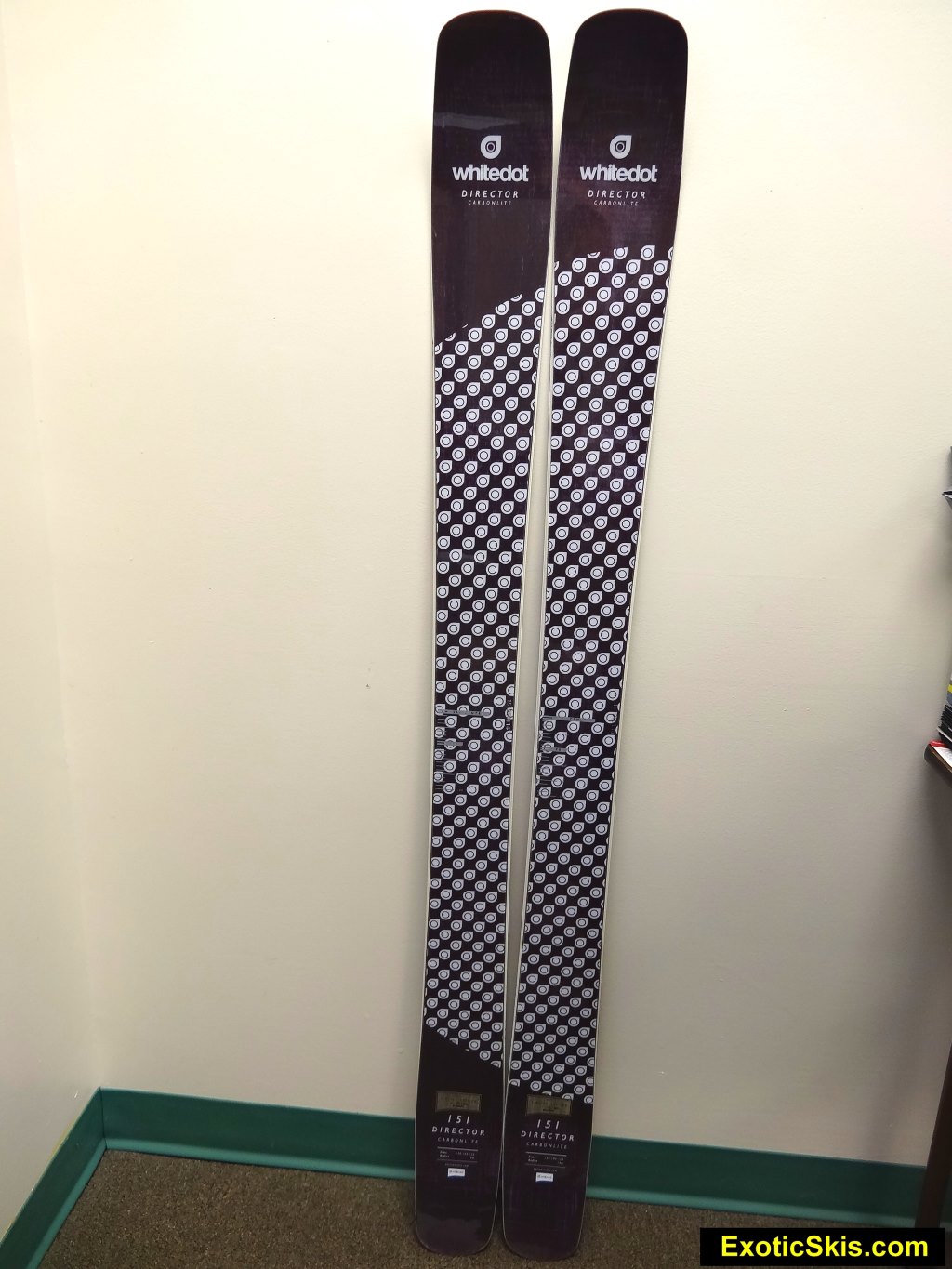 Manufacturer Info:
Whitedot Skis Ltd
91-93 Green Lane
Leeds, LS16 7EY
United Kingdom
Phone: (509) 392 1394
http://www.whitedotskis.com/
Suggested Retail Price (MSRP):

€976.00
$1,041 usd at 3/18/2015 exchange rate

Usage Class:

All Mountain Midsize

Background:

Whiedot Skis began to really get skis out of prototype mode and sold to the public in 2009.  (We tested some of their first production candidate models back in 2009 in France.) The collaborative effort of several enthusiasts who wanted to build unique and effective skis in small batches using designs developed with pro freeriders at Chamonix and Verbier testing grounds.  The guys at Whitedot believe in constantly evolving their designs and exploring the effectiveness of different materials, so their models often behave differently from year to year.  Whitedot Skis are very popular in Europe for a reason...they seem to work for the conditions found in the Alpes of France, Italy and Austria.

Rating (with comments):
(1="get me off these things"->10="I have to own a pair")

8+ for bumps
7+ for packed powder groomers for its size
9 for variable snow conditions below high-speeds...
8 for variable snow conditions in harder, crusty or cobbly material
5-6 for boilerplate hardpack
9 for powder (less than super-high speeds)

Manufacturer's Description:

"INTRODUCING THE NEW, GENERATION.2 REVISIONS

Versatility defined. Maintaining the mid-fat 107mm waist of its predecessor, the new Director brings a revised rocker profile, flex pattern and shape to the blend. The new Director has one of the widest performance bands in our range.

The introduction of the CL:3 construction to this ski only accentuates its characterful and versatile nature.

The weight-saving is largely noticeable underfoot which then transcends through from quick turns through the trees and boot packs to remote side-country, to a more balanced and even feel in the air. "
- Whitedot website 2014

Summary:

The Director is unusual because it is available in sizes ranging from 151cm to 191cm, which is rare for a design like this.  It means people of all sizes can get the right length in this mid-fat 104-107mm waisted model.  Whitedot prides itself on satisfying their customers, and dedicating manufacturing resources to produce this model in a 151cm up to 191cm shows confidence in their design and dedication to getting customers just the right ski for their situation.  We were lucky enough to try the 151 and 171cm sizes for smaller skiers in our tighter New England terrain. 
The 2014-2015 Director is billed as having "the widest performance bands in our range", and they might be right.  We reviewed the 2011-2012 preproduction candidate Director in 188cm back in 2011, and were frankly not that impressed with their new design.  It was their first attempt at getting a ski design in the 107mm underfoot category, and it was not as impressive as we hoped. Whitedot has tweaked their geometry, rocker, flex pattern and materials over several seasons, and this latest generation Director hits the mark they set for themselves.  We tested the Director 151cm and 171cm with kids, teenagers, intermediate and expert adults in a variety of terrain conditions and found it to be definitely oriented to best performance in 3-dimensional snow, although it had a respectable grip on hardpack when needed. The Director shines on days when there is fresh snow in the morning, turning to cut-up and skied-out material as the day goes on.  It has a nicely balanced, easy-to-ski rocker design front and rear with enough floatation and turny behavior to take you pretty much anywhere with very little effort.  It's one of those skis you forget about wearing as you hunt around for good little stashes and woodsy settings. It's super playful, very, very light feeling and very responsive with very little input from the pilot, thanks to the carbonlite C3 construction with carbon/carbon-aramid and flax sandwiching its poplar-ash core.  The only real drawback to the Director Carbonlite is a somewhat lower speed limit than its standard-construction sibling due to its lower mass and softer flex pattern. What you trade off from big-mountain speed stability you get back in spades from the effortless handling and nimble responsiveness underfoot.  The Director Carbonlite is best suited for lower speeds, tighter terrain or lighterweight skiers, or backcountry touring duty.  This is a great design for Eastern U.S. tree skiing, or frontside resort skiing on light to moderate powder days.  Super-easy, super-friendly handling, agility in tight situations and balanced flex with a respectable edgehold are good words to describe the Director Carbonlite.  In the 151cm length, this could be one of the best kid's powder ski choices from small ski companies, along with the Praxis Le Petite.  Kids and intermediates relatively new to powder skiing took to this ski in fresh snow without any learning curve effort, and that says a great deal about the design.  Great choice for people looking for a lightweight ski with plenty of surface area and agility.
 
Technical Ski Data: (from mfr specs)
 
Weight: 1549 grams and 1552 grams (measured)
1.2mm ISO 7200 High Speed Precision Sintered base, Die-cut
Full Tip - Tail Popular / Ash Laminate Core
Carbon Fibre / Flax / Carbon-Kevlar Stringers / Dry Weave Binding Retention Plate / Rubber Foil Dampening Tape / Carbon-Aramid / Carbon
1.9mm hardened Steel, 360 pre-bent Wrap-Around Edges
ISO Foil, Screen Printed & Twice Lacquered topsheet
Zero-camber, rockered tip and tail
Bindings and Boots Used:

Tyrolia PRD12 PowerRail Bindings
Salomon S-Max 120 boots.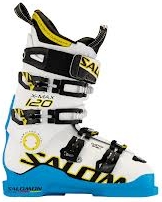 Pre-Skiing Impression:

Great dots, excellent fit and fihish with glossy topsheet. Soft tip and tail flex, firmer midsection. Very light weight by hand-feel (see specs...they are light), relatively damp response with moderate torsional strength.  Appealing look and feel. Very thin vertical thickness...almost blade-like.

Test Conditions:

Eastern corduroy, packed powder and hardpack groomers, boilerplate, ungroomed packed powder with small bumps, shin-deep to knee-deep powder conditions, both smooth and bumpy. Chalky wind buff, fresh and old powder..
Hardpack and Boilerplate

The Director Carbonlites are flat (no camber), with moderately rockered tip and tail, so they don't grip hardpack with a vengence...more of a decent, respectable grip when you need it, but don't expect to dig GS-trenches on them.  If you roll them up on edge, engage the effective edge with some deliberate intent and get the edge set and ride it, it can traverse the hardpack with quiet security.  If you find some good old-fashioned Eastern boilerplate (can't get your pole to stand up in it), you might find the Director Carbonlites a little slippery unless you use a punchy, bite-down-underfoot change of direction to hold a line. The CarbonLite construction has a great characteristic of dampening vibrations and buzz underfoot on hard surfaces very, very well, without deading the ski or reducing its responsive feel.  Overall, the hardpack performance feels "Pretty decent" (quote from several testers).

Mixed Conditions:

Mixed surface conditions were the bread-and-butter situation for the Director Carbonlites.  They light, agile feel underfoot combined with a playful, responsive personality makes navigating cut up snow and mixed condtions really fun and pretty much zero-effort.  If you get going at warp-9 speeds, you can feel a bit of tip flap and notice the lack of heavy mass underfoot, but control is always available.  Get the Directors into the trees, and they are a blast.  Super easy to ride and guide anywhere you want to go.  Energetic pop is on hand when you need it to get up-and-over any bumps, logs and obstacles, although heavier skiers might overpower the Carbonlites if they are heavy-handed.  Beefy skiers might like the standard construction Director geometry instread.  Technical or finesse skiers will probably love the Director Carbonlites.  The soft flex and light weight can get knocked around a little when traversing hardened crust or cobbly materials, but the agility and lightweight chassis makes corrections nearly instantaneous and effortless.  "Playful" is a good word to describe the Directors in mixed conditions.  Definitely a ski you can ride "Bell-To-Bell" on fresh-snow days.  Several people remarked how they would love to mount the Director Carbonlites as a touring ski because it is so light and responsive.
 
Bumps:

The Director Carbonlites can mojo through the bumps really, really well with great ease.  Their rocker ratios and flex pattern make it pretty effortless to zap your way through bumpy terrain without any harsh feedback or hangups in the troughs.  The Carbonlite construction makes them very light, easy handling and energetic.  Heavy skiers might overpower this model in the bumps if driven too hard, but most people will find they can bound through bumpy terrain with zero-effort and still get a fun ride.

Powder:.

Powder skiing with the Director Carbonlites is super easy and fun.  While they lack the floaty experience of the 120mm waisted Redeemer, the Directors navigate through powder with an agile, fairly effortless ride.  A little tip dive can be found if you ride them too hard, but then again, this ski is only 130-133mm wide in the front and 107 underfoot. The CarbonLite construction really works in powder, giving you a carbon-infused responsive, lightweight ride without the need to be hyper-vigilant as with some high-performance powder skis.  Turn shapes are easily modified mid-arc, and you can throw the Directors sideways in the fluff, and then hook them up and turn on a dime when needed.  The Directors are super-versatile in soft snow, and that will make many people very happy.  Heavy-weight skiers might find they over-flex the CarbonLites in deep snow, but they can always opt for the standard construction if they choose.

Analogies: ("This ski is like...")

The first-on-your-list ski companion you always rely on to have a great time with on the mountain.  They might not be the fastest, most intense skier, but definitely the one you can ski with all day, no matter what you find out there, and will always have a good time with.

Things I Would Change About This Ski:
 
In the longer lengths most likely to be purchased by heavier skiers, I would beef up the construction slightly to give more support and strength.  The short sizes we tested were perfectly matched to lighter skiers.

Short Answer When Someone Asks "What Do You Think About This Ski?":

These are lightweight, responsive skis with a bias toward skiing "in" snow rather than ":on" snow, but they ar a hoot in fresh or cut up conditions because they take zero effort, yet feel playful and fun.  Cool dots.

Advice To People Considering This Ski:

If you are a heavier or stronger skier, you may want to upsize the CarbonLites to a slightly longer length, or choose the standard construction version if you tend to overpower a ski or want a model more suited to high-speed, big-mountain terrain.

Pics: (click images for larger versions)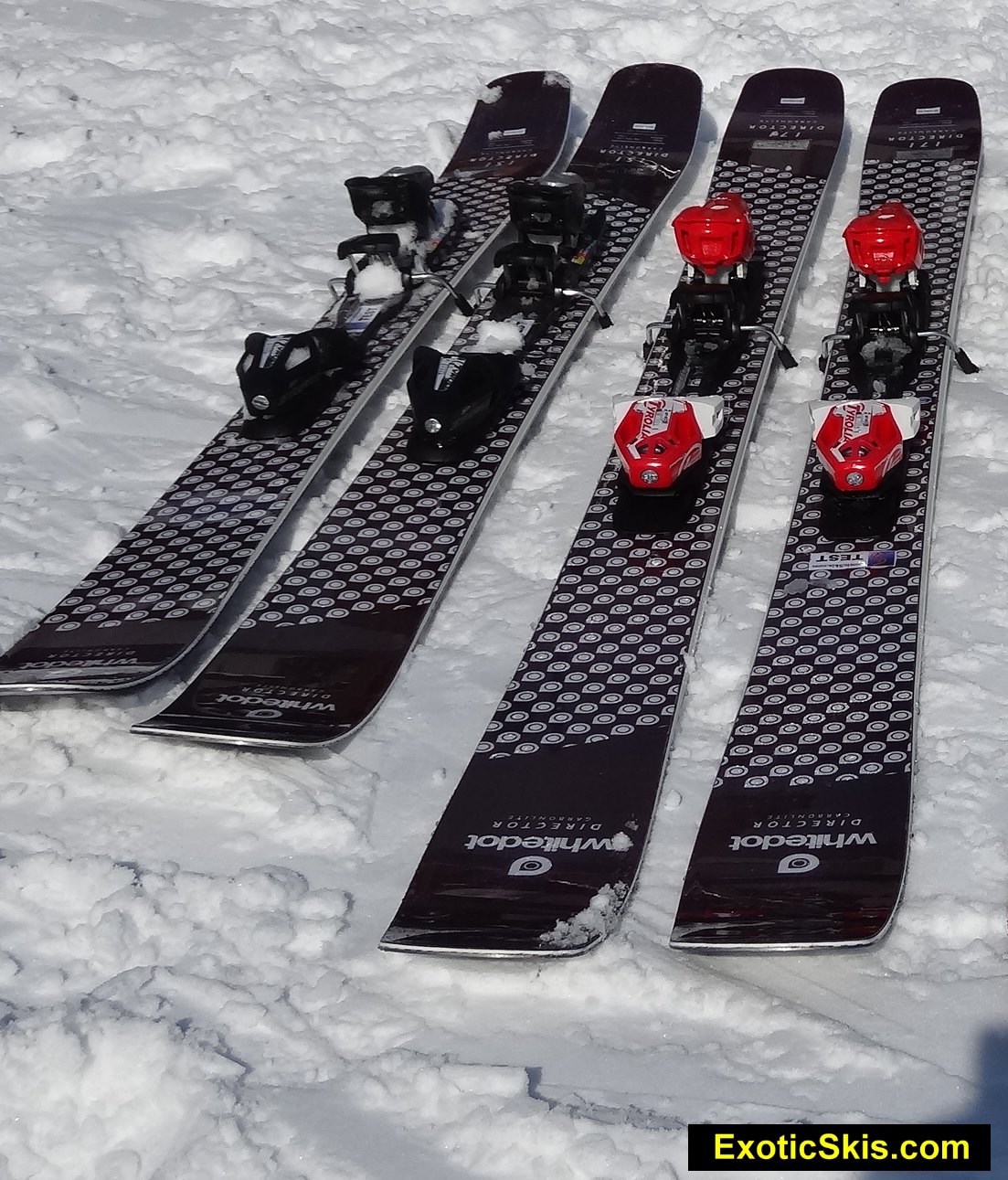 Director CarbonLite 151cm and 171cm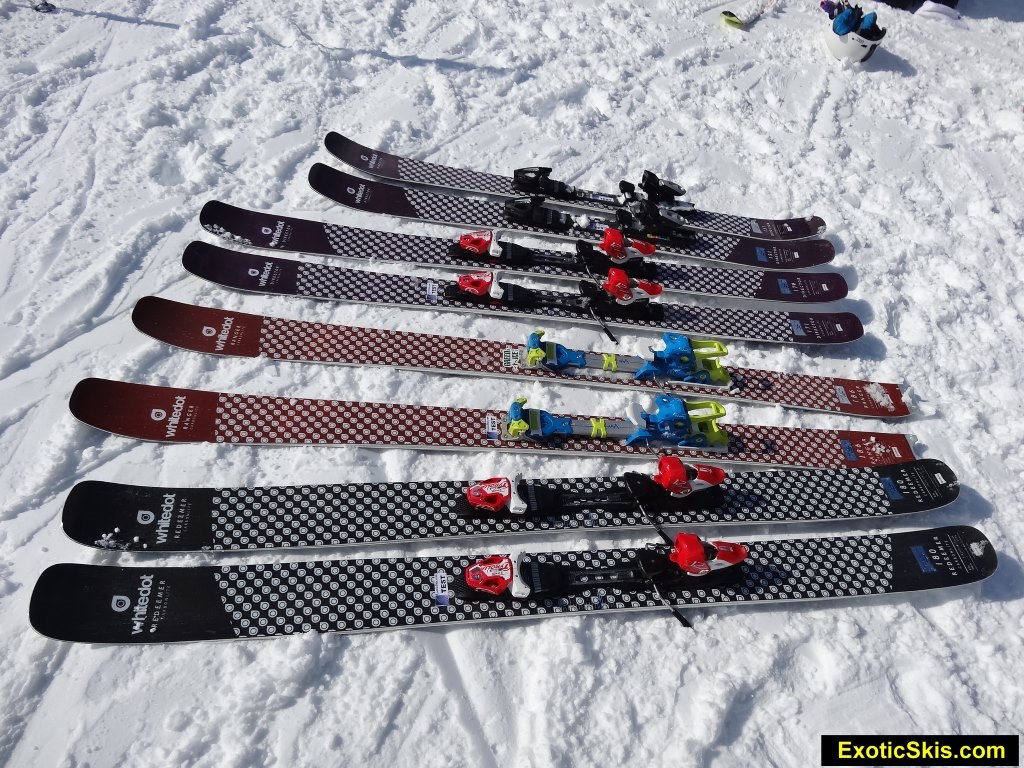 (From the top - Director 151cm, Director 171cm, Ranger 186cm, Redeeemer 180cm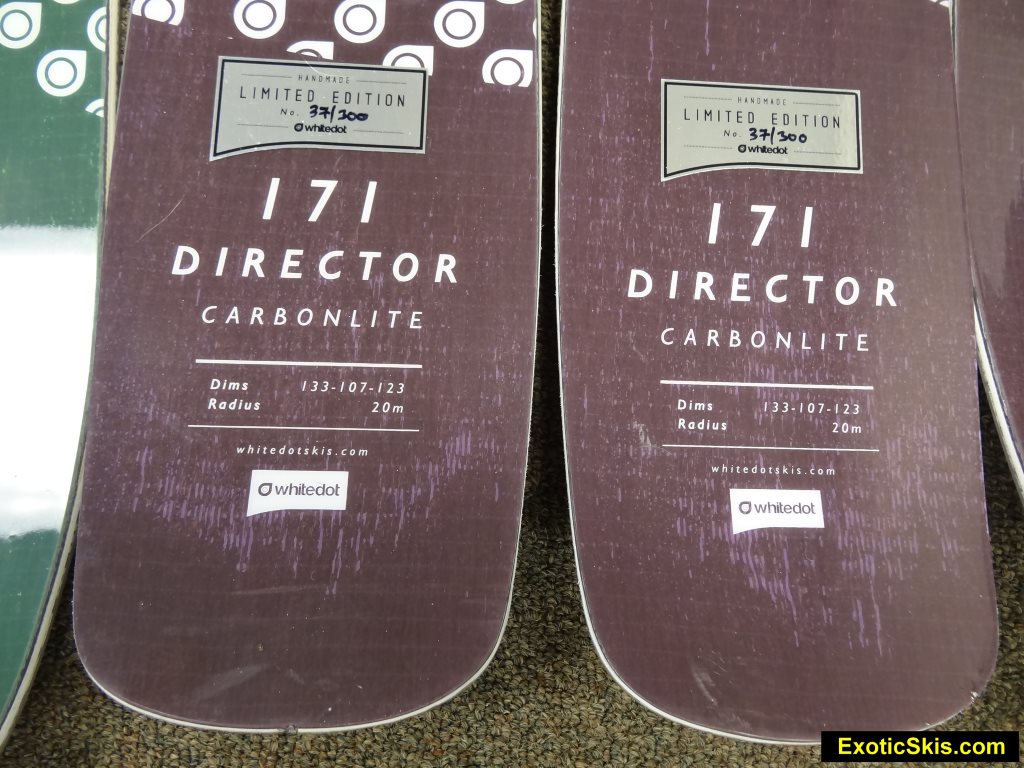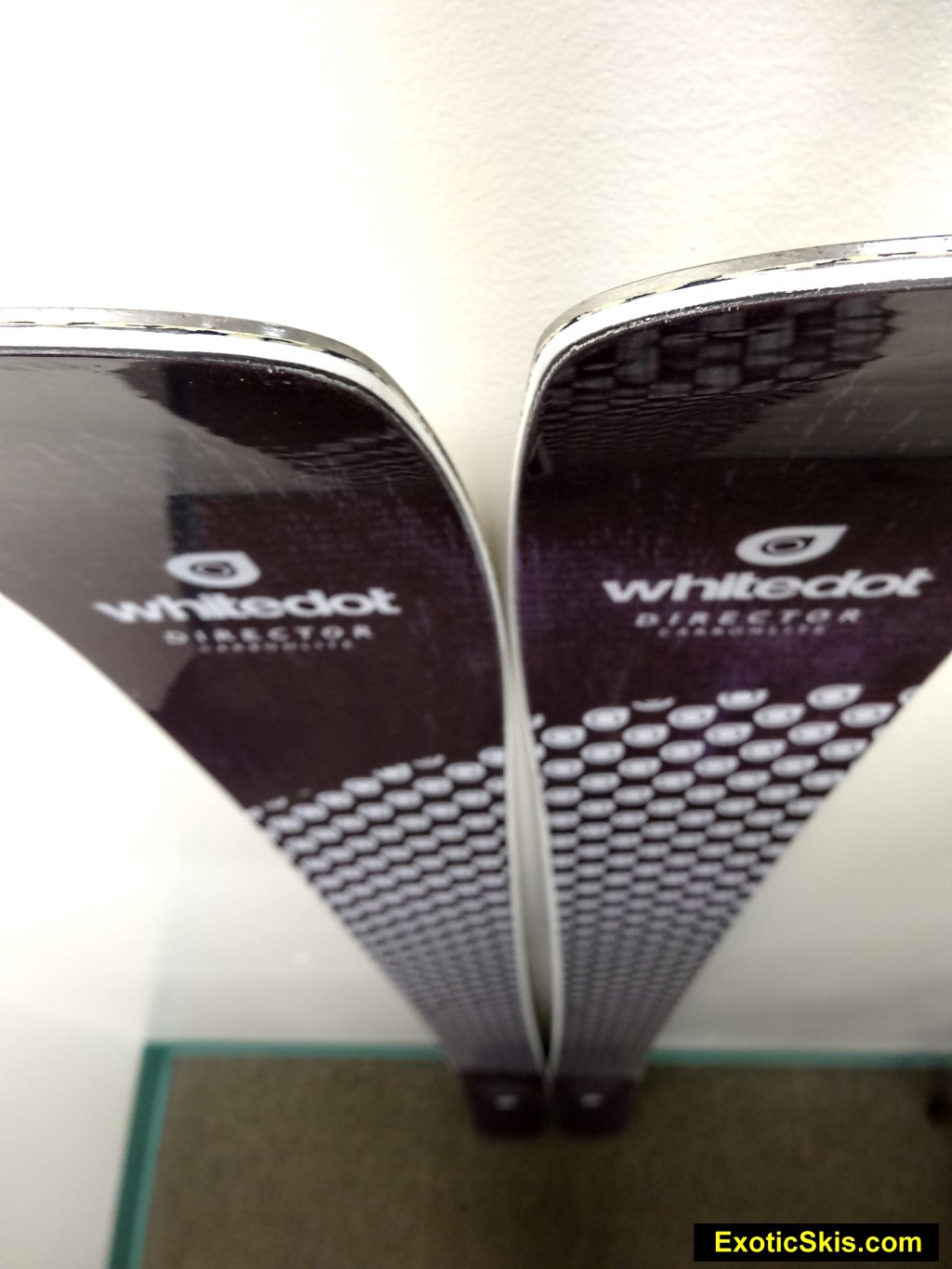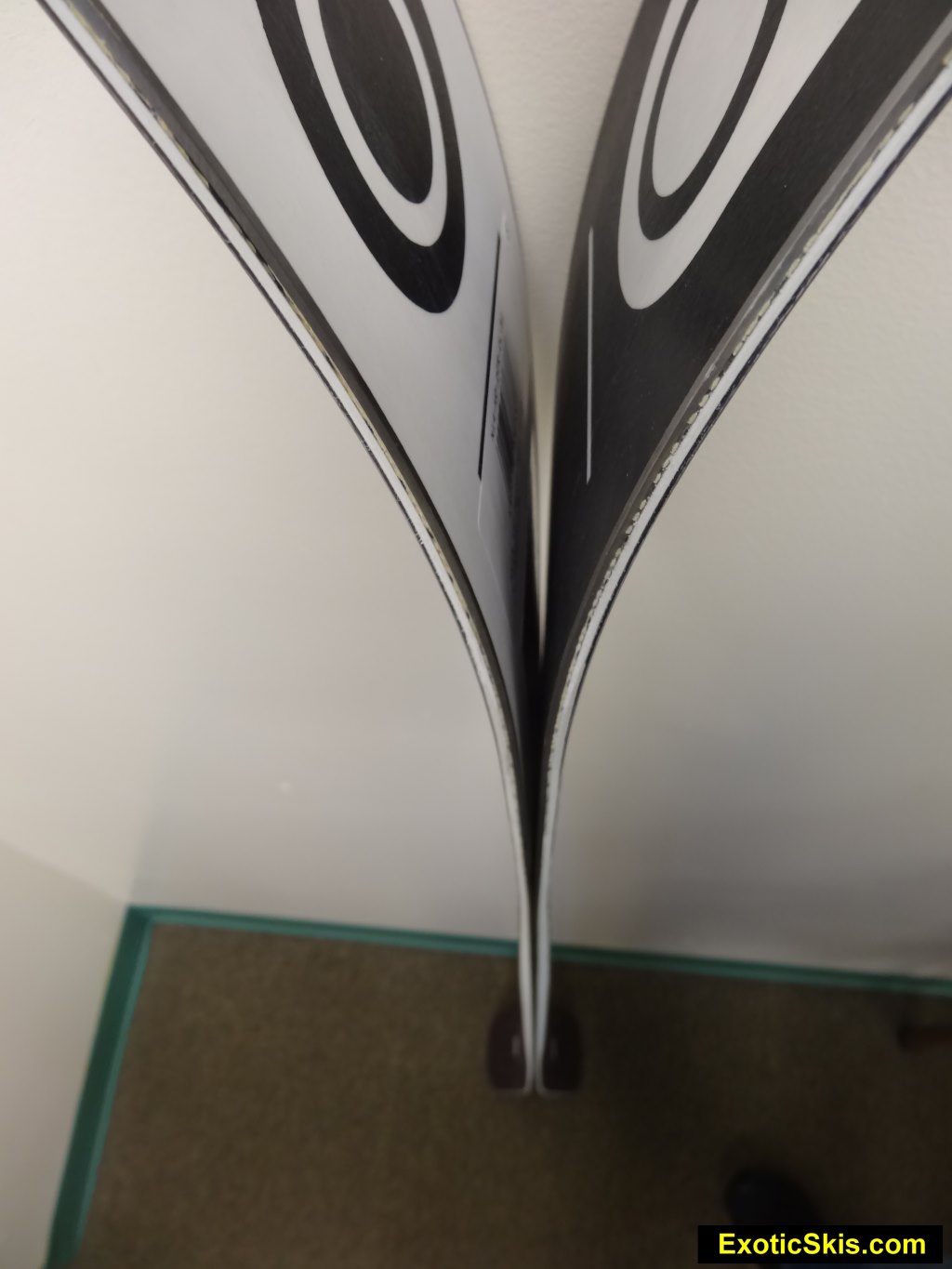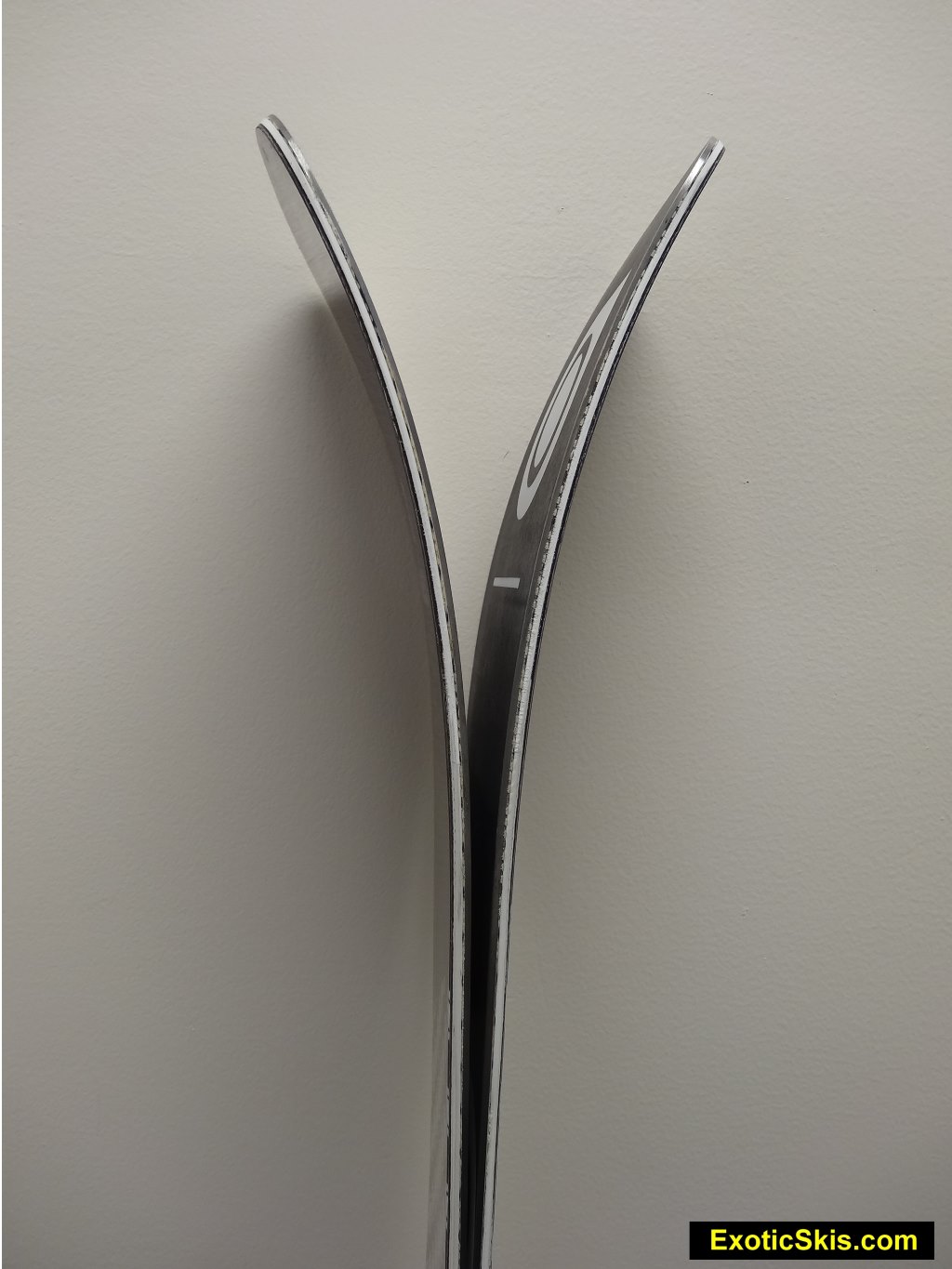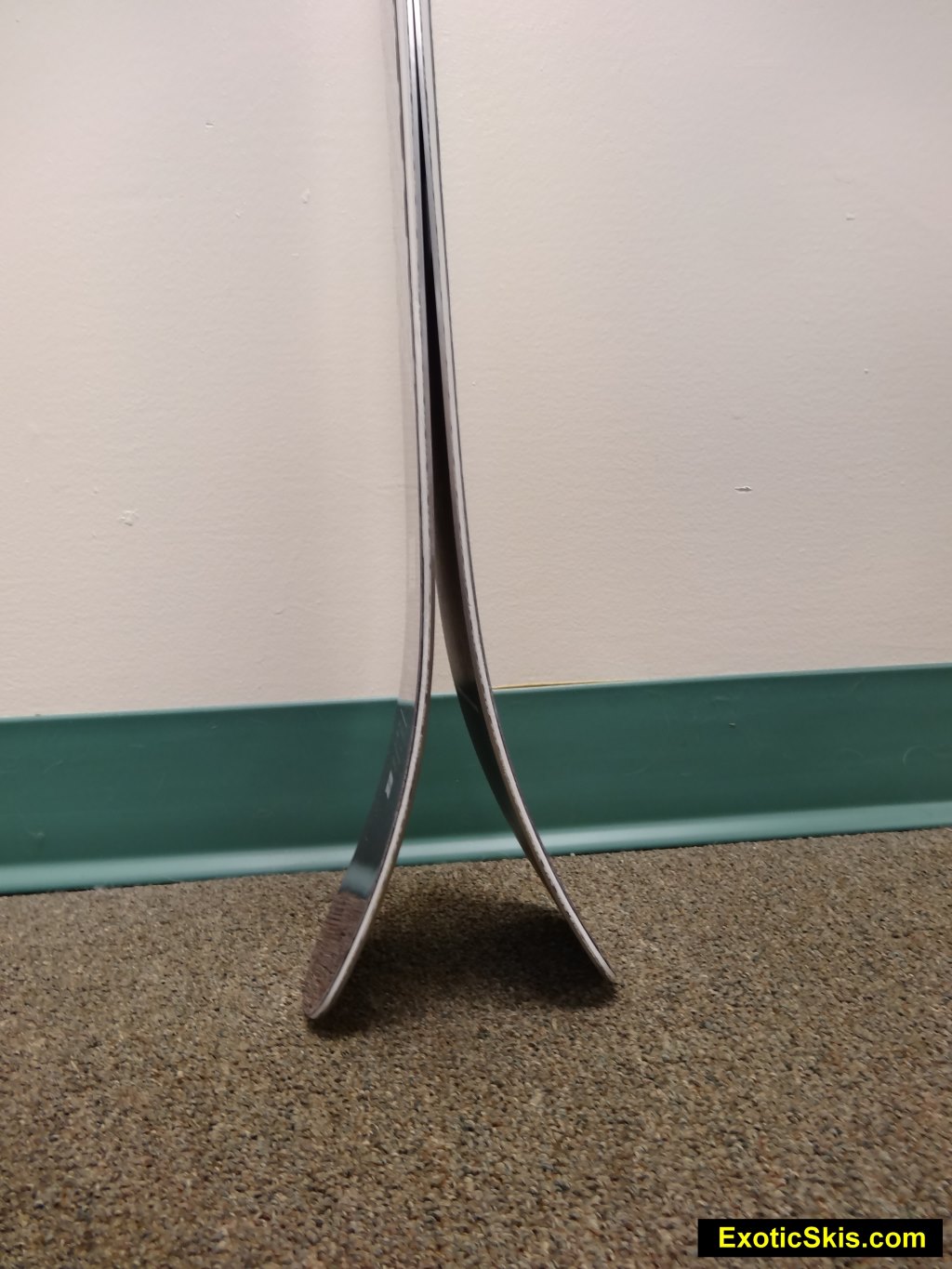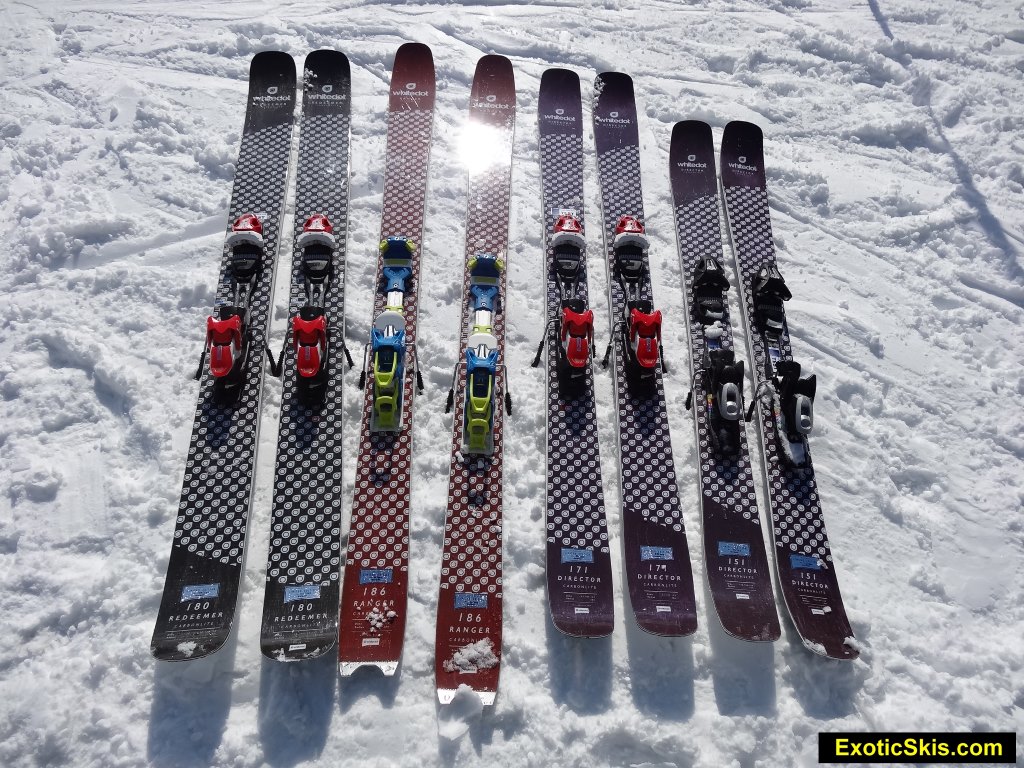 (Left-to-right:) Redeemer 180cm, Ranger 186cm, Director 171cm, Director 151cm