Product: Amplid Ego Trip Evolution
Length Tested: 175cm
Dimensions/Turn Radius:  130-95-120 r = 12.2m @ 175cm
Camber: Early Rise, Rockered Tip w/ camber midbody and tail
Binding: Tyrolia AAAtack 13
Mount point: Suggested
Other Skis in Class: (sort of)
* Down CD6
* Blizzard Kabookie
* Rossignol Sin 7
* Volkl Nanuq
Environment & Conditions:
Location of Test: Vermont and New Hampshire
Number of Runs: Dozens over several weeks
Snow Conditions: 12 inches fresh powder, packed powder, groomers, hardpack, yellow eastern boilerplate and blue-concrete refrozen ice.
Demo or Own: Demo
Tester Info:
Username: ExoticSkis
Age: 55
Height/Weight: 5'11" / 190lbs
Ski Days/Season: Lots, but never enough
Years Skiing: 53
Aggressiveness: Aggressive(Driver) / Technical
Current Quiver: Edelwiser Speed, IDOne TTR and TTM, Anton UFOria XA and Carbon EX, Palmer P02, Romp 100, Praxis Concept, SkiLogik Frontside Burner, Occam Razor, Rockstar, Rave, DPS Wailer 112RP, WhiteDot Redeemer, Preacher, Ranger..etc.
Home Area: Vermont
Preferred Terrain (groomers, off-piste, trees)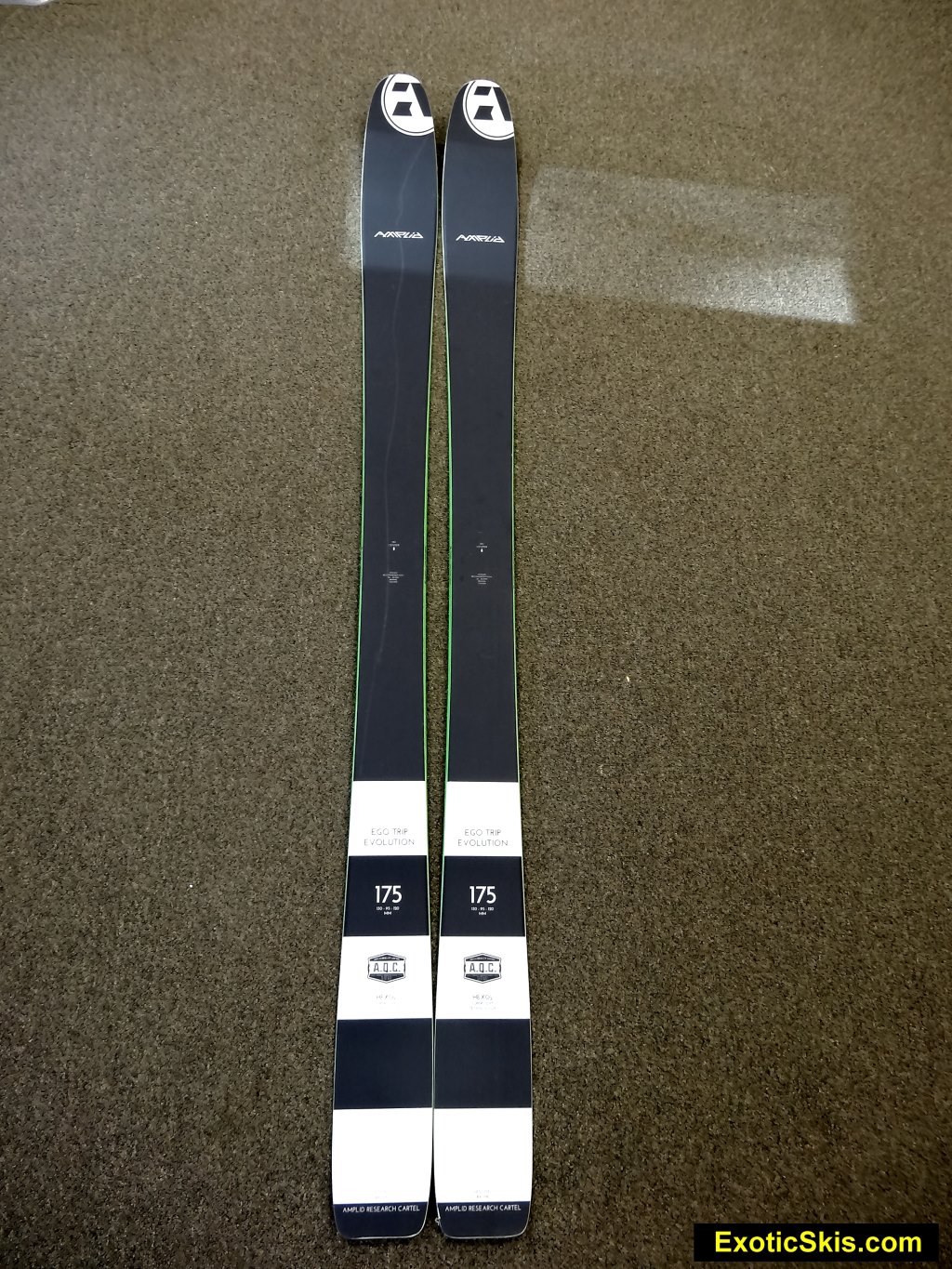 Manufacturer Info:
Amplid GmbH und Co. KG
Hammerer Hof
83730 Fischbachau
Deutschland
Telefon: +49 8028 1713
Telefax: +49 321 2125213
http://www.amplid.com

Suggested Retail Price (MSRP):

$799 usd

Usage Class:

All Mountain Touring/Frontside

Background:

Amplid was founded in 2005 by Peter Bauer and  Anian Thrainer to build better snowboards and skis.  They are comitted to selling fewer, but better products that make skiers and riders happy, and their suppliers are all within 400km of their headquarters.  Their designs are manufactured in Elan's high-tech facility in Slovenia, as are many high-quality smaller brands concerned with quality and consistency.

Rating (with comments):
(1="get me off these things"->10="I have to own a pair")

6 for bumps & park terrain 
7+ for packed powder groomers
8+ for variable snow conditions
5 for boilerplate hardpack (lacks the great grip of the Rockwell)
8 for powder (slow speeds and tight terrain)

Manufacturer's Description:

"This winter we took the Ego Trip right back to its original concept and started over. The only similarities between the Ego Trip Evolution and its predecessor are the first two words in its name. The all-new Evo is a much lighter touring ski than the archetype and its new Rockwell-inspired five dimensional shaping adds complete performance that doesnt dictate how or what you ski.The Evos featherweight HEXO2 construction trims noticeable weight from the ski, making it one of the lightest all-mountain touring skis available. Retaining a majority wood core and sidewall construction keeps it confident and sure-footed in steep terrain and variable snow conditions, and repairable in the result of an edge blow-out. Flat tails prevent the annoying slipping and peeling of climbing skins.Sometimes the only way to evolve is to start from the beginning.  "
- Amplid  website 2014

Summary:

The Amplid Ego Trip Evolution (2014-2015 model) is a very light handling, zero-effort touring/backcountry ski with a very turny 12 meter radius and short effective edge feel.  Agility and light feel, with shapely turning behaviors are this ski's hallmarks.  Easy-going fun is its trademark. An excellent meadow-skipper, with a relatively low speed limit due to its very soft flex and short effective edge. Frontside behavior is somewhat slippery on hardpack, but its agility in tight trees is remarkable.  Probably a bit soft for heavyweight or strong skiers who will overpower it.  Superb Eastern-USA tree ski for people looking for a 95mm waisted ski with effortless handling and turny personality who don';t need high-level ice grip.  Superb variety of turn shapes and mid-turn adjustability.  Not for chargers or muscle skiers.
Major changes are planned for the 2015-2016 model of the Ego Trip and its new, metal-infused trench-digging sibling "Alter Ego" with similar geometry.  Instead of making the Ego Trip try to do double-duty, Amplid is splitting the design into two different skis - an even more ultra light touring Ego Trip (rocker reduced slightly) with aluminum tip and tail skin tabs and a hard-charging, resort frontside version with titanal construction and minimal rocker for high pressure, high-edge angle activities on piste.
Technical Ski Data: (from mfr specs)
Overall Length     11750         
Running Length     1350         
Sidecut Depth     15         
Size     165     185     
Sidecut Radius     12,2         
Tail Height     23         
Tip Height     61         
Tip Length     200         
Tip Radius     800          
Tip Width     130         
Tail Length     200          
Tail Radius     400         
Tail Width     120         
Waist Width     95 
Weight: 1700 grams
Rockered tip, cambered remainder
Helio P.15 lightweight Poplar wood laminate core
Hexo2 honeycomb inserts in tip and tail to reduce swing weight
Sintered 7200 base
Pre-stretched fiber matting
Designed in Germany, Manufactured in Slovenia
Bindings and Boots Used:

Tyrolia Attack 13 Bindings
Salomon S-Max 120 boots.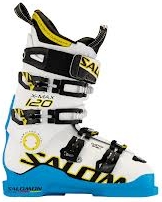 Pre-Skiing Impression:

The black and white, simple cosmetic is businesslike and clean.  Build quality is excellent, with superb fit and finish.  Very shapely 5-dimensional geometry with a very soft handflex and relatively mild rebound response.  Flat, shapely tail looks like it would hook up nicely when laid over into the snow.

Test Conditions:

Eastern corduroy, packed powder and hardpack groomers, boilerplate, ungroomed packed powder with small bumps, shin-deep to knee-deep powder conditions, both smooth and bumpy. Chalky wind buff, fresh and old powder..
Hardpack and Boilerplate

The Ego Trip Evolutions was surprisingly less grippy on icy hardpack than it sibling Rockwell model.  The very soft flex and long tip rocker allowed the ski to wash away on Eastern-US hardpack more than we liked, but it was always predictible.  Tuning was not the issue, it was the design of the ski intending it to be easy and surfy.

Mixed Conditions:

Mixed surface conditions were navigated with essentially zero effort, with the Ego Trips absorbing inconsistencies with its tip rocker and directional tail keeping trajectories on-track.  The only drawback was a relatively low top-speed limit due to the softness of the ski.  This is not an issue on side-country excursions and back-woods terrain where speeds are generaly lower than resort frontside situations.  We did not get a chance to ride really hardened windpack crust with the Ego Trips, but we suspect the ski would yield a bit of integrity if pressed hard in such conditions.  Overall, any kind of snow you might find in touring situations would be handled effortlessly if you keep the speeds down below mach-schnell levels.
Bumps:

The Ego Trips eat up the bumps with the ample tip rocker and soft flex.  The relatively flat and widened tails never seem to hang up, and you can aim anywhere in the mogul field and simply motor right through with no bucking, abruptness or struggle.  If you get going too fast in bumpy terrain, a bit of flap can show up, but then again, this is a touring-oriented ski meant for slower speeds.  If your terrain is bumpy all day, the Ego Trips are comfy and easy, yet very agile and can turn on a dime with nearly zero effort.  Rowdy bump run performance is not really available since the Ego Trip Evolutions are very soft and don't deliver the bang and pop many mogul enthusiasts look for.

Powder:.

Powder is surfed easily and with agility with the Ego Trip's shaping, rocker and flex pattern.  You can dolphin up and down in the snow at will, set your dept and turn any time, anywhere.  Smeary drifts are possible, but the turny geometry and relatively narrow waist for true powder skiing urge the ski to hook up nad turn instead of drift sideways. .Powdery tree runs are really fun and easy with the Ego Trips unless you want a fatter platform than 95 mm underfoot.  If you get going at speed in the powder, the Ego Trips might feel a little darty due to the narrow radius, but the easy handling personality means there is never a struggle to go where you want.  The ski never takes off sideways, it merely urges you to crank a turn into the 3D snow at speed rather than drift through it.

Analogies: ("This ski is like...")

An eager, easy-going Boston-Wailer watercraft, friendly and fun, with a speed limit, but endless hours of fun.

Things I Would Change About This Ski:
 
To improve the hard snow performance, the tip rocker should be dialed back a little, and the ski could become maybe 15% stiffer throughout its length.  This may improve effective edge grip and stability on hard surfaces. 

Short Answer When Someone Asks "What Do You Think About This Ski?":

A bit soft and lacks the degree of edge grip Eastern US or resort frontside skiers might want, but superbly easy to handle and fun in the woods and weedy slopes. Difficult to find in North America. Great quality and shaping.

Advice To People Considering This Ski:

The Amplid Ego Trip Evolution might be too soft for heavyweight or muscle-skiers.  It may also be a bit slippery on real hardpack, but if you never see hard groomers or icy conditions, the Ego Trip is a super easy, friendly ski with remarkable agility and comfort for all-day outings.

Pics: (click images for larger versions)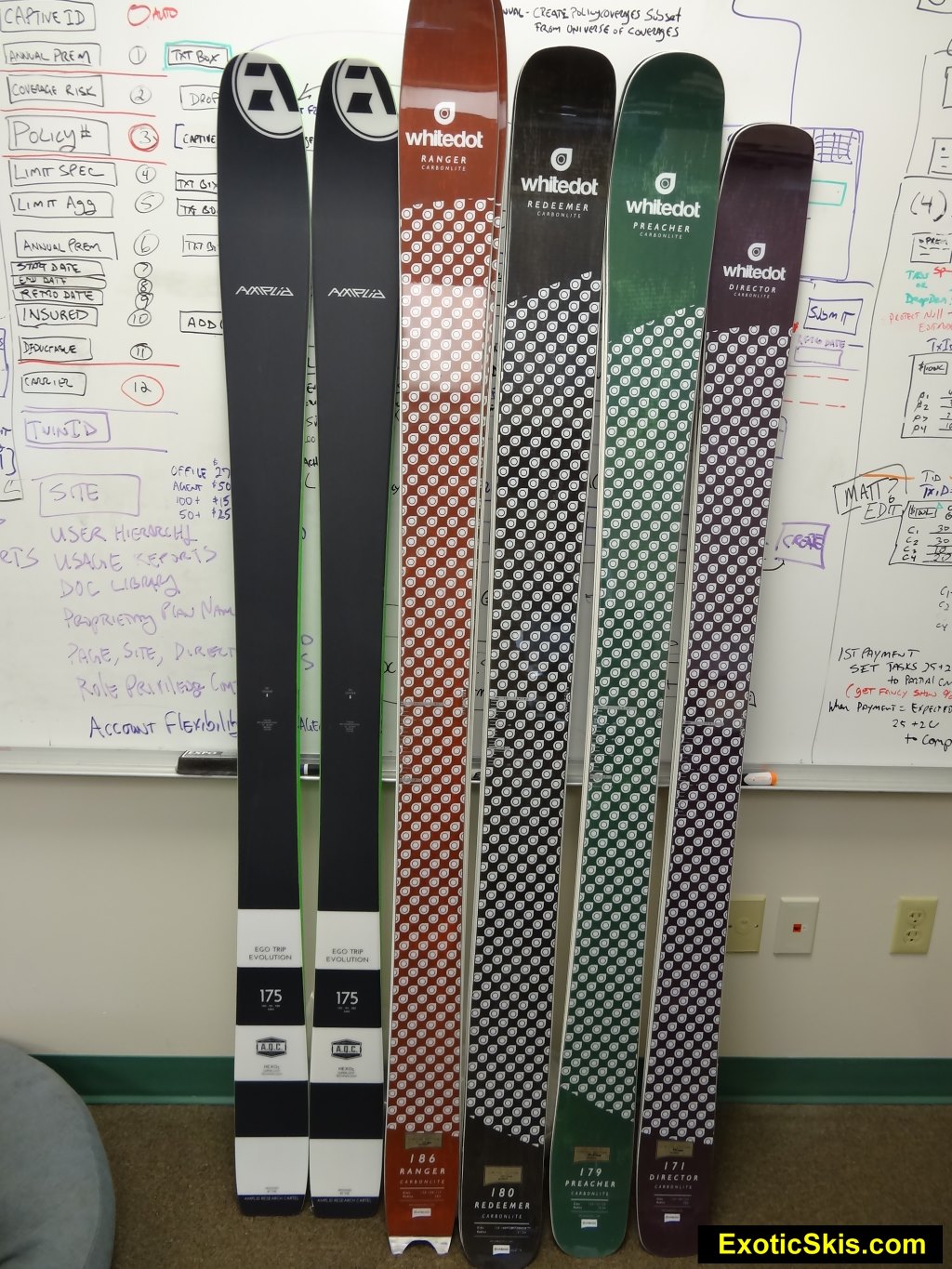 Amplid Ego Trip Evolution (Left) shows off its shapely geometry