Product:
Amplid Rockwell 2014-2015
Length Tested: 182cm
Dimensions/Turn Radius:  128-96-118 r=14.36m @ 182cm
Camber: Rockered Tip, Cambered midbody, slightly rockered tails
Binding: Demo
Mount point: Suggested

Environment & Conditions:
Location of Test: Vermont and New Hanpshire
Number of Runs: Dozens over several weeks
Snow Conditions: Powder (shin-to-knee deep), packed powder, hardpack, boilerplate, crud, bumps, groomers, skied-out powder, windpack, crust
Demo or Own: Demo
Tester Info:
Username: ExoticSkis
Age: 54
Height/Weight: 5' 11" 190lbs
Ski Days/Season: varies - usually lots
Years Skiing: 52
Aggressiveness: Aggressive(Driver)
Current Quiver: Edelwiser Speed, IDOne TTR and TTM, Anton UFOria XA and Carbon EX, Palmer P02, Romp 100, Praxis Concept, SkiLogik Frontside Burner, Occam Razor, Rockstar, DPS Wailer 112RP..etc.
Home Area: Vermont
Preferred Terrain (groomers, off-piste, trees)
2014-2015 Amplid Rockwell 182cm
128-96-118 r=14.36m @ 182cm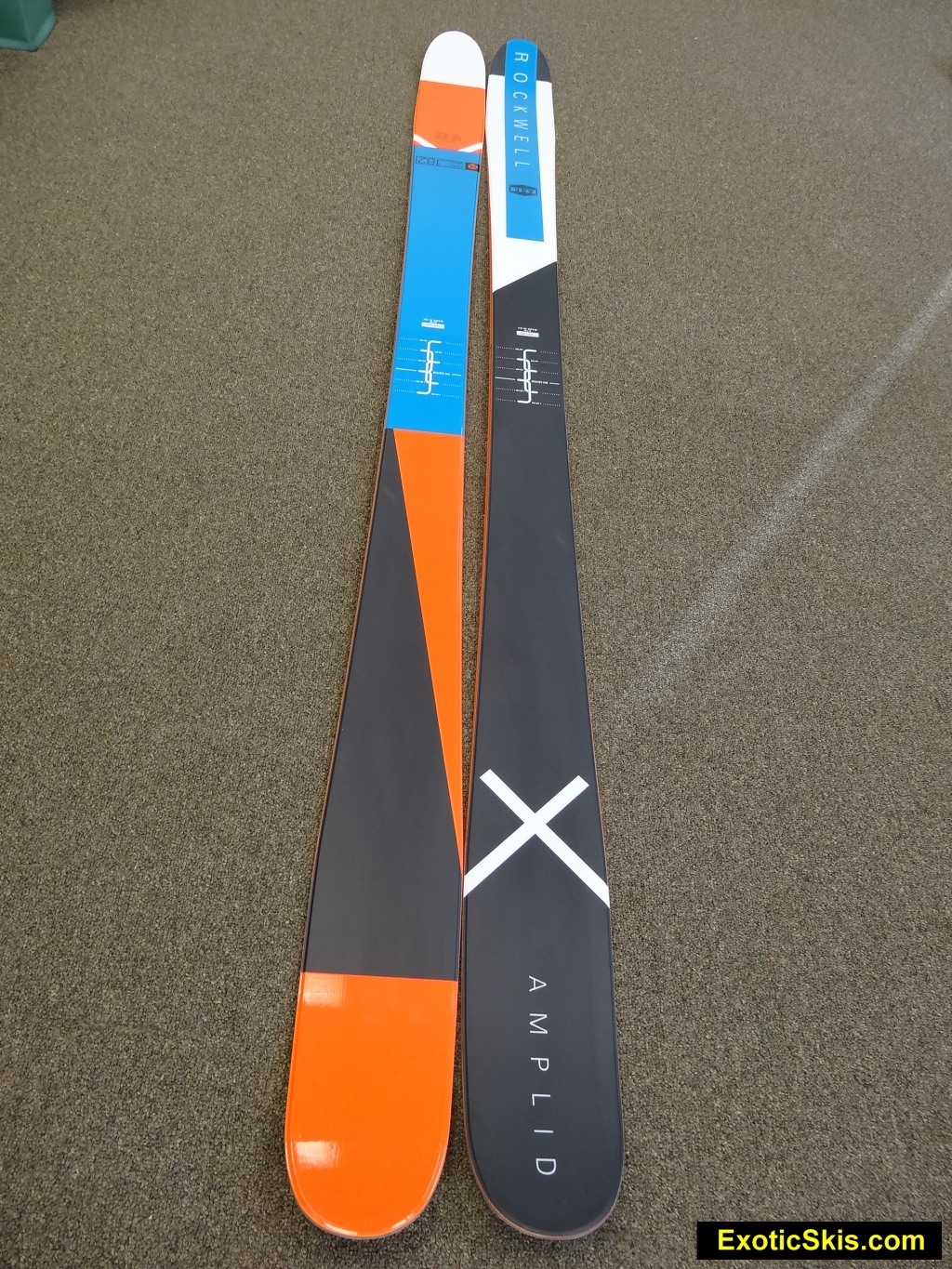 Manufacturer Info:
Amplid GmbH und Co. KG
Hammerer Hof
83730 Fischbachau
Deutschland
Telefon: +49 8028 1713
Telefax: +49 321 2125213
http://www.amplid.com

Suggested Retail Price (MSRP):

$629 usd

Usage Class:

All-Mountain

Background:

Amplid was founded in 2005 by Peter Bauer and  Anian Thrainer to build better snowboards and skis.  They are comitted to selling fewer, but better products that make skiers and riders happy, and their suppliers are all within 400km of their headquarters.  Their designs are manufactured in Elan's high-tech facility in Slovenia, as are many high-quality smaller brands concerned with quality and consistency.

Rating (with comments):
(1="get me off these things"->10="I have to own a pair")

  8+ for packed powder groomers
  9+ for variable snow conditions less than Super-G speeds
  8 for boilerplate hardpack
  8+ for powder
  8 for bumps

Manufacturer's Description:

"With the Rockwell the days of the old-fashioned ski quiver are numbered. Jekyll & Hyde Geometry jams the floatation of a fat ski, the cranky reactive sidecut of a groomer specific slalom ski and the freestyle performance of your favourite park planks into one ski.

Reverse sidecut in the Rockwellâs early-rise nose and tail minimises ski drag in deep snow increasing stability and adds a loose slashy feel. Get creative on any terrain in any conditions.

Size-up ~5cm from your normal park ski length for the perfect Rockwell. ."
- Amplid  website 2014

Summary:

The description of the Rockwell from Amplid is right on.  The Rockwells impressed us from the first two turns, and continued to deliver a surprising level of high performance no matter what kind of terrain or surface we threw at them.  Quite simply, the Amplid Rockwell should be a reference standard for how good an "all mountain" design can be. They turn like a much narrower ski on hard surfaces, yet float nicely in soft conditions. They are more finess and technical style skis than hard-charging planks, and reward a technically proficient skier, but could be easily enjoyed by intermediates with nearly zero effort.  The Rockwell design has an eager, turny, smooth personality when you roll it up on edge and pressure it, complete with an impressive automatic hook-up starting up front... pulling the entire ski's effective edge into the carve as deep as you want, letting you gently release and transition to the next turn with power and authoritative surface contact with high-G, high-edge angles, or snap it out with some quick acceleration to jettison you up and out to the next turn in a bright, poppy manner...even on hardpack. It can passively ride across variable surfaces with very little input from the pilot with a quiet, confident feel and zero deflection, or drive agressively through the same terrain with an energetic, agile, authoritative behavior, and tha's a  rare trait in most all-mountain designs.  Bumps are downright fun and easy,and the Rockwells feel surfy and slashy in powder conditions, being totally fun in the process. Legit-deep powder will find you wishing you had more than 96mm underfoot, but then again, this is an all-mountain ski, not a specialty model.  All in all, the Amplid Rockwell is really impressive, and a bargain at its retail price. Good luck finding a pair in North America.
Technical Ski Data: (from mfr specs)
Overall Length     1820             
Running Length      900             
Sidecut Depth      14             
Size      182             
Sidecut Radius      14.36             
Tail Height      51             
Tip Height     61             
Tip Length      470             
Tip Radius      400             
Tip Width      128             
Tail Length       450             
Tail Radius      400             
Tail Width      118             
Waist Width      95
Rockered tip, tail with camber underfoot
5 Point tapered tip and tail sidecut design
P10 Superlight Core
Sintered GE 7.2 Lightspeed base
Designed in Germany, Manufactured in Slovenia
Bindings and Boots Used:

Tyrolia Attack 13 Bindings
Salomon S-Max 120 boots.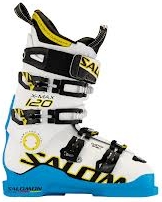 Pre-Skiing Impression:

The multi-colorblock topsheet is stunning and grabs your attention away from the superbly finished assembly of the Rockwell's pieces.  Mating ends and edges are essentially flawless, and the finishing work is top-shelf.  The ski has a remarkably light feel to it, with a moderate flex tending toward the soft end of the spectrum.  Tips and tails were softer than the midbody. Dampening is best described as moderate, and torsional strength is moderate at either end. Based on the hand flex and feel, the Rockwell seems like a ski with a soft snow bias (we guessed wrong...read on below).

Test Conditions:

Eastern corduroy, packed powder and hardpack groomers, boilerplate, ungroomed packed powder with small bumps, shin-deep to knee-deep powder conditions, both smooth and bumpy. Windpack, crust, chalky wind buff, fresh and old powder..  We only got a few days testing time on the Rockwells, but the variety of snow conditions was well-varied (lucky for us!)

Hardpack and Boilerplate

The Rockwell surprised me from the first two turns on our Vermont hardpacked groomers.  By hardpack, I mean a surface where only slight cuts are left in the surface when executing a turn at speed.  The Rockwell's rockered, tapered tips and tails shorten the flat running length of the ski like other similar designs, and when you roll it up on edge slightly, the forebody locks into the surface and generates a pulling sensation, drawing the rest of the ski into its underfoot sidecut automatically, distributing the ride pressure along the ski's length right through the tail with impressive authority for such an easy-skiing design. 
Some other skis with a similar rockered tip and tail with some camber underfoot can feel insecure, drifty or washy, but the Amplid Rockwell has a carving ski behavior beneath its agile and easy exterior.  The grip underfoot and along the contact length is one of the best we have felt in a ski with this design and dimensions, allowing the pilot to set the ski into an arc, apply increasingly intense pressure with confidence-inspiring security as you tighten the radius or increase speed.  Release the ski and roll it onto the opposite edge and the Rockwell automatically feeds itself into the next arc with very little effort, never fighting the pilot or requiring any extra input.  It responds really well to letting your body weight and inertia influence centrifigal force to create the edge-setting behavior...no need to muscle the ski at any time. 
High speeds on really hard surfaces can reveal the shortened running surface of the rockered design front and rear and make the ski feel a bit loose, but vibrations are kept at a minimum, and edge contact is consistently available...keeping control within reach at all times.  The Rockwell displays carving behavior better than nearly any other ski with a similar all-mountain design, which would make it a great Eastern US all-mountain choice.  It is not a race ski, but experts will love the way it sustains high-g, high-edge angle carving antics with confidence and control.  The 14.6 meter radius is plenty turny and agile underfoot on hard surfaces, yet stable enough for early-morning groomer speeding.
Mixed Conditions:

Mixed conditions show off the design of Amplid's Rockwell really well.  This ski is most at home ripping through a wide variety of snow consistencies and terrain types at a variety of speeds.  While the Rockwell can flex through its optimal range of motion quickly if you are a heavyweight or force it agressively (it is not a hard-charger, but not a fluffy ski either), it has a huge range of performance available in mixed surfaces for intermediates to seasoned experts.  The Rockwell has one of the most versatile collections of capabilities in mixed terrain we have seen in all mountain design, and continually impressed everyone. 
The design of the rockered tip and tail height, length and taper, in conjunction with the flex behavior of the ski create a compliant ride when traversing mixed materials, rarely, if ever, deflecting off-course.  The tail never seems to hang up in tight situations like bumps or trees, remaining agile and capable of being thrown sideways on-demand to scrub speed or change direction on-demand, yet remains stout and reliable for pressure and support when needed. 
The lively, energetic feel of the Rockwell makes it fun and adventureous, always responsive to input and never balky or sluggish.  The Rockwell achieves that hard-to-find balance of floatation and drift with precision power delivery and directional integrity when needed, and we applaud Amplid's designers for it.  The icing on the cake is the low level of effort needed to get the Rockwell to go where you want, when you want.  Amplid has renewed our faith in what an all-mountain ski can really do when designed properly with the right ingredients.
Bumps:

The Rockwell can rip through the bumps fast or slow with great confidence with its tapered, rockered tip and tail never deflecting or hanging up.  The fairly soft forebody absorbs impacts very well, reducing the beating experienced by the pilot, yet the midbody and forward portion of the tail provide an energetic rebound platform to launch yourself toward your next target with a lively personality.  The Rockwell iis not a specialty bump ski, and will not thrill bump addicts, but for people who encounter or seek out bump fields in their all-mountain travels will find they can attack or run passively...which is super handy and useful in a ski.

Powder:.

Amplid describes the Rockwell as having a "loose, slashy feel" in powder, and we would agree. It takes to powder snow with a playful personality, showing its turny sidecut behavior in the trees for quick agility, yet can plane and surf really well for a 96mm-waisted ski at slow or higher speeds.  Some skiers might find the Rockwell's turn radius a bit too eager in pure powder conditions where they might be used to a more straight and surfy ski design, but you can control its turny behavior easily by using less force and weighting and more finess in soft conditions.  For wide-open snowfields at high speeds, there are more floaty and stable powder skis in the Amplid lineup, but for powder-filled trees and glades, we thought the Rockwells were excellent fun.

Analogies: ("This ski is like...")

A Swiss (well... German-designed) army knife with a well-honed, high-performance tool built in for neary every situation

Things I Would Change About This Ski:
 
Nothing...other than a 164cm length for small or lightweight skiers.

Short Answer When Someone Asks "What Do You Think About This Ski?":

One of the best all-mountain designs we have ever tested.  Great feel, great performance nearly everywhere on the mountain and requires very little effort to pilot.  The lower-than-average retail price makes it a bargain. A real bargain.  Hard to find in North America.

Advice To People Considering This Ski:

The Amplid Rockwell is worth the hunt to find a pair if you are looking for a really effective all-mountain design with a huge range of high-performance on many kinds of surfaces and terrain.  E-mail Amplid to see if they can identify a source.

Pics: (click images for larger versions)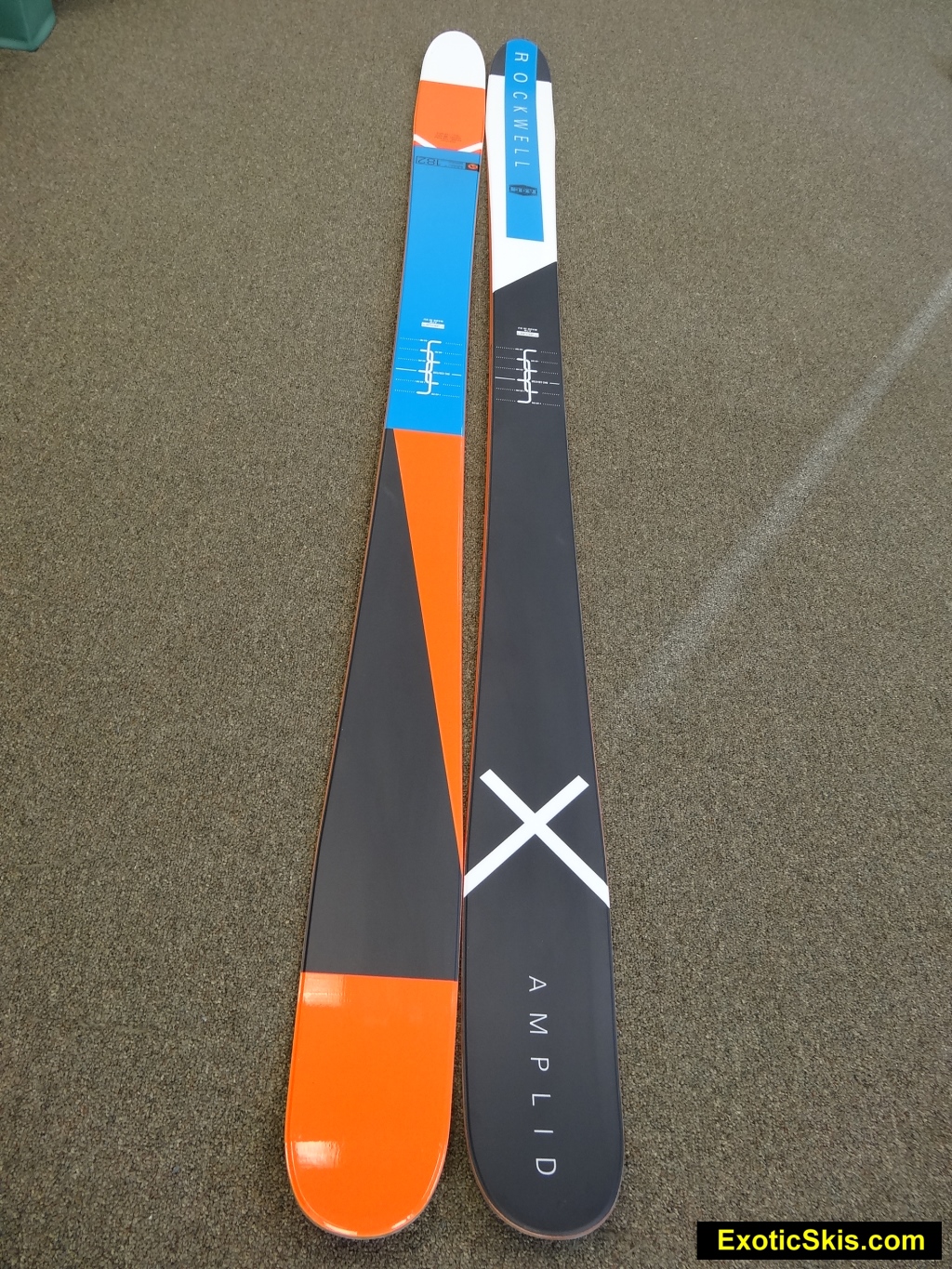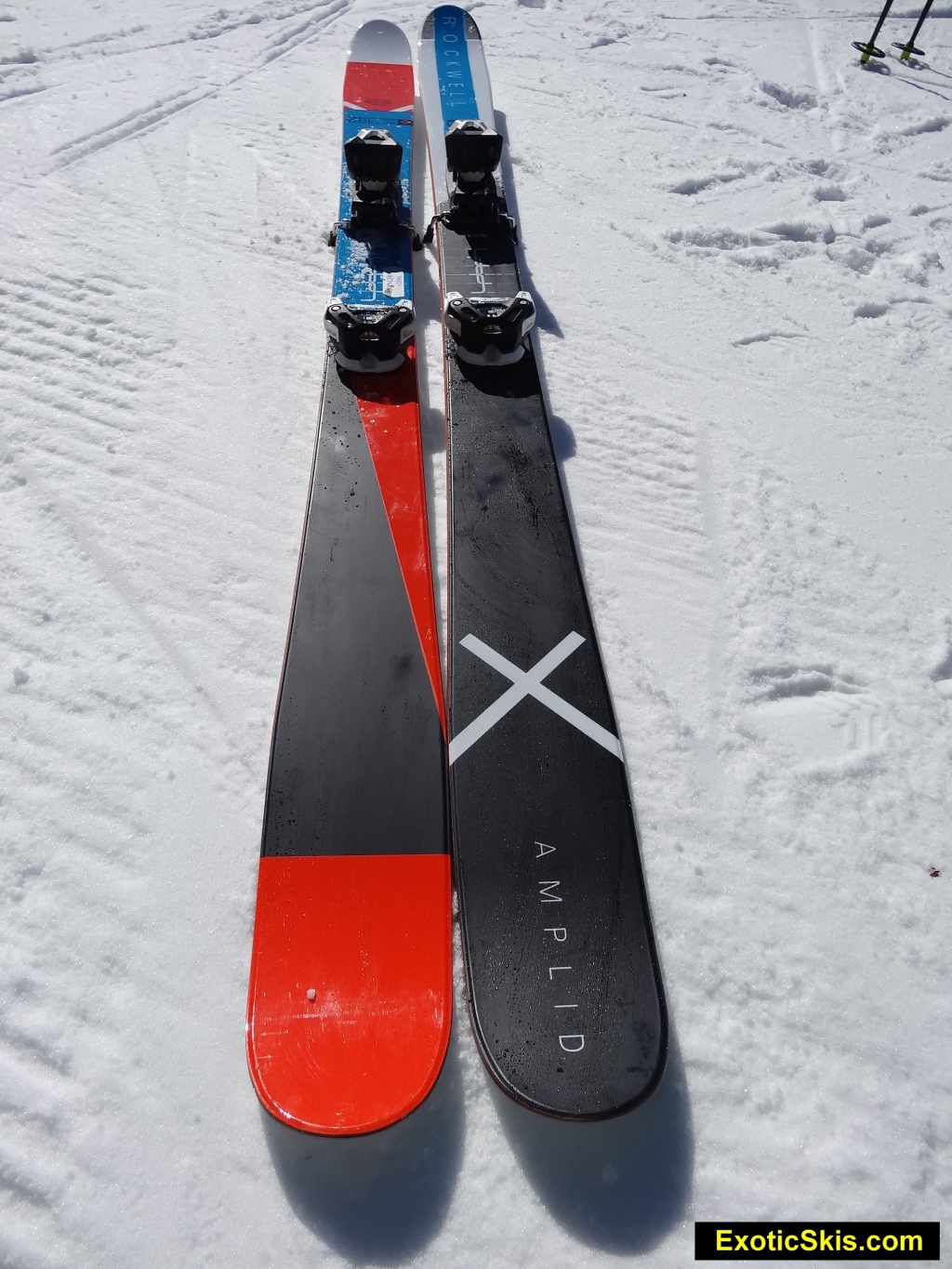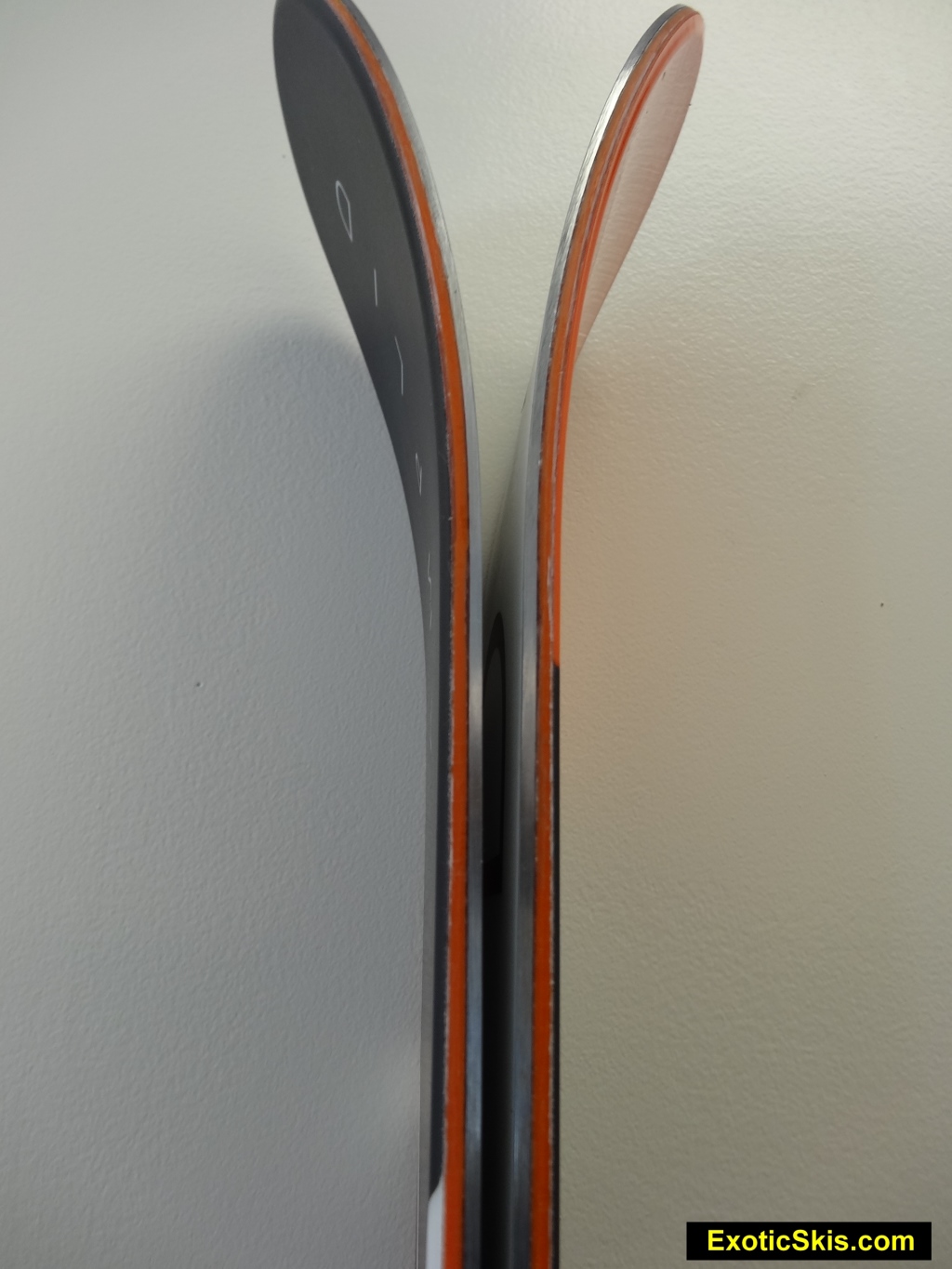 Amplid Rockwell TIp Rise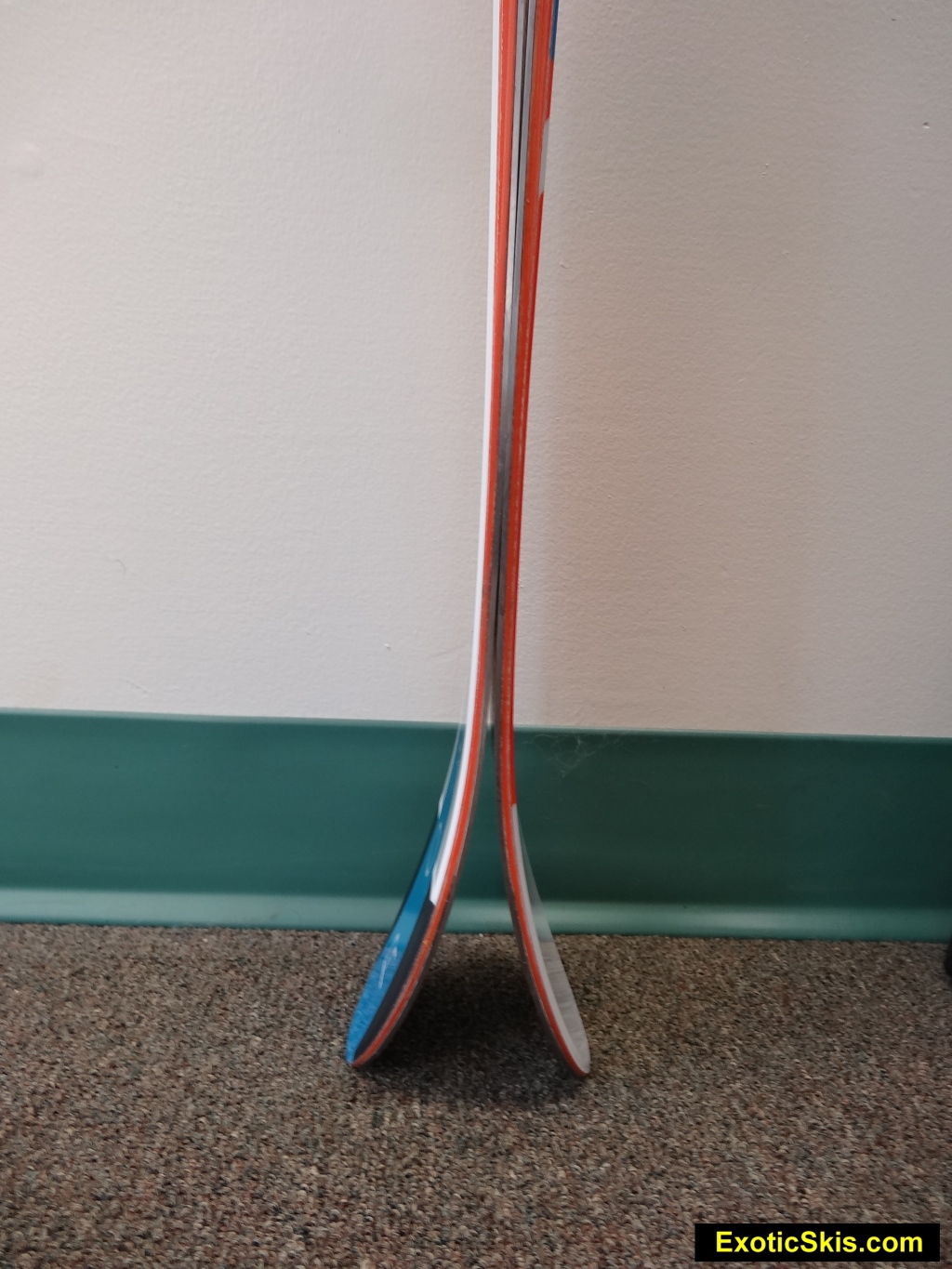 Amplid Rockewell Tails