This is not really a full "review", but more of a preview of the several versions of DPS's new frontside Cassiar skis (and a quick impression of the new Wailer 105) we managed to get time on this season.  Stay tuned for more details next season as we get more time on these models....I know for sure there are plenty of people out there who also got some brief or perhaps extended time on some of these skis.  Personally, I think DPS has injected a new feel into what "frontside ski" can mean to a wide variety of skiers.  Some of the comments are from previous posts we made...so if the language is familiar, it's because we are recycling them into a consolidated post to make chasing down the comments less click-intensive....
DPS's redesigned Cassiar line of frontside-oriented skis should cause other companies to pay attention because these skis are very different from current offerings on the market, and deliver impressively captivating performance with distinctive personalities. For fans and followers of DPS skis, there are lots of new things happening for the coming season, and some of them have nothing to do with their highly-praised off-piste and powder skis. We had a chance to get some time on DPS's frontside lineup for 2014-2015, including the
Cassiar 80SL Pure 3
Cassiar 85 Pure3 (Cassiar 85 Hybrid T2 review coming this season!)
Cassiar 95 Pure 3
Wailer 105 Hybrid T2
DPS is offering an all-new construction option in some models called the "Hybrid T2". This is a response to people who want a ski with a more pronounced mass underfoot, and the feel of metal in the chassis. The new T2 construction blends Titanal, fiberglass and carbon into a strong, damp and serious platform.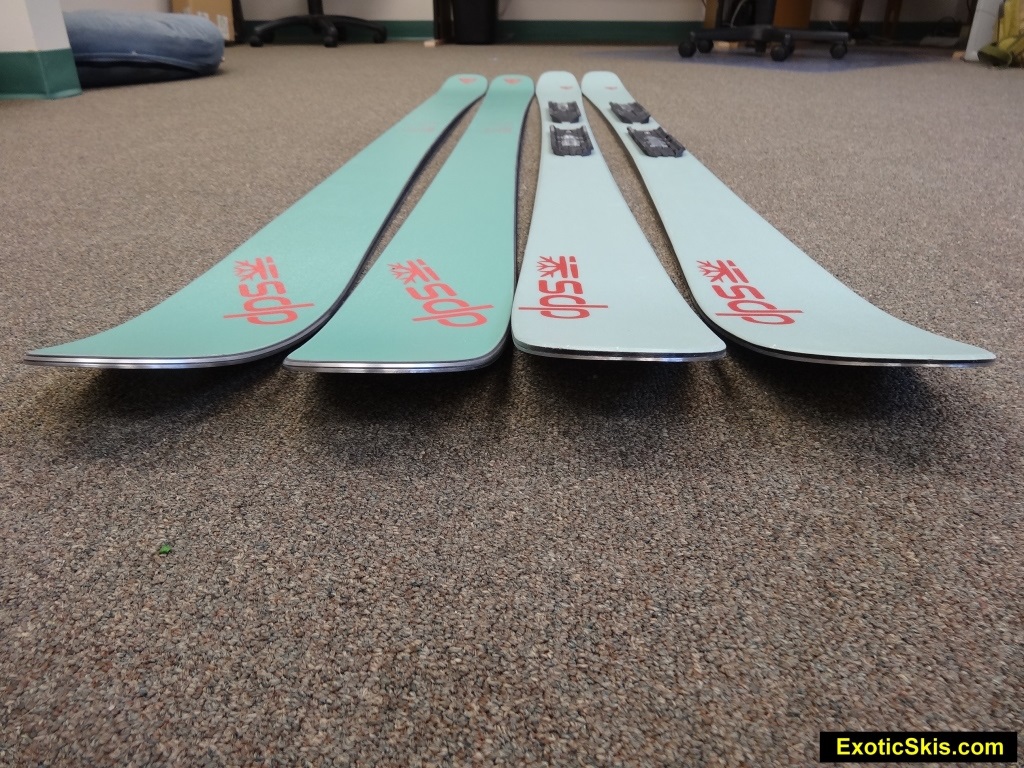 2014-2015 DPS Cassiar 95 Pure3 (left) and Cassiar 85 hybrid T2 (right)
 

DPS Cassiar 80 SL (2014-2015)
Full 80SL Review...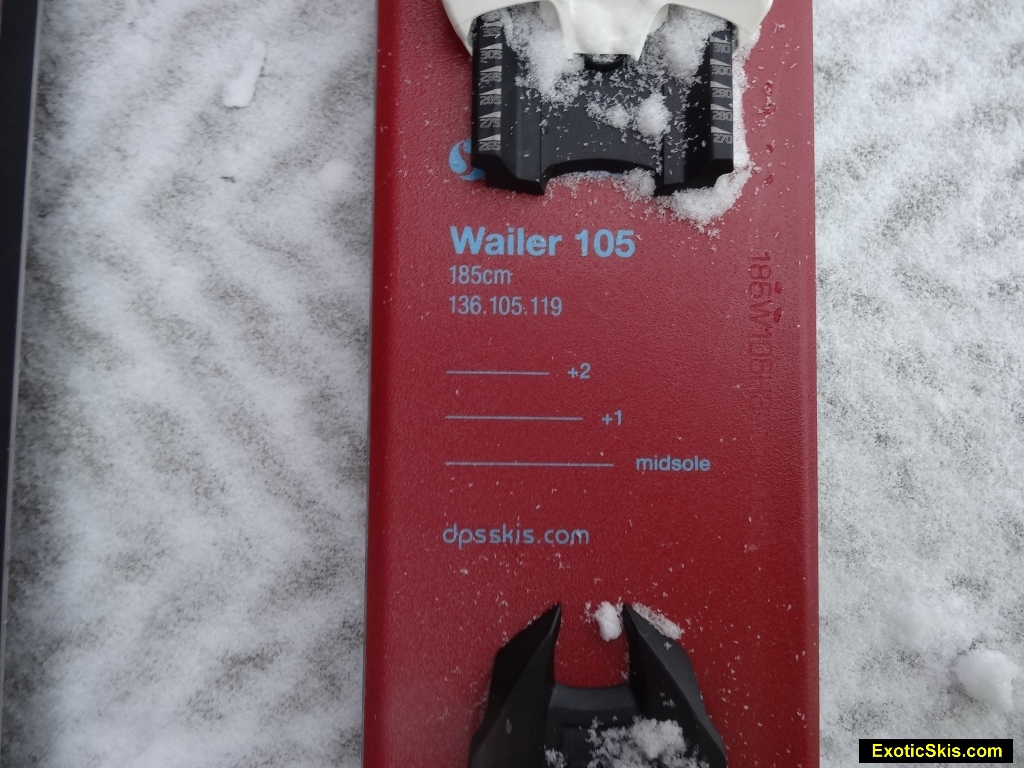 2014-2015 DPS Wailer 105 Hybrid T2
2014-2015 DPS Cassiar & Wailer 105 Prices:
Cassiar 80SL: Pure3 only = $1299 usd
Cassiar 85: Pure3 = $1299, T2 = $949 usd
Cassiar 95 : Pure3 only = $1299 usd
Wailer 105 : Pure3 = $1299, T2 = $949 usd
Quick Background:
Drake Powderworks (now referred to as simply "DPS" http://www.dpsskis.com) has been at the forefront of extreme powder ski designs and high-tech materials engineering since 2002 (when Stephan Drake and Cyrille Boinay founded Drake-Boinay Skis), then formally incorporated later in 2005 when Stephan Drake and engineer Peter Turner joined forces. Pricey, high-tech, and high performance are the hallmarks of these skis which enjoy a sometimes fever-riddled cult following.
Recently, DPS has brought production of their Pure 3 carbon skis entirely into the new Utah production facility, while the hybrid skis are still produced by a high-tech OEM facility in China. DPS has regularly pioneered many shaping and materials advancements in the industry, and continues to produce skis with a distinct and highly unique feel and personality many skiers find irresistibly addicting. 2014-2015 continues this tradition with several new models and material recipes to keep their followers scrambling to refinance their skiing habit centered around DPS's inventions.
Upper half of DPS info card for PURE3 construction.
(That's a pretty bold statement in bold letters...)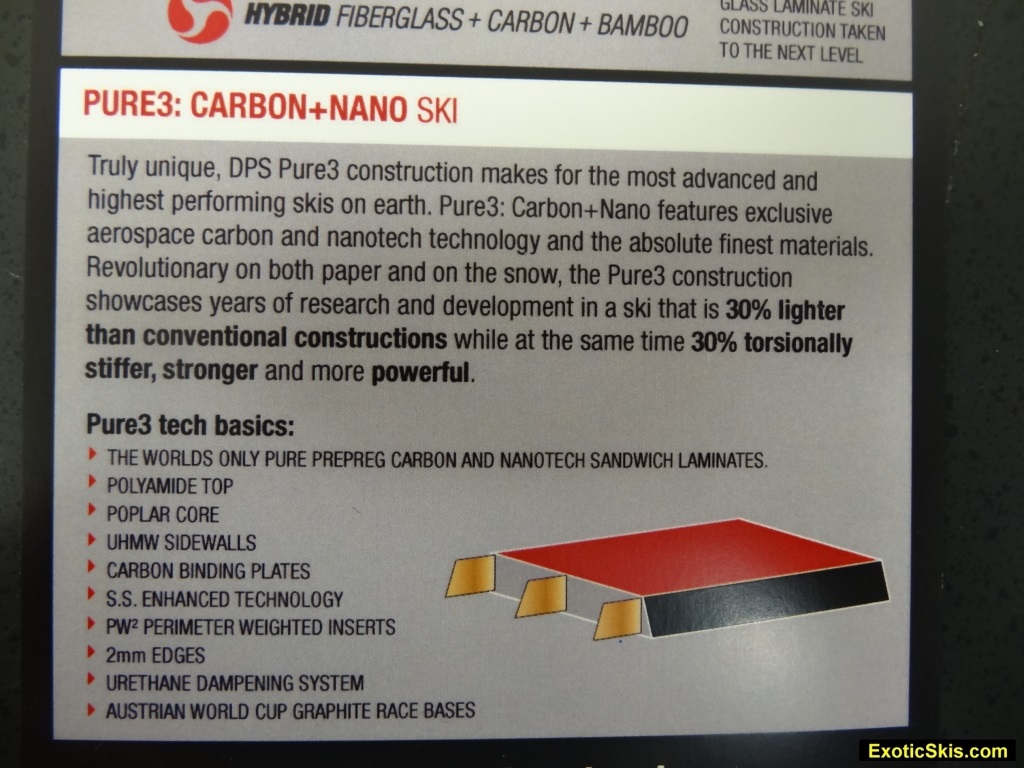 Lower half of DPS info card for PURE3 construction

(Note: the vertical structures shown embedded in the poplar wood core are titanal ribs DPS calls "S.S. Enhanced Technology)
While DPS's bread-and-butter products have been the off-piste and powder-specific Wailer and Lotus skis, they have recently turned their attention to frontside designs with narrower, carvier geometries, cambered profiles and harder-snow flex patterns utilizing many of the same materials and construction principles found in their hybrid and carbon-rich off-piste skis.  DPS skis have always had a trademark "feel" or "personality" completely different than any other ski out there.  Some people (for reasons we don't understand) simply don't "get" the DPS skis.  The feel, feedback, response and handling behaviors are distinctive and different than other skis in the industry.  Some skiers become addicted to the DPS "feel:"...others don't get as excited. Based on our various amounts of time on these new skis, the other companies making frontside skis had better pay close attention to what DPS has created, because in some people's minds, the very notion of how a frontside ski should handle and behave has been disrupted in an exciting and new direction.
DPS has taken their new frontside "Cassiar" series into three distinct zones of width and behaviors (78mm SL, 85mm and 95mm) We have been riding the Cassiar 85 since last Spring and found it to be a stunning all-mountain, high-performance hot rod with a unique personality and feel which should be considered a shot across the bow of every ski company out there. We have also been able to test the Cassiar 80SL (78mm waist - see the formal review) and found it to have a high-octane slalom turn acceleration which will surprise people with its energy and quickness when ridden it its sweet spot – all while having an ethereal weightlessness about it.
2014-2015 DPS Cassiar 85 / Uschi 85
(Pure 3 Construction)
122-85-109 r=15m 168cm,178cm
Pure3 = $1299, T2 = $949 usd
Note: The Cassiar 85 also comes as a Women's model dubbed the "Uschi 85" with "Alcan White" color in 158cm and 168cm lengths which are reportedly getting rave reviews by women and lighter-weight men needing shorter lengths. We did not get on a pair of the Uschis, but stay tuned for next season's reports for updates on this model as soon as we can get a pair on snow.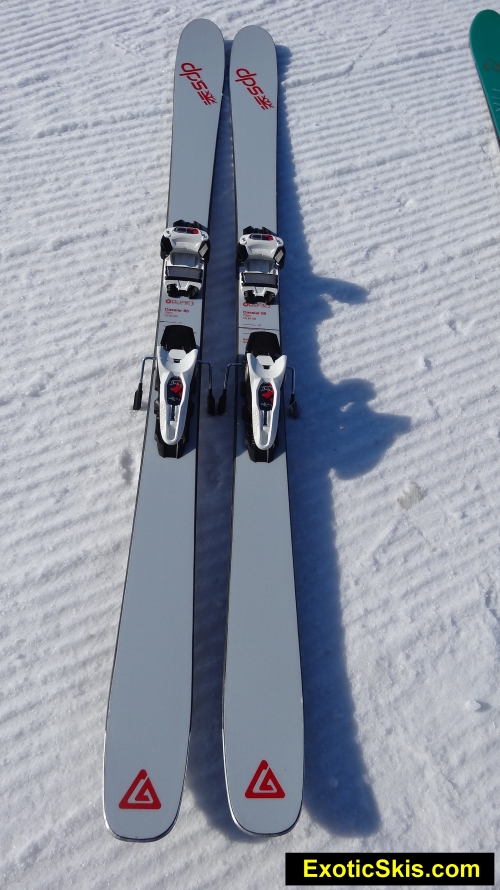 2014-2015 DPS Cassiar 85 Pure3
We think the DPS Cassiar 85 is a powerfully disruptive force in the frontside ski category. We began riding the DPS Cassiar 85 Pure3 late last season as the first production candidates rolled out, and it captivated us by having a completely different feel and turning personality than any other frontside ski we have tested, yet it thoroughly excelled all over the hill, delivering a stunningly wide array of inspiring high performance behaviors on hardpack, soft snow, cut-up snow, bumps, corduroy, transitions...you name it. 
When you look at the Cassiar 85, it doesn't seem radical, yet its shaping, tip profile and resonant carbon "tone" are very unusual when taken together...even "exotic" for a frontside ski category typically dominated by racecarver derivatives or narrowed freeride designs.  The Cassiar 85 Pure3 essentially impressed everyone who rode it, and it was consistently one of the hardest skis to get back from various testers ("lemme just keep it a couple more days.."), no matter what the snow conditions were here in Vermont (boilerplate to packed powder, man-made hardpack to cold, Nor'Easter powder and spring corn).  Out of all the DPS frontside skis, we spent several months on this model, and got it out in every condition you could think of.
Some quick impressions:
Stunningly lightweight (really really)
Innovative shaping
"Carbon ringing" on hard surfaces...they "resonate"
Easy-easy-easy to ski
Somewhat "detached" feel on the hardest, bulletproof surfaces, although they will bite when asked, just not in the way a dedicated SL, GS or racecarver ski will navigate and ride the intensely hard surfaces like a slot-car
Superb turn response and shapes as soon as the snow is sidewall-depth...the ski comes alive when it can engage it's shape along its entire length "in" the snow.
Multiple turn shapes without much effort. Open-ended turn shapes are essentially effortless.
Fun ability to fly along with the edge locked-in, then hockey-scrub/ stivot-pivot sideways to cut speed without fear of high-siding or low-siding
Quiet at high speeds, although the lack of mass underfoot makes the ski feel less "locked-down" like a race or racecarver ski.  This ski is simply very lightweight, so people familiar with a heavy-damp ski will find it unusual.  This is not a race ski, it is very high-performance recreational.
Very fast bases
Excellent edging behavior along its length.
No "explosive" power, just smooth and zingy in both short and long radius arcs.
Balanced.
Wide range of performance...can be skied slow-and-easy for gramps, yet rowdy enthusiasts can crank it up and lay down serious turns at speed with great confidence, having more response than most other all-mountain skis.
The Pure-3 carbon construction with the metal inserts has torsional integrity, pop, zing, dampening and very low mass ("unsprung weight" is minimal...probably one of the lightest all mountain designs we have been on).  Swing-weight is minimal, yet not "missing" (if that makes sense)...feather-weight does not mean "feather-like".
Really addicting turning behavior because of the way it automatically feeds itself into a turn once engaged, and lets you pick-and-choose the shape and radius as you go along.
No tip flap at high speeds - vibrations damped down very well.
Quick edge-to-edge, easy to roll 'em back and forth quickly at speed without quirky behavior or gotcha-moments.
Excellent feedback underfoot.
Boring color (have you heard this before?)
Topsheet does not chip...it merely shows slices if they get hit with an edge.
Full-wrap 360 degree edges (fairly beefy)
Springy and fun if you want, carvy and turny without ever putting you in the back-seat....but if you get the ski loaded and fall back, it will accelerate powerfully so pay attention.
This ski is nothing like the Wailer 99, (which people seem to rave about or just cannot get the hang of...), which has its own distinctive handling traits, so don't really put them in the same boat.  I think the whole philosophy of design and performance behavior between the Wailer 99 and this Cassiar 85 is completely different...even though you might want to compare them back-to-back. The Wailer 99 (for me anyway...your mileage may vary) is more technically demanding, asking the pilot to be precise in executing commands to get the brilliant response it can deliver when driven properly.  The Cassiar 85 is much more forgiving...bordering on "ridiculously easy"...to ski, and seems designed to deliver a wide range of capabilities for an audience with a wide range of aptitudes.  I would put my parents on this ski, and yet I would give it to an ex-racer as well. It can be skied flat and easy, or laid over to dig trenches across the fall-line with hip-dragging angulation.  Fun.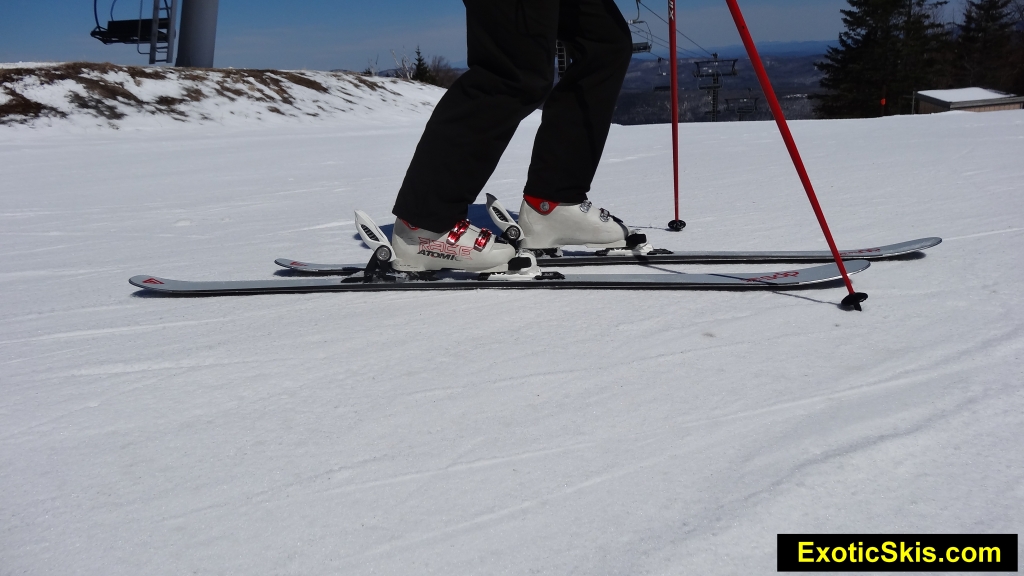 DPS Cassiar 85 showing low tip rise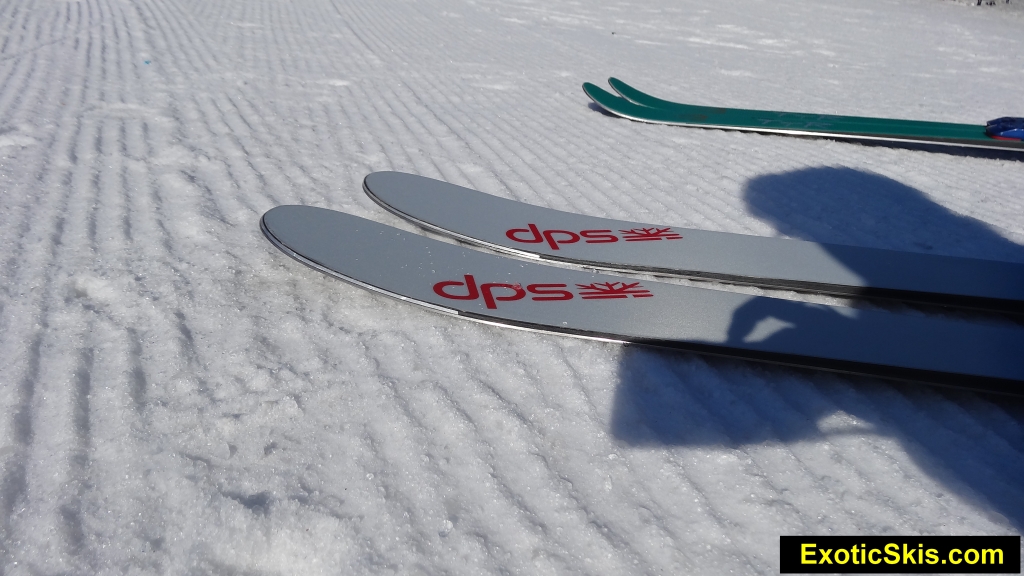 Other Reviews:
Comments from Gliss Attitude (translation from original French by Google):

"DPS Cassiar 85 Pure3:

The Cassiar is downhill skiing DPS. Although we do not expect a priori DPS on this ground, it was interesting for us to see what could make full prepreg carbon construction on a ski track. We especially wanted to also check the construction PURE3 had actually brought a gain comfort by absorbing any vibration. Clearly, the Cassiar 85 is an atypical ski: initially, it is very surprising to see a little unsettling to have such a light foot that releases as much grip on the ski edge. Once the effect of dissipated surprise, we discovered a pretty player with a fairly short radius ski felt. Despite the high level of grip, the transition to drag / dérappé on very smooth, which gives good tolerance to ski. As for comfort, no vibration parasite note: the internal construction elements PURE3 play their role perfectly. If we go to him in the Cassiar 85 reveals a sporty but not explosive: it remains in the extent and never fails. If not careful, the Cassiar however tends to put the skier 'to ass' out of corners when you attack a bit much: the dynamics of skiing is not an empty word ... so in a Sports mode, do not sleep on it! In our opinion, we do not regret a thing about this ski also endearing: Mr. DPS, we remove the rocker, so that the input curve is faster.

DPS Cassiar 85 Hybrid T2

The Cassiar hybrid version is more accessible than his PURE3 release. We found it was easier to find balance. The grip is excellent, and its elasticity makes it very player in turn cut. We just regret spatula effect which could be more marked (low rockered tip skis on track) and allow it to have a more intuitive behavior based speed. Felt the radius is short but speed stability sustained good level.

In the end a fun and endearing ski that makes you want more. "
EpicSki thread:
http://www.epicski.com/t/119641/2014-dps-cassiar-85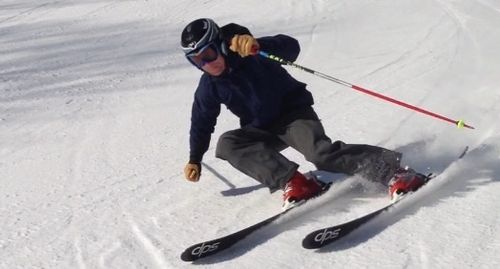 Brian Finch testing the DPS Cassiar 85 Pure3 in Vermont
The 85 handles mixed conditions pretty much without effort, although with a distinctive penchant for frontside terrain and technique...being more directional than a fully rockered all-mountain design.  It rewards a technical skier's input. The Cassiar's light mass can be knocked off course a bit in choppy conditions or snow with crud or baby-heads buried in it, but it feels more like a slight twitch or transmission of pressure rather than a full-blown deflection off-course.  The 85mm waist craves to be pressured and cut through surface types, but if you release the pressure and relax, the Cassiar can give a more slashy, smeary ride in mixed snow conditions...but apply a bit of pressure, and the ski locks back into the surface with impressive confidence and accuracy.  It's almost like having two skis in one...neither one being half-assed about anything.  The low-long tip profile allows more effective edge and engagement up front on harder surfaces, with gradual floatation behavior in soft snow, minimizing some of the hooky behavior you might find with an 85mm ski in deeper snow conditions.  It behaves more like a surgical blade in soft snow than a surfing elf-shoe.
One of the most fun things you can do with the Cassiar 85 Pure3 is float and smear in freeride mode though the 3-D snow off the side of the trails (not like a fat, rockered ski, but better than most other all-mountain designs at 85mm underfoot), then pop back onto the groomers and lay down some hip-dragging racer-mode trenches with fully-arced, high-intensity carves of various radii across the hill. "Versatile" keeps feeling like an understatement every time we say it when describing the Cassiar 85.  It's only 85mm underfoot, so don't expect massive floatation, but the soft-snow handling is fairly impressive.  Since it does not have much camber....being nearly flat along its length...the slash-and-smear ability is always on tap, yet it can carve nearly as hard as a dedicated racecarver when tipped-up and pressured. This just might be our new standard for all-mountain Eastern skis.  We will report on the less-pricey Hybrid T2 version next season when the snow returns!
Conclusion:
A remarkably different and stunningly effective frontside ski with a dual personality of being very easy to move about on the surface of the snow, yet able to carve intense trench-like arcs into packed surfaces.  Huge performance envelope in nearly every type of snow condition.  Impressed everyone who rode it.

Pros:
Huge range of very high performance on hard and soft surfaces. Requires very little input from the pilot.  Very light. Very fun. Very easy when you want it to be. Very intense when you want it to be.

Cons:
Price is steep, but you get what you pay for. Very light weight might feel odd to skiers addicted to heavy-feeling, damp skis.  Somewhat bland topsheet color and design...but it grows on you.
2014-2015 DPS Cassiar 95
(Pure3 Construction)
129-95-116 178cm, 185cm
Pure3 only  = $1299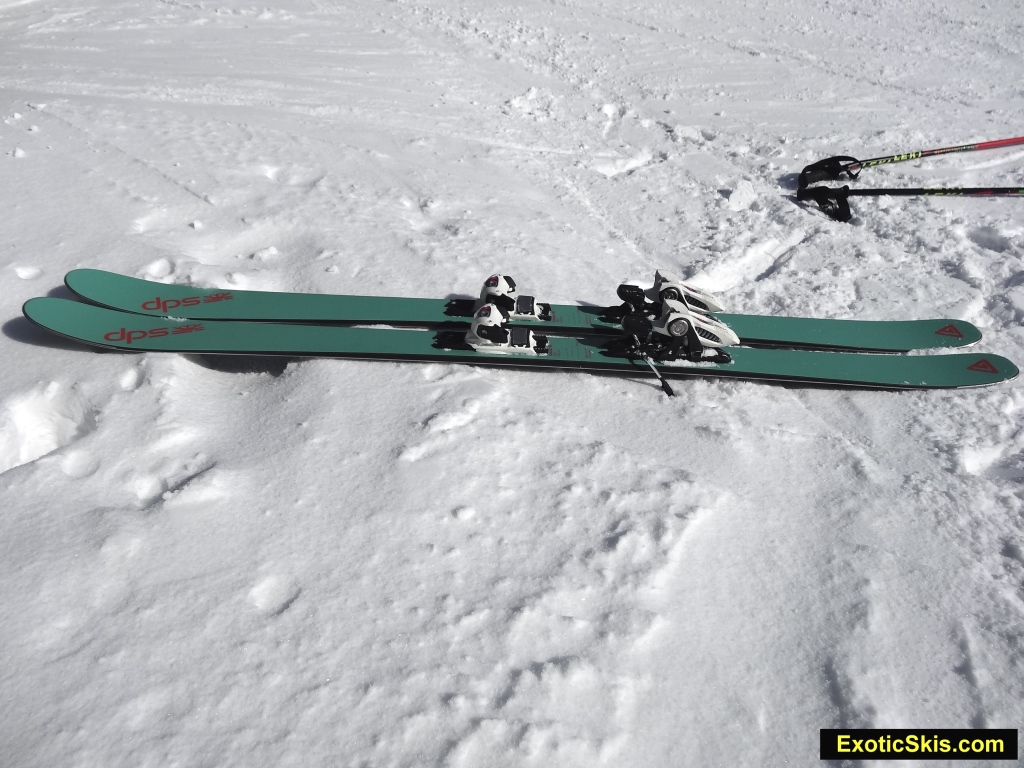 DPS Cassiar 95 Pure 3
 
This wider, 95mm waist model takes the Cassiar 85 and scales It up for more surface area in a wider platform and offers a more GS-like feel and increased floating and stability capabilities. The result is one of the most addicting skis tested this season.  The choice between the Cassiar 85 and Cassiar 95 for a "nearly do-it-all" daily-driver might be harder than people think once they ride both skis.  This is one of those skis that made me giddy and immediately check how much room I had left on my credit card.  That's a bad thing.
We only managed to get a few days on the new Cassiar 95 Pure 3 before the season ended here in Vermont, so these impressions are not based on weeks and weeks of experience in different conditions, but the time we had was high-quality, mixing perfect hardpacked powder, powder conditions mid-season and even some Spring corn harvesting in April. Its somewhat surgical accuracy in its wider platform makes it a slightly more technically-oriented ski with less-forgiving nature than the Cassiar 85.  You would think a wider ski would be a bt more floating and forgiving, but we found the 95mm version just the opposite.  More testing time in more types of conditions may change our opinion about this..so stay tuned.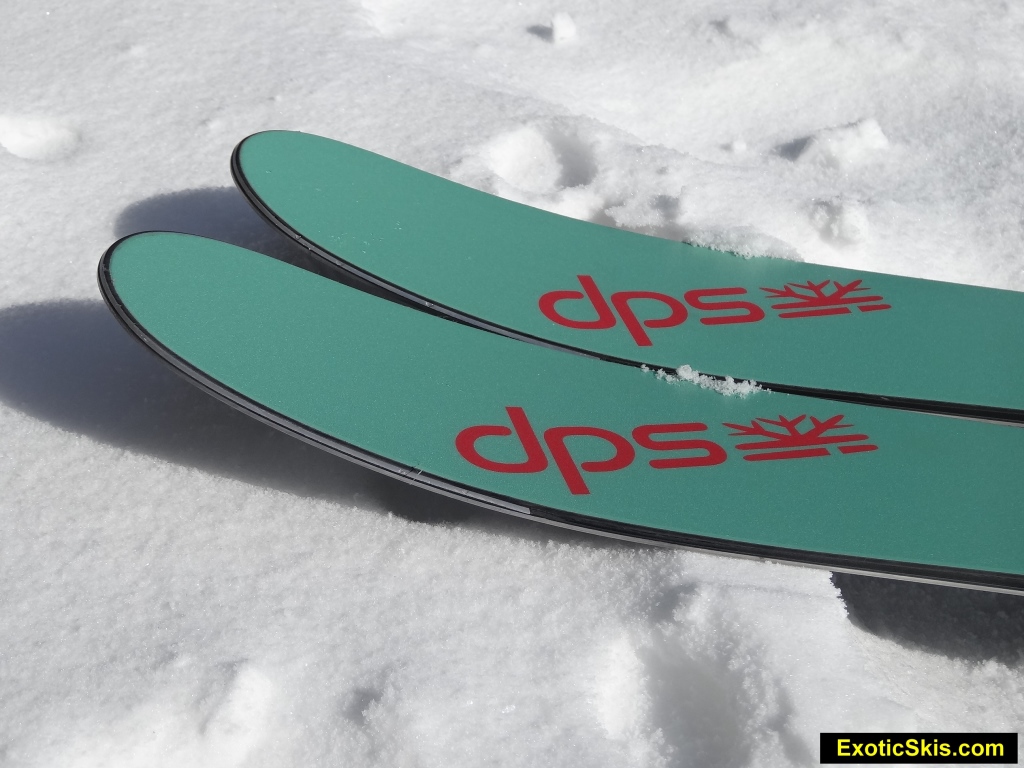 Cassiar 95 low tip profile
First off, the DPS Cassiar 95 can rip trenches into packed powder surfaces like a GS racecarver when rolled over and pressured. The distinctive DPS shaping really generates an addictive turn shape and turn initiation experience you won't find elsewhere (exactly like the little brother Cassiar 85). There are plenty of effective skis capable of carving arcs around 95mm waist widths, but the new DPS Cassiar 95 has a unique flavor and personality which seems to pull you into the turn and finishes it for you, delivering the level of intensity you select from a very wide performance envelope. "Addicting" is the best way to describe it. The new generation Pure3 construction produces a lightweight chassis with superb torsional strength and power without the traditional feel and mass of racelike ski with similar hold and arcing characteristics.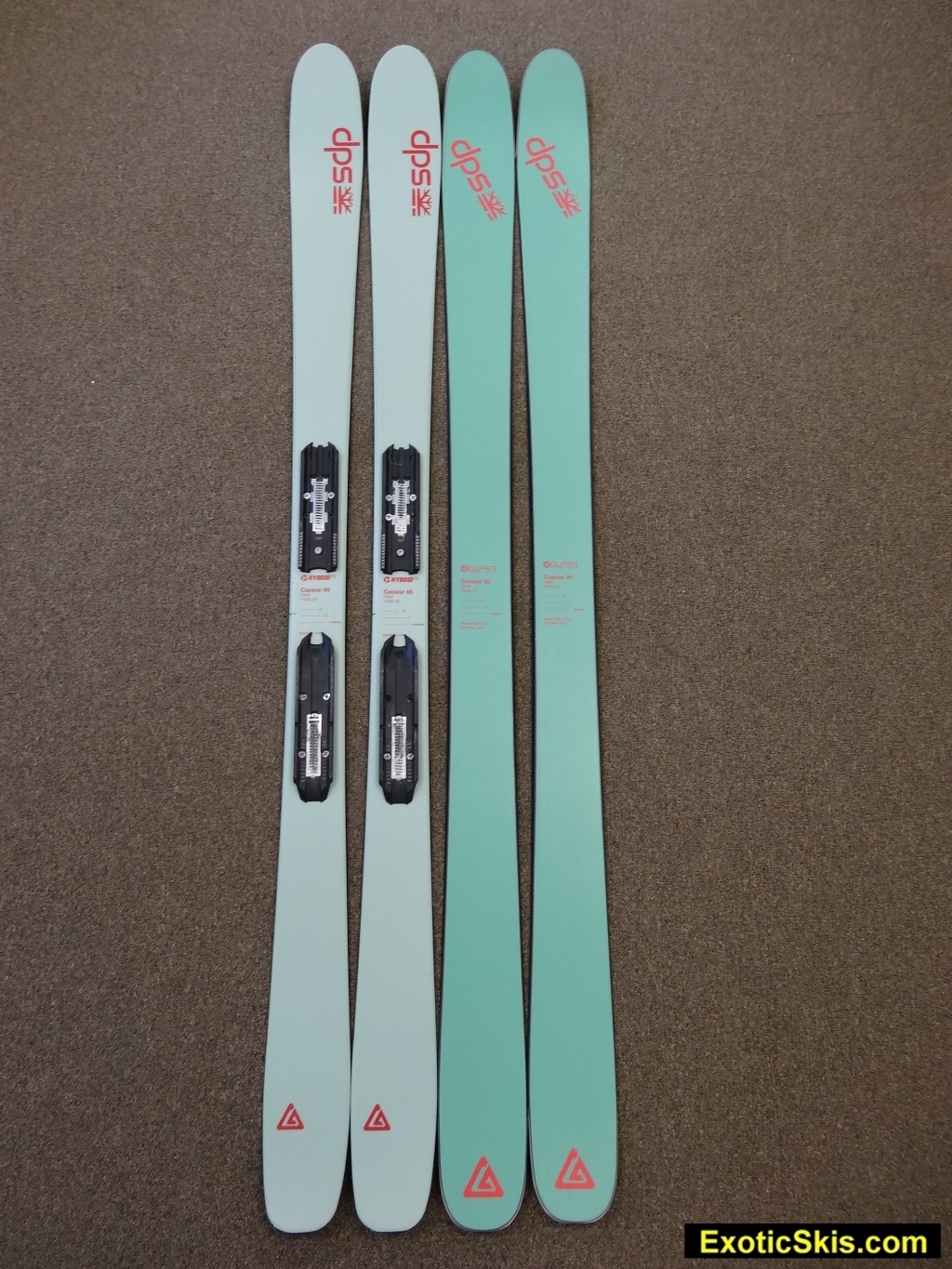 DPS Cassiar 85 Hybrid T2 (left) - Cassiar 95 Pure3 (right)
The DPS formula delivers a ski with unusual grip and security along the entire engaged edge, with fun acceleration power when loaded and released...all while feeling almost unnaturally lightweight. Vibrations are damped really well until you get to the out-of-bounds speed limit of the ski (which is fairly high), and then only produces a slight fluttery feel in the very tip, but never along the midbody or tail section. Your first few turns on the DPS Cassiar 95 might undue years of conventional expectations about how a ski with these dimensions and lightweight feel can perform on snow. Where the Cassiar 95 really shines is in mixed conditions, where you can slice or surf your way through variable snowpack densities and depths at will, picking your style. Slice under a hardpressured turn? No problem. Surf the top, pivoting in a slippery pattern back and forth? No problem. Take on cut-up, skied-out surfaces head-on? No problem.
Like its sibling, the Cassiar 95, this ski is nothing like the Wailer 99, (which people seem to rave about or just cannot get the hang of...), which has its own distinctive handling traits, so don't really put them in the same boat.  I think the whole philosophy of design and performance behavior between the Wailer 99 and this Cassiar 95 is completely different...even though you might want to compare them back-to-back. The Wailer 99 (for me anyway...your mileage may vary) is more technically demanding, asking the pilot to be precise in executing commands to get the brilliant response it can deliver when driven properly.  The Cassiar 95 is much more forgiving with a wider range of tolerance in various conditions.
Powder surfaces are easy and fun with the Cassiar 95, with it delivering a more directional, cutting-like behavior than its more rockered siblings in the Wailer family (Wailer 99 and 112 – an exception being the new Wailer 105 reviewed later in this report). The long, progressive forebody of the Cassiar 95 lets it cut through crud with authority, only seeing a bit of deflection or hyper-turny episodes at the highest speeds due to its lightweight nature (some people crave a heavier, more mass-obvious ski in crud...and for good reason). The "deflection" felt at higher  speeds in crud is really more of a turny response than being thrown off-line since the Cassiar has a tight radius by nature, and plenty of surface area up front. This is a very responsive ski, so pay attention as your speed increases. This behavior also makes it exciting and fun to ride.
I was really impressed with how DPS has taken the remarkable Cassiar 85 and scaled its personality up to 95mm width while retaining the frontside carving prowess and multi-surface capabilities in the larger chassis. The beauty of the Cassiar 95 is its ability to deliver a huge bandwith of performance at very high levels – not just a couple of things really well. We will be asking for more testing time on this exciting ski this coming season.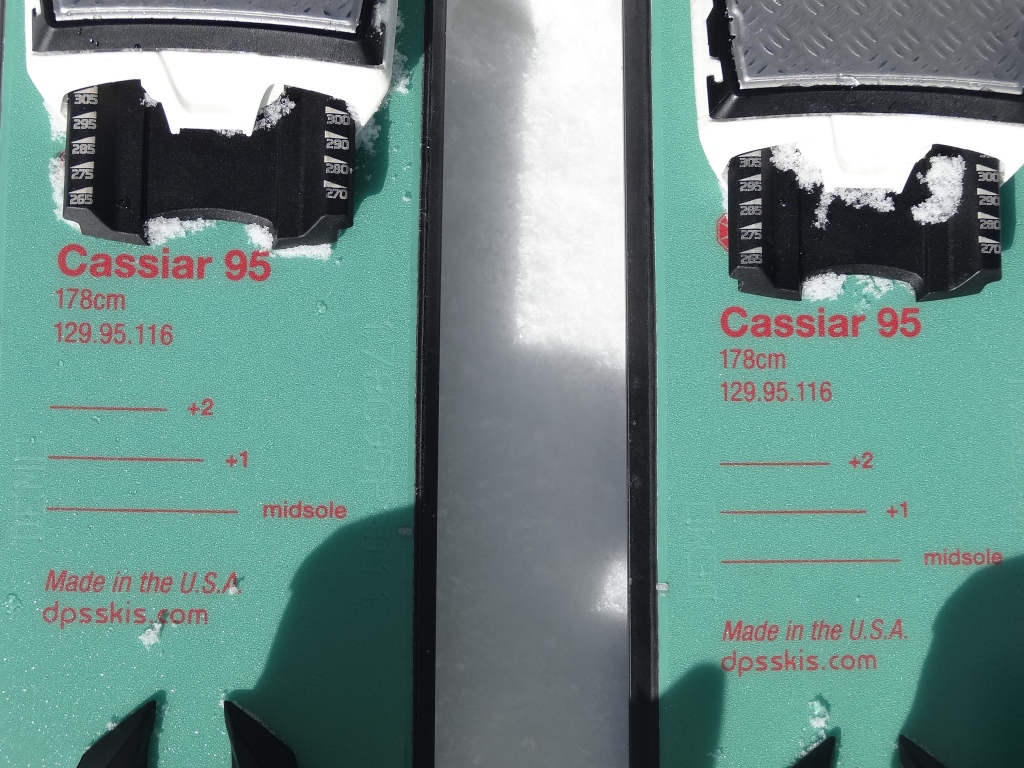 Conclusion:
A new all-mountain, frontside-oriented ski with an addictive personality and very high performance which will appeal to a huge audience like free beer at a rock and roll concert. One of the best multi-condition all-mountain skis tested. Could be an awesome daily driver for western frontside conditions or Eastern conditions for people who want a wider-than 85mm platform.
Pros:
Wide range of very high performance across many surface types, providing carving, "stivoting" and even a floating behavior with an addicting turn initiation and completion. Like the Cassiar 85, it has a personality unlike other skis in this category. Superb multi-condition ski.
Cons:
Pricey, likely to sell out early in the season. Somewhat bland topsheet color and design...but it grows on you.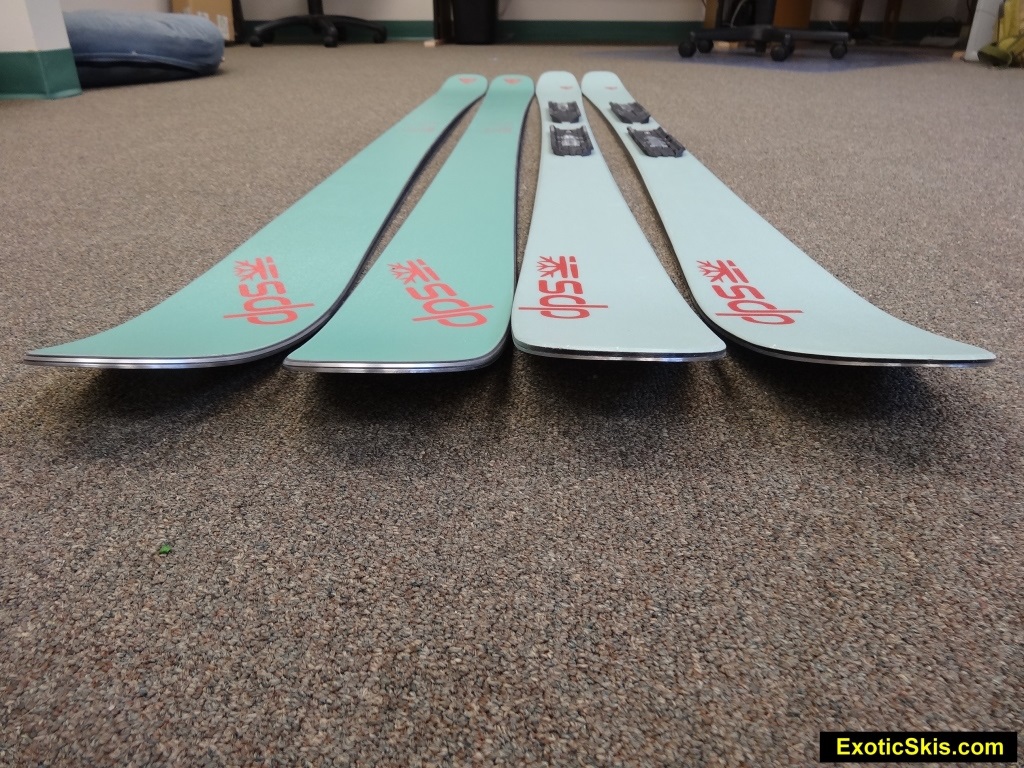 DPS Cassiar 95 Pure3 (left) and Cassiar 85 Hybrid T2 (right)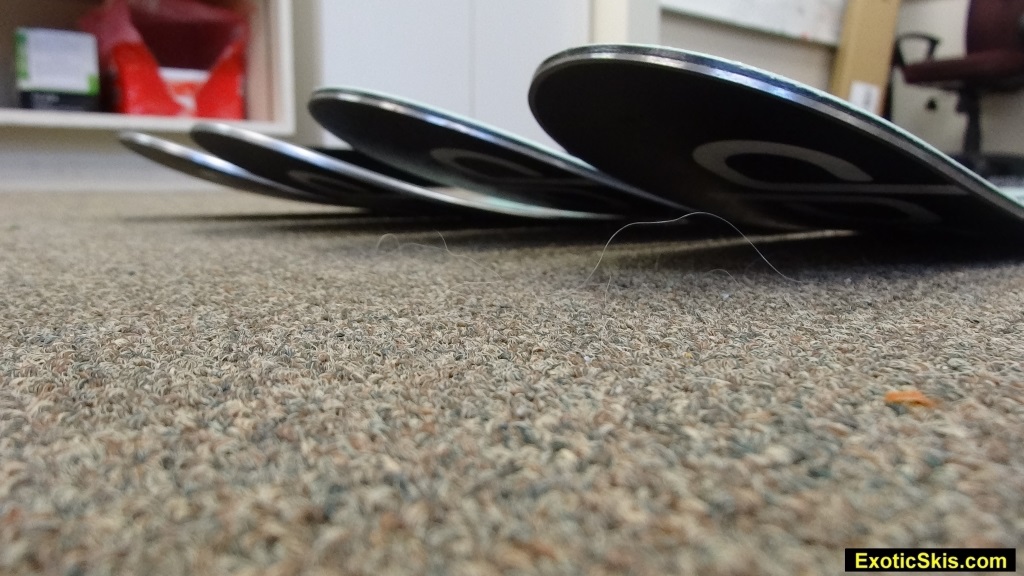 Cassiar 85  and 95 tip profiles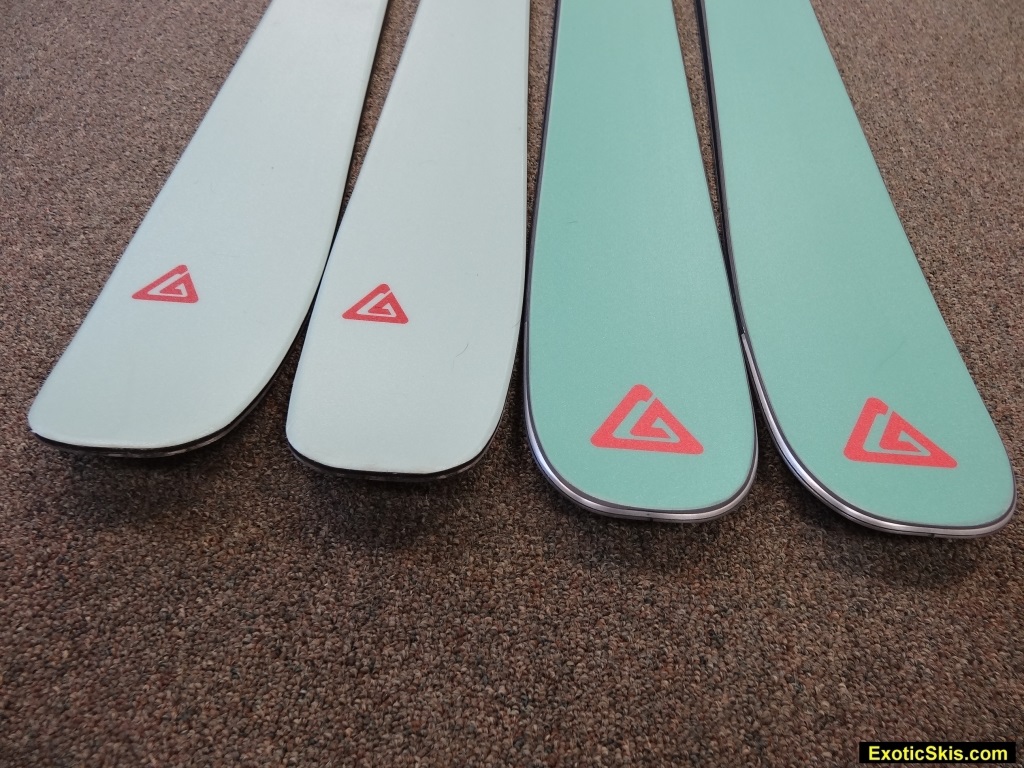 Cassiar 85 (L) and 95 (R) tails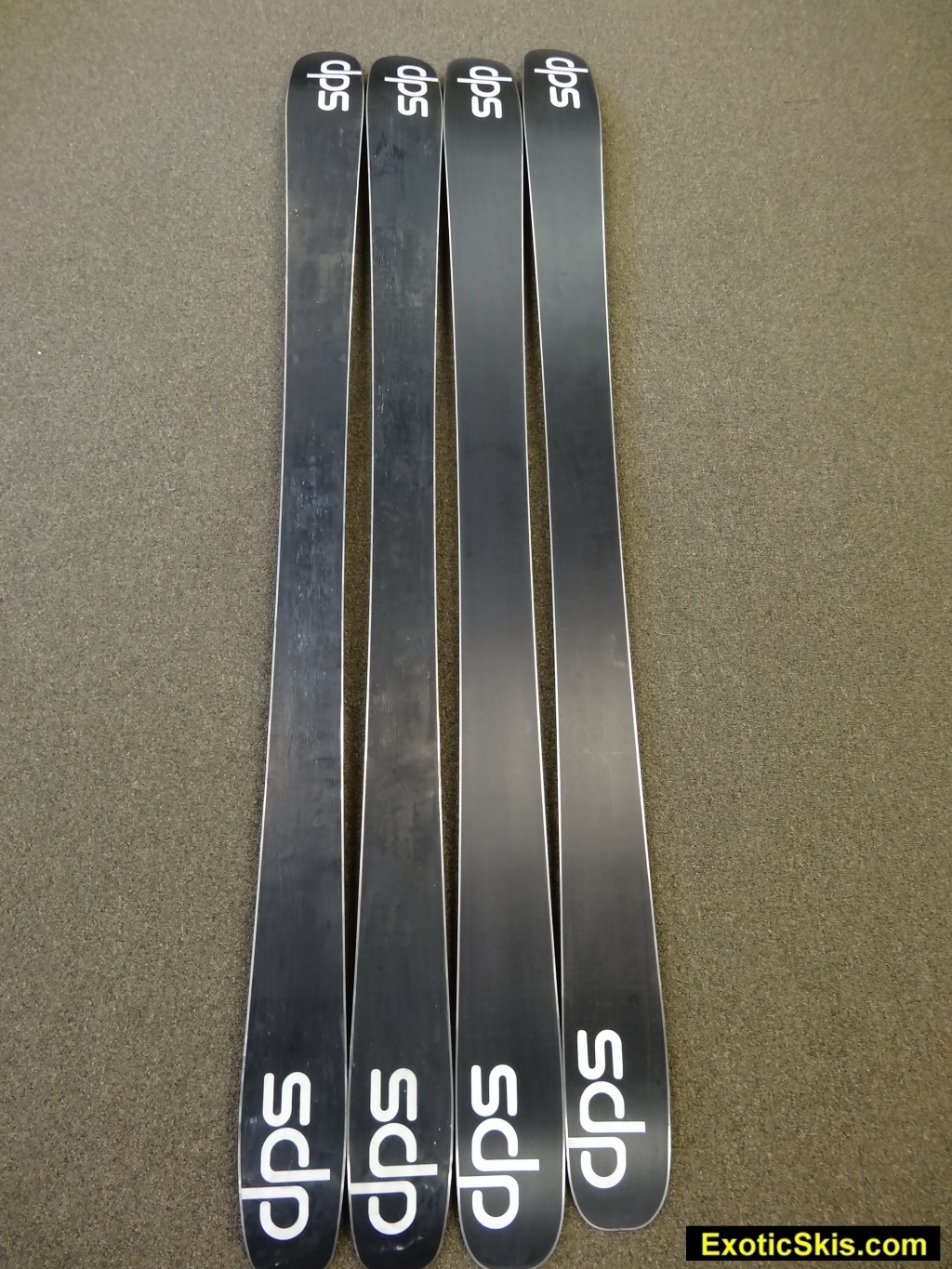 Cassiar 85 (L) and 95 (R)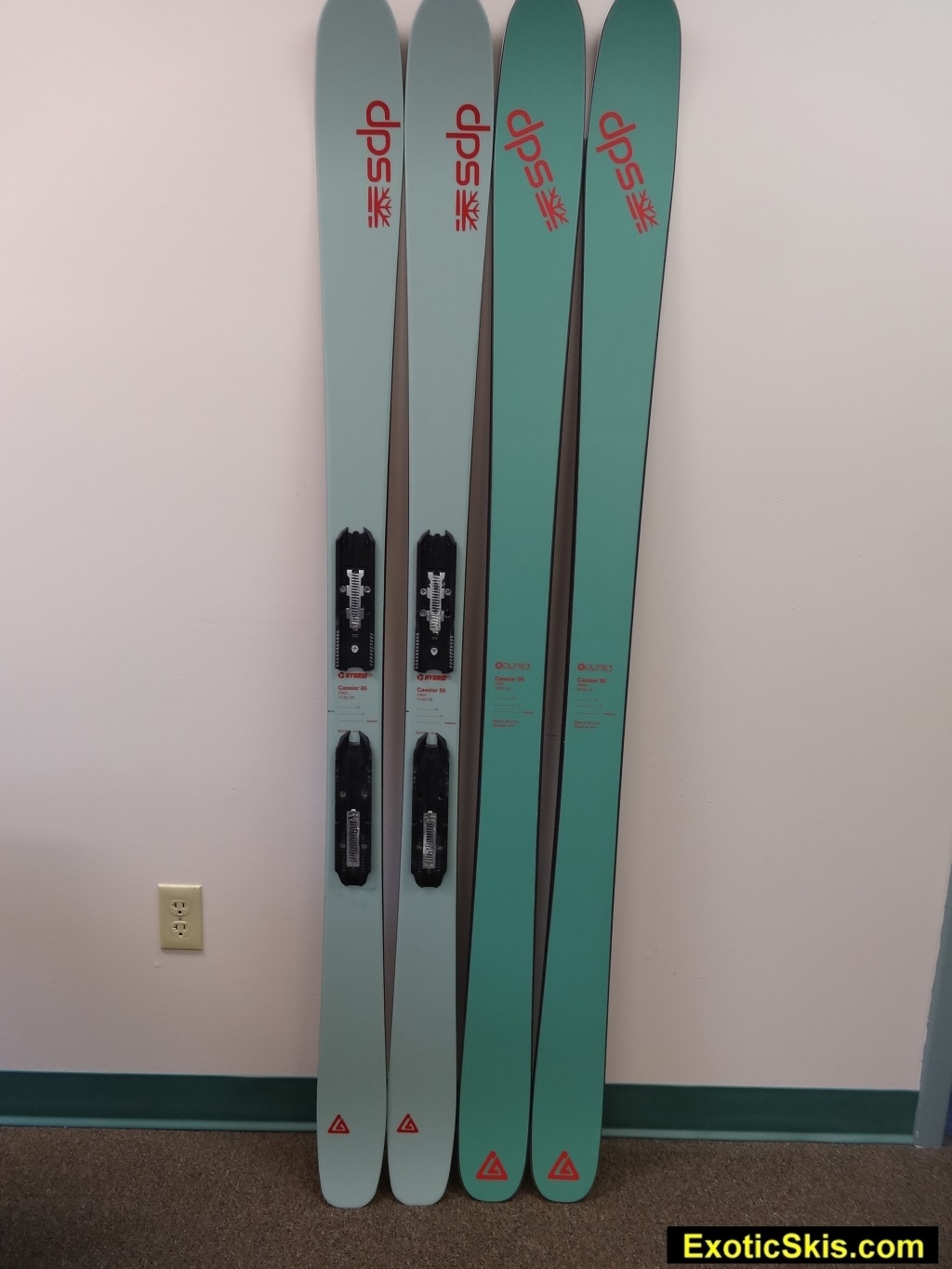 Cassiar 85 (L)and 95 (R)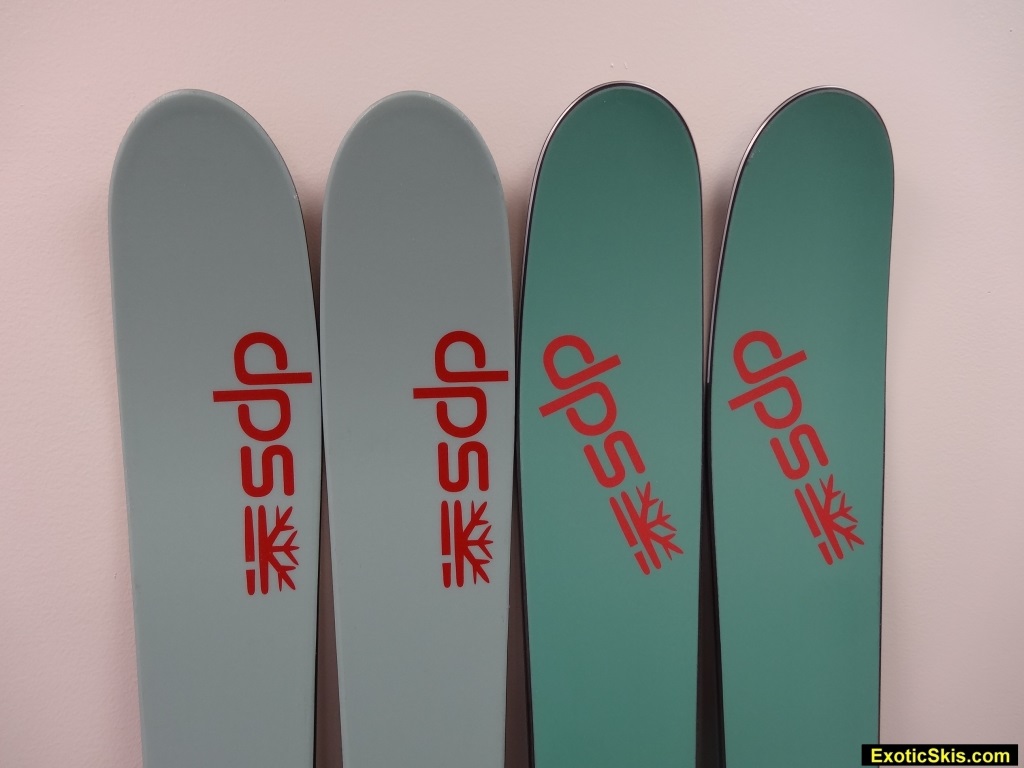 Cassiar 85 (L) and 95 (R) tips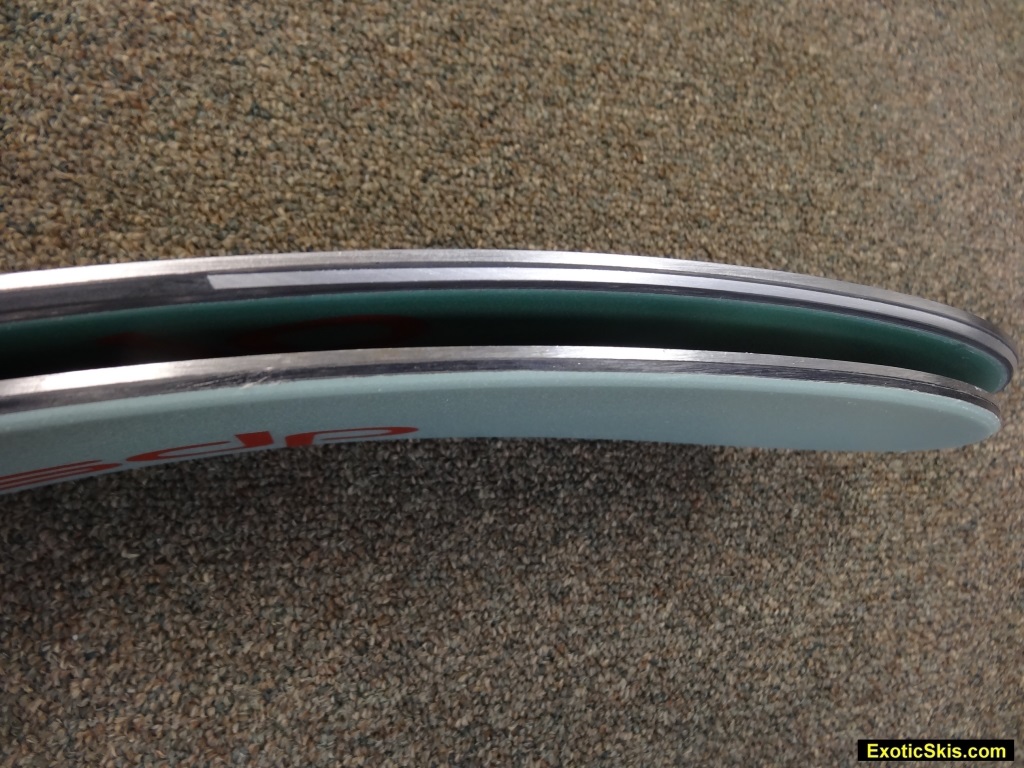 Cassiar 95 Pure3 (top) and 85 Hybrid T2 (bottom) tips
(Note the titanal tip insert on the Pure3)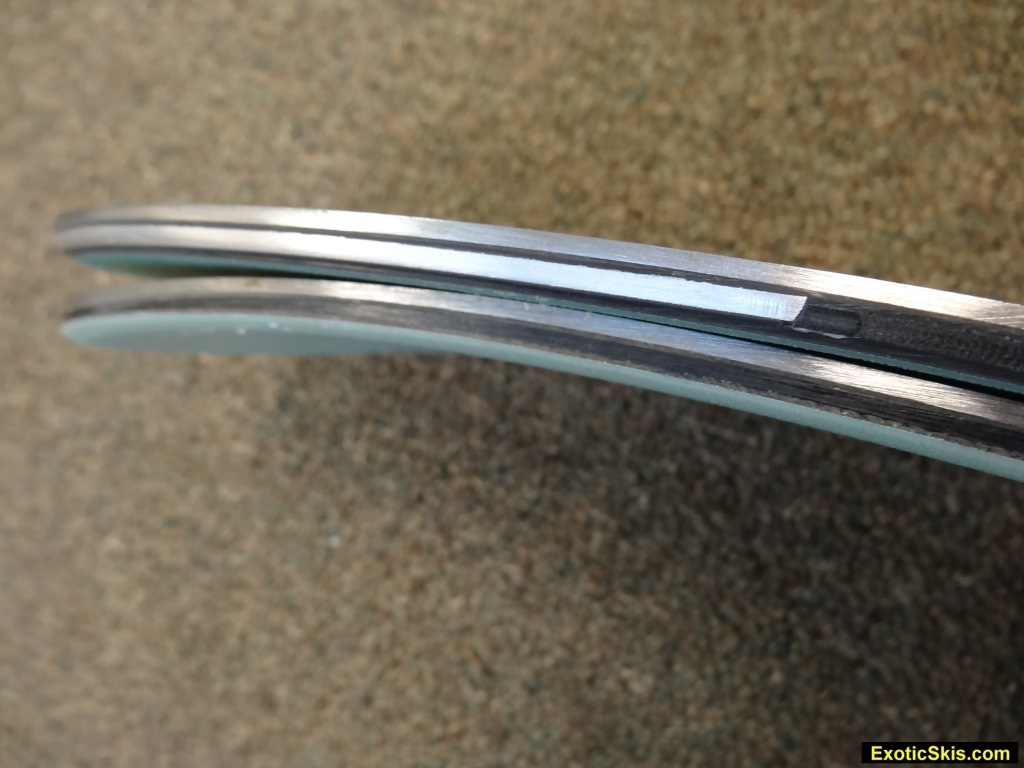 Cassiar 95 Pure3 (top) and 85 Hybrid T2 (bottom) tails
(Note the titanal insert on the Pure3)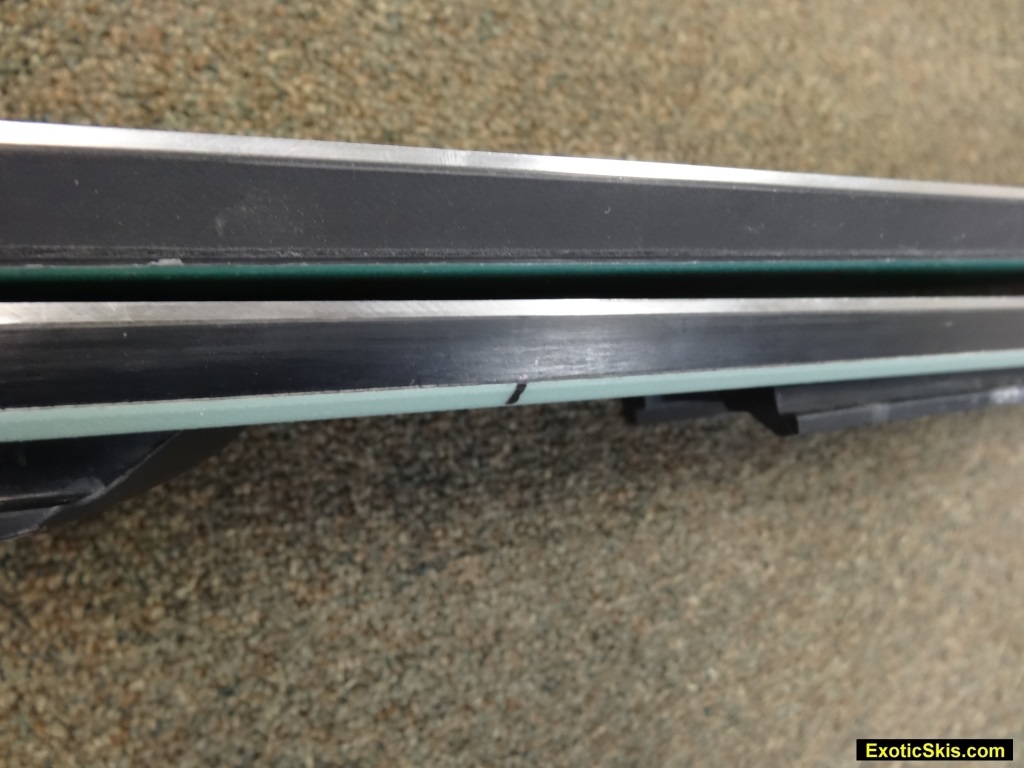 Cassiar 95 Pure3 (top) and 85 Hybrid T2 midbodies
2014-2015 DPS Wailer 105
(T2 Construction)
136-105-119 178cm, 185cm
Pure3 = $1299, T2 = $949 usd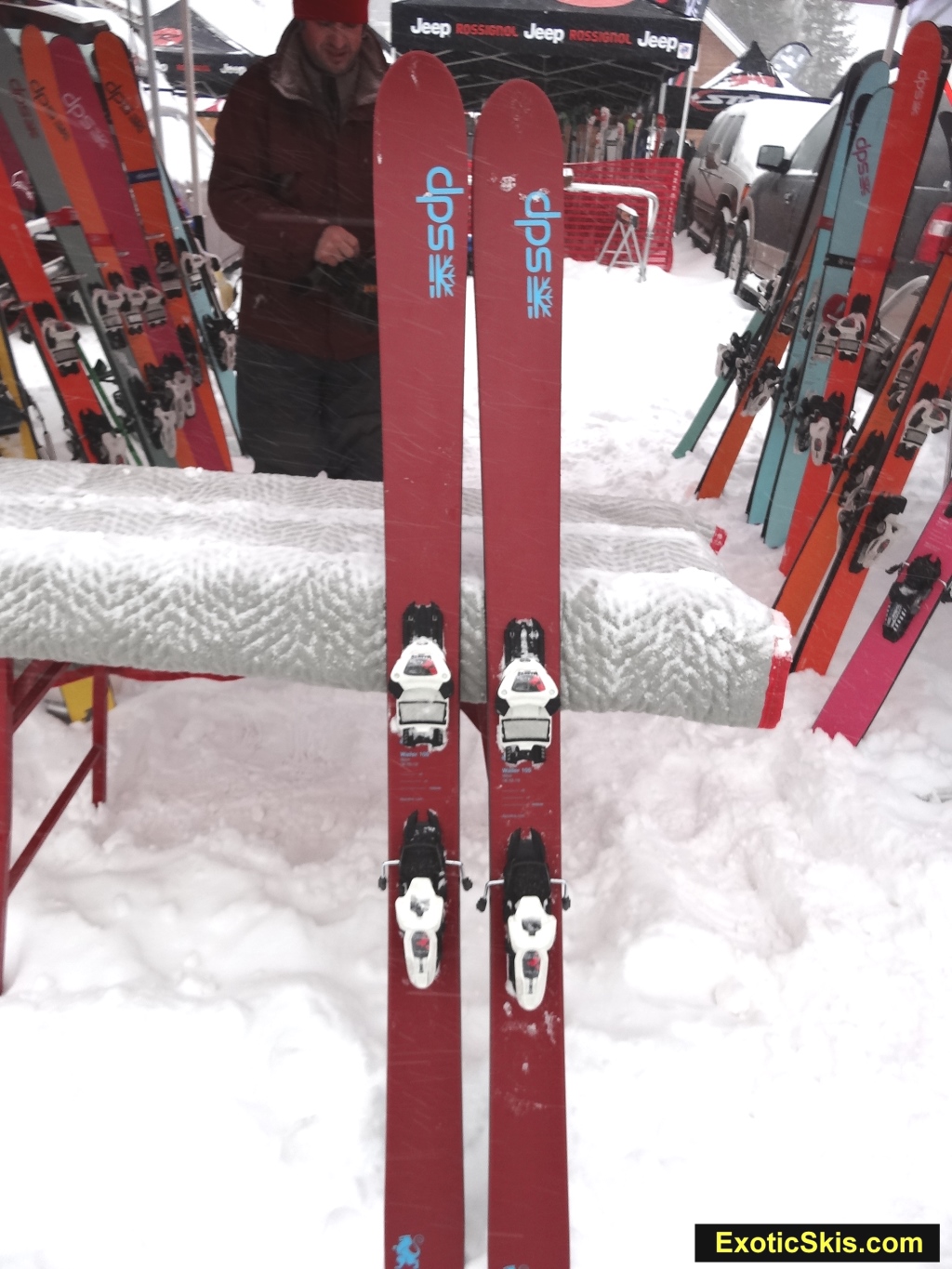 The Wailer 105 T2 is a heavy-metal freight train compared to most models in the DPS lineup. Just picking up a pair of these skis tells you they are heavier, damper and stronger than other skis DPS produces with similar dimensions.
The reborn DPS Wailer 105 in Hybrid T2 construction is nothing like the previous models retired a few seasons ago so the folks at DPS could concentrate on the new new Wailer, Spoon and spoon-infused Lotus models.  This ski is strong, stiff-feeling, powerful and intended for technical experts or heavier, stronger skiers. It likes to be driven forward aggressively.
We only managed to get a single day on the new Wailer 105, but we had a great mix of cold, hard snow and fresh powder to play in for a quick impression. The hand flex is stout and strong and you get the immediate impression they want speed and athletic input to show off their best traits. The sidecut geometry is subtle and early rise tip minimal, with a bit of camber underfoot and a flat tail. The first couple turns confirmed what the hand inspection indicated: power these skis and pay attention to where you are pointing them. I got runs in about 10 inches of fresh snow, where they actually floated  on top very nicely and produced a nearly-surfy, but never "eager" feel once you got them up to planing speed. Below planing speed, they felt true-to-length and somewhat planky, then came alive above certain speeds (depending on the surface conditions) and rose up to the top surface layers. The faster you go, the more lively and responsive they get. When the fresh snow had gotten cut up, skied out and varied, the Wailer 105 showed it is a crud-cutting tool for charging-type skiers who want a damp, strong ski to hold a specified line throughout an arc at speed.
Edge power was 100% reliable and strong as you wanted, with no real breaking point. Pressure and hold it....making as intense a turn as you want..it sets into the surface and stays put. The more you do this, the faster you want to go until you realize you are moving faster than you expect and feel completely secure underfoot. No deflection. No wobble, No deviations....just holding the line. If you load up the Wailer 105 (this can take some effort unless you use momentum and centrifugal force to generate the pressure you want...use your weight and movement...not muscle power) and release it, you get a very powerful, direct and impressive acceleration into your next turn. Just make sure you don't get in the back seat, and definitely pay attention to your ski placement for the next turn, because you can get this ski to project you across the terrain with plenty of force.  It can feel a bit stiff and rough at times in chop and bumps, but that's the tradeoff for its crud-cutting prowess.
Hardpack hold was superb, with very strong torsional integrity under pressure. It prefers a more GS-like line hold on hardpack, rather than a more turny radius behavior like the Cassiar 95. You can essentially ignore changes in surface conditions along your trajectory with the Wailer 105 Hybrid T2. Point it and go. As long as you have the piloting skills and physical conditioning to hold it into its sweet spot (slightly flexed and under power), you will feel a thoroughbred underfoot. Faster is better. The more athletic the pilot, the more performance you get out of this new Wailer 105. While the Wailer 99 or 112 can be found to be surfy, fun, spunky and lively with great edging ability when engaged, the Wailer 105 is the serious, businesslike, more directional, charging-type of ski you might want in a freeride competition, depending on the terrain. 
No real surfy, slashy behavior is found in the Wailer 105 Hybrid T2.  It almost feels like a traditional, old-school straight ski with more exotic power on tap and an unwaivering edge hold...perhaps exactly what big-line, hard-charging skiers might want.  The last thing you want on big lines at high speed is a twitchy, over-eager ski underfoot.  The Wailer 105 is rock-solid, true-to-line reliable locomotive under power, and very addicting if you like that kind of ride.  "Confidence-inspiring" is an understatement, as long as you are confident with high-speed, high-power situations and have the chops to keep this hot rod in its preferred performance zone. 
Definitely get a demo ride on a pair to find out if the Wailer 105 has the personality you are looking for. It is a welcome addition to the DPS line for people who want a powerful, damp feel in a more directional ski with all the traditional response and high performance DPS is known for. Skiers who thought the traditional DPS "feel" was too light, loose or active for their taste should get a ride on the new Wailer 105 in T2 construction. It will change their minds about how a DPS can feel underfoot...just like the Wailer 112 RPC did.  Some might find it stiff-feeling or unfriendly unless they keep the power on it.  You definitely won't fold the Wailer 105 up in crud, no matter how hard you ski it.
Other Reviews:
Teton Gravity Thread:
http://www.tetongravity.com/forums/showthread.php/273993-Review-2014-2015-DPS-Wailer-105-185cm
Conclusion:
The Wailer 105 is the metal-flavored freight train holding the widest waist in the T2 lineup for next year, and gives strong, directional-oriented skiers a solid platform to pound through nearly any condition with unwaivering integrity and power.  A 105mm rail, not a surfboard.
Pros:
Superbly solid, reliable, damp and powerful. Surface conditions don't matter. Loves speed. This ski will be a drug for speed addicts.
Cons:
Pricey. Don't look for a surfy-slashy ride here. A bit stiff feeling and harsh if you don't keep the power on. Eat your Wheaties.