Product:
RAMP Sports Frenzy 2013-2014
Length Tested: 169cm
Dimensions/Turn Radius:  126-80-110 14.9m radius @ 169cm
Camber: Traditional Camber
Binding: Demo
Mount point: Suggested

Environment & Conditions:
Location of Test: Vermont and New Hanpshire
Number of Runs: Dozens over several weeks
Snow Conditions: Powder (shin-to-knee deep), packed powder, hardpack, boilerplate, crud, bumps, groomers, skied-out powder, windpack, crust
Demo or Own: Demo
Tester Info:
Username: ExoticSkis
Age: 54
Height/Weight: 5' 11" 190lbs
Ski Days/Season: varies - usually lots
Years Skiing: 52
Aggressiveness: Aggressive(Driver)
Current Quiver: Edelwiser Speed, IDOne TTR and TTM, Anton UFOria XA and Carbon EX, Palmer P02, Romp 100, Praxis Concept, SkiLogik Frontside Burner, Occam Razor, Rockstar, DPS Wailer 112RP..etc.
Home Area: Vermont
Preferred Terrain (groomers, off-piste, trees)
2013-2014 RAMP Sports Frenzy
126-80-110 14.9m radius @ 169cm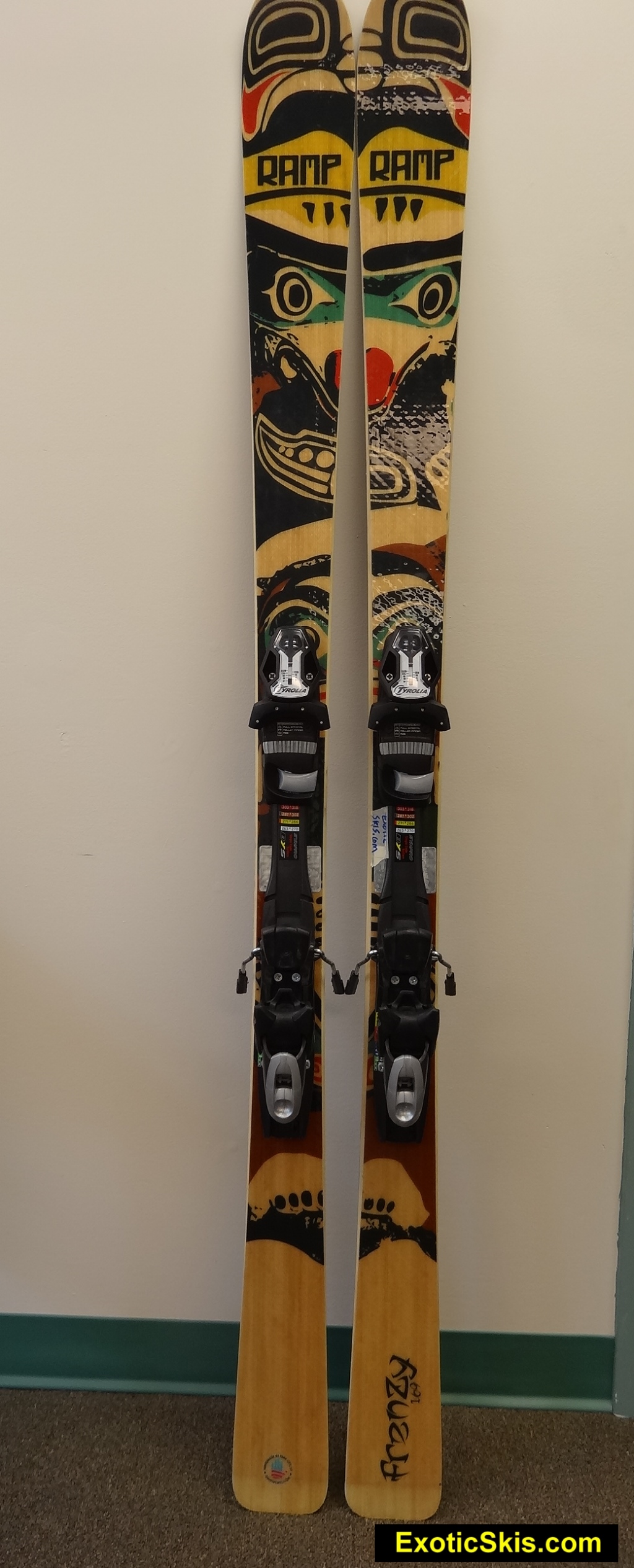 Manufacturer Info:


RAMP Sports
6407 Business Park Loop Road,
Park City, Utah, 84098
888-406-0567888-406-0567888-406-0567888-406-0567888-406-0567888-406-0567888-406-0567888-406-0567
http://www.RampSports.com

Suggested Retail Price (MSRP 2013-2014 pricing):

$619 usd
$759 usd with Tyrolia Attack13 bindings and carbon poles
$879 usd with Tyrolia Peak15 bindings, Tyrolia Speedplate and carbon poles
$919 usd with custom topsheet design

Usage Class:

Frontside Carving

Background:

Mike Kilchenstein and his family started RAMP Sports after Mike had spent three decades working in all aspects of the ski industry, including many years at Rossignol and the Roxy Alpine Division. His dream was to create a rider-oriented ski and snowboard company with more sustainable and eco-sensitive manufacturing processes and materials, all while making the skis more affordable and high-performance.  RAMP sports was essentially born in 2010 by outsourcing the produciton of original designs until 2012 when a new factory headquarters was built in Park City, Utah to produce their products in the United States.  Since then, RAMP has won numerous industry awards and attention for its designs and business practices and become one of the success stories of startup ski companies.  Agressive pricing, rapid prototyping R&D, grass-roots on-line and retailer marketing has brought RAMP onto the radar as a very interesting and active ski and snowboard company branching out into other products as well.

Rating (with comments):
(1="get me off these things"->10="I have to own a pair")

9+ for non-racing hardpack carving
7+ for mixed conditions
8+ for bumps

Ski Designer(s):

RAMP Sports

Manufacturer's Description:

"Don't fight the frenzy. The mere mention of virgin corduroy or icy hardpack makes you hot and bothered with wild excitement. Take a fast-paced ride down the hill, or show off the perfect arc. This isn't a kiddie ride, it's a roller coaster—a speedy adventure for the racer at heart.
The Frenzy is an expert frontside carving ski for the wannabe racer or the ski instructor who wants to make the perfect arc. Though this ski feels like it is a race stock ski, it's constructed with a FSC certified full bamboo core. Instead of metal and wood, this ski's strength and energy comes from a vertically laminated bamboo core, fiberglass, and Kevlar, and will happily surprise you.

The Kevlar veil adds even more energy to the bamboo core, offering up exciting rebound on the groomers. The 80%-20% Camber—traditional camber for maximum performance at high speeds on hard snow—is what a racer loves. With our specially designed Razor Cut sidecut and 80mm underfoot, it's stable and won't let you down with a strong edge grip made for high-speed hookup." - RAMP Website 2014

Summary:

The description of the Frenzy by RAMP is accurate. The RAMP Frenzy is a super fun and undemanding frontside carver with a very wide, yet high-performance envelope for laying down arcs of various sizes and intensities from gentle crusing on low-angle slopes to hip-dragger trench digging in high-angle, high-G-force turns on groomers....all with great confidence, reliability and plenty of zing.  While it's not a race ski, it will make technical skiers, experts and ex-racers super happy all day without burning them out.  The Frenzy requires zero learning curve, and is suitable for advancing intermediates who want a real carving ski to up their game, as well as experts who want a high-performance cutting tool without the demands of a race ski or high-strung race carver. Tip the ski on edge, and the forebody engages effortlessly, pulling the rest of the ski and the pilot iinto the selected arc until released.  Variable-radius carving and mid-course corrections are natural and trouble-free with very little effort. Plenty of energy and response, yet only feels "short" or "anxious" at the highest speeds where a more GS-like design would be appropriate.  More carver than all-mountain ski.  Great fun and a compelling bargain with a binding package.  Add the race plate and up your ride to race-carver status.  One of my favorite carving skis.

Technical Ski Data:

Vacuum-molded
Forestry-Certified Stewardship (FCS) bamboo laminate core
Kevlar
Triaxial fiberglass
Entropy SuperSap (pine based) resin adhesives (USA)
Crown 7500 series sintered bases (USA)
Manufactured in USA

Bindings and Boots Used:

Tyrolia SP12 Demo Bindings
Salomon S-Max 120 boots.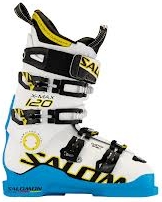 Pre-Skiing Impression:

The fit and finish were very, very good, and the transparent topsheet shows off the fiberglass laminate over the core nicely.  Moderate to medium stiff flex, but round and even, with good rebound energy and vibration dampening.  Torsionally strong.  Moderate camber.  Instead of a cardboard box, RAMP delivers its skis to customers in a very nice padded travel bag for reuse.  No need to recycle the cardboard box. Full-wrap edge all the way around the shovel (edge seam is on the tail). 

Test Conditions:

Eastern corduroy, packed powder and hardpack groomers with Eastern boilerplate, ungroomed packed powder with small bumps, shin-deep powder conditions, both smooth and bumpy. Windpack, crust, chalky wind buff, fresh and old powder.

Hardpack and Boilerplate:

On our Eastern packed powder, hardpack and boilerplate, the RAMP Frenzy ate up the surfaces without any effort, easily transitioning from the packed powder to boilerplate (and everything in between) with the same confident grip and quiet composure everywhere.  If you brought your speed up to GS-like levels on the hardest surfaces, the Frenzy can feel a bit short (this was a 169cm...I would normally choose a 179cm version for my height and weight), but never nervous.  The Frenzy does a very nice job of isolating the annoying high-frequency vibrations from feeding back to the skier underfoot on hard surfaces - Not in a damped-out metal feel like some race skis, but merely quiet, with plenty of response. 
Some racer-types might find the relatively light weight of the Frenzy (compared to their race skis) somewhat odd at first, but if you spend all day on hardpack with the Frenzy, you will find you are not as used-and-abused as some racecarvers can make you feel in the same situation.  The Frenzy is not a "one trick pony".  It can deliver a wide variety of turn radii on carving surfaces, and adjust the radius easily during execution.  It never feels "locked-in" to a specific type of turn.  You can carve a big GS turn, or tighten it up and get punchy near-slalom turns out of it.  This behavior is a winner for an all-purpose frontside carver, and can be lacking in some other brands aiming at the same category. 
You can finesse a carve with a centered stance, or let it hang way-out and get your feet waaay-out from your hips, cutting an arc to bring your feet back under you as you snap to the opposite waaaay-out position on the other side.  You can pressure this ski, and it keeps on giving back nicely and eagerly...never failing or washing away...it can take pretty much any non-olympic pressure you can generate. It does not have an explosive rebound, but accelerates with authority when asked...which is what people usually like all-day long. The success of the Frenzy is it does not demand a super-athletic pilot to drive the ski and get great turn performance.  You can choose to ride it passively, or drive it purposefully.   It;s not a racer, so you won't get the intense rut-slicing, ejection-seat powerhouse tool of a dedicated race ski, but for high-energy frontside carving on hardpack, the Frenzy is super fun and solid.

Mixed Conditions:

Mixed conditions with the Frenzy reveal it really prefers hardpack conditions, although it can go through mixed snow situations with authority if you don't mind a bit of direct and un-filtered feedback to the pilot.  There is very little deflection, but you can feel the details of the undulating surface underfoot.  If you are passive on the Frenzy when you get into cut-up snow, or cruddy conditions, you might find it wants to straighten-out a bit.  If you take some authoritative control and drive it in these same conditions, you will get a clean arc to your destination, with an exciting ride.  The responsive bamboo construction makes a crisp, turny ski in mixed conditions, and it can feel "eager" to turn.  This means it has great agility, but for people who prefer a ski of the same width with a rockered tip for more compliant or surfy mixed surface behavior, the Frenzy (with its traditional camber) will feel like a bit more work; more business-like.  People who want a damped-out, somewhat stiff and strong crud cutting weapon will find the Frenzy a bit busy and active.  Getting on the Frenzy in cruddy or mixed conditions after riding a heavier, stiffer junk-cutting ski will make you change your approach from "set-a-line-and-hold-it" to "step lively through it:".

Bumps:

If you want a zingy ride in the bumps, the RAMP Frenzy will deliver.  It has some great energy potential stored in the bamboo core with its triaxial fiberglass and Kevlar blankets, and if you load it up and get the flex-and-release pattern going in bumpy terrain, it will give you a rowdy ride with plenty of excitement.  The squarish tail can hang a bit in tighter bumpy situations, but in the open bump terrain, the Frenzy can deliver a frenzied ride if you want the workout.  Control is always available, but it can surprise you with its rebound at times if you get lazy in the back seat.  It is agile in bumpy terrain, but more "cut-and-go" than "surf-and-slide" (if that makes sense to you).

Powder:.

The Frenzy feels like a carving ski in legitimate powder, meaning it sinks in and takes some more weighting and unweighting activity by the skier to get it to go where you want it.  In this age of superb powder and all-mountain ski designs, taking a carving ski into powder makes less and less sense the more we think about it.  The Frenzy has no bad behaviors, it merely acts like it was designed to ski "on" snow instead of "in" snow.

Analogies: ("This ski is like...")

My rides on the original Frenzy in 2011 described it pretty well, so I will use the same description with a small revision:

"Audi S4 with new, sticky tires and a fresh set of firm struts and elastomer bushings on fresh pavement.....with a tank of race gas for fun."
Quick Comments:

Solid grip.
Effortless engagement into a carve when pressured.
Select-a-radius and go.
Zippy, but not racy.
Quiet and composed across various groomed and hardpack surfaces
A bit short-feeling at GS-like speeds
A bit busy in mixed conditions, but can cut with authority when driven properly.
Balance, reliable response inspires confidence.
Fun from early AM to last-chair.

Things I Would Change About This Ski:
 
Nothing...other than adding a raceplate for some racing-surface days.

Short Answer When Someone Asks "What Do You Think About This Ski?":

Great example of a high-perfomance frontside carving ski with a great variety of turn shapes that won't wear you out, yet allows you to crank some hip-dragging arcs and high G-force turns on demand.  Not really meant for thick or soft snow conditions. Pretty compelling price at retail, packaged with or without bindings, especially with the pro-discount program.

Advice To People Considering This Ski:

See if you can get a ride on a version with and without the raceplate.  You might be surprised by your pick after comparing the two.

Pics: (click images for larger versions)
Construction detail - tail joint.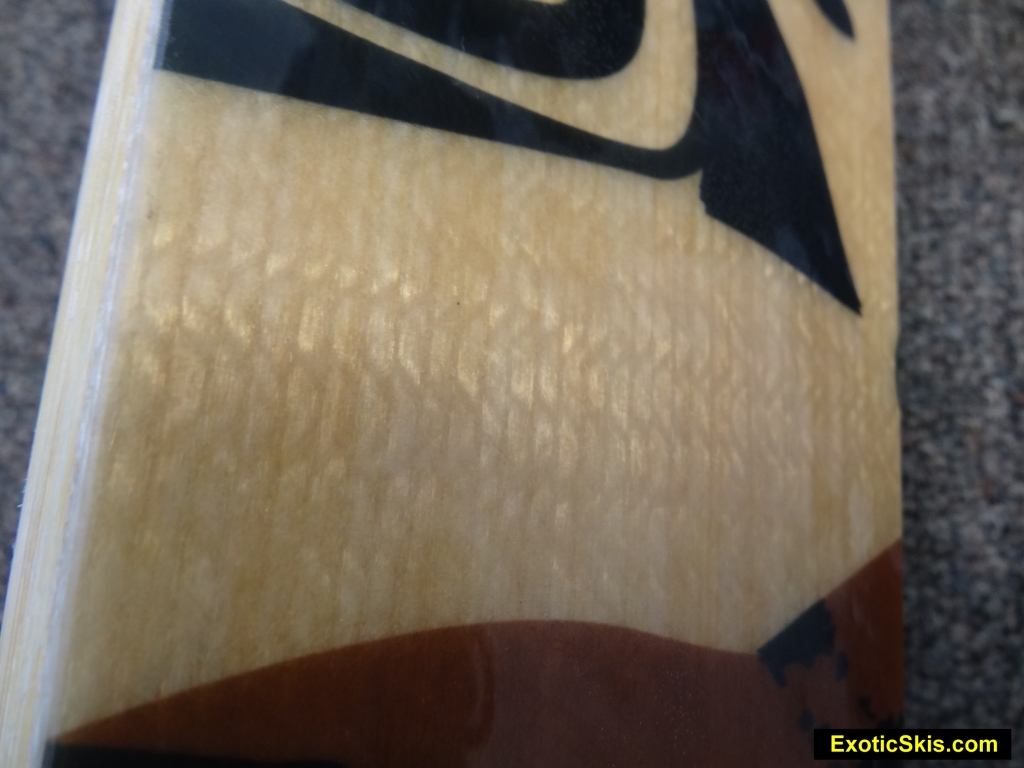 Topsheet transparency showing fiberglass top layer