Product:
Liberty Variant 97 2013-2014
Length Tested: 172cm & 186cm
Dimensions/Turn Radius:  125-90-113 r=17m @ 175cm
132-97-119 18.5m @ 172cm
132-97-118 23m @ 186cm
 
Camber: Early Rise Tip w/camber & Flat Tail
Binding: Demo
Mount point: Suggested

Environment & Conditions:
Location of Test: Vermont and New Hanpshire
Number of Runs: Dozens over several weeks
Snow Conditions: Powder (shin-to-knee deep), packed powder, hardpack, boilerplate, crud, bumps, groomers, skied-out powder, windpack, crust
Demo or Own: Demo
Tester Info:
Username: ExoticSkis
Age: 54
Height/Weight: 5' 11" 190lbs
Ski Days/Season: varies - usually lots
Years Skiing: 52
Aggressiveness: Aggressive(Driver)
Current Quiver: Edelwiser Speed, IDOne TTR and TTM, Anton UFOria XA and Carbon EX, Palmer P02, Romp 100, Praxis Concept, SkiLogik Frontside Burner, Occam Razor, Rockstar, DPS Wailer 112RP..etc.
Home Area: Vermont
Preferred Terrain (groomers, off-piste, trees)
2013-2014 Liberty Variant 97
132-97-119 18.5m @ 172cm
132-97-118 23m @ 186cm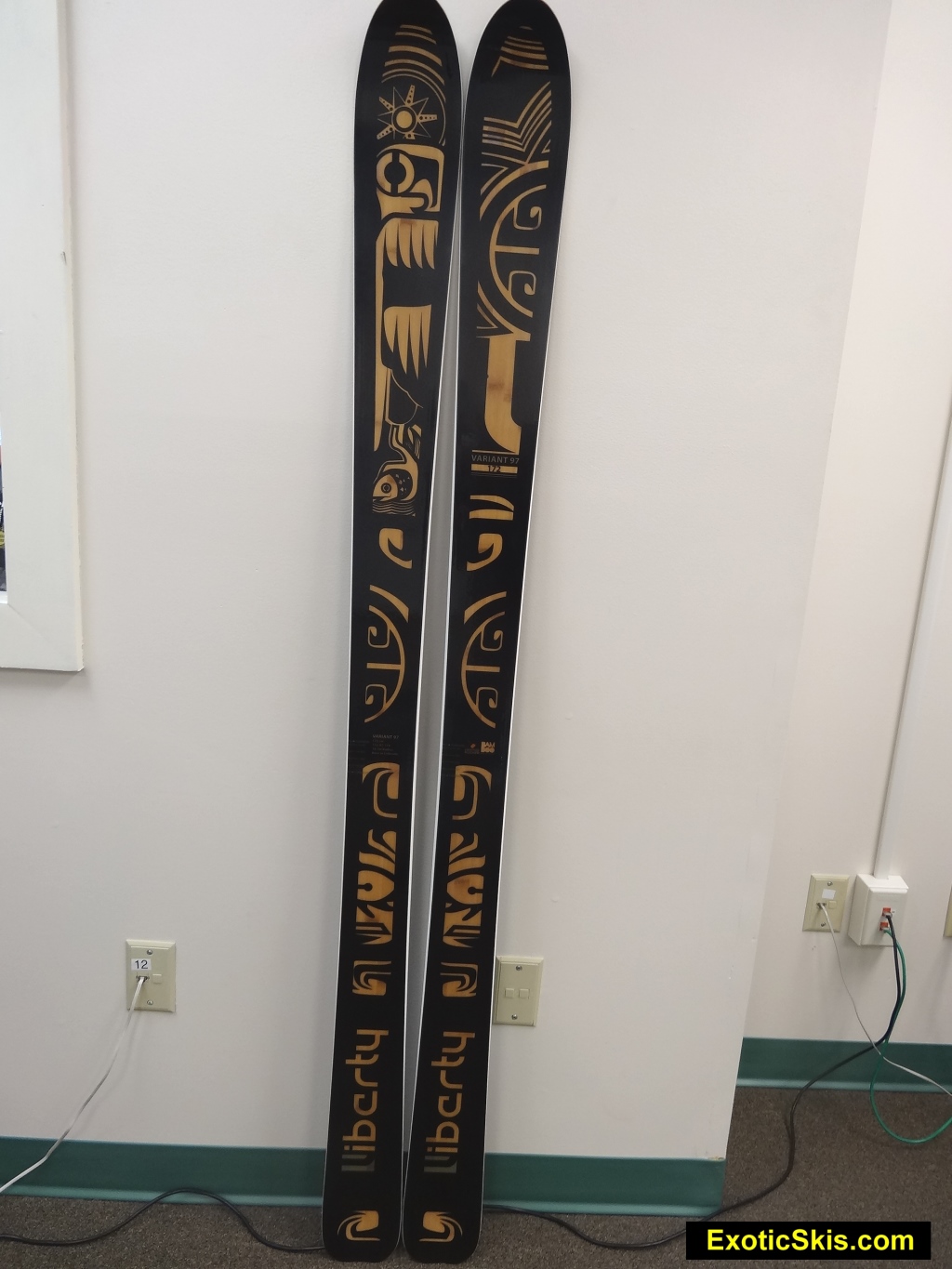 Manufacturer Info:


Liberty Skis
P.O. Box 4555
Avon, CO 81620
http://www.libertyskis.com

Suggested Retail Price (MSRP):

$819 retail

Usage Class:

Freeride

Background:

James Satloff and Dan Chalfant had the idea for Liberty Skis in 2002. After winning $24,000 at the Mandalay Bay craps tables at the SIA show in Las Vegas, they contracted to have their design ideas manufactured as the first sample skis. Over the last 10 years, they have refined innovative designs and won industry-wide praise for many of their models such as the Helix and Genome which continue to have a rabid following from skiers around the World. Liberty is one of the original small ski companies of modern times and has survived and thrived to become a design powerhouse widely recognized for producing extremely popular, high performance and high fun-factor skis.

Rating (with comments):
(1="get me off these things"->10="I have to own a pair")

9+ for any variable snow conditions - hard charging, high-speed
7 for boilerplate hardpack
8+ for packed powder groomers for a ski this size

Ski Designer(s):

Dan Chalfant and the Liberty team

Manufacturer's Description:

"The NEW Variant97 will carve in all snow conditions, yet has an easy-going personality that inspires trust at any speed. Precise turn initiation from the Hammer Rocker profile and multi-radius tip, combined with an energetic bamboo and poplar core make it a worthy partner anywhere on or off groomed terrain. A Titanal layer adds torsional rigidity and damps vibrations, while a skin-friendly tip and tail keeps your terrain options open. "

Summary:

The description of the Variant 97 is pretty much right-on. The Variant 97 is the narrower brother of the remarkable Variant 113 (which we think is a stunning ski), and produces a superb level of confidence under pressure in on or off-piste situations.  Skis in this category tend to be either surfy-slarvy, or directional trackers.  The Liberty Variant 97 is a directional tracker with an undemanding personality, yet produces a stable, powerful, confidence-inspiring ride through nearly any surface condition while maintaining a light and very responsive chassis underfoot.  The faster you ride it, the better it performs, and has one of the highest speed limits in its class, with excellent damping behavior, intense edgehold when requested, yet has a wide range of terrain and surface options in its capability envelope.  Experts will love this ski, and advancing skiers will find it can give them a solid, reliable, high-performing platform to up their game.  The solid-as-a-rock cambered midbody and essentially flat tail can be relied upon to deliver intense grip and power, yet the mild rocker with low-rise tip up front allows planing in mixed conditions, easing turn initiation and directional changes.  The Variant 97 could be one of the best Eastern all-mountain skis for experts who want something more than 85mm underfoot, or perhaps a Western daily-driver for predominantly frontside usage for those who want a ski under 100mm at the waist.

Technical Ski Data:

Laminated bamboo core
Titanal strip submerged into the top layer of the bamboo core
PTEX 4000 sintered base
Fiber-reinforced polymer matting
Quadraxial fiberglass
Rockwell 48 edges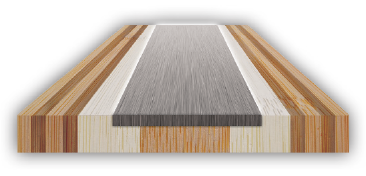 Bamboo lamination with Titanal metal strip embedded in the top of the core

Manufactured in China

Bindings and Boots Used:

Tyrolia SP12 Demo Bindings
Salomon S-Max 120 boots.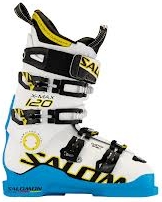 Pre-Skiing Impression:

The Variants (172cm and 186cm) skis arrived in protective, zippered sleeves with individual pockets for each ski, keeping the superb fit and finish pristine during shipping.  The packaging of the skis shows how much Liberty cares about their product.  The finishing work is some of the best we have seen on a commercial ski...very impressive.  The skis have a moderately stiff flex, and strong torsional strength with a snappy rebound and moderate dampening.  We considered the out-of-the-bag base finish and edge tuning "ready-to-ride" and merely waxed them for their initial outings.  Very glossy topsheet with peek-a-boo transparent sections showing the bamboo core laminates is handsome and clean-looking.

Test Conditions:

Eastern corduroy, packed powder and hardpack groomers, ungroomed packed powder with small bumps, shin-deep to knee-deep powder conditions, both smooth and bumpy. Windpack, crust, chalky wind buff, fresh and old powder, weeds (sorry Dan). 

Hardpack and Boilerplate:

On our Eastern hardpack and boilerplate, the Variant 97s had perhaps the best edge grip of a 97mm (+-) ski we have encountered in recent memory, preferring a GS-type of radius (the 172cm ski is 18.5 meters, while the 186cm is 23 meters) with consistent pressure to hold the edge into the surface. These are not "turny-darty" skis, but produce a smooth, progressive grip under varying amounts of pressure and speeds.  One of the nice traits of the Variant 97 is its ability to deliver the same level of confidence-inspiring hold and control at moderate speeds and high speeds.  It does not come unglued at high speeds.  This behavior impressed everyone who rode it. The Variant 97 can produce short-radius turns, but prefers to pivot-and-stick-it, rather than arc a tightly-wound arc.  In tight situations on hard surfaces (tight eastern hardpack trails, for example), the agility of the Variant 97 is excellent, letting you get th ski sideways on-demand and punch it into the surface for a directional change in case you don't have the room to carve it around to the new direction.  Vibration dampening on boilerplate surfaces at speed was excellent, keeping the ski quiet and connected to the surface with no high-frequency irritations transmitted to the pilot's feet.  Overall, the Variant is one of the more impressive hardpack skis with a nearly 100mm waist.

Mixed Conditions:

Mixed surfaces are sliced and mastered with the Variant 97.  While the Variant 113 has a more floaty feel due to its increased surface area, the 97 is a surgical cutting tool.  Select a line, apply power and essentially ignore what is in your way.  There is no deflection...just a reliable tracking to your destination, regardless of what you run across.  Liberty's designers have found a formula for flex, geometry and response which excels at cutting through variable conditons without feeling massive or bulky.  The feel of the Variant 97 in mixed snow surfaces is more like a sporty cross-country horse than freight train.  It remains lively and responsive, never heavy-handed, yet retains undisturbed control and confidence.  The only real drawback is a bit of tip dive in deeper conditions, which can be fixed with a quick weight change.  In these conditions, the Variant 97 wants to be ridden on-center, since a forward stance can force the tips down under the surface.  On firmer surfaces, a forward stance works just fine.

Bumps:

For a ski that "feels as long as it measures", the Variant 97 can be pretty fun in the bumps since it has a great response and energy.  Longer-sized bumps are the best, while short, sharp-walled bumps are not as friendly since the ski can get into its stiffer midbody section quickly and transmit the bump force to the skier. In undulating bumps, the Variant 97 is happy bounding from bump to bump, catching air in between.  No tip deflection in the bumps.  There is plenty of rebound on tap for people who like to launch off obstacles, and the stout tail and midsection makes landings completely secure and planted - no wheelies.

Powder:.

The low-rise tip and mild rocker up front, combined with camber underfoot and flat tail keeps the Variant 97 out of the "surfy" category for skis near the 100mm waist size.  It is a directional-type of ride, with the tip staying at essentially the same depth as the midbody in powder.  We did not get into any powder more than knee-deep during our testing, but the powder we did get showed the Variant 97 is more of a "planing" type of ski rather than "surfy".  You can get the tip to rise with a bit of center-to-rear weighting with speed, but it does not "porpoise" like a true powder tool.  Get forward in powder, and the forebody will decend into the snow...not with "tip dive", but with a gradual descent.  Again, these skis are never surprising or sudden in their behavior, always telegraphing what they are doing, so that's good.  The surface area does let you plane through the powder with confidence, being more utilitarian than playful when compared to dedicated powder skis.

Analogies: ("This ski is like...")

The offspring of a GS racecarver and slightly rockered all-mountain pro ski with cross-fit training. Lively, yet authoritative.
Quick Comments:

Solid, confident ride at all speeds and surfaces.
Has a higher speed limit than you do.
Deceptively friendly, yet dead serious at its job.
Addicting power trip. The more you drive it, the more it gives back.
Handsome, almost elegant look.
Lively, full of energy, yet disciplined and controlled.

Things I Would Change About This Ski:
 
I would maybe widen the shovel slightly to provide a bit more tip float in soft conditions.

Short Answer When Someone Asks "What Do You Think About This Ski?":

If you had ever raced in the past and want a high-end ski for all-terrain usage, this might be the best first choice to demo.  If it is too narrow for your tastes, try the Variant 113.  You will pick one or the other.

Advice To People Considering This Ski:

Make sure you want something more directional than "surfy", and don't buy it longer than you would usually buy such a ski. They feel true to length and the whole ski is engaged when ridden effectively.

Pics: (click images for larger versions)