Product:
Templar Noble 2014-2015
Length Tested: 175cm
Dimensions/Turn Radius:  125-90-113 r=17m @ 175cm
Camber: Early Rise Tip & Tail w/camber
Binding: Demo
Mount point: Suggested
Other Skis in Class:
* Line Prophet 90
* Rossi Experience 88
* Kastle MX88
* Blizzard Brahma
Environment & Conditions:
Location of Test: Vermont and New Hanpshire
Number of Runs: Dozens over several weeks
Snow Conditions: Powder (shin deep), packed powder, hardpack, boilerplate, crud, bumps, groomers, skied-out powder, windpack, (no crust yet)
Demo or Own: Demo
Tester Info:
Username: ExoticSkis
Age: 54
Height/Weight: 5' 11" 190lbs
Ski Days/Season: varies - usually lots
Years Skiing: 52
Aggressiveness: Aggressive(Driver)
Current Quiver: Edelwiser Speed, IDOne TTR and TTM, Anton UFOria XA and Carbon EX, Palmer P02, Romp 100, Praxis Concept, SkiLogik Frontside Burner, Occam Razor, Rockstar, DPS Wailer 112RP..etc.
Home Area: Vermont
Preferred Terrain (groomers, off-piste, trees)
2014-2015 Templar Noble 175cm
125-90-113 r=17m @ 175cm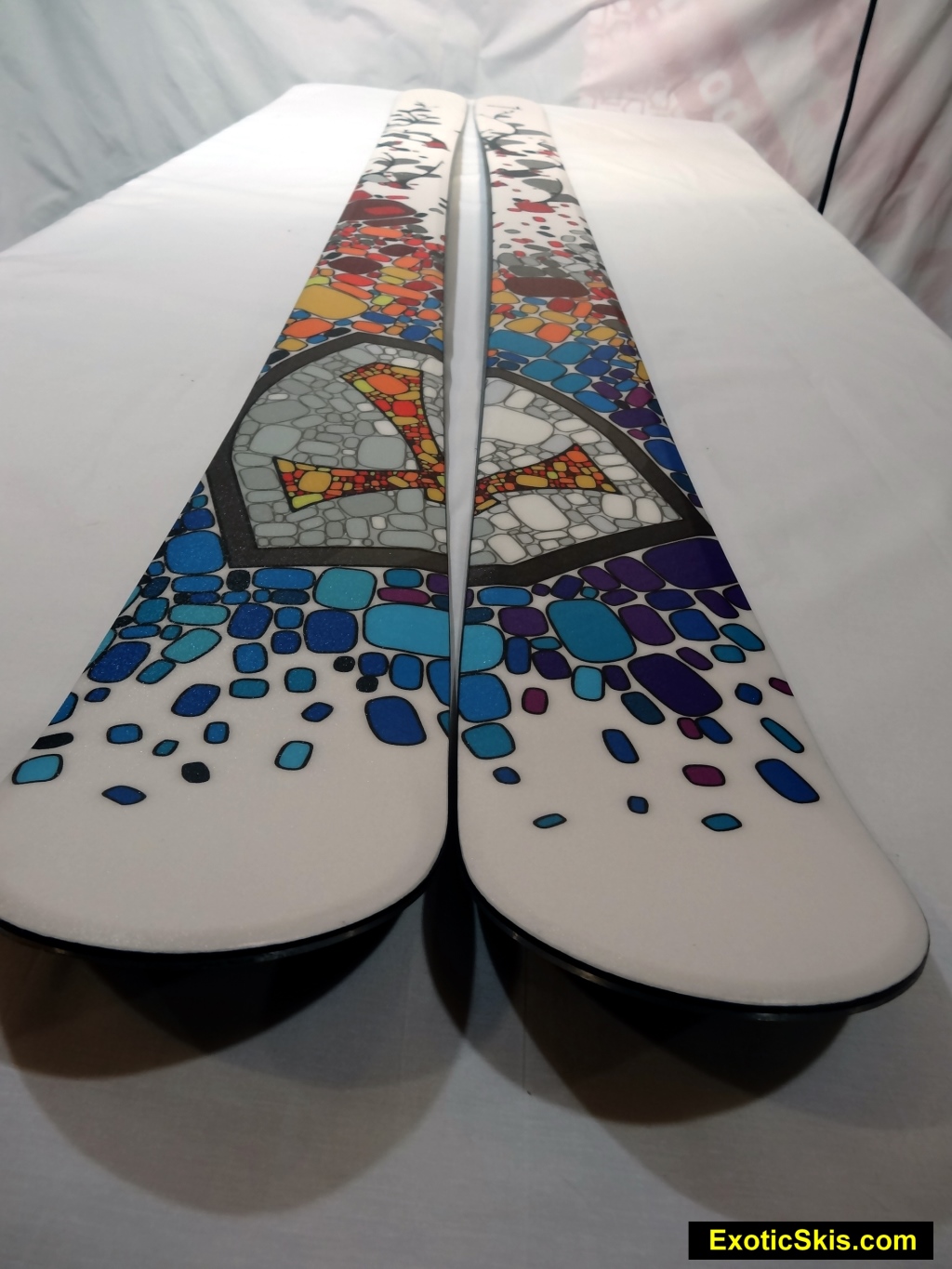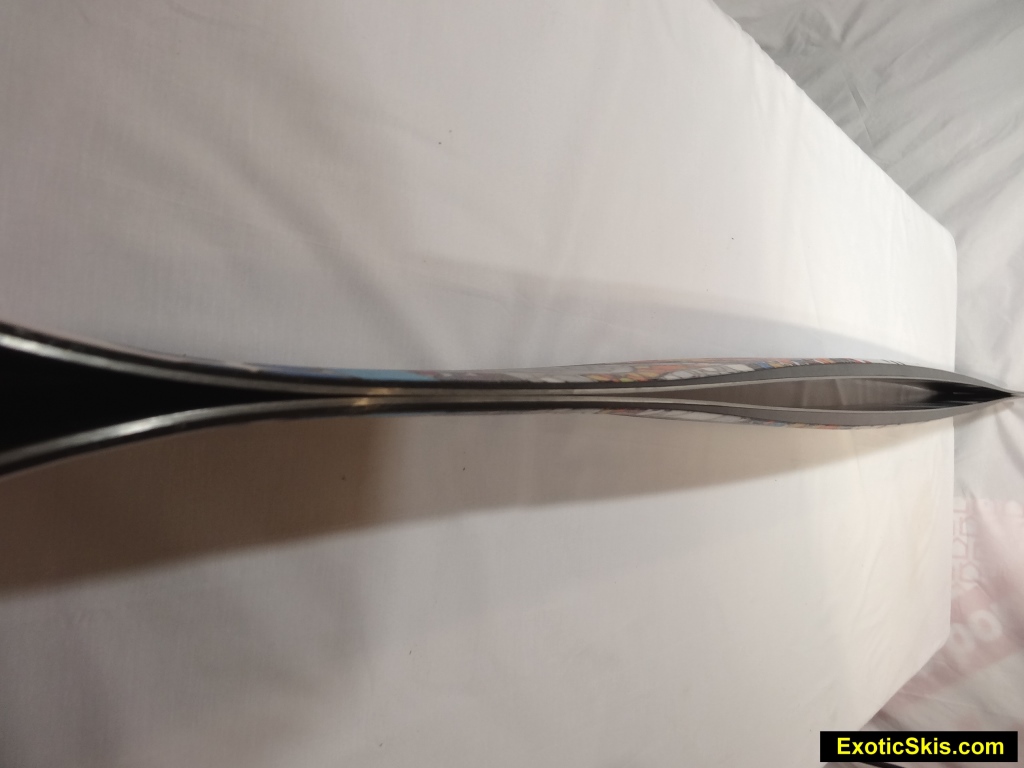 View of the Templar Noble vertical profile and camber design
Note the tapered thickness of the ski at the tip and tail
(click image for larger version)


Manufacturer Info:


Templar Skis
Alberta, Canada
http://www.TemplarSkis.com

Suggested Retail Price (MSRP):

$860 CAD retail - Free Shipping

Usage Class:

Frontside-Oriented All-Mountain

Background:

Templar Skis may be the first "Crowd-Funded" ski company startup (let us know if you know of others!).  Jan Kowalczewski submitted his project to Kickstarter.com (click HERE for the details of the campaign) and raised more than $30,000 CAD to fund an initial production run (outsourced to the same company making DPS's carbon and hybrid skis for years), t-shirts, promotional materials, website and other essentials for a ski company.  On October 24, 2013, the money was raised, and the project went into full-steam-ahead mode. Four initial models were produced and launched into the public realm to get feedback and response from skiers throughout North America.
The wood core and carbon components, as well as the chassis design, vertical and flex profiles are exotic and unusual, unlike other skis we have examined here at ExoticSkis.com.  (See the snapshots below to see what we mean by the flex and vertical profile.)  Innovative design, innovative business startup business model and innovative approach to manufacturing add up to an interesting company and products.

Rating (with comments):
(1="get me off these things"->10="I have to own a pair")

9 for any variable snow conditions - hard charging, high-speed
9 for boilerplate hardpack
9 for packed powder groomers
6-7 for bumps due to stiffness

Ski Designer(s):

Jan Kowalczewski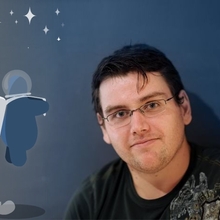 Manufacturer's Description:

"...Following months of research and testing we came up with a novel CNC machined core design that incorporates 3 woods ( Bamboo , Poplar and Paulownia ) - we built a finite element model and rigorously tested each combination to come up with a unique core concept. We then optimized it for more torsional rigidity and fine tuned its behavior in a carbon semi cap design. We chose carbon, as its flex properties out-perform conventional fiberglass and Kevlar designs. We also designed a bracing system that lets us tweak the manufacturing process and the carbon sheet properties to optimize ski flex. What you will notice is that our skis have beefy cores greatly improving performance and at the same time they are surprisingly light. All together this new technology has proven incredibly versatile and will allow skiers to get the most out of their skis."
"(The Noble)... is a super versatile ski 90 mm underfoot. It has a rockered design and will blow you away with the how easy it is to turn and enjoy all types of terrain. Designed with a torsional stiffness of 1.7 Nm per degree, centerpoint deflection of 4.5 cm at 175KN Load [ tail is stiffer with a low profile rocker on the tip - spline edge design = so more edge engages on the turn tip to tail with a rocker)"

"The Noble is a Full Carbon ski with roots in an all mountain ski design built with plenty of "pop".   The only laminate we use is carbon it makes our skis perform more consistently and will maintain the flex of the ski for a longer period of time. A favorite for backcountry enthusiasts that refuse to give up performance with weight. Key features of the ski include an hefty camber that lets you power through turns on any terrain and a slim rocker that gives you the benefits of a rocker but with early snow engagement on quick turns giving you more edge control.  At 90 mm underfoot this is a proper charging  freeski with surprising stability, all thanks to the unique 3 wood core and carbon bracing system. Like all Templar skis this ski was initially designed using Finite Element Analysis to fine tune the ski design and includes a highly torsionally stable semi cap design that improves the ski's durability. All Templar skis come with the legendary guarantee  (if anything breaks you get a new ski).

Summary:

The Templar Noble is an intensely strong, fast, lightweight, directional all-mountain ski with a craving to be pressured and driven hard, but handles with civility when ridden less vigorously.  The early rise tip defuses some of the intensity of the truly impressive torsional strength, and the edgehold and power available when deeply flexed and sunk into the surface is remarkable...perhaps the strongest we have seen in a 90mm waisted ski. You can dig trenches with this ski, and it has power to spare.  Lively and spry, it feels like a thoroughbred underfoot, with a seemingly endless reserve of power and snap, yet remains impressively stable at speed.  Feedback underfoot is precise and constant, transmitting the surface conditions to the pilot at all times, perhaps more so than some skiers are accustomed to. Bumps are transmitted to the skier since this is a stiff ski, but the rebound and response in bumpy terrain can be exciting and energizing.
In short, this unusual ski design is impressively effective and achieves a class-leading level of high performance.  Competition skiers might get addicted to the response and power this ski is capable of when driven.  It cuts crud with authority, and may be a bit too responsive in crud for some people used to a heavy-metal, damp ski.  Like some of DPS's famous carbon ski designs, this ski provides race-car response and feedback for high-performance skiers and may overwhelm some intermediates or lightweights who are more passive pilots.  Soft snow handling is somewhat directional instead of surfy due to the high-camber of the design, but the ski remains very agile and directional changes are instant and always available at various speeds. Templar has a very interesting recipe capturing our attention.  We cannot wait to try some other models in the lineup.

Technical Ski Data:

Bamboo, poplar, paulownia laminate wood core
Carbon fiber laminate
Carbon frame flex cap
Polymer
Early rise tip
Camber underfoot
Slight early rise tail
Austrian racing base
1 year replacement warranty
Manufactured in China
1680 grams each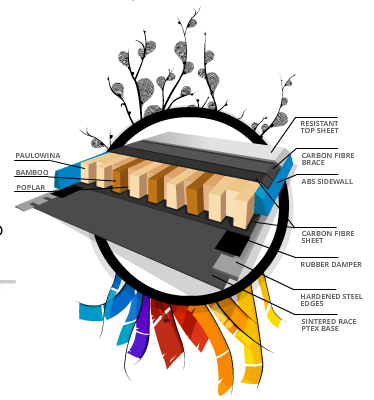 Bindings and Boots Used:

Tyrolia SP12 Demo Bindings
Salomon S-Max 120 boots.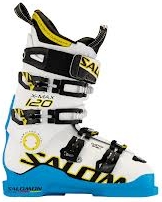 Pre-Skiing Impression:

Shrink-wrapped and bound with Templar-logo ski straps, the skis had a very professional look right out of the box.  Tearing the shrink-wrap off revealed a beautifully finished set of skis with some of the most vibrant graphics colors we have seen.  Matte-textured topsheet with an interesting semi-cap, semi chamfered design.  The skis were sharp and well-ground, ready-to-roll right out of the box.
The second thing we noticed about the Templar Nobles was the camber.  Holy smokes, they have camber.  There is literally a 27mm gap between skis when laid bottom-to-bottom, and most growm men cannot press them together by squeezing them with one hand.  The camber is highly unusual, both in size and strength.  These characteristics raise both curiosity and initial skepticism (no need for skepticism...more on that later).  Hand flex of the ski reveals a stiff forebody, midbody and late-midbody, with a slightly "hinged" tail of somewhat softer flex.  Torsional strength is best described as "intensely strong".  Giving the unmounted ski the "hand-gong" test showed the ski to have a resonance with a high-pitch common in many carbon-intensive constructions, and a high-frequency buzz which quickly dies diown, almost like a musical instrument muted after the initial note.  Again, a very intriguing design and behavior, without ever getting it on snow.

Test Conditions:

Eastern corduroy, packed powder and hardpack groomers, ungroomed packed powder with small bumps, shin-deep to knee-deep powder conditions, both smooth and bumpy. Windpack, crust, chalky wind buff, fresh and old powder.. 

Hardpack and Boilerplate:

On our Eastern hardpack and boilerplate, the Templar Noble has an edge grip and powering-through personality of a much narrower frontside ski.  The relatively stiff, high-camber nature of the midbody of this ski responds best when it is pressured strongly into the surface, but doing so sets a rock-solid edge along the entire length of the ski, and turn radius alterations are easily made en-route without any resistance.  The feedback underfoot is very active and accurate, always letting you know what is below you so you can adjust your angles and pressures.  Load this ski up on hardpack and release, and you can launch your way across the hill with impressive power.  The Noble is an energy-rich ski eager to set-and-release for fun acceleration.  Some high-frequency vibrations can come through to the skier since this is a carbon-intensive ski design, but they never affect the connection of the ski to the surface.  This ski responds well to being driven on hard surfaces.  The harder you angle, pressure and set this ski, the more it delivers...seemingly without limit.
Mixed Conditions:

Mixed conditions are sliced and diced with authority with the Nobles.  The feeling is less surfy than some rockered 90mm waist skis, and definitely more directional, but it is also 100% solid and secure with no deflection.  The high-camber and torsional rigidity might lead you to think it would be like riding a GS race ski through mixed snow, but the vertical profile tuning (adjusting thickness of the ski at various points of the body) of this ski has resulted in more compliant, easy-to-handle personality than you would expect.  Of course, the harder you push it, the more it delivers, so if you charge into mixed snow, the ski will respond to your slightest movements and do exactly what you told it to do...whcih can surprise some skiers.  This is not a "darty" ski, but it does respond nearly instantly to your imputs, making directional changes with eager enthusiasm.  If you start a turn with pressure, then let off, it will tend to straighten up a bit, but simply maintain some pressure, or change your weighting, and it will come around without any resistance.  Don't get in the back seat, or it will take you for a ride. It likes to be skied with a modern, centered stance, pressuring forward into the turns and terrain, not passively ridden in the back seat.
Bumps:

This is a relatively stiff and strong ski, so bumps are not absorbed, they are traversed with impact.  While the early-rise tip takes some of the initial brunt of a bump impact away, the stiff midbody directs that energy to the pilot who needs to know where he or she wants to go.  The high-camber design creates a powerful leaf-spring effect when the bump size matches the ski length, and if you press the Nobles into a trough, you need to be ready for a powerful launch and fun ride.  This is not a ski that follows the flow of bumps like water...it bounds across them.  Don't get in the back seat in the bumps, or you might find yourself chasing your feet out in front of you. 
Mid-sized terrain bumps (not "moguls") are quidkly dispatched like driving a sports car through a rough section of road.  Stay alert, pick your lines and use the energy and accurate tracking of this ski to navigate.

Powder:.

The Templar Noble is not a powder ski by modern standards, although the 90mm waist provides enough floatation to have a perfectly good time in powder conditions, as long as you know remember you have a high-camber, relatively stiff ski underfoot.  This means you don't get a surfy, pivoty, smear-capable ride, but a more directional, GS-like ride through three-dimensional snow.  If the snow is somewhat windpacked or choppy, the Noble can cut through it without deflection pretty well, but will retain its stiff feel in the deep stuff.  We never got it into any surfaces over shin-deep, so a legitimate powder experience is still lacking.  Personally, a person should pick a different Templar ski for powder (hopefully we will get some time on the other models in the lineup and report on their prowess in powder).

Analogies: ("This ski is like...")

A high-strung thoroughbred with pretty nice manners when ridden passively, but yearns to be let loose and driven hard and fast to show off its excitement.

Things I Would Change About This Ski:
 
I would make a frontside carving ski using Jan's core engineering techniques and technology.  A turny, narrower-waisted ski with this construction might be one of the most intriquing skis we have thought of in a long time since we have been obsessed with fat skis for a few years now.  Otherwise, it should probably remain as-is since it has a unique personality and can really rip.

Short Answer When Someone Asks "What Do You Think About This Ski?":

This is a strong, powerful ski for high-performance skiers.  Intermediates might find it somewhat demanding or unpleasant if they cannot get it into the sweet spot of its flex pattern and cambered-ski turn behaviors.

Advice To People Considering This Ski:

If you are worried about the unique flex pattern and cambered-ski turn behavior matching your ski style, see if you can demo a pair as Jan has a few available.  If you like race skis or detuned race skis, you might love this ride.  If you want an easy, loose-feeling all-terrain ski, this might not be your ticket.

Pics: (click images for larger versions)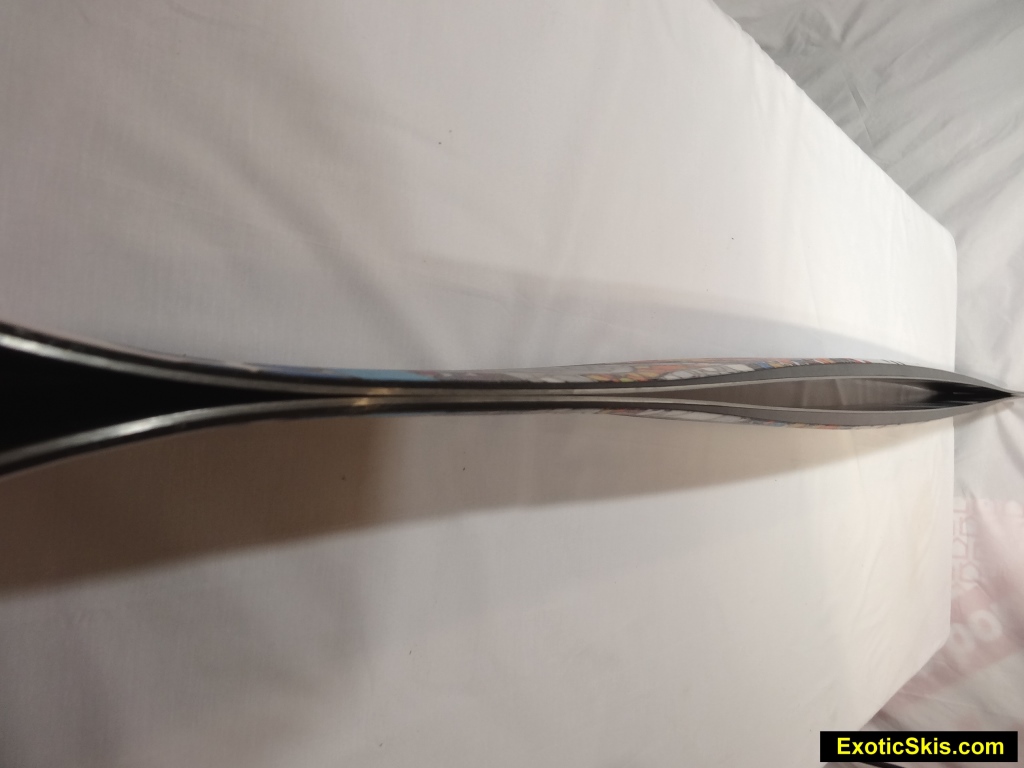 View of the Templar Noble vertical profile and camber design
Note the tapered thickness of the ski at the tip and tail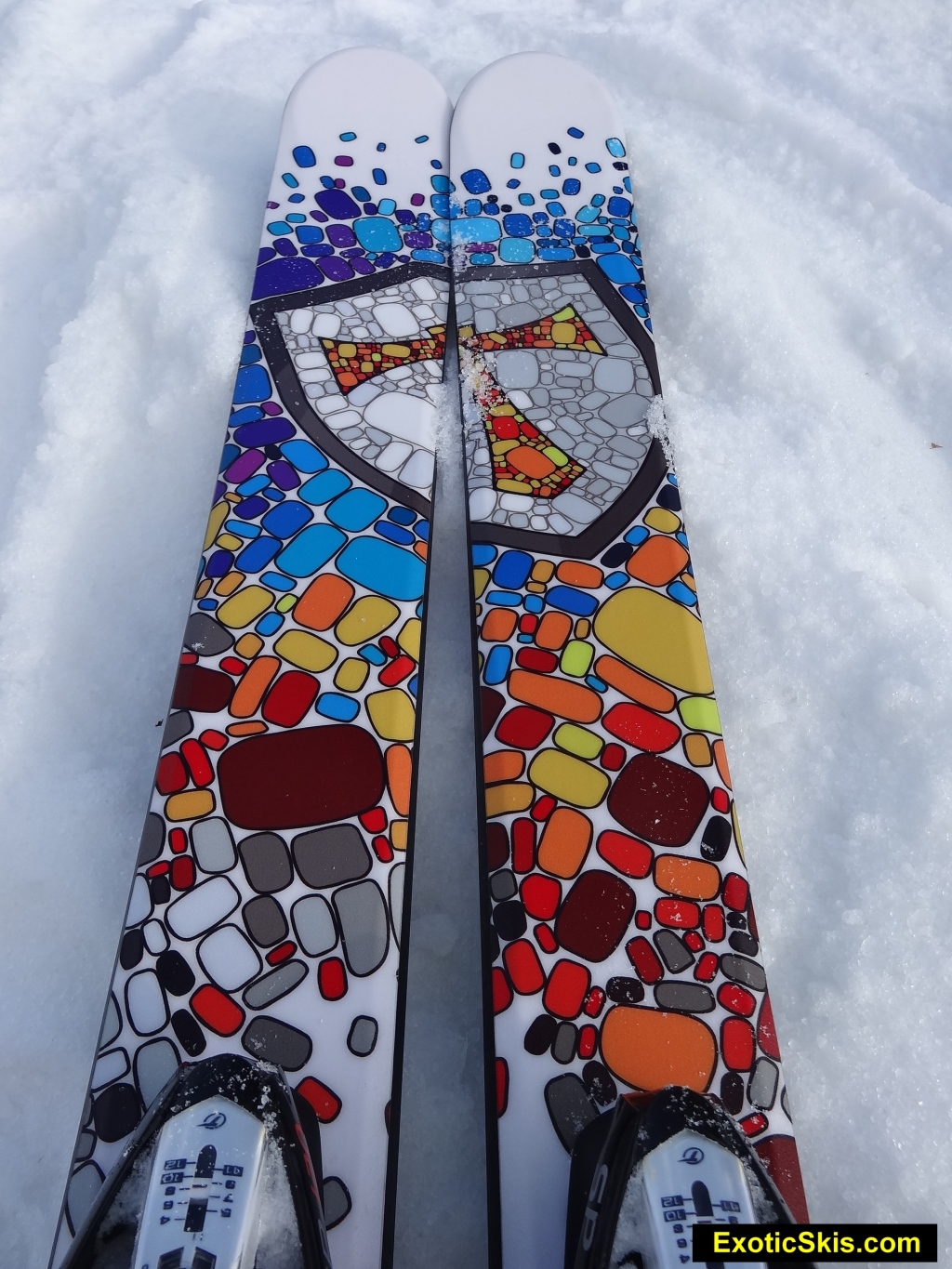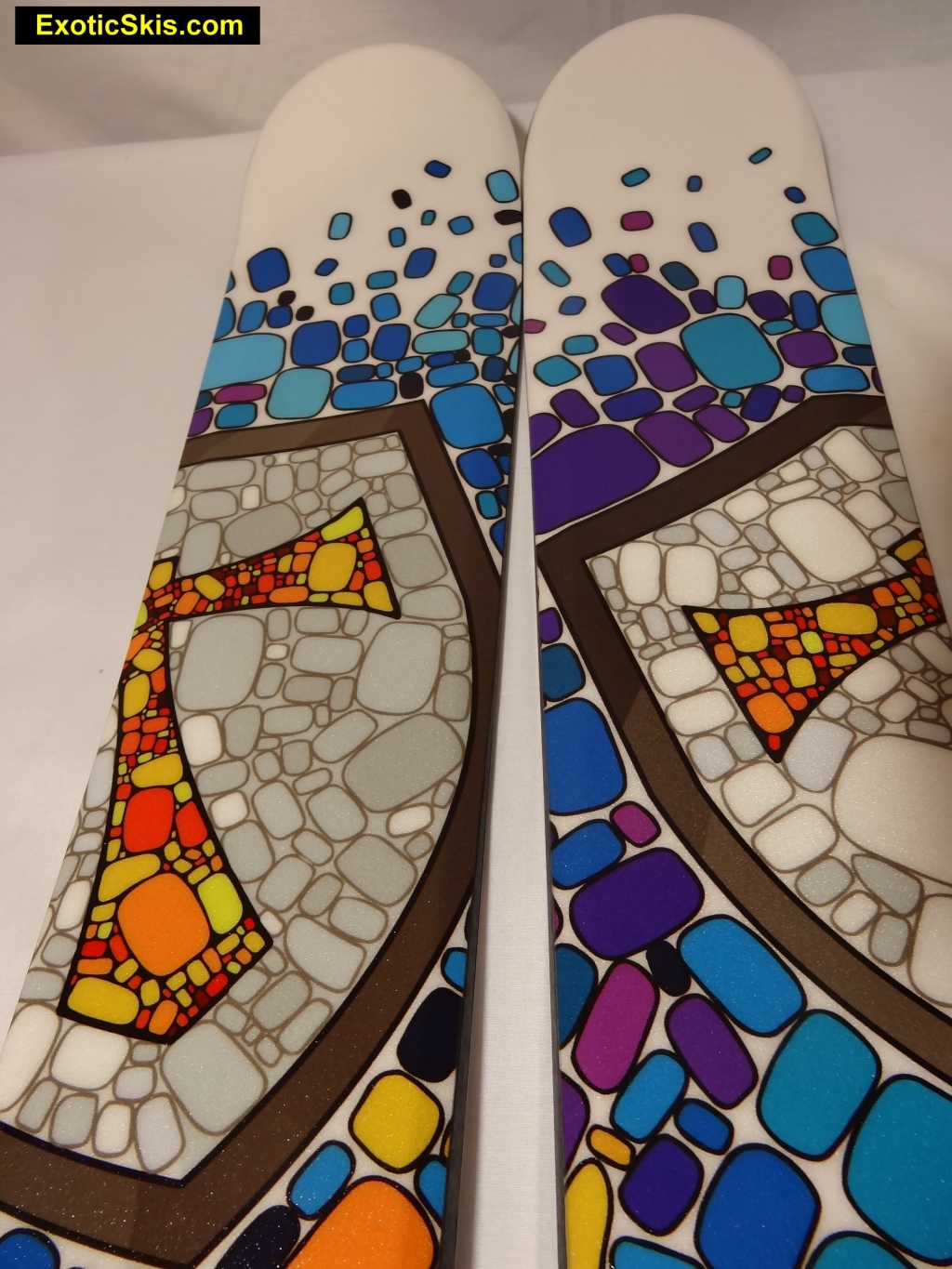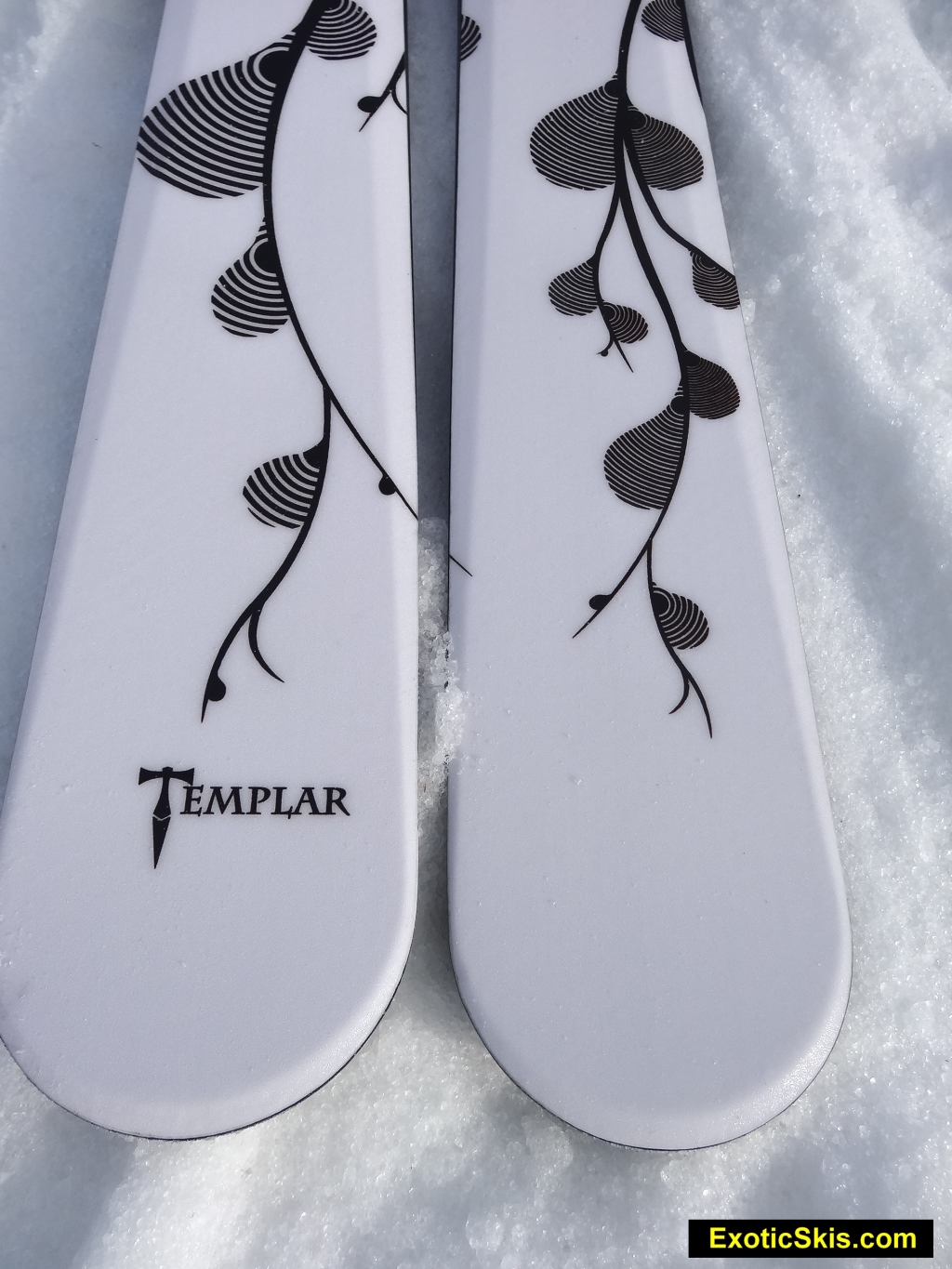 Noble Templar Tails - Note the chamfered cap edge from midbody to tail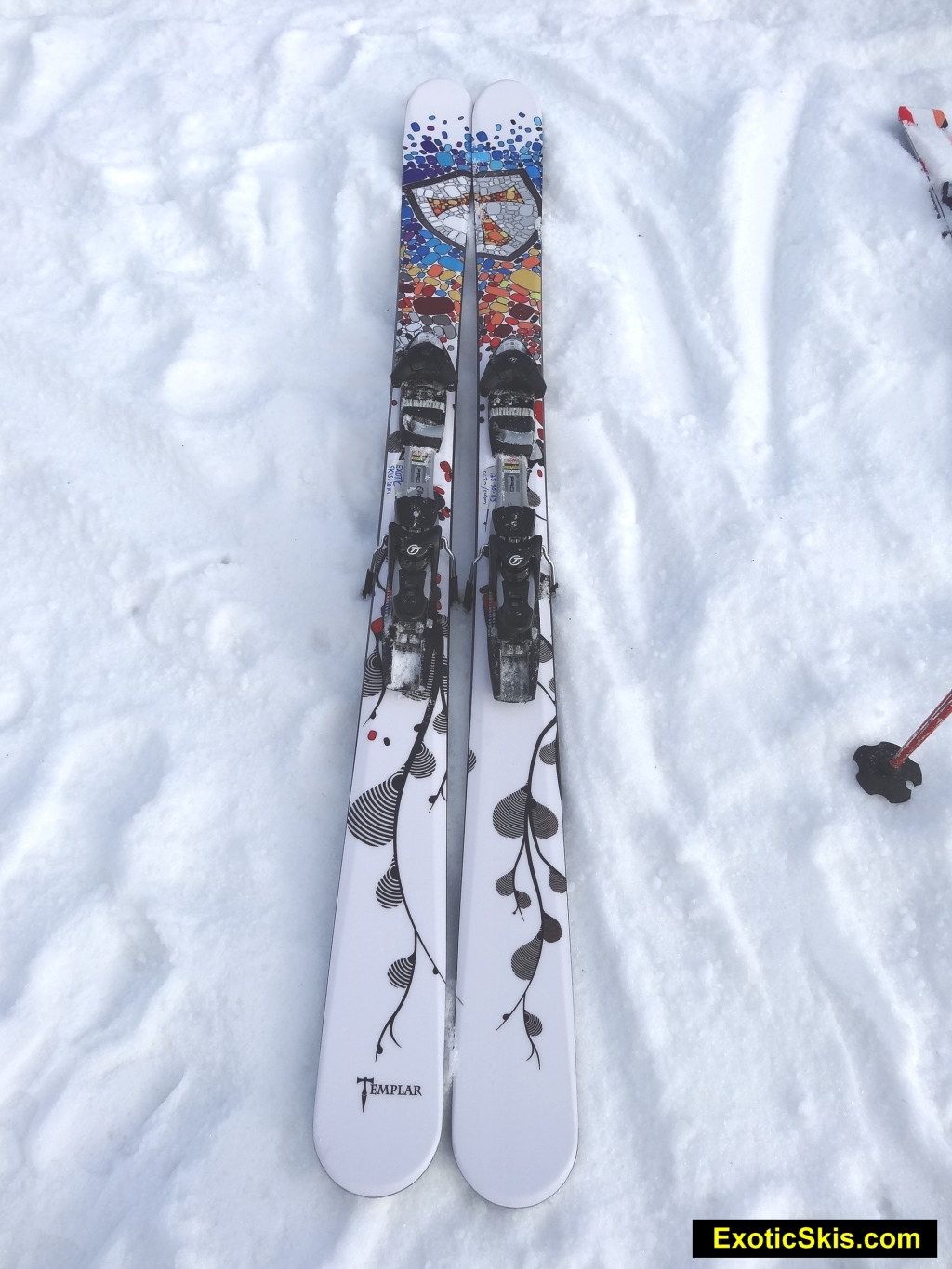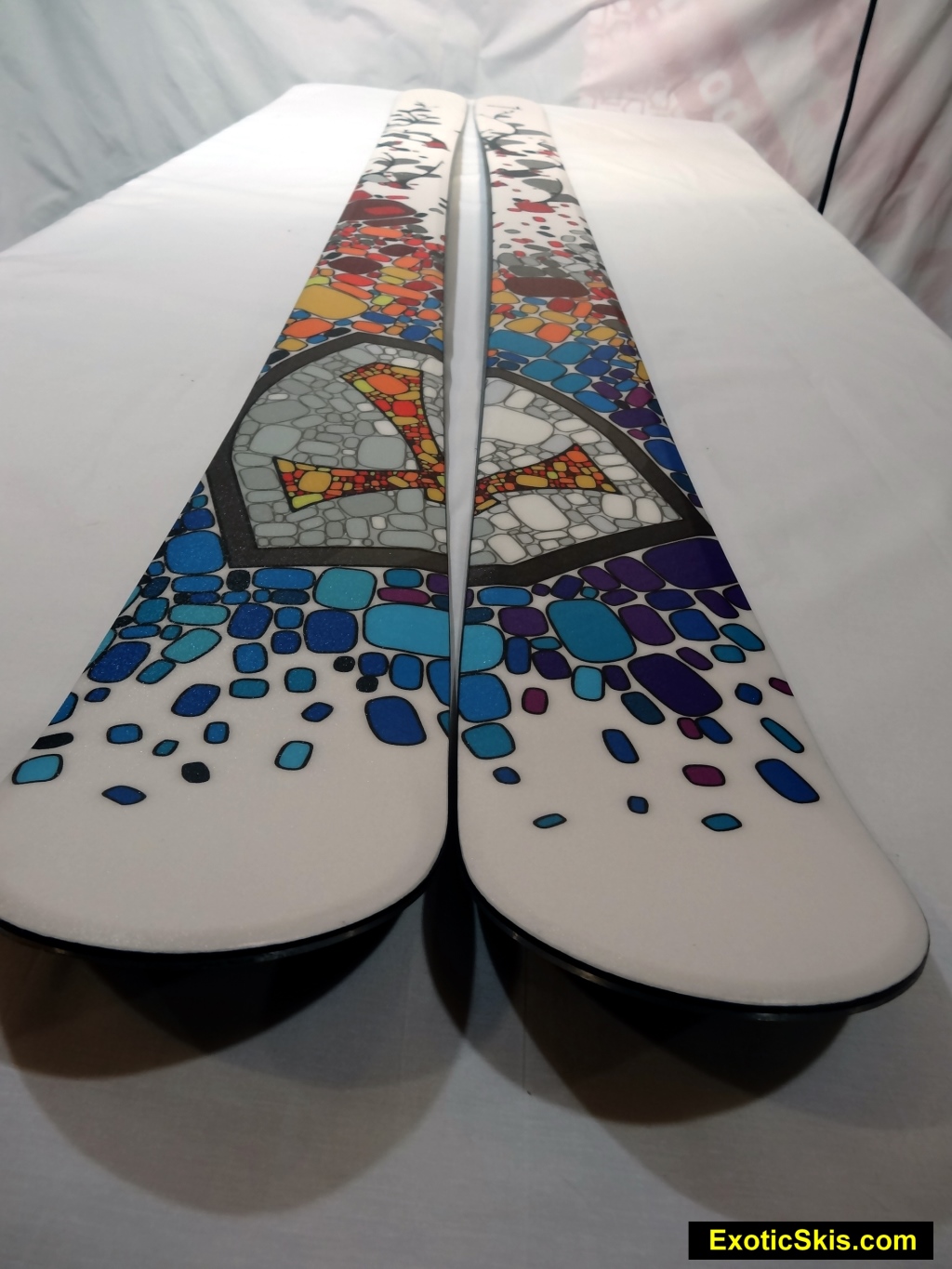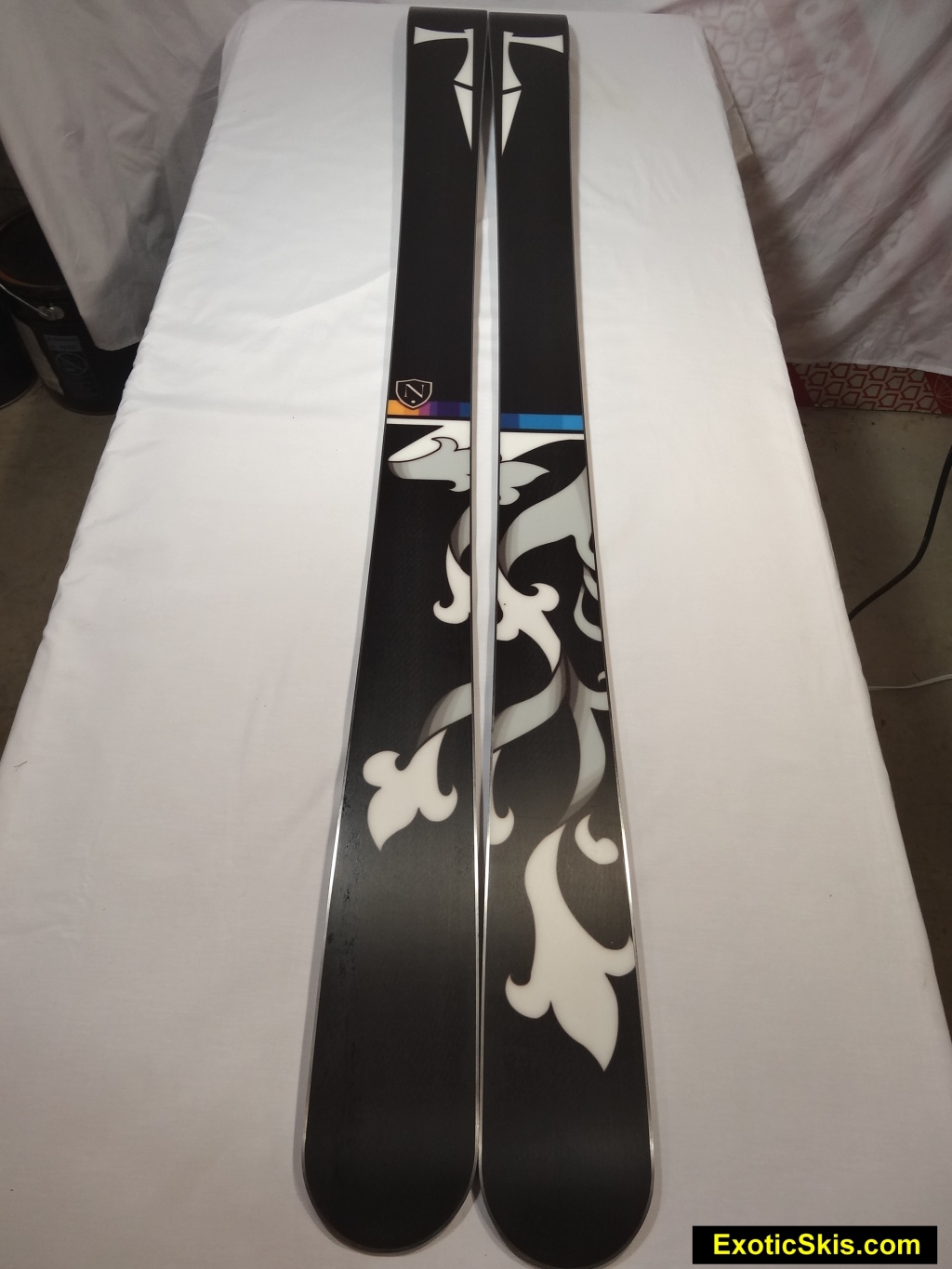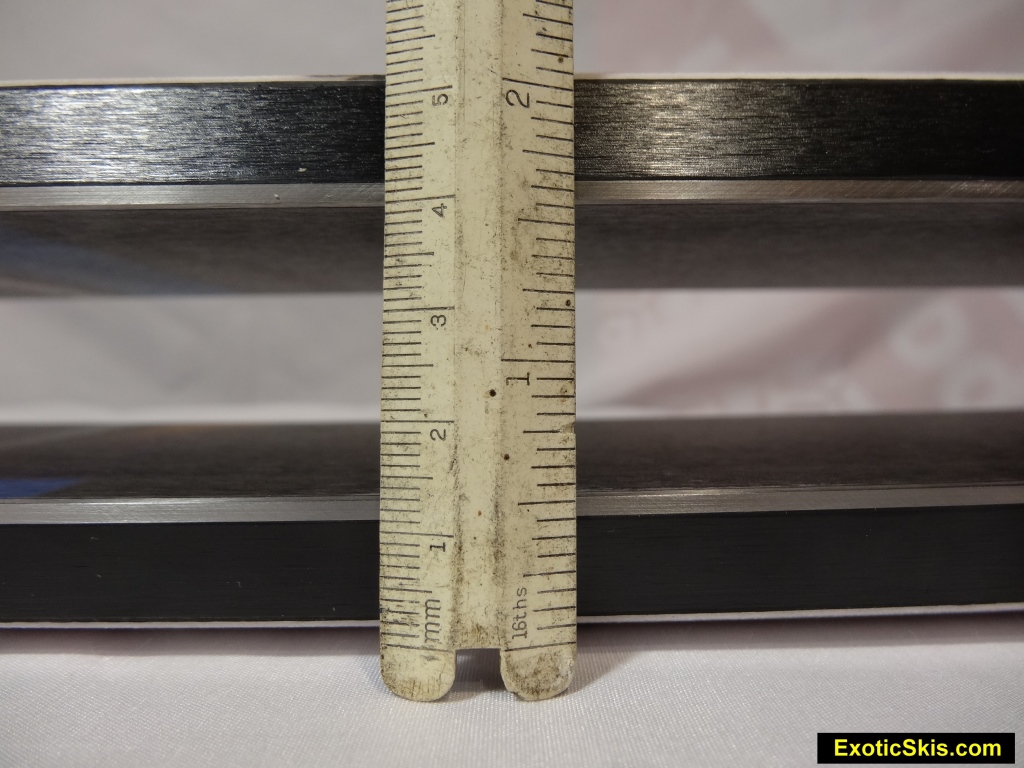 Houston, we have camber. (mid ski point measured in photo)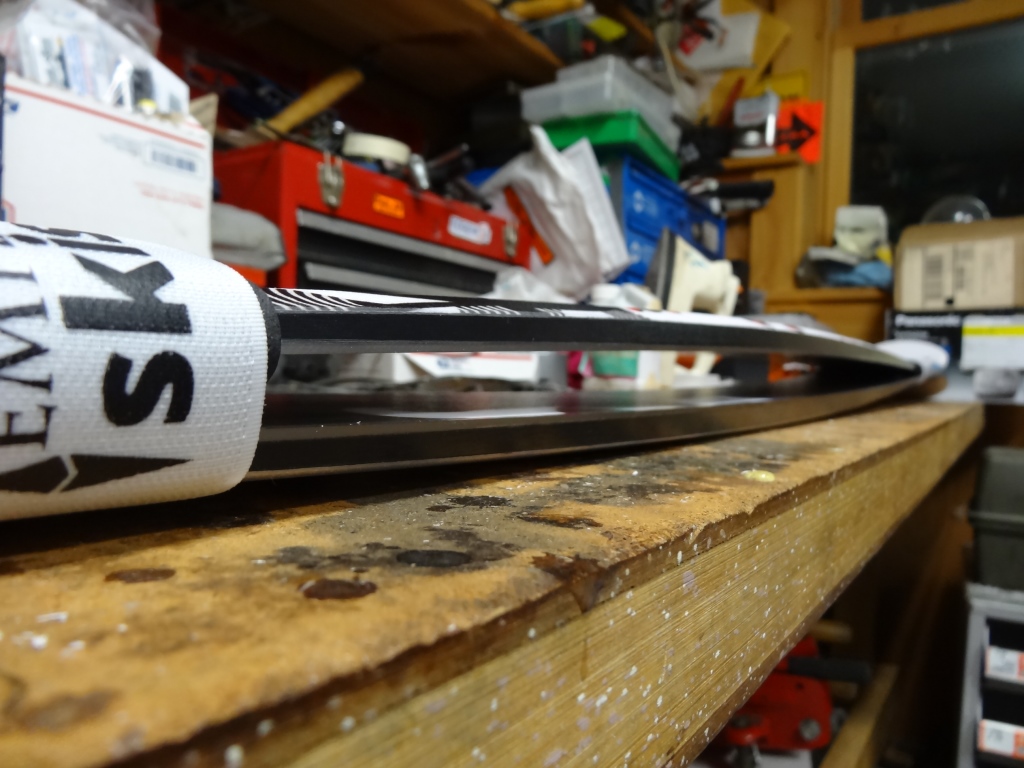 Templar Noble's camber extends nearly tip to tail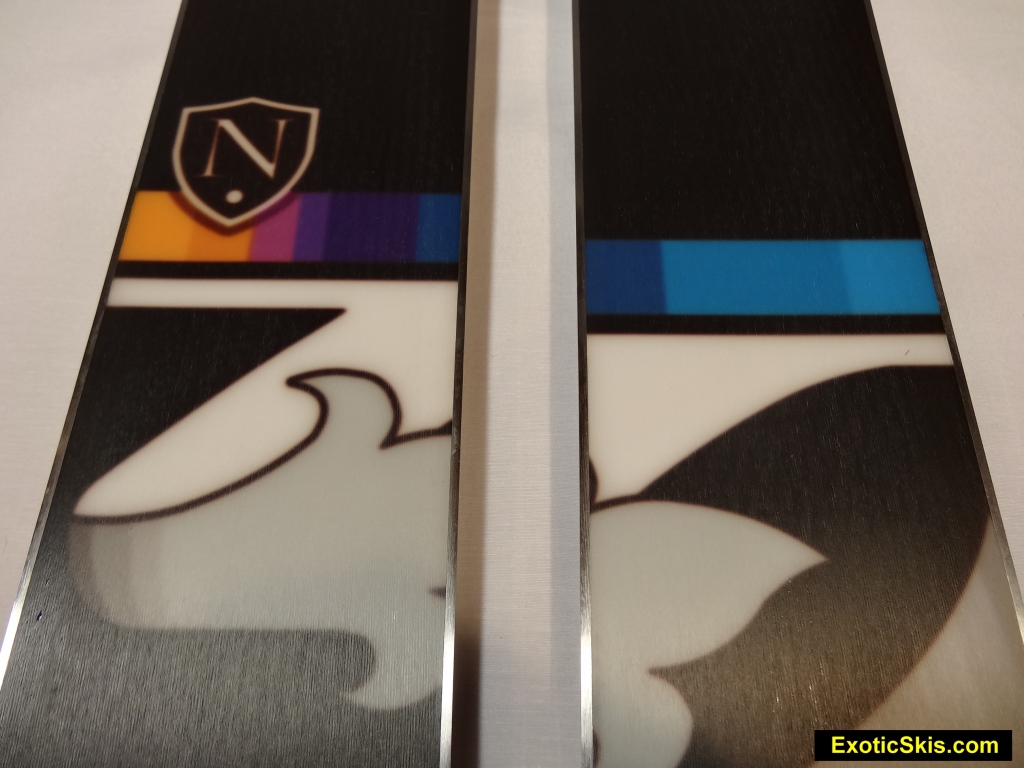 Click for larger image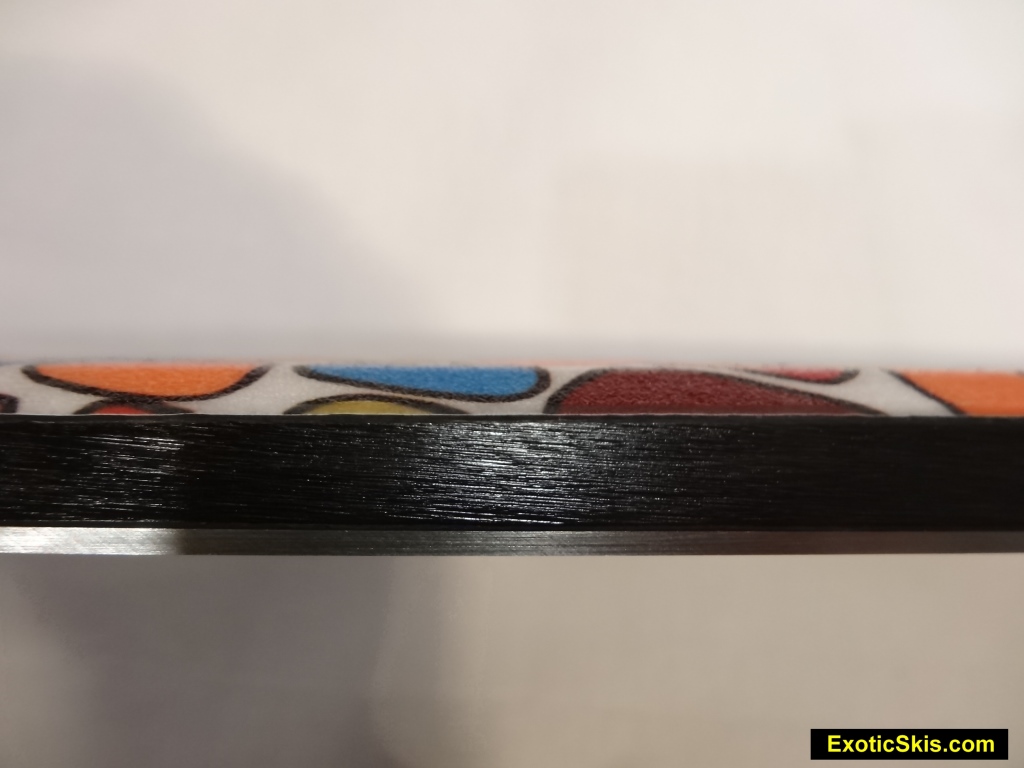 Noble sidewall detail with cap topsheet