Product: 2013-2014 GC Skis "Pacific Northwest Quiver Killer"
Length Tested: 185cm
Dimensions/Turn Radius:  120/130/107/120 30m @ 185cm
Camber: Tip rocker, traditional camber underfoot, rockered tail
Binding: Demo
Mount point: Suggested
Environment & Conditions:
Location of Test: Vermont and New Hampshire
Number of Runs: Dozens
Snow Conditions: Eastern corduroy, packed powder groomers, ungroomed packed powder with small bumps, shin-deep powder conditions, both smooth and bumpy.  Windpack, boilerplate,  dry powder,
Demo or Own: Demo
Tester Info:
Username: ExoticSkis
Age: 54
Height/Weight: 5'11" 190lbs
Ski Days/Season: Never enough
Years Skiing: 52
Aggressiveness: Aggressive, driver
Current Quiver: Edelwiser Speed, IDOne TTR and TTM, Anton UFOria XA and Carbon EX, Palmer P02, Romp 100, Praxis Concept, SkiLogik Frontside Burner, Occam Razor, Rockstar, DPS Wailer 112RP..etc.
Home Area: Vermont
Preferred Terrain:  groomers, off-piste, trees
2013-2014 GC PNW Quiver Killer
120/130/107/120 30m @ 185cm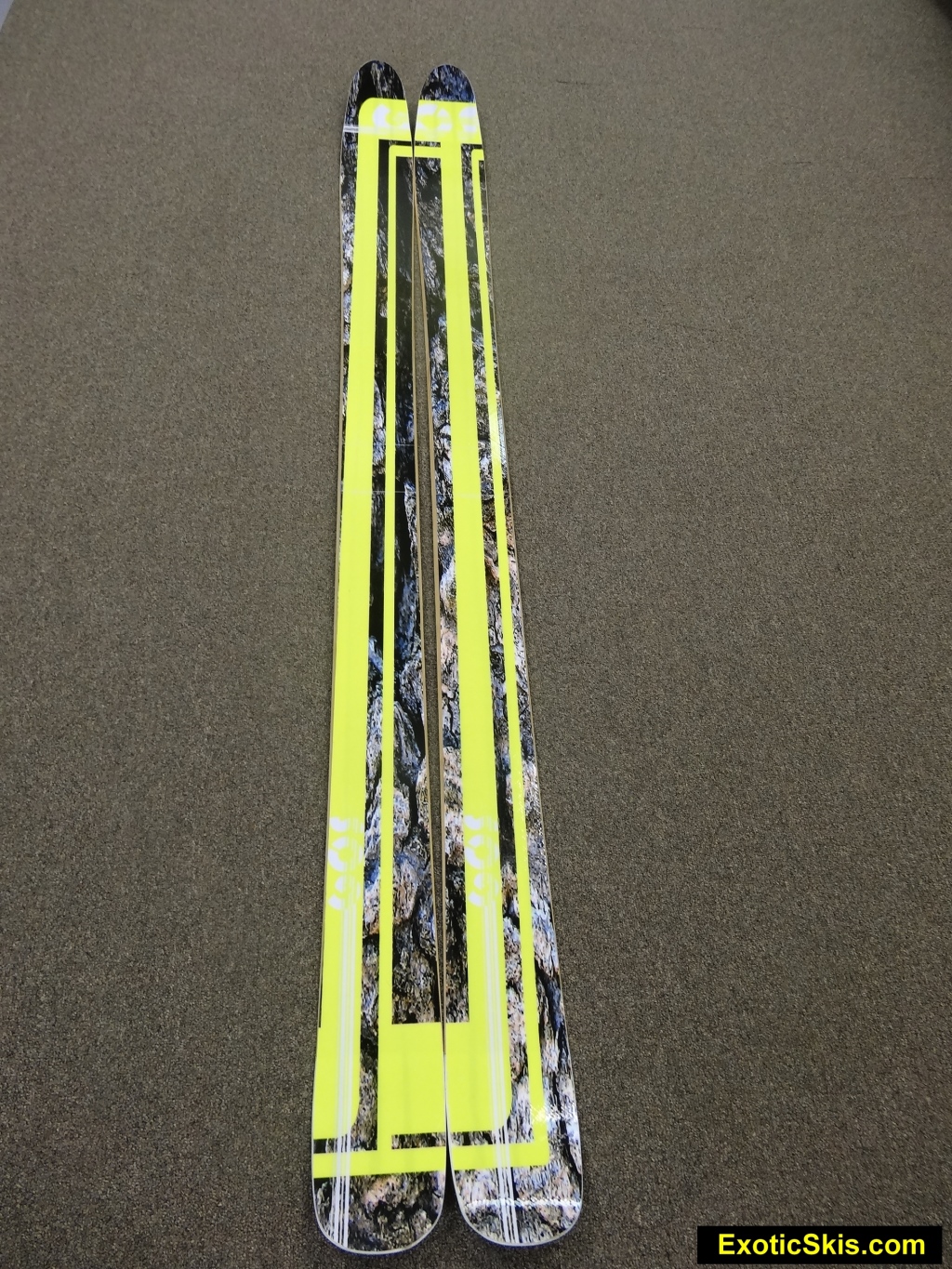 Manufacturer Info:

GC Skis
Seattle, Washington 98125
http://www.gcskis.com

Suggested Retail Price (MSRP):

$650-$750 retail depending on options

Usage Class:

BIg Mountain Freeride

Background:

Tristan Gossens grew up in Vermont (USA)  skiing Mad River Glen and Sugarbush, and developed a passion for shaping skis from watching surfboard shapers crafting boards in Florida.  After a stint in Alaska, Tristan settled in the Seattle, Washington area and began GC Skis.

Rating (with comments):
(1="get me off these things"->10="I have to own a pair")

9+ for any variable snow conditions - hard charging, high-speed
7 for boilerplate hardpack
8+ for packed powder groomers for a ski this size

Ski Designer(s):

Tristan Gossens


Manufacturer's Description:

"My personal ride. These skis were some of the first I made and despite having been ridden hard for several seasons still impress every time out. I was shooting for a PNW quiver killer and may have gotten lucky with this design. The early taper tip and rocker make for awesome powder and deep snow performance while the camber and traditional sidecut underfoot keep me carving with confidence on hardpack and ripping through moguls. The only thing I may change, when I can let go and retire these skis, would be a slightly stiffer profile for more support off drops."
Note: Camber and stiffness have been increased from the original design to create the ski we tested here at ExoticSkis.com.

Summary:

Tristan Gossens has created one of the most stable, confidence-inducing crud-cutting off-piste weapons we have ever tested.  A strong ski for strong skiers, the PNWQK (Pacific Northwest Quiver Killer) has a geometry and flex pattern for surfing through mixed surface conditions with absolute precision and security while providing surprising rebound acceleration energy, gripping power and responsiveness at the helm.  It takes a firm hand at the wheel and a dedicated pilot since this ski wants to be driven hard and delivers unwaivering linehold and power through an arc, regardless of the surface conditions.  While being a strong, ski, it is not burly or difficult to mangage, but it will show how good your physical condition is (or is not).   We kept looking for more and more gnarly surface conditions to ride this ski through, just to see if anything could shake it.  We couldn't find any.  This is a high-performance, highly functional ski of great quality for skiers looking for a strong chassis with superb security and predictable reliability when conditions are variable or inhospitable.  This would be a first choice for a "storm ski" in our quiver.  We see why this model is called the "Pacific Northwest Quiver Killer". With this ski underfoot, storms generate playground conditions, not tricky conditions.  Nice work.

Technical Ski Data:

Length: 185cm
Dims: 120/130/107/120 (early taper tip)
Camber: 10mm Rocker:
Tip only 20mm set 37cm back from tip
Turn radius: 30m
Flex:On a scale of 1-10 I'd say a 5 (but thats a pretty subjective category)
Weight: 2113 / 2163 grams per ski (measured by ExoticSkis.com's super duper digital kitchen scale)
Construction: Birch core w/ maple stringers/sidewalls;
UHMW tip/tail fill;
Durasurf 2001 base;
hardened steel edges;
Nylon subbed topsheet;
19oz triax glass w/ carbon fiber stringers & fiberglass reinforced binding area

Manufactured in USA

Bindings and Boots Used:

Tyrolia SP12 Demo Bindings
Salomon S-Max 120 boots.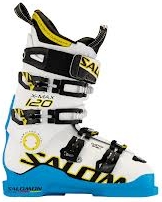 Pre-Skiing Impression:

Impressive fit and finish. Stiff hand flex, torsionally very strong. Plenty of power, support and rebound energy, while being damp.  Feels like "wood".  Moderate weight.  On first impression, it looks and feels like a ski for serious skiers, not recreational enthusiasts.  Could not wait to get it out into the wild.  Not a lightweight.

Test Conditions:

Eastern corduroy, packed powder and hardpack groomers, ungroomed packed powder with small bumps, shin-deep to knee-deep powder conditions, both smooth and bumpy. Windpack, crust, chalky wind buff, fresh and old powder, weeds. 

Hardpack and Boilerplate:

On our Eastern hardpack and boilerplate, the PNWQK had an impressive edgehold and big-arc (30m radius) carving ability once you roll it up on edge and get it pressured into its camber enough to grip the surface.  Dampening was very good, cancelling out most irritating buzz and chatter, as well as unwanted undulations from minor surface irregularities.  It is not a GS racer, but has one of the best grips underfoot for a 107mm - waisted ski we have ridden. The harder you press it into the surface, the better it grips...never washing out under pressure.  The faster you rode it on hard surfaces, the better it liked to grip.,

Mixed Conditions:

Mixed conditions are irrelevant when riding this ski.  It is simply a great crud-cutter, never deflecting or deviating from a selected arc, no matter what the terrain texture or surface condition.  While it is not a "surfy" feeling ski (being more directional in nature), it never fights back when pressed into crud, buff, piles of powder, chunks, slabs or hardpack. It simply cuts through the snow, carrying the pilot on the chosen path until told to change directions.  The degree of grip and security underfoot remains constant at the selected edge angle, moving into a slide or slarving state when told to...never before.  You can scrub speed at will, even in oddly-varying surface types.  Dampening behavior is a great balance between quiet and responsive in these conditions. After a few runs, you begin to seek out lines with surfaces you might normally avoid with lesser skis.  We like that. 

Bumps:

This is a relatively stiff and strong ski, so bumps are not absorbed, but traversed, and you can feel the feedback....making physical conditioning imporant.  The behavior in the bumps is very stable and predictable, never deflecting off-line or hanging-up the tails (rounded tail helps this), but this is not a fluffy bunny in the bumps.  Impressive rebound is on-tap if you load this ski in the bumps and let it fly, so pay attention.

Powder:.

The geometry and flex of the PNWQK makes powder skiing easy and fun, with a great mix of surfy pivoting on-demand and on-edge banking available, both for small and large radius turns.  We never got any more than a foot of fresh powder to test in, so we could not test the deep-fluff personality of this ski, but based on our rides we loved the way it let us go anywhere with very little effort.  This ski likes higher speeds due to its radius and relative stiffness, so as your speed picks up, so does its sensitivity and agility. Slowest speeds in powder can reveal a ski less surfy and playful than many, but then again this is a high performance ski for high performance skiers who rarely travel at slow speeds.

Analogies: ("This ski is like...")

A thoroughbred, performance machine begging for a professional driver.
Quick Comments:

Zero-deflection crud cuting ability due to the gradual, medium-stiff forebody flex and shark-nose w/ gradual rise.  Pretty much fearless to put the ski into any windpacked or cut-up crud at speed.
Slow-rise to planing speed in the soft snow…not a big-shovel "popup" behavior like some skis with fat tips.  Superb control.
Big radius (30m)…you just can't roll it up on edge and think it will cut across the fall line..it loves speed, and plenty of it
Zero-twitch, stable and begs for pressure and speed, but not demanding, even at slow to moderate speeds
Very solid, very confident edge hold when tipped up and held into the surface (hardwood sidewalls!)… Even across cut-up windpack and skied-out surfaces.
More cutting tool than surfer-tool.
Charging makes the ski happy.
Tail and midbody is solid and inspires confidence
Very good vibration cancelling, yet responsive underfoot.
Great looking graphics on-snow.
Definitely a western-geometry (east coast version would be turnier and more shapely…maybe 18-20m radius)
The ski had me looking for cut-up and cruddy surfaces since it would hold a line through them lickety-split with zero deviation from the chosen line.  One of the best in this regard.
Slightly rude and abrubt in the bumpy terrain since it's a strong-bodied ski, but never hooky or deflect-y when you hit bump faces square-on or at an angle….
Remarkably nimble in the trees (at least shin-deep pow and windblown snow) for a large-radius ski.  It can pivot if you just unweight a bit…a nice feature.
Can be thrown sideways to scrub speed when needed, but needs a firm hand on the wheel to keep them on-track..faster is better.

Things I Would Change About This Ski:
 
I would make a more turny version (20m radius +-) with the same construction for Eastern conditions or tighter terrain.

Short Answer When Someone Asks "What Do You Think About This Ski?":

This is a strong, powerful ski for high-performance skiers looking for a rock-steady crud-cutting tool with plenty of power and security underfoot for any conditions you can think of.  Not for casual skiers.

Advice To People Considering This Ski:

Make sure you are in good physical condition to get the most out of this ski...otherwise you are wasting the potential in it.  If you want a stunningly good weapon for slaying nasty storm conditions, look no further.


Pics: (click images for larger versions)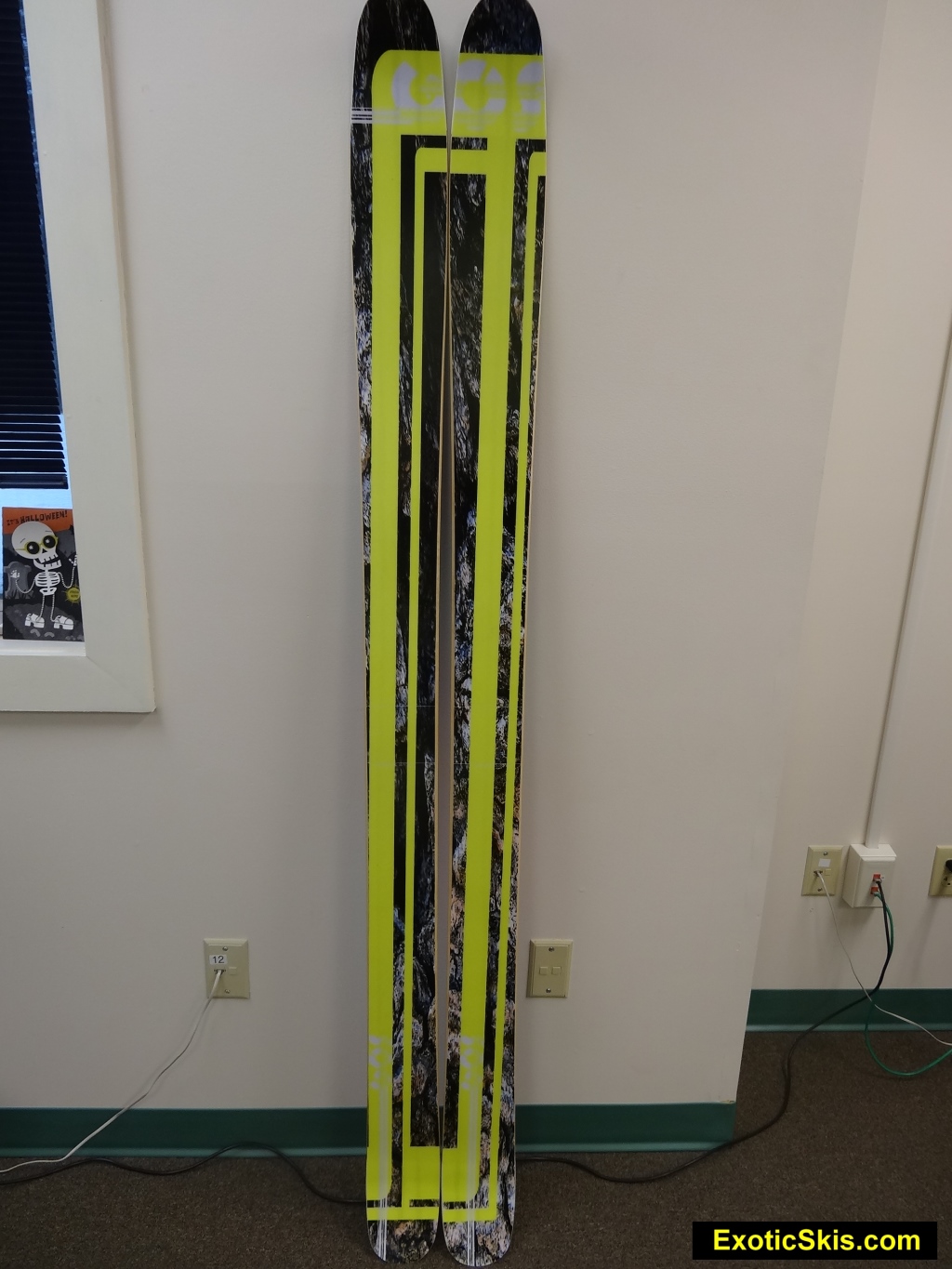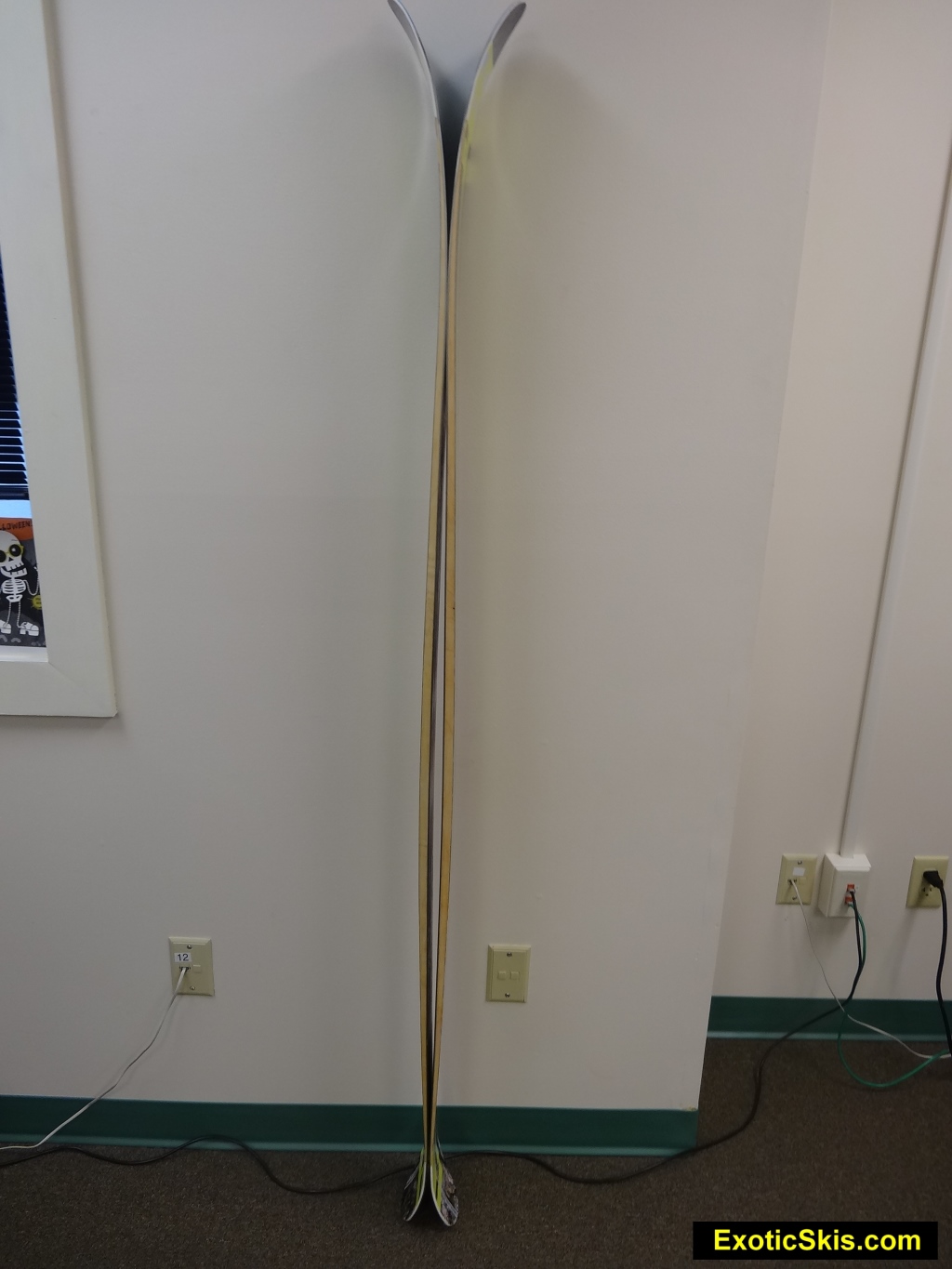 Camber Profile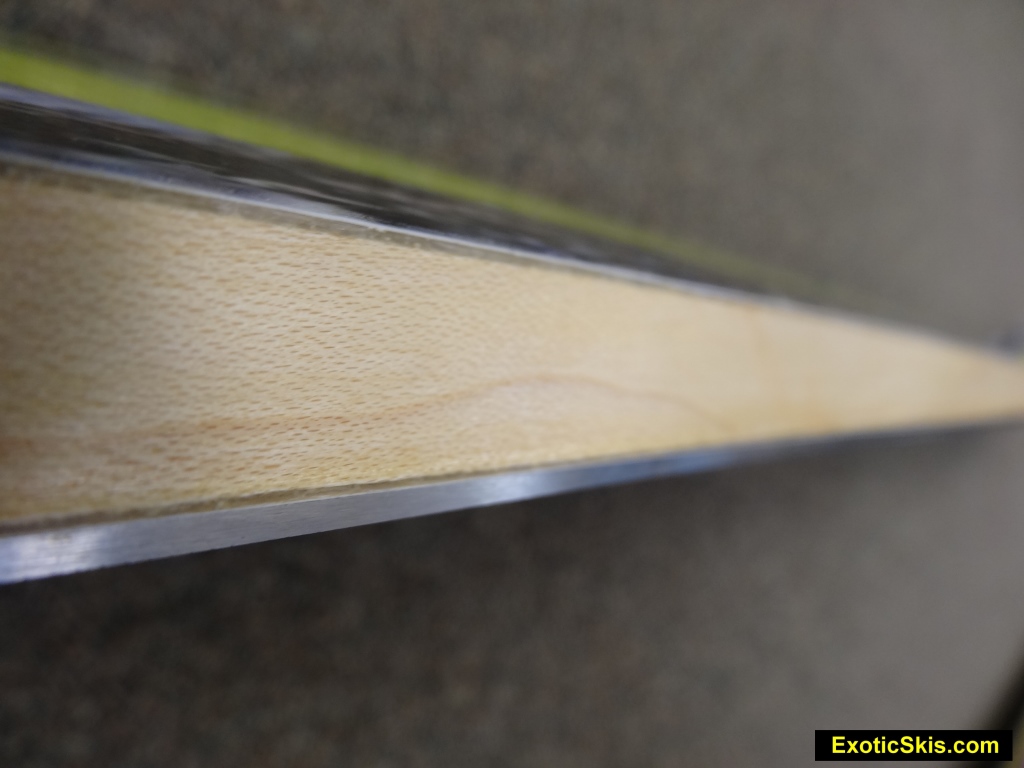 Hardwood sidewalls