Product: 2013 DID (Deliberate Industrial Design) P1 Stock Model and Custom Ski
Length Tested:
P1 Stock Model: 180cm
Custom East Coaster 177cm
Dimensions/Turn Radius: 
150-115-136 r=21.5m @ 180cm (P1 Stock Model "Kootenay")
137-104-133 r=18.0mm @ 177cm (Custom "East Coaster")
Camber:
Early rise tip and tail, flat underfoot (P1 Stock Model "Kootenay")
Traditional camber. slight early rise tip (Custom "East Coaster")
Binding: Tyrloia SP 12 Demo
Mount point: On the mark according to the builder
Environment & Conditions:
Location of Test: Vermont and New Hampshire
Number of Runs: Dozens
Snow Conditions: Eastern corduroy, packed powder groomers, ungroomed packed powder with small bumps, shin-deep powder conditions, both smooth and bumpy.  Windpack, crust, icy death-crust, chalky wind buff, dry powder, eastern boilerplate.
Demo or Own: Demo
Tester Info:
Username: ExoticSkis
Age: 53
Height/Weight: 5'11" 180lbs
Ski Days/Season: Never enough
Years Skiing: 51
Aggressiveness: Aggressive, driver
Current Quiver: Edelwiser Speed, IDOne TTR and TTM, Anton UFOria XA and Carbon EX, Palmer P02, Romp 100, Praxis Concept, SkiLogik Frontside Burner, Occam Razor, Rockstar, DPS Wailer 112RP..etc.
Home Area: Vermont
Preferred Terrain:  groomers, off-piste, trees
2012-2013 DID (Deliberate Industrial Design)
P1 Stock Model ("Kootenay")

150-115-136 r=21.5m @ 180cm (P1 Stock Model "Kootenay")

2012-2013 DID (Deliberate Industrial Design)
Custom "East Coaster"

137-104-133 r=18.0mm @ 177cm (Custom "East Coaster")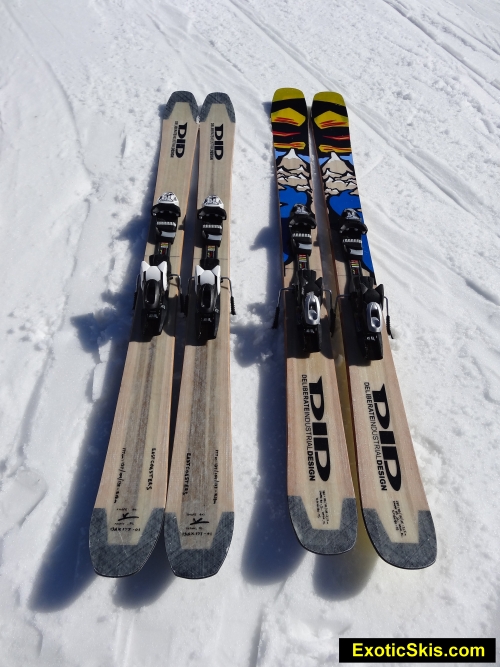 DID Custom "East Coaster" (left)
DID P1 Stock Model ("Kootenay") (right)
Introduction:
We contacted JV LeBrun at Deliberate Industrial Design (DID) in Fernie, Canada and he offered to let us test one of his stock models (P1 Stock Model a.k.a."Kootenay") in a stiff flex, and an example of ski produced to custom specifications.  JV was given total control over the custom ski geometry and construction details for our "East Coasters."  DID is a multi-product shaping operation also producing custom snowboards and surfboards...so they know what it takes to keep custom clients happy.   (We will refer to the P1 Stock Model as the "Kootenay" or "Koots" for the rest of the review because it's more fun...)
Manufacturer Info:

Jean-Vincent LeBrun
CEO/Designer/Shaper
Deliberate Industrial Design Ltd.
Box 1924, Fernie, BC, V0B1M0
250-278-4343
www.didcustom.com
Suggested Retail Price (MSRP):

Kootenay Special: $750 CDN + $50 for custom graphics
Customs: $1000 CDN includes graphics

Usage Class:

Kootenay Special: Freeride Ski
Custom "East Coaster" : Carving Twin

Rating (with comments):
(1="get me off these things"->10="I have to own a pair")

Kootenay Stock Model P1 = 9-10 - simply excellent and versatile

Custom East Coaster = 8-9 for hard-charging, higher speed conditions
Custom East coaster = 6-7 for tight or bumpy conditions (due to larger radius and stiffness for tight conditions)
Quality is 9-10 for each. Superb build quality with a custom, hand-made aesthetic rather than "factory finish" look and feel.
Ski Designer:
JV LeBrun was the R&D Director for a snowboard company, started shaping products at the age of 15 and has been perfecting his custom craftsmanship since 2006, with the goal of producing a locally-made Canadian product to withstand 100+ days of hard usage per year by hard-core enthusiasts.  JV has more than 10 years in ski and snowboard design/manufacturing and 15 years in composite fabrication. "Build it right" is the motto.  His vision is to deliver the highest degree of customization and craftsmanship in the ski, snow and surf markets, and to focus on the best solution for the client using innovations in materials, construction, design, eco-responsibility, minimum environmental impact and maximum craftsmanship, not mass-production.

View JV's bio HERE.
View a video of some DID construction and artwork HERE.
Summary:
Both the Kootenays and custom "East Coasters" from DID are superbly constructed, solid, high-performance tools for serious enthusiasts.  The harder you ski them, the more they deliver.  Both have industry-leading, intensely strong edge grip and torsional integrity,  yet quiet composure at speed.  The flat-camber/early rise Kootenays quickly became favorites when the snow was less-than-perfect, providing a huge range of high-performance across widely varied snow conditions and terrain.  The Koots would be surfy and pivoty in tight or manky conditions, and absorb terrain with ease, yet lay down serious GS trenches on the groomers when asked and be sporty and zippy at slow or high speeds.  They are a truly superb example of how wide a performance envelope can be for a 115mm waisted ski these days.  The East Coasters (built to JV's specs) are strong, stiff, hard-charging 104mm-waisted twins that crave a serious pilot to drive them into the snow where they grip tenaciously and cut across lines without deflection, accelerate hard when asked, yet can ski switch and carve backwards without any protest.  In this design, too stiff for tight terrain or bumps, but that's the way they were spec'ed.  The custom construction quality shown in the East Coasters was superb.  These DID skis feel like they would deliver several seasons of hard, hard use without breaking down. (time will tell!). Great skis from a passionate builder with the chops to deliver custom work with superb results at a relative bargain price.  We think JV LeBrun has a great future with DID Custom.
Technical Ski Data:

Kootenay Special:

150/115/136 r=21.5m @ 180cm. 

Flat 0 camber, Tip Earlyrise. Stiff flex.  Diecut base.  Hand laid and vertically laminated maple and poplar core, ripped from 8/4 and 4/4 lumber stock.  Triax 22oz glass, Surf Topsheet.  Hand-painted, ricepaper graphic sealed into topsheet. No sidewalls - core extends over the edges. Approximate 4,000 grams/pair weight.
Custom "East Coaster":

177cm:137/104/133 R=18.0m @ 177cm

Hand laid and vertically laminated maple and poplar core, ripped from 8/4 and 4/4 lumber stock.  Traditional camber - no rocker with a 100mm early rise to release the contact point. Medium-stiff flex. Maple on the sidewall for durability and stiffness.  No sidewalls - core extends over the edges. Each core profiled and fitted with UHMW-PE tip/tail fillers.The tips and tails are short early-rise , compared to a radius to eliminate the sharper pinch point and offer a tip/tail that act more like a rocker, with more float.

48 Rockwell steel edges
Durasurf 2001 Sintered base
VDS Dampening Rubber
Maple/Poplar Vlam core (VMP).
21oz Triax Fiberglass
Resin Research clear resin
Fiberglass binding area reinforcing mat.
Silkscreened logos
Surf Fiberglass topsheet
PPG Clearcoat.
The new topsheet coating is really interesting since it can be wet sanded, buffed and restored to a nice finish after a couple seasons of use.
See DID's material description HERE.
Bindings and Boots Used:
Tyrolia SP12 demo bindings mounted on-the-mark per DID instructions
Salomon S-Max 120 boots.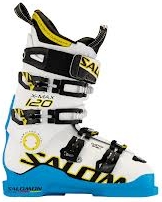 Pre-Skiing Impression:

Our test skis arrived in a cardboard box from JV's shop in Fernie with each pair individually wrapped and separated in the box with styrofoam shipping blocks for a perfect fit and no chance of scratching each other's tops or bottoms.  We usually don't see that kind of care in shipping test skis. They were shipped with a protective shop wax and documentation including an information sheet with waxing, edge prep & specs, mounting instructions and topsheet care details.  JV also included printouts of his CAD spec diagrams for the geometry of each ski.  He also emailed us a detailed description of the construction of each model.  This attention to detail impressed us right away before we even unwrapped the skis.
Once we unwrapped the skis, they gave the immediate impression of being a hand-built, custom product from someone who is passionate about their reputation and construction of their skis.  While skis like Wagner Custom and others have that 'factory finish" look, the DIDs have a "raceroom or skunk-works" quality about their build since you see the various components in the tip and tail, fiberglass matting and hand-written notes on the skis.  They feel remarkably light for their dimensions and strength. They look like R&D test skis, and have a definite coolness factor which people immediately respond to on the lift or trails as soon as they spot them.  (yeah yeah, the way a ski looks is really not important in the slightest, but we want to let you know how people react when they see them on snow).  Edge tune was excellent right out of the box.  We mounted them on the line, scraped the storage wax off, prepped them and skied 'em as-is.
JV was finalizing testing of a new top-finish material on our test skis, so some orange-peel and fish-eyes were evident on these demo skis.  As of publication of this review, JV reports the final versions are superbly finished and smooth, and based on his attention to detail in his documentation of the skis and response to questions, we have no doubt his passion for perfection will come through in all the final topcoating of any ski leaving his workshop.  The new coating can be wet sanded, buffed and restored to a nice finish after getting scratched, making them look like new after getting abused...a great feature.

Test Conditions:

Eastern corduroy, packed powder groomers, ungroomed packed powder with small bumps, shin-deep powder conditions, both smooth and bumpy.  Windpack, crust, icy death-crust, chalky wind buff, dry powder, eastern boilerplate.
Test Results:

Hardpack:
Both skis had a torsional integrity along their length that could shame many other companies with skis this wide underfoot in hardpack conditions.  The combination of a core with a high maple hardwood content and maple under the edges (no sidewalls, remember...) creates a ski with no fear on hard surfaces. Sharp bites with a punchy, downward style or long, drawn-out GS turns with the skis rolled up on-edge resulted in solid, confident grip on Eastern boilerplate and everthing else we could find. 
Kootenay:
The Kootenays were remarkably stable at speed on hardpack, even though they had moderate rise front and rear and had a short contact length with zero camber underfoot.  I was shocked at how well the Kootenays would grip hardpack without camber. While they did not grip and punch like a slalom ski, they were great on hardpack and would satisfy nearly anyone. The Koots could be thrown sideways at speed on hardpack without any funny behavior, just a nice, controlled slide. Impressive for a ski 115mm underfoot.
East Coasters:
The East Coasters, with their traditional camber and 18m radius, were happiest when rolled up and ridden at moderate to high speeds, but would punch and change direction on demand when needed.  Dampening at speed on hardpack was very, very good.  No real flapping at speed, just quiet control. 
The East Coasters, with their traditional camber,  could be slid sideways at speed as long as you watched your edge angle and weighting to get your fronts and rears equally balanced.  They where happiest at higher speeds, rolled up on their edge with good inertia and pressure to keep them flexed and ready to launch into the next turn, holding steady onto the hard surface. We had best results by moving the East Coaster boot position -1 or -2 from the suggested mount to get the carving behavior to be less pivoty and more stable.
Mixed Conditions:
Kootenay:

My first run with the Kootenays was in some 4-6 inches of fresh powder on top of death-crust (the kind if you break through and sink in, you cannot turn, cannot change direction, can't get out...simply railroad your way straight in whatever trajectory you were in when you broke through...) The Koots simply grabbed me at the first few turns and turned what could have been a nightmarish fight for survival into a happy-camper fun-fest of porpoising in and out of the crust, floating on top or any combo of the two.  I ended up looking for more treacherous species of surface to see if the skis would fail to perform. All I found was fun.  The Koots continued to become a favorite ski when the snow quality was unknown, or inconsistent.  They simply have a combination of float, smear, pivot, carve and pounce (yes, "pounce" is a word I would use to describe one of their behaviors....) that makes nearly any conditions really fun to be in.  That sold me right there.  Other testers found the same remarkable performance.  Pivoty turns in bumps (tight and well-spaced) and Eastern trees were easy and fun.  Lots of spunk and rebound available on-demand.  Let them run through the crud, crushing undulating surface conditions in their path..no problem.  Deflection...near zero.  Ease of handling....super easy.  Fun, fun fun in mixed conditions.
East Coasters:
The custom East Coasters were designed as East coast, cambered, charging twins and as such, felt stiff and unforgiving in mixed conditions unless they were driven hard, where they cut lines through junk with zero deflection, but required a steady, strong hand at the helm to make them do what I wanted.  With the advent of rockered ski geometry, the feel of traditionally full-cambered skis in mixed conditions feels like too much work...this has spoiled nearly everyone, but it is the price of progress.  If I were to specify a custom ski for all conditions, it would not be fully cambered, but have some rocker front and rear with some camber underfoot. 
Bumps:
Kootenay:
I was expecting the relatively wide-shoveled Kootenay Specials to be a bit bulky and balky in the bumps, but the testing we could get in small-to-medium sized bumps found they simply absorbed the bumps, but had enough forgiveness in the torsional strength in the shovels to not pull across the face and yank the skis across the bump, but rather just bounce along happily without transmitting too much force directly to the pilot.  They stayed on-line where you pointed them, took the hits and kept on moving.  Plenty of snap in the near-forebody, underfoot and in the tails to get as much pop and lift as you wanted.  Impressive.
East Coasters:
As you might expect, the relatively stiff, traditionally cambered East Coasters were somewhat unforgiving and stiff-feeling in the bumps.  While they had great control, they gave immediate and abrupt feedback to the pilot, which would wear you down after several runs.  Again, the design was not intended for bump skiing, but we had to try it anyway!
Powder:
Kootenay:
The Koots have a relatively wide leading shovel profile, and come up and float with very little effort in powder.  Their progressive taper along the forebody allows the float to be fed along the length of the ski nicely without any hooky behavior whatsoever.  The underfoot and tail section work really well together to provide a high degree of feel and depth control as you traverse floatable conditions, so you can adjust your depth nicely on-demand, surfing across the top, or submerging to scrub speed as needed.  Long-radius turns are easy, yet you can smear sideways and shut them down without much effort.  "Playful" is the way I would describe the Koots in powder.  A great daily-driver choice for western conditions.
East Coasters:
As you might expect, the custom design of the East Coasters with traditional camber makes them very directional in powder.  They actually have a nice degree of float due to their dimensions (137/104/133), but need more input than a rockered ski to get the directional and depth changes desired, and being relatively stiff, impacts to the ski beneath the surface are transmitted directly to the pilot, which after getting lazy on the rockered ski designs, can be a wakeup call to the unitiated.  This particular custom geometry worked best in the powder at higher speeds in open terrain, where they cut back and forth across the snow nicely for a cambered-profile ski, showing a nice balance fore and aft...they preferred the groomers for best performance.
High Speed/Open Terrain:
Kootenay:
The Koots showed a remarkable degree of quiet composure at higher speeds, despite having a relatively short runing length with the early-rise tip and tail and zero-camber waist.  Vibrations were essentially cancelled, while liveliness was completely controlled and predictable while arcing at warp nine.  Tip flap was really non-existent unless there was lots of debris in the surface. Otherwise, they were quiet, damp and controlled and could hold a GS turn very nicely on a variety of surface conditions.
East Coasters:
The East Coasters shined at high speeds on groomers or packed-powder conditions.  Once you rolled the chassis up on edge and got it to flex into the surface, they held a line without question, deflection, vibration or any protest at all.  "Solid" at speed is a great way to describe their feel.  There really was no practical speed limit for Eastern conditions.  The ski maintained the same rock-solid edge hold and directional integrity found in its Kootenay cousin, but had a longer, more GS-like quality about it.  While these were not GS skis, they held large-radius turns really well with great confidence, cutting across changing surface conditions without a flinch.  Strong and confident at speed is what we found in this DID custom build.  The size and geometry of the ski made it good at going from hardpack to soft-snow conditions at speed without fear of "going over the bars" more narrow skis can produce.  The stronger you are, the more they delivered.  Not for the faint of heart or intermediates as delivered in this custom design.  GS racers might really like this as their "day off" ski.
Slow Speed/Tight Conditions:
Kootenay:
The Koots excelled in tight conditions and slow speeds, being very pivoty, smeary and easily able to change directions on a dime, while at the same time having superb bite on the backsides of bumps or odd terrain changes.  If you needed to thread the needle on a tiny line in tight conditions, the Koots had excellent directional integrity, never slipping or slurring off your desired line unexpectedly. They dould snake their way in and around woodsy terrain with very little effort and perfect control.  Fun fun fun.
East Coasters:
The East Coasters felt longer than their 177cm size in tight conditions due to their stiff flex and full-camber profile in a 137-104-133 chassis.  They could wear you down if you were lazy or got in the back seat in tight terrain, but if you drove them with a competive-event approach, they could move through the tight stuff with authority, and thanks to the tapered-off tail, they did not hang in the bumps.  Any balky feel came from their stiff specification.
Analogies: (this ski is like...)
Kootenay:
All-purpose, high performance sports car with a sunroof. Something you would choose nearly every day unless you needed something really special like a pickup truck or racecar.
East Coasters:
"As Designed" : A ship designed for cutting through the chop of the Northern seas under pressure without flinching, requiring a strong hand at the wheel.
Things I Would Change About This Ski:
 
I would not change anything about the Kootenay. It is excellent as-is.
The East Coaster I would change the geometry of to make it more narrow, carvy-turny and somewhat softer flexing for "all purpose" Eastern use, and after seeing what the Kootenay can do, a custom ski by DID for Eastern conditons or any other conditions would be an irresistable temptation since DID can make superb skis. 
NOTE: This was an example of a custom build from DID, not really an example of the ultimate Eastern all-mountain twin. Our evaluation is of its quality and ability to perform in a specific manner as designed by JV LeBrun who delivered a ski he would want to ride in the Eastern U.S. and Canada. It was designed for a quick, agile, athletic skier who rides switch 25% of the time, not a relaxed, casual skier who spends time with the kids.

Short Answer When Someone Asks "What Do You Think About This Ski?":

DID makes a superb, light-handling ski with remarkable edge grip and performance at a compelling price.  It should be on your short list of custom ski builders.

Advice To People Considering This Ski:

Be sure to describe your exact skiing preference, favorite terrain, favorite ski area and honest ability to DID, along with a list of your favorite skis if you have JV LeBrun create a custom ski for you.
Self-Description of Skiing Style, Ability, Experience, Preferences:

5' 11", 180 lbs. 53 year-old expert, "old-style" race inspired, "foot steerer" with fairly sensitive edging feel. Loves to hold long arcs with lots of pressure on the downhill ski (you know the type),  but also loves the feel of both skis on-edge leaving tiny railroad track edge tracks.  Loves powder when it's not tracked out. Trees and odd terrain angles are fun.
Pics: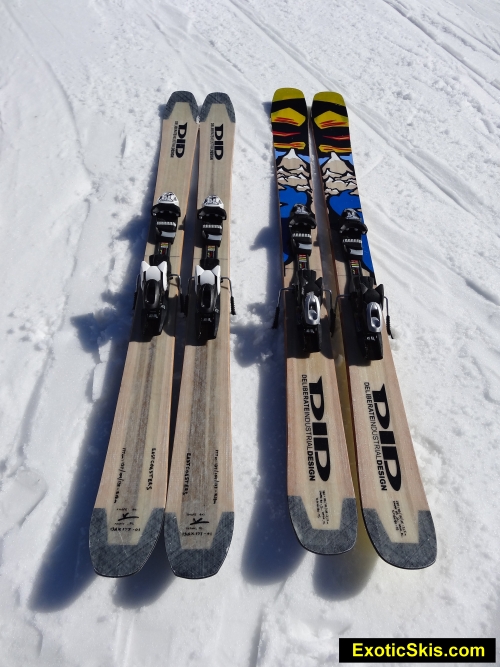 DID Custom Ski (left)
DID Kootenay Special (right)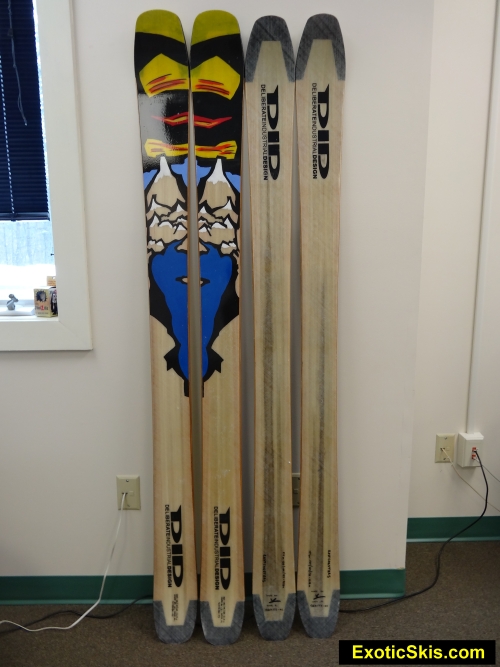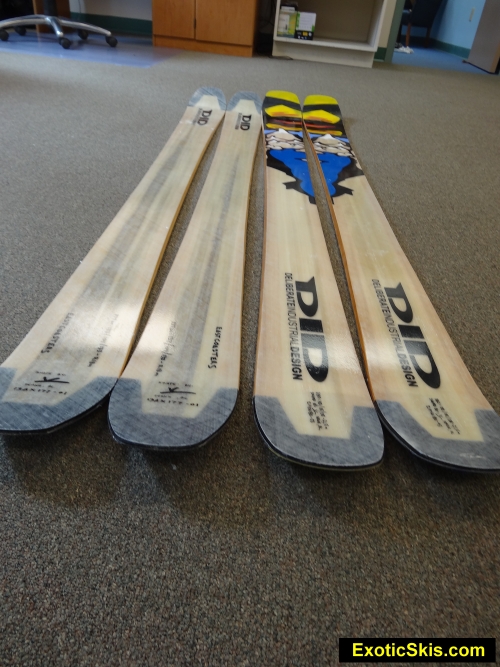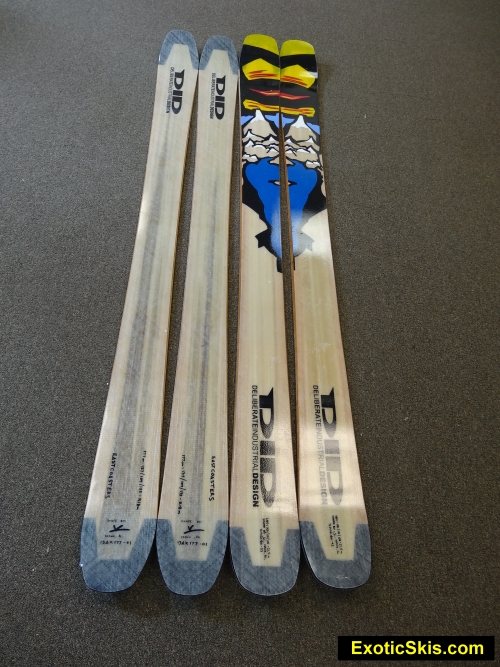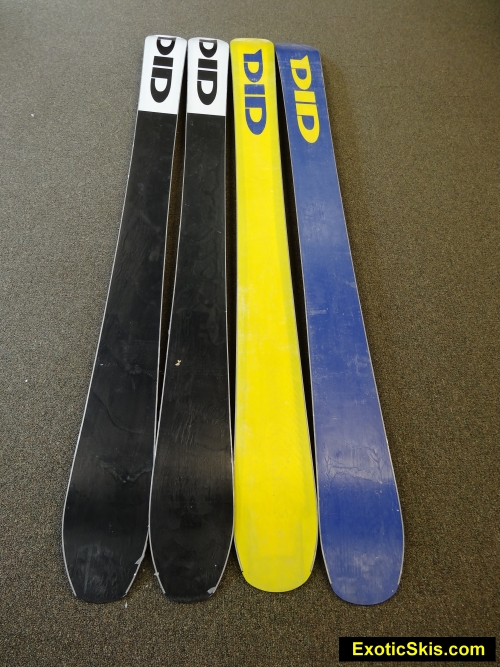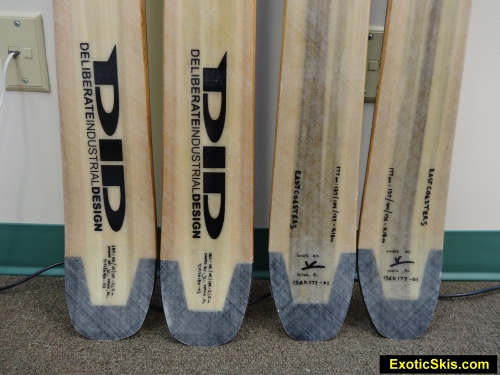 Kootenay Tails (left)
Custom Tails (right)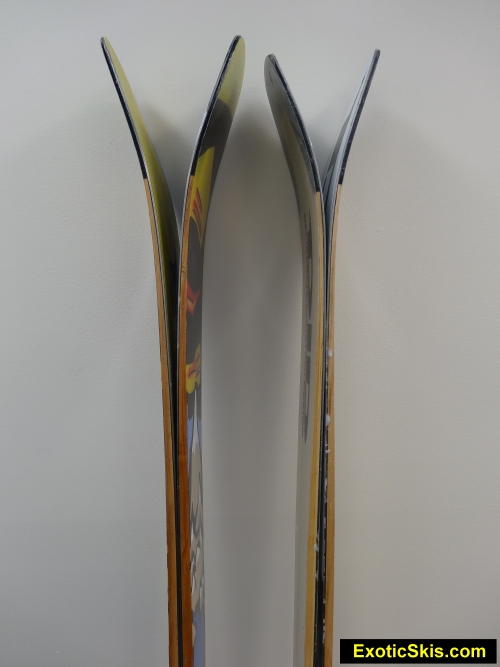 Kootenay Tips (left)
Custom Tips (right - shop wax not yet removed)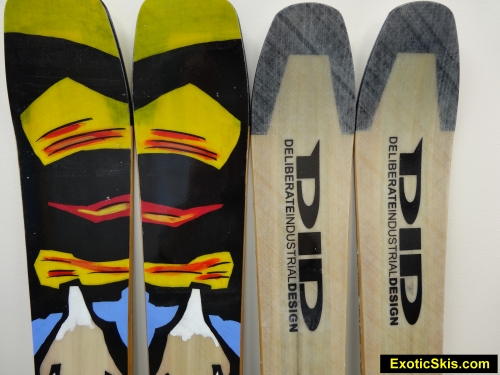 Kootenay Tips (left)
Custom Tips (right)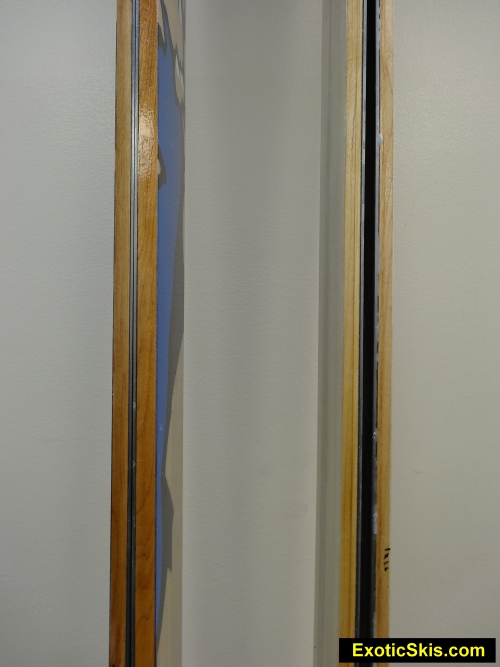 Kootenay Waists (left)
Custom Waists (right)

Kootenay Tails (left)
Custom Tails (right)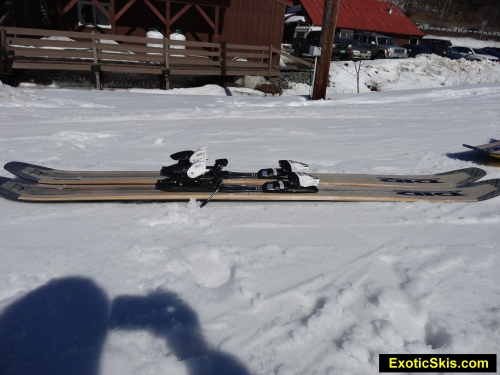 DID Custom "East Coasters"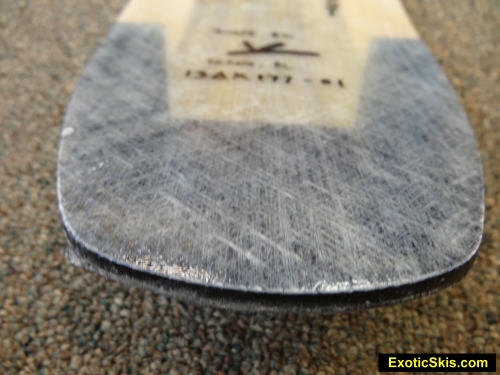 DID Custom Tail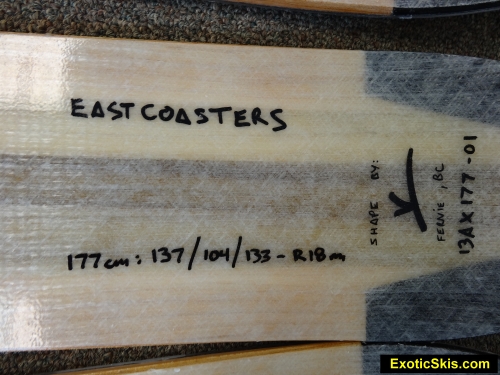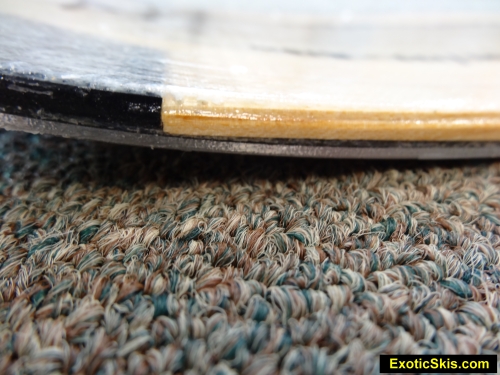 DID Custom Tip Close-Up

DID Kootenay Special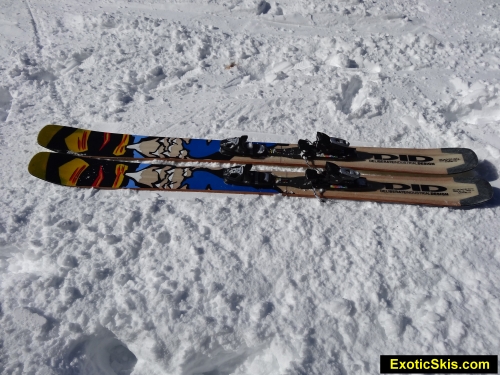 l
DID Kootenay Special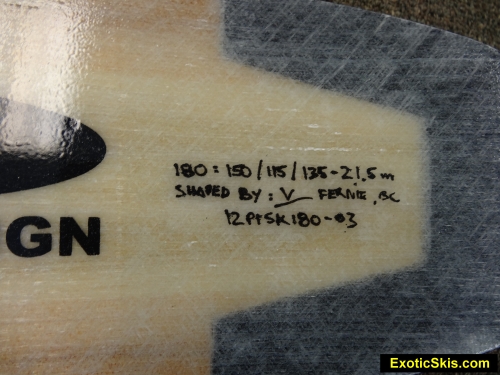 DID Kootenay Special Tail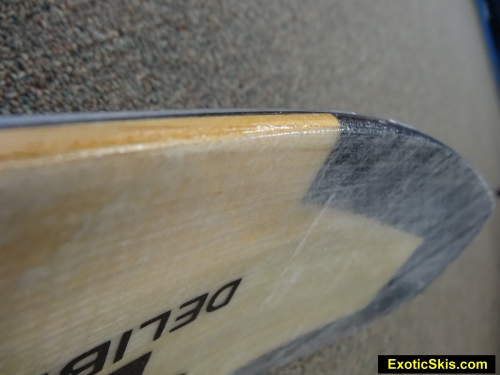 DID Custom Tip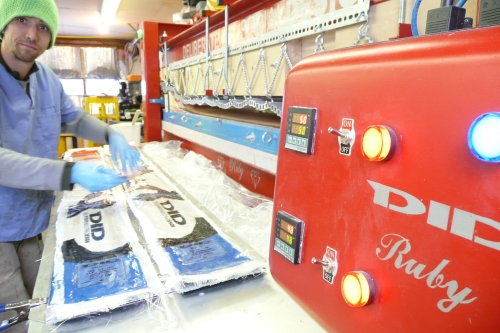 JV LeBrun Laying Up The Topsheets