Product: 2013-2014 Whitedot Redeemer Shootout: Std vs. CarbonLite
Length Tested: 185cm
Dimensions/Turn Radius:  138-142/128/132-128 r=21.5m@ 180cm
Camber: Tip rocker, flat underfoot, rockered tail
Binding: Demo
Mount point: Freeride mark per Whitedot
Environment & Conditions:
Location of Test: Vermont and New Hampshire
Number of Runs: Dozens
Snow Conditions: Eastern corduroy, packed powder groomers, ungroomed packed powder with small bumps, shin-deep powder conditions, both smooth and bumpy.  Windpack, crust, chalky wind buff, dry powder.
Demo or Own: Demo
Tester Info:
Username: ExoticSkis
Age: 53
Height/Weight: 5'11" 180lbs
Ski Days/Season: Never enough
Years Skiing: 51
Aggressiveness: Aggressive, driver
Current Quiver: Edelwiser Speed, IDOne TTR and TTM, Anton UFOria XA and Carbon EX, Palmer P02, Romp 100, Praxis Concept, SkiLogik Frontside Burner, Occam Razor, Rockstar, DPS Wailer 112RP..etc.
Home Area: Vermont
Preferred Terrain:  groomers, off-piste, trees
2013-2014 Whitedot Redeemer Shootout:
Redeemer Std vs. Redeemer Carbonlite
138-142/128/132-128 r=21.5m@ 180cm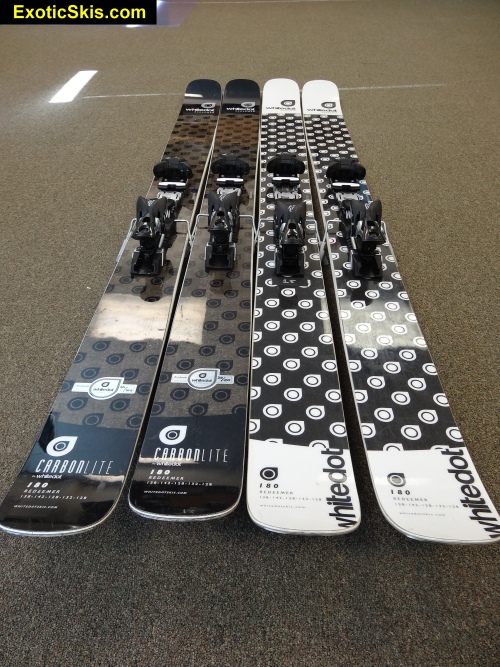 Manufacturer Info:

Whitedot Skis Ltd
91-93 Green Lane
Leeds, LS16 7EY
United Kingdom
Phone: (509) 392 1394
Whitedot Skis USA LLC
12665 Minuteman Drive Suite 1
Draper, UT 84020
801-576-6460
Suggested Retail Price (MSRP):

Redeemer: $1,100 usd (€679 - UK)
Redeemer Carbonlite: $1,300 usd (€979- UK)

Usage Class:

Big Mountain Powder/Freeride Ski

Rating (with comments):
(1="get me off these things"->10="I have to own a pair")

8-9 for nearly all snow conditions
7-8 for hardpack

Note: The std and carbonlite versions both rate the same, but deliver the performance with a different personality and feel.  Each has advantages in certain conditions...read on...
Company Description Of The Ski:

"REDEEMER:
The Redeemer is highly versatile and a dependable friend in the big mountains. The top sheet design is simple and classy and as a result, it stands out."

The ultimate powder ski. If charging bowls of fresh powder or hucking cliffs is your thing, then this is the ski you need. The Redeemer is Whitedot's flag ship ski; born out of collaboration with pro riders from Chamonix, Mayrhofen and Verbier. Truly a rider influenced design.

Often spotted at the front of the lift queue ready for first tracks. The Redeemer doesn't just lead in the lift queue, it is a pioneering freeride ski. The 128mm under foot gives a huge amount of float with a fully rockered tip and tail whilst retaining the trademark Whitedot full-length torsional stiffness to deliver a fully versatile ski." 

"CARBONLITE:
...with a 500 gram saving per ski over the regular Redeemer, the CarbonLite saves the skier the equivalent of 5 kilograms off his backpack weight"

By combining 'cutting edge' composites and natural materials we've built a ski that is lightweight, strong and durable. Working on the tried and much tested performance platform of the Redeemer, the Redeemer CarbonLite has been designed for those pushing the limits of powder skiing.

This ski is for those who want to reduce weight in their equipment, for those skiers who want to boot pack or skin to reach the highest peaks, or for those who simply want a lightweight ski that does not compromise in performance or adaptability.

Weight p/ski: 2020g"
Summary:
Both the Std. and CarbonLite versions of the Redeemer have the same capabilities, with the CarbonLite having more "zing" and "sizzle" in its response to driver input and terrain feedback, as well as a lighter, more responsive feel underfoot.  The Std. Redeemer has a more planted, dampened feel at higher speeds, and a somewhat heavier, more solid handling impression.  The CarbonLite has a distinctive "ringing tone" on harder surfaces, typical of many skis with high-carbon content.  The weight difference is significant on paper (500g per ski), but when mounted with bindings and having clumps of snow on the skis at various times, it does not seem impressively different.  The feel of the CarbonLite seems to be more influenced by its responsiveness and feedback than the raw weight difference between it and the Std. version in real-world conditions.  With the introduction of the CarbonLite construction, Whitedot has provided skiers with a choice of personality similar to how DPS offers their hybrid and Pure constructions in many of the same models.  A good bet would be Whitedot will put the CarbonLite construction into its entire lineup in the future..time will tell....
The Redeemer is a solid, big-mountain ski capable of high-performance skiing in nearly any snow conditions and terrain.  Bred and refined in Chamonix and Verbier, the Redeemer likes athletic technique in challenging terrain and delivers a reliable, predictable ride with great confidence.  Very well built in one of the EU's most experienced shops to Whitedot's specifications. The Redeemer sits in the middle category between "surfy-drifty" and "heavy-charger" big mountain skis, able to please a huge population of skiers who are not looking for a ski at one extreme or the other.  Weaker skiers might find it a bit overbearing, and heaviest-charging skiers might want to opt for the Ragnorok model (although it is hard to overpower the Redeemers in normal usage). It has the feel of a ski that has been refined for several years to reach its desired handling traits.  I can see why it is so popular in Europe and has earned its reputation as Whitedot's flagship ski.
Technical Ski Data:

STANDARD:
Tri-Axle Fibre Glass / Carbon Fibre Kevlar Stringers / Dry Weave Binding Retention Plate / Rubber Foil Dampening Tape

CARBONLITE:
Carbon Fibre / Flax / Carbon-Kevlar Stringers / Dry Weave Binding Retention Plate / Rubber Foil Dampening Tape / Carbon-Aramid / Carbon
BOTH SKIS:
138-142/128/132-128 r=21.5 @ 180cm
Full Tip-to-Tail Popular / Ash Laminate (ash under binding area)
Bases: 1.2mm ISO 7200 High Speed Precision Sintered, Die-cut
Edges: 1.9mm hardened Steel, 360 pre-bent Wrap-Around
Topsheet: ISO Foil, Screen Printed & Twice Lacquered
Rockered tip and tail, flat underfoot
5 point geometry
Bindings and Boots Used:
Salomon Demo Bindings (mounted at the "freeride" line as designated by Whitedot)
Salomon S-Max 120 boots.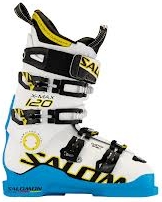 Pre-Skiing Impression:

I had skied the Redeemers back in 2010 in Chamonix in rather wind-packed, chalky 2D conditions, and came away impressed with their versatility. See the comments at the previous post. Of particular interest is Whitedot's incorporation of renewable flax fiber fabric in the CarbonLite construction.

Test Conditions:

Eastern corduroy, packed powder groomers, ungroomed packed powder with small bumps, shin-deep powder conditions, both smooth and bumpy.  Windpack, crust, chalky wind buff, dry powder, Eastern hardpack.. No deep snow (unfortunately).
Test Results:
Hardpack:
Being flat underfoot, the Redeemer does not have the hardpack grip of a cambered ski this size in GS-like carving situations, but provides a solid bite underfoot and in the tail when flexed into the surface in tight terrain or rolled up on edge and pressured on open slopes.  Thanks to their 5-point design and good torsional strength, they never give out or spook you on hard surfaces like some flat-waisted skis do, and the short contact length when pressured is solid and reliable...just don't expect GS-ski carving performance unless you get enough snow depth to sink the entire sidewall into the snow on edge.  Dampening keeps vibration to a mininum very well, never chattering on hardpack or loosing edgegrip on the boilerplate.  Redeemers give you no reason to avoid or get anxious when hard surfaces appear, and that's good in a ski this size.
Mixed Conditions:
In mixed snow conditions, the Redeemers shine in their ability to be unfazed by surfaces with varying consistency.  You set your line and go.  No real deflection, even in bumpy soft terrain or snow with submerged chunks.  The redeemers are moderately nimble in tight terrain at slower speeds, but not jack-rabbit like in tight trees, while when the speed picks up, they become more alive and agile.  The CarbonLite version is noticably quicker and responsive in tight terrain with mixed conditions than the Std. version. Chalky windpack, soft-to-refrozen snow, packed powder or cut-up powder are essentially ignored by the Redeemers.  The faster you go, the more they like it. The Std version is more quite underfoot when cutting through such conditions, while the CarbonLite is more responsive and nimble at directional changes in odd snow. Groomers are perfectly fine on the Redeemers, just drift along or roll them on on their effective edge with confidence. Tuning the base bevel and adjusting the edge detune zones can make them more groomer-friendly as needed. These skis have been bred in open Euro-terrain, and it shows.
Bumps:

Bumps show a big difference between the Std. and CarbonLite versions of the Whitedot Redeemer. The small bumps I was able to find during our short test were a mix of hard and moderately soft surface types. Both versions of the Redeemers handle bumps fairly well with a good dose of dampened control (no unwanted bucking or hooky deflection).  The Std. version has a heavier feel due to its lower level of response and feedback to the driver than the CarbonLite, which delivers a much more immediate conversation about the type of terrain underfoot and along the length of the entire ski.  If you went into a bump-infested area at high speed, the CarbonLite will feel more like a rodeo with quick feedback and pop you up and over the terrain, looking for directional changes (while maintaining control), while the Std. version will just hold the line, transmitting pressure back to the skier as you thump-thump-thump your way along.  Std. version = Thump Thump Thump.  CarbonLite version = Boing, Boing, Boing. Hopefully that makes sense...it depends on what you prefer.
Powder:
We did not get enough powder during our test period to get any snow more than shin-deep (Vermont had a serious snow drought in January and February), so there was no chance to get the Redeemers into their true element.  The powder we did find was good enough to evaluate each model's feel in 3D snow. Both Redeemers crave a three-dimensional surface to show off their geometry, which can be described as "multivalent", or having multiple forms, purposes or meanings.  They hold a straight line without effort, cruising undisturbed, even when density under the snow changes, allowing the rider to adjust the depth as desired with some minimal fore-aft weight changes.  Turning behavior in powder can be either smeary (easier at higher speeds), pivoty (with a solid command from the rider) or cut-and-thrust when immediate, drastic directional changes are needed (again, with a solid command from the rider).  Not all big-mountain skis have a full range of powder turning options like the Redeemers, and I think that's why they remain so popular with many skiers who try them. The Redeemers are not the surfiest, nor gnarliest, nor chargiest (is that a word?) all-terrain powder skis, and they don't specialize in only one kind of powder behavior, but have a high-performance, confident, wide array of capabilities in one package.
Analogies: (this ski is like...)
A reliable, go-to companion for nearly any snow conditions on big terrain. A buddy you can always call up to go out with who will push you as hard as you want to go.
The Std. version is like an Audi A6.
The CarbonLite version is like a Audi A6 with the seats taken out and quicker suspension.
Things I Would Change About This Ski:
 
For big mountain terrain, I would not change these skis.
For tighter terrain, I would narrow the waist to perhaps 115-118mm to tighten the radius.

Short Answer When Someone Asks "What Do You Think About This Ski?":

The Redeemer is a classic, rockered big-mountain ski for Western U.S. or European terrain, and likes high-performance input.  Not for intermediates unless they want to improve their skills and technique, but a really satisfying ride for experts who like to drive a ski.

Advice To People Considering This Ski:

Be sure to get a demo on a freshly tuned pair and check it out on multiple surfaces to see if you like the way it handles under your technique.  Pick the CarbonLite as your first choice unless you want something with a more damp, planted feel underfoot for higher-speed riding.
Self-Description of Skiing Style, Ability, Experience, Preferences:

5' 11", 180 lbs. 53 year-old expert, "old-style" race inspired, "foot steerer" with fairly sensitive edging feel. Loves to hold long arcs with lots of pressure on the downhill ski (you know the type),  but also loves the feel of both skis on-edge leaving tiny railroad track edge tracks.  Loves powder when it's not tracked out. Trees and odd terrain angles are fun.
Pics: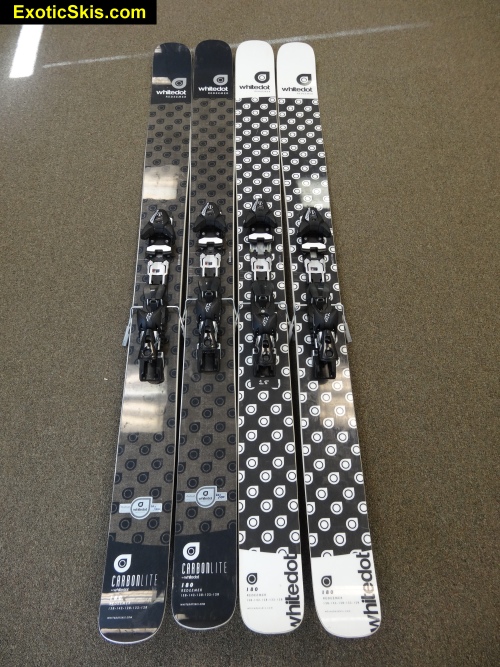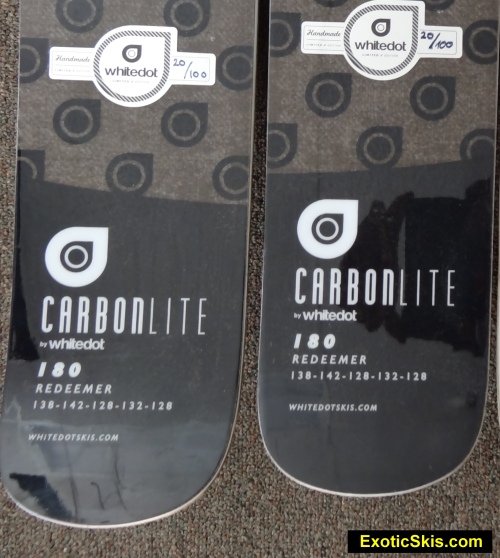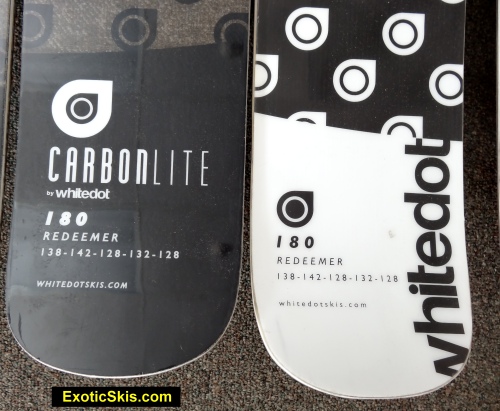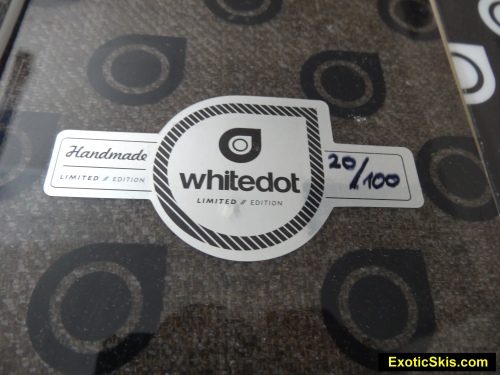 Whitedot Redeemer CarbonLite badge
(note to the graphic designer....: the dots are NOT white...)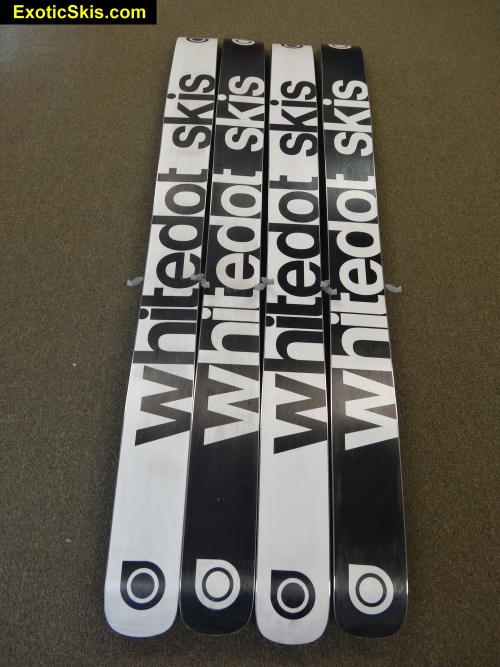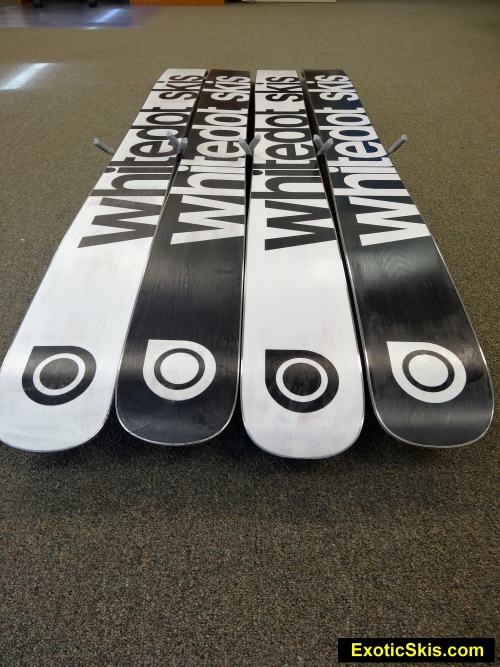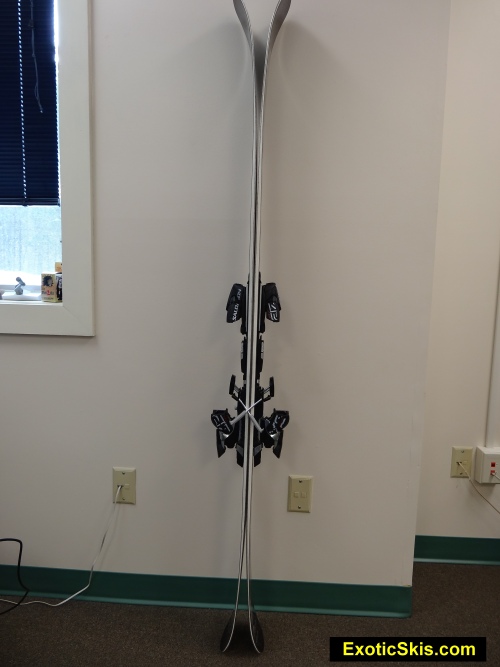 Whitedot Redeemer profile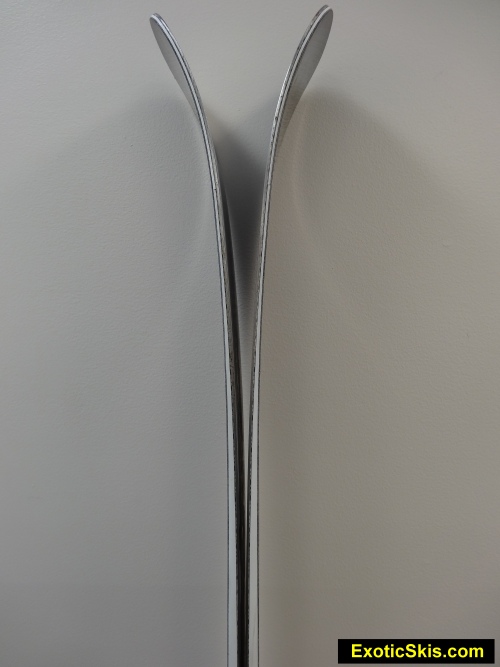 Whitedot Redeemer Tips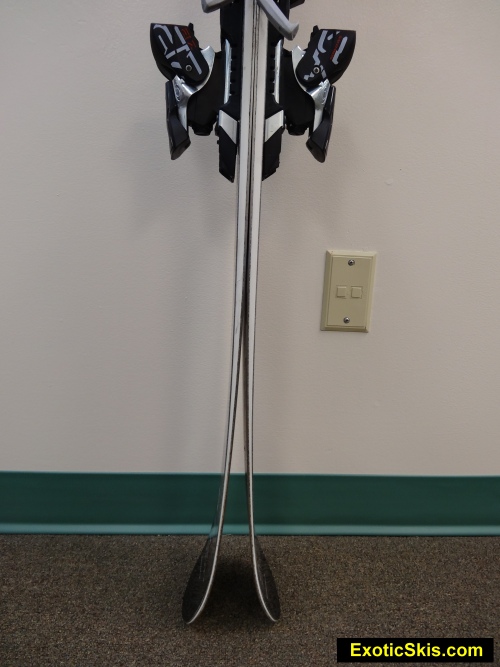 Whitedot Redeemer Tails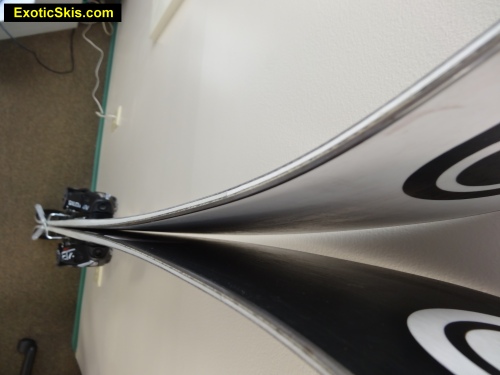 Whitedot Redeemer rockered tip geometry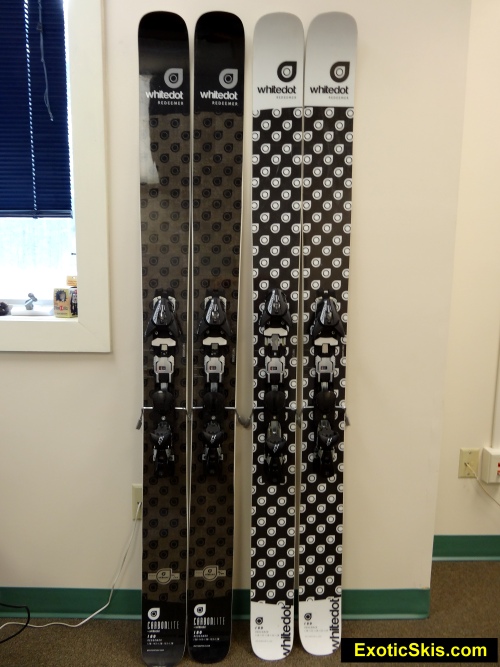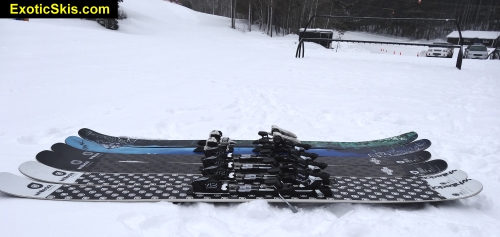 Whitedot Redeemers on snow (first two pairs front to back)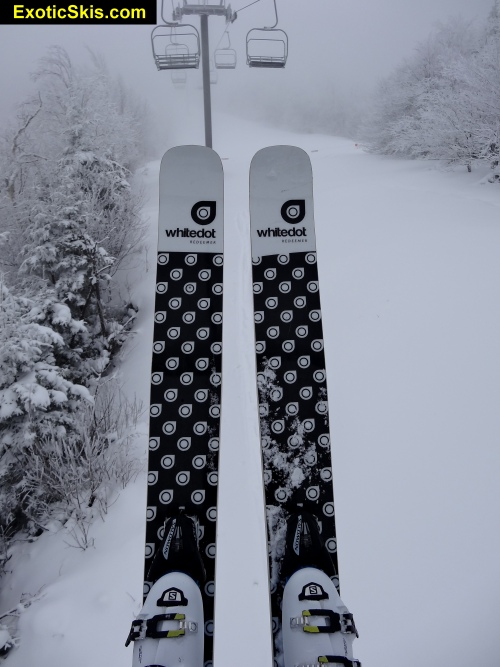 Whitedot Redeemers showing off their dots