Review:
Product: 2012-2013 ARTificial. Nature
Length Tested: 185cm
Dimensions/Turn Radius:  156-126-152 @ 185cm radius unlisted
Camber: Tip rocker, traditional camber underfoot, rockered tail
Binding: Demo
Mount point: Suggested (-1cm from true center)
Environment & Conditions:
Location of Test: Vermont and New Hampshire
Number of Runs: Dozens
Snow Conditions: Eastern corduroy, packed powder groomers, ungroomed packed powder with small bumps, shin-deep powder conditions, both smooth and bumpy.  Windpack, crust, chalky wind buff, dry powder, weeds and brush (sorry Tyler).
Demo or Own: Demo
Tester Info:
Username: ExoticSkis
Age: 53
Height/Weight: 5'11" 180lbs
Ski Days/Season: Never enough
Years Skiing: 51
Aggressiveness: Aggressive, driver
Current Quiver: Edelwiser Speed, IDOne TTR and TTM, Anton UFOria XA and Carbon EX, Palmer P02, Romp 100, Praxis Concept, SkiLogik Frontside Burner, Occam Razor, Rockstar, DPS Wailer 112RP..etc.
Home Area: Vermont
Preferred Terrain: 
groomers, off-piste, trees
2012-2013 ARTificial. Nature
156-126-152 @ 185cm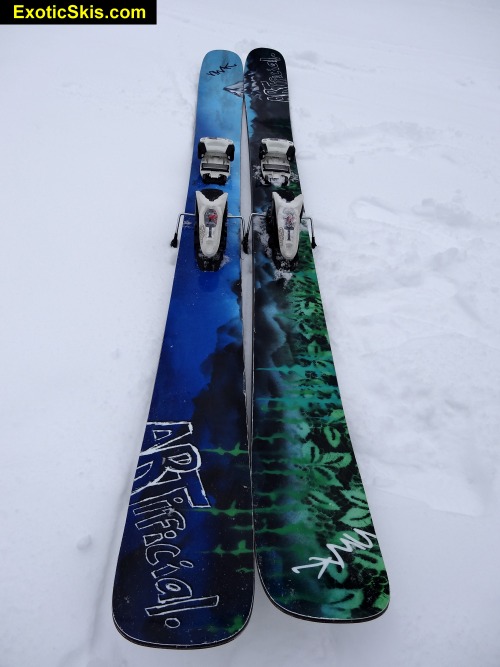 Manufacturer Info:

ARTificial. Ski Company
58311 N Sunset Rd
Benton City, WA 99320
Phone: (509) 392 1394
http://www.artificialskis.com
Suggested Retail Price (MSRP):

$749 usd

Usage Class:

Big Mountain Powder/Freeride Ski

Rating (with comments):
(1="get me off these things"->10="I have to own a pair")

9
Ski Designer:
Tyler Williams is the designer...."Founded in the back yard of a once-upon-a-time teenager, the idea behind ARTificial. was not bred out of a desire for money.  An injury that ended a career merged with the craftsmanship of a high-schooler in need of a senior project.  Three years later, demand followed success and ARTificial. Ski Company was officially established.  A unique philosophy based on friendship and life continues to fuel the collaboration between two college students, who together serve as the builders, riders, and owners, carrying ARTificial. into its second production season." - Website January 2013

ARTificial. built 33 pairs of skis for the 2012-2013 season. 15 pairs in the debut season of 2011-2012
Summary:
The ARTificial. Nature is described on the company website as:

"On the days when you have to body slam your front door open because there's two feet of snow piled against it, you'll be glad you have the Natures under your feet.  Built on the fine line between a 3-and-5-dimension ski, the Nature blends soft camber and rocker progression with a forgiving full-length bamboo core in order to provide maximum radial contact when you're surfing pillow lines or edging back to the lift.  Whether you're blasting crud, packing booters, or stacking powder lines, the best days in nature start with the Nature." 

I totally agree with the part about being glad to have this ski when you have to body-slam your front door open because there's two fee of snow piled up against it....(although in ski country, doors should open "in".).  The Nature model is not just a pair of skis, it is a confidence-inspiring platform for all kinds of wild snow conditions....crud, crust, windpack, chalk, packed powder, corduroy.  These are large skis with lots of surface area, but they handle super easy, super predictable and very reliably, with a surprising degree of confidence-inspiring handling in such a large package.  The Natures have a bias toward damp and quiet ride quality rather than surf-and-pop personality, and once rolled up on-edge, have a surprisingly secure grip on hardpack and corduroy.  ARTificial. has created a really fun, stable, versatile big ski for multiple snow conditions.  We want a pair.
Technical Ski Data:

Nylon topsheet, Direct print w/UV-resistant coating. (Softer than most topsheets and cuts rather than chips)

19 oz. glass, 1 layers above core and 1 below. The lighter-ounce glass is reported by Tyler to be typically higher quality than the 22 ounce standard and allows more durability on the top of the core where it's needed most)
Full-length 2 inch carbon fiber weave

Vertically laminated bamboo

Bonding intermediates between every layer of glass/metal/sidewall.

CNC die-cut base graphics

Full edge wrap
Rockered tip and tail, camber underfoot
Blend of 3-to-5 point geometry
Bindings and Boots Used:
Marker Griffon Demo bindings mounted by ARTificial. (-1cm from true center)
Salomon S-Max 120 boots.

Pre-Skiing Impression:

Our test skis were Tyler Williams's personal demo pair with plenty of hours on them. We gave them a quick touch-up on the Wintersteiger to re-true the bases with minimal bevel to give us a good baseline for the review.  These are fairly big skis (156-126-152) with plenty of rocker front and rear, and some significant camber underfoot (see pics below).  Flex is what I would call "moderately soft", but not floppy, nor "stiff".  Shovels and tails are fairly broad, with some moderate sidecut underfoot, but nothing radical.  Damp feel, moderate torsional strength.  Good fit and finish and apparently pretty durable considering the usage evident in this used pair of demo skis.

Test Conditions:

Eastern corduroy, packed powder groomers, ungroomed packed powder with small bumps, shin-deep powder conditions, both smooth and bumpy.  Windpack, crust, chalky wind buff, dry powder, weeds and brush (sorry Tyler).
Test Results:
One of the most interesting things was the day we unboxed the Natures, two different people (one being a ten year old with a high sense of modern fashion) exclaimed "cool graphics!...I love these!"  Not every ski gets that reaction around here.
Hardpack:
We trued-up the bases first with a grind to free them of old wax and irregularities and to give us a consistent platform for testing. The Nature's were semi-tuned with about a 1-1.5 degree base bevel and 1-2 degree side bevel, but not "sharpened" or edge-polished.  They basically were like a ski with a good week's worth of skiing on them...not sharp, but not dull.  In short, they were not in a "race tuned" or totally whipped, but in a realistic state of everyday tune for most skis in this category. The Natures do not have any tendency to wash-out, wander, do the splits or fade their grip on hardpack.  You have to roll their wide shovels, waists and tails up on edge to get the grip to take hold, but once you roll them up and set the edge along the length of the contact area, they set predictably, smoothly and carry your arc until you roll them down again.  I was impressed how well this wide, rockered ski held on the hardpack and corduroy.  The bit of camber really helped make these skis friendly on hardpack. It was not a snappy, zippy ski on hard surfaces, but was damp, controlled and predictable, and has a high speed limit due to its quiet dampening of vibrations.  There was no hint of being "planky" or "dead" like some big skis, but they were always responsive and secure, without any hint of squirrely behavior or runaway freight train personality.  I was surprised how well they did on hardpack without being tuned for such conditions.
Mixed Conditions:
Mixed snow types and surface consistencies essentially disappeared underfoot when skiing the ARTificial. Natures.  The sense of being "on a platform" really became apparent, and I found myself looking for the crappiest, craziest combination of manky snow conditions I could find just to see how the skis would handle.  Old chop, windpacked old bumps, chalky windslab mixed with pockets of soft, dry powder and days-old groomer plow wash just faded into "the surface" of the terrain.  It was a great sensation to feel like the type of snow covering the terrain didn't matter one bit.  Just "point-and-go", paying attention to the lines I wanted to cover instead of what kind of snow covered those lines.  The large surface area of the ski was nicely governed by the flex and geometry of the design to give a responsive, yet Cadillac-like ride with a huge confidence-building effect. Changing directions in short or large radius turns across variable surface types was easy with the Natures.  Naturally, a ski this size is not a nimble ride, but you could get it to slarve, pivot, arc, punch or smear without any trouble....just decide what you want to do and execute.  I found my average speed through wacked-out surface conditions went way up after just a few runs on these skis. Really tight Eastern tree noodling found the Natures to be stable and capable of crushing brush, logs, holes and ledges really well, just don't expect to be as lively as a jackrabbit at slow speeds since you're driving a big rig.  Once your speed picks up, the Natures get quicker.  These are excellent in mixed snow conditions, and rarely have I found a ski deliver this much confidence when the surface gets wacky.
Bumps:

The small bumps I was able to find during our short test were a mix of hard and moderately soft surface types, and the Natures were more absorbant of the impacts and less prone to deflection than I expected for a ski with 156mm shovels.  The torque of hitting bumps at less than dead-on angles didn't result in the ski twisting away from me or transmitting lots of pressure along the body to my feet...they just soaked it up and did not begin to buck back until about 2/3rds along the forebody...just fine with me.  I did not get them in big bumps, but I did manage to get them into some drainage and waterbar ditch bumps, and their damp behavior soaked them up and I kept on truckin' without a hitch. These are not a lively buck-and-jump ski in the bumps, so if you want a big ski with that behavior...look elsewhere.
Powder:
We did not get enough powder during our test period to get any snow more than shin-deep (Vermont had a serious snow drought in January and February), so we feel like the Natures did not get a fair shake in their natural deep habitat. The lighter the snow, the more they surfed, and never showed any tip dive in any soft snow, but I did not get a chance to get them into real deep snow to see how they handled vertical depth change commands fore and aft at various speeds.
Analogies: (this ski is like...)
A Rolls Royce with some grippy tires.  Potholes...what potholes?  Washboard....what washboard? Quiet and comfy, with a hint of elegance. Nice.
Things I Would Change About This Ski:
 
I would not change anything in this design other than provide a bit more pop and spunk if someone wanted a more sporty feel in a big ski.

Short Answer When Someone Asks "What Do You Think About This Ski?":

The ARTificial. Natures are a big, easy-to-ski, confidence-inspiring platform with lots of surface area and stability to surf through any conditions you might find out there.  This is the ski you might reach for when the plows are getting stuck trying to clear the roads.

Advice To People Considering This Ski:

Get ready to get rid of your 110-115mm waisted skis if you buy this ski.
Self-Description of Skiing Style, Ability, Experience, Preferences:

5' 11", 180 lbs. 53 year-old expert, "old-style" race inspired, "foot steerer" with fairly sensitive edging feel. Loves to hold long arcs with lots of pressure on the downhill ski (you know the type),  but also loves the feel of both skis on-edge leaving tiny railroad track edge tracks.  Loves powder when it's not tracked out. Trees and odd terrain angles are fun.
Pics: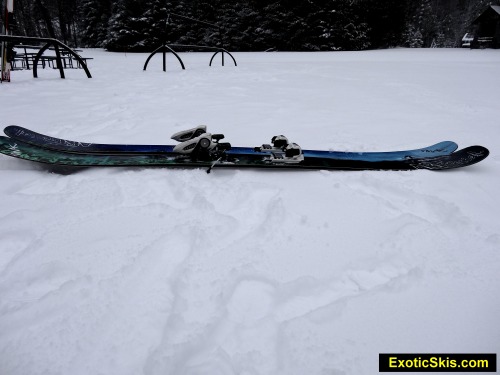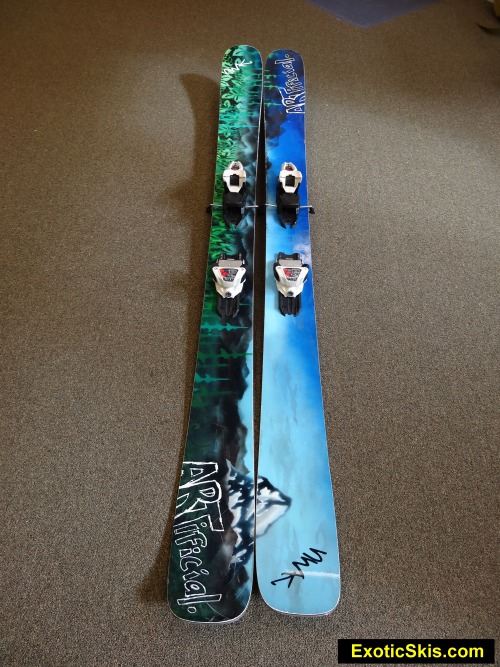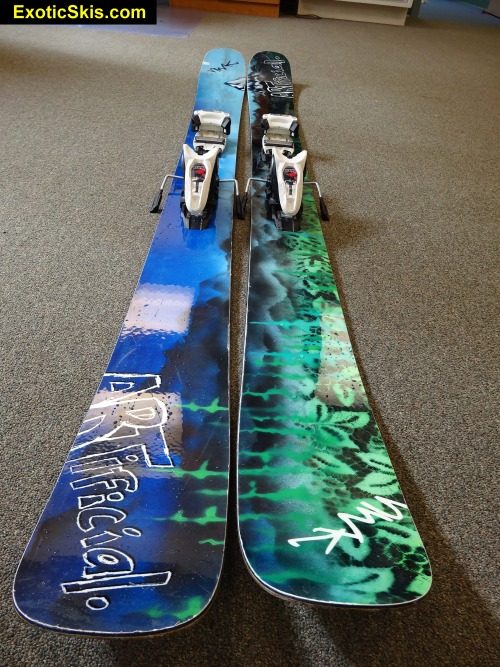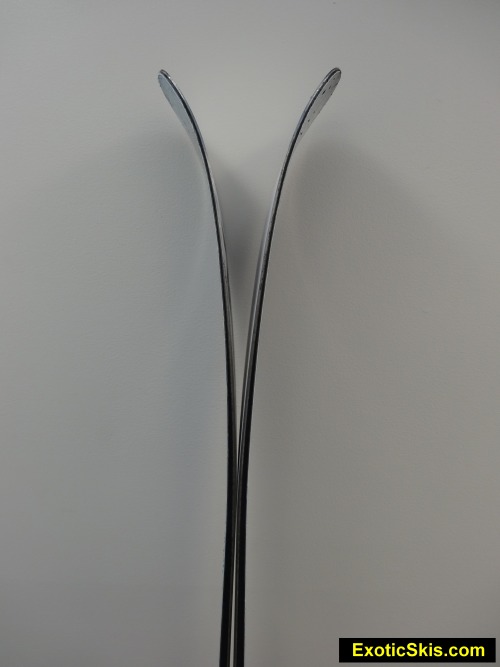 ARTificial. Nature Tip Rocker
ARTificial. Nature Tail Rocker
ARTificial. Nature Underfoot Camber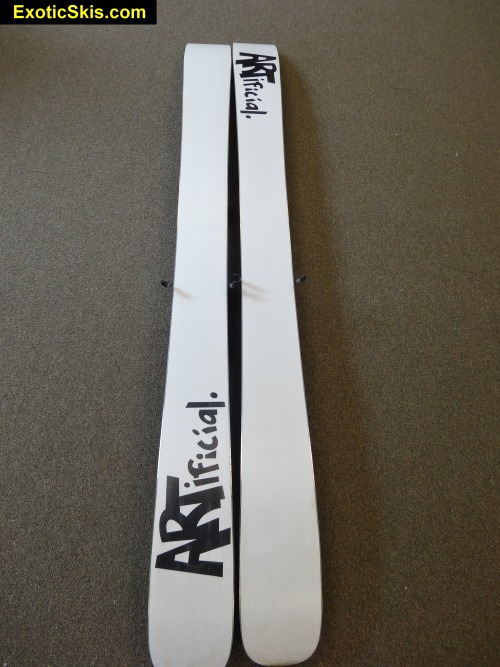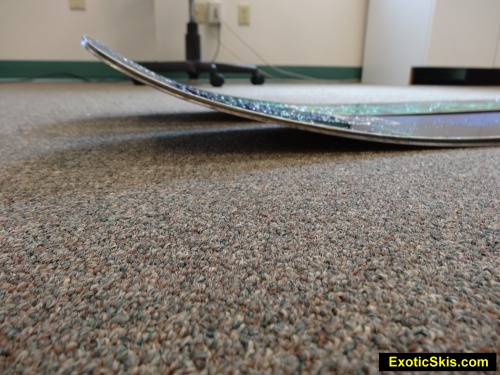 ARTificial. Nature Tails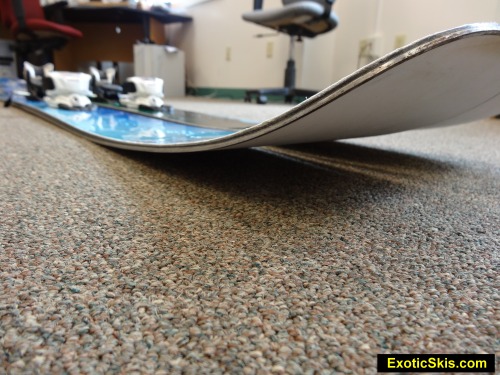 ARTificial. Nature Tips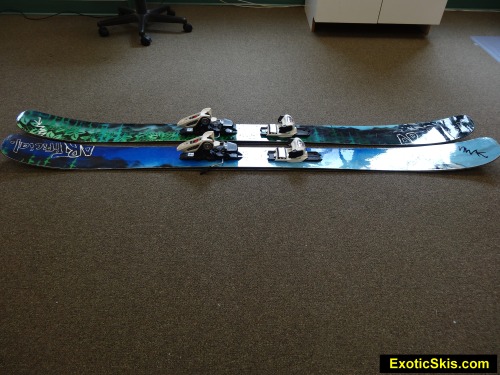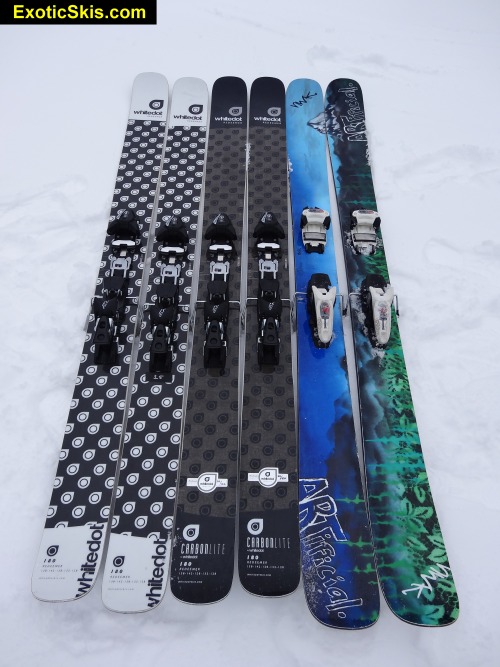 ARTificial. Natures (far right) 156-126-152 @ 185cm
Compared to WhiteDot Redeemers 138-142-128-132-128 @ 180cm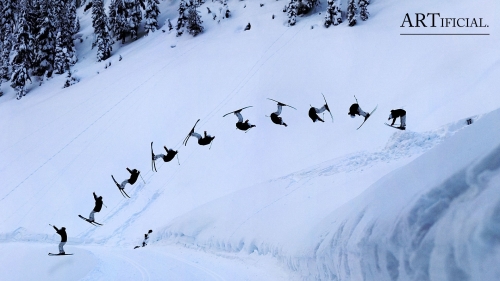 Tyler's Road-Gap Shot (courtesy ARTificial. Skis)