Review:
Product: 2012-2013 EpicPlanks Ripper
Length Tested: 180cm
Dimensions/Turn Radius:  133-98-125 r=15.6m @ 175cm
Camber: Tip rocker, traditional camber underfoot, flat tail
Binding: Demo
Mount point: Suggested
Environment & Conditions:
Location of Test: Vermont and New Hampshire
Number of Runs: Dozens
Snow Conditions: Eastern hardpack (the kind you can bounce a baseball off of), packed powder groomers, ungroomed packed powder with small bumps, boot-top powder conditions and icy, chunky old surfaces, shin-deep powder.
Demo or Own: Demo
Tester Info:
Username: ExoticSkis
Age: 53
Height/Weight: 5'11" 180lbs
Ski Days/Season: Never enough
Years Skiing: 51
Aggressiveness: Aggressive, driver
Current Quiver: Edelwiser Speed, IDOne TTR and TTM, Anton UFOria XA and Carbon EX, Palmer P02, Romp 100, Praxis Concept, SkiLogik Frontside Burner, Occam Razor, Rockstar, DPS Wailer 112RP..etc.
Home Area: Vermont
Preferred Terrain:  groomers, off-piste, trees
2012-2013 Epic Planks Ripper
133-98-125 r=15.6m @ 175cm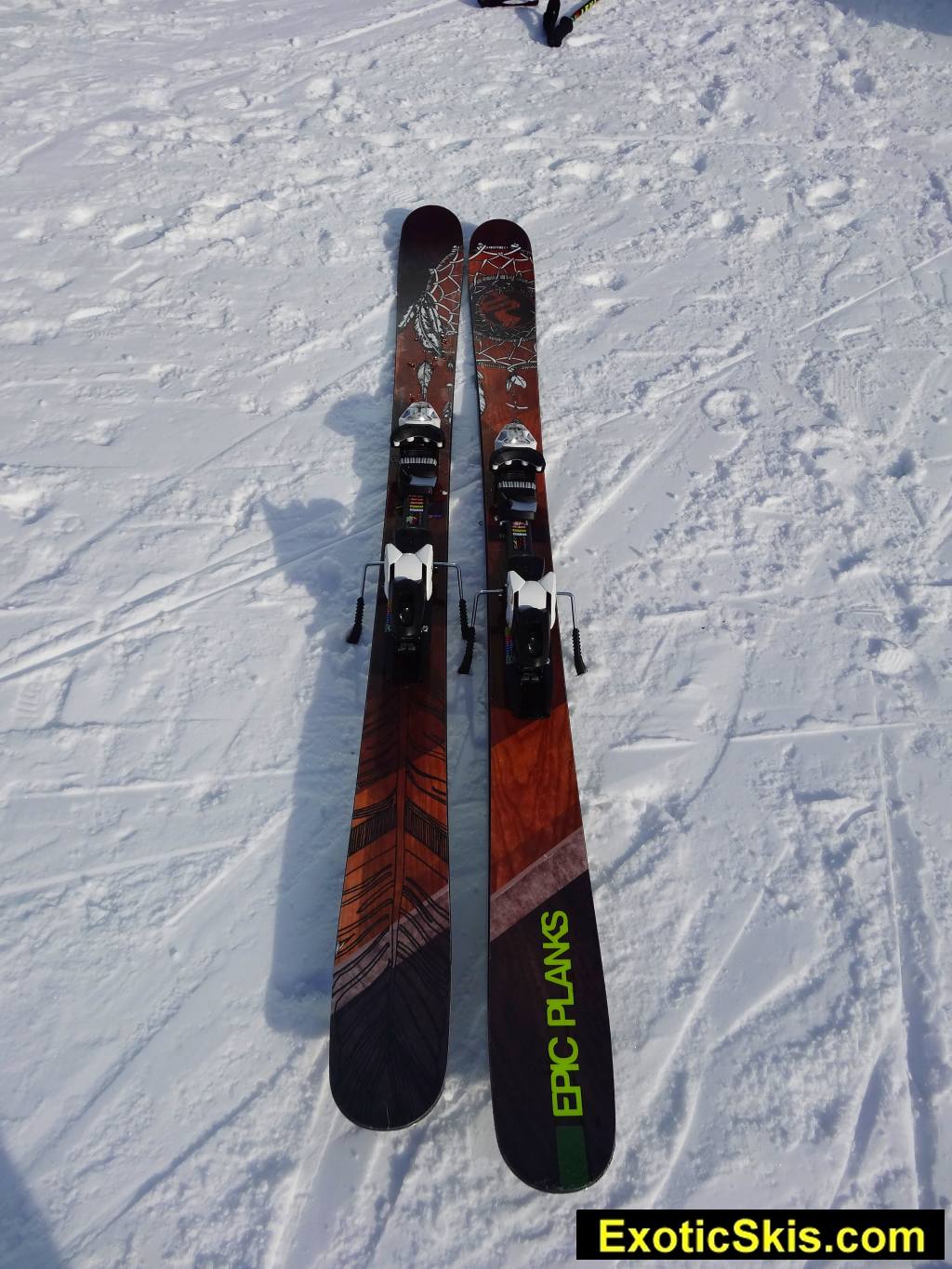 Manufacturer Info:

Epic Planks Ski Co.
3417 Roger B. Chaffee SE
Grand Rapids, MI 49548
877-754-3742 (Phone)
877-754-3742 (Fax)
http://www.EpicPlanks.com

Suggested Retail Price (MSRP):
$649 usd

Usage Class:

All-Mountain Directional Twin

Rating (with comments):

(1="get me off these things"->10="I have to own a pair")

9-10 for fontside-biased, hard-charging skiing
7-8 for bumpy or softer terrain
Ski Designer:
Bill Wanrooy is an author of helicopter and cat skiing powder tour guide books, and partnered with  Fernie Wilderness Adventures, K3 Cat Skiing, and Powder Mountain Cat Skiing and Heli Skiing to develop and refine the Epic Planks CropDuster powder ski and subsequent line of Epic Planks skis.
Summary:
The Epic Planks Ripper is described on the company website as:

"...Whether it's fast turns on the groomers, shredding the trees, or dropping bombs in the steeps, the Ripper is an extremely versatile one-ski quiver that likes to be ridden hard....A very high-energy ski that excels in all types of conditions. Modest early taper, a generous tip rocker and a short turn radius come together to offer a ski that feels nimble and light in tighter situations, while remaining incredibly stable at high-speed. Geared for lead-footed skiers." 

I mostly agree with their description.  The Ripper is a strong, stiff, athletic ski ideally suited to strong, athletic skiers who want a rock-solid, race-like platform underfoot with a slightly softened, rockered forebody to absorb softer terrain and crud without diving or deflecting.  No real limit to the pressure it can take and the edgehold it delivers.  The harder you ski it, the more it delivers grip and power.  The ride can be a bit stiff in bumps and can buck the driver (it likes to be driven, not ridden) if you don't keep the power on in rough terrain.  The Ripper feels like a freeride competition ski for tracked-out and hardpack terrain more than a soft-snow ski due to its stiff chassis, but will cut highly-directional tracks through soft snow as long as you don't want a surfy-smeary ski.  GS-like carving and holding ability with a bit of tip flap at high speeds, but can't really be overpowered by mortal skiers. Powerful, stable, strong and agile, but not for the faint of heart or lazy skiers looking for a comfy couch.
Technical Ski Data:

Poplar vertical laminate core. 
Full wrap C.D. Wälzholz  edges
VDS rubber dampening
Durasurf Bases
Triax Fiberglass
UHMW Sidewalls
Isosport Nylon Topsheets
Bindings and Boots Used:
Tyrolia SP 12 demo bindings (stock - no riser plate) mounted "on-the-line".
Lange Comp Pro 120 boots.

Pre-Skiing Impression:

The Rippers came out of the bag nicely finished, tuned and ready-to-ride, with a top-notch fit and finish of the tops, bottoms and sidewalls.  The topsheet is a matte-like, non-glossy finish that feels like it would shed snow and take a beating nicely without showing wear and tear.  The most striking thing during hand inspection was the stiffness of the midbody and tail, and as Will Brown at BlisterGearReview observed, the strong midbody camber which all but defied pressing the skis together at the waist by hand.  Torsionally, the Rippers were one of the most tightly-wound pair of skis we have seen, indicating a strong, burly resistance to torqueing the chassis in a twisting motion anywhere along their length.  Flex in the rockered forebody borders on moderately stiff, leading to a stiffer midsection into a rounded tail which feels like a race-stock GS ski to some people.  Really warm and good-looking graphic with a matte-like finish topsheet Isosport material that seems very durable.

Test Conditions:

Eastern hardpack (the kind you can bounce a baseball off of), packed powder groomers, ungroomed packed powder with small bumps, 3-5 inch powder conditions and icy, chunky old surfaces.
Test Results:
The Rippers look like an all-mountain, 100mm-class ski with a flat tail and moderate tip rocker when you click into them.  The first skate to the lift tells you the ski has some heft and authority.  The first turn lets you know the ski craves to be powered and held under pressure, but sets a seriously tenacious grip underfoot.  The faster you go and the harder you punch or carve the Rippers, the more they deliver security and a surprisingly agile behavior, but you quickly find you have made a deal with a ski that can crave as much input as you can muster, and you might let off before they give up.  After figuring out how the Rippers like to be skied (think starting a loosely-coupled freeride turn at first, finishing up with a hip-dragging GS carve across the hill), you get a sense of security underfoot often missing in many all-mountain skis in the 100mm category.  I found the Rippers are perfectly content being driven hard into the snow, setting a trajectory across any kind of surface without showing any hint of folding or loosing composure. They are short-radius geometry, and are very agile in tight situations at slow or higher speeds, but have a quiet level of excellent control that reminds me of a GS ski.  They also have a civilized level of somewhat demanding personality, letting the skier know exactly when they are lazy and when they are on top of their skis.  The rippers don't have a snappy personality, but more of a power personality, putting power to the ground rather than launch the skier up off the snow.
The harder you drive them, the more you get out of them.  Good luck overpowering the mid and tail section of this ski.  After finding the GS-like personality within the Rippers, the rockered front end tempted me to find some softer, bumpier, all-mountain conditions.  When I dove into some fresh snow and some slightly cut up terrain with small bumps along the edges of some runs, I found a ski that was rock-solid, and would do anything it was told, but the stiff underbody of the ski transmitted the bumps and undulations of the terrain right into me, demanding I pay attention and keep the pedal-to-the-metal instead of cruising along enjoying the scenery and snow.  The Epic Planks Ripper challenges the pilot to drive the ski so it can unleash a serious oomph and grip with grace under pressure.  My immediate impression was "this is not a ski for the faint of heart". My second impression was "...this would make a serious competition ski for hard-chargers who want authoritative control and security and don't care about an easy ride."
Letting the Rippers run at high speed shows they hold a line at speed securely, all the while letting you know there is a stiff, strong ski underneath you, and as speed increases, you notice the tip rocker more, realizing the running surface of the ski is shorter than you might imagine.  The tips don't really flap at speed, but "wave" a bit on hard surfaces, letting you know they are up in the air and not supporting you on snow.  As the speed goes up, the sidecut becomes more quickly on-demand, capable of surprising you if you try to drift the ski too much without paying attention to your edge angle.  Rippers will drift, but want you to be precise in how you do it.  The nice thing is you can snap out of a drift into an instant direction change on a dime and the ski won't flinch, fold or fail..."Bang!"....and you're off.  Just be ready and pay attention.  This is not a lazy person's ski.  We skied the Rippers in the factory-tune condition.  Detuning can change their default personality, as Will Brown at BlisterGearReview has mentioned.
Overall, the Ripper seems like a ski happiest in power carving and tracking mode in all kinds of terrain requiring quick agility and support underfoot.  While we did not get the ski in big-mountain terrain, it feels like it would be best in tighter conditions than wide-open snowfields due to its short radius and narrower-than-it-measures underfoot feel.
Analogies: (this ski is like...)
A stiffly suspended street rod with tons of power underneath delivered to a firm mid-chassis and hard-tail rear end, mated with some softer tires and suspension up front to soften the blow of daily driving conditions. Solid platform that craves a driver.
Things I Would Change About This Ski:
 
For hard-charging, athletic skiers looking for a multi-surface powerhouse, I would not change a thing, other than possibly lower the rocker up front a little bit or add a touch of VDS rubber layer up front to quiet it down at high speeds.  For more recreational skiers, I would soften the tail section slightly to make it more compliant...but you would lose the hard-charging stability...The Epic Planks Ripper is a relatively unique design that does exactly what it was engineered to do.

Short Answer When Someone Asks "What Do You Think About This Ski?":

This ski is ideal for the hard-skiing, athletic driver looking for a rock-solid, stable powerhouse with a rockered forebody.  Somewhat demanding in rough terrain, but delivers outstanding grip and power on demand in a pretty nimble chassis.  It's hard to find a stronger ski in this class.

Advice To People Considering This Ski:

Be sure you are fit and ready to drive the Rippers, and expect a stout feedback in rough conditions, but if you want a solid, line-holding ride with authority, consider this ski.

Self-Description of Skiing Style, Ability, Experience, Preferences:

5' 11", 180 lbs. 53 year-old expert, "old-style" race inspired, "foot steerer" with fairly sensitive edging feel. Loves to hold long arcs with lots of pressure on the downhill ski (you know the type),  but also loves the feel of both skis on-edge leaving tiny railroad track edge tracks.  Loves powder when it's not tracked out. Trees and odd terrain angles are fun.
Other Reviews:
 BlisterGearReview review of the 185cm EpicPlanks Ripper
Pics: