Review:
Product: 2012-2013 SkiLogik Front Burner
Length Tested: 168cm
Dimensions/Turn Radius:  131-84-116 @ 180cm 14m radius
Camber: Traditional camber
Binding: Demo
Mount point: Suggested and + 1cm
Environment & Conditions:
Location of Test: Vermont and New Hampshire
Number of Runs: Dozens
Snow Conditions: Eastern hardpack (the kind you can bounce a baseball off of), packed powder groomers, ungroomed packed powder with small bumps,shin-deep powder conditions and icy, chunky old surfaces, shin-deep powder.
Demo or Own: Demo
Tester Info:
Username: ExoticSkis
Age: 53
Height/Weight: 5'11" 180lbs
Ski Days/Season: Never enough
Years Skiing: 51
Aggressiveness: Aggressive, driver
Current Quiver: Edelwiser Speed, IDOne TTR and TTM, Anton UFOria XA and Carbon EX, Palmer P02, Romp 100, Praxis Concept, SkiLogik Frontside Burner, Occam Razor, Rockstar, DPS Wailer 112RP..etc.
Home Area: Vermont
Preferred Terrain:  groomers, off-piste, trees
2012-2013 SkiLogik Front Burner
131-84-116 @162cm r=14m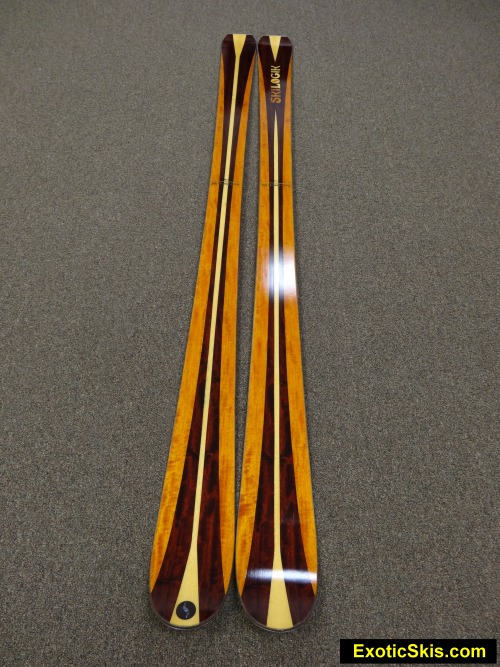 Manufacturer Info:

SkiLogik USA
P.O. Box 9480
Breckenridge, CO 80424
Ph: 970-453-8000
Fx: 6970-368-4400
http://www.skilogik.com

Suggested Retail Price (MSRP):

$750 usd

Usage Class:

Frontside All Mountain Carving

Rating (with comments):
(1="get me off these things"->10="I have to own a pair")

9-10 on hardpack,
7-8 on softer, cruddy or bumpy terrain (slightly stiff and harsh ride)
Ski Designer:

After years of designing and building skis in the U.S.A, David Mazzarella ("Mazz")  sought to build his own factory in China to his specifications and train his technicians to build his skis with care and artistry, not mass-production.  David moved his family to Hainan Islan where they produce "about 5 pairs a day". Mazz says creating a workshop in China allowed him to create a ski where "price of materials and workmanship" was much, much lower to achieve the quality of ski he wanted to produce for the skiing public.  Using the same quality of materials and labor hours in other countries would have placed the ski above the price point he was trying to meet for his target market.  95% of the wood used for the skis is sustainably harvested. SkiLogik works with the Nature Conservancy to plant one tree in the Atlantic Rainforest of Brazil.  The black locust wood comes from family farmers.
Mazz claims:
"I moved with my wife and kids half way across the globe and set up our own factory so that I could design and produce with the best methods possible. I brought in engineers who shared my vision. We designed machinery that didn't exist, hired craftspeople with better hands than ours, and taught them how to make great skis. And they taught me a lot. After working for two years to get the production center fully capable, I turned my focus to designing a new line of skis using better materials and more craftsmanship per pair.  Our production facility pays all workers above the market rate to attract and retain a quality team. Our turnover rate is low and new hires are often friends of existing employees. On work days, all employees eat a hearty lunch together provided by our company. After 3 months on the job, all employees receive the following benefits: Health insurance, retirement, unemployment, disability,
Manufacturer's Description:
"The Front Burner is Skilogik's all-purpose high-performance design having an 84mm waist. This ski excels all around for area skiing on surfaces ranging from hard to soft and turning styles from slalom to GS.  The Front Burner feature's Skilogik's Race Room construction which gives it a rock solid stability on harder surfaces and extra deep edge bite.  Handling is quick for moguls and steeps and excellent carving performance makes it idea for groomed runs.  The Front Burner is the high performance choice for skiers looking to rip everywhere on piste."
Summary:
I totally agree with Dave Mazzarella's description of the Front Burner having rock solid stability on harder surfaces and ripping everywhere on piste. The only minor exception is the Front Burner does not "excel" on soft surfaces, but is perfectly capable, but it thrives and indeed rips on hardpack.  The performance bar for soft snow behavior has been raised so high these days with the advent of rocker geometry, that a traditional camber ski really cannot approach a rockered all-mountain ski in this category.  The Front Burner might be the answer for frontside, hardpack skiing where someone wants a ski that can burn slalom or GS turns with confidence  and great handling, while not being a "pure" SL or "pure" GS ski.  It does not really drift turns, and can be a bit stiff in soft snow. Smooth and powerful, with grip, security, damp, quiet behavior and great cosmetics.  +1 mounting position was better than "on-the-line".  Rewards stronger and athletic skiers who like traditional carving feel. 
Technical Ski Data:

Mixed hardwood (proprietary), vertically laminated core, selectively-placed metal components (not full-width, but they appear along some perimiter areas of the ski, perhaps to enhance edging behavior and torsional integrity without interfering with longitudinal flex...another proprietary design with patent pending according to SkiLogik - not indicated in diagram below taken from the SkiLogik website in January, 2013), Black locust hardwood widewalls, proprietary carbon/fiberglass matrix matting, rubber dampening strips, German carbon-infused racing bases, hand-inlaid wood veneer topsheet. Weight (no bindings): 1,945 grams (one ski), 1,970 grams (other ski),  slightly lighter than claimed weight of 4,000 grams per pair.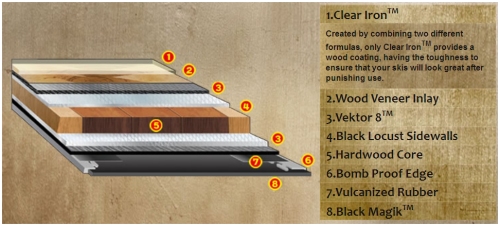 Construction Details From SkiLogik website - January 2013
Bindings and Boots Used:
Tyrolia SP 12 demo bindings (stock - no riser plate) mounted "on-the-line".
Lange Comp Pro 120 boots.

Pre-Skiing Impression:

One of the most attractive and beautiful skis on the market with a stunning hand-inlaid wood veneer topsheet with mother of pearl elements (see photos).  Glossy topsheet coating. Superb fit and finish, with factory stone grind and tune out of the box.  Smooth, rounded hand-flex with moderate rebound and dampening feel.  Unique black locust sidewalls grab your attention.

Test Conditions:

Eastern hardpack (the kind you can bounce a baseball off of), packed powder groomers, ungroomed packed powder with small bumps, 3 inch and shin-deep powder conditions and icy, chunky old surfaces.
Test Results:
The Skilogik Front Burner grabbed me from the first two turns (similar to the Occam's Razor SL carver) and begged to be kept on-edge and under pressure where it really delivered an addicting grip and turn shape on hardpack.  The Front Burner is definitely a "race carver" not really suited to pure racing (although you could do great in a beer league course with a pair of these), but built for the expert carving enthusiast who haunts the groomed and hardpack terrain when there is no powder to be found.  Like some other SkiLogik models, the Front Burner loves its design radius, and when it hooks into the 14 meter turn, it has a sweet, settled feel that begs for more, but force it to curve tighter, and it's stiff sidewalls and firm chassis will let you know you will need to apply some additional pressure and attention to get what you want.  There is no wash-out, no folding, no complaining, no problem... just a message that you are leaving the comfort zone and will need to apply some concentration to hold the tighter curvature.  The great thing is the Front Burner will hold the tighter turn just fine and with security and confidence not often found in other non-race skis.  Letting them run in the opposite direction....larger, GS-turns, results in a quiet, fun ride with superb security and confidence and great response until you reach the speed at which these 168cm skis become a bit short...like taking any short ski outside its speed limit for your height and weight.  After only a few runs, it was obvious the Skilogik Front Burner is an excellent SL-GS turning machine for frontside skiing.
HARDPACK:
We skied the Front Burners in their stock tune at first, relatively sharp tip-to-tail. The FrontBurner has an immediate feeling of grip and security, and a "whole ski" feel when laid into a carve that is really fun and builds confidence.  They never have any hint of vibration anxiety or wander, always feeling "planted" and under tension, ready to finish one turn and start another, and another.  The hardpack really was the native surface for this ski, and it set an edge wonderfully and with authority, begging to be pressured along its entire length for acceleration.  I quickly found myself pressuring into more intense edging angles at speed, pulling addicting arcs across the fall line over and over.  Quick and punchy hardpack technique worked very well, changing directions on demand without any hesitation, but with complete control...no ejection seat behavior, just bang: change direction. Bang: change direction...repeat.  Modifying turn shape during an arc on hardpack was clean and simple, just the way you would want it.  Overall, I would grab the Front Burners for a complete day on groomers without any hesitation, and would probably grab them before nearly any other ski in my quiver.
MIXED TERRAIN AND CRUD:
The Front Burners can cut through any crud and mixed surface types with authority and security, but as soon as the terrain becomes a bit thick, the stiff body and camber of the Front Burner lets you know this is not a smeary, rockered surfer, but an 84mm waisted ski with strength you can feel underfoot, and the better shape you're in, the better you will fare if you spend all day in such conditions.  The Front Burner does not deflect, and keeps the chosen line right on the money, but can give you a bit of push back in bumps, prefering to transmit the surface changes to you rather than absorb them in a soft flex.  The Front Burner is a "race room" model from Skilogik, and the category is pretty accurate. 
POWDER:
We did not get the Front Burner into any snow deeper than shin deep...stay tuned for followup reports as soon as it snows enough.
Analogies: (this ski is like...)
A strongly suspended sports car with sticky tires and a club-racing feel, but without the punishing demands of a pure racer.  Beautiful wood veneer interior. Something you would get frequent speeding tickets with.
Things I Would Change About This Ski:
 
I would not change anything in this ski.

Short Answer When Someone Asks "What Do You Think About This Ski?":

This is a frontside carving ski for experts and enthusiasts, although an intermediate could up their game with a ski like this. It has a planted, secure, confidence-inspiring hard snow behavior that is addicting, although cruddy or bumpy terrain can be a little harsh.  It's also one of the most beautiful looking skis I've seen, and at the same price or lower than many big-name brands, it's a bargain.

Advice To People Considering This Ski:

The Frontside Burner is for carving the hardpack groomers with slalom and GS turns.  If you want an all-mountain ski with a cushy ride, look elsewhere.  If you want to lay down serious carving tracks with minimal effort, the Front Burner will do the trick beautifully.

Self-Description of Skiing Style, Ability, Experience, Preferences:

5' 11", 180 lbs. 53 year-old expert, "old-style" race inspired, "foot steerer" with fairly sensitive edging feel. Loves to hold long arcs with lots of pressure on the downhill ski (you know the type),  but also loves the feel of both skis on-edge leaving tiny railroad track edge tracks.  Loves powder when it's not tracked out. Trees and odd terrain angles are fun.
Other Reviews:
"The early morning frontside runs consisted of high speed corduroy GS turns on firm, but not icy conditions. The Front Burners have good turn initiation and were able to track smoothly across the fall line. Upon building up the energy during the turn, the squared off tail kept me locked in the turn without a hint of washing out. Only when I decided it was time to initiate the next turn did the tail release on cue."
Pics: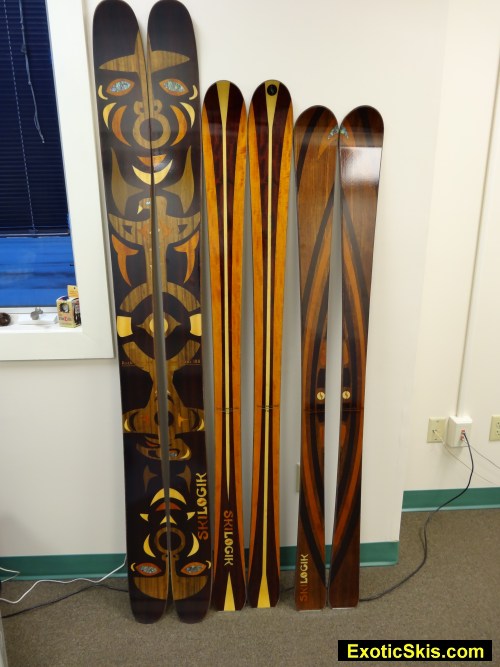 (left to right) SkiLogik Rock Star, Frontside Burner and Occam's Razor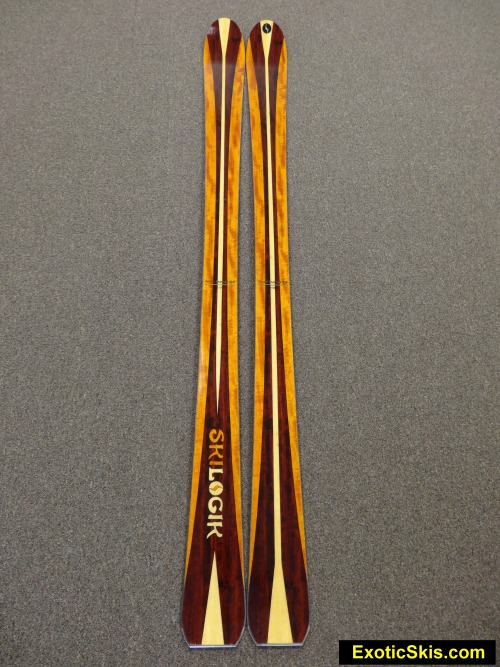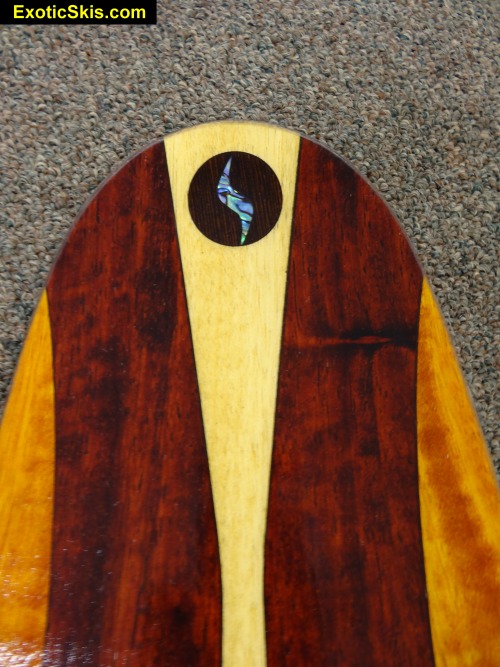 Skilogik Front Burner Tip Detail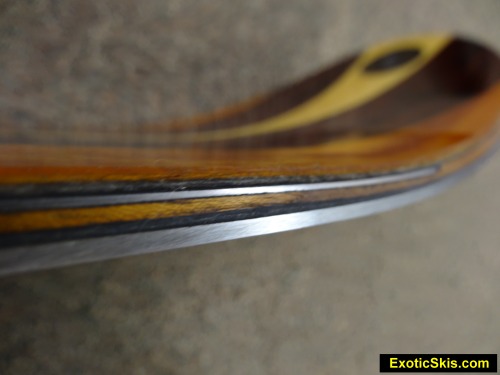 Skilogik Front Burner Sidewall
(Note the metal insert along the top of the core.)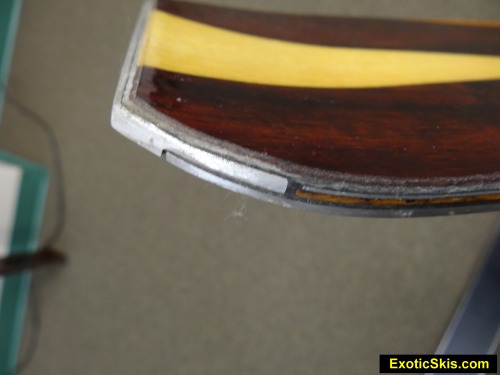 Skilogic Front Burner Tail Detail
(Note the burly tail protector)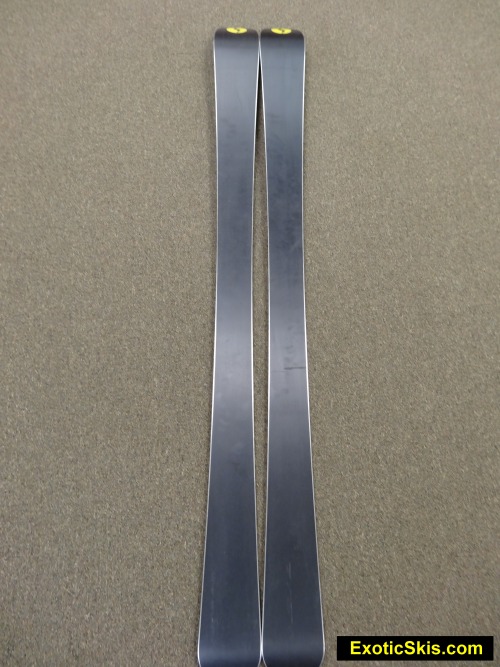 Skilogik Front Burner Bottoms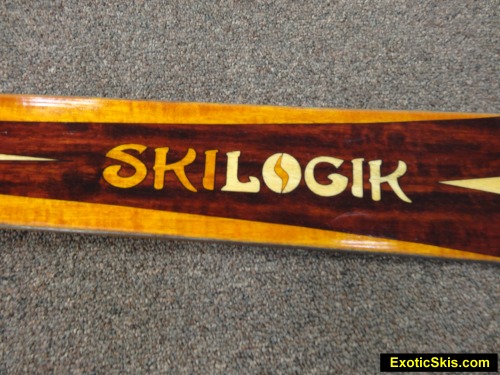 Skilogik Front Burner Tail Inlay