Review:
Product: 2012-2013 Wagner Custom 100 #394
Length Tested: 184cm
Dimensions/Turn Radius:  137-100-121 r=19.9m @ 184cm
Camber: Slight tip rocker, traditional camber underfoot and tail
Binding: Demo
Mount point: Suggested
Environment & Conditions:
Location of Test: Vermont and New Hampshire
Number of Runs: Dozens
Snow Conditions: Eastern hardpack (the kind you can bounce a baseball off of), packed powder groomers, ungroomed packed powder with small bumps,boot-top powder conditions and icy, chunky old surfaces, boot-deep powder.
Demo or Own: Demo
Tester Info:
Username: ExoticSkis
Age: 53
Height/Weight: 5'11" 180lbs
Ski Days/Season: Never enough
Years Skiing: 51
Aggressiveness: Aggressive, driver
Current Quiver: Edelwiser Speed, IDOne TTR and TTM, Anton UFOria XA and Carbon EX, Palmer P02, Romp 100, Praxis Concept, SkiLogik Frontside Burner, Occam Razor, Rockstar, DPS Wailer 112RP..etc.
Home Area: Vermont
Preferred Terrain:  groomers, off-piste, trees
Note:
This is the ski winning the 2013 Skiing Magazine Tester's Choice Medal Award and "Official Selection" awards for all-mountain-carving "every day" skiing.

(While we often do NOT agree with reviews published in Bonnier Corp's Ski and Skiing Magazines, we do agree with them on this pair of skis.  We asked Pete if he could send us the skis submitted for the test so we could review them for ourselves and he obliged!)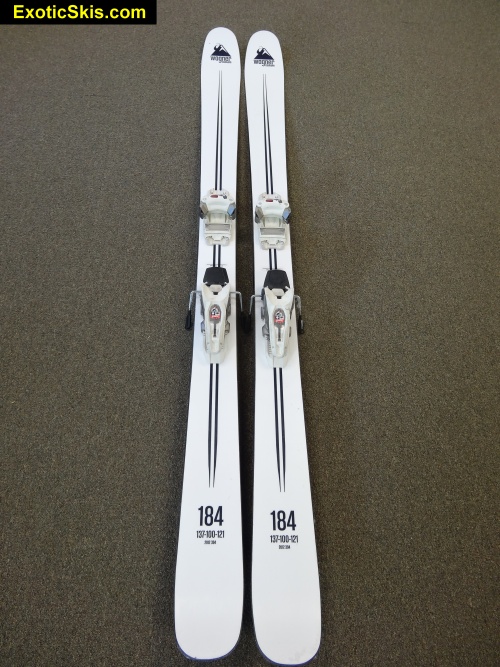 Manufacturer Info:

Wagner Custom
120 Front Street
Placerville, CO 81430
Phone: 970.728.0107

Suggested Retail Price (MSRP):
$1,995 price usd (approx)
($1750 base price + $150 Titanal + $95 extra durable base options)

Usage Class:

All-Mountain Directional Twin

Rating (with comments):
(1="get me off these things"->10="I have to own a pair")

9-10 for all terrain (hard to soft)
Ski Designer:
Pete Wagner has been making custom skis since 2006, and is generally regarded as one of the pioneers and gurus of custom skis in the U.S. and Europe.  Wagner does not produce "stock" skis, but custom-builds each pair by hand to the customer's specifications.  Pete's reputation for passionate perfection, intuitive selection of materials and design parameters is well known, and his background in engineering has evolved to create what Wagner calls a "Skier DNA" questionnaire.  A detailed set of carefully crafted questions allows Pete to choose the dimensions, materials and construction details to create a pair of skis custom-tailored to the customer's style of skiing, their favorite terrain and surface conditions.  Wagner Custom has a seriously devoted customer population developed over years and years of dedication by Pete Wagner to create the ideal ski for enthusiasts around the World.  To top it off, Wagner's shop in Telluride is solar/wind powered...of course.
Summary:
In short, this design by Pete Wagner is about as close to a true "all mountain", "all-terrain" ski we've seen.  It not only handles nearly every condition from hard to soft snow, smooth to rough terrain, but handles impressively well with an excitingly high level of performance in all those conditions...a rare feat for any ski.  Smooth, confident and capable are the three words to describe this custom build.  I really had a hard time finding anything it did not excel at, nor could I find any faults.  It is not a hard-core race-carver, nor a powder surfing specialized tool, but it's meant to give a highest-quality ride in nearly any conditions you might find day to day. Admittedly, we did not get out in deep powder during our test period (boot deep was as good as we could find in January here in Vermont in 2013...no snow to speak of this season so far). Pete Wagner has proven once again that sometimes, you get what you pay for. Superbly built and finished, and customizable.  It is a reference standard for the mythical "one-ski-quiver" if you had only one ski to choose from for a world-wide ski trip. Wish I owned a pair.
Technical Ski Data:

184-100: White Pinstripes
184cm, 137-100-121, 19.9m sidecut radius
10-10 tip rocker, no tail rocker, traditional camber
Sugar Maple/Aspen core
Titanal structural layers (+$150)
DuraJet extra-durable high-carbon base option (+$95)
Bindings and Boots Used:

Marker Griffon demo bindings (stock - no riser plate) mounted "on-the-line".
Lange Comp Pro 120 boots.

Pre-Skiing Impression:

Beautifully constructed and finished. Semi-glossy topsheet.  Moderately soft flexing throughout its length, with a respectable torsional strength and good vibration dampening.  Rather subdued looking with the pinstripe graphic...it grows on you.
As with any ski hovering around the $2,000 usd price point, I was skeptical by nature that it was really going to be impressive enough to warrant that much money.

Test Conditions:

Eastern hardpack (the kind you can bounce a baseball off of), packed powder groomers, ungroomed packed powder with small bumps,boot-top powder conditions and icy, chunky old surfaces, boot-deep powder.
Test Results:
I was not the first person to get out and test the Wagners.  Jeff Tolbert (one of our regular testers) came back after a morning with them in less-than-stellar man-made conditions, and when asked how he liked them, he just opened his mouth, pointed at them and said..."...Those....Those....Those...skis...." and broke into a grin and said nothing else. 
I got them out and found that after the first four or five turns at slow speed punchy turns (which were pretty fun..surprisingly)  then picking up the pace to get the 184cm 20m radius fully operational on packed powder, the Wagners telegraphed a distinct message underfoot that was solid, plenty powerful, really well-composed and secure, just begging to be turned up a notch.  I found that this design by Wagner really liked GS turns across whatever surfaces you could find.  Engage the entire edge and pressure it, and you felt like you had settled into a high-performance touring coupe with fresh, warm tires on new pavement controlled by customized suspension. 
The only time I got into trouble was if I got lazy at the end of a powered GS-like turn with the whole edge engaged....I found it wanted to release and run straight on if I did not complete the turn in narrow terrain...a behavior of any ski like this I think.  If you don't finish your turns, the ski will want to return to its natural running trajectory...just like the way you don't let go of a car's steering wheel before you finish your turn into a parking space...if you do...it will want to straighten out again...you get the idea.
Vibration control was superb.  Power was abundant. Stablity was flawless. Quick changes of direction were delivered by merely punching the ski into a more intense flex and pressure the tail a bit.  You could change the radius of your turn mid-stroke without any protests from the skis unless you wanted to get into a sub-20meter arc.  If you want to tighten up the turn below the design radius, it's merely a matter of flexing the ski into that radius and applying the command to stay until you're done with that turn.  The really sweet ride is found by letting the Wagners fall into their natural curvature and letting them carry you across the terrain.  You don't need to pay strict attention to what you're doing all the time, which makes them relatively easy to ski for such a performance-filled design, but they really shine when you drive them.  The performance envelope for this ski is very wide since you can ride it or drive it with the same level of security and fun. 
Analogies: (this ski is like...)
A new Jaguar or Bentley Continental GT you get to design yourself.  Solid,  secure and high-performance with an elegant feel.  There may be faster or more specialized vehicles, but few that do everything as well in all conditions.
Things I Would Change About This Ski:
 
For eastern terrain, I would specify a slightly shorter length than 184cm, or if 184 was the length of choice, make it about 17m radius instead of 19.9.

Short Answer When Someone Asks "What Do You Think About This Ski?":

This ski is probably one of the reference standards for all-mountain, all-terrain usage, and it's impeccably constructed and finished.  Expensive, yes, but you get what you pay for.  Could you find another ski to make you just as happyat a lower price?..., probably...but then again you wouldn't be getting something customized to your own specs.

Advice To People Considering This Ski:

Be sure to discuss your style, terrain and snow condition preference HONESTLY with Pete Wagner so he can create the right ski for YOU.  Just because we liked this ski does not mean it's the one for you.

Self-Description of Skiing Style, Ability, Experience, Preferences:

5' 11", 180 lbs. 53 year-old expert, "old-style" race inspired, "foot steerer" with fairly sensitive edging feel. Loves to hold long arcs with lots of pressure on the downhill ski (you know the type),  but also loves the feel of both skis on-edge leaving tiny railroad track edge tracks.  Loves powder when it's not tracked out. Trees and odd terrain angles are fun.
Other Reviews:
2013 Skiing Magazine Indie Test

"...One longtime Skiing Mag tester had this to say about the Testers' Choice–winning Wagner 100 Custom. "I always look for a ski to achieve perfection. This is the one." Others echoed his sentiments, calling it "effortless," "trustworthy," and "suitable for anyone, anywhere." Willing and energetic on-piste, it cleaved the corduroy. Off trail, it could surf or smear a turn with swagger. Wagner builds every ski from the ground up, so the 100 Custom isn't a production model, but it's an example of the magic the factory can make. Wagner has produced some of the best skis we've tested, but perfection comes at a steep price."
Pics: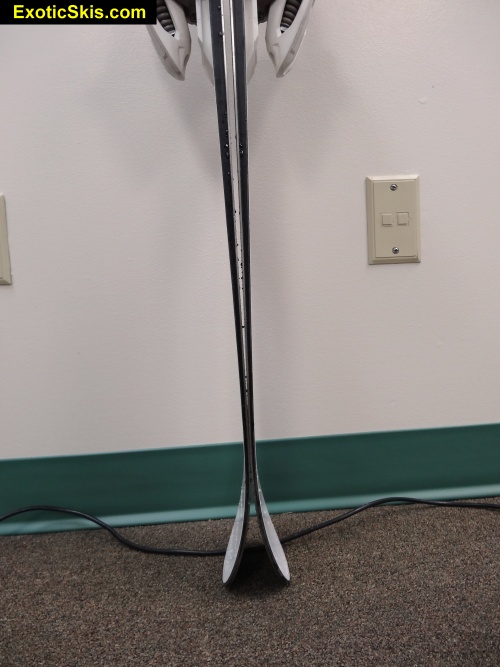 Wagner Custom 100 Tails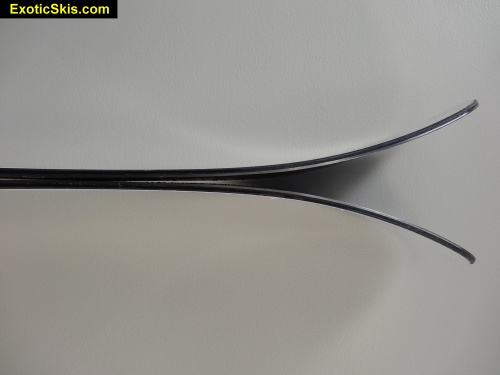 Wagner Custom 100 Tips