This is taken from a recent Blog post, thought it may be educational for those who may be drawn to what lies beyond the boundaries.  After spending some time poking around & observing our local snowpack yesterday, things are not looking good for when the big snows come.  I am concerned for myself & others that the allure of that virgin snow is sometimes difficult to resist!
I have seen a trend over the past few years where people tend to feel safe because a slope is attached to a ski area or that others are skiing it that it is safe, or the attitude that "Well, we skied it last time & it was fine, so it must be OK today".  The manufacturers & media aren't helping either pushing a bunch of user friendly equipment aimed at skiing OB.
What do you think?
http://utahavalanchecenter.org/blog-defense-sidecountry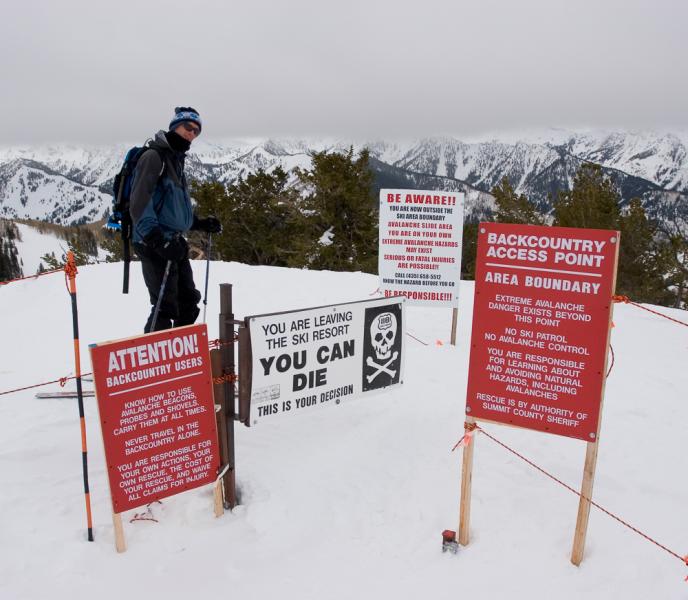 Quote:
A colleague and I recently shared a chairlift with a 20ish out-of-town snowboarder enjoying a sunny day between holiday storms at a Utah resort. He told us that he had taken multiple laps the day before, mid-storm, on a steep, open slope accessible through a gate at the resort boundary. The avalanche advisory had called the hazard Considerable, with persistent weak layers, thin snowpack, and the potential of large, unmanageable avalanches. The slope, the site of several fatalities in recent years, was mentioned in the advisory as being an example of slopes particularly suspect. The young rider had no avalanche gear, no training, no awareness of an avalanche advisory, and no recollection of pushing open the gate with a large warning sign and skull and crossbones to access the slope. We identified ourselves as avalanche center employees and gently suggested that he was at risk and should reconsider the wisdom of riding that area. He explained patiently and confidently, as if to children, that there was no danger because the slope was close to the resort, had tracks in it already, and exited onto a marked run. We parted ways at the top, leaving us wondering if he would be the subject of the next body recovery.
Recent discussions at avalanche workshops and a recent editorial in the National Ski Area Association Journal correctly pointed out that steep, uncontrolled terrain is binary – it is professionally controlled or it is not, and that the term Sidecountry implies something in between and less dangerous. These discussions have lead to proposals that the avalanche and ski industry quit using terms like Sidecountry and Slackcountry.
Dropping the term "Sidecountry" and categorizing the rider described above as a backcountry user is not going to change his behavior.   To ignore the Sidecountry  user group is to deliberately ignore a group that is at serious risk.  First, many riders are ignoring existing signs warning of avalanche danger and backcountry conditions existing on the other side of the gate. No proposals have yet been put forth addressing how we can fix that. Second, identifying and labeling that group and the danger they face will move us closer to finding a way to reach them, using marketing and public messaging lessons learned in other fields.
I propose that we (avalanche centers, resorts, media, and gear companies) more aggressively identify and address Sidecountry issues and users.  That includes understanding their needs and desires and what messages resonate with them. That messaging should acknowledge that not only is Sidecountry different than backcountry, but it is potentially more dangerous because users tend to be less educated and equipped, access is easier, users don't get the stability clues that backcountry users get on a skin track, and there is more potential for large group social dynamics and incidents.
As a society, we don't reduce a health risk by agreeing not to mention it by name. We reduce it by clearly identifying it, studying it, and by getting in the heads of users, by understanding their demographics and channels of influence. We use that knowledge to raise awareness, using messages and communication channels that have credibility among the users at risk. As purveyors of avalanche information to a variety of users, we need to look at the factors that have developed this demand for untracked snow just outside resort boundaries, admit that we have a problem, and aggressively act to create smarter, safer Sidecountry riders.
At the Utah Avalanche Center, we have begun to address issues unique to the sidecountry in several ways.  For several years, we have partnered with patrollers at several resorts to hold inexpensive 1 day Sidecountry 101 avalanche awareness aimed at showing lift-assist riders how and when to leave the resort boundary in relative safety. We have partnered with University of Utah marketing students to create valid survey tools for capturing Sidecountry user demographics and conducting focus groups to test messaging concepts. We have used cutting-edge guerilla marketing consultants to create new exit gate warning signs. We have introduced a 1 hour basic avalanche awareness program for presentation in schools, reaching over 15,000 people annually, not to teach them avalanche science but to introduce the concept of avalanche risk. We have partnered with pro athletes, conveying the message that being avalanche-aware is what the role models do and that to go out through the gates without proper gear and training just makes a rider look dumb. We have built relationships with local and national media as well as gear manufacturers and resorts to tap into their communication channels and followers. We have incorporated social media as a key delivery mechanism. We strive to deliver the message that avalanche safety is not boring and does not make riding less fun – that it gives riders the power of knowledge to understand when to probe the big lines and when to back off, to live to ride another day.
At the Utah Avalanche Center, we believe that Sidecountry users face a unique threat and that the messaging that we have developed over many years with backcountry users is not always effective with them.  Dropping the term "Sidecountry" does not move us closer to reducing the risk that group faces.
JF