There is a blooming collection of new custom ski builders out there.  Of course, we have top-end companies like Wagner Custom, Folsom Custom and lots of others who will make you an excellent quality ski of your design starting at around $1,200 and up..and up...as far as you want to spend, but there is an underground of garage-brand and small business companies emerging who want to make custom skis for affordable prices.  How does $400 sound for a ski of your design?  Spooky or awesome?  I asked Matt Neuman of Ullr Skis if he could loan us an example of his work.  He sent us his personal pair of "ugly duckling" freeride skis built to his "charging" specs.  Matt uses these as his demo skis to show people what kind of "resort freeride" performance Ullr can create in a custom ski.  This particular pair was used to test some new topsheet resin materials and techniques, so they're not production-quality cosmetics, but it's what's under the hood that counts, so we were happy to give them a try in a bunch of varied conditions over several weeks.
Product:
Length Tested: 182cm
Dimensions/Turn Radius:  144-116-130mm, R=17.8m
Camber : Rockered tip and tail, camber underfoot
Binding: Demo
Mount point: Suggested, and backed-off 1cm and 2cm during testing
Environment & Conditions:
Location of Test: Vermont and New Hampshire (various places)
Number of Runs: 20+
Snow Conditions: Hardpack, packed powder, boilerplate, windbuff, fluffy powder (shin to knee-deep), granular, bumps, crud
Demo or Own: Demo
Tester Info:
Username: Exoticskis
Age: 52
Height/Weight: 5' 11" / 183lbs
Ski Days/Season: varies
Years Skiing: 50
Aggressiveness: Aggressive(Driver)
Current Quiver:  IDone TR-TTM, IDone TR-TTR, Edewiser Speed, Palmer P02, Anton Dynamics UFOriaXA, Edewiser Firnis, Praxis Concepts, DPS RP-112 Hybrid, various demos of lots of other brands
Home Area: Vermont
Preferred Terrain: Trees w/ pow and Groomers
Review:

See below.
Conclusion:

This ski proves you can get a really fun ski custom-made to your specifications for around $400-$500 if you don't want glossy, high-end cosmetics and retail-shop fit-and-finish.  It also proves a cabinet-grade hardwood core in horizontal laminate layup can indeed hold up really well after 40-50 days of hard use (see pics of the camber still going strong).  Matt Neuman has changed me from a skeptic to a believer who thinks people should give bargain-basement ski builders a serious chance.  Small-run, custom skis with fun performance at affordable prices is a reality.  Welcome to a serious part of skiing's future.
Pros:

You can get a ski custom-built to your own specs starting at around $400!  For about $550, you can get it tricked-out with extra oomph and strength.  Get your own graphics, use fabric in the topsheet, leave it transluscent, whatever.
Cons:
You don't get the industry-leading fit and finish of a more expensive ski, and you are at the mercy of your own specifications, so if you don't trust your judgement about the combination of geometry, camber and flex behavior that would make you happy, be careful...you ski what you built.  Luckily, custom ski builders have often seen just about every combination of parameters people can come up with, so they will give you advice about your design, both pro and con, hopefully leading you to a design you will be happy with....it's in their best interest to make sure you like your skis.  State-of-the-art?  Probably not. Highest-performing ski in its category? Probably not. but at this price, you could spec two pairs for the price of a new ski.
My review:
Ullr Custom Skis "Early Taper" Resort Proto-Demo ski 2011-2012
144-116-130mm, 182cm R=17.8m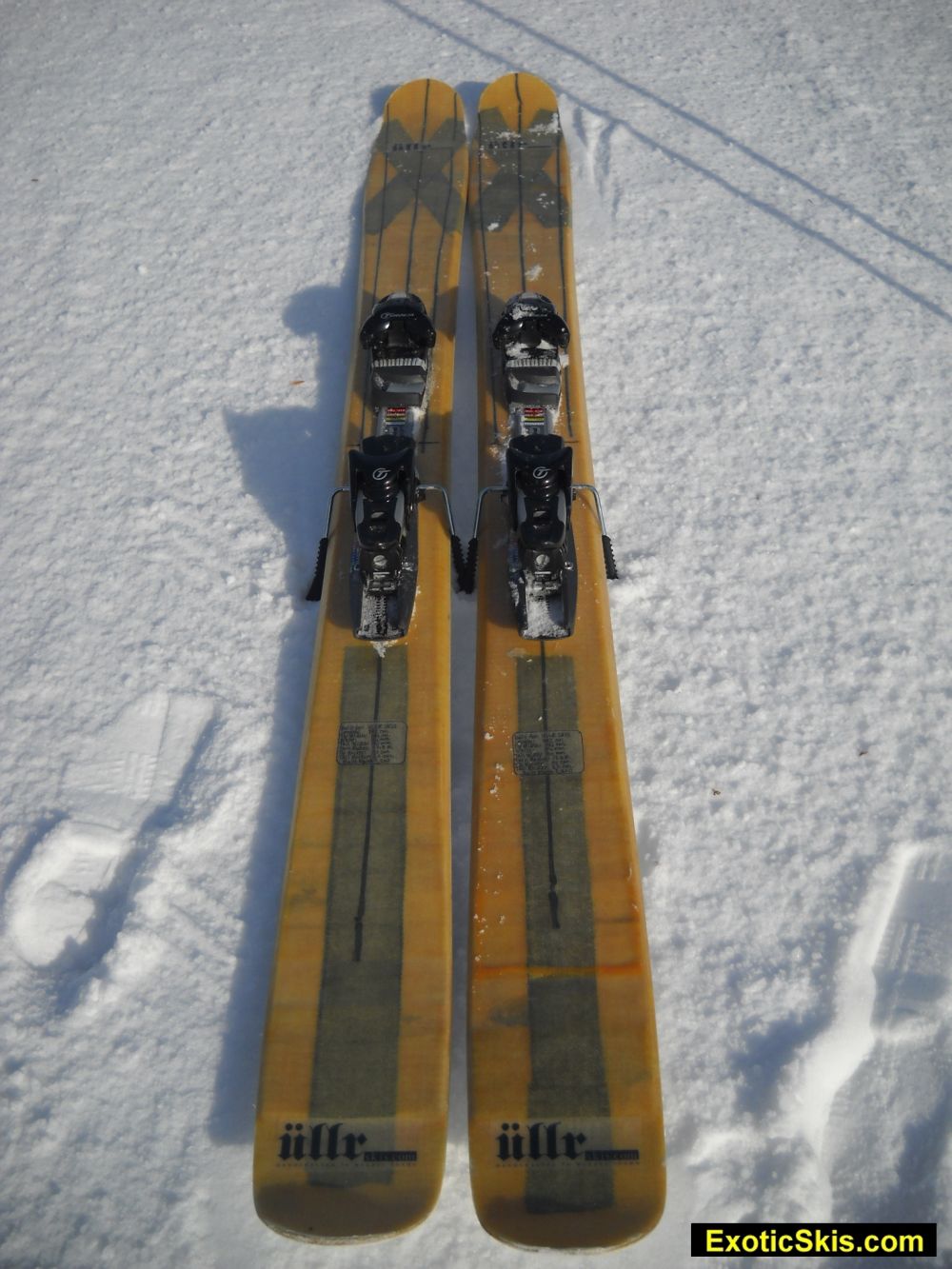 Ullr skis showing additional carbon-fibre (black fabric "X" and strips) through the topsheet layer.

Manufacturer Info:

Ullr Skis
411 Deinhard Lane STE F #149
McCall, ID 83638
(208) 315 1709
http://www.ullrskis.com

Intro: The rise of the affordable custom ski builders:

The number of "custom ski builders" around the World has exploded the last 5 years, with many new custom ski companies sprouting up in the U.S.A.  Of approximately 50 different companies we know offering custom constructions, the typical business model for these custom ski builders is to sell into the "high-end" or "premium" market where customized skis start at $1,000 usd and go up from there, usually selling skis in the $1,500-$3000 usd price range when all the features and design elements are finalized.  Companies in the U.S. like Wagner Custom, Folsom Custom and others occupy the upper-end of the  market, but there is a new breed of custom builders aiming at the "average custom ski enthusiast" segment.  These companies like Ullr, 333, Grace, Rocky Mountain Underground, BigBend, Epik and others are trying to produce custom designs for skiers between $450 and $650 (plus or minus). These skis often lack the fancy finish and impeccable cosmetics of some higher-priced  skis, but they can have the right formula of materials, geometry, flex and personality to make skiers who know what they want really happy for a great price.  Matt Neuman's Ullr Skis is one example.

Background:

Matt Neuman in McCall, Idaho took a 6 week apprenticeship with Michael Lish of 333skis.com to learn his techniques for building low-cost, horizontal hardwood laminate (plywood core) skis to order with minimal environmental impact.  After building nearly 60 different skis with Michael, Matt returned home to begin his own venture building customized skis at affordable prices.  Ullr Skis is the result.  A two year warranty against manufacturer's defects is a great benefit. Matt strives for a 30-day maximum turnaround time from order to shipment of custom skis.  Topsheet options can be bamboo, custom sublimated, maps, handmade paper, pigment dyed resin, rice paper prints from customer-submitted PDFs and nearly anything else you can imagine.  Matt recently took on several apprentices of his own who are now  taking their designs and constructions in new directions [Daryl Ross from BigBendSkis.com and Bruce Larson of Bison Skis (Bison opening hopefully in 2012) ].  The idea of getting a ski custom-made to your own specs starting at $400 is really interesting, and if they are fun to ski, everyone wins.

The initial custom order form contains options for:

- Height
- Weight
- Age
- Gender
- Ski Shape (pow, big mtn, all-mtn, frontside, park, custom)
- Tip Profile (traditional, early-taper (sharknose))
- Graphics
- Type of skiing (alpine, tele, AT, park..other)
- Where do you ski, what type of snow...etc.
- Do you carry gear, and how much does it weigh?
- Do you have any back, knee or other injuries affecting your skiing?
- What kind of performance characteristics do you want?
- What kind of terrain will you use the skis on?
- Prefer long or short turn radius?
- What are your current skis? Tell us likes and dislikes.
- What other skis have you tried and liked, or disliked?
- What kind of flex are you looking for?
- What bindings will you use?
- what boots will you use?
- Other info...?

Suggested Retail Price (MSRP):

$400, $430, $460 base price (depending on size), $545 as delivered in this configuration (stout flex, extra carbon strips as an "all-mountain charger".

Usage Class:

"All-mountain Charger / Freeride"

Rating (with comments): (1="get me off these things"->10="I have to own a pair")

8->8+ in nearly every condition except fluffy pow (6-7 rating due to lack of tip float in light powder).

Summary:

This ski proves you can get a really fun ski custom-made to your specifications for around $400-$500 if you don't want glossy, high-end cosmetics and retail-shop fit-and-finish.  It also proves a cabinet-grade hardwood core in horizontal laminate layup can indeed hold up really well after 40-50 days of hard use (see pics of the camber still going strong).  Matt Neuman has changed me from a skeptic to a believer who thinks people should give bargain-basement ski builders a serious chance.  Small-run, custom skis with fun performance at affordable prices is a reality.  Welcome to a serious part of skiing's future.

Technical Ski Data:

Hand-made with 9 ply "B-grade", "(zero-void, cabinet-grade)" Baltic birch plywood (horizontal laminate) core, 19 oz. triaxial fiberglass (top layer), 12 oz fiberglass (base layer), 24 oz woven reinforcement underfoot. "6k" carbon fiber stip under most of the length, with carbon "X" at the tips (see photos), and a carbon strip in the tail (see photos).  4001 sintered base - 1.4mm thickness. 2mm carbon steel edges - Rockwell 52 rated.

Pre-Skiing Impression:

Matt sent us a pair of skis he built on March 7, 2011, with "about 40-50 days on them".  We had never skied a pair of skis with birch plywood cores, so were curious to try a pair with a good season of hard use to determine if they still had life left in them.  While we have always had the impression that "vertical laminate" cores are the traditional way to build wood-core skis, the hardwood plywood core is intriguing since it is a horizontal laminate, potentially less-expensive, yet might hold its performance quality for a few seasons since it is hardwood.  In this day and age of advanced lamination technology in the cabinetry and construction industries, we were happy to keep an open mind and see how they work, ignoring any preconceived, perhaps outdated notions about plywood as a ski core.

Upon opening the box, I immediately had the impression of Ullr Skis being what we call a "Garage-Brand".  Unmistakenly made by hand, with all the character of something homemade by someone in his own shop, not in a high-tech robo-factory. The shaping, geometry and flex pattern all indicates this ski is designed for fun performance, with many modern principles such as the moderate camber underfoot, rockered tips and tails, progressive, multi-point sidecut, tapered tips and tails and a dampened vibration resistance.  My first opinion was this Ullr ski was built to ski, not to look nice on the shelf. Upon close inspection, many inconsistencies in the finish of the ski became apparent such as bulges and burps in the topsheet coating, somewhat inconsistent shaping in spots and uneven tip rise between the two skis. Given that these skis had 40-50 days on them, perhaps one of the tips had been stuffed into a hard bump or stump and caused it to be different than the other.  The base material appears to be softer than the 4001 sintered material listed by Ullr for this ski. We asked Matt if these skis were an "internal-use" design concept pair or an example of a production ski for customers.  He responded as follows:

"Basically I build prototype skis for myself (these were my resort skis last season) and to use for demos.  I do this for a few reasons.  First, they really get people's attention.  Second, I find it really handy to describe to interested people what the skis are made of if I leave the insides transparent.  And lastly, I do lots of product testing on my own skis and demos (my new resort skis were built yesterday with a renewable "green" epoxy resin that I'm thinking of switching to if I'm happy with the performance).  The bulgy topsheet you mentioned was also a new product that I was trying out, as was the color of the epoxy resin on the ski, resulting in the orange/yellow color.  So the $400 base price would basically get you the ski that I sent (without the performance enhancements)....Currently I offer the following topsheets:Bamboo veneer in various shades - this eventually gets a weathered look from snow and edges hitting the wood but lots of my clients like it. $60

Custom Handmade Paper topsheets - the client chooses from thousands of handmade papers on creativepapers.com and I use this to give the topsheet a uniform and polished look. $25 plus cost of paper.

Custom Sublimated Topsheets - Miller Studio in Auburn, Washington uses the client's graphics to print onto a high quality ski topsheet and ships to me for the application during the build process.  $120

I can also use maps, ski pants, any materials (have had some amazing results with brightly patterened Indian fabrics), custom graphics printed on rice paper, etc.  It's really up to the client to be as involved as they want in their graphics package. I am also working with a few local artists to start offering a handful of pre-designed topsheets that will be available to choose from on my website.  This will allow my clients to get the really polished look of the custom sublimated topsheet without the hassle of finding and submitting graphics in the appropriate file formats, etc.  I anticipate these will be available for skis next Fall...."

Test Conditions:

Eastern boilerplate, ice, hardpack, packed powder, granular snow, rain crust, crud and knee-deep, dry fluff powder. Minor windbuff.

Test Results:

The first few days on this used Ullr ski was on good old-fashioned Eastern boilerplate.  The temperature was around 2 degrees F, and the surface resembled concrete with a groomer pattern etched into it.  Skiers didn't really leave any visible tracks, unless you skied in the dust scraped off the boilerplate by other skiers.  Not exactly ideal conditions for the 116mm-waisted, rockered Ullr sharknose freeride ski.  To my surprise, the skis had a very respectable bite and ability to change direction on-demand on the hard surface (think of a surface you can bounce a billiard ball on).  GS-carving turns were not to be expected, but the Ullr skis were totally controlled, predictable and had a decent grip on the boilerplate.  There was no "doing the splits" or washouts when skating across the flats, no wobble or "unattached" feelings....they felt just fine. 

Remembering these were plywood core skis, the performance on hardpack was pretty impressive, and more than I expected.  They dampened vibrations very well, with no skipping or dancing across the hard surfaces.  They behaved as they were told, stayed on-line without issue and could even get a decent bite and pop when asked.  Some other wide-class skis may have a better grip on the boilerplate, but the Ullr skis were just fine, especially considering they had 40-50 days on them.  So far, so good. 

The remaining days of testing were a mix, with one really stellar day of fresh, shin-to-knee deep, cold, dry powder.  This Ullr design has significant camber along nearly the entire center 2/3 of the ski, with a rockered tip and tail (see pics), and it has a fairly strong flex along its entire length, with very respectable torsional strength (for a horizontal plywood lamination core).  When you get this ski "in" snow, engaging its entire length with flex and release on-edge and flat, it maintains two key behaviors: stability/directional integrity and quick response.  When you bring it up to cruising speed in cut-up powder, it tracks along with no deflection, maintaining pressure all along its length.  Because this is essentially a cambered ski with early rise tip and tail, this Ullr holds a line really well, no matter what junk or fluff is in your path.  Nothing really bothers this ski.  Stand on it and it carves through anything.  Relax and it cruises nicely, but it's not a "surfy" feeling ski since it is significantly cambered underfoot.  Vibration dampening is excellent, with no skip, chatter, vibration insecurity or unwanted resonance.  This ship is a quiet cruiser with plenty of muscle if you want to load it up, pressure it and let it release and launch you in your intended direction.  The sidecut (even if it says its approx. 18m radius) really feels larger than its spec would indicate and you get this really strong, fun platform to ski on fore-and-aft of your foot.  I found myself going faster and faster on this ski in the cut-up powder and packed powder bumps and variable surfaces because it was quiet and pretty strong, with great stability.

The only gripe I really have about the ski was its lack of real tip-float in the fluffy powder conditions.  While I did not expect the porpoise-like rise of a soft, rockered noodle ski, I was not ready for the "tip stays down" behavior I found.  I slid the mount position back a centimeter or two, which helped a bit, but it felt like the first 20% of the tip was simply too stiff to flex up and pull the rest of the ski to the surface.  It was great for cutting through thicker surfaces, since the ski did not flex-and-hook, but I wanted a more compliant and floaty ride in the powder.  I had to remember that this design was Matt's personal "resort ski" pair, and were not for pure champagne powder conditions...but still, I think the design specs could be altered a bit to provide the float I missed.  The rest of the ski performed just fine and was fun in the soft stuff, letting me turn quick, cruise, jam, bound and arc without a whole lot of effort.  This model's "level of effort" to ski was somewhere between a hard-core big mountain ski and a nimble surfer.  Basically, this Ullr was a blast, and did pretty much anything you could want. I came away impressed with how well a ski built with these materials could ski.  At this price, I could get two pairs....hmmmm.

I skied these ski back-to-back in the same conditions with the Praxis Concepts having similar dimensions (139-117-125mm, 177cm R=23m), and found the Praxis Concepts to be somewhat more slarvy when asked (nearly flat underfoot instead of strongly cambered like these Ullrs), more floaty in the powder, but less carveable on hardpack in a roll-it-and-ride-it GS carving technique which these Ullrs like just fine.  The Ullr's are a bit more stable at speed and more potent when loaded hard than the Concepts, but the Praxis Concepts have a more darty-quick behavior in the trees.  In short, these Ullrs like a bit more speed and probably would keep a heavier skier quieter on the snow than the Concepts.  The design of the two skis is totally different, but they are similar in dimensions, so it's worth mentioning their contrasts.

Analogies: (this ski is like...)

A freeride SUV you don't care about waxing and polishing, knowing it's got game where it counts.  A go-to machine when you don't know what conditions are out there.

Things I Would Change About This Ski:
 
I would soften the flex in the first 20% of the tip, or perhaps rocker it a bit more.

Short Answer When Someone Asks "What Do You Think About This Ski?":

This is proof that a custom ski can be built at about $400-$500 and be really effective and fun.  It makes you want to spec a couple pairs for different conditions.

Advice To People Considering This Ski:

Save your money and go for the see-through bargain-basement topsheet treatment.  Spend the cash on strategically-placed carbon or other materials to get the ski to work just the way you want.  Don't expect state-of-the-art fit and finish unless you want to pay Matt to do it.  Seriously think about building yourself a customized ski to your specs!

Self-Description of Skiing Style, Ability, Experience, Preferences:

5' 11", 180 lbs. 52 year-old expert, "old-style" race inspired, "foot steerer" with fairly sensitive edging feel. Loves to hold long arcs with lots of pressure on the downhill ski (you know the type),  but also loves the feel of both skis on-edge leaving tiny railroad track edge tracks.  Loves powder when it's not tracked out. Trees and odd terrain angles are fun.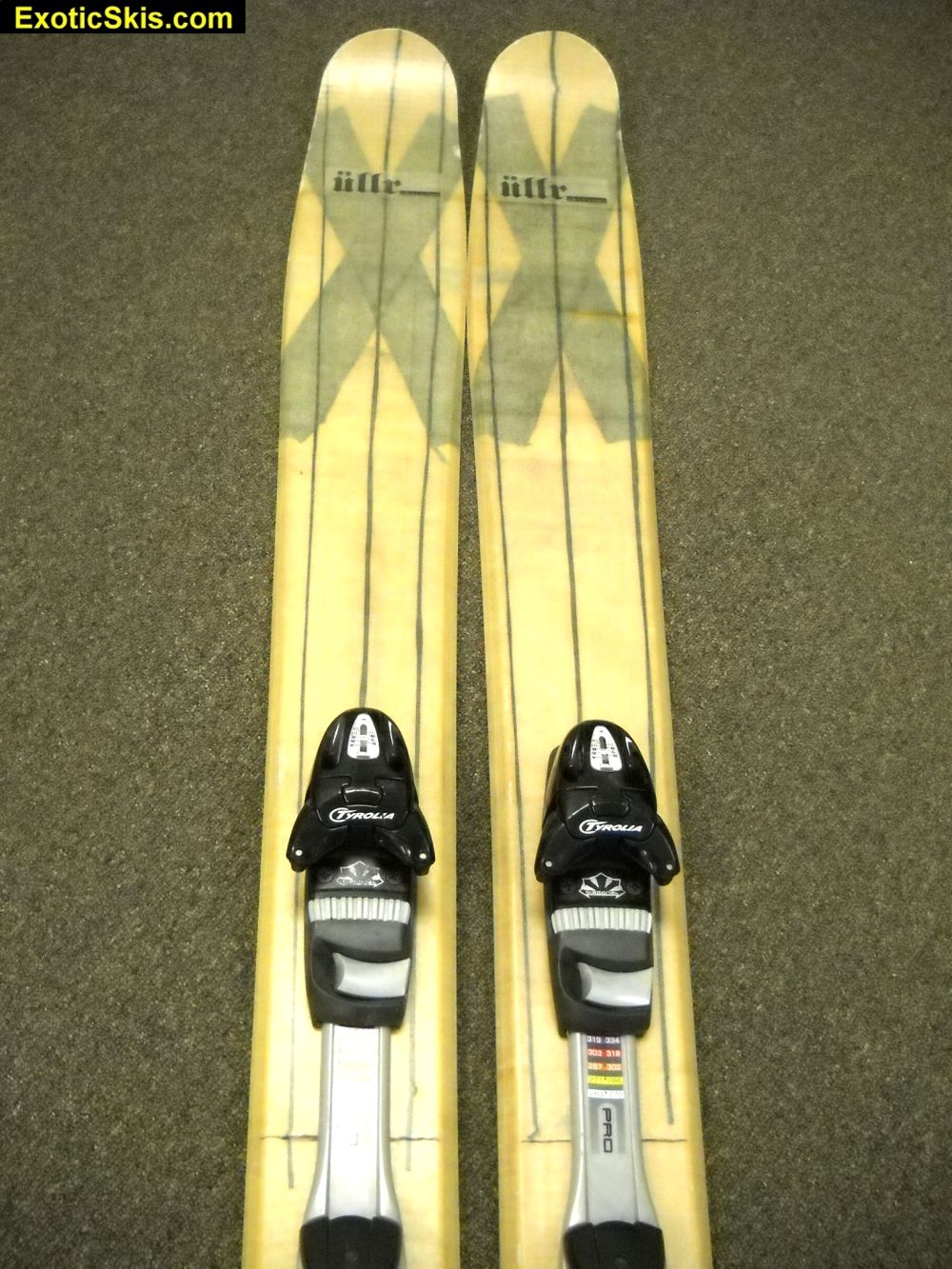 Ullr forebody showing carbon "X" and tip shaping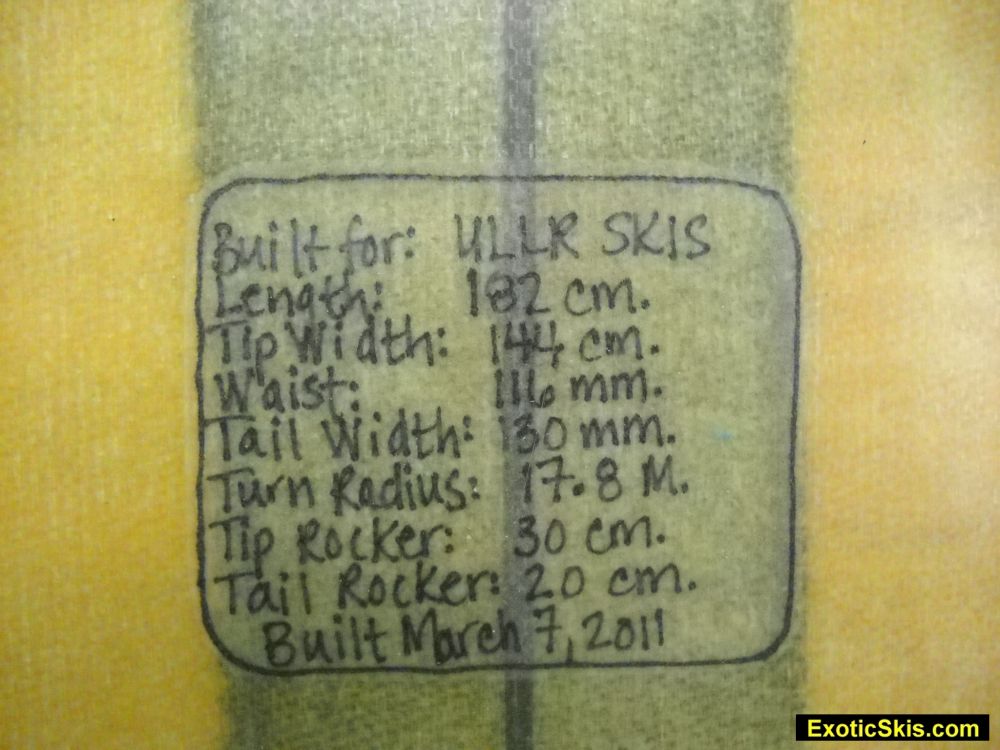 Custom specs - Pick your own...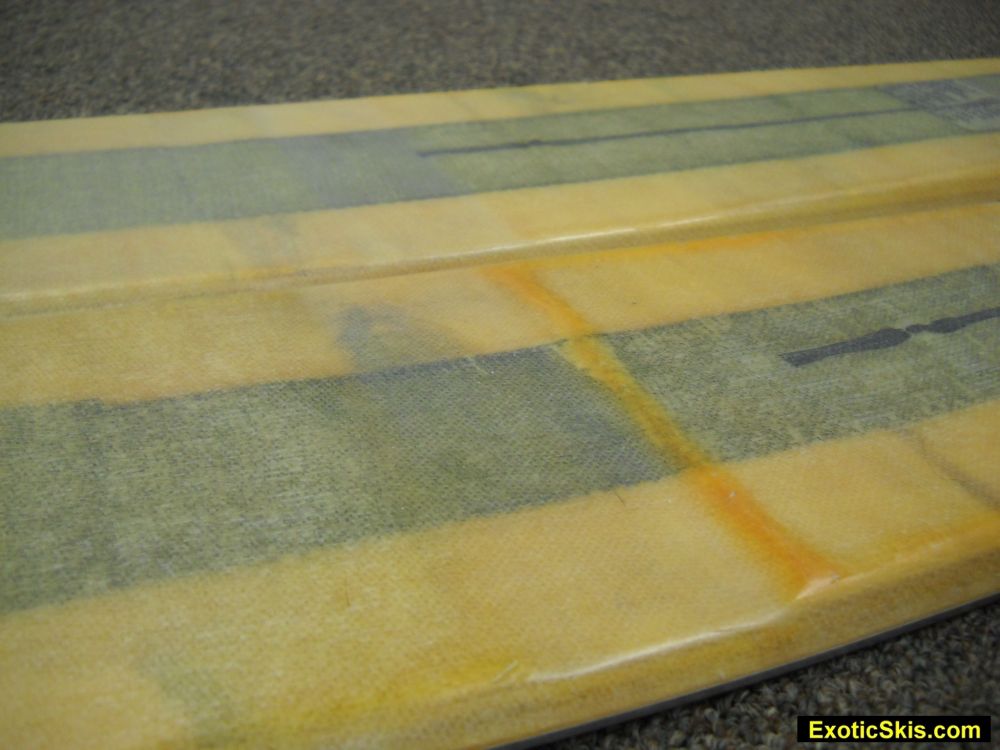 Tip profile step-shaping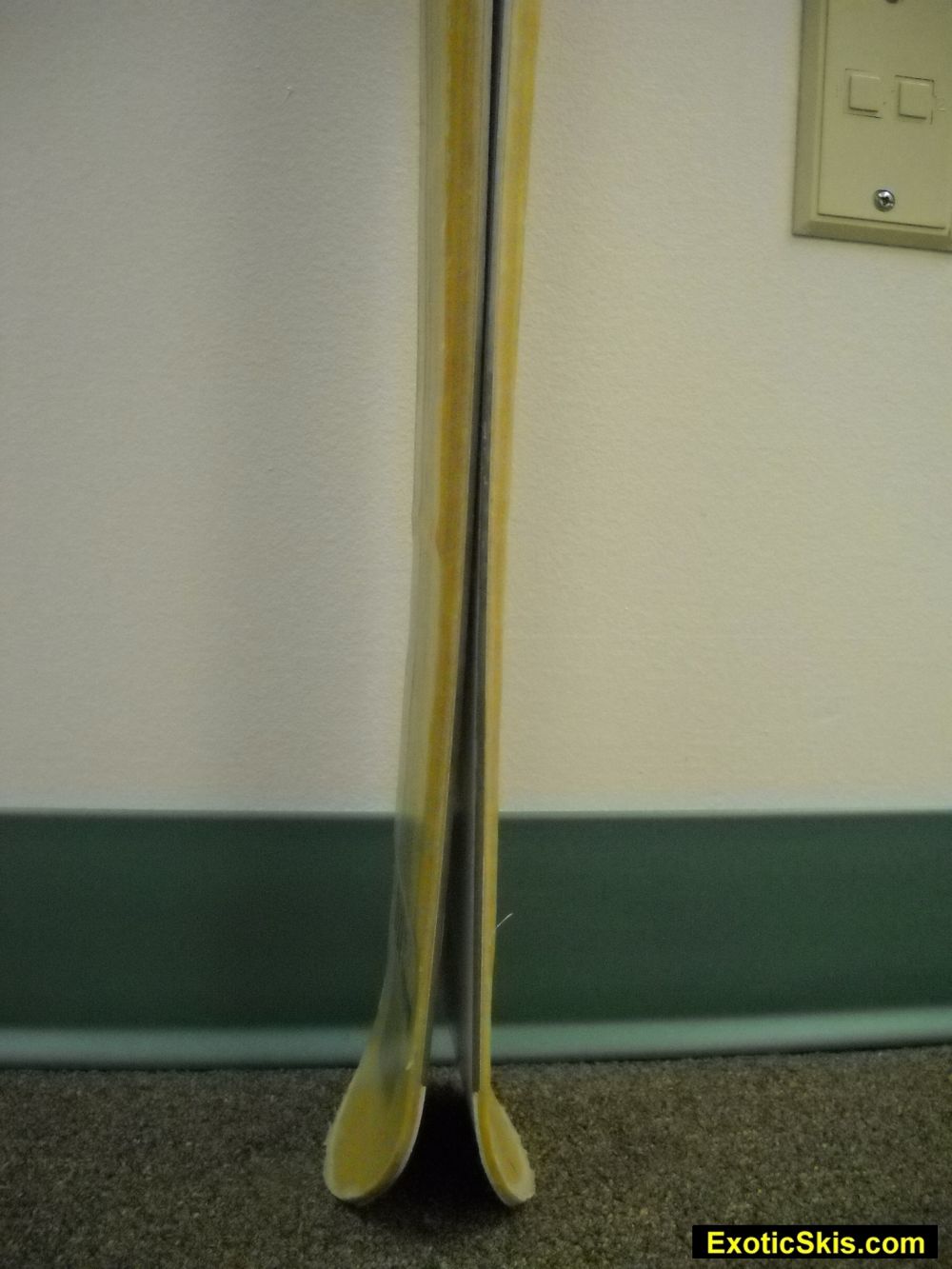 Tail Rocker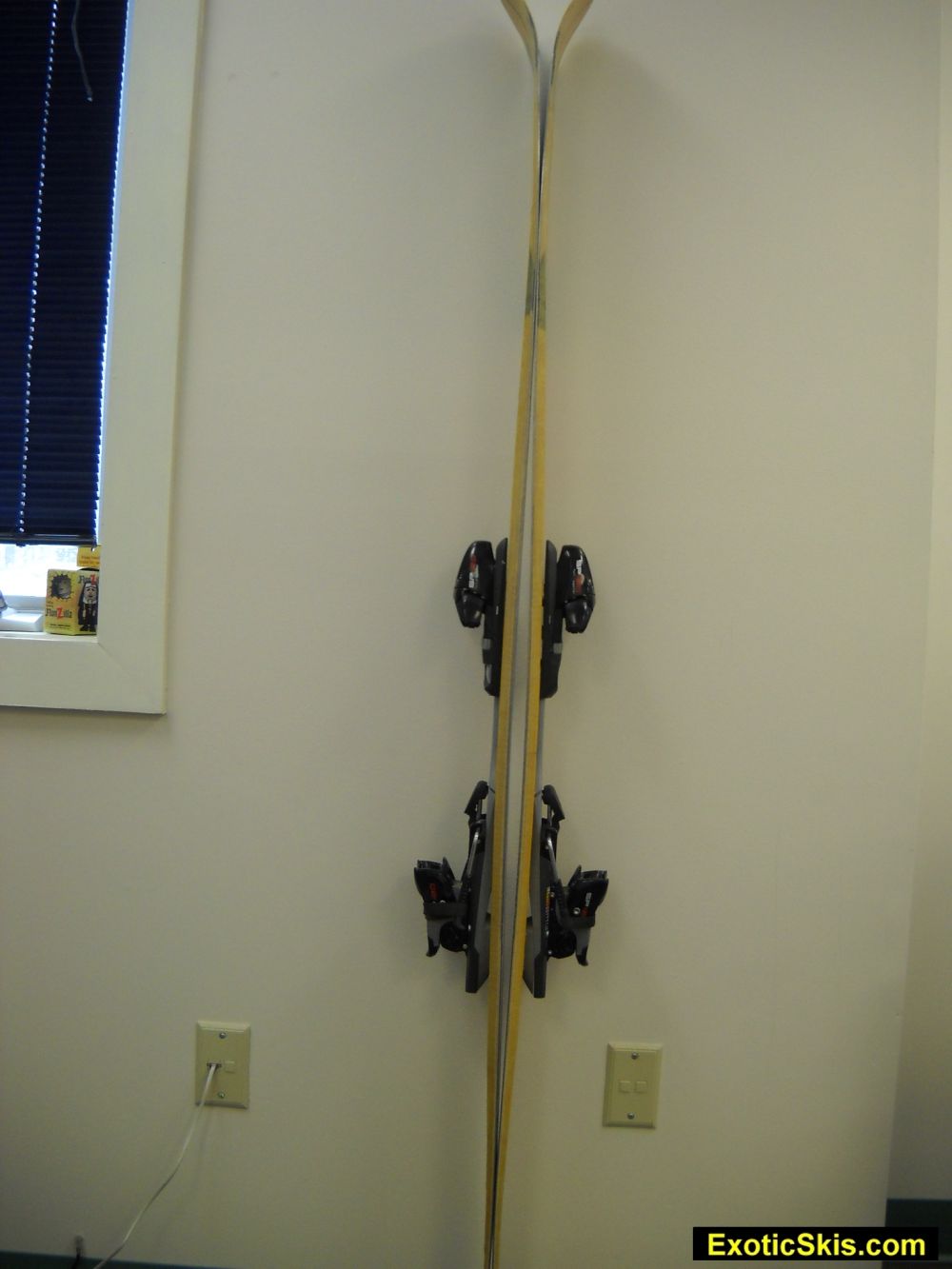 Significant camber underfoot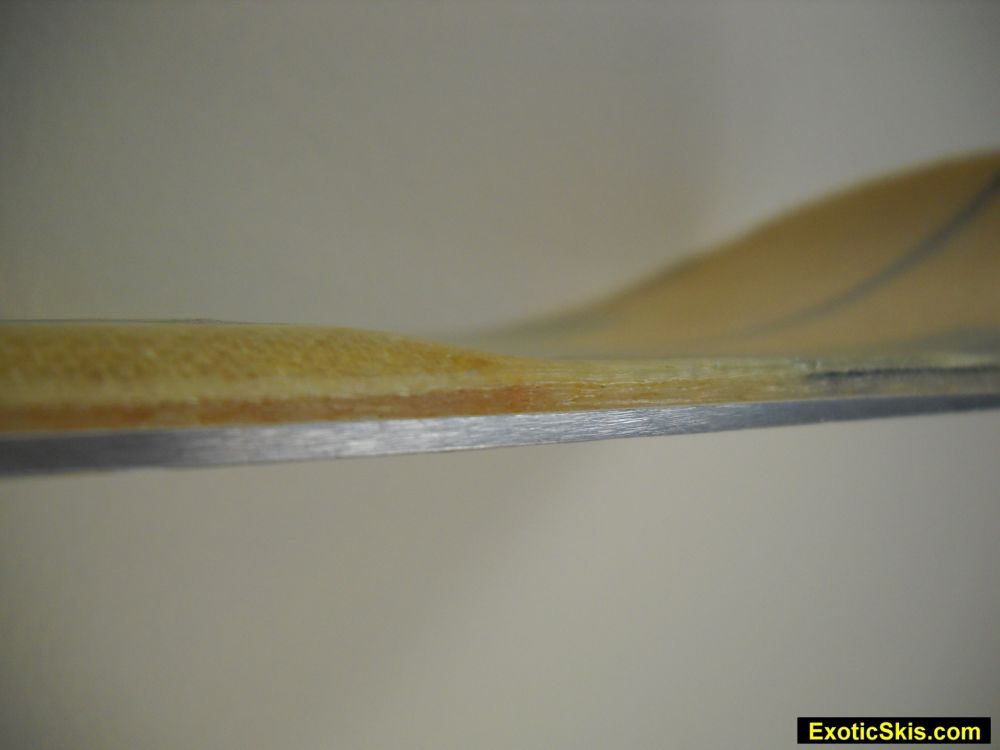 Tip profile shaping
Edited by ExoticSkis - 3/8/12 at 8:28am