2010 IDOne TR-TTM 180cm GS Cheater from Japan
Product:
Length Tested: 180cm
Dimensions/Turn Radius:  105-68-94mm, 180cm R=21.3m
Camber: Traditional
Binding: VIST SpeedLock 312
Mount point: boot center on the mark
Environment & Conditions:
Location of Test: Dartmouth Skiway and Suicide Six - Vermont
Number of Runs: Several dozen
Snow Conditions: cold man-made packed powder, hardpack (no ice)
Demo or Own: Own
Tester Info:
Username: ExoticSkis
Age: 52
Height/Weight: 5'11" 185lbs
Ski Days/Season: hard to count
Years Skiing: 50
Aggressiveness:Aggressive(Driver)
Current Quiver: (some owned, some are demos) Anton Dynamics UFOria XA, Anton Dynamics carbon EX,  IDOne TR-TTM, TR-TTR, Edelwiser Speed, DPS RP112, Praxis Concept, Palmer PO2, SCC Brockway, SCC Tubby, Edelwiser Firnis, Swallow Professor 106...plus lots of oldies.
Home Area: Vermont
Preferred Terrain  groomers and off-piste trees
Review:
ID One TR-TTM
2010
105-68-94mm, 180cm R=21.3m

Manufacturer Info:

MATERIAL SPORTS, INC.
ID one Division
1-30 Sakura-machi Moriguchi-shi
OSAKA 570-0027 JAPAN
TEL: +81-6-6992-2070
FAX: +81-6-6992-2572
http://www.materialsports.co.jp
http://www.idoneski.ca (Canada)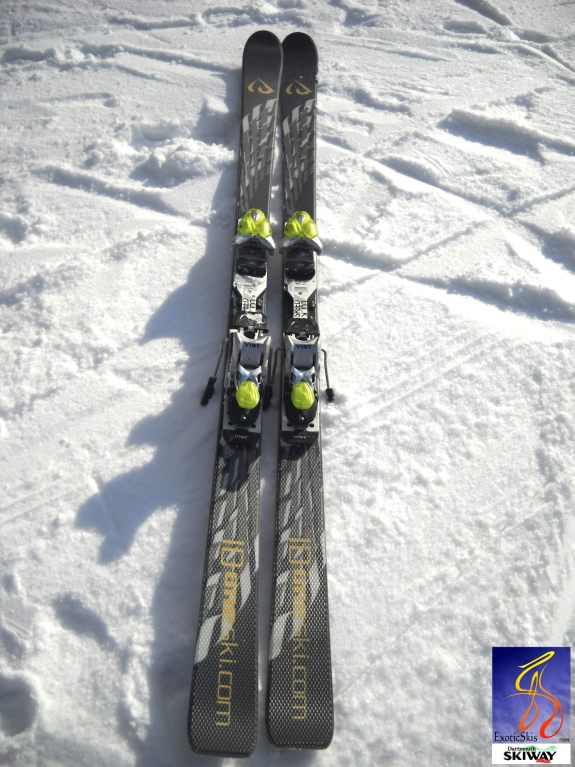 Background:

Material Sports of Japan has a robust, nearly cult-like following for its extensive line of mogul skis. Over ten years, ID One claims 44 FIS World Cup victories in eight disciplines, 1 FIS World Cup overall championship, 1 Freestyle FIS World Cup overall championship, three Olympic gold medals and two gold FIS World Championships, so they truly make high performance skis. They make 6 mogul models, 7 freeride models, 7 recreational models and 3 technical carving skis.
The mogul skis are available with cracked or solid edges in some models.

Suggested Retail Price (MSRP):

101,850 yen (approx. $1,311 usd exchange December 2011, $940 cnd Canadian)
133,350 yen (approx. $1,717 usd exchange December 2011)
[includes Tyrolia Freeflex Pro 14 w/13mm Raceplate RDX plate)

Usage Class:

2010 non FIS-compliant Giant Slalom (GS Cheater)

Rating (with comments): (1="get me off these things"->10="I have to own a pair")

8-9 for superb edge grip and composure at speed, power under pressure instead of snap

Summary:

An unusually high-quality, precise, razor-like line holding tool with calming, confident feel at nearly any speed. The lack of intense rebound might be mistaken for lackluster performance, until you realize it can maintain extremely high-pressure turns at high speeds with secure composure without vibration, deflection or instability.  The TTM does not require intensive user-input, only patience to get into its sweet speed zone.  Superb edge grip.  No snappy rebound. Quiet, authoritative grip. This is the ski you take out early in the morning on fresh hardpack before people clog up the trails.

Technical Ski Data:

Japanese maple and beech wood core torsion-box with titanal and fiberglass, graphite racing base. Rumored to have stainless-steel edges (could not confirm stainless steel material)

Pre-Skiing Impression:

Superb fit and finish with stunning basegrind pattern, perhaps some of the best finish work we have seen on a ski.  Authoritatively strong flex and strong torsional resistance.  High-energy rebound snap with hand-flexing. "High tension" feel and sound with the hand-gong test.  Fairly conventional geometry and camber design.  Feels like a sports car in your hand. Slightly softer than the TTR GS race ski, but very, very similar with a slightly curvier sidecut and narrower radius.  Really interesting textured topsheet material.  Moderate camber profile. Understated graphics, but very business-like.

Test Conditions:

This initial report is the result of two days on man-made packed powder and hardpack surfaces, but no blue ice conditions. More reports as conditions change.

Test Results:

The ID One TTM is billed as a "technical carving ski" by the manufacturer.  It's a ski with remarkably high-quality fit and finish.  The ski has a substantial heft for a "skinny" design of 68mm underfoot, since it has an extremely dense hardwood core and metal layers. When you get the ski going for the first time, it feels somewhat unresponsive until you build up speed sufficient to get the ski to flex into a turn, where it then sinks its edge into the surface and holds the line you set until you roll it into a new direction.  You quickly learn the ID

One TTM holds a line with remarkable security, no matter what speed you achieve.  Some GS cheater skis get somewhat nervous after you exceed their optimal speed zone, but not the TTM. (I don't know if a 21.3 meter radius really qualifies as a "GS Cheater" these days, but that's what people call it.) I found the TTM can make a tighter radius turn than its design indicates, but it takes a steady, strong pressure to make it curve tighter than 21 meters.  The TTM is not a "turny" GS-type ski, but an elegant line-holding device that gets more impressive the faster you ride it.  Never twitchy, never nervous.  If you don't like speed, pick a shorter length of this ski or a different model. We mounted this pair with a fairly strong VIST raceplate, which definitely added to the damp personality of the ski and provided leverage for edging.  This ski seems to like having a plate underfoot and we would probably recommend such a setup for anyone buying this ski.  IDOne actually bundles the TTM with a Tyrolia plate if the buyer wants it.
This 180cm version feels longer than it measures, and wants to run.  The TTM has a bias for large-radius GS turns rather than tight-radius GS turns since it has a relatively straight sidecut by today's standards.  The TTM has a pronounced feeling of strength in a turn, without being burly-feeling (if that makes sense).  It also has a very precise feel to the way it holds its line.  Racers looking to get off a demanding race ski will probably find the TTM might have the same holding power and calmness at speed as their old rides, but with less effort and high-strung nature.  I didn't get the TTM into bumps or deep snow, and I wouldn't recommend using this ski in those conditions, especially with the superb collection of other skis out there.  The ID One TTM is a specialized, narrow speed machine for packed surfaces with stunning quality and a refined, professional grip under the entire length of its geometry.  ID One has delivered a very impressive ski, but it does not come cheap.  U.S. distribution did not exist in 2010-2011, but there is an importer in Canada (see website).  The quality, feel and heft of the ski indicates it is likely to keep its performance for quite a few seasons. The ID One TTM confirms Japan's enthusiasts can make stunning skis.  Wear your helmet.

Analogies: (this ski is like...)

A specialized woodworker's knife designed to perform surgical incisions extremely well on any hardwood at remarkable speed.
 
Things I Would Change About This Ski:
 
I would make the geometry slightly turnier - maybe 19 meters - with a slightly wider shovel, leaving the waist and tail dimensions alone to encourage a slightly quicker turn intiation without sacrificing the midbody and tail security.

Short Answer When Someone Asks "What Do You Think About This Ski?":

This is a high-speed carving machine for speed addicts who crave smooth control across hard surfaces without exhausting themselves.

Advice To People Considering This Ski:

If you did not race GS in your past life as a skier, you may find the velocity required to get this ski into its sweet-spot turning behavior may take you out of your comfort zone.  If you were a GS fanatic, you might have to sell something to buy a pair of these.

Self-Description of Skiing Style, Ability, Experience, Preferences:

5' 11", 180 lbs. 52 year-old expert groomed-surface carver, "old-style" race inspired, "foot steerer" with fairly sensitive edging feel. Loves to hold long arcs with lots of pressure on the downhill ski (you know the type),  but also loves the feel of both skis on-edge leaving tiny railroad track edge tracks.  Loves powder when it's not tracked out. Trees and odd terrain angles are fun.

(click image for larger version)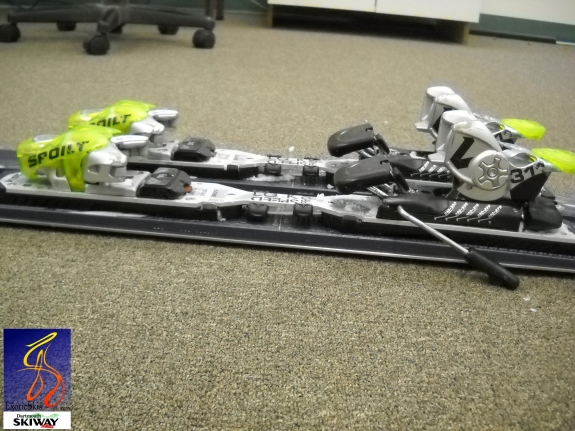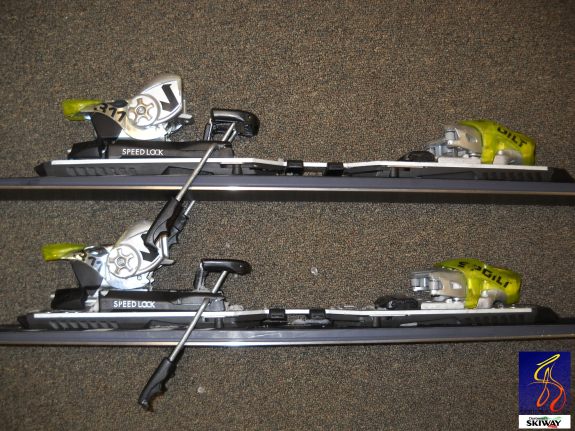 VIST Speek Lock plate mounted on the IDOne TR-TTM test skis

TTextured topsheet detail - note layer alignmenjt and fit quality at the sidewall joints.