Product: DPS Wailer 105 "Pure" Flex 2
Length/size Tested:  178cm
Environment of Conditions:
*Location of review: Stowe, VT
*Runs Taken: Can't count them
*Snow Conditions: Powder (shin-to-knee-deep), cut-up powder, packed powder, trees, bumps and hardpack surfaces, cold, dry snow.
*Demo or Purchase:  Demo
Summary (inc. Strengths & Weaknesses):

The Wailer 105 Pure is a remarkably accurate, versatile, responsive and powerful all-terrain ski with surprising, race ski-like grip on hard snow.  Capable and highly rewarding on any surface, the Wailer 105 is for people who like the traditional feel of a cambered ski instead of the loose-handling feel of the fully rockered models.
Strengths:
Extreme security and precise tracking with high performance in a huge variety of terrain and surfaces. Remarkably impressive power and rebound energy when tapped, but controlled and confidence-inspiring while being light and snappy. Grippy on boilerplate. Surgical.

Weaknesses:

Lacks the loose, surfy feel of a rockered ski (if you like that), and can put you in the back seat if you don't pay attention.  Rewards a technical skier's touch, could be too intense for beginners. Expensive.
Tester Info:
Age: 51
Height/Weight: 5'11" 178 lbs.
Average days on snow: 0-10, 11-25, 30+  (pick one)
Years Skiing: 0-5, 6-15, 15-30, 30+  (pick one)
Aggressiveness: Conservative / Moderate / Aggressive / Competitor (pick one)
My Review Format:
DPS Wailer 105 Pure
2011-2012
131-105-118mm, r=25m @178cm (Flex 2)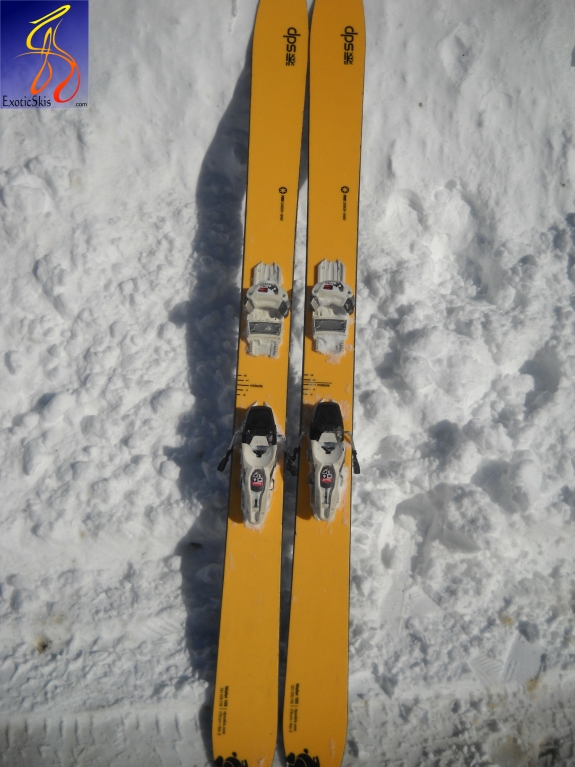 Manufacturer Info:

DPS Skis
1549 S. 110 E #B
Salt Lake City, UT 84105
Phone: 801-413-1737
http://www.dpsskis.com

Note:
DPS offers the Wailer 105 model in two different constructions: "Pure" and "Hybrid".  This test evaluated two lengths of the "Hybrid" construction.  The "Pure" construction consists of a poplar core (with titanal ribs running vertically through the core - their "SS" technology) sandwiched between DPS's own carbon-prepeg laminate layers and "nano" carbon composite materials.  The "Hybrid" construction consists of a bamboo core with more traditional triaxial fiberglass and tip-to-tail carbon stringers.  Both models utilize DPS's special adhesives and pressing/curing technology. The Pure construction is extremely lightweight and very responsive and expensive, while the Hybrid construction is slightly heavier, more damp and less expensive.  Ski geometry is identical between the Pure and Hybrid models.

Suggested Retail Price (MSRP):

$1199 USD - Pure
$799 USD - Hybrid

Usage Class:

All terrain cambered freeride.

Your Rating (with comments): (1="get me off these things"->10="I have to own a pair")

9 for off-piste. 9 for groomed surface carving.

Summary:

The Wailer 105 Pure is a remarkably accurate, versatile, responsive and powerful all-terrain ski with surprising, race ski-like grip on hard snow.  Capable and highly rewarding on any surface, the Wailer 105 is for people who like the traditional feel of a cambered ski instead of the loose-handling feel of the fully rockered models.

Technical Ski Data:

Poplar laminate wood core with vertical ribs of titanal. Carbon prepeg / nano-carbon laminates, UHMW sidewalls, Austrian World Cup base. Propriatory adhesives, pressing and curing technology.

Pre-Skiing Impression:

High-quality fit and finish, very, very lightweight with snappy rebound and high torsional strength when hand-flexed.  Excellent, clear colors in a glossy topsheet.

Test Conditions:

Powder (shin-to-knee-deep), cut-up powder, packed powder, windblown snow, trees, bumps and groomed hardpack surfaces, cold, dry snow.

Test Results:

I got on the Wailer 105 after skiing the RP112 in the same 178cm length.  The Wailer 105, being traditionally cambered, felt more directional and extremely planted throughout its length, while being extremely maneuverable and crisp in its turns.  The first real turns were on the blown-off, cueball surface at the top of the front four at Stowe, showing hardened, yellow-ish icy boilerplate. The Wailer 105 bit into the cueball surface and launched into the turn with a sharp, precise authority like a racing ski and completely changed my attitude from the defensive "let's hope this thing holds" to "oh yeah, we have race-mode".  The precision and bite on the boilerplate was more like a 72mm race carver than a 105mm all-terrain ski. With my confidence on hard surfaces completely solidified, it was time to see how it handled in the cut-up powder and chalky windblown snow.  The Wailer 105 Pure gives very detailed feedback underfoot.  I could feel the density and resistance of whatever snow was underneath the shovel, midbody, waist and tail of the ski.  While some people might not like that degree of feedback underfoot, I really liked the sensation of knowing exactly what was under my feet.  Picking up speed and crossing through the different kinds of snow in the center and edges of the trails, the Wailer 105 gave the impression of security and authority without being difficult to ride or drive.  The performance of the Wailer 105 in Pure construction really comes alive when you drive it. You can passively ride the ski, but it really wants to be put into active duty and responds with extremely quick edge-to-edge handling.  Deflection while crossing different surfaces is minimal, with the ski cutting through crud precisely as directed. The Wailer 105 Pure is not "demanding", but "highly responsive" and rewards a skilled driver.  An intermediate skier on this ski might find it requires them to pay attention more than other skis (or the hybrid construction, which we did not test).  You can ski it slowly, but it really wants to be brought up to some speed and then "turns on" with crisp, definitive direction changes and lots of zing, pop, power and acceleration.  Compress the Wailer 105 Pure into a turn or bump,load it up and release and you better be ready for some energy in return.  Finesse and energy are good words to describe the Wailer 105 Pure.  While the ski obeys commands quickly and accurately, it can also launch you into the back seat if you get sloppy, so it rewards an expert skier's touch.  The degree of secure grip across surfaces and powerful acceleration and excellent tracking through crud makes the Wailer 105 Pure a great choice for nearly all terrain.  Deep snow is better suited to one of the more modern rockered, tapered DPS skis (Wailer RP or Lotus), but I would have no problem using the Wailer 105 for all-terrain.  It handled powder snow just fine, surprisingly so for a ski with such crud-busting and hard snow performance, but since it is only 105 underfoot and traditionally cambered, it lacked the "surfy" feel of the skis designed for fluff.  I immediately thought the Wailer 105 would be a good choice for a one-ski quiver in conditions often found in European resorts and sidecountry where the windslab, buff, crust and groomer-pack conditions are more typical than bottomless powder days.  Many people love the Wailer 105 for telemark backcountry since it can handle anything with security and high-performance.  Now that the Wailer 112RP design is out, many people question the need for the Wailer 105, and for good reason.  Essentially, I think the Wailer 105 is a great ski where harder, firmer frontside conditions exist, or if the skier wants a traditionally cambered design with a grippy, cut-and-thrust style instead of the looser, slarvy feel of the 112RP rockered ski.  In any case, the Wailer 105 Pure is a formidable and impressive powerhouse, much more nimble than its 105mm waist would indicate.

Analogies: (this ski is like...)

Highly tuned Audi or BMW sport sedan with suspension kit and increased turbo pressure.  The more you drive it, the more it performs, but still suitable for around-town fun.
 
Things You Would Change About This Ski:
 
Offer more colors.

Short Answer When Someone Asks "What Do You Think About This Ski?":

Probably one the most impressive cambered all-terrain skis I have ever tried.  Best suited to expert skiers in it's Pure form.

Advice To People Considering This Ski:

Try a demo first to see if the Pure version may give you more feedback than you like, then ride the 112RP to see if you prefer the rockered feel or traditional cambered feel.

Self-Description of Skiing Style, Ability, Experience, Preferences:

5' 11", 180 lbs. Expert groomed-surface carver, "old-style" race inspired, "foot steerer" with fairly sensitive edging feel. Loves to hold long arcs with lots of pressure on the downhill ski (you know the type),  but also loves the feel of both skis on-edge leaving tiny railroad track edge tracks.  Loves powder when it's not tracked out. 10 year coach for youth race team in New England (bulletproof is the norm).