Product: DPS Wailer 112RP, DPS Yvette 112RP
Length/size Tested:  184cm (Wailer), 178cm (Yvette)
Environment of Conditions:
*Location of review: Stowe, VT
*Runs Taken: Can't count them
*Snow Conditions: Powder (shin-to-knee-deep), cut-up powder, packed powder, trees, bumps and hardpack surfaces, cold, dry snow.
*Demo or Purchase:  Demo
Summary (inc. Strengths & Weaknesses):

Quite simply, the DPS 112RP "Resort Pow" hybrid is the most versatile, fun and stunning ski I  have ever tested. Highest levels of performance in powder, bumps, crud, cut-up powder, groomers, trees, open terrain and variable surfaces of frontside, backside and sidecountry skiing at slow to high speeds with extremely easy handling and highest levels of fun in an amazingly lightweight package. DPS claims the 112RP is a "Game Changer", and they're right. "If you have ever seen a deer bounding through the woods, you have an idea what it's like to ride the DPS 112RP in the trees". The DPS 112RP is a legitimate candidate for the new benchmark of a one-ski quiver.
Strengths:
Extreme versatility, reactivity and high performance in a huge variety of terrain and surfaces.


Weaknesses:

None, unless you want to ski super-G speeds or race gates or haunt icy boilerplate.
Tester Info:
Age: 51
Height/Weight: 5'11" 178 lbs.
Average days on snow: 0-10, 11-25, 30+  (pick one)
Years Skiing: 0-5, 6-15, 15-30, 30+  (pick one)
Aggressiveness: Conservative / Moderate / Aggressive / Competitor (pick one)
My review format:
DPS Wailer 112RP Hybrid
DPS Yvette 112RP Hybrid
2011-2012
141-112-128mm, r=18m @184cm
138-112-126mm, r=18m @178cm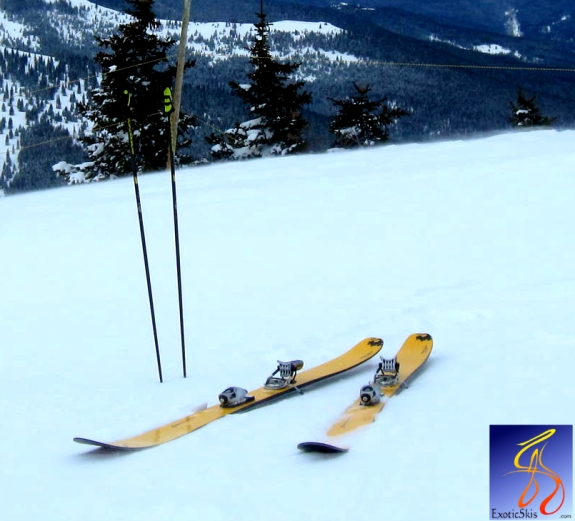 Photo courtesy of Bob Nooney of Maui, Hawaii (we liked his pic of the 112RP on snow) - thanks for letting us use it!
Manufacturer Info:

DPS Skis
1549 S. 110 E #B
Salt Lake City, UT 84105
Phone: 801-413-1737
http://www.dpsskis.com

Note:
DPS offers the 112EP model in two different constructions: "Pure" and "Hybrid".  This test evaluated two lengths of the "Hybrid" construction.  The "Pure" construction consists of a poplar core (with titanal ribs running vertically through the core - their "SS" technology) sandwiched between DPS's own carbon-prepeg laminate layers and "nano" carbon composite materials.  The "Hybrid" construction consists of a bamboo core with more traditional triaxial fiberglass and tip-to-tail carbon stringers.  Both models utilize DPS's special adhesives and pressing/curing technology. The Pure construction is extremely lightweight and very responsive and expensive, while the Hybrid construction is slightly heavier, more damp and less expensive.  Ski geometry is identical between the Pure and Hybrid models.  The Yvette and Wailer 112RP are exactly the same ski, just different lengths and colors (Yvette is only marketed as a woman's ski due to its length).

Suggested Retail Price (MSRP):

$1199 USD - Pure
$799 USD - Hybrid

Usage Class:

All terrain rockered freeride

Your Rating (with comments): (1="get me off these things"->10="I have to own a pair")

10 for off-piste. 9 for groomed surface carving.

Technical Ski Data:

Hybrid construction of bamboo core with carbon fibre stringers top and bottom, triaxial fiberglass, UHMW sidewalls, urethane top edge reinforcement, urethane dampening, Austrian World Cup graphite base. Tip and tail rocker. 2.1 kg per ski (184cm), 2.0 kg per ski (178cm). 143cm running surface (184cm), 137cm running surface (178cm). "Pure" version (poplar and carbon-prepeg/nano construction) not tested.

Pre-Skiing Impression:

High-quality fit and finish, very, very lightweight with snappy rebound and high torsional strength when hand-flexed. Very distinctive "multi-point" shaping, tip and tail taper and rocker profile geometry. Excellent, clear colors in a glossy topsheet.

Test Conditions:

Powder (shin-to-knee-deep), cut-up powder, packed powder, windblown snow, trees, bumps and groomed hardpack surfaces, cold, dry snow.

Test Results:

Ideal testing conditions after two feet of new snow on a wide variety of terrain ranging from light powder in the trees to windbuffed chalky powder, packed groomers and cue-ball windblown crests existed for testing DPS Wailer 112RP. I tested the new 184cm Wailer hybrid first, then the 178 "Yvette" hybrid (same ski, proportionally scaled to 178cm with same radius - blue color). The 112RP impressed me just skating to the lift with its crisp grip,light weight and peppy rebound. I immediately learned the 112RP handles without effort in any situation and speed.  You can edge it quickly from low to high angles and it grips. You can pressure it aggressively or ride it passively and it goes wherever you point it on-demand.  Security and confidence are fed back to the rider in low or high pressure conditions.  The 112RP can chop turn, slarve, smear, rail, pivot, drift, cut, thrust and glide with just the slightest input from the rider, and provide a huge range of response from subtle direction change to big rebound or rock-steady line holding. The rockered tip and tail soaked up terrain in a playful, responsive way, yet edge grip was truly impressive, quick, secure and able to handle nearly any turn shape and radius I wanted.

One of the surprising things was the zero-learning-curve required to get the 112RP to do its magic.  I got on the 112RP right after testing another brand of rockered ski of similar dimensions (107 underfoot), and while the feel and personality was totally different, I instantly "got it" and we were immediately off to the circus. Quick, short-radius turns along the edges of trails were easy and I could pick any point on the tops, sides, uphill face, or downhill face of powdery bumps for turns without a second thought.  The 112RP can snap and hop along the tops, sluice through the troughs, slide off the side of the trail to snag some untouched powder, then blast back onto the hardpack with a frisky, playful personality.  In nearly any situation, the words "frisky" and "fun" came to mind over and over. The 112RP can jack-rabbit in and out along the edges, then lay a trench across the trail to track some GS turns on the groomers back to the lift at easy or eye-watering speeds.  It's not a race ski, nor does it pretend to be.  DPS has created a ski that essentially does everything else besides race gates on boilerplate, although I found its security and grip on cue-ball surfaces impressively superior compared to other rockered skis over 100mm underfoot, and better than many narrower skis. The Wailer 112RP requires no special weighting, technique or stance to get it to lock into a carved turn, and once it's hooked-up, it is one of those skis that "pulls" you through your chosen line, never requiring the rider to "hold it on-line" or pay particular attention to managing the ski's behavior through the turn to the next one. Never a wash-out, never a twitch, just elegant grip and power.  Some rockered skis are difficult to get hooked-up on-edge, or never really get a secure grip, while others might hook-up, but may suddenly wash-out if your stance isn't just right or you hit a slick or firmer patch of snow.  This never happened with the DPS 112RP.  Frankly, it carved lines better than many all-mountain and frontside-specific skis we've tried, then really shined when it got back into 3D snow conditions.  You can alter the turn shape and radius at any point in your arc without any significant effort.

If you owned a racecarver and a pair of 112RPs, you could handle any surface and any terrain and never feel like you wanted anything else.  The light weight and responsive, playful behavior makes the 112RP just about perfect in the tight trees.  Quick direction changes, speed scrubbing, hopping, ducking branches and arcing around holes is basically effortless.  If you have ever seen a deer bounding through the woods, you have an idea what it's like to ride the DPS 112RP in the trees. The tips float just enough without forcing the ski to the surface unless you want them to, while tracking without deflection.  Bring up the speed and you can skim the surface at will.  Turn on a dime...no problem.  Cruise a big arc...no problem.  Hop branches and logs...no problem.  DPS has created a really, really fun ski that seems to have very few, if any, shortcomings.  The one thing that impressed me was how versatile it was.  On-piste, off-piste, the 112RP just rips everywhere. The bases are impressively fast and the demo pairs I looked at had very little wear and damage, even with the generous usage Mike Cannon (Direct Sales Manager for DPS) gets out of them by getting tons of people on them all the time for evaluation. (As a side note, Mike gets his demos on the hill constantly, and I saw no less than 4 or 5 pairs out during the day at Stowe, and everyone seemed giddy about them.) The scaled-down 178cm "Yvette" version of the 184 "Wailer" I tested had all the same behavior, but felt like a quicker, tighter radius version, despite the specification of 18m radius for both lengths. The 178 was shorter and felt quicker and ideal for tight Eastern woods, while still being stable and confident cruising at speed.  Deciding which length to get will require people to demo the sizes for themselves. While some skis present an excellent geometry, and some skis boast high-quality materials, and others enjoy superb construction discipline, rarely does the synergistic blend come together into one ski.  DPS has created the combination most ski builders wish they had the talent, technology and time to achieve.  All the planets aligned just right, and the 112RP is the result.
The DPS 112RP ski really is a game-changer - no fooling around. While you might want something over 112mm underfoot with a bigger radius for truly epic, bottomless days or extreme terrain surfing in Alaska or somewhere "big" (DPS has the Lotus 120 and 138 for those environments), DPS has created a ski that does 99% of what skiers want on the terrain most skiers frequent, and it does it superbly.  Based on people's descriptions of their other models of DPS skis owned for several years, these skis should last many seasons and retain their performance.  These are really fun and impressive skis.

Analogies: (this ski is like...)

The ski you always wanted for all terrain.
 
Things You Would Change About This Ski:
 
Offer more colors.

Short Answer When Someone Asks "What Do You Think About This Ski?":

Probably the most impressive all-terrain ski I've ever tried.

Advice To People Considering This Ski:

Order two pairs and keep one pair safely hidden away.

Self-Description of Skiing Style, Ability, Experience, Preferences:

5' 11", 180 lbs. Expert groomed-surface carver, "old-style" race inspired, "foot steerer" with fairly sensitive edging feel. Loves to hold long arcs with lots of pressure on the downhill ski (you know the type),  but also loves the feel of both skis on-edge leaving tiny railroad track edge tracks.  Loves powder when it's not tracked out. 10 year coach for youth race team in New England (bulletproof is the norm).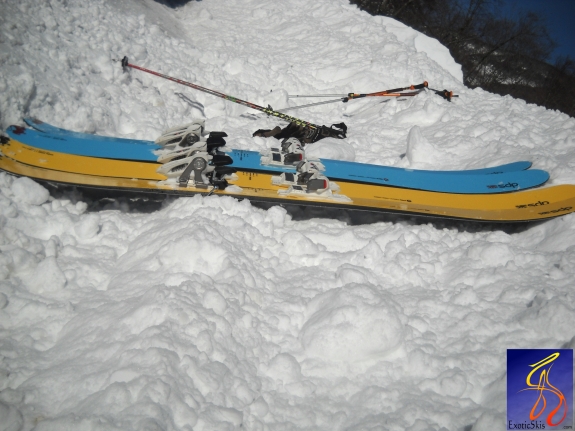 DPS 112RP "Wailer" (yellow) and "Yvette" (blue)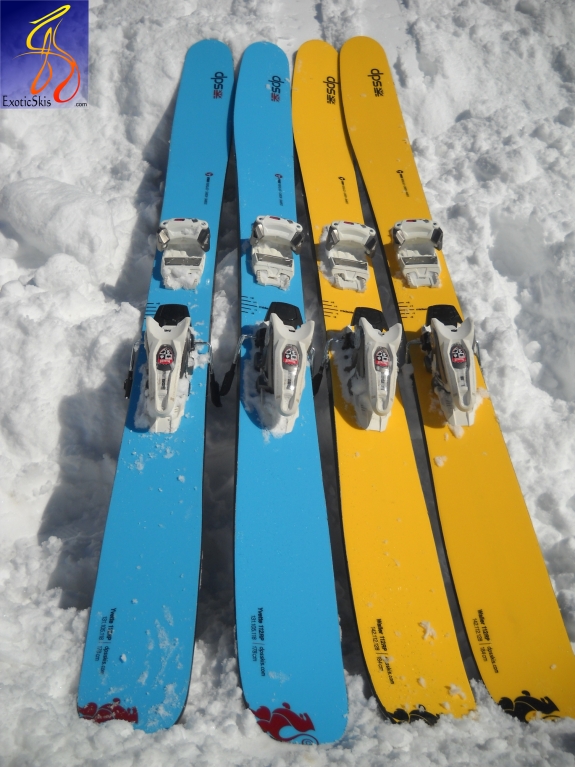 DPS 112RP "Wailer" (yellow) and "Yvette" (blue)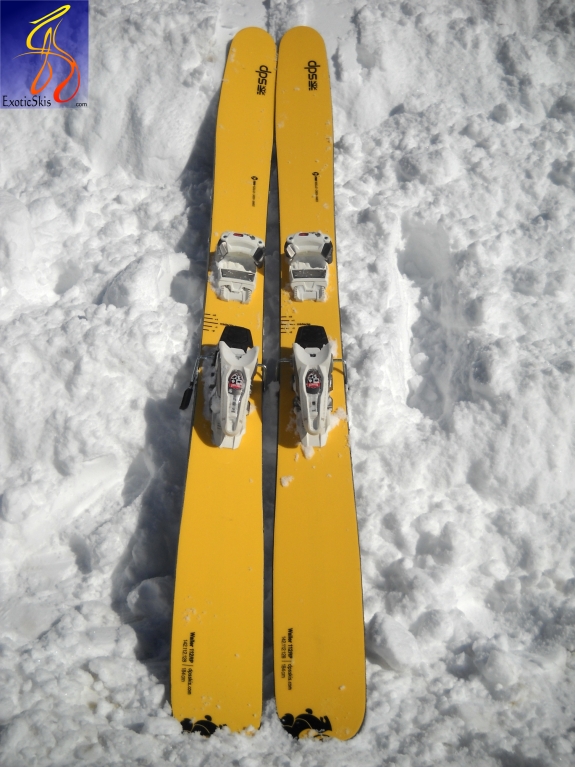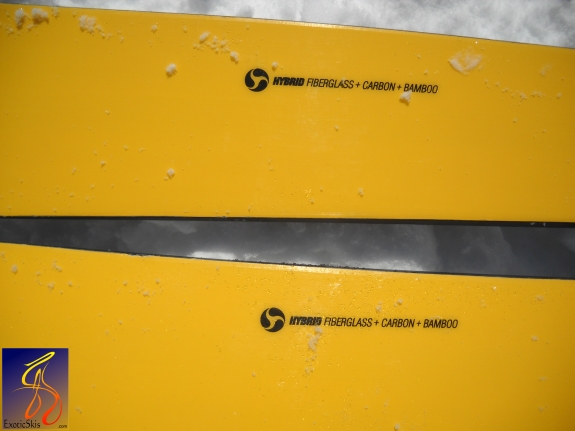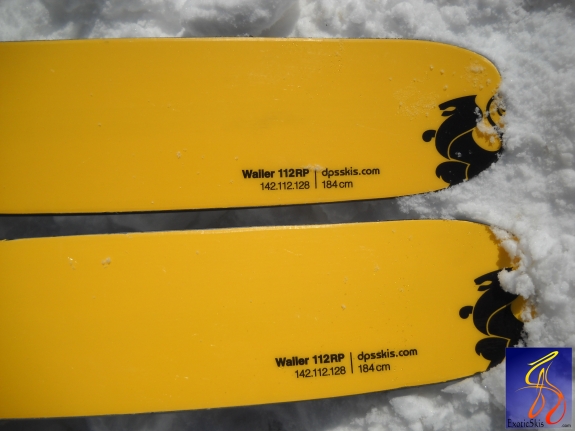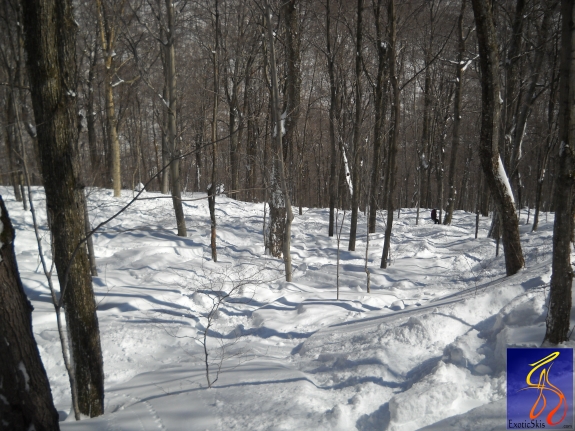 Conditions in the trees were excellent.
Edited by ExoticSkis - 3/22/11 at 7:13pm