Compiled from the
that asks:
What are the most extreme in-bounds runs in North America?
---
Nominations: EAST
| | |
| --- | --- |
| Ski Area | Run |
| Gore       | Rumor (usually covered with a huge sheet of ice at it's 35-40 degree headwall, but if you hit this on a good day, witnesses say it's a lot like a tamer version of Lower K27 @ Hunter) |
| Hunter | Lower K27 (500 vertical feet of 38 degree skiing) |
| Whiteface | Slides (1k vertical feet of mid 30 degree skiing through avalanche prone terrain, so it is usually opened only the last few days of the season) |
| Jay Peak | Face Chutes |
| Killington | Devil's Fiddle, Devil's Den, Outer Limits (Kton brags this as the "longest and steepest mogul run on the east coast.") |
| Mad River Glen | Paradise (steep gladed skiing for nearly a thousand vertical, starting off with a waterfall) |
| Magic | Black and Red Line (both are liftlines with a bunch of nasty cliff bands on a steep, narrow and rocky slope) |
| Smuggler's Notch | Freefall (mid 30 degrees for a couple hundred vertical), Madonna Liftline (a lot like Black and Red Line @ Magic), Robin's Run, Blackhole (the tree run in between Madonna Liftline and Freefall- triple black diamond) |
| Stowe | Goat and Starr (double fall line runs with 35-40 degree sections that are only a couple of meters wide and racking up massive vertical feet through these tough bump runs) |
| Sugarbush | Rumble, Upper FIS, Black Diamond, Castlerock Liftline |
| Sugarloaf | Snowfields (the only above treeline skiing that is lift-serviced on the East Coast) |
| Tremblant | Dynamite (42 degrees pitch) |

Nominations: WEST
Ski Area

 

Run

Alpine Meadows
 Keyhole
Alta
 Baldy Chute
Arapahoe Basin
 East Wall
Aspen Highlands
 Highland Bowl (some of the steepest terrain in Colorado)
Big Sky
 Big Couloir (1400+ vertical of 42+ degrees)
Blackcomb
 Climax Chutes
Breckenridge               
 Lake Chutes (marketed as 55 degrees)
Crested Butte
 Extreme Limits, Rambo (marketed as 56 degrees)
Deer Valley
 Daly Chutes
Heavenly
 Killebrew Canyon
Jackson Hole
 Alta Chutes, Tower Three Chute (aka T3 Chute), S&S, Corbet's Couloir
Kirkwood
 Heart Chute, Patrolman's, Hospital Air (127' to 132' cliff)
Snowbird
 Cirque, Death Chute, North Chute, Broom Closet, Forbidden Zone, Pipeline
Squaw
 Fingers and Palisades (mainly Schmidiots, also Chimney Sweep)
Sunshine, AB
 Delirium Dive, Silver City
Taos

 West Basin Ridge (Elevator Chutes, Suarza, Cuervo, Thunderbird,

 St. Bernard)

Telluride BC

 Heavenly's 11 Couloir

Whistler
 Spanky's Ladder
What would you call extreme?
In the words of Tyrone Shoelaces, who routinely skis radical lines in the Tahoe region,
Quote:
Corbett's is definitely a test-piece by most standards.  But "extreme"?  "Endless Glory?"  How many people ski Corbetts in a given year?  Hundreds?  Thousands? Not baggin on Corbet's per se....but IMHO if you're going to use the word "extreme" and "in-bounds" together, the runs should be something that only a select few people get to hit every year....or maybe even less than that.....like once every several years because they're so steep, snow can't always stick them on marginal years.
In this category, three lines jump immediately to mind in my local stomping grounds of Tahoe.
"Schmidiots" which is located within the Palisades at Squaw. 
And "Heart Chute" and "Patrolmans" at Kirkwood
all of which haven't even been possible within the past 2 seasons. and granted once they completely fill in, they have the potential to become boulevards, but that is very very rare.
At Kirkwood, Patrolmans is 30 seconds from the top of Chair 6 and a few steps up from a traverse that nearly everone on the mountain takes at one point or another throughout the course of the day.  Heart Chute is 5 minutes from Chair 10 and can be seen from  nearly every vantage point on the front side of the mountain.  Schmidiot's line has been published in numerous books and documented and discussed in films.  None of them are secret and the Kirkwood linescan be viewed from the parking lot and at Squaw from the mid-mountain lodge sun deck.  There is nothing at all secret about these lines and they're very accessible to anyone.
I'll try to dig up some pics.
"Schmidiot's" at Squaw from 2005:
"Heart Chute" at Kirkwood from 2002:
 "Patrolmans" at Kirkwood from 2006:
Patrolmans from the top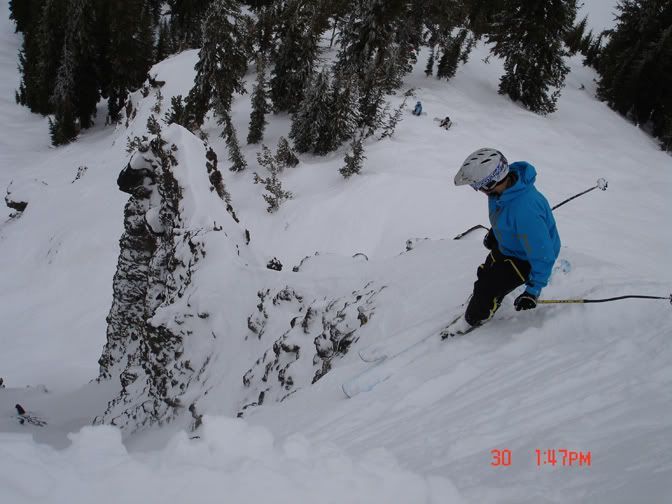 Quote:
This run did not go very well for me :( ) Basically I couldn't hold my edges and I slid through the whole thing. Ended up with a bruised kidney, some contusions, and 6 stitches in my forearm.  Oh and painkiller shot in my arse. :D  Here's the report from a few years ago: http://www.tetongravity.com/forums/showthread.php?t=45159
---
Discussion:
If you limit this to "marked runs" you aren't going to find much of anything extreme for the reasons Tyrone mentions.  The stuff along the West Basin Ridge at Taos would be toward the top of my fun marked runs list, since they have nice little name signs at the top of them.  Some of those lines can get pretty "extreme" if you want them too, but all have relatively easy ways down if the snow is good. I think extreme means something that isn't skied often, and that most people wouldn't immediately even recognize as skiable.  And not much of anything like that is going to have a trail marker...though of course bajillions of those sorts of lines are named. (Garrett)
Maybe we should change the criteria and find out which in bounds marked runs are the most difficult for the ski patrol to get a toboggon down.  I'd say that would be a good measure of the most difficult terrain that tourists can try to ski after passing the typical "WARNING EXPERTS ONLY!!!" with skull and crossbones, etc. (crgildart)
How about mandatory air? That would be a criteria as well I would think. Also you must turn here...and here.. and here.... or else. (MattL)
Check this site for some INTERESTING info, not good info (it was taken off the unreliable Google Earth). http://www.ski-degrees.synthasite.com (skiking4)
---
Exhibit A: Schmidiots
Schmidiot's very rarely gets skied, first Schmidt skied it, then it took about another few years before it even opened and when it did open Eric/Rob Deslauriers tried it and were unsuccessful, a few more years later Robb Gaffney skied it successfully. From what I have heard there have only been a handful of people ever to ski down Schmidiot's.  As it is rarely open due to snow coverage and then when it is open, the skier must have the ability to ski it and the cojones to do it is another thing all together. (robruf)
Here are two more looks at Schmidtiots, the big (fat April) year 06. cool how the down the throat look is hard to grade the steepness, but the shot across the chute from the lip shows it pretty well. About how much a run is skied: some runs may be skied 50 times, but mostly by the same 10 people, so a run like Schmidiot's on a tough year may only be skied by 10 different skiers--could make extreme categorization for that reason. (davluri)
In 2006 you could ride the Sibo chair and see half a dozen people do it in one ride....I remember one day where Schmidiot's and Pony Express/Chimney Sweep were just alternating one after another the entire time i was on the chair....My favorite line to watch people do is Middle Knuckle in the Fingers (jahroy):
Exhibit B: Heavenly's 11 Couloir, Telluride Backcountry
The sickest chute that ever existed is Heavenly 11's Couloir. It is part of the Bear Creek backcoutry area at Telluride Colorado. If you are basing this off of sheer difficulty I think 11's wins, and it never see's more than two dozen tracks a season. Feeds off of Little Wasatch Face, 68 degree pitch, chokes at 7ft wide...damn. Here are some picks of it and in it. (Thanks to tellfan7 for the photos!)
Exhibit C: Hospital Air, Kirkwood
If inbounds mandatory air is being included in this extreme category such as Kirkwood - Big Jim's (60'-80' mandatory air), then Kirkwood - Hospital Air (127'-132' mandatory air) deserves to be on the list.
Photos/video of Tyrone Shoelaces skiing Hospital Air & Big Jim's from other EpicSki posts.
KIRKWOOD, CA - HOSPITAL AIR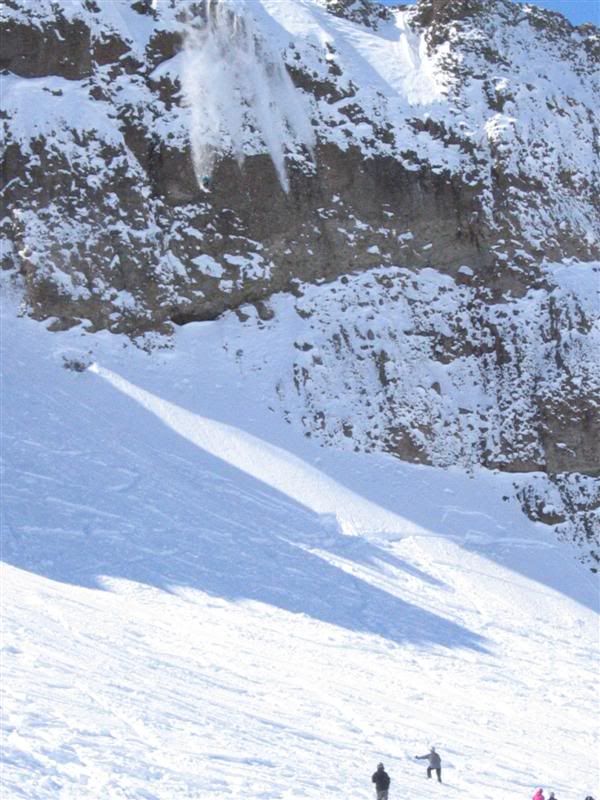 KIRKWOOD, CA - BIG JIM'S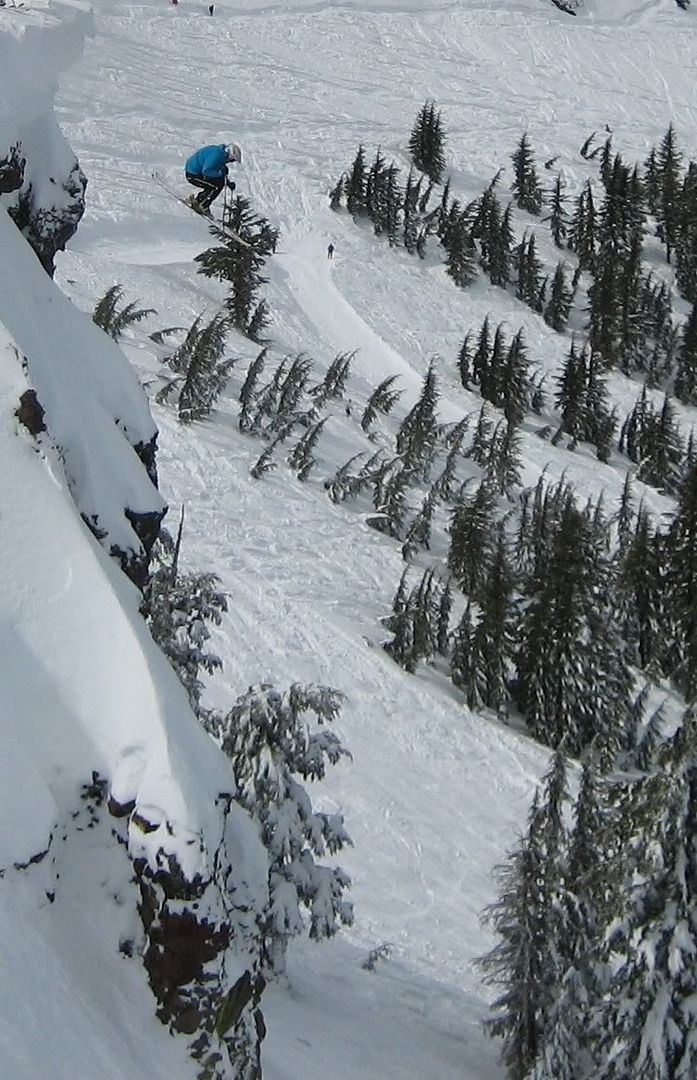 SQUAW VALLEY, CA - FINGERS & PALISADES AREAS
This youtube clip with a Squaw Powder Day segment from Adventure Film Works "Hustle & Snow" has some lines from various Squaw Valley, CA locations including Nose / Fingers off KT22 & Palisades off Siberia Express.
Thanks to Jahroy in a different post for providing the names of the lines in this video in the Squaw Valley, CA - Fingers area:
main air
ring finger
engerbretson's
the box
ice fall
main air
middle knuckle -> box exit
In the Squaw Valley, CA - Palisades area: